Some Lumia 930s getting rare critical update to stop random reboots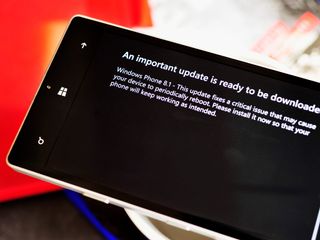 If you have a Lumia 930, preferably a carrier unlocked one or are in the UK, you may want to check for an update. Earlier today reports started to surface in our forums about a new, critical update rolling out to various 930s.
The update is not, however, Windows Phone 8.1 Update 2. Instead, this looks to be a small firmware patch to fix a serious issue where the phone could spontaneously reboot. A user in our forum, danmorrissey, described the problem and when he noticed it:
The update itself reads:
After the update, the following version numbers are reported:
OS version: 8.10.14226.359
Firmware revision number: 02540.00019.14522.26006
No other changes are included, especially since this is not Update 2. Indeed, so far Update 2 is not, to our knowledge, planned for the Lumia 930. However, some users were able to exploit an early hole in the Windows Insider program to get the OS upgrade indirectly. It is also not clear if all or just some Lumia 930s are eligible for this update.
Microsoft has also published a short post about it in their support forums (opens in new tab):
Source: Windows Central Lumia 930 Forums; Thanks, Jon S., and Tamás D., for the heads up!
Windows Central Newsletter
Get the best of Windows Central in your inbox, every day!
Daniel Rubino is the Editor-in-chief of Windows Central, head reviewer, podcast co-host, and analyst. He has been covering Microsoft since 2007 when this site was called WMExperts (and later Windows Phone Central). His interests include Windows, laptops, next-gen computing, and for some reason, watches. Before all this tech stuff, he worked on a Ph.D. in linguistics, watched people sleep (for medical purposes!), and ran the projectors at movie theaters because it was fun.
I received the firmware final 26007. (OS 8.10.14234.375).

I'm having this problem with my 1020. But I'm on update 2

My L730 also sometimes does this. I am on Update 2. I updated through insider. P.S- I have no complains since I know this is expected

My L820 restarted on denim.. But on update 2 awesome lag free even after my 64 gigs and 8gigs has 3 gb left... Device works super smooth lag free after update 2 .. Games work awesome ... Update 1 I was facing issues and lagginss

Lumia 1520 too got a critical update this morning

Same I got it on my Lumia 620

I have an Icon and this just happened to me today.

Odd, mine says 'up to date' on build 14219 (boo) and 15024 for firmware. Edit: Oh you mean the random reboots happened, thought you meant the update ;)

I know it is off topic, but could you explain why this web site believes this comment made to me over in the Skype Metro article from earlier today by AlastairUNSC is appropriate? It has been reported, I sent a message, but it seems that the people who run this site think this is OK: "Lol. I WILL keep pissing on your face and you will do nothing about it." Is this the way you like the people who are here to discuss to be treated?

You gotta have thick skin to hang around these parts. Don't worry about and move on. Ignore that kind of stuff.

The thing is, another comment that was just as crude that someone else made in reply to his was deleted but that one is still there. If this is the kind of talk that they encourage, then fine, I will be happy to go along with it. I just think it is a shame that this person (who is a self-professed Apple fanboy) can talk to people who are here to read up on the tech they like, but when that other person gives it back to them then they are the one who is removed. Even my comment, which was to not go down to their level, and "it shows how classless the Apple fanboys really are" was deleted. No profanities, nothing like that, just saying he is classless and it was removed. I just want to know if this is yet another web site where they encourage Apple/Android people to say whatever they want, then try to keep those on the Microsoft side silent. And the continued silence on it shows that is exactly what is happening.

I got you. But I don't think we even have moderation here, I never saw a comment being deleted or reprehended.

one of my post got deleted because i defended someone (he wasn't an english-first-speaker person) that got bullied. my advise, get used to it and still be resiliant. mods and webmasters are inconsistent when dealing with these problems.

Lumia 830 and 730 got this update in India yesterday.. I had tipped you guys

Am from India...i didn't get it

I too got it this morning on L730

My Lumia icon phone is fine and I have the camera beta don't have problems

Hmm..this happens on my icon...

Same, most of the time it's while playing music.

I get random reboots on my 1520 lately.

I get random reboots with win 10 mobile all the time :)

Nothing for unlocked 930 HK variant, using in US. Edit: My OS is already 8.10.14235.375, and firmware 02540.00019.15053.26005.

Using an unlocked 930-HK in India. Never had a reboot issue. Yup, having the same firmware version as yours.

I wrote 930 on the back of my 920 in sharpie. Does that count?

No, you need it in a permanent marker for it to be considered.

A sharpie IS a permanent marker...

cheez! Do your research! :-P

Yay. They used my screenshot and credited me! :)

This happens all the time to my 1520. I notice it first goes into airplane mode then it reboots, it doesn't happen as much as it used to

My 1520 also has the bug where my phone freezes after idling, it almost always happens every morning

My​1020 used to do this, and s fixed by a similar patch. ​

This also happens to my 1520. It sometimes reboots after taken some pictures with the Camera 5.0 app and the SD card fail to load. Takes a while for the card to load and reinstall apps on there.

Yep! When I take pics with my 1520, it reboots everytime.

Yea got an update, now on 8.10.14226.359 #Lumia930

I have a Lumia 730 in India.. I also received an update.. Os :
8.10.14234.375.. Firmware: 02040.00021.15063.02004

Never have had my Black Gold 930 do a random restart yet...now it's definitely happening :D

Yes... Even I received this update on Lumia 730... Hopefully the it resolves the hanging problem in 730

I bought a 930 coming from Hong Kong. I wonder if I'll get the update. I've only noticed the phone gets hot and drains the battery fast if I'm using IE or streaming a YouTube video. By fast I mean 15% in 15-20 minutes. My 920 didn't have that problem.

Can anyone tell any new changes that you have found after the update on Lumia 730..??

Updating my 930 on Vodafone Portugal.

Just got mine seems faster

Hoping to see an update, to resolve the battery drainage for my Lumia 930

Cant say ive had that with my icon just screen flicker and brightness suck since updating to 8.1.1

Even I am getting an update on my Nokia Lumia 730 DS in India:)

I got it yesterday. Never had the issue

No update on my 930. However, I received one on my 920 yesterday (no changelog or anything of the sort and it wasn't Denim).

I was already on update 2 and still got the update just now. Never had any issues with random reboots though. Unlocked 930 in UK.

unlocked L930 UK. I'm on Update 2 but no looming update. I've even tried to fix the microsoft way via pc, still didn't work, keeps getting "phone does not need to be fixed" msge...but problem exists still, keeps rebooting. any help anyone?

My Lumia 930 is still on OS version 8.10.14219.341 and Firmware revision 02540.00019.14484.37005. When I check on Phone Updates it says, my phone is up to date. Does that mean, I wont get the updates? I don't have the "rebooting" issue anyway.

holy shit i have the exact same issue with my lumia icon. it drives me fucking nuts. i hope they put it out there as well. i also get reboots doing anything intense with video, like editing. i've honestly been close to returning it or sending it in for repair because i assumed it was an issue with the graphics chip. it only started happening when i received denim. i assumed the updated graphics driver was putting more stress on the chip. idk. pls.

Well how about my l625?it also rebooted a lot of time..it even rebooted when I was in the middle of writing this comment

I've had the same problem l625

I have a 930 carrier cv gbie My os version 8.10.15116.125
I have the same firmware with the one posted here. I dont receive any critical update

Even I am using Lumia 730 I got that update

Wth someone got bullie in here a non native speaker, trust me there is still some people out there that are racist. I personally and unfortunately last semester I have an English class for artists and the professor was a bi**** she was always saying you are an ESL with upper case, and I felt disrespect and this is a university here in California. Is a shame that people are and behave like this no one is perfect and plus we born and die and we never learn a complete English or other foreign language. From a philosophical point of view there is no right or wrong in writing or speaking. Just my opinion.

As a Californian I apologize for that.

Daniel or someone please direct me to the best place for a hopefully quick response to report this issue to Microsoft. I have a 1520 and this periodically happens to me. In fact it happened to me when I was talking on the phone earlier today. They mention it's an 8.1 thing,so hopefully they release it to other devices. Anyone else have this problem with your 1520?

I am receiving the exact same issue with my 1520....thank GOD I'm not alone

Looks like you,me and a lot of other folks judging from the above comments. I'm going to check for the update anyway.

@mswindows101, best place I imagine would be their support forums. Or webchat with one of their support guys, good luck finding that however.... I stumbled upon the office 365 support web chat by mistake (it doesn't accept non-us numbers)

I have 1520 India got update too

My 730 running with update 2 then how can I get this update?any suggestions help,me guys..

That's why u r getting the update..
Don't worry just take the update..
It just takes hardly 10 - 15 mins..
And there's no bug in it..

This happens once a week with my HTC 8x

Just got it in India on Lumia 930...update took less than 10 mins

Got this update yesterday night itself for my Lumia 730 [@ India ]

Happens all the time on my Icon and my wife's Icon also since the denim update. Was ready to do a full reset on the phone. Hopefully they will push this also for the icon.

My 1520 in India also got a similar update

I have a Lumia 730 DS and have received the same update today!

My Icon reboots sometimes randomly. One specific case is when I loose cell reception then open the camera app. So annoying...

My 1520 in India also received this update.

I got the same update on my 730 back in India but still haven't received the update 2 fr 8.1

my Lumia 1520 got a critical update this morning

My lumia 730 also got this updatw

I have an 830 and I just got this update.

My Lumia 1520 just got updated.....same one

I have been having this issue with my Lumia 620 for quite a long time... Got no fix!!!

Hey I received this update.

My 1520 is rebooting randoly sometimes 10-15 times a day but no update showing up. I am on 8.10.14219.341.

I recieved same update today on my L730 OS Version: 8.10.14234.375

Random reboot never happens on my Lumia 930, what worries me currently is that the microphone recently appears not functioning properly. It works fine with phone conversations and Cortana, but when it comes to recording, like some voice recording apps, using Shazam or Cortana to recognize music, it records nothing but static noises, and it doesn't recover if I reboot the machine.


I bet you get static noise even when you record a video.if that go yo a service point,Nokia center.on of the mic is dead.

My Lumia 930 also has this issue, I'll send it to service next week. The weirdest thing happens when using Camera to record Video. If my mobile is recording a video as portrait position, no audio only static. If I positioned it as Landscape, records with audio. That's a huge mistake. I've bought my mobile after laste year's holidays. And seems to be a issue with those Lumia 930 batch. However, I've never seen anything from Microsoft about recall and stuff.

L930 audio playback corrupts sometimes when playing podcast and stepping to 1.5x. Often reboots shortly after.

Strange, I have already this version of OS and Firmware: OS version: 8.10.14234.375 Firmware: 02540.00019.15053.26004 I hope we will get GDR2 update soon...

Just updated my unlocked 930,thanks for the tip.

Another BAD update somewhere in the past by Microsoft that caused this. Remember in the past with 1020 and 925 freezing? Now this with their latest best phone, and, users here seem to report this to happen also on 1520. Nasty thing is that if a user wants to buy a WP and sees these problems over the forums, that user will mostly change his/her mind and get something else which is too bad for MS and for us the WP community :(. I have emphasized this all over and I will do it again: MS has serious quality control problems. Too many software related issues with these phones :( I agree that everybody can have SW related problems that might have skipped the QA team, but in this case too many appear, and nasty ones: reboots, freezing etc. I really hope MS catches up with their heads and do a more intense quality control of the SW updates for ALL! the phones that they mostly support.

Do you think other company's like Samsung or apple don't have problems? Ohh they had hardware problems not only software.

Lumia's have hardware issues too. Had them on 920, 620, 830 and 1520.

I got an critical update for my Lumia 730. In India.. Just 10 minutes ago.

I have problem whit my 1520 HK version when is gona to be uodate for that model...its reboot and battery drain fast...

I know the 929/icon and 930 are the same but it wasn't mentioned in this article if the update would be coming to the icon?

Hi all. Can anyone from tell me if there 930 has updated. Mine has not, its Lumia 930 white and gold

Carrier unlocked GB version... Was pretty much guaranteed the update wasn't I? Still, I've got it anyway.

I didn't have this issue with my 930 but the issue i was having was People were saying... Your really breaking up, hello, hello, I can get what your saying.... I had to go back to my 830. No breakup or hello, hello's issues... I wonder if its the H+ and not LTE that may have been causing the probleum. Or maybe ATT

Funny I got a factory unlocked 930 and I didn't get this update. But then again when comparing the OS version and Firmware version... it seems to be higher. OS version: 8.10.14234.375 Firmware revision number: 02540.00019.15053.26005

Hi all from uk. Can anyone from tell me if there 930 has updated. Mine has not, its Lumia 930 white and gold

got the update yesterday for my 930 unlocked ! seems the unlocked phones are gettings this update out first before the carriers ..

I'm unlocked but got nothing yet.

This update has stopped Candy Crush from working. Not the end of the world i know, but quite annoying. Anyone else having a similar issue, or know how to fix it?? Cheers

have you removed the app and installed it again with a phone restart, works most of the time..

thats strange, im in wee NI too ! , unless it build OS firmware, but i douth it ..

Hi Broughshane., Co Antrim here. Did you get update. I havent

hello // i got the update on the 11 or 12 of june ! my OS version 8.10.14226.359 with firmware ending .260006 . if yours is the same you might have the new update installed, with your phone a newer model.

Thanks for getting back. My os version is higher than that 8.10.14234.375. And firmware is one digit lower ending at 22005. . Lumia 930 white and gold.. Looks like there all bit different

From what I've read so far, it's only certain models of 930 reporting the update so far along with 830 and 1520 ! Its doesn't seem that all the models are getting it. (my phone coming up to year old) I didn't have the phone rebooting trouble, but it seems to have fixed the camera button, were it didn't launch from idol. i see from a post below that cetaur1123 got the update and his OS is now the same as yours ! but his firmware is the same as mines. ​

W​ell, I've just installed the update now. The OS version reads: 8.10.14234.375 and the Firmware revision number is 02540.00019.15053.26002. I see a different OS and Firmware versions reported above after the update
(8.10.14226.359/02540.00019.14522.26006) I hope it's okay. ​ ​


BTW I never had the reboot problem on my 930

unlocked L930 UK. I'm on Update 2 but no looming update. I've even tried to fix the microsoft way via pc, still didn't work, keeps getting "phone does not need to be fixed" msge...but problem exists still, keeps rebooting. any help anyone?

Got the update but it did not fix the random rebooting/crashing on my white gold 930 . I have done a fresh install and reinstalled the update still no luck.