Advertisement Feature
The best Adobe Acrobat Alternative is Wondershare PDFelement 8 for Windows
An affordable and powerful Acrobat alternative.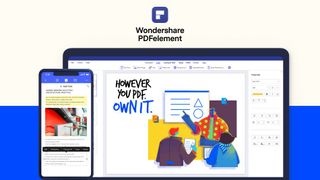 (Image credit: Wondershare)
We're living in a time where working from home over the internet is more prevalent than ever before, and for a lot of businesses, that means lots of digital PDF paperwork. Being able to create, edit, comment on, and sign PDF documents is a must for employees that frequently work with them, but unfortunately, programs such as Adobe Acrobat that allow you to do this are incredibly expensive.
Having to pay big bucks for a PDF editor is a real pain, but thankfully, you won't have to any longer. This is because software developer Wondershare has recently released its latest version of its PDFelement program PDFelement 8 (opens in new tab) for Windows PCs, which is just as effective as Adobe Acrobat for only a fraction of the price. Here's an in-depth look at everything PDFelement 8 has to offer.
The best Acrobat alternative
(opens in new tab)
PDF woes are a thing of the past

Wondershare's PDFelement 8 is the best PDFelement yet, offering immense value for a price that undercuts the competition.
All the functionality you'll ever need
Why you can trust Windows Central Our expert reviewers spend hours testing and comparing products and services so you can choose the best for you. Find out more about how we test.
It's always important for a software like this to get the basics right, and with PDFelement 8, Wondershare nailed them. PDFelement 8's standard version allows you to create PDF files and use hundreds of unique templates, edit files with backgrounds, headers and footers, comments, highlights, and more, convert PDF files into different file types, and sign PDF documents securely.
If you're in need of more advanced features, you can alternatively choose the pro version of PDFelement 8. On top of everything included with the standard version, you'll also get access to PDF scanning, optical character recognition (you can edit and extract text from images with OCR (opens in new tab)), automatic form recognition, form data extraction, the ability to process PDF files in batches, file size optimization features, and support for the PDF/A format as well as text redaction.
We put PDFelement 8 through its paces by testing a variety of different PDF files, and across all of our results, all of the features of the program worked without any issues to speak of.
Unrivaled and consistent performance
One of the best aspects of PDFelement 8 is its performance, which is nothing short of fantastic. It only takes a single second to start up, and only half a second is needed to open up PDF documents. It also only has a boot memory of 40MB, which ensures that you won't have to compromise the speed of your device just to use PDFelement 8.
All of this means that, compared to previous versions of PDFelement as well as competing softwares, PDFelement 8 is faster, more stable, and less taxing on your system.
New features everyone will love
Among the many new features introduced in PDFelement 8 for Windows (opens in new tab), two are of particular interest when it comes to collaboration with others via the cloud: Cloud Storage Services and Electronic Signature.
Cloud Storage Services give you full access to Wondershare's Document Cloud, which serves as an efficient and reliable cloud storage service. With a paid plan of PDFelement 8 and a paid plan for Document Cloud, you'll get access to 100GB of cloud storage space. It's also worth noting that you can access Document Cloud through PDFelement 8's menus, making accessing your cloud storage simple, quick, and easy.
One of the features of Document Cloud that you can access through PDFelement 8's menus is the Electronic Signature functionality. Available under the Protect tab, Electronic Signature allows you to leverage the capabilities of Document Cloud's valuable signature features. These include several templates, a variety of sending options, and the ability to get multiple signatures on one document or a single signature on each copy. It's an excellent feature that contract teams, finance teams, HR departments, and more will find incredibly flexible.
A cleaner and clearer interface
Another thing that makes PDFelement 8 excellent is how clean and clear its interface is. Compared to other softwares and previous versions of PDFelement that put functionality above readability, PDFelement 8 was built from the ground up with simplicity and readability in mind. The new iconography and layout is designed to be as easy to navigate as possible, which is achieved by the use of simple, yet clear images and text. All of the functions of the software are easily accessible from the top toolbar, and redundant individual functions from previous versions have been merged together for better clarity. Also, on the main menu, each of the icons have plenty of whitespace between them so that there's no risk of accidentally selecting the wrong option. Lastly, the simple color palette of whites, blues, and purples is easy on the eyes.
An unbeatable price
In addition to all of its excellent features, strong performance, and praiseworthy design philosophies, PDFelement 8 is also one of the most affordable PDF software applications on the market. The standard version costs $59/year, or alternatively, you can pay for a lifetime license for $69. Meanwhile, the pro version costs $79/year or $129 for a lifetime license. Compared to Adobe Acrobat's standard $13/month or the $15/month for the pro version, PDFelement 8 saves you some serious money in the long run.
Wondershare PDFelement 8 is the perfect Adobe Acrobat alternative
Having proper PDF software is crucial right now, and thanks to Wondershare's new PDFelement 8, quality software is more affordable and accessible than ever. With its advanced suite of features, consistent and stable performance, Document Cloud integration, clean and readable UI, and incredible price, PDFelement 8 is the most cost-effective PDF software on the market. Additionally, Wondershare is also offering an exclusive $30 discount for Windows Central readers (opens in new tab), which saves you extra money on top of the already affordable price.
If you don't use a Windows device, fear not: there's a version of PDFelement available for other systems as well, such as Macs and mobile devices. Also, if you happen to be someone who uses all of these devices, Wondershare's all-platform bundle that provides access to each platform's latest and greatest PDFelement software will be perfect for you. Make sure to check out the Wondershare website (opens in new tab) for more information.
Windows Central Newsletter
Thank you for signing up to Windows Central. You will receive a verification email shortly.
There was a problem. Please refresh the page and try again.