About Windows Central
Microsoft everywhere, all the time!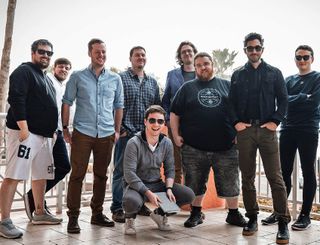 (Image credit: Windows Central)
Home to the most loyal and passionate Microsoft fans, Windows Central is the next generation destination for news, reviews, advice and buying recommendations on the Windows, PC and Xbox ecosystems, products, and accessories. We've been around for more than decade, and we take our jobs seriously. Windows Central writers and editors value accuracy and editorial independence in everything we do, never receiving compensation for coverage and never pulling punches.
Windows Central Staff
Zac Bowden, Senior Editor, Windows Ecosystem
Zac joined the Windows Central team in 2016, and his primary objective is to bring you exclusive coverage into the world of Windows on PCs, tablets, and more. He started out writing about leaked Windows 8 builds back in 2011, which eventually led to creating a popular "build walkthrough" video series on YouTube that explored upcoming features Microsoft had yet to announce.
He's also an avid collector of rare devices, as well as unreleased or canceled prototype devices from Microsoft. He's one of few people in the world who owns a Surface table in his home, uses a Surface Mini for note-taking, and at one point had a Lumia McLaren and Microsoft Band 3 on the go as his daily phone and smartwatch.
- Read: Zac's posts
- Twitter: @zacbowden
- Instagram: @zacbowden
- Email: zac.bowden@futurenet.com
Jez Corden, Managing Editor, News and Gaming
Jez joined Windows Central in 2015 as we sought to further expand our Xbox offering. A keen Lumia and Surface user, Jez discovered the benefits of the Microsoft ecosystem via Xbox, which has gradually moved into convergence under the Windows 10 Universal Windows Platform.
When Jez isn't writing about games, he's most likely playing them on Xbox. His favorite Xbox franchises include Mass Effect, The Witcher, Warcraft, Resident Evil, Battlefield, and Deus Ex, with a side order of Overwatch. Say hi to Jez on Xbox Live: Jez.
- Read: Jez's posts
- Twitter: @JezCorden
- Email: jez.corden@futurenet.com
Rich Edmonds, Senior Editor, PC Build
Rich first started out at Mobile Nations in 2010 after effectively seducing Executive Editor Dan Rubino via email. Growing alongside Windows Central as the website eventually became what it is today, Rich now creates content covering all things PC — be it games, hardware, water cooling or software.
Prior to joining the MoNa squad, Rich was at an SEO Agency based out of London. There he was tasked with tinkering around on office PCs and servers, visiting data centers to check on company hardware hooked up to the online world, and ensuring consultants had adequate access to data before checking in with clients.
Growing up in a military household, Rich moved around the world in the early stages of his life, but now travels far and wide in games and online. After building his first PC when he was 13, he continues to evolve his skills in the hope that cyborgs eventually become reality.
- Read: Rich's posts
- Twitter: @richedmonds
- Instagram: @Rich_Edmonds
- Email: rich.edmonds@futurenet.com
Sean Endicott, News Writer & Apps Editor
Sean started contributing to Windows Central in 2017 as an app specialist. He's since joined the team full-time. Today he focuses on all things news in the world of Microsoft. If it runs Windows, is made by Microsoft, or affects our audience, he's on it, along with the rest of the news team. Sean still reviews apps between his news coverage.
When he's not covering news or writing about the latest tech, Sean is an avid American football fan. He coaches several teams in Nottingham, England, and even uses Microsoft Teams to share his playbook and study game film.
- Read: Sean's posts
- Twitter: @Sean_Michael_UK
- Email: sean.endicott@futurenet.com
Brendan Griffiths, eCommerce Content Director
Brendan oversees content strategy for our buying guides and deal pages here at Windows Central and also iMore and Android Central. He's a former freelance games journalist, then the first ever Deals Editor for TechRadar and then the Managing Editor of eCommerce & Hardware at GamesRadar before joining us.
When he's not rummaging through online sales or trying to appease the Google algorithm you'll find him binging boxsets, laughing at fools that don't have Xbox Game Pass and testing every Xbox controller out there, then just using the one standard Series X one.
- LinkedIn: Brendan Griffiths (opens in new tab)
- Twitter: @bggriffiths
Cale Hunt, Senior Editor, Laptop Reviews
Cale joined Windows Central in 2016 to help with reviews, how-tos, and general coverage surrounding laptops, tablets, pre-built PCs, and accessories. Since then, hardware has been piling up behind him, and there's no shortage of exciting new tech to test out and pull apart.
Cale enjoys building PCs, gaming, reading, and playing guitar all year round. Camping, music festivals, and travel take over when the middle of Canada isn't unbearably cold.
- Read: Cale's posts
- Instagram: @ceeceehaatch
- Email: cale.hunt@futurenet.com
Daniel Rubino, Executive Editor, Windows & Reviews
Daniel Rubino has been writing about Microsoft since 2007, back when the site first launched under the banner of WMExperts. In 2010, he took over duties as Editor-in-Chief. His responsibilities include managing the staff, directing content, YouTube personality, head-reviewer, editorial, and podcast co-host.
Prior to working on Windows Central, Daniel was a polysomnographer at Weill-Cornell Medical College and NY Presbyrtiaran in New York City, a movie theater projectionist for 17 years, Emergency Medical Technician in Connecticut, and was studying for a Ph.D. in linguistics in the neurology of language. He has studied at Sienna College, University of Connecticut, Boston University, and the CUNY Graduate Center with degrees in Political Science and Linguistics.
After living in Long Island, New York for 13 years, Daniel currently resides in Massachusetts.
- Read: Daniel's posts
- Twitter: @daniel_rubino
- Instagram: @daniel_rubino
- Email: daniel.rubino@futurenet.com
- LinkedIn: danielrubino1 (opens in new tab)
Daniel Thorp-Lancaster, Editor in Chief
Dan joined the Mobile Nations family in 2014 as part of the newsroom team, covering all the things fit to print about Google, Microsoft, and Apple. In 2016, Dan took on the lead news role for Windows Central, directing news coverage on the Microsoft ecosystem. In 2020, Dan became Editor in Chief for Windows Central, overseeing content production, planning, and strategy.
Before joining Mobile Nations and Windows Central, Dan cut his writing teeth at Illinois State University. He graduated in 2013 with his bachelor's degree in English Studies and a keen interest in linguistics, rhetoric, and overanalyzing the minutiae of every novel he's ever read.
Dan grew up in a small central Illinois town and was hooked on tech at an early age after getting his first taste of computing from an old Windows 3.1 machine. Dan currently resides in eastern Iowa but hopes to get out of the Midwest one of these days.
- Read: Dan's posts
- Twitter: @DthorpL
- Instagram: @heyitsdtl
- Email: daniel.thorp-lancaster@futurenet.com
Windows Central Contributors
Zachary Boddy, Contributor, Gaming
Zachary started their first professional writing position at Windows Central (with periodic appearances at Android Central and iMore) in 2019 and is proud to be a part of such an excellent team. Zachary primarily writes gaming news, guides, and reviews, but they're not afraid to expand beyond their normal duties. They also hold the title of "Minecraft Expert" for Windows Central and is in charge of all things Minecraft.
When Zachary isn't writing for Windows Central, they're listening to music, reading books, and playing video games. Zachary usually prefers to play on Xbox, and you can find them at "DeadWords4."
- Read: Zachary's posts
- Twitter: @BoddyZachary
Alexander Cope, Contributor, Gaming
Alexander Cope has written for Windows Central and iMore since 2020. His main focus is writing guides, previews, editorials, and reviews to help _you_ make the right choice when purchasing and playing video games.
When Alexander isn't working, he plays video games and watches anime. His favorite franchises include Monster Hunter, Final Fantasy, Mass Effect, and Dragon Quest, Mario, Metroid, Spyro, Psychonauts, and many more.
- Read: Alexander's posts
Miles Dompier, Contributor & YouTube personality, Gaming
Miles joined the Windows Central team in 2019. He currently produces videos for the Windows Central Gaming channel in addition to writing reviews, features and editorials. He also hosts Windows Central Gaming's weekly live podcast Xbox Chaturdays.
In his free time, Miles enjoys watching horror movies, listening to heavy metal, and playing Souls-likes. He also acts as the team's resident Sea of Thieves and Pokémon superfan.
- Read: Miles' posts
- Watch: Miles' videos
- Twitter: @MilesDompier
Mauro Huculak, Contributor, Windows Guides
Mauro's primary focus is to write comprehensive how-tos to help users get the most out of Windows 10 and its many related technologies. He's been writing for Windows Central since 2015. He has an IT background, and he's a recognized member of the Microsoft MVP community.
When Mauro isn't typing a new tutorial, he's always trying to learn something new so he can share it with YOU.
- Read: Mauro's posts
- Twitter: @pureinfotech
Brendan Lowry, Contributor, Gaming & Laptops
Brendan joined the Windows Central team in 2017 with a mission to write about all things tech, with a strong focus on Xbox and PC gaming. You'll find him banging out reviews, guides, editorials, and more. Additionally, Brendan proudly serves as Windows Central's resident Halo specialist, covering Xbox's flagship franchise from a multitude of different angles.
When he isn't working, Brendan is likely playing one of his favorite games or reading a good book. There's also a good chance you'll find him working towards the completion of his Professional & Digital Writing degree at Oakland University.
- Read: Brendan's posts
- Twitter: @BrendanLorLowry
Samuel Tolbert, Contributor, Gaming
Samuel started working for Windows Central and its sister sites in July 2019. While he primarily handles news, guides, previews, reviews, and editorials, he also does original reporting.
If he's not writing something, he's off playing video games, spending time with his pets, exercising, or reading. While it's probably easier to point out the genres he doesn't enjoy, he has a particular interest in real-time strategy, role-playing games, and big-budget horror titles.
- Read: Samuel's posts
- Twitter: @SamuelTolbert
Advertising, sponsorships, licensing, reprints and permissions
For reprints and logo licensing, contact our licensing team at licensing@futurenet.com.
Future PLC
Windows Central is part of Future PLC, which also includes the Android Central and iMore communities. Each year, this network of sites reaches more than 500 million consumers, with more than five million subscribers and followers, and we see 500,000 users engagements each month.
Windows Central privacy policy
WindowsCentral.com is part of Future PLC. We are both fiercely committed to protecting your privacy. Please have a look at our in-depth privacy policy for details on how we ensure readers' privacy remains a priority.
Future, PLC, is an IPSO company
Windows Central is a member of the Independent Press Standards Organization (IPSO) which regulates the UK's magazine and newspaper industry. We abide by the Editors' Code of Practice and are committed to upholding the highest standards of journalism. If you think that we have not met those standards and want to make a complaint please contact our managing editor Dan Thorp-Lancaster at daniel.thorp-lancaster@futurenet.com. If we are unable to resolve your complaint, or if you would like more information about IPSO or the Editors' Code, contact IPSO on 0300 123 2220 or visit www.ipso.co.uk.