Best Sports Apps for Windows 10
The Windows Store has a solid starting line-up for you to keep up with all the comings and goings of the sports world.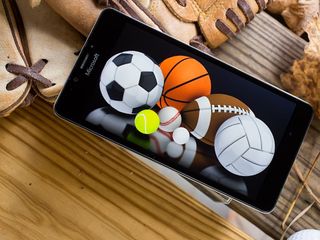 These apps deliver the news, scores, standings, stats and rankings to your Windows 10 PC or Mobile device. These sports apps offer a great option for keeping up with the results, especially from your Windows 10 Mobile phone while on the go.
Coverage includes a broad range of sports leagues from the likes of the National Football League, National Basketball League, Major League Baseball, World Cup Soccer, Pro Golf and more.
While the Windows Store has plenty of apps that focus on a specific team or league, this collection concentrates on the core grouping of apps that cover a broad spectrum of events.
If you like to stay in tune with the world of sports, these are your best options.
Updated March 25, 2017: We have made a few changes to this article based on new releases, reader's input, and staff debate. There are some new titles in the mix, as well as those that we continue to view as the best from the Windows Store. Let's take a look at how things have changed!
ESPN
Why you can trust Windows Central Our expert reviewers spend hours testing and comparing products and services so you can choose the best for you. Find out more about how we test.
ESPN rules the roost when it comes to sports information, and the ESPN app is a solid choice to keep up with all the scores, standings and news items. This includes coverage on scores, news, and standings from a vast range of sports leagues that includes the NBA, NFL, MLB, College Sports and more.
Available for Windows 10 PC and Mobile, the free app includes features such as:
Support for your myESPN account
Breaking news and real-time scoring alerts
Live Tile support
Access to your favorite ESPN Podcast
You also get access to all the scores, stats, and standings for your favorite sports leagues and teams. The ESPN app offers an excellent collective of all your favorite sports under one umbrella.
Download the ESPN App from the Windows Store (opens in new tab)
Onefootball
Onefootball is a Windows 10 sports app for the soccer fan (football to some) in all of us. Available for Windows 10 PC and Mobile, Onefootball delivers the latest news, live scores, results, highlights, statistics, standings and more from the Premiere League, Champions League and all international competitions.
Teams and leagues can be tagged to follow easily, and individual team pages include news on that particular club, season stats and schedules and squad information. When available for matches, streaming video channels are available to avoid missing any of the action.
Onefootball allows you to get up close and personal during matches with minute-by-minute live commentary and push notifications on scoring. If you are following Premier League matches, Onefootball allows you to predict the result of the match with its Oneplayer feature.
While the free Windows 10 app focuses on a singular sport, Onefootball does a spot on job of things. It is a great resource to keep up with the world of football (soccer to some).
Download Onefootball from the Windows Store (opens in new tab)
SofaScore
SofaScore is a diverse Windows 10 sports app that can appeal to those just looking to catch the latest scoring update to those who want to dig a little deeper with news items or statistical research on their favorite teams.
Available for Windows 10 PC and Mobile, SofaScore covers 17 sports and more than 5,000 leagues, tournaments, and special events. Sports coverage includes soccer, basketball, formula one racing, baseball, cricket and more. The leagues span the globe, and it covers both professional and collegiate games.
For those who want to dig a little deeper with their sports coverage, SofaScore delivers news, statistics and video highlights from a good portion of the sports leagues the app covers. Matches or games can be previewed to offer insight on what each team brings to the table, and you can follow your favorite team with the AttackMomentum feature. There is also support for toast notifications to keep you up to date on live scores.
The free Windows 10 sports app presents itself in a clean, easy to use manner and delivers a ton of sports information. SofaScore makes it easy to stay in touch with the sporting world without having to leave the comfort of your couch.
Download SofaScore from the Windows Store (opens in new tab)
WatchESPN
While the ESPN app is a great source for news, stats, standings and news from the sports world, the WatchESPN app is an excellent way to keep in touch with sporting events as they are being played out.
The free app is available for Windows 10 PC and Mobile and gives you access to ESPN broadcasts. Shows include programming from the ESPN, ESPN2, ESPN3, ESPNU, ESPNews, ESPN Deportes, SEC, Longhorn, ACC, ESPN Goal Line, ESPN Buzzer Beater and ESPN Bases Networks. This gives you fantastic access to NFL, MLB, NBA, PGA and NCAA events.
WatchESPN from your Windows Phone is an excellent option while on the go. The Windows 10 PC gives you the option to watch a second game while your main television is queued up to another game or when a significant other or kids are hogging the set.
Please note that your television provider determines access to the ESPN networks. Providers such as AT&T U-Verse, Charter, Bright House, Comcast, Cox and Time Warner already provide access to ESPN live streams.
Download Watch ESPN from the Windows Store (opens in new tab)
Sports
What was once known as Bing Sports and then MSN Sports is now known simply as Sports. Available for Windows 10 PC and Mobile, Sports offers a comprehensive look at a wide range of sports leagues such as the NFL, NBA, Major League Baseball, Collegiate sports, and more.
Key features include:
Get the top headlines from the world of sports
Access detailed team information from your favorite sports leagues
Track your favorite leagues and teams
Video highlights and news clips
Live Tile support to deliver the latest scores and news to your Windows Start Screen
Sports also provides all the scores, schedules, standings and statistics for your favorite teams and players. Sports is a reliable, free Windows 10 app for keeping up with the world of sports from your PC and Mobile devices.
Download Sports from the Windows Store (opens in new tab)
If you have given any of these Windows 10 sports apps a try, let us know what you think of things in the comments. There are plenty more quality sports apps available in the Windows Store and if we have overlooked your favorite, feel free to toss out your recommendation in the comments as well.
Windows Central Newsletter
Get the best of Windows Central in your inbox, every day!
George is the Reviews Editor at Windows Central, concentrating on Windows 10 PC and Mobile apps. He's been a supporter of the platform since the days of Windows CE and uses his current Windows 10 Mobile phone daily to keep up with life and enjoy a game during down time.
Longtime user of SofaScore, a really great app for keep track of scores, getting notified of match start times, match statistics etc. Very well done, universal, customizable notifications, the works!

Yeah I can't believe SofaScore isn't in the article. It's definitely the most complete, the very best

They halt the development of sofascore

Did they really? That's a shame, if true.

If this is true, then that's the last straw for me and +1. I don't care much about all the other twittee dee and twittee dum apps. I was already on the fence. Any one know if sofascore is available on windows mobile 10?

It is. Im using it on my Windows 10 mobile

Sofa score is available and it is mentioned in the article.

One of the best apps available for keeping up with scores.

You forgot sofascore.Too good with a charming user interface.

SofaScore is there in article.

Eurosport is my favourite. Very beautiful app..

I dont know why I trust MSN Sports for my sports info.

SofaScore FTW :D And for Hungarian users like me, there's also the M4 Sport app :D

I like using Awesome Lock for live scores on my lock screen and a live tile. You pick your favorite teams and it always stays updated. Sadly, it's unreliable and needs to be reset every couple of days.

Do lock screen apps still function in W10M???

ESPN sucks. They took away live tile scores...trying to use gamecast or opening most articles, opens the browser like an amateur app (iOS and Android dont do this). I could go on and on.

You forgot taking away our FFL app.

Is SofaScore, Sofa King Good?

Definitely worth checking out.

Sofa score user here too. Can't believe it wasn't covered. Great to keep track of multiple sports with reliable notification and pleasing uwp ui.

Here too: Sofascore is my favorite. Tried a lot others, but Sofascore beats all. And important for me: Sofascore is more Europe focused.

Which sport do you prefer? If football then you should also give a try to Onefootball

Sofascore is the best out there.... No second thought. It would be great if the developer can give us an option for a dark theme.

What happen with CBS Sports? Not opening any more!!

Personally I just want fresh up to date live scores from the pro games when I am away from the tv and the Scores And Alert Apps from Luno Software are the best. I pin the live tiles of the games I'm interested in and it does a great job of keeping it up to date.

Before reading about any app I only thought about sofa score. It's the only sports app I need once I install any device windows, android or ios. I wish I had available for Latin America ESPN play, but only on android or ios, and the web streams using old flash, so unusable on windows uwp.

You should edit the article and add in the first place SofaScore. They made an excellent job in uwp.

Onefootball and Msn Sport

No Mlb At bat anymore,the reason why I ditched my 930 and now use a Nexus 5x. Posted via the Windows Central App for Android

Screw MLB and their money sucking. You can have At Bat. LOL I'll listen to the games for free with MLB Streamer

Sportsapps.....are you kiddin me. There are none/nada good sportsapps in the microsoft system. And that's a fact.

Sportsapps.....are you kiddin me. There are none/nada good sportsapps in the microsoft system. And that's a fact.

It depends on what you want. All I want are scores on the go, and there's plenty of enough apps for that. And that's a fact

Making a fool of yourself? Check out the official Formula 1 app. Sorry baardje :)

I love this kind of articles. Could anyone suggest I good app for news?

I use MSN app and it lets me pick which fake news source i want to be miss lead with.

By the way, an article suggesting the best Windows phone apps would be very much appreciated!

I love sofascore. It's the Great app in sports category for WP.

For those fans of soccer out there, OneFootball. Highly recommended!!!

I love using Sports to pin a tile of my favorite team so that I can get completely irrelevant headlines from sources like the Inquirer. #garbageSources&topics

We need bleacher report and NBA app...

And...NHL app, and MLB: at Bat, and MLB: Ballpark, NFL app that is even somewhat comparable to other systems. Face it, M10M, has a glaring app gap when it comes to sports apps.

MSN Sports is at best, passable. Live Tile needs to be brought up to Win 10 with transparency. NHL Box Scores are still the only sport that does not have an integrated Box Score. Crappy re-direct to MSN site. Meanwhile, I can get full fidelity scores and summaries from the Canadian Football League.

In these apps you have to keep check the app. There is a app called sofascore.. It's the best app if you are busy and still wants to follow the games.

ESPN app are all horrible, half-baked garbage. They never work properly

I would agree, but having streamed 3 games to 1 over the Fox app with zero crashes vs the ~15 in the fox crap, I can't anymore.

So surprised Onefootball hasn't made this list. They're one of the oldest (in terms of support for Windows) and one of the best in terms of notifications, UI and content.

I agree, for football it is the best and nothing comes a close second

Try Sofascore, it's much better / more complete

Only for one sport but F1 is very very good app. Cheers.

For football only, Onefootball has the best usability and looks (UI) I think

I used to use MSN sport but got fed up with irrelevant story's about my footy team. Most of the news was tat! Sky sports apps are OK but need updating and scrolling is very stuttered. You can have a lock screen though. Sky football centre is OK as well thanks to the vidiprinter facility. BBC sport is a nice app, but live tile is ????? All the UK sports apps, from the big providers NEED updates.

Just d/l sofa score. I didn't even know it existed!! What a great app! Loads of detailed info about my team in premier league! Fab app, and yes, why isn't it in the list!!

Lol cover pic is from kodi!

I downloaded SofaScore based on the comments (always trust comments over actual article) here. I must say it's a good app. It has tennis and American/Canadian football. App just needs some display options such as a dark theme.

Eurosport--when you just have to see that another soccer game ended in a 1-1 tie.

This is not a sports app, this is a news app that covers sports. Sports apps monitor fitness.

no, fitness apps monitor fitness, sports apps cover sports.

Please please update Uber or send Uber dev to update asap, so much tweaking is required...

For F1 fans, the official Formula One app is also worth looking at.

FoxSports Go is pretty good app for folks into racing and have Fox Sports with their cable provider.

Sofa score is very good for keeping track of sport, I am mainly concerned about soccer, I like one football very well it has lots of features.

Another good free app to stream live sport events: https://www.windowscentral.com/e?link=https2F%2Fclick.linksynergy.co...

This is such a sad list.......the ESPN app is horrible compared to it's IOS and Android versions. I appreciate the watchESPN app though, glad we have that. The worst thing about having a W10M phone is the apps, and developers aren't doing us any favors. There are basically no fantasy sports apps, and the ones that we have, are tremendously horrible. There are 3rd party apps for them, but they are not good. And sports games.........forget about it. There are no baseball, or football, or golf games worth playing in the Winstore. Soccer games are there, but it is seriously lacking, and it has since the start, and it hasn't changed. It's a shame really, W10M has so much potential, and MS made all these tools for app developers to port their apps, and ut hasn't really come to fruition. I'll probably be moving on from my Lumia 950, and seeing what the new GS8 is all about.

What continues to baffle me is those who complain so much about the Windows 10 ecosystem, yet still use it. I don't have any issue with the sports applications for Windows 10 or Windows 10 Mobile. Sports gives me the live tile updates if I just want a glance. It also does a good job at covering my favorite teams and players. I like how the ESPN app looks and use that on occasion. The NFL app is pretty good, and Sofascore is probably one of the best. There are a lot of other apps for specific sports if you search for them. Having a constructive debate about the pro's and cons about an ecosystem is one thing, but just complaining is empty rhetoric.

I use the following
1. Sofascore - Brilliant but they have now put the development for the win10 app on hold which is such a shame.
2. Sports
3. One Football
4. Cricbuzz
5. Formula1 k nice uwa
6.1st for fans Manchester United
What i miss is an official, fully functional Premier League app including Fantasy Premier League

Can't believe the apps from Luno Software never get mentioned. If you're into the 4 major sports in the US these apps have excellent live tiles that update almost instantaneously (along with notifications) when there is a score change. The MLB and NFL ones have lots of detail on the tiles.
Just did a search and the MLB one isn't there wth. Still working on my W10M 1520 though..

Very surprised that ESPN hasn't updated their desktop app for Windows 10... has been the same since Windows 8. It sucks and I uninstalled it because it's depressing to use. Surprising because ESPN stays cutting edge on other platforms. Hopefully this is the year they release an up-to-date desktop app with features and UI I'd expect.

SofaScore looks very useful and simple for fаns

Yes sofa score is the best app in this universe

Hello.Sometime it helps to complain.