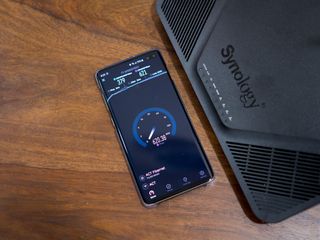 (Image credit: Windows Central)
The best VPN router needs to have great software with enough speed to keep up with modern connection speeds. Using one of the best VPNs (Virtual Private Networks) keeps you secure and helps you get around regional restrictions. You can set up a VPN on each device individually with support in Android and iOS and Mac, Windows, and Linux. The main problem is that it has to be set up on each device individually. The Asus RT-AX55 has the best balance of software customization with fast enough speeds for most people making it our top pick for best VPN router.
Best Overall: Asus RT-AX55
Why you can trust Windows Central Our expert reviewers spend hours testing and comparing products and services so you can choose the best for you. Find out more about how we test.
Asus RT-AX55
A great intro to Wi-Fi 6
Reasons to buy
+
Fast Wi-Fi 6 speeds
+
AiProtection Classic includes free antivirus protection
+
AiMesh allows for easy expansion
Reasons to avoid
-
No 160MHz support
-
Only dual-band
It can be a challenge to decide exactly how much speed you need for your home network, and there are a ton of routers that offer so much more than most of us will ever need. The Asus RT-AX55 has a great balance for people moving to Wi-Fi 6 for most of their important Wi-Fi devices. A phone or computer with Wi-Fi 6 will have no trouble achieving gigabit speeds thanks to an AX1800 connection.
Four antennas help this router provide enough coverage for large homes but can be expanded as a mesh thanks to AiMesh software included with most Asus routers. It's worth keeping in mind that for fast Wi-Fi 5 (802.11ac) devices with 3x3 MIMO, this router won't be able to deliver those max speeds due to only having a 2x2 setup. If you want to make the most of those devices with Wi-Fi 6 support, you'll need to consider an upgraded router that has very similar software.
Asus keeps its router software fairly standard across most of its range, and most Asus routers support VPN connections. This router will work with an OpenVPN client setup, which most VPN providers use, and will allow for quick and easy setup making it one of the best VPN routers. It also supports many other traffic management features you would expect in a modern router, such as MU-MIMO and adaptive QoS, to keep traffic moving well even with many connections.
Best Value: Asus RT-AC66U B1
Asus RT-AC66U B1
Great software with enough speed and coverage
Reasons to buy
+
AC1750 speeds are enough for many
+
4 Ethernet ports
+
Great software included
+
3x3 MIMO support
Reasons to avoid
-
Aging design
-
No Wi-Fi 6 support
There are a ton of cheap routers available, but for most people, the sweet spot is right around AC1750. This allows for around 450Mbps at 2.4GHz and 1300Mbps at 5GHz on devices like a high-end notebook and desktop wireless hardware. The RT-AX66U from Asus offers this solid setup along with four Ethernet ports and dual USB ports. Three large antennas allow for solid coverage even in large homes.
AiProtection Pro is included with its advanced parental controls making this a powerful and flexible router for families. Asus has also included OpenVPN client support allowing for easy configuration with most VPN services. AiMesh allows for future coverage expansion with another Asus router if needed. This router isn't the fastest by a long stretch, but it still makes our list of the best VPN routers as it should be a great upgrade over what's provided by their service provider for many people.
Best Mesh System: Asus ZenWiFi AX XT8
Asus ZenWiFi AX XT8
A fast Wi-Fi 6 mesh with AiMesh support
Reasons to buy
+
AX4200 is fast enough for a gigabit connection
+
3 Ethernet per node with 2.5G WAN
+
Works with AIMesh
+
AiProtection Pro is included
All of the Asus Zen products have a nice design that manages to look very modern and clean without giving up on any functionality. The ZenWiFi AX XT8 comes with two mesh nodes connecting the Asus AiMesh software and easily covering substantial homes up to 5,500 square feet. If this isn't enough, any Asus router with AiMesh support can be used to expand coverage, though another tri-band ZenWiFi router is probably your best bet.
AX4200 speeds allow this system to easily keep up with gigabit connections with enough headroom for fast home networking. A 2.5G wan port adds support even for fast fiber internet connections or, more likely, compatibility with a fast wired network setup. There are three Ethernet ports on each unit as well to connect wired devices, and with its fast dedicated backhaul, it could replace the need for running Ethernet across your home.
Asus brings along its software with AiProtection Pro with advanced parental controls. Support for an OpenVPN client brings support for pretty much any VPN service with easy setup. With a VPN and AIProtection Pro, this is a great pick as the best VPN router for a secure and private mesh system.
Best with custom software: Linksys WRT3200ACM
Linksys WRT3200ACM
Custom software puts you in control
Reasons to buy
+
AC3200 speeds are fast enough for most
+
USB 3.0 and ESATA for storage
+
MU-MIMO
+
Classic design
Reasons to avoid
-
Custom software required
-
No customer support for software
-
Expensive for the speed
First and foremost, this router will not work with your VPN service out of the box. If you like to have full control over your software and hardware over speed and value, the Linksys WRT3200ACM is a compelling product when installing something like DD-WRT. To be clear, it's possible to install this software on a lot of different routers, but this Linksys router is open-source ready and has a processor powerful enough to not get bogged down.
Once the software is taken care of, the WRT3200ACM's 1.8Ghz dual-core CPU pushes high Wi-Fi 5 speeds at AC3200 and four gigabit Ethernet connections. With four antennas and MU-MIMO management, consistency is kept high, and buffering is minimized. The classic blue and black design brings back memories of the popular WRT54G and feels at home in any computer room. This isn't a slow router, but with its aging dual-band connection, it's not as fast as most newer routers at this price.
It has to be stressed that custom software on the router will not be supported by Linksys' customer support, and the user will be responsible for troubleshooting problems. Please be sure you are comfortable with this before choosing this as your VPN router.
Best Software: Synology RT2600ac
Synology RT2600ac
Great software for those that want full control
Reasons to buy
+
Fast Wi-Fi 5 speeds
+
Great software from Synology
+
Parental controls
+
Mesh expansion available
Reasons to avoid
-
Expensive for the speed
-
No Wi-Fi 6 support
The Synology RT2600ac doesn't look too impressive right at first, but thanks to its amazing software features and great support, it stands out as one of the best choices for those that want to be in full control of their network. No doubt, it's a couple of years old now and doesn't support Wi-Fi 6, but it has a powerful 802.11ac Wave 2 setup allowing for a 160MHz channel and delivers speeds up to AC2600 with 1.73Gbps at 5GHz and an impressive 800Mbps at 2.4GHz. Despite the lack of tri-band, this is one the best Wi-Fi 5 routers around.
Synology's software includes OpenVPN support and can be configured as a VPN client that will work with most VPN providers. It also comes with other great software features like robust parental controls, making this a great choice for families. It has one dedicated WAN port and four LAN Ethernet ports though one can be used for dual WAN. This router even has a mesh option with the MR2200ac router.
Best for Gaming: Asus RT-AX82U
Asus RT-AX82U
Fast hardware with gaming software
Reasons to buy
+
Very fast AX5400 speeds
+
AiMesh compatible
+
Optimized gaming software
+
AiProtection Pro included
The Asus RT-AX82U has a unique design with full RGB control that's a compliment to any gaming setup. Rest assured that the RGB lighting can be completely disabled if you prefer. This router comes with a dual-band AX5400 wireless setup with these high speeds thanks to a 160MHz 5GHz channel. For devices that support Wi-Fi 6, this should have no trouble keeping up with a gigabit connection.
This router also has four Ethernet ports, with one specifically allocated for gaming. If you have a gaming PC or play competitively on your Xbox, this is the preferred port to use. Gaming software is also included and can be controlled with the Asus router app to ensure the right devices and applications have a priority connection. Don't forget that gaming over a VPN can introduce extra lag, so it's probably a good idea to create an exception for gaming machines.
Once again, Asus has a robust set of software included with this router, including its AiProtection Pro software for enhanced security and parental controls. This software also supports creating a mesh network with other Asus routers thanks to AiMesh. Naturally, Asus also has VPN client support with OpenVPN, which should be quick and easy to set up with most VPN providers.
Bottom line
Though you are looking for the best VPN routers, keep in mind that you don't necessarily need a router with VPN support to use a VPN. You can install a VPN on any modern operating system, and setting up a VPN on Windows 10 is reasonably easy to accomplish. Most VPN services also have downloadable software that makes it extremely easy. Overall, the Asus RT-AX55 is one of the best VPN routers thanks to its accessible software and fast hardware with plenty of modern features.
We test and review VPN services in the context of legal recreational uses. For example:
1. Accessing a service from another country (subject to the terms and conditions of that service).
2. Protecting your online security and strengthening your online privacy when abroad.
We do not support or condone the illegal or malicious use of VPN services. Consuming pirated content that is paid-for is neither endorsed nor approved by Future Publishing.
Get the Windows Central Newsletter
All the latest news, reviews, and guides for Windows and Xbox diehards.