Best Windows 10 file explorers apps
From dark theme support to tabs and integration with popular file services, these are the best file explorer apps on Windows 10.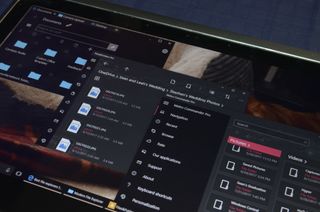 File explorers are an everyday part of life on Windows. They do everything from copy and paste files to launch executable files. The default file explorer on Windows 10 is very powerful and has years worth of features but the design is archaic. It isn't very touch-friendly and doesn't look like it belongs on Windows 10. Until Microsoft ships a modern file explorer, users who want a modern, touch-friendly exploring experience have to turn to third-party options.
While many of these file explorers are available on multiple versions of Windows, and some are on pretty much every version of Windows 10, this article will focus on their PC versions. A baseline for value is how well they replicate the features available in the stock file explorer while also having a modern design that works with mouse or touch inputs.
Modern File Explorer 2
Why you can trust Windows Central Our expert reviewers spend hours testing and comparing products and services so you can choose the best for you. Find out more about how we test.
First up is Modern File Explorer 2. It's available for $5.79 and is a strong candidate to replace the stock Windows file explorer.
It's a minimalistic app in terms of design that is a big jump from the old school file explorer. You can easily customize the appearance of the app by switching themes, and you can set different backgrounds within it. You can also change the scaling of the app, which is handy for some monitors.
Using the app is straighforward. You can jump between file categories, such as pictures and videos, on the left under the hamburger menu. You can also add specific folders as shortcuts. This is handy if you want to add your OneDriver folder, because OneDrive is not supported in the same way that Box, Dropbox, and Google Drive are.
The services that are supported work well. You just sign into either Box, Dropbox, or Google Drive, and then it acts and feels like any other file on your computer. It takes a half second or so to load some files through these internet-powered services but is otherwise solid.
The app also has the ability to launch EXE files, which many people value in a file explorer. Additionally, it has a built-in PDF viewer, though if you want to use another one you can switch the default app for PDFs.
Another great feature of Modern File Explorer 2 is tab support. You can open many tabs and drag and drop files and folders between them. Tab support is a highly requested feature for the stock file explorer in Windows so it's great to see it in this app.
If you'd like to see a full video breakdown of the app, the developers made one.
Files&Folders Pro
Next up is Files&Folders Pro which is available for $7.99. The app is well spaced out, which helps it not feel crowded when browsing through files. It also helps the app scale well when resizing it. It is customizable with themes and background images and has the option to have the background come from Bing's image of the day, a nice touch.
The app supports OneDrive and Dropbox, which make your cloud based files as easy to access as anything stored natively on the computer. Again, there is a slight delay when loading files based online but it's not enough to be an annoyance.
The downside of the app is that it makes you take some extra steps to jump between files. Rather than having file categories such as music and videos on the left, Files&Folders Pro has navigation, recent, browse, and refresh. To get to file categories you just click navigation and a menu expands out. You can customize this area to include any file location you'd like.
This design choice means you have to take an extra step to get anywhere in the app.The recent option speeds this up slightly but it also pops open another menu. This is disappointing because the app feels very well spaced when you're already in a folder but feels crowded when you have to keep popping open menus.
Another interesting choice is that Files&Folders Pro has multiple options that just take you to the built-in file explorer for Windows. One example is in the navigation area. You can click a plus icon to add any folder or file location to your set of favorites. This ultimately makes it easy to jump to files on your PC but means you have to take the time to set it up.
Overall, the app is well built and responds quickly. It supports the things you'd want in a file explorer such as launching EXE files, copy and paste, and other basic features, but it's biggest drawback is that you'll still have to use the built-in Windows file explorer from time to time.
Metro Commander Pro
Metro Commander Pro is built by the same developers as Files&Folders Pro. The apps are almost identical in appearance and options. The pricing is exactly the same at $7.99.
The main difference is that in Metro Commander Pro you have a two-column design that allows you to have two file locations open next to each other side by side.
Otherwise, the apps appear to be nearly identical. It has the same strengths and weaknesses as its file exploring sibling File&Folders Pro. It's a bit confusing why these apps are separate in the Windows Store at all rather than just being a setting you could toggle, but you can try them both out and decide which one you like better. We love them both.
Honorable mention: Windows 10 Mobile file explorer forced onto PC
If you create a custom shortcut you can actually get the mobile version of the file explorer to work on your PC. It is pretty barebones, and if you want to navigate back you'll have to be in tablet mode and use the arrow key, but it looks nice. It lacks quite a few features, especially when compared to the other entries on this list but it is fun to play with.
To create the shortcut on your PC, you can use our step-by-step guide.
Wrapping up
Replacing the stock file explorer is difficult. It's been built and grown over the years and is very good at its job.
Third-party apps are often as good or better than their first-party counterparts. In the case of file explorers, that's true in some ways but not in others. The apps in this article have more modern designs, support features that aren't available in the stock file explorer, and do their jobs fairly well.
Do you have a favorite file explorer that we missed? Have you tried any of our picks? Let us know in the comments.
Get the Windows Central Newsletter
All the latest news, reviews, and guides for Windows and Xbox diehards.
News Writer and apps editor
Sean Endicott brings nearly a decade of experience covering Microsoft and Windows news to Windows Central. He joined our team in 2017 as an app reviewer and now heads up our day-to-day news coverage. If you have a news tip or an app to review, hit him up at sean.endicott@futurenet.com.