Best Health Apps for Windows 10
By George Ponder published
Staying healthy is something we all should strive for, and there are several Windows 10 apps available to help you work towards that goal.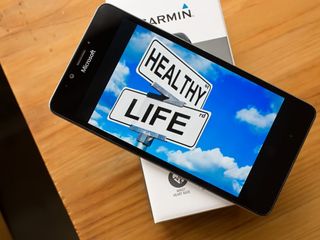 We've touched on the best fitness apps for Windows 10 for those looking to improve their health through exercise, and these health apps focus more on nutrition, relaxation, and rest. These apps can monitor your caloric intake, remind you to drink plenty of water, monitor your sleep patterns and more. After reviewing many of the offerings in the Windows Store, these are our picks for the best health apps for Windows 10.
Updated May 23, 2017: We made a few changes to this article based on new releases, reader input or staff discussion. There are some new titles in the mix, as well as those that we continue to view as the best from the Windows Store.
Relax Melodies
Relax Melodies has been a popular app in the Windows Store for years and delivers a wide range of soothing sounds to help you relax or find your way to a deep, rejuvenating sleep.
Key features of Relax Melodies include:
41 high quality sounds including two binaural beat frequencies.
Sounds can be mixed together with different volumes to create a personalized melody.
Timer system stops the melodies after you go to sleep or regulate your relaxation time.
Sound mixes can be saved and named for easy replay.
The layout is simple to pick up on, and Relax Melodies is an appealing option when you need to escape the stresses of the day or just need a little help settling down for a good night's sleep. For those with a baby in the house, Relax Melodies can help them fall asleep faster, so you can get some rest as well.
Available for Windows 10 Mobile, Relax Melodies is a free app with the option to upgrade to the Premium Version for $2.99, which doubles the number of sounds available.
Download Relax Melodies from the Windows Store
Food Diary
Food Diary is a Windows 10 Mobile app designed to help you track the foods you eat to allow you to make adjustments in your diet that can lead to a healthier life. The app design is optimized to make entries as quickly as possible, with a built-in database that provides nutritional information on thousands of food items.
Key features include:
One-tap entry with personalized suggestions.
Full off-line support to eliminate the need for a data connection.
Daily reports to show a summary of your day that highlights calorie intake as well as protein and carbohydrates consumed.
Personal reminders are available to remind you to stay on target with your dietary goals.
Food Diary is a free Windows 10 app with ad support. There is the option to upgrade to the premium version of the app for $5.99, which removes the ads, expands the food database, expands the daily meal limit and unlocks the ability to export the diary via email.
The free version of Food Diary performs well in documenting your diet. The app can shed some light on how you can improve your eating habits for a healthier lifestyle.
Download Food Diary from the Windows Store (opens in new tab)
Plant Nanny
Drinking plenty of water is a key element of staying healthy. The challenge with proper hydration is remembering to drink plenty of water throughout the day. Enter the Windows 10 app, Plant Nanny.
The app combines the healthy aspect of drinking water with an interactive way to monitor your drinking habits. As you drink water and record it with Plant Nanny, a small plant begins to grow.
Plant Nanny determines the amount of water you should drink during the day based on your body information and activity level. There is a nice selection of plants ranging from roses to carnations to cacti, with an equally appealing selection of pots. As you record your water intake, you earn water in the forum of life points that, in turn, can be used to grow your plant.
Plant Nanny reviews your water intake history and can remind you periodically to drink. Available for Windows 10 Mobile, this free app is a fun, interactive way to keep your body hydrated and healthy.
Download Plant Nanny from the Windows Store
Self Exam
Self Exam is a small collection of medical tests that you can perform at home. The free, Windows 10 Mobile app currently includes three self-administered tests that can reveal early indications of health issues. Please note that by no means should these self-examinations replace the need for routine visits to your physician.
Tests include a breast cancer test, an Alzheimer test and a urine color test. There is also a means to track menstrual cycles. Self Exam has support for toast notifications that remind you to perform these examinations periodically, and each test offers step-by-step guides.
Self Exam isn't a very complicated app to monitor your health but could alert you to conditions in which a more formal examination by a medical professional is called for. Hopefully, this app continues to grow and expand to cover additional self-administered medical tests.
Download Self Exam from the Windows Store (opens in new tab)
Sleep Tracker
One of the many keys to a healthy lifestyle is regularly getting a good night's sleep. Sleep Tracker is a free Windows 10 Mobile app designed to track your sleep cycles and awaken you gently through natural sounds and soft melodies.
Placing your Windows 10 Mobile phone beside your pillow as you sleep, Sleep Track can monitor the quality of your sleep cycle through your movements throughout the night. Your sleep data is logged to make it easily reviewed, and an auto-backup option is available using local storage or your OneDrive account.
Nature sounds can be used to help you relax and fall asleep and gently wake you up. Sounds include rain, wind, whale sounds and more. Sounds can be played individually or combined to create a melody. To round things off, sleep records support diary entries to detail your day, mood, diet, medications and anything else that could impact your sleep patterns.
Sleep Tracker is a simple, well-received Windows 10 app that could give you a little insight to your sleep cycles and help you improve your overall health.
Download Sleep Tracker from the Windows Store
Fitness Bands
While fitness bands help monitor your physical activities, such as runs, walks and steps, they can also monitor your sleep habits. This data can reveal any abnormalities in sleep patterns and show you how much rest time you are actually getting. Many of these fitness bands also monitor your heart rate, which can give you some insight on your health.
Fitness Bands with compatible Windows 10 apps include the Garmin Vivosmart HR+, Fitbit Charge 2 and Vector Watch.
All are quality devices with capable Windows 10 apps. The right choice can boil down to personal preference on the device or Windows 10 app. Personally, the waterproof ratings of the Garmin devices fit my activities better, but the Fitbit wins points for style. Regardless, any of these options offer a system that not only can track your fitness activities but also can monitor health aspects of your life.
Your thoughts
If you have tried any of these Windows 10 health apps, let us know what you think in the comments. There are plenty more to choose from in the Windows Store, and if you have a favorite, let us know.
George is the Reviews Editor at Windows Central, concentrating on Windows 10 PC and Mobile apps. He's been a supporter of the platform since the days of Windows CE and uses his current Windows 10 Mobile phone daily to keep up with life and enjoy a game during down time.
I love Relax Melodies Premium. By the way how come there are not download links for the rest the app shown in this article?

Cycle Tracks GPS is the best app on any device or system. Very accurate, love the in-ride display (includes current time, battery % left, along with ride stats), easy upload to Strava, Ride With GPS, One Drive. Offline maps in Airplane Mode can be used to save data, map can be hidden to also save battery. Been using this for a couple of years now, have tried MANY others alongside on other phones--nothing beats it!!!

I have tried plant nanny for 12 months. It is a nice app and it gamifies drinking water or fluids by keeping plants alive. Drink too much or little on time your plant dies and you start over. My experience this was quite fun and challenging. I stopped using it after 12 months because registering intake became too much of a chore. The app does not have a built in alarm program when to drink. I had to be creative and used the windows alarm app in parallel to manage my intake times. Also the expandability of the game leaves to be desired. After a while it got too hard with levels, the rewardincentive was low to register my intake. I had to drink so disciplined to progress it didn't reflect a healthy realizable fluid intake despite adequate intake per 24 hours. The achievements didn't allow to build up enough points realistically to buy more upgrades by achievement and the actual price for upgrades were absurdly high to not justify a value for continuing. I think if many of these points were addressed it could be a better hype and perhaps a better health experience as a Pokémon game.

I wonder if they ever got any feedback on the alarm feature wish. That seems like a natural upgrade for them to make.

Last updated date is 7/9/2014

The alarms, and the fact that only Remember to Drink takes the water in your food into part of the daily intake is why I use Remember to Drink instead. It is in my humble opinion the best drink app, but it is horrible buggy and has low support rate. Still, it is more serious about the intake than any of the competitors :)

Les buggy now, but you want to backup to onedrive, unless you like to have the app resat and start over approx. every 3rd month, because that happens.

I use the Fitbit app with my L640XL until someone will tell me if any band works with w10m at maximum price of 100$.

Get a MS Band 1 from Amazon or eBay. I had to buy a smaller size recently, found one on Amazon for $40 and gave my larger one to my oldest son. I'm wearing it right now and it works great.

Reading the reviews for Nutrition Hub and their website seem to indicate that the app has been abandoned and that paying the subscription means you get nothing.

Makes me long for MyFitnessPal to return. Ugh

Definitely miss MyFitnessPal. And the LoseIt! fiasco is just that, a fiasco. Smh. Hopefully someone finds it in their plans to come to W10M. Logging on the PC is a tad annoying (MFP).

The app still works for logging food (and almost nothing else). You just have to swipe to it after the main pages fails to load. I still use it to log everyday.

Same here. I was one of the ones that gave the tip hoping enough readers would ask myfitnesspal to stay that they would.

You guys should check out Self Exam. Looks great.

Contains simple medical tests that can be done at home and new tests are added regularly

It is an absolute shame that Micrsoft Health (now Microsoft Band) is not here. Reflects poorly on them. That app, along with the Band 2, worked excellently until June-July 2016 until both went downhill fast. I really miss my Band 2.

Your Band stopped working? I am wearing my Band 1 right now and it connects to the MS Band app with no issues. Is it a Band 2 issue or have I just been lucky with my Band 1 on my 640 XL and now 1520?

Bind mi band and notify mi band are also 2 good apps for Xiaomi bands. Such developers (with article's included too) deserve congratulations.

I love the MS Band 2; probably the best device MS has ever made (after they fixed the initial wrist band defect). Fitbit and Garmin are an absolute joke by comparison to MS Band.

Please stop these articles. Yesterday we had the third (and last) MS presentation and they didn't mentioned ONE word about their mobile strategy, all hope is lost, the mobile support is gone, no new phones, no new apps, no new strategy, nothing. I felt as if my dog died.

Shut up, we get new apps and app updates in the Windows store constantly. Do you even know what UWP is? Microsoft is taking a pause from hardware until they can come to the market with something revolutionary (or as Nadella says "the ultimate mobile device"). Microsoft believes the smartphone industry has peaked and technology advances are about to disrupt the market in the next few years.

Microsoft Band is my favorite overall. You even get health insights daily within Cortana. I track my sleep, exercise, and even UV exposure. I also like Fitbit.

I'm actually shocked Garmin continues to support Windows Mobile. I'm waiting on them to pull support at any moment. I'd hate to drop $700 on a Fenix 5x and have support bail in 6 months.

Letter N -> 3rd row, 6th letter from the left. 😂

I can see the Microsoft Band app on my L640 but there is no way to make it work, nor even uninstall it. The app died with the arrival of CU...
Windows Central Newsletter
Get the best of Windows Central in in your inbox, every day!
Thank you for signing up to Windows Central. You will receive a verification email shortly.
There was a problem. Please refresh the page and try again.