Best iOS and Android apps for streaming OneDrive music
With Groove Music retiring on Android and iOS, you'll have to look elsewhere to stream your music from OneDrive.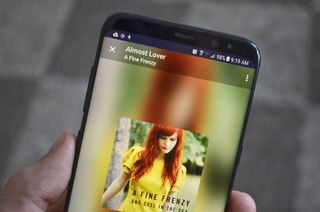 Microsoft didn't just discontinue Groove Music Pass; they're also retiring Groove Music on iOS and Android later this year. Users that prefer purchasing music, storing it on the cloud, and streaming it to their devices will have to look elsewhere to get their music fix. Luckily, there are a number of apps on both iOS and Android that allow you to stream music directly from OneDrive.
As a bonus, each of these also works with other popular cloud services like Dropbox and Google Drive, so you aren't locked into one cloud provider.
Best Windows 10 Music Player Apps for PCs of 2018
Cloudbeats
Why you can trust Windows Central Our expert reviewers spend hours testing and comparing products and services so you can choose the best for you. Find out more about how we test.
Cloudbeats is a simple music streaming app that lets you use OneDrive or other cloud services a source for music. The interface is a bit boxy, but it works well and supports music, audiobooks, and playlists.
If you upgrade to the pro version, you can use Cloudbeats with Chromecast and download tracks.
Cloudbeats is available on both iOS and Android. There are free or lite versions depending on your operating system but to remove ads and get all of its features you'll have to upgrade for $4.99.
CloudPlayer
CloudPlayer is my favorite app off of this list. The interface is excellent, it automatically detected all of my music and album artwork, and it supports downloading or streaming music. It also supports multiple clouds very well so you can take music from multiple sources.
The app supports Chromecast, Android Auto, AirPlay and Android Wear, so there are plenty of ways to listen to your music through the app.
CloudPlayer is only available on Android devices. It has a free version but to get premium features like cloud streaming and casting support you'll have to upgrade for $7.99. You can try premium features for free for 30 days to help you decide if it's worth the price.
Cloud Indeed
Cloud Indeed is a solid option for those on iOS. It works with OneDrive as well as other popular streaming services. It takes this further by having a fusion mode that combines your music from various cloud sources.
You can stream music or download it, and the app also supports file management so you can move your music around to organize it.
The interface isn't as clean as I'd like but it works. It looks better on iPhones than iPads due to spacing issues.
It's available on iOS for free but unlocking all of its features such as playlists and adding more accounts costs $3.99. That upgrade also removes ads, which are more present in the free version than they should be.
See in App Store (opens in new tab)
OneDrive music is still alive
When Groove Music was around, I didn't even consider looking for another app to stream music from OneDrive. Thankfully, there are options to choose from that look great and work well. Some of them even have features that never were available through Groove Music, giving you an upgrade on your music streaming.
What apps do you use to stream your music? Let us know in the comments below.
Related
Windows Central Newsletter
Get the best of Windows Central in in your inbox, every day!
News Writer and apps editor
Sean Endicott brings nearly a decade of experience covering Microsoft and Windows news to Windows Central. He joined our team in 2017 as an app reviewer and now heads up our day-to-day news coverage. If you have a news tip or an app to review, hit him up at sean.endicott@futurenet.com (opens in new tab).
Is it still available via these apps only in countries where Groove was more than just a player?

I notice that CloudPlayer doesn't have jumplists.

I'm always a bit weirded out by apps that support things like OneDrive, I mean do I really have to sign in with my email and password to that Microsoft account. Isn't there a 'create app password' I can use in-place of my real password?

There shouldn't be any need to worry. The signin should be done one MS' page. After signing in, the app gets back from the MS site a token it can use to access one drive. The app should never know your password. You can also setup your MS account to use the MS Authenticate app to sign in, so instead of getting asked for a password you click Send Notification and get an Approve/Deny popup on your phone.

In addition to that, if you do enable 2FA, you also get the ability to create "App passwords", theoretically for those devices that can't use the 2fa/OAuth login

Thanks for the ideas. Looks like cloudbeats supports local downloading too for offline playing. Still think it was a total loser move by MS to abandon Groove on iOS and Android for its OneDrive capabilities. I had it all set up perfectly... I could download a song to Groove ON MY PC... it would stick in automatically in the OneDrive folder. I would add it to a playlist ON MY PC. And when I opened up my iOS version of Groove the songs would automatically download and playlists would be updated. But thank you so much Mr. Abandon (Nadella) I guess I'll give cloudbeats a shot and see if it works for me. Beats moving all my songs to Google Play. Although I'm still angry enough that I might eventually do that anyway, out of sheer disgust with Mr. Abandon.

Since they partnered up with Spotify, why aren't they adding this feature to the app?

Exactly. Microsoft should just buy Spotify already and have a Onedrive streaming option developed asap.

No no. Spotify is rock solid with amazing AI algorithms. I always fear if MS buys consumer solutions they will become Skype 2

I uploaded all my music to Google Play Music. Set it to automatically upload new music. That way I have a webUI at work and streaming/download apps with chromecast support on. At home I just use my local library on my hard. The Groove apps where already pretty wonky so I switched to a services that is actually meant for music instead of a general product where music streaming is just a small checkbox on a feature list. Just like Photos is half baked for OneDrive if you compare it with Apple/Google photos who have fast sync, search, tag and editing for pictures.

Same. Waiting to see what happens with Google apps on PC now that OneDrive is mostly useless to consumers.

Has anyone at Microsoft ever used Google Play Music, Apple Music, Google Photos, Apple Photos, or Files app on iOS? They need apps for this type of media. OneDrive for Android/iOS simply does not work for Managing/Viewing/Editing Photos/Videos or Music. In addition to that, the OneDrive app isn't all that great, anyways. They really should have just designed something like the Apple Files app, that lets you manage, preview, and open/download files... Then they needed apps to Stream/Download your Music from OneDrive (Groove, but without the streaming services) and Manage/Edit your Photos (Microsoft Photos, but for other OSes). The bad Photos & Music experience is really what keeps me from using OneDrive for anything but Office File storage, (and only) because of AutoSave. It feels like Microsoft developers don't give a **** about UX, because you can't use OneDrive UWP, Photos, and OneDrive for iOS/Android and not notice how bad the experiences are compared to the platform native solutions - and many third parties.
Windows Central Newsletter
Thank you for signing up to Windows Central. You will receive a verification email shortly.
There was a problem. Please refresh the page and try again.