Best Photography Apps for your Windows Phone
Best Windows Phone Photography Apps from WPCentral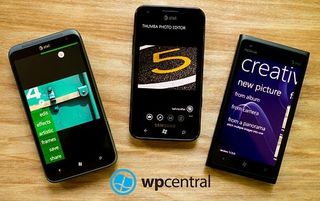 We've taken a look at the best free apps, the must have games, the must have apps and the best weather apps for your Windows Phone. We now turn our attention to the best photography apps for your Windows Phone.
Now that you have some insight on how your Windows Phone camera works, these apps will help you edit and add a creative touch to your photographs. Some of these apps will even have an in-house camera function to keep everything under one roof.
As with all our "best of" lists, this list contains the apps that stand out in our opinions. If we've missed an app that you think should be included, please sound off in the comments.
Why you can trust Windows Central Our expert reviewers spend hours testing and comparing products and services so you can choose the best for you. Find out more about how we test.
Best Windows Phone Photography Apps
Thumba Photo Editor ($.99/Free Trial): Thumba Photo Editor is described as the most complete photo editor for your Windows Phone over in the Marketplace. With over seventy adjustments and effects, it would be tough to dispute such a claim. Just to give you a feel for the range of adjustments and effects, with Thumba Photo Editor you can:
Crop, resize, rotate, change aspect ratio of your photos
Add a watermark
Adjust brightness/contrast
Sharpen
Apply a 3D filter
Apply color filters
Apply twenty different effects
Map photos based on GPS data in EXIF file
Navigation is fairly straight forward giving you the ability to edit existing photos in your Pictures Hub or capture and edit a new photo. Another nice feature is the before/after button that will let you review the image before you have applied the edits.
There is a free trial version available for Thumba Photo Editor with the full version coming in at $.99. The trial version will not let you save and share the photos or edit the GPS data but it will give you a good feel for the app. You can find Thumba Photo Editor here at the (opens in new tab) Windows Phone Marketplace.
Sketch Camera ($1.49/No Trial): Sketch Camera is a special effects app for your Windows Phone that allows you to apply about a dozen sketch styled effects to your photos. You can capture and apply the effects to new photos directly from Sketch Camera or pull up existing photos from your Pictures Hub and apply the effects.
Effects include: Sketch, Pencil drawing, bathroom filter (tiles), Life on Mars (sepia effect), Parchment, Alien Skin, Chalk, Wall sprayer, Oil paint, Foil, Canvass, Industrializer
Navigation is simple and Sketch Camera gives you a decent range of creative filters. The only downside may be that you can't share images directly from the app. You'll have to go to your Pictures Hub, where the images are saved, to share them.
There isn't a free trail available for Sketch Camera and the full version is running $1.49. You can find Sketch Camera here at the (opens in new tab) Windows Phone Marketplace.
Fhotoroom (Free): While Thumba Photo Editor has a very admirable set of editing tools and effects, Fhotoroom can hold its own with respects to features. Here's what you get with the full version:
18 editing effects (brightness, saturation, sharpness, etc.)
25 style effects (tilt shift, textures, color tints, etc.)
33 frames and borders
Within all that you will find 25 light effects, 27 texture patterns, 9 vignettes, and 9 white balance options. In addition to editing existing photos, Fhotoroom has its own in-house camera app that allows you to take and edit photos.
There is also a social aspect to Fhotoroom with the ability to share pictures with Skydrive, Flickr, Facebook, Twitter and Tumblr. As well as view photos from other Fhotoroom users (very similar to Instagram).
There is a trial version that limits you to only 30 filters and a basic camera app. But with Fhotoroom being free, why not take the plunge and try the full app? You can find Fhotoroom here at the (opens in new tab) Windows Phone Marketplace.
Autopanorama (Free): While the newer HTC Windows Phones (Radar, Titan, Titan II) and the Nokia Windows Phones (through the Creative Studio) have in-house panorama features other Windows Phones will have to rely on third party apps to create panorama images.
Autopanorama lets you capture your images (no set limit) and when you tap "stop", the app will stitch them together to create one panoramic image. Images are aligned with the previous photo through a preview windows on your Windows Phone screen.
Autopanorama saves the completed photo to your Pictures Hub where you can share your creations via Facebook, Twitter, email or text messaging.
Autopanorama is a free app for your Windows Phone that you can find here at (opens in new tab) the Windows Phone Marketplace.
Pictures Lab ($2.99/Trial Version): Pictures Lab is another feature rich photo editor for your Windows Phone. Pictures Lab allows you to edit existing photos or launch an in-house camera app and capture a new photo to edit.
The main editing pages cover effects and borders with button controls to crop/rotate the image. There are thirty effects that can be applied to your images ranging from black and white conversion to HDR filters to a comic effect. On the border page you will find thirteen borders for your photos that includes film strip, old paper, and a Polaroid border.
You can share your images directly from Pictures Lab to Twitter and Facebook as well as uploading them to your SkyDrive account. You also have the ability to add your name (artist name) to the image's EXIF file through Pictures Lab's settings.
There is a free trial available for Pictures Lab with the full version running $2.99. You can find Pictures Lab here at the (opens in new tab) Windows Phone Marketplace.
Apict ($.99/Free): If all you need is to give your photos a Polaroid or instant camera look, Apict might be just what you're looking for. The app is simple and can be applied to existing photos or to new images captured through your Windows Phone camera.
Once you capture or select the photo to edit, you can crop the image and add text to the picture frame. When you hit the check mark, Apict processes your image and cranks it out much like the old Polaroid cameras did (with matching sound effects as well.
Once generated you can save the image to your Pictures Hub and/or share the image through Facebook, Flickr, or Twitter. One nice feature on Apict is that you can choose the image quality/resolution through the app's settings.
There is a free trial version available for Apict with the full version running $.99. You can find Apict here at the (opens in new tab) Windows Phone Marketplace.
CleverPhoto ($1.49/Trial): CleverPhoto is an interesting photo editor for your Windows Phone that will appeal to the beginner photographer to the more seasoned shutterbug. CleverPhoto has a very clean interface with the following tools.
Edit: Here's where you crop, rotate, brighten, sharpen and make all the other basic adjustments to your photo.
Effects: Here you will find filters to give your image a more custom look. The customizations include black and white, sepia, negative, and vintage filters as well as tilt shift, vignette, and lomo effects.
Artistic: Here is a collection of five artistic filters that include Da Vinci, Neon, Zoom In, Sketch and Scratched.
Frames: A collection of five frames or borders for your photos.
All totaled, CleverPhoto has forty edits that can be applied to your photographs. Once done, you can save your creation to your Pictures Hub as well as share them via Facebook or Flickr.
There is a trial version available for CleverPhoto with the full version running $1.49. You can find CleverPhoto here at the (opens in new tab) Windows Phone Marketplace.
In addition to these apps, you also have photo apps specific to certain Windows Phones.
HTC has the Photo Enhancer which is basically a set of filters and effects you can apply to your photos. Photo Enhancer isn't a bad app but it feels more as a supplement to the Windows Phone camera's in-house effects.
Nokia has the Creative Studio app that allows you to apply effects and filters to new photos and existing photos from your Pictures Hub. One neat feature with Creative Studio is the ability to apply special effects as you capture photos. You have warps that remind me of the carnival mirrors and Live Styles which are effects themes (sketch, night vision, cartoon, etc.) that transforms your images as you capture them.
You also have the ability to apply the basic editing adjustments such as crop, rotate, contrast, sharpness, etc. Last but not least, Creative Studio has a panorama feature that lets you stitch four images together to create a single panorama image.
Samsung has two photography apps native to their Windows Phones. There is Photo Studio that has modes or effects themes that can be applied to pictures as you take theme that includes Lomoshot, Beautyshot, Dreamshot and a panorama shot; a set of basic edit tools (brightness, cropping, rotate image); and sharing support for Facebook, Photobucket and Picasa.
You also have Photogram in the Samsung app store that eight effects themes that can be applied to existing photos from your Pictures Hub or photos captured by your Windows Phone camera. The effects include normal settings (no effects) with a border, HDR, vintage, black & white with glow, sepia, glow, black & white and a collage builder.
If your Windows Phone didn't come with these in-house photography apps pre-loaded, you can find them in your Marketplace app under the respective app store listing (Samsung Apps, HTC Apps, Nokia Apps, etc.).
So, which is the best? I find that photography applications are much like ringtones. Most are really good apps, it's just finding one that meets your photographic needs and tastes the best. Personally, I like Thumba Photo Editor for more detailed edits and Sketch Camera for when I want to have fun with effects. My advice, take advantage of the trial versions and free apps to try things out. Find the app you are comfortable, that meets your needs and run with it.
Again, this is just a small selection from all the photography apps available for your Windows Phone. These are the photography apps that stood out to us and if you think we've overlooked a photography app, feel free to recommend it in the comments.
Windows Central Newsletter
Get the best of Windows Central in in your inbox, every day!
George is the Reviews Editor at Windows Central, concentrating on Windows 10 PC and Mobile apps. He's been a supporter of the platform since the days of Windows CE and uses his current Windows 10 Mobile phone daily to keep up with life and enjoy a game during down time.
Thumbs Photo Editor is awesome. Much more options than the other apps. Use it for all my photo needs. Great job on the comparisons.

Colorify is something apart, but really cool :) it grayscales the picture and you can draw on it to make certain parts in color again :D oh btw it's free

Great comparisons! Thanks for the article! I use most of these already. Didn't know about the AutoPanorama. Been looking for an app for that!

Camera Hack is an app for applying eight different filters to photos you are taking, and it allows you to see a real time preview of the image you are going to take. It saves the images at full resolution and allows you to take pictures with either the main camera or the front-facing camera if you have one. It's currently lacking the ability to filter existing photos in your library or sharing from inside the app, but those features may be added in the future.
There is a free trial that is limited to 3 filters if you want to check it out: http://windowsphone.com/s?appid=b29e2293-4544-4ee7-99ae-847d5678eb03

I actually prefer Thumba Cam over Thumba Photo Editor. Both work very well, but Thumba Cam is a one touch kinda design versus the detailed editing of Photo Editor. The filters, frames, and basic crop and editing features are exceptional. Seems to get more updates as well. The recent one was great in that it allowed the user to choose their own preloaded presets for choosing which speeds things up for loading and really simplifies and personalizes the whole experience. Its got all the social sharing options as well.

No trial for Sketch Camera? I have the trial installed right now - it gives you one (crappy) filter to use

Just WOW at autopanorama! That first screenshot is the fugliest thing I've seen in years.

Fantasia Painter is one of the best. It also allows you to apply effects to specific parts of the image. I find it odd that it isn't featured in this article.

Fantasia Painter is the best photo editing app imo. I have Thumba, and use it often, but Fantasia not only give an editor you also get a painter to create art from scratch. Oh and its very well designed!

Yep, Fantasia Painter destroys the rest IMO. Best photo editor I have used on any mobile device. Nothing against the others but Fantasia Painter allows the freedom you need to really edit the photo how you want. The possibilities really are endless

Was amazed to find our it wasn't the first one listed, then I see it isn't even listed! Wow. Hands down....THE BEST

Nice mentioning fhotoroom...my app of choose for editing :)

Yeah I love fhotoroom, great photo editing tools. But I also use almost every app listed in this article & then some, lol.

To burst over 30 photos in one second, and then choose the best ones to edit with these fantastic selection of tools, take a look at Turbo Camera app too ;)

I'm personally a fan of Fantasia Painter.

I quite like Camera Effects, also. Has lots of different effects and frames.

You guys missed fantasia painter. Its better than all of these

Fantasia painter free.. My no1 choice right now..
And dont forget Photofunia..

George, the masses want to know - have you tried Fantasia Painter? I've been using it for quite a while, and I can't imagine anything else that I'd need my photo/image app to do. It even includes drawing tools.


Downloading Fantasia Painter as I type. I'll tinker with it over the weekend and will get something up early next week.

The Nokia Creative Studio app is what I use, if I need to edit a photo that I want to email from my Lumia 900. I am not really into effects, but the editing tools are very good. Plus, its free. I am really loving my Lumia 900. Nokia ended up giving me the phone for free, and then I get free Voice Guided GPS navigation, and a free photo editing app. You really can't ask for more than that.

Dont use it often. But I love its filters

Oh, and Hipstar. I love hipstar. Ability to mix and match lenses and film types and take pictures in real time with a gorgeous, life-like interface.

any hdr apps out there to take pictures not apply as a filter. Coming from android they had an simple app take 3 pictures combined them into 1 high quality pic. I miss it, is there something like that on wp7?

Why are LoMob, Sophie Cam and Hipstar not on this list? Anyone that has used them will agree they clearly belong here. They are certainly better than some of the apps on this list. Please revise! Thanks!

Apict is one of the favs though :)

any hdr apps out there to take pictures not apply as a filter. Coming from android they had an simple app take 3 pictures combined them into 1 high quality pic. I miss it, is there something like that on wp7?

any hdr apps out there to take pictures not apply as a filter. Coming from android they had an simple app take

No mention of my *very favorite* Windows Phone camera app... Sophie Cam? It's great and fun to use. Check it out!
http://www.windowsphone.com/en-us/apps/19c8f96a-0505-4f8c-819d-f55374c9a70f

Fhoto exits on me when selecting certain effects. Seems buggy.

Sophie Cam is definitely my current favorite.

Turbo camera, fantasia painter and phototastic.

You forgot the best out of the bunch, "Fantasia Painter!" It's free too! Talk about a true custom Picture, it's like a mini Photoshop on your phone.

Thumba Cam and Thumba Photo Editor are my pics. Worth buying.

I think Sophie Cam deserves a worthy mentioned!!
http://www.windowsphone.com/en-US/apps/19c8f96a-0505-4f8c-819d-f55374c9a70f
Use it, and tell me you feel the same way!



Can't believe photofinia didn't get a mention.

Thumba Photo Editor is definitely my go to app. But I also think MS fun photo apps like Face Swap, Face Mask (and some new one I can't remember the name of right now) are cool as well. Not as deep as the others and obviously more niche and gimmicky. But I've had some hilarious results with the Face Swap app

Hi, I would like to +1 on turbo cam as it offers choice of resolution as well as the mentioned super fast "motorized" effect you would want on your old 35 mm slr. Also there are several capable time lapse apps and one I am really liking called photo timeline which keeps a calendar by month view day and map views searchable of any photos taken and saved to your phone it will retroactively classify all of your photos chronologically even taken prior to install a great organizer very cool. Oh also like very simple and fast Easy Cam pinned to homepage for that quicky and also forgot to note that you can configure turbo cam to start shooting as soon as it opens so you hit the ground running.
thanks for the in depth found some here I will have to try!


A new awesome photo app has arrived! SuperPhoto
http://www.windowsphone.com/en-US/apps/a48a3317-2de6-4573-992d-9c16253a836a
give it a try!
Windows Central Newsletter
Thank you for signing up to Windows Central. You will receive a verification email shortly.
There was a problem. Please refresh the page and try again.