Best Video Editing Software for Windows 10 in 2020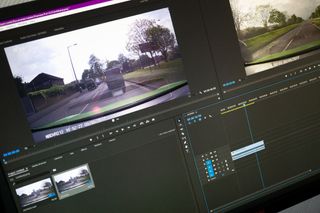 (Image credit: Windows Central)
Believe it or not, but we also do a lot of video work here at Windows Central. Being a media company, we need the best editing tools in the business. You deserve the best too, which is why we rounded up the best video editing suites available for Windows 10. Adobe Premiere Pro is as powerful as it is complicated for newcomers. Should you find the time to master this incredible collection of tools and features, you'll become the master of video editing in no time at all.
Best Overall: Adobe Premiere Pro
Why you can trust Windows Central Our expert reviewers spend hours testing and comparing products and services so you can choose the best for you. Find out more about how we test.
Adobe Premiere Pro
Video editing for professionals
Reasons to buy
+
Immense functionality
+
Regular updates
+
Works cross-platform
+
Backed by Adobe's cloud platform
+
Supports virtual reality
Reasons to avoid
-
Subscription price hard to justify for many
-
Incredible learning curve
-
Requires a powerful PC
Pretty much everyone knows about Adobe Premiere Pro, but not everyone needs Adobe Premiere Pro. It's pricey, coming in at $21/month for the Creative Cloud subscription (and that's just for one app if you subscribe for 12 months!). You need to make sure the cost is outweighed by the functionality you'd be able to use regularly. If you happen to be developing a YouTube channel or wish to take the plunge and become the next big name in the video editing biz, Premiere Pro will be your best friend for life.
It's not all bad, though. The beauty of Adobe's Creative Cloud platform ensures you're always rocking the latest release of its software packages, and Premiere Pro is one of them. By installing the suite today and continuing the monthly (or annual) payments, you'll receive all future updates and major releases. Think of it much like Microsoft Office 365, but with for creative minds.
When you see or hear the name Adobe Premiere Pro, you immediately think about the best-rated video editor on the market. Used by professionals, amateurs, and everyone else in between, Premiere Pro plays a significant role in the day-to-day running of major content creation businesses, including many YouTubers.
Upon first encountering the immense UI of Premiere Pro and recovering from the immediate panic attack, it's required to spend some time getting accustomed to how everything works. Once you've mastered the basics, however, it quickly becomes quite an intuitive experience.
What sets apart Adobe's Premiere Pro to alternatives is the scope of what you can do with the suite. From simple cut and paste jobs to actual movie edits, there's nothing you can't do with Premiere Pro, aside from more advanced audio editing and other tasks that require dedicated software. But even still, there are tools available here to do some of that without leaving the app.
The only drawback to this amount of power is the price, which is appropriate in the form of a monthly or annual subscription. What this does allow is the installation of regular updates released by Adobe, ensuring your installation is always rocking the latest from the highly talented team of developers.
Runner-up: CyberLink PowerDirector
CyberLink PowerDirector 16
High-quality, premium video editing suite
Reasons to buy
+
Advanced video editor
+
Easier to use than Premiere Pro
+
Single purchase
+
Can edit 360-degree footage
Reasons to avoid
-
Pricey
-
Can still be daunting for newcomers
If Adobe Premiere Pro is simply too much for what you require from a video editor, then PowerDirector from CyberLink is likely going to be a better fit. It's also substantially cheaper, not requiring a subscription, and makes it easy to get accustomed to the well-designed UI.
Some handy tools make creating incredible visual experiences a breeze, and there's an option for more advanced users to bypass the beginner-friendly approach and dive into more technical functionality. You could even edit 360-degree recorded footage.
It's a little easier to use for newcomers to video editing too, so if you want premium software out the gate, this may be the better choice for you.
Best from Microsoft: Microsoft Photos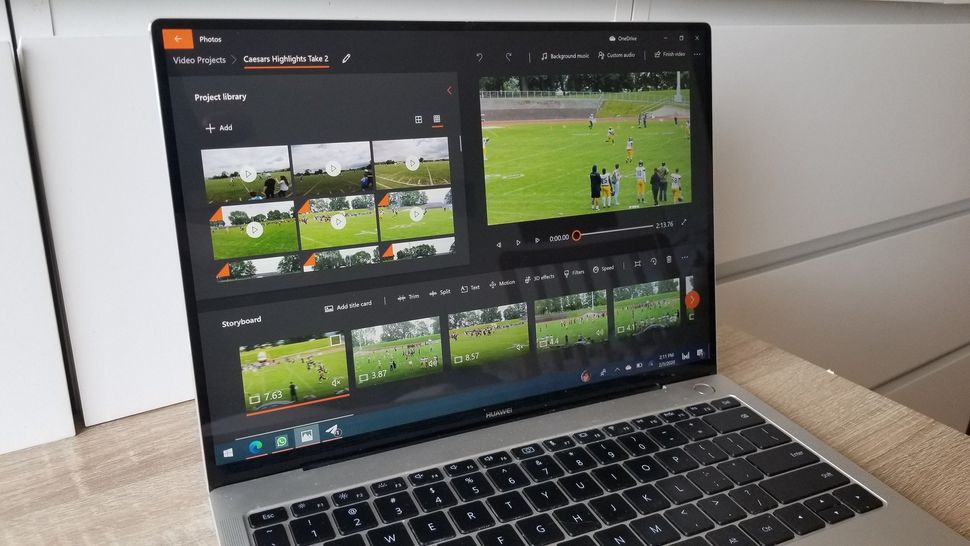 Microsoft Photos
Photos is available as soon as you install Windows 10
Reasons to buy
+
Free
+
Comes with Windows 10
+
Quick and simple
+
Video effects
+
Easy to use
Reasons to avoid
-
Lacks many features
-
Slow processing
"Hang on a second, Microsoft doesn't make a video editor!" Actually, the company does, and it ships with Windows 10! Microsoft Photos is the app you can use to view media (both still and animated), as well as make edits to various supported file types. That includes video, allowing you to quickly crop, adjust, and make other alterations without over-the-top bloaty software.
The main benefit of using Photos is that it doesn't cost you anything and is pretty lightweight. There are some features included that allow you to crop and adjust footage, add special effects, and some text, as well as save everything, so it's ready to share with the world. It's all about getting the task done quickly.
That flipside to this is the functionality is... well, basic. You do have effects, text, and other cool additions to video, but that's about it. If you want to make your videos pop and stand out, you're going to need a dedicated video editing suite.
Best Value: Adobe Premiere Elements
Adobe Premiere Elements 2020
Premiere Pro's younger sibling
Reasons to buy
+
Single purchase
+
Developed by Adobe
+
Works cross-platform
+
Good array of features
+
Great value
Reasons to avoid
-
Lacks advanced features
-
Not worth upgrading if you own 2018/2019
While not as advanced as the more expensive flagship video editor, Premiere Elements can do much of the basic editing required for throwing together some clips with added music. Depending on the content you desire to create, you may not need the full setup that more expensive and frightening suites offer, which is where something like Premiere Elements really shines.
It's the middle-ground between free software like Microsoft Photos and professional suites like Premiere Pro. You'll find a lack of features compared to the latter, though if you're looking to save money, this should be the least of your worries. For starting out, Adobe Premiere Elements is a solid commercial choice.
From the Store: Movie Edit Pro 2020 Plus
Movie Edit Pro 2020 Plus
Available for download on Windows 10
Reasons to buy
+
From the Windows Store
+
Single purchase
+
Good array of features
+
Simple UI
+
Good performance
Reasons to avoid
-
Loses out on some features due to price tiers
-
Not the most affordable version
Should you not be a fan of Adobe products, or want to try something that isn't Premiere Pro, there are some pretty good video editing apps on the Microsoft Store. The bonus of using the store on a Windows 10 PC is the ability to download these apps directly from Microsoft and keep them all updated. Movie Edit Pro Plus is a solid editor with a bunch of tools found in other suites.
Just don't go and expect to use professional plug-in effects from HitFilm, Red Giant, MotionStudios, and ProDAD as they're locked out for the Premium version. If you need them, it's worth the additional cost, but this is something to bear in mind. This Windows edition doesn't include all available features. It's also not the most affordable version available.
Best Free: OpenShot
OpenShot
Free video editing for all
Reasons to buy
+
FREE
+
Somewhat easier to use
+
Cross-platform
+
Simple UI
Reasons to avoid
-
Slower compared to commercial software
OpenShot is special in that it's an advanced video editor that's completely free to download and use. You can grab a copy on Windows, Mac, and Linux, allowing you to use the same software across different devices. Not only that, but it's actually rather good to use, thanks to the UI and ability to switch between simple and advanced modes.
It is a little slower compared to commercial software, as one could argue is to be expected. Still, if you're not going all out with countless files being rendered daily, OpenShot should be good enough for you to use until you can afford better.
Bottom line
There are some excellent options available for video editing on Windows 10, thanks mainly in part to the matured platform and OS. Whether you need the best tools available or to save a few pennies and pick up a solution tailored to amateur work, there's a video editor for everyone.
Adobe Premiere Pro is a glorious video editor to use. If you happen to be hunting for the absolute best software available for Windows 10, you cannot best this piece of kit. Available as a subscription, allows Adobe to provide regular support and updates to enthusiasts and professionals, both of whom can take full advantage of all the latest innovations and features.
If you don't fancy paying out for software to tie together some family recorded clips, you can always try out OpenShot at no cost. It's not quite as powerful as Adobe Premiere Pro, but you will be able to get basic editing done. Just be sure to have a capable GPU installed inside your desktop PC. We rounded up some of the best graphics card to help you out there.
Get the Windows Central Newsletter
All the latest news, reviews, and guides for Windows and Xbox diehards.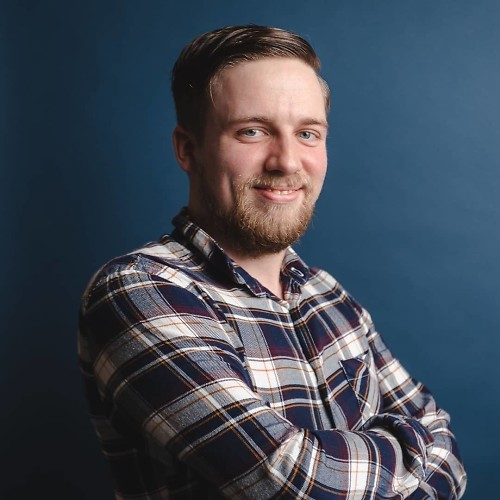 Rich Edmonds was formerly a Senior Editor of PC hardware at Windows Central, covering everything related to PC components and NAS. He's been involved in technology for more than a decade and knows a thing or two about the magic inside a PC chassis. You can follow him on Twitter at @RichEdmonds.