Connecticut-based WhartonBrooks plans to launch a Windows 10 Mobile phone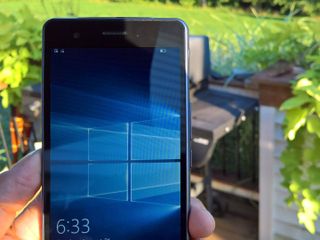 A Connecticut-based company called WhartonBrooks has announced plans this week to release a Windows 10 Mobile phone sometime later this fall. The details of this device have yet to be revealed.
The company's press release offers some broad info on their plans, which they claim will "radically change the mobile computing industry." WhartonBrooks seems to suggest that their phone will target the business and enterprise markets, much like the HP Elite x3, with plans to offer a wireless display adapter so that the phone can connect to a large screen and be used like a Windows 10 PC.
Hopefully we will learn more about WhartonBrooks's Windows 10 Mobile phone in the near future.
Press release
WhartonBrooks Set to Launch Windows Phone
Ground breaking technologies from WhartonBrooks coming in the Fall of 2016
Disruptive technology breaks the mold of current technological thinking to create a new path. WhartonBrooks is bringing new products and services that will radically change the mobile computing industry. WhartonBrooks' disruptive technologies and innovative approach will define the future of computing. Coming this Fall, WhartonBrooks will bring customer-centric advancements that will enable computing to be more personal, flexible, and secure. We accept the challenge to bring forth the loyalty and excitement that has been historically a description of the Windows Phone fan base.
The current approach to balancing work, home, and play is to just add more and more devices. That raises the question… Is "more" better? Not always. There are times when less is more. With less devices, a person's balancing act (multiple devices) can be simplified. We aim to simplify the computing you do at work, home, and while on the go. Fluid computing is our vision for helping you be productive, be creative, and have fun. We have the one device that takes care of all your needs. It changes with you throughout the day to meet your office and personal needs in every Moment. With our products, coming this fall, we have teamed up with Microsoft and Qualcomm to develop technologies that will allow you to use your smartphone as a PC, a tablet, and even make phone calls.
When connected to our wireless display adapter, your phone can stream its content to any screen. This opens up a whole new level of Modular Computing, allowing your phone to serve as the only computer you will ever need. For desktop computing, you can wirelessly connect to a keyboard and mouse and have a full PC experience. Now you have the capability to duplicate your enterprise environment while at home or travel. On any size display, browse the web, develop software, create that killer pitch with PowerPoint, send an email, and have a remote session with your desktop applications at work-all from your smartphone. The apps on our platform are built to work with any screen size because they adapt to the mode of work or play. For us, Modular Computing is at the heart of our new products. It is quite simply, your phone functioning as the hub of all that connects you to the world around the corner or around world.
With your phone as the center of your professional and personal world, consistency and security are critical. WhartonBrooks' smartphones are built with Windows 10, which features the latest in whole disk encryption, secure email, secure boot, multifactor authentication, and multiple biometric methods to authenticate device access. In addition, access to enterprise systems is further protected with VPN and secure remote desktop access. Using these technologies, the corporate data doesn't touch the smartphone and never leaves the facilities of the enterprise.
The innovations we are bringing to our devices will be the most disruptive since the advent of the smartphone in 2000. The key to our success is the incorporation of your feedback into our products. We want you to love our products and enjoy the experience. Our customers (current and future) have direct access to our engineers, developers, and support teams. This technological disruption (our new path for consumers) is guiding the development of WhartonBrooks and our Cerulean smartphones. With an unbelievable drive to succeed, WhartonBrooks strives to create the best devices for our customers.
Get the Windows Central Newsletter
All the latest news, reviews, and guides for Windows and Xbox diehards.