HP Elite x3 review: the best Continuum phone yet… and then some
HP's first venture into Windows 10 Mobile is a strong one, but it remains to be seen if they can create a market for this three-in-one device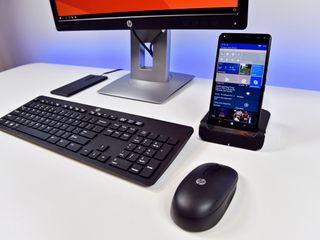 Before we get started, let's get something clear: you can call the Elite x3 many things, just don't call it a smartphone. So says HP who is proud to boast about the category-defining Elite x3, now hitting markets around the world. Granted, the Elite x3 could be just another smartphone, but there is a lot that is different about this device that makes it worth a reconsideration.
The Elite x3 runs Windows 10 Mobile Anniversary Update and with it all the baggage from years of people calling it dead-end OS. While Microsoft's consumer smartphone ambitions are in a holding pattern, which is being generous, the OS may have found refuge in at least one area: industry. It's a bit ironic since businesses and enterprise used Windows CE (Windows Mobile) a decade ago.
Now, in late 2016 Windows Mobile is returning to its roots.
So if the Elite x3 runs an OS found on smartphones, why is it not really a smartphone? HP argues that the Elite x3 is the only mobile device that can act like a desktop, laptop, and a smartphone because of Windows 10 Mobile and Continuum. This is, in fact, where HP derives the 'x3' name. And while the Lumia 950 and Lumia 950 XL could do similar feats it did not have the broad ecosystem of HP hardware and infrastructure to support that vision.
This designation is not just semantics either. HP wants you – and their potential customers in industry – to think of the Elite x3 as a Windows tablet that has telephony abilities and the power to run real desktop Windows apps (through HP Workspace, its virtualization service). Combined with streamlining of IT operations for first responders, miners, engineering, retail, transportation and other industries and the Elite x3 begins to make sense.
All of this, however, hinges on one thing. Is the HP Elite x3 any good?
Many companies have veered into mobile computing only to fail. Even HP does not have a good track record here (see their disastrous webOS failure from just a few years ago). But HP's undergone some enormous changes in the past few years, including splitting hardware and enterprise services into separate companies. Can this new HP break the curse?
Finally, what makes reviewing the Elite x3 different is that it's the first non-consumer focused mobile device we are covering. HP does not expect regular people to buy into this system, just various industries who need what it offers. That requires a different mindset and different metrics for evaluation.
What makes an x3?
In anticipation of our deep dive here are three main components of the HP Elite x3 ecosystem that you need to know.
Elite x3 Mobile Device – This is the 'smartphone' running Windows 10 Mobile, powered by a Qualcomm Snapdragon 820 CPU with 64GB of internal memory.
HP Desk Dock — A one-pound dock meant to link the Elite x3 to an external monitor with mouse and keyboard. It has multiple ports including a DisplayPort, two USB-A, a USB Type-C, and an RJ-45 Ethernet jack. It can both power and recharge the Elite x3.
HP Lap Dock — Meant for mobility the Lap Dock lets your push your Elite x3's OS to the Lap Dock. It has a 48 Whr battery, but no CPU, RAM, or HDD — that all comes from the phone. It's a quick way to turn your Elite x3's into a 12.5-inch FHD laptop experience with a full-sized enterprise class keyboard. It can also charge your Elite x3 at the same time.
Of course, you do not need all of the components to make the x3 enjoyable, but without the docks, you can rightly call the device 'just another Windows phone' (albeit, the best one to date).
HP Elite x3 specifications
Swipe to scroll horizontally
Category
Features
Display
5.96-inch 2560x1440 AMOLED
Processor
Quad-core 2.15Ghz Qualcomm Snapdragon 820 CPU
Qualcomm Adreno 530 GPU
Memory
4GB RAM
Internal Storage
64GB
Expansion
microSD (up to 2TB)
Wireless
Wi-Fi 802.11a/b/g/n/ac (2x2)
Bluetooth 4.0 LE, NFC
LTE-A with carrier aggregation 4,5,6,13
Camera
16MP f/2.0 FHD rear-facing camera
8MP front-facing camera and Iris camera
Ports
3.5mm headphone jack
USB-C 3.0
Dimensions
3.29 x 0.31 x 6.36 in
83.5 x7.8 x 161.8 mm
Weight
0.43lb (195g)
Battery
4150 mAh Li-ion polymer (non-removable)
Qi and PMA
Solid build and solid specs
HP Elite x3 hardware
All of the Elite x3's components – including the device itself – features impressive build quality. The Elite x3 even has seals against liquid and dust to an IP67 rating and it is constructed to pass military drop tests. Go ahead and drop the phone in a toilet or spill your water on it as the Elite x3 is built for durability.
From the stunning AMOLED display to smaller refinements like button placement and haptic feedback, the Elite x3 nails design. (Seriously, the Elite x3 has a great vibration motor so you never miss a notification; it's those details that matter.) It's impressive to see a new manufacturer get so much right on the first try.
The Elite x3 stands in contrast to the cheap feeling Lumia 950 and Lumia 950 XL. While those phones had great hardware, the build quality was unexceptional and uninspiring.
I don't have any criticism about the hardware design or components used in the Elite x3. While some people may dislike large screens, that is strictly personal preference. The Elite x3 is meant to be used in construction yards, line work, mines, out in the field, etc. where having a large display is preferred.
Display
The Elite x3 features 5.96" WQHD (2560x1440) AMOLED display with Gorilla Glass 4. It's a massive, bright, contrasty thing that will make reading text a breeze.
Brightness is around 380 nits, which is already a lot, but a forthcoming software update bumps it to around 550 nits for improved outdoor usage.
The Elite x3's screen is smooth and responsive with a smudge-fighting oleophobic coating.
Although the display is Gorilla Glass 4, it is far from indestructible. Windows Central's Zac Bowden dropped his caseless x3 on the ground, and it shattered the screen. HP says that the x3 should be able to withstand drops from 4 feet or lower. Luckily, HP replaced his device, and he now uses one of the three available cases (Leather Folio, Rugged, and Silicone) from HP to protect it. With an HP Rugged case, the Elite x3 should be protected from drops from 6 feet.
There is no Glance screen familiar to Lumias, but HP is in talks with Microsoft about trying to utilize the technology.
I still have no qualms calling the Elite x3's screen the best of any Windows phone to date and I prefer it over my iPhone 7 Plus.
Powerful speakers
Using speaker phone for conference calls can be hit or miss with mobile devices. HP knew this which is why they put in two front-firing speakers tuned by Bang & Olufsen.
The speakers are loud and only distort when nearly maxed. While they lack the bass of more consumer-friendly phones like the iPhone, the Elite x3 excels for Skype calls where voice is most important. The ability to hear a stereo-effect while watching video is also impressive as HP was considering employees are having to watch training or sales videos using this device.
The x3's front-firing position and audio tuned for highs deliver where needed. They may not be the best, but they are better than average.
Competent shooters
HP Elite x3 cameras
I'll stick by my original assessment of the Elite x3's camera from a few weeks ago: the hardware is impressive, but there should be some more software tweaks to enhance performance.
The 16MP f/2.0 rear camera takes some satisfying photos during the day. It can even pull off some low light images, albeit with some aggressive ISO noise. While it is no Lumia 950 or Lumia 950 XL the Elite x3 is the first, and only, non-Lumia Windows phone that approached the quality of Nokia.
Even the flash is better than expected for most casual photos.
Keep in mind that this camera is not for consumers looking for the best concert or vacation photos (although it should perform well for the latter). However, using it with Microsoft's Office Lens to copy some receipts or an invoice and the camera returns excellent results. Insurance agents shooting in the field or sales reps recording documents should have few complaints.
On the front, the Elite x3 sports an 8MP Full HD camera. HP wanted the front camera to be optimized for use in video conference calls like Skype, and they succeeded. In comparing it to the front camera on the iPhone 7 Plus the Elite x3 provided sharper and more detailed video calls over Wi-Fi and LTE, every time.
The Elite x3 is capable of 4K (3840x2160) video capped at 30 FPS. There is also an option for 24 and 15 FPS at that resolution as well as Full HD (1920x1080) and HD (1280x720). There is no option to record at 60 FPS at any resolution, but there is a slow motion 120 FPS option.
While the recent firmware update fixed the majority of camera issues, there are still some frustrating quirks to be solved. I can crash the entire phone when launching the camera from Lock Screen, taking a photo, reviewing the images and going back to the camera. Sure, odd scenario, but it's repeatable. Focusing can also be slow at times especially in low light conditions where it hunt and pecks.
Update: The Insider Fast Ring update to the Windows Camera app on October 17 fixed this crashing issue above; it should be just a few weeks before it is pushed to Production on the Elite x3
In speaking with HP about the camera they too are confident that the hardware is fine, but they need some fine tuning of the software which they will address in future updates. Since this is the first camera from HP on a Windows Mobile device, I think it performs better than expected.
Image 1 of 12
Above is a selection of photos taken with the HP Elite x3. All photos are straight from the camera and are untouched, but they are resized to reduce loading time. All of these photos were taken using the native camera app on auto and some using the built-in HDR setting.
Marathon man
HP Elite x3 Battery Life
The Elite x3 features a 4150 mAh battery, which is 550 mAh more than a Galaxy S7 Edge and 1250 mAh more than the iPhone 7 Plus.
It's big, but it's not massive.
The Elite x3 only weighs 195 grams — just 7 grams heavier than an iPhone 7 Plus, which has a half-inch smaller display. That's a little less than three US pennies.
It's not all about size, however. The Elite x3 backs it up with all day battery life. I can say that in the four weeks I have been using the x3 I have never run out of battery in a single day. Traveling for 15 hours in and out of airports, making calls, flight mode, listening to music, and I still had 30 percent battery before I went to bed.
HP claims an 18-hour battery life with regular usage, and I would agree with that estimate.
The Elite x3 also features Qualcomm Quick Charge 3.0 technology. Oddly enough the included wall charger is only Quick Charge 2.0, but the Desk Dock makes up for it with the even faster 3.0 version.
With Quick Charge 3.0 the Elite x3 can achieve an 80% charge in about 70 minutes or 100% in just over two hours.
Additionally, the Elite x3 can support Qi and PMA wireless charging. HP even sells a Qi charger (full review), although the Elite x3 works with any system that supports Qi or PMA.
The bottom line is this: The Elite x3 has the best battery life of any Windows Mobile device I have used, and it will blow away the majority of Android phones on the market (especially Samsung). Dare I say, the Elite x3 is a breath of fresh air in a world where constant charging seems like a way of life.
If HP wants companies to use this in the field, it needs to last all day. I say they succeeded with flying colors.
The power of 820
HP Elite x3 performance
The x3 is equipped with a Qualcomm Snapdragon 820 processor clocked 2.15 GHz, making it the fastest Windows Mobile device to date. Windows 10 Mobile is more CPU-intensive than its 8.1 predecessor, so performance is not jaw-dropping, but it is noticeably improved over previous phones like the Lumia 950.
The Snapdragon 820 never got hot even while using Continuum just mildly warm under heavy stress e.g. restoring from backup.
Again, no complaints about the hardware choice here. The Snapdragon 820 is excellent on battery consumption, low heat, and delivering performance when needed.
Reception and phone calls
Calls were above average for clarity. Reception on the Elite x3 is also above average with no dropped calls. Data was also very reliable with high throughput when connected to LTE or Wi-Fi.
Both of my Elite x3 models ran just fine on AT&T and T-Mobile with full LTE. Unfortunately, Verizon and Sprint (both CDMA) are not supported at this time due to compatibility issues with Windows 10 Mobile.
The x3 is also capable of connecting directly to Ethernet via the Desk Dock or a USB Type C dongle. The device is capable of achieving 100+ Mbps upload and download speeds assuming the network supports it.
Iris scanning and fingerprint scanning
HP Elite x3 security
The HP Elite x3 features both an iris scanner and a fingerprint scanners for biometric authentication using Windows Hello.
Some people do not have luck with iris scanners, but they work for me. The Elite x3's scanner is an improvement over the Lumias (I'm told they used more modern equipment, and the iris camera does seem larger). You still have to hold the phone at the correct angle, but I'm okay with the process.
If you do have problems with iris scanner you can opt to use the fingerprint reader on the back. HP placed it there for easier access when holding the phone and it mainly works as expected. The sensor is the same as found on current Google Nexus phones and it is a smidge faster than iris scanner.
What's neat is you can use both iris and fingerprint at the same time. Pull the x3 at your pocket and push the fingerprint reader or power on the phone display and scan your iris. You can also just use one or the other.
Curiously, HP opts to have an always-locked system. That means if you enable biometric authentication the x3 locks automatically each time the display is turned off. Other Windows phones allow a time-out period, but HP changed that due to security concerns and because, according to them, the x3 unlocks so effortlessly with either method.
If you do not prefer biometric, you can just use a standard PIN.
Bridging the desktop gap
HP Elite x3 and HP Workspace
Putting aside the regular "phone stuff" in a review about a phone that's not a phone how does the Elite x3 handle Continuum? If you are not familiar, Continuum is Microsoft's designation for simulating a PC experience using Windows 10 Mobile. In theory, Continuum is exciting, but in reality, the experience so far is only promising.
Continuum today has a few drawbacks. You can only view one app at a time (although you can run multiple apps). You also cannot run Windows desktop apps (Win32), making the experience a glorified Windows RT one. Nonetheless, it's neat.
Microsoft is solving the first problem with an update to the OS coming in early 2017. In Windows 10 Redstone 2, Microsoft will let apps run windowed and even snapped just like a "real" PC.
HP takes it one step further by using app virtualization through a service called HP Workspace.
Virtualization is a fancy term that means a remote computer runs a desktop app and pushes the interface it through the internet to another computer. You can still download and upload files, and even install browser extensions just like on a real PC, just remotely. A simpler analogy is HP Workspace acts as a middleman between the Elite x3 and your desktop app.
HP Workspace is a subscription service for small businesses who do not have the infrastructure to host their own servers for virtualization. HP Workspace is not cheap, but it is cheaper than hiring your an IT department and buying servers as HP handles everything.
Workspace runs from $579 per year per employee for forty hours of access every month for up to ten applications. A Premium plan is $939 per user per year with up to eighty hours of access with an unlimited number of virtualized applications. Finally, a $2,995 plan puts VPN on top of that for security. HP offers a free 60-day trial of the service.
To make HP Workspace happen you just tell HP what apps you want to run and they will host them. Then, when an employee uses the Desk Dock or Lap Dock with the Elite x3 then they can run all of those apps remotely over LTE, Wi-Fi, or Ethernet.
I have been using HP Workspace for the last few days, and I'm impressed. I was able to run Chrome, Internet Explorer 11, desktop Slack, every Microsoft Office application, and even good ol' Notepad. I could install extensions to Chrome, upload files from my phone to Slack, and run some advanced graphics work in Office. You can also run multiple apps at the same time, all windowed.
The frame rate has a 15 FPS cap, giving a jittery effect when scrolling or watching a video, but the data pull down was fast with web pages rendering very quickly in Chrome. Ideally, this frame rate would be 30 or even 60 FPS, but the technology is not yet there.
You can switch between HP Workspace and UWP apps too, so you can take a Skype call while running desktop Chrome and never lose any work.
No, it is not a "real" PC, but I was running full Windows desktop apps from the power of a Windows 10 Mobile device, and you know what? It worked. While this technology is far from the pinnacle of seamless workflow, I could use this for many aspects of my job. I also know it can and will only get better from here.
I do worry about some of the hourly caps by HP on Workspace. The assumption is that employees using this service are not spending 40 hours a week behind a computer (in which case a real desktop PC makes more sense). Instead, the service is for salespeople, reps, and others who only need to access those desktop applications for 80 hours or less because they are mobile a lot of the time.
I did see some random disconnects on one of the days of testing, but I'm willing to chalk that up to some early bugs or my data connection. Workspace is an impressive piece of technology, and it is not limited to just the Elite x3 — any Continuum-enabled Windows phone can use it. I think desktop software will fade away over the next decade as Universal Windows Platform (UWP) apps become the norm, but for now software virtualization will span the gap as 4G data connections become ubiquitous.
When it comes to regular Continuum (i.e. running UWP apps on a desktop display with a mouse and keyboard) performance with the Elite x3 is slightly better than the Lumia 950 XL. That is attributable to the faster processor and extra half-gig of RAM (since Windows 10 Mobile is only a 32-bit OS, it can only use 3.5 of the total 4 GBs of RAM; Microsoft is rumored to be working on a 64-bit version).
Continuum is a journey for Microsoft, and these are the nascent stages. There is still more potential here than what is actualized, but the Elite x3 pushes the paradigm further. I think the next two years will be very revealing for this posturing by Microsoft.
IOU
HP Elite x3 Lap Dock
Unfortunately, HP did not have any Elite x3 Lap Docks available for review by the time we went to press. However, I have been told we will get a review unit in the coming weeks and we'll be doing a full review.
In my limited experience with the Lap Dock, I can say most of the limitations or quirks are due simply to the limitations and unfinished nature of Continuum. For instance, the Lap Dock's track pad proved to be tricky for HP since Microsoft does not have configurable drivers. These are natural growing pains of a new system, but pain points nonetheless.
The Lap Dock's hardware and software were only finalized in the last few days and are now headed to production. HP tells us that trackpad optimizations have already been applied.
HP Elite x3 accessories
HP has created a full accessory ecosystem to support the Elite x3. There are three HP cases on the market (Rugged, Silicone, and Leather Folio); three screen protector types (privacy, anti-shatter, or anti-smudge); Qi wireless desktop charger; and a passive stylus/pen.
Since the Elite x3 uses USB Type C there are also many adapters - both from HP and third parties - that can be employed including video out (HDMI, VGA, Display Port) and Ethernet; the Elite x3 can also use USB hubs and thumb drives.
To maximize charging in the car or with a wall charger it is recommended to buy a Qualcomm Quick Charge 3.0 compatible charger such as the ones from Aukey.
HP Elite x3 pricing and availability
The HP Elite x3 retails for $699. Yeah, it's not cheap, but it's also the first Windows 10 Mobile device in a long time to be worthy of such a price tag.
The Elite x3 is also sold with the $150 Desk Dock, which bumps the price to $799 (a $50 savings). Toss in the $599 Lap Dock you have yourself a complete x3 system.
See HP Elite x3 at Microsoft (opens in new tab)
Later in October, HP will sell all three devices together for $1299 ($150 cheaper than buying them all separately).
HP plans to sell the Elite x3 in 51 countries including the US, India, UK, Canada, Japan, Hong Kong, Germany, Finland, UAE, and more. Pricing and date of availability will vary.
The bottom line: HP Elite x3
The HP Elite x3 needs to be broken down in two ways: the hardware and the software. The hardware is nearly perfect, and I think HP did an impressive job for their first mega smart device. All the components are top notch, build quality is exquisite, and they used nearly every high-end spec they could find.
If there is any fault with the HP Elite x3, it falls squarely with Windows 10 Mobile. The recent Anniversary Update goes a long way in improving the OS's lackluster 2015 debut. Nonetheless, there is still a lot of room for growth and improvement. Microsoft knows this as does HP.
Ironically, HP is the one driving Microsoft here with their request for a fingerprint reader and other features coming to Continuum. I hear HP wanted to do even more with the Elite x3, but Microsoft is the one preventing certain innovations from happening now. It's up to Microsoft to step up and make HP's ambitions a reality.
Luckily, Microsoft is aggressively building out Windows 10 Mobile. OS updates arrive on a regular monthly cadence without carrier interference, and the next few milestone builds (Redstone 2, 3, and 4) all put emphasis on building out the mobile experience. That means the HP Elite x3 will only get better, and given the typically slow adoption of corporations, they'll have plenty of time to to iron out the kinks and expand the feature set.
I do think HP is onto something with the Elite x3. They didn't just make a phone with a slapped-on OS. They built a complete system with an impressive story to tell. Only time will tell if companies buy into it, or if this actually solves problems, but I believe there is an opportunity here. HP, at least, seems very confident in it.
The story for consumers is a lot less attractive. The Elite x3 is only recommended for Windows 10 diehards, which is a limited market. Still, if you are committed to Windows 10 and Mobile, there is no reason not to get the Elite x3. The only sacrifice is that the camera is not quite as good as a Lumia, but it's far from terrible. I switched and have been using the Elite x3 as my primary device for a month now and have no regrets.
I think Microsoft finally found a hardware partner good enough to fill Nokia's shoes. It will be fascinating to see if HP finds success with the Elite x3 and Windows 10 Mobile. Others have tried, many have failed, but at least here there is something unique happening in the smartphone space.
HP asks if our mobile phones can do more than just run apps. I think the Elite x3 proves they can. Now let's see if the market agrees.
Pros:
Excellent design and build quality
Best specced Windows Mobile device yet
First true Continuum device
High quality ecosystem and accessories
Cons:
Camera is average and needs software work
Windows 10 app-gap is real
Not a cheap purchase
Further Reading
Elite x3 news
HP tells us why they made the Elite x3
Windows Central Newsletter
Get the best of Windows Central in in your inbox, every day!
Daniel Rubino is the Editor-in-chief of Windows Central, head reviewer, podcast co-host, and analyst. He has been covering Microsoft since 2007 when this site was called WMExperts (and later Windows Phone Central). His interests include Windows, laptops, next-gen computing, and for some reason, watches. Before all this tech stuff, he worked on a Ph.D. in linguistics, watched people sleep (for medical purposes!), and ran the projectors at movie theaters because it was fun.
No, Microsoft has limited near-term mobile support to Enterprise, which is logical given the state of the market. From the article at the link you provided (the bold comes from the article not me): Microsoft is "still committed" to Windows 10 Mobile. Acknowledging that Microsoft has "refocused" its in-house mobile efforts, the presenters said that Microsoft was still very much committed to Windows 10 Mobile, which is part of the Windows 10 family of solutions. He also noted that its phone partners were "enterprise-focused," which is a way of saying "not consumer focused."​

What I think is interesting here is we have the first company to really take Continuum seriously. HP didn't just build a device with the OS, but all the components to take the concept to the next level. This is what is needed to see if Continuum really is something the market wants. The next 12 months will be really fascinating to watch and see how companies respond to the concept. Later today, we interview the head of HP Mobility who developed the x3. There you can hear in their own words why they made the x3 and what they hope to accomplish with it.

this device is so interesting and beautiful, i wish i had the money to buy it. great article by the way, well done

Congrats to HP for stepping up and building a non Lumia phone worthy of buying. I own a1520 and it's been terrific but I was wondering where I was going to go if Microsoft or someone, in this case HP, was going to build a flagship device. I'm solid on Windows 10. As long as HP keeps their business focus I think they will have a winner on their hands.

As a fellow Lumia 1520 user, I have my sights set squarly on the HP Elite x3 as a replacement. No other new Windows Phones have improved over the 1520 significantly enough for me to warrent buying one of them, rather than buying another 1520 to replace mine, which after three years and an unfortunate drop, is no longer holding a charge for more than 45 minutes. For AT&T customers, I have confirmed with AT&T that they will begin selling the HP Elite x3 on 10/24/2016 for $699. This is without the dock. It will be $23.33/mo in AT&T Next and $27.15 in AT&T Next Every Year.

Dan, what is his name? Thanks.

They appear to be taking it even more seriously than Microsoft, lol... Oh well, at least we can play with a new Windows Mobile phone until MS gets its act together!

If I cannot call it a smartphone, I'm out of words to define the phone. So I'm asking you...

After watching this review, quality review btw, this is a phone for business people (assuming the company you work for adopts it). I think regular users should avoid it. It is too expensive and W10 does need to make a lot of improvement before a phone costing this much money is worth it.

HP x3 confirms that Continuum is a good idea with no real future. Everything you do will be processed on the HP servers, not on the phone so you dont need to use Windows Mobile to get this function. You could use TeamViewer on every single device from low end to high end (Android / iOS) and achieve the same result + higher privacy. No need to pay extra money or migrate on this platform. For me Continuum - without real x86 support on the phone side - is dead.

Oh, really? Does an Android or iOS device provide you a desktop experience, which is arguably superior for productivity tasks than a tablet/phone one, while connected to a monitor/keyboard/mouse? No? Then Continuum is far from dead.

Just connect a mouse and keyboard up to your iPh....ooohh, wait lol

Lol.. It's a great idea.. Hopefully it works, but this kinda looks like consumers are gradually being fazed out..

wait a second, desktop experience?? Nope, my 950XL doesnt give a desktop experience. All I have is a web browser and the ability to answer all my emails on a bigger screen - thats not a real desktop experience (for me). I could buy a cheap made in China PC usb stick with some low end Z8300 chip and 4GB ram BUT with full Windows experience and voila = I have a full desktop experience!!! Iphone and keyboards?? WHY? Thats why I have a Macbook, thats why i have a iPad.. You see? Thats how regular people think. Continuum is a fancy thing for sure, but wont succeed beacuse people dont need it

You are missing the point... Of course you can do the same thing with things from other ecosystems, but read what you wrote. You either need to carry a phone and a computer or a phone, a usb-stick computer, a keyboard and a mouse... This is where continuum comes in and I can tell you how lovely it is to always have it available. I was at a friends house for three days. When he went to bed I just launched Continuum and plex and watched my tv-shows and did some coding on his TV. It would have required at least one more device if I wasn't a windows user.

so carring a usb stick is a problem??? I never go to a trip without my laptop. Laptops nowadays are as thin as a mobile phone! We could follow this logic for a whole week but no need for that. Let people decide what they want! I say Continuum is a good idea but without bright future and this wont change easily... to be honest, it wont change. Just look at the market share 1% of people use WM, they wont switch from Android/iOS just because this future and the app gap for both enterprise (bank app) and mainstream (snapchat) is still horrible + the price of X3 is too expensive to have such stupid problem as an app gap

Let people decide what they want!

BYOD is not this be all end all approach you think it is, there are several reasons for enterprises to choose differently, be it security, use case requirements or cost. It's also regarded differently from country to country - I hear enterprises in Europe are generally more wary towards BYOD than the US, for example.

desktop experience??

Yes, desktop experience. It's not finished yet, but with Redstone 2 your apps will be windowed, snappable to the sides of the screen with Snap Assist and pinnable to the Continuum taskbar, and you'll also have a Start menu specific to the Continuum experience, like the same as the one you see on desktop Windows. THAT is a desktop experience.

thats not a real desktop experience (for me)

I hate to break it to you, but this is an enterprise device, it's not made to please you, a consumer.

Iphone and keyboards?? WHY? Thats why I have a Macbook, thats why i have a iPad.. You see? Thats how regular people think.

Correction, that's how CONSUMERS think. I have a notebook (MSI), a tablet (Surface Pro 4) and a phone (Lumia 950 XL) too, the Elite x3's ecosystem doesn't interest me as a consumer either, but as IT worker for national government office - not USA, for the record - I can see potential use cases for it.

Highly annoying that the lap dock doesn't have a touch screen. Saw it in person at the MS Store...

Highly annoying that now that there is a new decent manufacturer MS doesn't give a F* anymore about us consumers :(

Yeah, MS could have done all this with the Nokia group. Don't understand canning Nokia infrastructure and then having HP create all of this...

Well a laptop especially that it doesnt convert into tablet-like mode doesnt really need a touchscreen. So the Lap Dock is doing just fine trying to be an empty laptop hardware. If its like a Asus Transformer V though where you put the phone inside a tablet then that table have a keyboard dock, that would be something that W10M needs to have. This is another kind of configuration that I think Surface Phone/Mobile can be. For now, the biggest hurdle and limiting factor is the W10M itself (not counting apps). Hopefully that they will really deliver the proposed significant changes to Continuum on Redstone 2 to be desktop-like, thus getting the functionality not just floating windows and snap, but other critical things like drag-and-drop, multiple instance of an app, etc. Fingers crossed as there is more 50% they will deliver it half-baked or even less.

Question: I see that your review unit was dual-SIM. Will that be the only option in NA? The unit I saw at a local MS store was as well and I'd rather not sacrifice my SD card if possible.

It's a three in one SIM tray. Two SIMS; or One SIM and MicroSD card. So yeah, they won't change that for production.

Interesting. I'll have to go investigate!!!

The enterprise market still responds quicker to fart apps than to Continuum. In a world where 2-in-1 laptops are increasingly modular, portable, more functional, and already cheaper than some "flagship" faux-"smart" phones, Continuum is a solution looking for a problem, especially in the enterprise; it is a feckless investment.

It should read "The enterprise market responds more quickly to fart apps"
Just sayin

do you have an iphone? do you like it? why do you have an iphone?

Great review Dan, I think HP's strategy will work on both small enterprises using HP's VDI hosting services and on big enterprises too, since in house hosted VDI cloud services are compatible with Continuum, this helps a lot to reduce costs on big enterprises to allow remote access to corporate network with a waranty of high security using world class VPN software from HP.

Well hopefully they get Windows 10 Mobile on track, has anyone ever asked someone at Microsoft why they haven't been able to get Windows 10 Mobile to run smooth, or at least as smooth as WP8 or 8.1. I understand they are different, but windows phone 7 came out buttery smooth, and they built upon that buttery smoothness for years to come until windows 10 mobile. The first time when windows mobile stopped being seamless to use. And it still, a year + later has yet to become what it once was as far as "it just works". That's the reason I and I'm sure everyone else fell in love with the OS. I miss that. I love W10M as its what Ive come to love minus that fundamental quality of smoothness that just worked

I think if MS doesn't break the WM10 mold on Oct 26th, then they can kiss 'goodbye' to their phone business. They must produce a Surface phone with active digitizer support (ala SP3 or SP4) and able to run X86 apps, with 4GB RAM and 64GB (min) storage on their premium release and still be under 6.5inch format. It must have QHD resolution (switchable to lower resolutions) and top-flight Pureview camera, Dual SIM and with seperate SD card support (at the same time). They can put a 'premium' price-tag on it. But I think this is essentially what business and consumers want. Then there is no 'app lag' but an applications surplus as the complete back-catalog of windows X86 apps will run on it, although not elegantly like a cutdown WM10 app. Of course WM10 apps should also run on it. Continuum and HP Workplace still have a place on this phone, as that service takes advantage of much faster server resources than the Atom (presumably as Haby lake is not released) processor on the phone. If MS release all surface phones with WM10 as per their strategy (which has proven disastrous) then we can kis MS WM10 as a serious phone contender goodbye.

Dan, excellent review and interview with hp. What is your daily driver, Hp or your iPhone 7? Are you able to create your web content using hp?

I'm using it with Continuum for 3 weeks now... can't be happier ! Yes, there is some issues, but I can say that I don't miss my Laptop that much. It's not too far, if something can't be done with the x3, but I can work almost 100% with Continuum now. Now, I'm waiting for my Lap dock...!! 14/11... marked on my calendar... :-)

Can you get Netflix on big screen in Continuum mode?

I will have to try this one. I'll get back to you. :)

Nope... The Netflix App is not compatible with Continuum. But since Edge is, it should work with Netflix in "browser mode". :-)

Got one. Already cracked the screen. *siiiiiiiigh*. Anybody have an idea about how I should go about getting it replaced?

You should be able to go to the enterprise site and ask them about that. Zac was able to do it.

Sadly, no. I remember hearing on the podcast that Zac went the Enterprise way to get that done. Maybe try to see if you can get in touch with support. I second calling them, good luck! https://www.hpe.com/us/en/support.html (enterprise support page)

Where did you buy it from? Call HP support

Always check your bank account to see if they offer perks like gadget protection insurance, I did and got a 930 totally fixed for a fraction of what it would usually cost

Ask @zacbowden. He already destroyed his and knows the process of going through HP for a replacement.

I personally love continuum. That said i see myself as a nerd with an rds farm.. But if we start to see more uwp apps (good ones) then i still think this could take off.. I would hate to be without continuum now that i have gotten used to it.
I could use a little on the performance side however, i dont think my 950xl is quite fast enough..

Is it just me or the app flow completely stopped in the last weeks since MS openly stated they don't care about the ecosystem anymore and they only want to sell to enterprises? I guess no more UWPs will come.

Great product already !! Getting better with updates. :D !! Wish it were available in more regions.
.
.
It's frustrating to leave the app to just read the review. Don't understand why this system is used. Any explanation Daniel?

Maybe the app still isn't optimized for really long articles and multiple embedded videos.

I read the review in the app. I clicked the link then chose to open the link with the app.

I don't get that option, is there a way to enable it?

Ahh. You see, that option only shows up if you install in the app via the .appx package. The store download doesn't seem to have it because MSFT is supposedly removing it while publishing. Daniel told about this before. This should be fixed in the future.

I downloaded my WC app from the store. So, maybe I just got lucky?

Already fixed! I installed the Apo from the Store and the in-app links work fine.

Doesn't work for me. :( and I've uninstalled and reinstalled the app.

Great ! Hopefully we'll get the update which fixes the store downloaded version soon ™

Has the fingerprint reader speed been improved on since the lastest update?
From the video it seems to be less than a second. Would you be able to confirm that this would be the case now?

The fingerprint reader takes a fraction of a second. I use it to unlock my phone every single time. I just got the x3 a week ago, so I'm not familiar with how the earlier versions worked.

Fingerprint scanner is very fast, pure genius.

800 dollars is a bit steep to justify in most cases, but with the productivity angle there is at least an arguement for the price. Also nice to see HP kicking some major ass with their first foray into the market in a while. Digging the old school HP laptop styling. If HP has just forseen the future of Windows Mobile, this will be more than okay.

Smartphones have apps. So yes more like feature phone.

What is the sound of HP and Microsoft's long term support for Windows Mobile? Seriously, how is the very real chance that Microsoft may kill Windows Mobile not a negative for this $800 device? Posted via the Windows Central App for Android

"Seriously, how is the very real chance that Microsoft may kill Windows Mobile not a negative for this $800 device?"

That is your claim and belief, not mine or anyone else in this business. You are definitely conflating Lumia deprecation (hardware) with software. Considering Desktop and Mobile both just received a Fast Ring update last week there are literally zero signs Microsoft will "kill Windows Mobile". It's important for their long term plan, they have said this publicly.

"What is the sound of HP and Microsoft's long term support for Windows Mobile?"

Do you know the money that went into making this phone, the accessories, the docks, HP Workspace, hiring the right people etc? Do you think HP did this on a whim without a long term plan of support?

Yes. Yes I do think HP did this on a whim or will drop it in a second if it doesn't catch on. It wouldn't be the first time, you even mention examples in the article. Other people in the industry don't think Microsoft will kill support? https://www.thurrott.com/mobile/windows-phone/82989/saying-no-surface-ph... Paul Thurrott definitely doesn't think they should continue support. https://www.google.com/amp/amp.windowscentral.com/lenovo-still-has-no-pl... Lenovo's COO doesn't think they will continue support. https://www.thurrott.com/mobile/windows-phone/81484/microsoft-discusses-... During Ignite Microsoft said themselves they will only continue with limited support and that they are only targeting current business partners for Windows Mobile devices. How quickly can that change to no support? If Microsoft is waiting for the next big thing, as you and others have reported in the past, that implies they do not view Windows 10 Mobile as a long-term platform. Why would they give much support, let alone continue a platform they see no future for? Posted via the Windows Central App for Android

Well, I hope you're not in charge of anything for any company. An organization like HP, and Microsoft, does not do something like the HP Elite X3 on a whim...come on, man...or woman...

Apparently you weren't watching a few years back when HP spent $1.2B on webOS, only to spit-can it a months later….It does happen.

Yeah Lenovo is doing awesomely well with Andoid..Lol.. What do they know?! We've seen what is happening to Sony, Lenovo,HTC and the others.. Samsung is burning out.. There are people "from the industry" who say Samsung could be falling apart as a brand after the note fiasco. Lol.. Android in a nutshell for you.. When has a journalist become from the industry.. An industry is an entity like HP, Alcatel and they think windows could do well.. So maybe it could do well..

Paul Thurrott definitely doesn't think they should continue support.

I enjoy Paul Thurrott for his humor, his banter with Brad Sams and the occasional article, but his point of views are those of a consumer's: he thinks including support of Android apps to Chromebooks alone makes the latter a serious contender to Windows (it doesn't, UI and UX of Android phone apps work as much well in desktop environments as classic Windows apps like Office, CorelDraw or Photoshop do in the tiny screens of phones, app developers would have to bother to add robust UI and UX support for bigger screens, keyboard and mouse and no one is going to do it for the sake of Chromebooks' pathetic marketshare), that no one is developing apps to Windows anymore (nevermind Adobe XD, it apparently doesn't count because it's not "mainstream" AKA a consumer app) and that people do real work with iOS and Android devices (lol, no, anything more complex than writing a short email, adding calendar events, creating tasks or reading documents and you'll want a keyboard, mouse and desktop environment to do it efficiently and in a timely manner). As such, his opinions are prone to be faulty whether enterprise use cases, and productivity ones in general, are concerned. As far as Windows Mobile's support is concerned, it costs Microsoft almost nothing resource-wise to keep it going. It's one of the big benefits of unifying source code across the different Windows SKUs, you know.

HP invested a lot of time getting feedback from thier enterprise customers beforee investing a lot of money building what they wanted, youthink they did that because they were bored and had nothing better to do?

Do you know the money that went into making this phone, the accessories, the docks, HP Workspace, hiring the right people etc? Do you think HP did this on a whim without a long term plan of support?

Yes, we know how much money went into buying NOKIA MOBILE DIVISION and how much money went into Microsoft killing it in less than 3 years.... :D

Yes, we know how much money went into buying NOKIA MOBILE DIVISION

And the guy who made that executive decision ended up being sacked from his job.

> Do you know the money that went into making this phone, the accessories, the docks, HP Workspace, hiring the right people etc? Do you think HP did this on a whim without a long term plan of support? All a sunk cost, we've seen multiple times in the mobile space companies pull the plug. Now I'm not saying that it will happen in this case but it's not an entirely unrealistic idea for buyers or enterprises to consider.

Conflicting messages from MS though Daniel, makes it hard for us mere mortals to keep the faith when on one hand MS kicks it's long suffering consumer WP fans (us) to the curb.....again, then releases a massive software update for mobile.
It certainly appears someone took a wrong turn using their road map.

It sure as hell happened with Nokia/Microsoft venture. Why couldn't it happen with HP/Microsoft too? The Microsoft/Nokia Lumia "flagships" were EXPENSIVE endeavors! Remember the 1024? New it sold for over USD $1,000.00 For a "41 MP camera that also made phone calls, that was pretty over the top".

I don't think they'll be killing W10M soon, though. MS have a plan (industry) and they have Redstone updates lined up to improve the mobile experience for the next year. Plans change but they seem committed to their current approach - right or wrong, depends upon your viewpoint. Also, whilst it might have had a very little adoption, W10M is still a key part of the 'one OS to rule them all and go anywhere' idea that is the core of Windows 10.


Would you really want to spend 600+ dollars on a feature phone? I'd say this device would become even better with apps optimized for Continuum. Even if you don't call the Elite X3 a smartphone... a lack of apps in productivity is not exactly a great thing. This is a good place to start an industry revolution. Who knows... maybe get some casual gaming stuff thrown in for fun?