Unboxing and hands-on with the HP Elite x3 superphone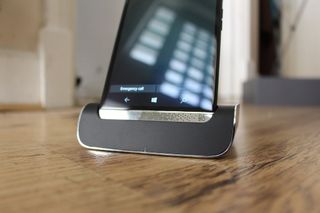 It's finally happening! The HP Elite x3 is starting its rollout in Europe and other areas, and we've managed to get our hands on one! As with all Windows phones, it's our job to unbox and take a first look at what you can expect with each new handset. With the HP Elite x3, being premium, the unboxing experience is very pleasant. Let's take a closer look.
The HP Elite x3 Desk Dock bundle comes in a super large and special box. Instead of the HP Desk Dock being bundled in a separate box, they pack both together so the unboxing experience is shared between the two of them. The box is organized super nicely, with the HP Elite x3 being on the far left and the Desk Dock being in the middle. Each device has it's cables and literature buried underneath it.
First impressions
First impressions of the HP Elite x3 are as follows; I'm going to enjoy using this device. It's a little on the heavy side, but nothing I wasn't expecting. It's rocking a dual-SIM tray (although you can stick your MicroSD card slot in there in place of a second SIM), and 4GB of RAM although only 3.5GB of it is usable. So far, performance has been okay. It arrived with 10586.420 out of the box and auto updated to 10586.545, no sign of the Anniversary Update unfortunately.
I'm expecting there to be an increase in performance once on the Anniversary Update, only because 10586 is a little clunky even on the most high-end of devices. The handset feels super premium, however I do wish they had gone with an aluminium kind of material rather than plastic for the housing. Regardless, it still feels super nice.
The good news is the HP Elite x3 is supported by the Insider Program, so I can use the Release Preview ring to update to the Anniversary Update with ease. Perhaps Microsoft hasn't begun the Anniversary Update rollout for the HP Elite x3, which is understandable.
So yes, so far I'm loving it. Stay tuned at Windows Central over the coming weeks for a lot more HP Elite x3 coverage, including comparisons between other Windows phones, a full review and more.
Need more? Don't miss our other coverage of the Elite x3 including:
Zac Bowden is a Senior Editor at Windows Central. Bringing you exclusive coverage into the world of Windows 10 on PCs, tablets, phones, and more. Also an avid collector of rare Microsoft prototype devices! Keep in touch on Twitter: @zacbowden.
Yayy! Alright, going to watch the video now.

Zac is such a flop when it comes to unboxing.. Nice device though.. And to see the phone crashing, not a big deal since the credit goes to the OS as well.. :P

Zac could have taken 1 hour extra and reviewed it after the installation of build 14393.67(AU). The experience would have been far far better.

I think the way he reviewed it is fair, since it seems like this might be the build that it comes with.

That build hasn't been officially released; users shouldn't have to download unofficial builds just to get complete functionality for their device.
And there's no way in hell enterprise users are going to download Insider builds to use all the device's functionality.

It's AU & it is finally released.

@Rahul, no it isn't. It doesn't come with the AU out of the box, and he is unable to install it without signing up for the Insider program. That's ridiculous.

Really,one cannot run the AU without being an insider. Sorry, I was not aware of that. I thought All supported phone will get the AU irrespective of whether they are insider or not. Oh, now I get it why windows 10 share rose to only 14% from 11% after AU. Microsoft this is going to cost you.

One can run the AU without insider.

Au stands for Australia, stop confusing us Aussies!

He's reviewing it as it comes out the box. How an average user will receive it. If it can't get the AU update out the box then that's how he should review it first off, as most people won't opt into the Insider program to update it.

Can't review a phone in an hour.

Not to mention he said "nice like unboxing an apple product" on Windows Central! hahahaha

Zac Bowden opens it like a brute!

I agree. And all that "this is boring", "let's throw this away", "nobody reads this", looks quite childish.

I will give you 10USD just for the BOX thx

make it 20$ for the box and the phone :)). put a decent OS on it and we can talk big then :))

Salesforce 1? (Still in beta?)

Awesome!!!! Please make the camera review first. We already know all about the other stuff.

This is true, but I still want to see everything again :) It's a nice looking phone.

We know about how fast is SD820 in WP land?

Slower than an Apple A9x...and probably also slower than the Note 7 given that the X3 is running pre Anniversary Update software.

:))) what :)) you, my friend, just managed to throw the biggest joke ever :))) win 10 mobile is so slow and buggy, and un-optimized that even with an SD900 :)) it would not come close not even to an iphone 6 :)) or a GS6

That's exactly what I said! I already know that the Apple A9x processor is the fastest one in the business. I'm not sure if the Note 7 would be quicker than the X3 though. The Note 7 performed horribly vs the iPhone 6S in the PhoneBuff multi tasking tests...
But yes, there's nothing quicker than an iPhone.

I watched a video the other day of them doing that test with the iphone 6 plus, galaxy 6 edge and the 950 xl, the iphone came in at around 48 secs for two loops of the app list, the 950 came in at around the 1:25 mark, and the galaxy came in at the 1:48 mark...Dont quote me on the exact times but it was around that. SO....using that as a meter stick. The note 7 would probably a smidge faster than the 950xl. The iphone 6s will just run away from both.

win 10 mobile is so slow and buggy​?? on what phone?

Ironically, on this Elite X3....(no Anniversary Update - so ropey performance).
W10M has been woeful on the 950 for the best part of a year...only improving recently. Pretty marginal on the 550/650 too.
Windows Phone used to be such an exceptional performer...but as I write this now from a £55 Chinese Android phone, I can't help but think that Windows Mobile is now the poorest performer of all the OS's.

That plus finger print scanner and the HP specific double tap to wake advanced settings

Are those B&O headphones?

I think so....the shining star of an otherwise massively boring device.

This video makes the hype enormous by just prolonging the unboxing. Zac, you're my favorite unboxer from now on.

Yah, that bit did kinda drag on and on..... And on.
Perhaps, Zac should use a sharper knife next time (heh heh)

Can't believe it's launching with 10586. That's pretty bizarre.

They have something called hp workspace, it's kind of Store within Store and I presume hp needs time to make sure these apps works on W10M RS1, this will be the case in future too.

Windows 10 mobile has travelled a long road after that build. I guess, background downloading and that particular build is the reason it is not that smooth in the video.

Also the un-optimized HP apps.

Awesome! Wishing the best for the company!

This is Windows Phone in a nuthsell...... Gorgeous hardware (at least until 950/XL) Full of promises....a fingerprint reader that does not work and HP workspaces which is the point of the phone not working at launch. Not on latest version of OS

Yeah, so unprofessional. I blame Google for starting this trend, with all the perpetual Beta software they used to release.

HP releases an incomplete product running Microsoft's incomplete OS, and it's somehow Google's fault?

incomplete product running Microsoft's incomplete OS??

Friday night drinking game - one shot everytime Zac says "premium" :-)

And one shot everytime Zac says "that is very very nice indeed" :P

Don't forget "...in all its glory" :D

No premium housing or premium camera though.

Define "premium." It feels great, it feels durable, and it feels like a high quality product. There's no creaking and the texture is pleasing. On top of that, it also comes with wireless charging. No metal phone comes with that. The only other way HP could've included wireless charging would be a glass back...and that'd be terrible *shudder*
As for the camera, we'll just have to wait and see.

Attention to detail. Actual design rather than generic block. Can be done with polycarbonate as well. Some older Lumias are good examples.
Hp could have called its soc shop for wireless charging solution https://www.qualcomm.com/news/releases/2015/07/28/qualcomm-becomes-first...

And don't you just love those Brits and how they pronounce "hay-ch"?? ;-)

As a Brit, I find this odd too. As a kid it was rare to hear it pronounced this way, but now in my fourties I hear it said like this more often than not.

Zac, will you be able to test how usable is the HP workspace? Interested to know how far you can push the x86 program from simple stuff like quickbook to old game like civ 3 to some large database.

Sure! When the HP Workspace becomes available, we'll be checking it out.

I am interested to see how programs such as Autocad Lt or Revit Lt will work. Lite versions of these programs work well in a 4gb environment. Could solve a lot of problems in my business. Posted via the Windows Central App for Android.. But waiting for the HP Elite so I can get rid of this junkie Galaxy S5...

Well its just remote app. Performance is dependent on your internet connection and the resources of the server where the app runs. Lack of proper multi tasking is on hp phone though.

I think HP workspae is not free.

@ ZAC BOWDEN Can you test/compare the optional HP pen with the pen for surface pro on th HP Elite X3? I'm Looking/waiting for a Windows Phone with a pen/stylus that can be used for drawing like the surface Pro tenlets or the Samsung Note 7 phablet. I wonder If this is the one.

You mean like WinMo did in 2003...

Awesome phone! But honest question, why make the box so big if literally one third of the box is empty?

Usually that's to help prevent theft at retail. Not sure if that's the case here.

More to come in future retail maybe? Posted via the Windows Central App for Android.. But waiting for the HP Elite so I can get rid of this junkie Galaxy S5...

Curious, how does that prevent theft at retail? Just because it's so large it makes it hard to sneak away with?

Explains why apple never has it.
Thanks

The big box could be for an 'international travel' version with additional electrical socket adapters. The extra pocket could also be for accessories using the pogo pins that are shipped in same box.

The empty part of the box is for the typical MS coming soon part. :)

i see the salesforce app but cant fin it?

Damn it looks better than I imagined. Very slick device. Want one. Need one.

I had the opportunity to play with one for about 30 minutes. It felt great in the hand, and was very responsive in the dock with a monitor and keyboard. Then it locked (pre-release software) up. But wonderful until then.

If they had gone with aluminium they'd have to drop wireless charging. But they could have gone with glass though. Posted via the Windows Central App for Android

Doesn't it have certain ratings for toughness? Glass wouldn't have allowed for that I bet.

My Samsung Galaxy S5 has fake aluminum... So do many other so called premium phones... Posted via the Windows Central App for Android.. But waiting for the HP Elite so I can get rid of this junkie Galaxy S5...

Correct, they chose the materials to get the military grade drop protection.

That is why I miss my Lumia 822, most durable phone I ever had, it was a tank. I am hoping the drop protection in the Elite X3 is great, I seem to be the king of dropping my phone.

Told by my friend who is a capt. in the Canadian Army. Military Grade/Spec means " LOWEST BIDDER" nothing more!

Sure do, just you dont know about it since we only help with our army instead of invade other countries!

Indeed it wouldn't. Hence the plastic. They had to choose between toughness or premium. They went with thoughness. I would also pick polycarbonate over aluminium any day. But that's more because I really dislike metal phones and I'm not willing to drop Qi charging just for the sake of a shinny phone. However, if you wask me if I prefer polycarbonate or glass, I'll take glass. If I'm paying 700€ for a phone, it better have premium materials in it.

I think glass is the worst material to use. I hate how it feels in hand, and it makes me really uncomfortable using a phone like that. I don't use cases as a rule.

Nope, just being cheap. And there is no excuse for that hideous fake metal grille. https://www.qualcomm.com/news/releases/2015/07/28/qualcomm-becomes-first... Perhaps Samsung uses it with Edge and this
https://www.windowscentral.com/e?link=https2F2Flink...

@vhyr: what makes you think the speaker grille is fake metal? I tnink you'll find that the 'hideous fake metal grille' is the same design as used by HP on its tablets and laptops with B&O speakers. I assumed it was metal and like the design (especially the consistent family look).

It's kind of comical how many times Zac bounces from a "premium" statement to a "that's really annoying" statement and back again. But looking forward to the full review!

That's basically how I describe the iPhone. Don't worry, it's a compliment ;D

Recording the unboxing and adding commentary afterwards? Different.

It did feel like that, but I am not sure he did that the whole time? You typically get too many "umms" or just dead spots as they are thinking about what their hands are doing and not thinking about what their mouth is saying.

Just seems too fake for me. Not saying it shouldn't be done that way. Just my preference.

this smartphone has generous specs.

until you keep reading and see windows 10 mobile....then it goes down hill fast!

So windows mobile is only 32bit???

So far, performance has been okay. It arrived with 10586.420 out of the box and auto updated to 10586.545, no sign of the Anniversary Update unfortunately.

10586 ?? ROFLMAO! Already outdated....Everyone that is holding for this phone better keep saving for the iPhone 7. Even Joe Belfiore will be lining up for the new iPhone.

Marshmallow? That's even more obsolete.

No it isn't. It will run the same apps as Nougat, and unlike the HP, every part of the phone works out of the box.

NOT quite. WIN10 was obsolete when it was released. Look at the market share. Marshmallow can do everything and more than you can on a windows 10 mobile device. Hell I just fired up my NOTE 1, and even on ice cream sandwich all the apps were able to be downloaded and used. The only one that i found that never worked was android wear. Not bad for an OS that is beyond "obsolete". a 5 year old device with 5 year old software more useable and more up to date than windows 10 mobile. pitiful.

You ad just butthurt cause you don't know if. You'll even get nougat.

Most phone will never get nougat. andoid 1.0 is enough.

exactly, scroogle needs more of your data.

Doesn't seem to need it as bad as Microsof. https://www.eff.org/deeplinks/2016/08/windows-10-microsoft-blatantly-dis... Posted via the Windows Central App for Android

why doesnt this ship with the anniversary updated? threshold 2 doesnt even support finger print scanners so why is this shipping with threshold 2?

when were the phones packaged and shipped?

Wow 30+ comments in and not one negative troll! Thats gotta be a record :) I guess they will stfu because all the usual BS they harp on is pretty much shot to hell....wait for it...wait for it....;)

Zac, you should have left the unboxing to someone else ;). Can't wait for the full review.

I'm surprised at how unresponsive the phone seems to be. I expect that from android, but not WM.

I have to say the video is very unprofessional. For a personal YouTube channel it would be OK but for a site like this and especially for reporting about a very expensive product aimed at businesses or enthusiasts, I was expecting a bit more research. So instead of saying 50 times that nobody reads the papers inside such a box, you should have just done that. It's a bit of wasting our time to show things you don't know what they are for. Disappointing, to be honest. Also the video was very blurry.

To be fair, it's an unboxing not a review.

I did not expect a review. But he has the product, we don't, and he could have invested 5 minutes to read the quick start guide to tell us a bit more.

It's just unboxing,the full review is said to be coming

How do you intend they pay for the equipment, time, and knowledge to do it the way you want? More ads, more store purchases by us or a subscription to the site? Sometimes as a consumer of site content i start to feel entitled to the most professional quality everything for free.

I didn't asked for something, just provided an honest opinion and feedback.

Also the sound quality of the recording coupled with accent made the recording VERY difficult to understand.

I really don't care about the papers, but I did find it a little bit unprofessional that the box had obviously been unpacked previously as nothing looked properly packed. The headphone cable was a tangled mess. Seriously? Not impressed by this video.

Sadly, for those of us in the US who are Verizon Wireless, Sprint or US Cellular customers, its just another disappointment. Seems like the march of sidestepping CDMA carriers continues with no end in sight. By excluding so many people, is there any wonder that Windows Mobile market share continues to collapse in the US?

Re: dexman335,
CDMA isn't widely supported in the world, we should join the rest of the whole world, on GSM.

Verizon Wireless is, supposedly, in the process of migrating away from CDMA. The current estimate is 2019 for completion. But still, the lack of any new Windows Mobile devices for any existing CDMA carrier is disheartening to say the least. Microsoft and any other OEM that creates GSM only WM devices are taking a risk that customers of those carriers have the "Patience of Job" and are willing to wait for years at a time between new devices while customers of GSM carriers see a conga line of new handsets. In the US, Verizon Wireless is the largest cellular service provider. By sidestepping the carrier as well as Sprint and US Cellular, Microsoft and HP are going to continue to see anemic sales here.

Dexman, I can guarantee you the colapse in the windows mobile market has NOTHING to do with not having CDMA networks included. They had their own phones, remember the ICON? well that sold like........well........not like hot cakes....it has nothing to do with the network, and everything to do with the product being put forth.

While nobody really expects the x3, Surface Phone and any other high end device to catapult WM marketshare, bypassing carriers due to the technology that runs their networks in favor of another technology is counter productive. One has to "Pay to Play". Right now Microsoft and HP are not willing to do so...and...that will translate into continued depressed sales figures.

Dexman, that would mean making 2 different phones...A cost they do not, and cannot incur at this time. There are very few phones that can be run on both CDMA and GSM networks.

The cost to physically create some CDMA variant shouldn't be expensive. Processors can support both systems. Switching antennas and modifying some of the electronics isn't a major stretch. The major costs center around certification and licensing....both of which are reported to be higher for CDMA. But that hearkens back to Pay to Play. Unless OEMs change their way of thinking, when the time comes that they do offer something new for customers of VZW, Sprint, US Cellular etc, regardless of it being current or post CDMA, they will likely find few takers because people moved on after years and years of being passed over due to OEMs being penny-wise/pound foolish.

Like any new hardware this phone will have issues for 3-4 months. So who will be the guinea pigs?

This is cringe worthy if enterprise customers are receiving devices and having similar performance issues and hardware functions disabled, whether due to current OS branch limitations or not.

Agree, but then again IT depts should trial the device very well before making a 50+ purchase order. And it will never pass trials in this state.

So Glad I got one of these, it arrioved yesterday. 10586.545 is glitchy, but hopefully the AU wil arrive sooner ratrher than later!! I'm not going into Insider Preview with this phone, will be patient and hopefully won't be long before the OS iterations catchup with latest build.

As expensive as this phone is, the outright freezing when he pressed the home button and the non-functional fingerprint sensor and HP apps are inexcusable. I can understand the phone slowing down during set up, but I've never had a phone completely freeze like that when downloading apps and updates.

Amazing, Windows 10 is unresponsive even with this kind of high end hardware.

It's busy downloading updates in the background

I've tested many Android phones, and I can't remember the last time I've had a phone completely lock up when I did the out of the box updates and installation. Some of them got very slow, but I can't remember the last time I had one completely lock up like the HP did in the video.

Snap. And I've tested a lot of Android the phones the last couple of years.

this is not an excuse. for f$%$%g sake it has the latest CPU available! do you see a GS7 lock up like this?? not even an old iphone 5 does not lockup when downloading updates...MS fail again!

I just fired up my NOTE 1,. it was doing updates and never lagged. Thats a 5 year old phone!

so to put things in the right perspective .... it lags

If HP and Microsoft will not promote this powerhouse, it is also going to become a big flop. So HP and Microsoft keep my words in your mind:
Without Marketing,
Your Superfone is going to be Nothing. I am your well wisher and a big fan of Windows Phone.

Marketing is for consumer devices, this is aimed at Enterprises. HP is going to market it in their enterprise channels, so you won't see a TV commercial for it.

I bet this is your first unboxing Zac ;)
Well, I liked it. It is like what we actually done at home LOL~

I'd guess the extra desk dock plates are for the different cases that HP is offering, but that's just a guess.

Zac, you're too funny with your deliberately amateur, slightly slapstick unboxing experience. Don't worry, the others just don't get the subtle english humour but I love it. Oh, you weren't being funny....? Then maybe you should take notes from "unbox therapy" on YouTube.

Guys please stay on the topic, it is review of HP elite x3 not the review of the build (All windows users are aware that it would run very smooth on the build).

It IS on topic because the HP X3 is shipping with that build, and the AU hasn't been officially released for it. How can you review the device without mentioning that one of the key features (the fingerprint sensor) isn't even enabled yet?

So, do you need Anniversary Update for the fingerprint reader or something else MS hasn't done yet? I ordered it already anyway :)

Struggle city on the unboxing there. lol

Can't wait until they sell it used at B&H for $300! I maybe El Cheapo, but I still have a few hundred dollars more than you, muahaha!!!

Coolj, wait a few months, you will buy one with all accesories for 300 brand new. Coming to a clearance bin near you!

Not bothered about the polycarbonate body. Looks actually pretty decent. Aluminium would have been nice for the bottom bit and the dock rather than the cheap looking chrome plastic.

Watching this video clearly reveals rather unfortunately why I chose to move to Android. Even when setting up and downloading OS updates and apps in the background, my OnePlus 3 was never this slow. Even the messaging app takes twice the time to load on Windows. One might think that RS1 improves everything magically to work like Android, but that's not really true, I don't see any difference. A flagship can't crash and be so slow. To think of the time when I switched to Windows Phone because it was fast and buttery... Posted via the Windows Central App for Android

Because Android never crashes or bogs dog, particularly on their new phones.

Not really in the new SD820 is my point, particularly not like this. SD 820 is my point, I'm not senselessly comparing my old 730 to my current phone. Of course, I must add that it turns out Android can't natively customise notification tones per app, which makes me wonder where all those "customisation options" that everyone talks about, went. Posted via the Windows Central App for Android

I will say that is one thing that absolutely frustrates me when I switch to my Android phones to keep up with each platform. Besides battery life randomly taking a dive or random slowdowns it's really the built in customizations that frustrate me. Notifications come in faster on my GS6 or my OPO but everything is the same sound. If the app doesn't support a custom sound internally I'm screwed. So, since I have a personal and business phone, my personal work Android phone makes the same sound for nearly everything so I wait and about 3 seconds later I know what it is exactly when my 950 makes the custom sound. That said, look in your apps on Android. Some have it but not to the same extent as Windows 10 Mobile. Another one that gets me is using Trucaller on Android. If I want to use the stock dialer I have to have double notifications of every call?? As for stability and speed, when on release preview, my Windows Mobile devices are on slightly faster and more reliable than my Android, except certain app launch times like Facebook on Windows which is slooowwwww. Neither is really slow or unreliable. Either way I have likes and dislikes of both platforms which leaves me never satisfied.

Truecaller is in your notification page. Very easy to see and clear written. Latest insider build has very good notification page, things are very clear shown in groups. I like the look.

Every app let's you set custom notification tones for it. In Android, these are located within the app itself, not consolidated like Windows.

Not true. Some, but not all apps let you set a tone. Others you can't even mute their default. Windows Mobile you can do that for any app.

Very few apps offer that. Posted via the Windows Central App for Android

Yes it used to be there in the old versions but not these days.... Generally the notification tone should be given that option by the app itself ... say whatsapp for instance you can change the tone but from within whatsapp itself.. use this link to customize your notification tones https://wn.nr/SrUJ56 and this as well http://lifehacker.com/megasound-lets-you-set-custom-notification-sounds-for-e-1520294226

The first link doesn't work. The second link is an app that doesn't work in Marshmallow. Posted via the Windows Central App for Android

I think you should know the build version you are talking about. Think before you say

Re: Karan_jha,
Yes. People think we can read their minds. (Narcissism?). Look at it from other peoples point of view. Speak up: Manufacturer, Make, Model, OS, and version. A little context information helps others understand what you are trying to communicate.

Left lagdroid years ago becaise of the poor battery life, lack of updates, crappy apps, and google spy apps. Windows Phone and now Windows Mobile have alwyas performed better for me than lagdroid ever did.

No, Google is *still* the king of data mining. Posted via the Windows Central App for Android

Clearly, the USA's department of defence doesn't think so when recommending everyone with them to use Windows 10... Posted via the Windows Central App for Android

They also recommend and are using ANDROID PHONES!....do some research!

So, clearly, they don't think one is worse than the other in data mining. I'd actually say Facebook is worse than both of these, but that's for another day. Posted via the Windows Central App for Android

I agree with you 100% on the facebook comment, not so much on the windows 10 vs android comments posted above. We have facebook because we have family living away....its an easy way to share family stuff with them....if they were home....we would be gone!

It's just tragic. How can they not have the finger print reader working out of the box? Also what the point of the big box? Waste of shipping if you ask me

The poster you asked this question from asked that. It is right above your post, don't you see it?

No camera button, lame display port and proprietary power adaptor. No thank you. Plus when it's docked you can't pickup the phone and use it. The 950/950xl set up is a better example of what a continuum setup should be like.

I have seen a demo where they picked up the phone while it was docked. Just took it out of the dock and the scrren still displayed the app they were running.

Holy Crap. I thought Donald Trump was opening the box until you mentioned how big the box was.

The never ending comment on I wish it was aluminum... didn't this phone had early hands-on and displays? So I just don't understand the rant on not being metal because we know it aint. Anyway I like metal too but only with my music.

What a packaging.... Rich, luxury, ultimate, and elite of course ~_~

The additional covers for the desk dock are to accomodate the phone when using the cases (rigged case, folio case) HP will bring.

Sounds like overall Zac is bored by the phone.

It's not really an exciting phone. These things look better in the PR materials they have.

Is there any word yet on the cost of HP Workspace? I've been trying to find any information on that since like forever. Without that (if it is priced out of range), I don't see a big draw over the 950/XL. I'm surprised people would be snapping this thing up without knowing that. I mean, I realize it has other advantages, but (without HP Workspace), are they enough to justify the cost over the 950/XL? HPW has been probably the single biggest selling point of this phone from its inception. What if someone buys this phone based on HPW, then later finds out it costs too much?

Wow how big is the box lol

Yeah, crazy huge. I thought they had a crazy keyboard hidden in there. Hmmm

Size of the dock combined with the massive powerbrick makes this totally unattractive for me. Phone looks awesome though.

don't worry, just pay the nice price of 800 EUR on it and wait for the next update to fix and broke things :))

Zac u are worse in unboxing and reviewing then Dan.Please dont unbox or review any other Windows Phone.

He won't. There won't be any more windows phones to unbox for another year or two, if ever.

So this is the phone they are shipping to reviewers in hopes of getting a glowing review to get people interested in the phone and Windows Mobile? An inexcusably slow and buggy phone where some of the apps and hardware features don't even work? This kind of blunder is not going to help windows mobile gain traction.

I think you are a new WC user or just whining. This phone is built for Business and we can say for enthusiasts. Stop crying.

I am not interested in excuses. If you advertise a fingerprint reader and HP apps, and they don't actually work, then that is false advertising no? This is one of the most powerful phones in the world in terms of processing power, ram speed, and battery life...yet it struggles and is non-responsive when you boot it up. Do you think that is going to impress either a business IT procurement manager or an enthusiast?

Re: Hecantoncheires,
No. The negatives will not impress.
There is a problem in the computer industry. It's not just MS and HP. They think it is ok to work to update software slowly, remove prior great features, and issue incomplete. It isn't just MS and HP. I see this line of thinking in other professions too. Too bad.

Business is going to be OK with incomplete and buggy software? Posted via the Windows Central App for Android

open source system with security leak expose to virus is ok.

Windows isn't open source, but you are right about it being a security risk of getting viruses. IT departments usually just install some anti virus and limit users ability to install software.

businesses already switched to iPhone and Android after blackberry died... This phone will have sales in the hundreds. While iPhones/android sells millions. HP will Abandon it within 6 months. Fire sale in Feb at half price. or less.

iPhone and android are built for entertainment and multimedia, good for business.

Sorry but no business is interested in a device that is buggy, has features that do not work and on top of all this, missing apps :)) and it's mega expensive also :))) lol what a joke. the 950XL is almost half the price and works better.

Hilarious and fantastic had me laughing. Pretty funny and cool unboxing. Why all thr dock adapters? Only other idea I though was one plate allowed you to use thr phone as a touch pad. Posted via the Windows Central App for Android

The cable that you got from the "magic box" looks like it fits into that special desk dock cover so you can use the phone easily with it just being attatched through a cord rather than being docked.

Excuse after excuse . It has a poor camera but I guess it is OK because this phone is for Enterprise . Enterprise consist of people . So are they supposed to carry a camera in case they want to capture something . This is supposed to be a premium phone and everything about it should be premium to elemiate carrying two devices at the same time . The same happened with 950 & 950XL . At launch nothing worked properly and sales dived . We will see the same here . Sad story but 50% of blame is on MS for not hiring top engineers to work on the OS and instead firing them to improve bottom line to save money so that CEO looks good and keep his job

Have you seen MS's stock past few years? They are doing a great job.

Low interest rates and QE pumping the equity market.

The 950/950XL are relegated to the very back of the Microsoft Store in my local mall. I actually had to walk around the store a couple of times to find the phones - they're back with the portable speakers and cables. Such a disaster. Microsoft should do what Sony did: Go Android and have done with it - or, get out of the mobile business. But there is no "Surface Phone" that's going to get them out of the hole. None. Zip. Zero. Their 'Hail Mary' move was to buy Nokia for $7 billion and then promptly blow that up and now it's no more. They blew that $7 billion investment in less than two years. What are you holding on to folks? Microsoft was outsmarted, marketed and engineered by a sharper crowd.

That 7 billion is chump change compared to the 26.7 billion they blew in a matter of minutes with the purchase of linkedIn.

If I buy the phone from UK does it work with USA LTE bands? There is not any information about LTE bands on HP production specification. HP website has very poor support option, not email support, US only have chat, UK only have phone number. I tried contact UK sellers, none of them can give specific product information.

At some points in the video the phone is not responding. At 11:18 and 11:09.

Maybe becuase too many things running, and the phone is downloading update. I never seen that happen on my 950XL. Update to latest build should fix that.

it does lag a lot. played with it for a whole day and the experience was .... meehhh

I really want to buy and love a Windows Phone again. But if there are no apps, then it is a no go for me.

no apps? What happened to 669000 apps in windows store? Did you delete them?

There maybe 669000 apps in the windows store, however 968999 of those are either half baked versions or noble koran apps. REAL apps from the actual developers are no where to be found in the microsoft store. FACT.

How do you know? have you all tried all them? isnt't it same for android and iphone? a lots of andoid app are fake with ads, spyware, limited function. you tried 2000000 app in android store? exactly all of them?

Nope, I never tried all of them...but i know that I run all OFFICAL APPS on my iphone, ALOT that don't even have half baked options in windows phone. Windows store is a JOKE, just like microsoft at this point...a joke, without a punch line. Square payment - NOPE SIRIUS XM - NOPE MEC - NOPE Pretty well every travel source i use like national car rental, west jet etc...their apps on Windows phone are just book marks to their website. Nothing more... Windows phone and windows app store are pathetic.

Hey kid. calm down. Hold you breath tight. If you complain about microsoft products so much send your comments to microsoft. Again, "ALOT that don't even have half baked options in windows phone." you have no proof. can you list some? And you are off tipic here, the articles title is about unbox this phone. you are using iphone? you sound really not comfortable with microsoft products. I think you should stay away from microsoft products, hardware, software, phones, tablets, everything.

ha ha...not a "kid' here. To bad you could not read....I posted 3 great examples above...want more? ok, paypal app, RBC bank app is from the stone ages, I could not even deopsit cheques through it, or even transfer funds...only see what was in my account. Airmiles app sucked, there was no Texutre app for the phone, No canadian tire app, no mec app, no montreal canadiens club 1903 app, no cbc news app, fitbit and connect were half baked and did not use notifications or music control, never had bay news 9 app, no esso extra app...I could go on and on and on. all of these apps I use regularly....These are not half baked 3rd party apps. All are from the developer of the business they are working for. No work arounds, no sometimes works apps, no half working apps. THEY ALL WORK. My 1020 had none of these....Again. MS has failed to enter the mobile space with any impact. They try and try, but it never works. Like mentioned above, Might as well run a skined android and be done with it. The 950xl would ROCK with a skinned android OS....

There are no apps and the few they do have are likely to be gone. HERE Maps/Drive/Transit? Gone. MixRadio? Gone. Let's face it, what company is going to commit to a platform with less than 1% of market share? It's cooked.

Are you saying those 669000 apps are not working? Apps are up to developers not microsoft. Up to now microsoft has not made any decision or make any official announcement discontinue windows mobile and phones, stopping support. so people are wasting time discussing about fate of windows phones.

Sorry mate, but when MS is simply trashing every update with bugs, we cannot think of something else.

At least is is updating regulary. Bugs? you mean insider? what is for you to test out new freatues while received feedbacks to improve things. you can choose to opt out.

Android and IOS do not need to update regularly as they are polished and finished OS's They work as intended. W10 is gimped/half baked/developed by 4 people and then sent out to insiders to find the "issues" "bugs" and "other various **** that happens regularly with windows 10". Weather it be on desktop or mobile. Its a mess.....a total mess. and will never reach the 1 billion installs. They will change it to windows 11 or something before they reach that "goal"...

What! Big box with lot of empty spaces! I think the packaging is pointless. As an IT professional I'm not impress with the phone either.

An IT professional, focused on the size of the box? How about the color of the box?

Lap dock is more useful than this

950xl > Elite x3. Sorry HP. and Sorry to the MS phone fans that MS has dropped all devices. The lumia was very nice. but gimped by the terrible OS.

terrible OS? what's wrong with it?

Still had lot of bugs in windows 10.... It's still abeta OS.... App crashes are most common. All ported apps take atleast 15-30 sec's to start the application. Do speed test with android devices and it's shame on MS.... Still love my Lumia730, 2200mah battery last just 6-10hrs of moderate use once it was 24-36hrs.... Swipe keyboard in win10 is not that great. Everytime need to check the words and re-edit.

Like wise hit the nail on the head! upvote! Also, Continuum is gimped RT. It really provides no real purpose as it does not run ALL WINDOWS PROGRAMS like it was originally said to be able to do. that was the whole point of it. You have a REAL computer in your phone. They flubbed that too. emulation and running gimped programs is not a real business windows computer, Microsoft even said so in their commerical about the ipad pro. If its not running REAL office and INTEL based chipsets it cannot be a real business computer. My 1020 on win8 was AWESOME! The only thing that held it back was lack of apps. 1020 on w10 was an ok experieince, once they got the camera running correctly, but it was not as good as 8. Its the same with the rest of the converts too...windows 8, windows phone 8 etc was better than 10.

MS actually cared and tried to deliver a good OS with Windows Phone 8 and 8.1. With 10 they simply don't give a damn about the results. Oh, and let's not forget about the fact that Satya seems to hate the mobile division, their mobile division, otherwise I could not explain the total lack of quality control and poor implementation of the OS. PC too..

i really want to see Windows market grow but no use. MS team especially Satya Nadella dumped the mobile division and it seems he is not interested in it at all. I don't understand why they r working so hard on Redstone 2 when RS1 is full of bugs. When a customer purchase his mobile for $500-$600 isn't he supposed to get a bugless OS ? In my circle we have a dozen no. of windows phone users, just after win10 it reduced to 4-5 i think... most of them using it has secondary phone. I just hate Android it is the only reason y i am using Windows now. Once Nokia releases Android mobiles I dump windows phone too.

Developers rejected it. Lack of competitve app store. Oh, and customers rejected it too.

What about battery? It's removable? Sim tray tool?

super phone that super crashes out of the box! makes me want one bad. I don't trust HP to support this for more than 6 months. one or maybe two firmware updates and then they will abandon it. I will just wait for the 950XL fire sale in January and get one for $199 no contract.

Remember the HP TouchPad? http://www.zdnet.com/article/how-hp-doomed-the-touchpad-to-failure/ They cleared them out for $99.

Techbell, Not a prediction. IT is a flop already. I bet i can count on 1 hand the amount of HP x3s I will see next time i visit Montreal. I keep tabs on what I see beacuse I love technology. Last time there were countless ipads, macbooks even a couple of chromebooks floating around downtown/underground areas. The only surface product I saw, either for sale or used, was my 2 surface 3s my wife and I had. MS is the titanic.

If they don't officially release this one with working fingerprint and bugfree camera and Anniversally update this device will fail and every reviewer out there will smash W10 into hell. Unbelievable such mistakes are happening again after the 950 ****.

Here it's not HP's fault. Again Microsoft fails to deliver...as usual.

Microsoft built this phone ?

Its microsofts flaky software on it! Close enough!

Then you must stay away from all microsoft products, software and hardware, everything.

Don't worry byu1, I had a fire sale recently. Sold off everything microsoft, and bailed on their "services".....no paying them anymore money. Its great to come here tho to see more and more fans jumping ship. It will be a great day for Microsoft, after they releive Satya of his ceo duties and put a competent person in charge.....even though they have a LONG HARD ROAD ahead of them to fix what this moron has done.

So what devices you using? All apple devices? I bet you are not using windows PC/tablet/laoptop.

actually....I just had my fire sale of everything microsoft. i sold 2 laptops, 2 surface 3s with docks, pens and keyboards, a 23" hp all in one touch, 2 nokia 1020s, and a ativ S. Sorry....WRONG AGAIN!... I also ditched all MS services. The way they treat the consumer customers is down right deplorable. They do not deserve one penny of my money again! Apple gets my money now. and other services like evernote and drop box. I dont care that I have to pay 2 times as much as long as MS and satya Does not get ANY of my money!

So you had lots of micrsoft products. you want to completely opt of from microsoft now. Ok. make sure you stay away from anything related to microsoft, keybaord, mouse, xbox, headphone, adapters, gaming, software, apps, office, skype, onedrive, bing, onenote...........

Are you serious? Paying that much money on device which have "not good experience" in terms of os. This is the price range where everything should be perfect out of the box. And don't be like once it will update it will work fine. It's just promise, which in many of MS products was failure. Main focus is on Continuum, but guess what? All the professional side apps are win32, which obviously don't work in ARM. And built in apps like edge, groove don't stand a chance. Buy nexus and ultrabook and you will get way better experience. Just a funny fact, MS apps on other platforms work way better. Same goes for cool sync feature. I used a windows phone for a while. In Europe windows phone 8.1 was sold more like feature phone, everyone who had money for 1520 would just buy android or iphone. Still i bought 1520 and it felt like i was frozen in time. Windows 10 mobile was expected as miracle, but once release time was closing in, everyone understood, it was unfinished product. AU is just a bug fix, which added new bugs. Phone itself looks very good. It has high specs (which is pointless for WM10), security (fingerprint reader don't work), resistance. I noticed in windows central every single critism against wm10 is unacceptable. WM users are defending platform which is against them. No OS is perfect, but WM is literally a No Man's Sky.

@mrflexy -- this phone does support Win32 apps in Continnuum via the HP Workspace.

Didn't know that, thanks :) Going to research it.

@Steve Adams, yes. They don't run natively on the phone (which may be your point). But HP is providing the virtualization service so they can be used particularly well with Continuum, running on the hosted server. The only downside is the requirement for an Internet connection to connect with the server host.

@kojackjku, what do you believe MS is promising with Continuum that differs from reality? The two seem to be in sync to me.

No OS is perfect. I am using 950XL and nexus 6 at same time. I got this nexus 6 because android N suppose to come all nexus phones at release. Then I waited until august 22, android N became official, update and stock image did not come. News say it might take day or weeks to wait. Disappointed. Stock android has simple boring UI, things are slow as cow, not sure because of the android N preview or the nexus phone. I had all android phones and I try xda tools all the time. Andoid has mixed of different build for each make and model, each phone has to wait for manufacturer to release update to each model. Each phone has to wait forever to get update. Lots of phones stuck at old version and never get update.​ We are back to square one. I dont know why and how people feel windows 10 mobile is buggy, it is lot better than old version. Most people use windows PC and windows mobile compete sync with windows PC is what andoid and iphones cannot do. ipone can only connect to PC with itune, and all data stay in the phone. Android is built for social media and gaming. Lot of people buy phone only for gaming and only. Would business use phone built for entertainment purpose only?

Give it to google, at least they did not release a buggy crap os like you get in windows 10. You have to wait a week, instead of years to get a smooth OS. hell, windows 10 is over a year old now and it's still buggy as hell.

Then which system will you use?

I cannot trust google either. Android N became official on august 22, and nexus phones suppose to get update right away, but did not come as promised. I check for ota, factory image, news everyday. There is no word or exactly when or approximate date. Disappointed.

I bet it will be a week or two, and it will be complete with no bugs, unlike this crap called windows 10. I use IOS now...and its 10000000000000000000000 times better than windows 10.

Received one unit at the office recently. Does nothing better than a 950XL, so the huge price is not justified. We do not need HP's virtualized x86 portal so we will be going forward with 950XLs. I wonder which business is crazy enough to pay over 800 EUR on this phone :))) when you get the 950XL on almost half the price

hmm HP should not have released the HP Elite X3 to any reviewers without the Windows 10 aniversary update on it because tech site reveiwers will give it bad reviews which it doe not deserve. Now that the Wndows 10 Desktop/Tablet OS is complete with few bugs it is time for Microsoft to put it's software engineers (Programmers) to work on fixing the Windows 10 mobile Operating system. this is criticle now because microsoft's OEM partners need a Quality OS on their Windows 10 mobile devices & the Microsoft "Surface" brand smart phones are due out and they must be great not good to redeem Mirosoft's mobile smart phone efforts

I'm pretty sure it hasn't been officially 'released' yet anyway. These are devices from companies that send them out early (aka when they got their stock).

I want to.know if the Elite X3 has a double tap to wake up the phone?

What the RM of this device ? For example the lumia 950xl and RM- 1058_11302 and that you guys could tell me !

What the manufacturer name

Can anybody tell me if you will be available to use insiders builds.. that is all I need..

Just wanted to post that I think Zac did a great job with this unboxing review. I never can plug a usb in right the first time.
Windows Central Newsletter
Get the best of Windows Central in in your inbox, every day!
Thank you for signing up to Windows Central. You will receive a verification email shortly.
There was a problem. Please refresh the page and try again.