HP is betting on enterprise, not consumers with the Elite x3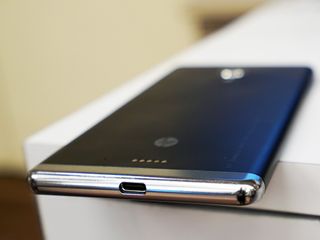 Earlier this morning, HP finally pulled back the curtain a bit on the Elite x3 running Windows 10 Mobile by revealing its price: $699.
We could compare the cost of the Elite x3 to the Samsung Galaxy S7 ($620) or iPhone 6s Plus ($849), but that would miss the point. The HP Elite x3 is not aimed at consumers who want a gee-whiz new phone. It's a B2B (business to business) device that will be sold alongside HP's servers, services, PCs, printers, and more. Sure, HP will be more than glad to take your $700 for one of these phones, but they are not trying to compete with Samsung, LG, or others with this device.
Let's take a closer look at the goal of the Elite x3 and why you need to reset your concept of success.
Why not BYOD or Android?
The concept of Bringing your own device (BYOD) is a popular one with employees, but not necessarily employers. BYOD became big right at the same time as Microsoft and BlackBerry both fell out of favor with enterprise. Companies, however, are not excited about BYOD due to the added complexity and costs in provisioning and securing the vast array of devices users bring to their network. For some companies, having secure email is safe enough making BYOD easy to achieve. For others, they require access to servers behind firewalls for encrypted data, which is trickier.
BYOD became popular because companies did not have a viable solution to counter employee demands. It was not done out of charity.
I'm not sure it's clear yet either why HP went with Windows 10 Mobile for their first phone in two years. People forgot that HP could easily have made an Android-based Elite x3 and called it a day. That option was available to them, like it is to every other OEM in the market.
The raises the question: Why did HP go with Windows 10 Mobile? Why this device?
I explained way back in February that HP made the Elite x3 in response to their clients (read: companies with large IT departments) needs and wants. The story was simple: HP routinely meets with partners and customers and they ask a simple question: What can we do for you that we're already are not? The answer came back that HP currently does not make any phones, which is an odd gap when they sell every other type of computing device on the market.
That's the starting point: HP heard from clients that they would like a business phone. The following questions are an obvious follow-up: What OS? What features? What do you want it to do?
This is the moment at which HP could have easily made an Android phone, put their name on it, maybe lock it down and sell a few. For some reason, the company chose Windows 10 Mobile. This decision seems to flummox many of you, especially when combined with an "absurd" $699 price tag.
"No one is going to buy this phone!" reads one comment. Another says "At $699 this is a fail. No phone will sell well this year over $500. Consumers are tired of Apple-like pricing for phones full of yesterday's features, not to mention running Windows."
All of these comments miss the point in a serious way. HP does not care if consumers buy this phone or even what they think. Just like how it is out of place for a college kid to lament that the HPE BladeSystem is too expensive, dinging the HP Elite x3 on price is just strange.
HP chose Windows 10 Mobile for a number of reasons:
Security – When you look at things like dual biometrics, FIPS 140-2 cryptography, 128-bitkey Unified Image Encryption, 256-bitkey Full Disk Encryption, Anti-roll back, and fTPM2.0 security the Elite x3 becomes something enticing for firms who value – and need – end to end encryption and secure data on a phone. Moreover, since an employee could have secured data on just one phone versus two more devices, this can reduce breaches. Simply put, Microsoft tends to have a better reputation for security and meeting enterprise demand than Google or Android.
Windows 10 UWP – Say what you will about the Universal Windows Platform, but companies are interested in the idea of not only apps that they can deploy to all devices, but ones that run through their own company store
Win32 Virtualization – Mobile phones cannot run legacy x86 apps, but with HP Workspace and Citrix, the Elite x3 evidently can. Once again, this is a significant feature for companies and is likely something that piqued their interest.
Durability and Niche markets - Built around IP 67 and MIL-STD 810G standards the Elite x3 can go where an iPhone or standard Android device cannot. Further, with the pogo pins on the back companies can build sleeves for specific use scenarios e.g. hospitals, scanners, industrial usage, etc. like the old WinCE days.
Reduced IT costs - Supporting just one phone that also acts as a PC and laptop are more cost efficient than supporting three devices. Likewise, if companies can distribute this phone to individual employees and have them all on the same page for apps, services, and security, that makes IT and device management a much easier – and cheaper – task. For a single employee, this is not a big deal. If you're providing phones for 200 employees, this is a huge savings in cost.
My point here is simple. If HP thought they could do all of the above with Android, they would have done it. This conversation had to take place at numerous levels during the proposal for this device. How could it have not?
HP's clients are interested in these abilities, which is why HP went ahead with the project. Back in February, HP told me that they already had over 20 companies interested in piloting the Elite x3. Whether that count has grown, or if it was a success we won't know for some time. It is safe to say they are going ahead with the Elite x3 and Windows 10 Mobile because they saw curiosity from clients, not input or demand for consumers, which is irrelevant.
HP is also launching the Elite x3 in 47 countries, which is unprecedented for a Windows Phone at launch. Granted, much of that is through their inventory channels and distribution partners, but it demonstrates just how powerful HP is in this area. Despite their recuperating image in the consumer space, many companies trust and like HP for business. The company also sprawls the globe with tech support and services in all of those countries. What company turns to Apple or LG for enterprise questions and support?
The HP Elite x3 was not built on a whim, but after feedback, research and client demand for such device.
Legitimate debate
Having said all of that there is a genuine discussion to be had about the future of productivity, business computing, and whether the Elite x3 fills this role. We're not even sure if the Elite x3 will be a good phone or if virtualized Win32 software is a viable alternative to a "real" PC.
We can definitely talk about that, and I'm very interested to hear real examples of how this phone performs in the business world. Support could be awful. The phone could not last the day in the field or suffer from hardware failures. The virtualized software experience could be dreadful. Employees may hate it. It may also fail to reduce IT costs. Those are all valid concerns.
A commenter on Engadget who thinks it is too expensive? The quip that no one wants a Windows phone in 2016? Not so much.
We should also leave some room here for the idea that maybe, just maybe, companies will really like the Elite x3, and its Desktop and Laptop Docks.
Unfortunately, there will be no store or carrier inventory to report, no slashing of prices, and it will likely be behind the scenes trajectory for the Elite x3. HP has internal sales goals it would like to achieve with the device, but that won't be made public. (As an analogy, does anyone know how well the $2600 Panasonic Toughbook CF-54 Base Performance Model sells? I've never seen one in public, so apparently a flop, right?)
My facetious point here is that the Elite x3 is a very different phone. It's the first true enterprise-focused Windows 10 Mobile device, and yet, it also has higher-than-usual consumer interest. No one is asking if Panasonic sells its Toughbook and the Elite x3 falls into that same non-consumer market.
In the end, when talking about the Elite x3 you need to put down your consumer badge and start thinking like a multi-billion-dollar company. Another good start is recognizing that what is important to a business is very different from what consumers - and you - want in a phone. Saying "it costs too much" or that it's going "fail" is missing the mark of what is a fascinating, if not unusual, device. Instead, let's talk about enterprise security, IT expenditures, streamlined hardware plans, and the changing nature of mobility in the enterprise space. That is where the Elite x3 is trying to excel and is the real story here.
Just remember, when it comes to the HP Elite x3 you are not its audience. Once you understand that, it all starts to make a little more sense.
Need more? Don't miss our other coverage of the Elite x3 including:
Windows Central Newsletter
Get the best of Windows Central in in your inbox, every day!
Daniel Rubino is the Editor-in-chief of Windows Central, head reviewer, podcast co-host, and analyst. He has been covering Microsoft since 2007 when this site was called WMExperts (and later Windows Phone Central). His interests include Windows, laptops, next-gen computing, and for some reason, watches. Before all this tech stuff, he worked on a Ph.D. in linguistics, watched people sleep (for medical purposes!), and ran the projectors at movie theaters because it was fun.
Let's have a legit discussion on this topic instead. There is a lot to unpack when talking enterprise and business devices, and frankly, most consumer sites (ours included) start to step outside of the comfortable zone when discussing the ins and outs, concerns, and things like IT and security. It's a world that is very different from the consumer one. I get how the Elite x3 has consumer interest, but that doesn't mean we can judge it by those same standards.

Regarding being able to run x86 apps, or using THe device as real comnputer, @dan im giong to quote you think as a bussiness, as a businee the empoyees pc doent have to run a ton of apps but just the ones the employer requires, now imagine im a company like wipro or infosys having 1000 of employee and i want to reun say a total of 10-12 apps devided among say a few departments no one employee is ogign to do all the 12 apss, HP along with microsoft who im sure will have a stake in this can optimise those app to give the expereince the bussinesses want only after ttesting that iwll the HP get orders and sell! The employer doesnst need to worry if vlc player or gta san andreas works well in those devices only the thigns they want like IDE or remote desktop apps!

Cool article. I really do hope we get some insight to how practical (or not) virtualization ends up being. As a completely irrelevant note, the stock render of this device with all transparent tiles was a great move. Just that one touch makes Windows 10 look so much more appealing.

I agree. The stock render looks neat .. :)

Anybody know where we can download this specific background? I know this article is months old now but it's made me think about switching up my background to show within the tiles only with the black gap, it looks on point here.

One of the best posts I've seen in a while...that is not a knack speaking from an enterprise perspective. Granted, like you said...this is mostly a consumer site. :)

So will Windows Central be picking up a device for review? If so, will the review reflect the business aspects stated in your article or will it cover consumer as well because of interest the HP Elite X3 received at trade shows?

We're certainly petitioning for a review unit.

Since they are in fact willing to sell to consumers, I don't see why they wouldn't mind sending a unit your way to evaluate.

Yep, I can't wait to see the review. My contract's up in Feb so I'll be comparing this to the Surface Phone. Looks like a lovely consumer device with business trousers on, me like! I too am a consumer with business trousers on!

This is the Surface Phone / Halo Phone of 2016!

I hope you manage to get one Daniel. Your review of this phone is something I would be very interested in reading.

I'm sure all of us are quite interested in Daniel Rubino's reviews dating back a few years ago with the Nokia and HTC phones. :D

any chance you can sell one to me :p... to me mainly as a windows fan i would love to get my hands on the device, i also really dont get the hate wm10 i getting i have tried latest droid, io, but wm10 is by far the most modern looking OS, its nto perfect but i really ccant get the argument of droid being better tyhan wm10!

I think you make valid points. Honestly, this type of device is good for the brand. It shows what Windows Mobile is capable of by pointing out the biggest hole in iOS and Android: security and enterprise support. It's one of the reasons why Google not buying BlackBerry to shore up Android baffles me as it would've given enterprise every reason to never touch Windows Mobile again. HP, on the other hand, seems to be taking to correct approach after their failed webOS venture. Plus, with an OEM like HP driving hardware development, it honestly gives Microsoft time to focus on that they are good at, writing software. I'm sure the Surface Phone will resemble the HP Elite in many ways and having these two companies drive the industry may inspire companies like Intel and AMD to finally release a mobile processor capable of running native x86 programs.

Intel did no really need inspiration, they did try, and sunk billions into R&D, but it's just not possible to be competitive in phones with x86 on the current node size.

This might change. One day. In the business world. Once 5G becomes more of a reality
we will see a lot of stuff from Intel, including more mobile hardware. .

It might change when Intel gets to an even smaller manufacturing node, something like under 8nm. Even for Intel, that will take quite some time.

For now let's just focus our efforts on the ARM consortium and standards to drive innovation in the mobile market.

At my hospital, the IT guys all use surface tablets, and they absolutely love them. They rave at how convenient it is to pick up their work and go. I bet they would love this HP phone even better. To be honest, if I had a huge business, and I need to buy phones for my employees; this would be the phone. At the end of the day it's about being as secure and productive as possible. I wouldn't want my employees using Pokémon at work anyway. Haha

Even if Pokémon was available for W10, IT dept can configure the phone so that only apps authorized to run on the phone will work - essentially restricting which apps the employees can see on the Windows Store.

There was little interest from enterprise in Blackberry's offerings in 2015, and there will be negligible interest in W10M from enterprise in 2016-7. Even if there was, it would hardly move the needle. Employees don't want two phones plus a laptop/convertible. And no, Continuum is not the answer here.

During work you just need one phone. Think again.

What makes you the expert exactly? Stop comparing Microsoft to Blackberry. They're two different businesses.

Maybe Blackberry wasn't nailing something that HP and/or Microsoft feel they can fix. We'll see when this device drops
(though we most likely won't because enterprise doesn't dive into detail like that with the public).

BB is/was a dying platform, and that brings a lot of uncertainty along with it. Nobody is going to invest tons of money into something that might just "dissapear" in a year or two, forcing them to shell out another few tons of cash to invest in yet another solution. This is the reason why MS was so vocal on their support of W10M towards their partners. MS has a lot of infrastructure and software like Office 365/Azure running in enterprises and a W10M device like HP's would be like a dream come true for IT and Security.

Windows phones aren't a dying platform? What does Windows 10m do that WP8 didn't? Why are businesses going to suddenly flock to Windows phones when they have ignored them for years? Posted via the Windows Central App for Android

You do know WP8 and W10M are two completely different OSes, right? WP8 couldn't do anything and W10 can do everything.

Maybe read the article. Plenty of reasons provided there =)

You could argue that Windows mobile is a dying platform in the consumer world, due to low market share, but that doesn't mean it's actually a dying platform altogether. Remember, that Windows 10 is all about running the same operating system on different form factors, which means as long as Windows 10 exists, Windows 10 mobile will exist, regardless or how popular it is. Blackberry also could never offer the complete enterprise solution that Microsoft can.

Blackberry is a little different in that in addition to the phone you also need to purchase BES(blackberry enterprise server), along with licenses. No one wants the added expense anymore.

Same is true here, I doubt that Citrix-solution (for example), works without HP licensing.

And why do you think Citrix need HP licensing? ;-) I'm running on my Lumia 950 and I don't need any Citrix License on my Lumia... Citrix is licensed on the Citrix server and if a company wants that they need license there. Not on any Android, iPhone, Linux device, Windows device... ;-)

I'm assuming HP has a custom solution, since they seem to be leaning on that feature so heavily.

BES nowadays is simply an mdm solution that "works" to manage all ActiveSync handhelds. In fact, last year they bought Good to help to supplement this offering.

Enterprise (and consumer) had enough of Blackberry. People got bored and wanted an alternative and easily got replaced by Android and iPhone. They (Blackberry) developed some monopoly and market trend changed so could not trap enterprise or consumer any longer...Their move towards Android is just for survival. MS/HP or even Acer investing in future. My company is due for device upgrade from Lumia 830 to Acer or HP. Many companies are moving to windows phone. UWP app are is killer.... very bright future ahead!

Big difference...... Blackberry doesnt own enterprise IT infrastucture like Microsoft does The X3 drops right into that existing enterprise Windows intune IT infrastructure without requiring additional per user mobile device management costs like IOS & Android devices. That feature alone can save companies huge money.

Maybe because blackberry is not running one of the most secure mobile operating systems... Imagine blackberry with Windows 10 Mobile, they would kill it in the enterprise market.

Ummm.....no. If the president of the US can use a blackberry, I'd say its pretty safe. Blackberry failed for many reasons, security was not one of them.

Blackberry uses android, enough said

Blackberry failed because of hockey!

The president now uses Android... Posted via the Windows Central App for Android

Then why would the president use a dying phone #idroidlogic

If I had a dollar for every user I saw walking around with two phones, I could buy one of these...

Employees dont want it?? Its like you didn't read the article at all....

This isn't your father's blackberry and in the enterprise, people DO use multiple devices because their businesses don't hinge on how many tweets, "Likes" or viral videos it uploads. We're talking about data mining, business intelligence, relationship management, supply chain and inventory manage on a GLOBAL scale. Will we notice if the Pokémon GO servers are lagging? We could care less, we're pushing the lifeblood through the veins of modern society.

And those people have been choosing iPgone/Android for years instead of Windows phone. Why is that going to suddenly change now? Posted via the Windows Central App for Android

Again, Windows 10 changes everything.

I agree with you that individuals don't want windows phones until they can do everything they can with the other phones. If companies force employees to use the X3, the company will lose. I truly believe that it will still come down to Apps. I'm definitely not interested in walking around with 2 phones. However, I believe there will be some enterprises that will have their emps use the X3 so maybe there will be a niche but still less than a 5% niche. Maybe that is a success.

If their "companies" realize that it would be less costly to support W10m.

Kamikaze80....youve missed so many points off the device and article L950 & Huawei p9

Have you used a blackberry device? We demo'd one of the bes10 handhelds in the office when trying to decide if we'd support the bes10 servers. The interface was clumsy and hard to use. Nothing like the finish of a more modern phone. We haven't tried anything in their latest line up, as most of our customers are going for virtually free iphone 5 devices.

There is a dual SIM version of the X3, exactly for this reason. I would gather that people who do get a corporate X3 phone
have less interest in the typical apps that are popular on Android / iOS. They will be more worried about getting their job done and get home to family. .


Employees don't have a say. But once they start using it, they'll see just how good it is.

Employees don't want two phones plus a laptop/convertible.

That's what I used to think. But my IT department requires everybody to have a company phone. The company offers high end Android phones and iPhones as choices. Yet most of the employees keep their personal phones and carry two phones. They simply don't want to mix their personal lives with business, so they keep a personal phone. I myself have just my Galaxy S6 Edge, I stopped using my Lumia when I got it. I'd be happy if they offered us the elite X3, but I doubt they'll make it an option. Like most large shops I've been at, the IT leaders here tend to be folks from non-IT backgrounds. They don't really understand IT, they just run it. It sounds crazy, but it's true.

Great article. How about elaborating more on what pogo pins could be used for?

Everything. Currently go to Walmart during inventory days, they use an old android with a scanner. Now imagine. Instead of needing the phone and a pc that is doing the real work on the back end. You deploy this phone. Now they can use and solve issues with one device. I have seen them run into an issue have to stop and bring out a pc to fix things. With w32 virtualization and a laptop dock. The phone and pc for doing the work is no more.

How is that related to the pogo pins in his question?

Pogo pins are the interface for device accessories like the scanner he mentioned above. For enterprise use, this can be anything as long as any compatible hardware exist for given job. In terms of virtualization, it's already possible without a need to have additional proprietary accessory since it works on Continuum. Though its best to used with the HP Laptop accessory or simply dock into a USB-C Docking Station. The possibilities are limited on available hardware accessory and both the capability of W10M and the device itself.

Pogo pins are the small brass/copper spring loaded connectors you see on the back of some devices. They are there to stop breakages from cables and are designed to be robust and give the same abilities for power and data communication. Other advantage you can use the pins to piggy back a cover using the pins and/or adding your own, drop into a cradle to charge it or some cases you have tap-to-share connectivity out-with NFC to name a few functions they can do. I also makes the device easier to clean and keep sterile as you don't have any exposed ports and apart from the battery, a fairly well sealed unit again you can see this with bar code readers and stock scanners/hand held computers from Symbol and similar companies. Pogo ports are extensively used by EPOS, Industrial Manufacturing, Medical Industry, Test Design Industry (Pogo Beds) and so on. I think they was even used on early Cray computers. Pogo pins have been around 30-40 years.

Thank you so much for this. Hearing the predictions about it failing in the consumer space is cringe-worthy because HP said from the get go that it was for business. The goal is to make it work for enterprise and if there are consumers that happen to like it then that's just gravy.

It is going to fail everywhere. If Windows Mobile was so great for Enterprises, then nothing is stopping them from using them now. It isn't, this is just some pie in the sky Microsoft idea that will never catch on. Posted via the Windows Central App for Android

No, nothing's stopping them. That's why so many businesses are using a Windows ecosystem. Can't move for Windows phones and other devices lately. I see way less Apple stuff now. Seems so old hat.

And Windows isn't "old hat"?! Please, it is older than dirt. Even W10m is the same thing Microsoft has been peddling for years. You gave reason why they're fortunes are going to suddenly change. At least I don't think you did, your comment was hard to read. Posted via the Windows Central App for Android

Hey Dan, do you know if the phone supports using BOTH Iris Scanner and Fingerprint Scanner together for 'more' security ?

It does. Or it will. Currently Finger print scanner is not available for RS1 builds.

I know its not currently available but just wanted to know if a user can set it to ask for both iris and fingerprint and only then unlock the device.

Both are a bit useless as credentials are next to device most of the time.. Like putting pwd sticky note into monitor.

My concern is this: while businesses may not like BYOD, Microsoft and other companies have worked hard to make it easier to manage iOS and Android devices in an enterprise setting. For many places, those MDM (mobile device management) efforts are good enough. I work for an educational institution that buys cell phones for probably several hundred of its employees. They are not managed at all. We hook up to Office 365 and that's it. Now education obviously isn't the market for the X3, but how many other institutions will decide that the app environment that Microsoft provides for Andriod and iOS are good enough? The real differentiator is the App virtualization experience HP is pushing. That will be critical for this to succeed in businesses. If that is not an easy process for business to onboard their apps to the environment, this phone and Microsoft and HP's hope for an enterprise resurgence go up in smoke. The up side is, if it does work, and large enterprises roll these out to thousands of users, suddenly the install base for W10 Mobile is that much bigger and developing apps from a consumer perspective makes more sense as I'll want to use this phone for personal things too when the working day is done. But is winning back enterprise to win the consumer space the right move? Microsoft abandoned enterprise for consumer with WP7, and it didn't work. So maybe. Microsoft is trying to play to their strengths here, hopefully HP is a good partner to help make that happen.

Thousands of devices in enterprise isn't going to make any difference to developers. It won't be worth it for Microsoft either. It is only a matter of time before they kill it after this strategy flops as well. Selling thousands is the only thing they can do. Posted via the Windows Central App for Android

Why would the enterprise be beholden on the typical consumer developer? Will their companies fall because W10 didn't have a Snapchat app?

If they are doing marketing then Snapchat might be useful. It is the local banks, credit unions, travel apps, etc that will be annoying. I travel frequently and Windows phone is a pain in the ass due to the missing apps and the sub par apps, especially mapping. Posted via the Windows Central App for Android

It depends on the developer. If I'm promoting a travel app, like Kayak for example, then business users are my primary customer.

I think, for enterprises, the ability to fairly easily create their own internal closed-circuit apps is important. This why I say, that there will be another app-gap,
this time in favour of Windows 10(M). Companies will have tons of internal software (apps) that runs with Windows 10 and Windows 10 Mobile. Microsoft is investing heavily to bring down the cost of creating W10(M) apps
and make sure that those can be deployed and managed securely. Office 365, SharePoint, PowerApps, PowerBI, Auzure etc. is great for business.
Business will not miss Android / iOS much in a few years time. Now get to unwrap my new Lumia 950 and install the latest insider build ... .


Right, that's why Project Madeira was created. The enterprise can develope their own apps that plug directly into their ops the way that they want it. Companies who have stuck with Microsoft for years for their client environments just received a HUGE extention of capabilities that they can leverage with UWP.

Don't forget the demographic of most of the receivers of these devices. Think about the hospitals, banks, brokerages, engineering firms, etc., that are the likely takers. Many of those users will be highly-sought after professionals. While there still may not be much of a case for building out that Snapchat app, you can bet every bank, hotel, airline, high-end auto manufacturer, and retailer will want to ensure they have a first-class app experience in the Store. This, in turn, will make consumer adoption a little more bearable, which will make consumer app development a little more likely... voilà - the virtuous circle that's been missing for so long. The high-end of the market is the place they need to be if we want to see more consumer apps.

I do understand that HP is aiming at large business with the x3 but from a consumer standpoint this is the first device that compets directly with the Samsung Galaxy S7 and the Iphone 6s standpoint. It is very disappointing that there is finally a device with all the hardware features consumers have been waiting for and HP really only wants to sell it to Businesses. Ouside of the Galaxy S7 no other smartphone really has an IP68 rating. It has all the things a consumer would want: top of the line processor, 4 GB RAM, 64 GB storage plus Micro SD which is now up to 200GB. A good camera (spec wise) IP68. Also if you do reply could you tell me what features that Windows Mobile 10 is missing compaired to Android and iOS (no apps, I know the app issue is a problem). Outside of force touch or 3d touch or what ever apple calls it. It seems like Windows Mobile 10 has all the same stuff that Android and iOS have.

For me, it lacks nothing. And Ive been an Android user for years. I did a check last week on which apps that I use on my Android (went through all) and searched in MS app store. I got full coverage. Im gonna get this one as I have felt for years I need a "new phone". Each new android, for me, feels like the last one. I always end up having same apps and setup. So this will be a fresh phone for me. I got hooked on the battery. I stream a lot of media from "the internetz", and play it via bluetooth headset, or push it to my TV via DLNA (not a smarttv so cant use apps on tv, just push media to it from other devices).. Drains my s6 edge+ with its 3000mah battery. I will buy it and I found 8 stores in Sweden selling it. Just because its not consumer-targeted doesnt mean it will only be available via hp.com for companies. There are lots of retailers selling both to private customers and companies, they have the phone on their websites now. Find a store in your country and buy it, if you want one. The difference is it wont be sold in all the usual stores, thats all.

Just want to chime in on the x86 virtualisation... AFAIK it isn't virtualisation as much as it is just streaming the app from a citrix/hp server. Companies (I've ben at 3 hospitals that run the full windows stack + applications over citrix and stream it all to the end devices) already use this so it is "useable"... As such I'll say it's good as long as you have a stable and somewhat fast connection to the backend servers (a given seeing as the servers are on the local network usually). Doing this also has advantages in security as the actual data (in my case it was always patient diagnosis or treatment, etc.) remains on the company servers and never even goes out to the end devices (even though these too, were company devices). Just thought I'd say that and hope some people can lend some additional insight into their experiences with citrix and the like.

Developer here, consultant. Hence jumping around to many companies, small and large. Having your own server(s) cost. Way more than paying for a cloud. You need hardware, software licenses, and educated people to constantly maintain it. The cost of cloud is nothing compared to it. Lots of software and manufacturing companies are moving (or already did the move) to cloud-based solutions. That is why cloud is a growing multibillion dollar business for companies such as MS, HP etc. Ive seen software development environments, buildservers, testservers and production environments move to Amazon, Azure etc. The entire chain of servers from dev, to test, to production, hosted by others. Accessed of course over encrypted connections. Much cheaper that way for companies. And it also removes the need to keep ppl for various VPN setups to the companies networks when someone is working from home. Its in the cloud anyway, access it wherever you are. I believe that is where HPs cloud-citrix comes in. For those that today have to host their own citrix servers, or similar. In the cloud you only pay for the hardware/space you use. Not an entire machine. Price scales better that way. Wether it is good or bad from all types of perspectives, I wont speculate. Thats how it looks like today anyway.

The consumer interest shows that the phone can be very well received by the buyers and among the 47 launch countries there will be plenty where MS doesn't officially sell and advertise phones. So it'll bring a flagship quality device, possibly more popular than the 950 in the near future. Good for W10M and MS

Legit discussion: I don't understand why, when an existing player was far ahead of the game in BlackBerry, didn't already fill this niche with existing QNX/BBOS products. Is BES so expensive as to make the even less-popular Windows 10 Mobile os a viable option? Not hating, honest question. I think W10M makes sense in the enterprise in a lot of ways, BECAUSE it lacks consumer apps, but then again, so did Blackberry, until the Priv... Anecdote ally, when my wife went from a Lumia 830 (whose only fault was a SLOW camera that couldn't catch non-blurry photos of kids in time) to an iPhone, the 1st and worst thing about it was how hidden all the information was. She was missing reminders and appointments because they were all hidden in toast notifications (or whatever iOS calls them) and there were no widgets/gadgets/tiles to give her in-her-face info. We moved her to an LG G4 (on crazy sale) with a massive extended battery instead and things have been a little better, but no live-tiles, but a half decent camera, and widgets. W10M is an excellent system that is conducive to work. Continuum seems like a good idea, so long as the docks can work through a few iterations of devices (like Dell commercial docks can) even after the devices are updated and replaced. It just boggles my mind that BlackBerry, as the known player, isn't here first...

But what can you run on BBOS? Extending Windows to mobile devices is genius and has been a long time coming.

Regarding being able to run x86 apps, or using THe device as real comnputer, @dan im giong to quote you think as a bussiness, as a businee the empoyees pc doent have to run a ton of apps but just the ones the employer requires, now imagine im a company like wipro or infosys having 1000 of employee and i want to reun say a total of 10-12 apps devided among say a few departments no one employee is ogign to do all the 12 apss, HP along with microsoft who im sure will have a stake in this can optimise those app to give the expereince the bussinesses want only after ttesting that iwll the HP get orders and sell! The employer doesnst need to worry if vlc player or gta san andreas works well in those devices only the thigns they want like IDE or remote desktop apps!

The reason the x3 is getting so much consumer attention, is because there is literally NOTHING being offered in windows phones to them right now. the 950xl is axed. And MS has their head in their asses with not developing consumer devices to cater to consumers. So, this is everything that windows phone fans have to hang their hat on. The jade is a plastic atrosoity, the lumias are canned....and with the state windows mobile is in now, I am thinking that the x3 will be one of the last windows phones developed.

If it's not sold through a store or carrier what cell network will it be compatible with?

Most GSM world bands. AT&T will certify it for their network, but won't sell it directly. It will work on T-Mobile. The only ones left out are Sprint and Verizon since there is no CDMA on board.

Ugg!! Verizon let's me down again!

Launching in 47 countries makes cdma irrelevant.

Not when Verizon (and to a lesser extent, Sprint) have such a big footprint in the US.

That ATT and T-Mobile have as well.

I'm really curious as to why there is no CDMA here. I'm trying to dig around, but it is a hole in the game plan. I disagree that it's a fatal hole, but it certainly does not help.

I would imagine that a bunch of the US enterprise segment runs on Verizon's network, considering that they're the best US carrier.

They use CDMA. By definition, that makes them NOT the best carrier.

From an outside of USA point of view, not any of us can comprehend why you use CDMA. Even here in Australia with our massive open spaces it was abandoned long ago and more towers added to fill the holes. CDMA was only used during a transitional phase to GSM, when coverage improved, it was dropped.

Yeah, unfortunately this issue is simply more than just a technological aspect. It's really the system and current it sticks way too long for any easier transition to happen. The network companies seems not even willing to change anyways, at least on my observation.

US is the odd man out here. LTE already works great, 5G is coming.
Who will care for CDMA in a couple of years anyway?

Simple. They don't expect to sell many in the US. Not hating either. Windows Mobile is more popular in other countries. Verizon is too important in business in the US not to have CDMA imo. Maybe HP will bring out a variant with it if the phone is a business hit. Posted via the Windows Central App for Android

Don't think that IT departments or CIOs
will base their strategies on consumer preferences. .

My guess is that it's the same fiasco that played out with the 950XL. Capable chip, but other politics at play.

Daniel, you will be seeing fewer devices with CDMA support. Last week Verizon announced they're sunsetting CDMA by 2019 for the general public. They'll keep the lights on until 2020 for private customers like cities (parking meters, etc.) that haven't upgraded to LTE.

@fatclue_98, it's not just CDMA that's missing, it's Verizon's LTE band 13. It's as if the phone was specifically designed not work on Verizon. CDMA support is just a symptom of the issue, not the root problem. Perhaps there is a sequel phone planned if it does well that will be carried by Verizon (as opposed to just sold be HP), and in that case Verizon always wants something slightly different and unique to them. Otherwise, I don't understand why HP would make this device and ignore the largest carrier in the largest market.

That's the best news I've heard all day.

Especially considering the Verizon is the mobile company in the US that most enterprises have their corporate accounts with.

Except that, the U.S. is not the whole world, or even the largest country in the world.

Why are they so slow to upgrade their networks?

I will never say "but, I'm worried the camera won't be great" again.
......
The way I see it is that in order for this phone to be a success in enterprise W10M has to work great. That has got to also be good for the consumer side as well.. So, if W10M picks up steam in the E.,, then there might be a name for it in the C.

Yeah, I don't have high hopes for the camera either, but c'est la vie. Lumia sets a high bar.

Nevertheless, Lumia is lagging behind with new high end devices (no 960/XL in sight), so WinMo will be behind in the camera department for awhile...

950 has one of the two/three best cameras on the market as shown by many professional reviewers. So at the moment we have the best of the best. So no, worst that can happen is that our lumias won't be at the top of the food chain for max some months i.e. if some crazy good camera phone is out in autumn december it will be just some months and we'll get the new MS phones.

Not likely. 950/XL is still the best camera on the market and given continued improvements like the recent firmware upgrade, it will probably stay on top for a while.

The enterprise customer does not require the best camera it only has to be good enough to scan qr codes ect.

No. Really depends on the area of business. Being able to snap a good publish quality pic whilst on the move is very useful.

The X3 camera should be on par with the best in the market. The X3 has a dual SIM option, so it is open for private use as well. Snapchat and other stuff seems to be coming to W10M,
but I think a great camera is hugely important for private use.

I honestly doubt the camera will matter much, I feel like most people need and want something that's just "good enough".

For business I think the camera is fine, at our company we currently have to set the MP low in camera and phone to assist with the upload of photos to the HQ servers over poor internet speeds, if this had a 25mp shooter it would take hours to upload to our server hard drive on a 1.5Mbps connection, for enterprise I think a compromise in this element was essential.

Sad to say, with out Verizon in the US.... It's doomed before release... I have worked at 10 Forune 500 companies... and all the company cell phones are on Verizon.... If it was on Verizon I could get my company to buy me one for testing...

And the other 46 countries get trumped by no Verizon? I fail to buy your argument, sorry. What I think is you're bummed because you're on Verizon and can't get this phone, ergo it's going to fail for the rest of the world too. I get Verizon is "big" in the US for business. I am not convinced, however, that HP overlooked that.

exactly, and most people I know that are from many other countries in the world (Germany, Scotland, UK, Canada just to name a few) have never heard of what Verizon is. First time I heard that name I thought they sold kitchen appliances like blenders. On a lighter note, what Daniel has said is true. Just because 1 carrier is not supporting doesn't mean it's the end of the world and doom for the device. Go see how many other companies ARE Supporting it.

Yea, out of the 800+ carriers available we hear one is not going to be able to be compatible as they are still using an archaic system which everyone loves so much they won't be keen to leave them. So the phone will struggle? Lol. A few less luddites in the club. Oh well.

We do know Verizon, and they have business here in Europe,
but they do not operate a mobile network. And if they did, they could not use CDMA, they would need to go with what is regulated and available. CDMA is like POTS.
I never will die out completely, but it will not win in popularity.

I agree that it isn't a deal breaker, but it will definitely slow sales in the USA. On the bright side, it shouldn't hurt sales in any other country so I think it has good potential.

@Daniel Rubino, why would HP specifically ignore the Verizon bands? It's not just CDMA, it's LTE 13, which is the Verizon LTE band. It's not as if that would have added cost to the unit -- the radio tech is already included (including the CDMA radio). It's not as if HP is not reaching for a broad market -- as you point out it's going to 47 countries. So why leave out, no, why go through the extra effort to disable support for the largest carrier in the largest market and the carrier most widely used by Fortune 500 companies? Could there be intent behind this with a possible silver lining to the cloud of no Verizon at launch? Could it be that there will be a separate model, like the Lumia Icon on Verizon vs. the 930 everywhere else, specifically for Verizon and Verizon will actually CARRY IT in stores and make it available with the full carrier subsidy any customer can use? I realize that could be an optimistic fantasy, but it seems like a more logical explanation than that HP decided that their global business phone would ignore the single largest opportunity in a country where they have a strong sales footprint.

There was some rumor that Verizon will qualify the X3 for the use wiht LTE band 13. It's a rumor only, but maybe one that comes true.

You make a good argument and at the end of the day, it may be that Verizon has their own model that their enterprise group markets directly to their clients. They may not stock it in their retail stores. But maybe it will be on option for consumers online.

Let's hope that's the plan. The alternative explanation is that the world is conspiring to freeze out Verizon to force them to finally upgrade their bloody network.... but your explanation sounds more likely.

Really, I've worked at three and they all had AT&T so we've covered 2.6% of the companies. CDMA is almost an America-only thing. Almost everyone else on the planet uses GSM. For HP, it isn't worth the expense to jump through Verizon's hoops when there are two other major carriers in the US the device will work on.

Someone who knows/remembers some statistical mathematics, help me out here. A sample of 3 out of 500 isn't that insignificant ;)

I work for a Fortune 500 company and we can chose between plans from Verizon and AT&T for our company phones.

I will point out that you worked for them doesn't mean you know the IT. I get to handle hundred phone accounts...we are not Verizon. And for business that travel, they use a nonVerizon phone.

You must have swept the floors at those 10 companies. CDMA is getting axed - http://www.fiercewireless.com/story/verizon-shut-down-2g-cdma-1x-network...

Yes, everyone is focusing on CDMA, but that's a red herring. Verizon's 4G network is LTE based and they are moving to VoLTE. But LTE Band 13 is also missing from the Elite X3. That's one of the main frequency bands Verizon uses for their LTE network. OK, so leave out 1x and EV-DO (the older 2G and 3G Verzion and Sprint data protocols), but why leave out LTE bands?

Because Verizon still uses CDMA for voice. Band 13 is their data path, which is why VoLTE will be a band-aid approach at best. Regardless, Verizon still uses CDMA in 2016 and that's not changing before the x3 releases.

I believe I got confirmation from Rogers Wireless, Bell Media, Telus, Videotron in Canada that they will support this phone only for Business customers. I know a friend who works at Canadian Telecommunications area of govt.

That sounds like how AT&T is approaching it as well.

They will support any phone you bring them. Just buy it unlocked anywhere else.

Remember business/Enterprise support is very different from Consumer support

In the EU, once a phone is approved, it will work on any network whatsoever. It is not up to the provider to allow a phone to their network or not.
They have a choice whether they sell in their shops or not, but that is it. .

That makes way too much sense for North America.

@Fred_EM I wish Canada was like the EU because some store sell phones and others do not. And then here you also have wireless carriers that sell phones and network - but they push you into having a 2-3 year contract.

What does "only for business customers" mean? Do you mean they will sell it directly to businesses?

Since i was on the business side of telus for years, this means they have different support groups for consumer and business. The business customer support team within telus are trained on devices that the consumer group are not. You call in, having a number associated to business, you do not have any wait cues, they are more knowledgable, faster etc. The consumer side of things which I am on now since I sold my 2 businesses, is slower, there are holds, etc. Its a two tier support system in these companies. My good friend was the business sales for our area with telus and filled me in on what supported for business customers only means.

How much will HP Workspace cost? Mary Jo Foley metioned it back in February. http://www.zdnet.com/article/hp-seeks-to-provide-the-missing-piece-of-the-microsoft-continuum-puzzle/ Which enterprises already use HP (other than printers)? Most businesses such as banks around here have Dell PCs.

Hardware and software are two different things.

HP (19%) beats Dell (15%) for PC market share. Lenovo is #1 at 20.5%.

Is this including consumers or only enterprise?

Both, not sure how you separate the two. Point is, Dell, Lenovo, and HP really are the 3 big brands in both spaces and they all have significant market share in enterprise.

yep so very true, though I would say Dell is bigger because that is what I see mostly in businesses and schools.

Schools and libraries around here have Dell.

Not withholding the fact that 63% of all statistics are made up on the spot, Daniel gave some statistics that Dell is number 3 at 15%, so that trumps your casual impression from walking around businesses and schools.

Yeah I will stick to the facts that Daniel presented but I'm only presenting my opinions based on what I see. In no way am I stating that Dell is the everywhere and that market share wise, they are more popular.

Most of my school and research lab servers are HP. We just got 4 new ones recently too!

Remember, Dell recently dropped Android off their Venue portfolio. They might just wait and see how Elite works out in enterprise space before doing the same themselves. $699 is clearly in the lower price range of business class desktop Optiplexes. With the added value of dual-function (PC and smartphone), the price becomes sensible.

The Pocket PC gang is getting back together. Acer & Dell are already in. Lenovo are dipping their toes in Japan. I'm pretty sure Dell will be on board soon. Unlike the consumer space, the potential for backend revenue via 1-3 year commercial service contracts is huge. The value proposition to buisness is market leading security, plug & play into existing Windows IT, get rid of your monthly MDM subscriptions, buy this 1 device instead of a laptop &/or workstation + phone for employees.

They will have to. I will drive a Dell key accounter nuts to see his best customers buying X3 devices from HP. Will be servers next?

The Pocket PC gang is getting back together. Acer & Dell are already in. Lenovo are dipping there toes in in Japan. I'm pretty sure Dell will be on board soon. Unlike the consumer space, the potential for backend revenue via 1-3 year commercial service contracts is huge. The value proposition to buisness is market leading security, plug & play into existing Windows IT, get rid of your MDM subscriptions trying to secure BYOD, buy this 1 device instead of a laptop &/or workstation + phone for employees.

ok we got your comment the first time

lol, i have no idea how that happened

Dell dropped x86 tablets that are out of processors. Intels decision has however bigger impact on Windows, no more affordable Windows tablets.

@Laura Knotek You've studied every business and deduced "most businesses use Dell" or is that just hyperbole? That's a bold statement. We have 20000+ computers and about 99.9% would be HP. Whilst that's not an argument against your claim, it's a bit audacious claiming most businesses use Dell without numbers. Back to the discussion. I for one am pushing to get these X3's into our fleet for mobile workers and staff that don't have their own desk/computer. That is, they move from PC to PC or lug around a large notebook as well as their phone. Most apps these people would use are Citrix based and we have various workspaces (Windows desktops) available so stuff like a true desktop is available. As long as this Citrix component works well on the phone and is reliable, this could be a great solution. I have in mind having the docks along with mice, keyboards and monitors scattered around the numerous sites we have for hot desk use. Staff could simply dock their phone and log into the desired Citrix apps and preform their work. With the extender, our health staff that travel to homes could use this as a laptop whilst on-site.

Interesting stuff, keep me posted on how that goes. Once this all comes together I'd be interested in hearing real-world feedback.

Daniel, have you or anyone else in this forum heard of the remoteApps server that is a Microsoft product? I replaced citrix with it three years ago and it's much more cost effective and reliable.

Siemens just has encouraged their employees to rid their desk phones and use mobile phones only. Companies like Siemens would be perfect X3 customers. As private consumers we may complain about the X3 pricing. But just check the pricing for a mundane VoIP desk phone from Cisco and others. Those desk phones found in corporations are fairly expensive ... you probably would not be inclined to buy a Cisco desk phone for your family home. Being equipped with an X3 device you could give up your desk phone.
And you also can enjoy the advantages of Skype for Business. What still is missing though is a good VoIP client for Windows Phone,
there is none. I checked with counterpath, they have no W10M plans.
This might change though as devices like the X3 gains traction in businesses. .


HP might be more popular in businesses, libraries, and schools outside the US. I'm specifically referring to Ohio. I'm guessing you are not from the US, since you used the word "whilst", which is not commonly used in the US.

Or maybe he just has a good vocabulary? Ohio is one state. My college had mostly HP computers and my graduate school had mostly Dell computers, this was in Illinois. At a large east coast university that I worked at, they have Dell, Lenovo, and Apple. At a few major east coast university hospitals, they have a mix of Dell, HP, and Lenovos. I know of several school districts in NJ, PA, MA and MD that have HP and Lenovo contracts in addition to others with Dell contracts. It's a big country. I agree that the Dell assertion needs to be supported by numbers. Experience in Ohio, or possibly, a portion of Ohio, isn't necessarily indicative of the US as a whole.

Case Western Reservce University: Apple & Dell http://www.case.edu/utech/services/personal-computer-purchases/ Ohio State University: Apple, Dell, HP http://www.case.edu/utech/services/personal-computer-purchases/ Princeton University: Apple & Dell https://www.princeton.edu/sci/models/ UCLA: Apple, Dell, Lenovo http://shop.uclastore.com/c-319-computer-store.aspx That's just a small sample of universities, not all in OH, and the commonality is they all sell/support Apple & Dell for their students.

That's 4 schools. You know there are over 2,500 four-year univerisities in this country, right? So, we're just saying, blanket statements aren't going to work without supporting numbers, neither is personal experience in Ohio. Even your own short list is not Dell exclusive, which is what your first comment was saying and then the second comment dismissing the HP prevelance as a not possibility for businesses, schools, and libraries unless outside of the U.S.

And you're specifically referrring to the little portion of ohio that you know. It's ridiculous to make blanket statements about states. I work for the largest shcool district in AZ, but I know of other districts that use entirely different systems. My district has at times used HP and at other times used Dell. Nothing is set in concrete. The success or failure of this will depend on HP's salesforce.

Laura, could you fill me in on the use of "whilst" in the US?
I am not from the US either. What is commenly used in the US to substitue "whilst".
(I live in the EU.) Thanks. Always happy to learn something new.


@ WreckitChamp: I concur, regarding your comments about Citrix. I believe the X3 woulld serve myself and others that I work with very well. My preferred office is in my truck or in the bush. I have a office in a major Canadian city, but I've only been there five times in three years. I also run multiple laptops. To be able to just carry around one device would be a welcome change. PS: its been difficult to type this tonight Daniel, not sure why, but the Filtered HTML text format is responding very slow for me.

Santander bank has a deal with HP so that's definitely a MASSIVE customer. Posted via the Windows Central App for Android

Banks, insurance companies and service businesses
probably will be fond of concepts like the X3.

Dan, would the dual SIM feature work as almost a reverse BYOD for Employers? i.e. Here's this company phone that you need to use, and hey, IF YOU WANT, bring your own SIM and this company phone can act as your personal phone too!

Sure. It's a two-in-one secondary SIM slot meaning you can use it either for a micro SD card or second SIM, but not both. Then again, with 64GB of onboard storage, that could doable.

I wonder if IT departments have access over whether to allow a 2nd SIM or not on this device?

Never heard of MDM? Standard way to manage corporate devices BYOD or not.

firms and companies call them slightly different names but yes I've heard of that and seen how BYOD get implemented. This was a few years ago when Android, Blackberry, and other devices were coming into the workplace and there wasn't much of these capabilities available to IT dept.

I don't think they'll care. That's the beauty of Windows 10m - the personal stuff will be completely segregated from the enterprise stuff and UWP apps have no way to threaten the security of the enterprise data.

Would the dual SIM feature work as almost a reverse BYOD for Employers? i.e. Here's this company phone that you need to use, and hey, IF YOU WANT, bring your own SIM and this company phone can act as your personal phone too!

Really nice article with good points.

I'd be interested to see a followup on this in a month or 3, this is probably the ultimate litmus test for WM. After saying "we're out of the consumer market, we do enterprise now", this is the first device built specifically for that segment. I'm curious to see how it does.

Yup. Although, as I mention, harder to judge too. Two ways it can go: very well, in which case HP/MS make a lot of noise articulating that point, it does OK, but we don't hear too much. I guess a third option is it flops and is pulled/discontinued by next year.

Im curious how often they'll refresh the phone as well. If HP produces a similar phone in say, two years, with refreshed components I'd say it's successful enough.

I agree Tom, if it gets a successor, then it has succeeded.

Okay Dan, enough about the elite x3, which outside of the camera on paper is great; bring on leaked information about the possible three tiers of the surface phone line Satya eluded to : )

We wont likely get any hard numbers but we can judge by HP and other PC OEM's future actions. Do they expand devices (ex cheaper 617 based version)? Do they expand availability? Do they release a 2nd version next year? Do enterprise focused Dell & Lenovo rush on board all of the sudden seeing X3 success in the channel?

I guess it will take a while for the X3 to be successful in the corporate world. The big names in the corporate business will do test implemenations, studies etc etc. And they will needd to define a software strategy, then implement it.
Which means, they will write their own, company-specific internal apps. It easily can take up to 2-3 years until all this preparation work is done
in form of projects. There might be a lot of W10(M) projects going on in a corporation
but HP will not see a lot of orders for the X3 at all. Once all the interal phases are completed and a updated IT strategy
is rolled-out, HP could see coming in massive orders from big business
as the CIOs trigger the purchase-button. This is the nature of the business-business.
You do not just "sell" something and people will buy it
because it comes in a nice color, comes a bit cheaper or your neighbour has one. There are projects that may last over years until they come to fruition.
The key account sales people know that and account for that.
They are working on a project with a customer for 3 years without seeing any revenue. Once the project is done, they have a steady stream of incoming revenue. If, say, Santander goes for W10M and for the X3,
they will closely work with HP, Microsoft and say, Salesforce and Oracle (or SAP). For Santander this would be a massive effort.
Once they are committed to such a project, they will go for it.
And they will not care whether consumers pick up W10M or not:
It does not effect them in any way. Windows 10 Mobile is Microsoft is Windows. Windows always have been a success in business
and it will continue to be a success in the business world. Daniel, if you want to judge the sucess of the HP Elite X3
or W10M in (big) business: ignore the number of devices sold. Rather than looking at the initial sales numbers of the X3
ask how many companies have projects evaluating W10M,
what those projects are all about, whether the company is investing to create their internal apps and whether a company has already placed a smaller order for HP Elite X3 phones in order to evaluate them in a project. Once W10M has made real inroads into the business world
the numbers of devices sold become much more interesting. .

I think 3 months is far too short to judge the progress it's making. Sale cycle will be much longer for enterprise. We will need a good year or two to know how it's tracking.

The X3 should fill the niche for corporate enterprise users not wanting to go the tablet route also. Posted via the Windows Central App for Android

Yeah, that plays into why it's 6" at this time. HP did tell me that there could be other devices from them in the future. We shouldn't necessarily think of this as a one-off thing.

There's a ton of potential as iPad replacements. Just behind BYOD, is iPads in the enterprise environment. In my experience, they tend towards single app functions and are difficult to manage, all of which makes them damn expensive from a value perspective. Posted via the Windows Central App for Android

Depends on the use case. There are some situations where you only want your employees/customers inside that solo app, a kiosk for example. I did a fundraiser event two years ago that used an iPad app as the bidding system for the items we were auctioning. I think they used the iPad 2's, but it was more than enough for that one app.

Yes, they can have their place, but our encounters have been with 3rd party iOS apps that are narrow and limited in scope. They are maybe used for 10 minutes a day. Purely foisted on us by a 3rd party OEM as part of an "image" campaign. The same OEM has several pretty full featured and quite functional web portals....they could have easily hung this functionality there. Posted via the Windows Central App for Android

Going the business route will be the right way as there is hardly anyway to succeed in the consumer storage anymore not to mention low margins. But to succeed in business requires a student paradigm. Many companies change to byob because the top executives want to use their favorite phones for work (is iPhone), the windows phones needs to bring real advantages and unique abilities to the work space compared to regular phones. Having them work like a full of with minimal accessories will a step in the right direction. If it allows business pple use their phones like a full laptop on the go yet in a phablet format, that will be a unique advantage

Correct. Even Microsoft recognizes that the days of getting new non-smartphone users to pick up a Lumia are over. Now it's much harder: it's getting them to switch an OS.

Daniel, the trick with the business strategy of Microsoft is: Corporate / business people
DO NOT HAVE TO SWITCH the OS.
They are already on it, they all use Windows. Since years / decades. Once a company switches from an older version of Windows to Windows 10
the door for W10M is widely open. Using iOS or Android in a corporate W10 environment
will increasingly make less and less sense. Once a company has made the switch over to Windows 10
all those glitzy iPhones and Androids quickly will become
more of a nuisiance than anything else. Android is fragmented and complex: Regular users have trouble utilizing all of it features,
the can even find / identify them and are surprised
when you tell them what else they could do with their smartphone.
New versions of Android, and what app runs on what version of Android
and why the hell there are various versions of Android confuses people. iOS is a business modell that relies on iOS hardware as a sales channel for subscription services. Apple wants/needs you to buy fresh new hardware every 24 month. And it premier objective is to make you buy content / services through those devices - this guarantees as continues stream of income. Even if a future iPhone triples its graphics capability and comes with 16 cores
and Swarowski crystals: It will not matter that much for business,
because they will not have much of a demand
for features that are popluar in the consumer and entertainment world. Corporations have different use profiles than consumers. .

As an IT contractor for a very large company and use HP software for Web Content Publishing, I'd love to be issued one of these. It would great to carry the x3 into work every day rather than a bulky laptop. Plenty of monitors, keyboards, and mice at my building. Just plug in! Then again where is the consumer version with DTTW, Glance, a proper OIS camera, and camera button? Lol.

Then again where is the consumer version with DTTW, Glance, a proper OIS camera, and camera button?

Those are the small things that will keep some from loving this phone ;) Viva la Surface Phone :P

Yeah possibly me too as it will be very hard to give those awesome features up coming from a L920 and now L830. But I still want one!!

we hope it's worth all this waiting

Elite X3 LapDock and probably HP's Virtualization work with L950XL... problem solved!

rather than a bulky laptop

Ultrabook? Tablet?

Good article, I'm really looking forward to how it performs in typical business day use. Virtualization should work very well since the phone doesn't have to do too much. Hope it succeeds!

I can't help but think that this is where WM as a whole is going. Slowly stepping away from the consumer side of things.

I'll admit I'm inexperienced in this subject, but for me it just seems simpler to use a corporate OneDrive account and issue the employee a laptop. Hell, most companies could probably get away with network storage if employees are primarily desktop based, and use DVD's or USB drives to move data between networks. When a company already has desktops/laptops, getting rid of all that for a phone and lapdock combo that requires the company to either write UWP apps or invest in a virtualization solution seems like a wasted effort. I'd also be very concerned with all of an employee's work being on a mobile device. The X3 may be tough, but nothing is invincible, so some sort of network backup is inevitable.

In my org, around a third of the users are only using web portals and email. I'm thinking beyond the desktop, and even notebook mobility, to a dockable device that can be connected essentially to KVMs (keyboard, video, mouse) scattered around our public sales floors. In short, breaking link between devices and physical desks. In my considerations, the enterprise phone has been the real issue in getting there. Posted via the Windows Central App for Android

In the scenario you described, it still seems like network storage is a better solution. I move from desk to desk quite frequently, so I keep all my projects on a network folder. When I move to a new workstation, all I have to do is open that folder and all my projects are available.

With what our people are doing, no storage required. Basically a web based CRM with its own built in attachment features and then their email. Posted via the Windows Central App for Android

Out of curiosity, is there any sort of on site backup/sync function? Or are they Office 365 accounts.

Google Apps, moving to O365 this fall. We do have shared storage in the back office & executive areas, but even that is pretty sparse. We're a pretty unique industry (auto dealership) in that most of the software available favors ASP hosting off site in various forms. Our biggest local/on site resource is document management, but generally, that's not a function needed in the sales process. Posted via the Windows Central App for Android

While I have no need for a device that's targeted towards the business sector, I'm really tempted by this phone. The Surface phone will most likely be a great phone, but right now, the HP is massive in all aspects. I'm really tempted. I've always missed the size of my old 1520. My 950XL is an awesome device, but it just doesn't have that size factor that the 1520 did/does. The HP looks like it will fill that void perfectly. Man, I'm torn.

I also like what I see outside of the camera, but I've waited this long so I've got to give the surface phone a chance to come into existence before I retire my trust friend the Lumia 1520 that it's clawing and scratching to stay with me ; )

I hear you. The Surface phone is one of the reasons I'd pass on the X3. But, I've grown to like HP over the last few years. They make some very, very good high-end devices, and their lower end isn't that bad either. I guess I'll see what happens over the next few weeks.

It's amazing how these same consumers were the ones who made the windows phone platform what it is today. Where were those enterprise users' and their enterprise developers when Windows phone 7, 7.5, 8 were languishing in the rearview mirror of other platforms? I am sure most of the loyal wp fans probably will jump mobile platform if not already. What other appeal is there to be loyal here? cortana? xbox? office?, continuum, groove? or the other ios and android specific apps? dust and dusted ... Hp and the others oems can focus on whoever whatever demographic they deem important to them. When the time comes, I'll put my $$ where the future looks brighter. It's not a shame that Microsoft itself said their focus on the mobile frontend is business too. All those millions of soulless consumers who believed their hypes from wp 7, 7.5, 8.0 be damned.
Btw I work in the enterprise, state govt to be precise and I am one of the mgrs there.They'll never pick Windows Phone no matter what I did to convince them. I'm on my 4th Android work phone and it accomplishes most if not all my L920 does today. Take that for that enterprise bs ooh and we are Primarily HP and Dell shop (Servers, desktops, laptops).

When the time comes, I'll put my $$ where the future looks brighter.

You should always do that. There should be no such thing as brand or company loyalty to a product.

Thank you for saying that. Being "loyal" to a company or phone type is insane, yet you see that damn loyal word being used here all the time.

do you think there will ever be another consumer smartphone by Microsoft?

Not by Microsoft. But by Xiaomi.

Here is the truth right there. Thats is the exact reason why my wife and I jumped ship. Windows phone is a sinking ship with nothing to offer consumers. Enterprise is a different matter and thats exactly where HP is headed. to multi office professionals that travel. have docks in offices and the workers can just dock in and work away. The notebook dock is a silly attachment since you can just carry a real notebook with way more power, but I see where the dock and monitor would be great for business.

It's becoming obvious that too many of these "loyal" DP fans are tightwads that want a $1000 phone for $299. For what it offers, this phone is dirt cheap.

"It's becoming obvious that too many of these "loyal" DP fans are tightwads thatwant a $1000 phone for $ 299" lol. Soooo much of this. 2 yr old $60 phone owners fussing over high end specs

Business and consumers have different budgets. Whatever, I plan to stick with the Lumia 950 DS that I received today.
It was a real steal: €260 It will not match the X3, but for me it should be good enough for the next 2 years
and by then the mobile world will look quite differently. .

I work IT for a global aerospace company. BYOD has been a complete disaster for us with respect to customer security requirements. We switched to providing iphones and locking them down with software, but that also made management of the devices and policies a little bit too much to handle. If MS can integrate active directory and system center with a deployment like this, I can use tools and resources I'm already familiar with to manage mobiles. I don't think our organization would be an early adopter of this though, we're still running a lot of windows 2000 machines with specific equipment :/

Interesting and thanks for the feedback. Always good to hear the experience from the other side.

And here I thought our Svr 2003 were too old. Microsoft does have Intunes which integrates with SCCM for managing mobile devices and I've been wanting to get it set up with all our android phones that I manage via Exchange mobile backend. If you use sccm, check out Right-click tools.

Thanks, I've been meaning to look into this more but it's been crazy getting the myriad of programs and platforms we have to the enterprise level.

I'm an IT director and I'm running 2008 and 2012 servers along with windows 10 desktops and laptops. Can I ask why you're still using windows 2000? Is it because of third party software not updating some specialized software the company uses? Or has staff got the, if it ain't broke, don't fix it mentality? Not being disrespectful, just wondering.

Little bit of both. The software that is running on it was written in-house back in 2001. Back in 2010, it was identified as an issue and that we should rewrite the software. By then the person who wrote it had left and the current software and hardware was incompatible. It still works though, so our current risk mitigation is to have multiple duplicate hardware assets. To quote an old timer, we have hardware support as long as there is ebay. To be fair too, it's not very widespread. Just hilarious to think about. My intern is younger than some of those desktops.

A lot of it will depend on things like Azure...they have some great events that includes all the info for these topics

The US military still uses Windows XP - on their B52 bombers. The US military wanted to decomission those B52 bombers since years,
but due to various developments in various regions of the world they still need them :-) There are business that still use W3.11 for some stuff,
even (or maybe especially) not so few government agencies (including the FBI)
still use hardware and software that would make you and I running away screaming. .

This is also a deal breaker for w10 in general...there are thousands of small to medium sized businesses that are still running old versions and are completely fine with them. They are NOT going to update anytime soon. I know that when I worked with Clarica/Sun Life, they had a 5 year life span on leased notebooks, running whatever OS. So the w10 adaptation will be high at first then tail off soon.

IMO I can't see this phone to be a huge success. I can't see the "really big" advantages that it has over a 950(XL) and that would justify the price. HP Workspace isn't since I can't imagine that this is included in the baseprice of the phone...and it's just a VM. Big companies many times have a Terminal Server...so why not just log in with the continuum supported RD App on a 950 XL? In addition with RD you also have a "full" Windows. Continuum IMO is too limited atm. And why not just buy a cheap ultrabook in addition to a cheap Lumia 950? (of course I assume that you would buy the "dumb" laptop in addition to the x3) On the ultrabook you have your company's Store and on your 950 too.
The big selling point I see is HP Workspace, but these days everyone has a terminal server, so what's so good on a (probably) subscription based extra service? For me personally, I don't like the direction W10M is going. Because it's a direction where I think I will have to switch eventually and a direction where I think W10M is slowly going to die and with it the dream of the perfect AiO Windows ecosystem via UWP. Blackberry failed with their "only business" strategy and they did this for a very long time. And even if it would be a success in business, what would W10M become? A OS without a general store because companies don't need "consumer apps" and every company just put's their own store for their own devices on the OS? And what would happen to UWP? A platform ignored by Windows developers because no consumers use it? I hope not but we will see.

The whole point is that while your scenarios "could" work, it would result in a fragmented ux for end users and a debacle for admins to manage. HP isn't selling this as an add on. They are selling this as a line item to a complete package. End to end deployment of client PCs, servers, storage, networking, the tools to manage it all and then also mobiles. Lots of organizations can come up with clever workarounds to address these kinds of shortcomings but that's exactly what they are: Workarounds. That said, I can't attest to the validity of the "one throat to choke" methodology that HP is using because I'm not using it. I'm just trying to understand the implementation from their perspective.

Me too, but in this implementation I see too many limitations in Continuum. Maybe in the next big update continuum will be amazing and can do everything that W10 kann (exeption Win32 of course). But for NOW, I don't see someone replacing a Ultrabook for Continuum..

I'm really really praying for some big Continuum improvements with RS2 builds now picking up. They made some small tweaks during RS1 development such as the nice lock screen, the way it remembers what apps you had open on the "desktop" when you reconnect your phone and a few other little touches. With RS2 they need to capitalise, Android is going to have something very similar eventually, and if they can tie it to something similar to HP Workspace (or HP end up releasing the Workspace client to Android anyway) then it could take the wind out of the sales of W10M + Continuum. It REALLY needs app snapping, but this is obviously a big change to the OS itself to be able to run two apps in the foreground, it would also be nice if the start menu could be improved when connected to a display. You should be able to resize it rather than it literally showing the same layout as on the phone screen. It seems good at first that it's consistent and that can be an advantage, but you may use different apps in different scenarios, having a) more apps shown horizontally when on an external display and b) ability to change what apps are shown where in the start menu specifically when connected to Continuum would be good - i.e All my continuum supported apps front and centre when I'm connected to the display

The X3 is just $50 above the Lumia 950XL. When you say that you can't see what the X3 has over the 950XL to justify the price... What are you saying exactly? You could look at it another way and say that "For $50 more, you can get an extra 1GB of RAM, an extra 32GB of internal storage, a couple extra hours of battery life, fingerprint scanner, virtualized Win32 software, Pogo pins, etc." I think the price is justified. But again... Isn't every relative? Some will see it justified, others will not. This is especially evident when you consider what your purpose for the phone is in the first place. Simply a consumer wanting an awesome phone... Perhaps one will refuse to see the price being able to be justified.

950XL seriously selling for $650 somewhere still? I thought it would have gone down to around $499 (with $399 sales) everywhere else too

I think the price includes the added gear, right... Is it just the phone and not the other stuff too..?

Where does a 950 XL sell for that price? It dropped like the 950....even with the gear. The Bundle for the x3 is 1200$. And I don't want a x3. I'm happy with my 950. I try to see what would be so good about this phone for enterprise and why it would be so much better than a 950 (XL)

https://www.windowscentral.com/e?link=https2F%2Fclick.linksynergy.co... Still $649... But even if it had dropped. Why would HP's introductory price for the X3 be lowered upon arrival. I'm sure it will drop over time just like every device... But off the bat? I don't think so.

https://www.microsoftstore.com/store/mseea/de_CH/pdp/Microsoft-Lumia-950... That's around 460$ WITH swiss tax (8%). And this is the MS Store...go to other retailers. And the x3 won't drop...or not likley. It's an enterprice device and retailers wont fight with the price there.

Blackberry essentially never really had more than the pants pocket for the phone and an expensive add on for Exchange. Posted via the Windows Central App for Android

Great article, again Dan! I'm personally glad to see the focus back on enterprise. I remember the uproar when MS went to the Zune look and feel with Win Mobile 7. There was lots of complaining that they were forgetting about enterprise. Now people are complaining that they're forgetting about consumers. If history repeats itself, then consumers have nothing to fear. Enterprise was never forgotten.

Thanks and yeah, Microsoft swung the pendulum too far by giving up on enterprise in chasing consumers.

This sounds like microsoft needs new leadership. It seems that they cannot do 2 things at once. No wonder they are faultering. Ditch the leaders and get some people with vision and drive, not the yahoos they have there now. If you cannot develop for both consumers and enterprise in this area of business you have no place running the largest computing company in the world. Again, Jim Balsilie comes to mind. Only focus on trying to get an NHL hockey team, not on his real business of Blackberry. Look how that ended up. I see Satya doing the exact same thing with microsoft. Focusing on enterprise only....leaves ALOT of potential on the table in consumer revenues. Thats why Microsoft under his dictatorship, will fail in the end.

Do you think Microsoft will ever switch his focus on consumer again? or at least try to compete in consumer space?

Very good article. But I still want one as a consumer :D

This phone just looks so good on paper even if it is aimed at business only. I have been wanting to return to return to Windows Phone for a while and have a great enough phone to seriously wait it out to see what Microsoft(or some other quality OEM) brings to the consumer space. I do rely on my carrier as I don't see the allure in dropping $500-600 for a phone I may end up selling/returning so I need for it to be available through mine. That has been one my biggest gripes with Windows Phone after I stopped buying unlocked(Lumia 920 and 1020 to name a few) is that the best phones go to one carrier while the competition simply says "we're available and you don't have to compromise a complete app experience." I have high hopes as the app gap continues to shrink for what I would want on my phone but I think I would sacrifice a few apps if a superphone came to my carrier and I could get it easily for $20/month. I'll be eligible for my Jump upgrade this fall but I love my phone enough to not be in a rush to get the "next best thing" at least until I see what Panos Panay and team deliver. One picture at a time -- LG V10

I am getting this device and would love to force this on my company but, without the business travel apps, i can't do it. it's killing me that my entire company is waiting on the iPhone 7.

I think your entire company is smart. The iphone 7 will serve them great being able to do everything you want. w10 without all the apps is like a computer without software. Its just fun to play with for awhile then you just turn it off since you cannot do what you need.

I just wish the non-enterprise businesses weren't forgotten. A significant portion of the workforce works for smaller businesses. Many of those have single servers solutions. Then there are the SOHO businesses with a single digit number of employees. There doesn't seem to be anything focused on them. From the hardware to the business features of 365 that are only available to enterprise level. While HP may not be targeting consumers, they will have consumer customers. Even those who are issued a device aren't going to want to carry multiple phones. The consumer app gap will cause the IT departments grief and potentially turn pilot programs back to BYOD. I'm not sure that putting enterprise blinder focus is going to create big numbers in the corporate world. Each of those employees is also a person who banks and travels and keeps up on communicating with their families. The human capital of an enterprise organization is but a collection of human beings who are "consumers" when off the clock.

Hopefully there will be enough marketing of this phone to the businesses and companies.

Great article, very detailed and I took away a lot from it.

Thanks! Glad you enjoyed it.

The irony is that Microsoft seems to be a BYOD type of company as employees apparently prefer to use non-Windows phones... The HP phone is a pretty good price hardware wise. Though not the best, as it's possible to get a phone and laptop combo for cheaper. Continuum is cool, but apps are limited to a few of the UWP apps in already small ecosystem. Also, there are alternative setups for other platforms.
Finally, the strong ecosystems (apps) on other mobile platforms provides value that can justify increased price vs the current W10m line up. Eg. If there was the exact same hardware and you could choose the OS, then iOS and Android would generally have a higher perceived worth because of all the apps that are available. Sure, there are exceptions that are more niche like me liking live tiles but I'm not sure that enough.
I want HP and Microsoft to do well, but it can't happen without more apps and better support from both Microsoft and 3rd parties. For Windows fans who say apps don't matter, it's also ironic because Windows PC has the most desktop applications compared to the competition when you think about it.

It's not a matter of preference but being practical...testing device software and applications, also the standard carrier plans all that ;p

I will soon find out if HP really stands behind this product this time around. My hope is they do, but after the Palm debacle I am a bit cautious. I liked playing with the phone and although Workspace wasn't crazy fast, it was decent enough to get work done.

'A college kid complaining about the price of an HP BladeSystem'. HA! That was funny, and a really good analogy.

HPE, they're huge sticklers about that kinda stuff... Separate companies with serious OCD about their brand things =P

Interesting, you can run Revit via Citrix thus making this the first phone to run it. Nice. Posted via the Windows Central App for Android.. But waiting for the HP Elite so I can get rid of this junkie Galaxy S5...

I am waiting on windows 10 mobile operating Blackberry for business, (or for consumers) deadly combo.

It could happen when MS gets around to make a W10M ROM for Blackberry.

If only the camera were better than the Lumia 950/XL I would get this. Best of luck to HP with the phone.

If I don't get this phone from my company, the camera is the only thing that would be holding me back or wait for the reviews. Also, lower MP camera does not mean lower quality pictures.

How do I take a phone call when the X3 rings in its desk dock or lapdock? Assuming I'm working without headphones. What happens to the current Office file or email I'm working on in Continuum? How fast does it recover when I redock?

You just take the call. Your app stays open and you keep working.

Maybe use a headset. I think most employees will still have their regular PC at work. It's just when you go places (within the corporate campus), for lunch, to the gym
or go visit customers etc you have access to all the corporate IT you need. .

This particular "enterprise approach" to phones is interesting. A year ago or so, I would have discounted it completely. However, I'm seeing some trends in my job that are making me reconsider it. While some of the more obvious potential users for this might be considered to have low computer resource requirements, I'm looking at it from the perspective of an engineer in a CAE (computer aided engineering) group. We do high end analysis (FEA [finite element analysis], CFD [computational fluid dynamics], etc.) For quite a while we've been running on high end (~$15k or more) workstations, but we're looking at consolidating to a centralized HPC (high performance computing) cluster where not only the solves, but also the pre and post processing (building the models and viewing results) is running remotely, and all we need locally are thin clients running Remote Desktop type software. So here's the thing, this sort of approach solves all sorts of issues my group has, from "environmental" (when we have large solves running, our workstation fans spool up - they're so loud they sound like they're getting ready to take off, not to mention the heat they generate; can you say 1kW power supplies?) to portability (no way to take a big workstation home for the weekend, let alone to haul to a conference room to discuss results.) As it stands, we're testing with laptops, which are certainly lower power/quieter and more portable than the workstations, but still kind of needlessly bulky. I mean for our type of work we really need large screens - a single 24" 1080p screen is kind of the minimum to work efficiently, and multiple large 1440p+ screens are ideal. So we never really use the laptops as laptops, more like portable desktops docked to multi-monitor setups in our cubicles or to a large screen in the conference rooms (or to one of my monitors if I'm working from home.) Having a small phone that could be carried around and docked to use as my thin client instead of a laptop would be fantastic.

Interesting ideas. Thanks for the real world example, these are the kinds of things I love hearing about 'out in the field'. Keep me posted if you go ahead with this plan.

Damn good article, Daniel! Well said.

Excellent points, Daniel. Maybe HP has seen BlackBerry's slowing recently and sees a thirst at the enterprise level for security and a more modern take on mobile computing. Let's hope that it has a positive trickle down effect in the long-term, where everyday consumers benefit from positive experiences that business folks with these phones will hopefully enjoy.

If i'm in charge I would have Windows mobile as company phone because it doesn't have stuff like snapchat and other unproductive apps. They only need email, voice.calling.and.some company apps. Also I heard somewhere that apple and android is not willing to work with HP on this project as much as MS does.

Why would Apple or Google work on a Windows device with HP? Edit: and for companies that do use iOS or Android for Work, the phones can already be configured to only download company approved apps, so no worries about employees installing Snapchat if the phone is configured right.

Oh you're so funny... Lol =P

Snapchat will come to W10(M) I hear. Good VoIP apps are still missing (I am missing them).
Last time I checked with Counterpath
they had no plans to bring Bravia to W10M.
Hope they will change their mind. .


Daniel, Thank you for a great, well thought out article. It must feel very good, after laboring to put down, the research, and conclusions, into those finial words. Very nicely done. We need more enterprise focused articles.

Thanks and I agree on the enterprise stuff. Unfortunately, many of us are not part of that world so I rely on talking to people here and IRL about that side of things.

I dunno, I'm excited about it - despite it being targeted at Enterprise/Business. I pre-ordered this one (USA), includes the dock : https://www.amazon.com/gp/product/B01HVJ151A/ref=oh_aui_detailpage_o00_s...

Uhh, you really trust that listing? I personally wouldn't drop over $900 on a cryptic Amazon listing (I realize the phone isn't out yet, so no photos/details). I'll just get one direct from HP. That way it has a legit warranty/support.

It may be cryptic but it does list the contents of the bundle, sorta. I'd rather get the dock in the box than separately, somehow. CDW also has it, but again, cryptic (not sure if it's with or without the dock): http://bit.ly/2a7W6jW

My aunt currently works on a BPO Company here in the Philippines, with their servers and etc. are microsoft-centric(lol) I can see a future if not big here in the country, just the enterprise tho. As for the consumer side of le story, there has quite a resistance to using W10M.

Seriously a masterpiece of an article, can't stop reading it again and again. Great work Daniel

thanks, glad you liked it.

I wonder if the x3 phone and (to a lesser extent) the Primo is why the Surface Phone is delayed until next year. Nadella doesn't want Microsoft to be the big dog anymore. Yes, you could argue the only reason they're working on a Surface phone is more because of a "have to" than a "want to." Still, Microsoft understands that part of giving OEMs room to breathe is to not release anymore phones. Some say if it ain't broke don't fix it. But it is broke. Microsoft controls too much of the Windows Phone market. More accurately, Nokia controlled too much of the market. That was great for Nokia and gave them incredible leverage. The problem is that they suffocated other OEMs. Microsoft can't make the same mistake. There needs to be space for a Surface phone, a Primo, an x3, and other Windows Phone. That way the burden of propping up the entire Windows Phone market won't rest solely on Microsoft.

Microsoft had to make phones because no one else would as they don't sell. Everyone seems to forget that. Microsoft was forced to make the phones, even Nokia was going to drop Windows phone. These OEMs won't stick around long, after the devices inevitably flop, they will not make more. Microsoft keeps repeating the same pattern. Posted via the Windows Central App for Android

I hear Surface Phone is contingent upon RS2. Basically, the things they want it to do as the SW level are not done yet. I can think of Inking support as one major example, but there are a few other areas.

Ive always liked HP as a company and i wish them well. I hope they sell all the phones they want to sell. Maybe in the uncertain days ahead they will crank out a consumer focused phone as well. Best of luck HP.

Once upon a time, I bought an Panasonic Toughbook...I'm in no way the target audience, so I'll probably get one of these too. Looks nice.

MS is betting on corporate as well, WP is dead for the consumer market

now the windows is dead comment makes me laugh everytime I hear it. Have been hearing it since the day WP was launched and I am sure will continue to hear it for a long long time as MS is not going to challenge Android or iOS in the consumer space in near future.

Mmm, i must be a necromonger... You know they discontinued development of Windows Phone right? It's all Windows 10 now. =P

I can understand the supposed "appeal" of Windows Phone 10 to HP however I don't think they picked it because the OS is any good and offers that. All those things could be achieved with Android. What can't be achieved is no-competition there. Even on Enterprise, the Android front already has established players. Even the once mighty Blackberry has joined it. So with HP indeed recouping from some troubled years, the last thing they wanted was to try to compete om Android for business.
And so they picked Windows Phone because it's different. In a way, it's the same strategy Eflop sold to people when he took over Nokia and went with WP. Well, we all know how that went for Nokia.
I'd hate to see HP go bankrupt because they also bet on the wrong horse out of fear. Because I actually like their printers a lot... Posted via the Windows Central App for Android

Nope, All of it cannot be achieved with Android. They may have the secure e-mail, office apps run on mobile phones. however, a thing like contnum will be lttle more than an extended screen for the phone. It can never be like the real PC expereince with PC grade OS and apps. It will still be a 'mobile' grade OS and experience. There is a huge difference in saying that one can run existing suite of PC apps (most of which is based on windows anyway), in the same manner on your mobile. Windows 10 and continum offer that, Android does not. Also, if it were realy that easy, we would have seen a windows 10 equivalent from Apple and Google by now, followed by a continum of their own.

Maybe google and apple see the whole continuum thing for what it really is....a half baked solution. Not a real comptuer just can rescale to big screens. So its no more productive than a windows 10 phone itself. Its ok for a hand full of large businesses that have to only use spreadsheets, word etc. but for actually doing work, like graphic design, engineering etc, the continuum project is a flop and would not be able to replace real computers. So why develop and spend a shat load of money into a hokey quazi computer setup when they already have powerful real computers doing the same thing. and with IOS/OSX they link together so really your iphone works with your osx devices like one anyways. Apple as thought of this LONG before MS baked it up. I can guarantee it.

Dude, you know perfectly well the Phone OS is out and very specifically not the same one they're using...yeah, Windows is a huge loser, we get it. O-o

Wow DJCBS, you still hurting over this Nokia/MS thing aren't you coz that's some rubbish you just commented above. You really think a company like HP choose W10M be coz it was "different". You think they used that simple criteria to eliminate the clear maturity of Android? Really, because win10m is "different", I think they learnt from their last attempt of choosing different when they purchased(and subsequently killed the grandfather of most mobile os standards) Palm/webOS. So no, w10m wasn't choose on the basis its different, it was chosen because it met the criteria that HP had from their customers, some Android didn't. Let it go dude, this is a war and in this battle Android lost for once. Don't get me wrong, I still hate HP for denying the world of the great potential that was webOS but in this they made a smart decision.

Android didn't lose any battle here. It will certainly flop. If Windows Mobile is exactly what the enterprise needs, why haven't they been using it for years? This is another dead end Microsoft strategy that makes no sense. Posted via the Windows Central App for Android

Correct yourself and try again. THIS iteration of Windows Mobile is only a year old. Previous iterations were not ready but this one is shaping up to be what enterprise need. For you it makes no sense but you don't run a mutli billion dollar enterprise oriented company for whom it does. So guess who im going to think has a better idea of what's good and what isn't, hint it ain't you.

Sure. We will see when this inevitably flops and HP backs away, just like every other manufacturer that has tried Windows phone. There is nothing new here, just more of the same from Microsoft. I hope HP received a nice discount on Windows licenses for their PCs in exchange for building this. That is the only way it makes sense for them. People don't want Windows phones, that has been proven time and again. Posted via the Windows Central App for Android

Sure. We will see when this inevitably flops and HP backs away, just like every other manufacturer that has tried Windows phone. There is nothing new here, just more of the same from Microsoft. I hope HP received a nice discount on Windows licenses for their PCs in exchange for building this. That is the only way it makes sense for them. People don't want Windows phones, that has been proven time and again. Posted via the Windows Central App for Android

@DJCBS, That's a valid point -- when approaching a new market, especially one with other established players, it's often wise to pursue the angle others are missing, because being dominant in a small space can be better than being small in a large space. However, while that may be a part of it, I think the difference here is that HP's strength in this space is that it's already there selling to those customers. It's not a new entrant to the market in that sense. While many businesses are BYOD, some are not. I think it's that non-BYOD group (or reluctant BYOD customers who would prefer to manage everything through the same IT AD networks) that HP is pursuing and see this as an opportunity to sell more product to existing customers. That's different than developing a new product to break into an established market. It will be interesting to see how this plays out. It is certainly possible, but I would not say easy, to convert success with enterprise back to success at a re-entrance with consumers. Maybe better to say success with enterprise is something Microsoft can leverage, along with Xbox, widely used apps and ecosystem (Groove, Office, Skype, OneDrive, etc.) to give them a shot at getting back into the consumer space down the road. Surface Phone in 2017 for consumers and enterprise, perhaps followed by a greater shift back toward the consumer mass market heading into 2018...

This is not for consumers, finally someone said it. and same would be the case for surface phone. may be a variant for fanboys initially but later on it will be purely enterprise.

The Elite is a nice looking phone

I'm glad they went with Windows 10. It'll give Windows users more flagship choices and prove to others that Windows Mobile is far from dead.

More than likely it will prove that it is dead. NuAns is already making a good case. Posted via the Windows Central App for Android

Definitely a very good point made here. I was trying to figure out how to get my hands on this phone, but if the core features are designed for enterprise use, then it would not make any sense for me to get one for personal use. In my hands, it would be no better than my Lumia 950. It will be very interesting to see how this will work out for HP. Since this is targetted for businesses, the "normal" metrics for success don't really apply. In fact, I'm thinking that, even if the Elite x3 is a runaway success and has a large corporate adoption rate in the next year, it still would not convince the masses that it is a good alternative over iOS and Android options.

It's not made for a consumer like me.

I guess this HP will be a fine business phone. But in general I think you can not forget the consumers to have some marketshare. So I hope we see some cheaper Windows 10 Mobiles to. Maybe from Blu, Yezz or Alcatel etc..But time will tell what happends.

Interesting to see if MS will use this phone for their employees, MS seems to be pretty high up there in terms of security needs after all.

they would want to believe that 950XL is not too far behind at the moment and come next year, they will have their own beast in the form of the surface phone

Let's see who all is going to make cases for this phone.

I think HP already announced they will carry cases for Elite X3.

HP has a least three cases (folio, rugged, and slim IIRC) and I'm sure others will create them.

Well Surface Phone has got to be a consumer phone that can be the best business phone out there.

The surface phone is as real as a unicorn. its a fairy tale.

Panos or Surface Phone whatever you may call it, MS will release one in the future.

If only HP manages to reach the information to bussness, i belive they will use it to the max. My brother has a transport company, and already see a hudge advantage of continuum on his L950, using full MS OFFICE on the go it have a hudge advantage. He doesnt have to carry his laptop. In my wife pharmacedutical company, they used to allow BYOD. Some of the emplyees used some cheap chineese crap, there was the security worry, almowst all ware malware infected. It is serious security breach. i see no other option than using WP as most secure for now (hackers are njot intereset for now for WP).
So... you can see that HP got right with WP. Consumers doesnt care for security or theyare not aware, but companies do! Banks, hospitals, reserach facilities, hudge tech companies will want to increase they security for shure. HP X3 can help them in a cheap way. Dual sim can help them BYOD to be implemented without a problem. I belive that X3 will sucess.

I think HP will do wonders in saving WM10. They are swiftly getting this type of productivity device out the door to businesses before Google or Apple can even beta test these types of features (which they definitely are probably doing right now. Continuum will not be unique to Windows for long). They will establish WM10 as the best business option and will save the brand. Maybe not so much an immediate win for us consumers, but it can only mean good in the long term for WM fans. Posted via the Windows Central App for Android

I hope this device successfully penetrates enterprise and helps changes the public perception for windows phone. I would love to see viable alternatives spring up from ASUS et a la their new Zenfone 3 with Windows and a continuum dock or better yet a Padfone style tablet dock insert. Or from Lenovo because the Yoga line and Thinkpad are amazing. I'd like to see a Lenovo ThinkPad CarbonPhone for B2B/enthusiast and a YogaPhone for consumer. But it'll never happen until W10M grows back to 14%+

Personally, if I were running an enterprise, I would have had only desktops and a continum enabled phone. I personally don't like to work long hours or perform highly complex tasks on a laptop. I, and several other collegues, prefer to work on desktops for really performance oriented tasks. Some who have only a laptop, have even gotten themselves a big screen and mechanical keyboards. They just plug them onto the laptop, which essentially works only as a CPU. With this, you just need a phone. When I first learned about continum, it did remind me that some people already work that way in real life. It was not a surprise for me. Its just that that with Android or iOS it was not possible becuase their mobile OS is very different from their PC OS. MS bridged that gap and it was only a matter of time that an enterprise focussed company like HP came up with something like the x3. I also find the pricing very attractive, as in the long run, it will replace the laptops. Most sales guys, business leaders, field reps etc. need their laptops primarily to check e-mails, view and make presentations and ACCESS some apps via the VPN. They don't need high end processing as they don't usually do the programming or perform processor intesive tasks anyway. Is carrying just a mobile (and maybe the dock and portabl keyboard) more convnient than carrying a laptop? Yes. Is it possible to have the laptop with you everywhere? No. Do you carry your phone everywhere? Yes (even in washrooms!) Locking and unlocking a phone is way more convinient that opening and shutting down a laptop. can this phone perform all the fuctions that people who are mostly mobile do on their laptops? Yes! There were two major missing points: phones do not perform as well as a PC, and they are less secure. Now those two concerns have been addressed, and I see a demand for this device. Knowing HP personally and their sales prowess (specially in enterprise space) I am confident that this device will do exceedingly well. What can be an icing on the cake is that if people who use a windows phone for the first time relaize that lot of criticism was unwarranted and they want a windows phone for their personal use. That will be a real good story for windows phones fans to tell.

Do you think VDI would work on this device? My company has vdi setup for desktop and laptop users, the using it on laptop requires VPN... But based on your comment this device just might replace any need for laptop if I could easily connect to vdi thru VPN...

...i hope that the company I'm working today is included in the '20 companies' commited to pilot test the x3. I'm working as programmer and tech support - I'm thinking of a setup like the company-issued laptop/ultrabook will be for hardcore coding and testing, and the VPN and Citrix capabilities for troubleshooting servers, pUTTY client, emails, teleconference in the x3 when I'm away in my office.

Great article. Now I have a dilemma.. Purchase this phone and get it soon, or wait for the surface phone...decisions, decisions.

I would 100% buy this now. Given microsofts track record the surface phone will stay vaporware.

Now this will ease the tension around the hp x3

Quite sure HP will regret joining win10m pretty soon Posted via the Windows Central App for Android

You obviously didn't read the article. Thanks for your value-less input and ignorant comment. We are all enlightened by your wisdom, oh wise one, please beloved Oracle, please foretell more future prospects of your divine omnipotence!

Good article, covers the main points why this has the potential to be the business darling like BB of old.

Would really like to see this phone as a success amongst the enterprise but in India i really doubt how successful it will be considering that 700dollars roughly converts to 45000₹ plus so many taxes....and will fall in the bracket of 65000₹.....

Wither way, for the time being, this will be the device to showcase what the OS is capable of

The lap dock is making it even more enticing for me... I've been contemplating options for new hardware which allow me to 'work' (basic Internet/Office365 stuff) at home on the dining room table, on the train and occasionally elsewhere, preferrably on ONE device. Combined with the dual-sim feature it could theoretically replace my current batch of machines: personal Lumia 640, work iPhone, work iPad and personal tablet/ultrabook (which I haven't bought yet). I have been alternating Surface Pro, Chromebooks, Macbook Air, netbooks in my mind and now HP brings in a serious contender. I am guessing the weight of the lap dock is limited, which would make it quite useful to carry in my back pack while commuting. Watching a video, either on phone or on lapdock wouldn't be a problem at all. The combined features of the desktop dock, lap dock and dual-sim make it quite interesting. Having my own business on the side makes pricing for me less of an issue. Interesting and bold move by HP. If Apple were to introduce this kind of device+accessories, the world would be raving and the launch video would be an instant hit.

I sure hope HP have figured out how to make continuum a stable feature. I use continuum for 3-4 hours a day. Some days it's ok. Other days it's an absolute nightmare....think windows vista running on a first generation 1990's Pentium 1 with....it's that bad and then some. Using continuum often ends up being the most unproductive part of my day. I don't know whether it's the phone (Lumia 950), the Microsoft dock or Windows 10 that causes the issues. Like I said, I really hope HP have cracked it with continuum

I think rs1 should help with that

Yes... Obviously this device is for business purpose.. Windows 10 lovers surely love this device.

Nice article. Just wish the size of the phone was a tad smaller though.

There you go it's not for losers and wimps. It's for income makers.
Ll

lol that's one way of putting it

Hmm.... On paper this approach makes sense, (HP) listen to you customer and learn what they want. I think the challenge is going to be the actual end user, sure IT want a device that is easy to manage.... But if the end user doesn't want a win10 device bc they're android or iOS familiar... Well, their apprehension may cuase more work on IT's addressing mundane issues rather than real work (I worked in IT, I know). On other hand, say HP sells these in bulk along with existing services... Cost per unit is like $300 for 200 units, the end user apprehension becomes a mute point! There is a threshold to this which each IT may have so here the win for HP is cost redux for bulk large orders. Idk... As a consumer I was excited to see a flagship device come to market, but if their target market is b2b with this high price tag, um yeah... Going to pass on this device. I can already see if I were to purchase one what my customer service would be like, if I had an issue with the device I coordinate with Hp directly? What's their cust serv like? If sold at MS store not an issue. This will be a good step forward if half of the pilot companies express satisfaction with this device and then add'l companies will seek it out. If it gains positive feedback with an evergrowing app ecosystem it has a chance to affect the consumer market and getting a consumer ready flagship device. Good luck.

If my memory is good enough, you'll be able to but it from MS.

here here, good on you HP. The world needs an enterprise solution and from where i'm standing windows stongest possible outlook. i've been a developer since windows CE for enterprise software and now i work in the commercial space on a win phone 8 app. Up against 20 something android devs and even more iOS, i'm usually mocked for supporting windows but luckily our windows app just about pulls in enough money to support my wages. End of the day, there will always be more money in enterprise software and i cant see a viable solution from each of the other corners so i'm sticking with it!

Well lets hope it still brings a few apps

winphone user since 6 years, bought an iphone SE 2 weeks ago and i am more than happy with it. but when i see this winphone tiles i still think i very like it.

In the end, when talking about the Elite x3 you need to put down your consumer badge and start thinking like a multi-billion-dollar company. Another good start is recognizing that what is important to a business is very different from what consumers - and you - want in a phone.

This is where I disagree. Our lives are cluttered enough with devices, TV's, PC's. Laptops, NAS, Watches, External Backup drives and whatnot. What about selling this to consumers and telling them, that this will be all you need for communication, Web, a letter or two, picture handling, etc. Many many people do not need much on a PC or Tablet. The most used feature is surely the browser, for Banking, for Ordering a Foto Book (built with the online Tool), write mails, and a write letter or make a simple Spreadsheet. All this can be done with such a device. You can store all in the Cloud, must not worry about Backups. Hook it on a Big screen at home, use a simple BT Mouse and Keyboard, and write long mails. Watch Netflix or Zattoo TV. "Unclutter your life. HP Elite X3"

What about selling this to consumers and telling them, that this will be all you need for communication, Web, a letter or two, picture handling, etc.

I don't disagree with this, but I think

at first

, HP will play it safe and ignore the consumer market. If, however, it proves to be very popular and successful, they can always pivot and start putting it in Stores, maybe hook up with AT&T (most likely) and get it out there. The key is to grow it natively and not force it on the world at this stage. Even the fact you can just buy from HP (and likely MS) direct shows some signs of this. A lot of HP Enterprise gear is only thru corporate accounts, not direct single purchases.

The danger to the consumer approach is that the consumer will expect it to function exactly like a desktop or lapop. That's not where continuum is, not to say it won't someday be close. I think the enterprise approach is a good starting point to getting Continuum out there. Once enterprise employees become accustomed to it, that could be the breakthrough needed for the consumer market.

Yes, I now see what you and Daniel mean. With the multiplying factor of a business, it might be a lot easier to penetrate also into the "consumer" minds, without having to massively force it on the market. A couple of opinion leaders would be hugely important too (that goes also for the business thing, humans like to follow others if they accept them as leaders).

Thanks Daniel this is everything people should read into on the device. If you want to play angry birds and Pokemon Go, then by all means by Android and iPhone. If you want to manage MDM for 500 employees across 4 continents good luck keeping up with those demands and synergy with the rooted android and Jail Broken iPhones that have no security for corporate data and IP. I have read message boards on XDA amd in conversations with some work friends where and tons of IT pros (all Linux fanatics mind you with the occasional iOS and WP user) bar android on their company platform as it is too easy to install a leaked APK with certificates stripped out for Gapps and email. Now having to invest in iPhones and have routine checks to make sure they aren't jail broken. They pay sec engineers to comb through iPhones... What a waste of resources and time. HP if you remember under the downfall of Carly's terrible management had WebOS and neglected what made iPbone and android look like kid toys and drove it into nothing. They could have jumped on Android wagon, but no IT manager I know wants employees using Android for work. For personal use they all have one, but will never let employees use one.

HP does not sell servers. That would be HPE

True, but my larger point is if you deal with HP you likely deal with HPE too. I know they are "separate" companies, but let's not ignore that there is synergy there. For the average person reading this article (the target) the differentiation is not that important.

I think this may turn out to be a dream machine for enterprise users. It will certainly compliment the IT offering of businesses that have mobile employees. The integration with MS server, OS365 and Windows tick all the boxes for a lot of enterprise users from the start. I will say that as a consumer I would love to own this phone. Games and apps like the latest social media tool are not important to me on mobile, I have a core range of apps that I do use (banking, productivity etc.) which would work on this phone so no problem for me. I want a secure phone that has a bit of future proof built in and this one certainly sounds like it fits the bill. And yes, I probably would pay the price being quoted, there is a lot of tech packed inside!

I don't care who they intend it for. I'm getting one.

If I get the money...I will be too! Or the Acer Jade Primo

I remember reading on Thurrott.com that HP reached out to Apple and Google, but neither of them agreed to collaborate on such a device.

To quote Paul Thurrott: "Yes, they looked into both iPhone and Android first. Apple, predictably, was a non-starter, but I was more curious to hear that Google couldn't or wouldn't provide HP with the security and management infrastructures its commercial customers demanded."

Interesting, I remember some of that. Paul and I were at the same event hanging out that day.

They have the source code. They would have to add that stuff in if they want it. Samsung does. Posted via the Windows Central App for Android

More work for them. Why not find a company that would agree to do it for them?

Pretty great article Daniel, this shows how the phone should be considered when everyone else is talking about success or failure of a phone in the market... Waiting for a great review from you and to watch how all the features mentioned actually works... And this phone can also go crazy on consumer level as it can replace two or all the three devices most people are carrying to get their work done...

Thanks, yeah, I can't way to try it out and it does have potential for the prosumers out there.

Security features are mainly due oldish Snapdragon 820 and work on Androids as well, like this one costing 399$. https://www.zteusa.com/axon-7

False. Even Thurrott agrees with me here Android does not have the same security level features. You're sounding more and more out of touch every time you share that link.

Folks the bottom line is you can buy one for Personal use dispite the fact the HP Elite X3 being a quote Business smart phone. Enough of them will be bought by people for personal use on a world wide basis to give HP some smiles as they take folks money to their bank. Man oh Man do I want to know what the Microsoft "Surface" smartphones will bring to the table. Rumor has it the "Surface smart phones will use ARMS CPU's because Intel mobile smart phone CPU's did not test well If this is true they will be like Super MS Lumia 950 smart phones. the Only product that Microsoft could make that would be far out but useful is a 7 to 8 inch Atom CPU Tablet/ smart phone hybrid .Windows 10 mobile can work on a ATOM CPU device. This would be a niche type device that some People would buy but I think enough of them would be bought to make a profit selling them. This super business phablet would indeed do everything an intel CPU smart phones could do including run some X86/Win32 Desktop Programs like most Atom CPU Full Windows 10 tablets do today. Anyone out there in Internet land want a super deluxe tablet smart phone

Ah, another indecipherable wall of text from Gregory.

Too long to read the entire thing?

As someone who works for a company that supplies work phones and ipads this makes sense. One item doing the job.of both.

All salient points but when the phone does not work with any number of apps from the cloud partners the buisness buys services from the enterprise IT department is going to look like asshats to executives.

This is the best package for a pocket pc ever. If I had the cash I would have picked this up right away

Well, Unfortunately for HP, we're not in the 90's anymore.
Employees expect phones they know. The same goes for decision makers. And both want phones for which they have apps.
Microsoft kicked itself out of all these arenas.

HP made this phone and chose the operating system based on feedback from business customers

Completely agree, this article reflects my thinking. The HP Elite X3 isn't a regular smartphone, it's corporate mobile terminal
that comes with (allmost) all the goodies of a mundane smartphone. The price is ok, especially because it is a suggested retail price.
Wonder who's gonna pay that - as a business. We'll see a lot of bundles and package deals I would venture to say. Corporations have frame contracts with their vendors anyway,
10-15%, if not even 20% rebate on the HP Elite X3 should be possible
after some grace period. Once HP produces a meaningful volume of this device
economy of scale will kick in and this will allow HP
to offer the X3 somewhat cheaper for the consumer audience
should there be any interest. The X3 will be a good device to work with Oracle, SAP and Salesforce etc.
and also have the ability to do some basic MS Office stuff. What is really very important for corporations is the fact
that Microsoft makes it fairly easy to create individual corporate apps
with a number of tools, including PowerBI, PowerApps, etcc. I predict that devices like the X3 will take the former place of Blackberries as "VIP-devices". We soon might find that there will be an (corporate/business) app-gap
- but this time with the iOS and Android fraction. If you carry an X3 (or a similar device), you must be an important person
that cannot afford to play around with glitzy iPhones and smartphones
that are based on a deeply fragmented mobile OS like Android. The future (wanna-be) VIP will give away his/her iPhone/Galaxy
to his underlingsor kids at home
to have fun with it and play games, catch monsters
and confide (not so) exiting latest social information / chatter via Snapchat. . Stopping here, just received an Amazon shipment.
Finally got my Lumia 950 - for a great price. .


It will be good for salesforce? using what? The iOS app? The Android app?

I'm very likely to get one for personal use. The one thing that might stop me is if the camera doesn't hold up to the one on my 950 XL... Does anyone have any info on that?

By RS2, do you mean Red Stone 2?

Reminds me of Ativ S on that pic.

I like the look of the phone. It has a bit of the Lumia design esthetic, but it has some elegant touches that elevate it. I would like to see a consumer version 2 of this device with the enterpise-focused features removed or minimized and the price come down to a more manageable expense.

I am my company's sole IT person. I currently have over 70 Windows Phones deployed to staff. Overall, I'm happy with the product, and have been using Windows Phones for my personal devices since they launched. In general I have far fewer common issues with Windows Phone than I did when we used a mix of iPhone and Android. I do think that the Lumia 950 is capable of much of what the X3 has to offer, and can be had cheaper. From a business persective, as well as a device management one, there are some issues I wish would be addressed. The first is a good MDM solution that considers cost. I'm currently using Intune to try to retain some control of our devices, and reign in data overages that come about by users installing and using unauthorized apps and games. The problem is that the cost of doing this is now running neck-and-neck with just allowing a free-for-all. The Symantec security certificate I'm required to have costs $300 annually. It also requires that I have an MS Developer account, even though I do absolutely no coding or app development. Then there is the $6 per month/per device cost for each device. All told, I'm spending over $5300 a year, primarily just to leverage app whitelisting and keep users from installing stupid games and apps and burning through our data limit. That would be bad enough, but their system makes no distinction between an employee-owned or company-owned device, and end users can easily unenroll their company-issued phones from their workplace account, and thus bypass all the controls I have implemented. There needs to be a way during initial set-up to configure the device with a company admin account, and then a user account with limited capabilities. They could build upon the now-defunct Kids Corner, or even App Corner to facilitate better control of what end-users can and cannot do, with little to no costs to businesses. Having to have an MS account for each user. While this is free, it becomes another item to manage. It also leads to user confusion. Setting the devic e up with an MS account to facilitate syncronization and app purchasing also results in an Outlook email account being on the phone that you can't get rid of. I often find that users accidentally start using their MS Outlook account instead of their company domain email account to conduct business, this taking thus comnmunications outside of company channels. This also confuses our customers, as they start getting contact from say, a salesperson, but its coming form multiple accounts. The costs and mechanisms required for a business to develop and deploy apps in their own app store/hub are prohibitive for smaller companies. MS needs to have a way to better control default contact lists and calendars in the desktop (non-Exchange) version of Outlook, so that my users stay in sync. I often find that users are saving contacts or events into the worng list/calendar in the desktop Outlook application, then wondering why they aren't syncing up with their phones. For goodness sake, give us the option to turn the default contacts lists and calendars off, or merge them into one. My users don't care about having seperate birthday and holdiay calendars. Only having the ability to have one "user account" on a phone. My users have an MS account set up by me so that I can control their phones, but that means they can't have their own accounts if they wanted to buy an app for personal use that I approved of. No easy way for companies to essentially have all their user MS accounts under an "umbrella" company account without incurring additional costs and a complicated management scenario. No remote control/screen sharing ability so that I can help my users with issues. It's all verbal "hunt and peck" if they are away from the office and have a problem, and its frustrating for both parties. This is a bit more specific, but the fact that there are no official apps for security camera systems is something that a lot of my users push back on. Many people now have a home security system that leverages cameras. Lorex, Q-See, Arlo (Netgear), etc. are all popular, but there are no Windows phone apps. Even with Microsoft's supposed "partnership" with Insteon, Insteon's Windows app development has disappeared, the Windows Phone app has not been updated in nearly a year, and does not work with Windows 10 Mobile.

VDI will work on continuum, no problem. But IT policy mandates it over VPN, then will be over VPN only. So just like any laptop, things will work exactly as they currently work on a laptop

First of all, thanks for this article, I can agree in a lot of these points. There are some things you didn't get straight in my opinion. I think the biggest one is why HP chose WM10. Don't get me wrong, I myself don't know, maybe they wanted to risk something and obviously they had a deal with Microsoft with very good conditions. I worked a few years in the development of business devices. Microsoft is still kind of strong in this business with the "antiquated" Windows Mobile devices. Durability and Niche markets: Around three years ago, the biggest companies started releasing Android devices for business. They also met the MIL Standard and Waterproof+Shockproof IP requirements and of course there are a looot of extra add-ons like sleeves and barcode scanners that you can buy. I don't see "Niche Markets" being a valid point for HP choosing Windows. Security About the security, I don't know, I just would like to point out that Android has quite strong security features and if a market really needs security, the phones that are in the Business segment already would have that implemented (custom implementation). HP choosing Windows means they wouldn't have to do it themselves, so maybe we can agree here that security might have worked in favour of Windows. Windows 10 UWP While this strategy might be promising for the future, there are two big question marks I see. First of all, Microsoft has lost a great part of their credibility. They relaunched Windows Phone 3 times if you count the first launch. They even relaunched Windows (where is Windows 9) after screwing all their customers. The business sector doesn't know where this is going and a lot of our customers just didn't want to go on with Microsoft, fearing they might throw everything away after one year. Microsoft saying, they will focus on only the Business Sector of phones already makes me think what if next month they say, they will just make phones for governments and then only for presidents and then only Steve gets one. Second, a lot of companies are switching for the web. They will make an app that runs not only on Windows but on every smart device nowadays. Only the companies closest to Microsoft might think about making a UWP App of their critical business. BTW The company store already exists on every platform. I can't accept this point as valid. Reduced IT costs Well, I have heard this a lot. Device Management is extremely complex, but nowadays you have quite a few management tools. In my company, we had a lot of problems and sweat in using one of these tools. I think (I hope for the sake of the world) that it was because we were some kind of beta test. The truth is that I know at least 3 services that let you manage all your phones using Android, iOS and Windows Mobile 6. These services also provided various security features from encryption and total-wipe of a device over to GeoFencing so that in case an employee leaves the company, all company data gets wiped automatically (I would be very surprised, if this is implemented on Windows). It doesn't what device the user uses, except that Windows Mobile 10 probably won't be supported for a few years if they succeed. This could lead to even increase costs for companies with BYOD if they allow customers to bring in Windows 10 devices. Also, if you let the users bring their own device, the costs for the licencing of this software will probably be lower for five years than buying an HP Elite x3 for everyone working in your company. Please understand, if I am a bit cautious when I hear Reduced IT Costs. So if you want to keep discussing this, feel free. If I see rude comments, I won't answer. PS: We had some Panasonic laying around too ;) I loved them, one was running Windows and one was running a very old Android version.

Very good piece and discussion. I now know I'm swapping my personal 930 for a 950XL (with Continuum and foldable keyboard) based on a balance of factors. That said, the HP Elite looks a better device and markedly shows Windows OS is in a very interesting period of change. This is not only great for businesses needing to cater for more flexible workforces, it is a god-send for any disabled worker expected to work flexibly on computer-intensive tasks beyond almost all mobile devices. What's not to like?

Sounds to me like HP just didn't want to go head-to-head with Samsung in the Android arena. Some of those reasons seem sketchy to me. If security is your main concern, BlackBerry's eliptical curve encryption is unbeatable. BlackBerry remains the only mobile platform certified for secure DoD networks. And the idea of UWP being a selling point might make sense in 12 months, when there is actually something there, but right now it's nowhere.

By enterprise, I assume they mean only US based businesses... I can't even change the price of gold and silver on the money app to show GBP and Microsoft support had no clue how or if it could be done.. This phone looks superb but unless the anniversary update is a massive leap forward it'll make no difference how good the hardware is. I've decided to move to Samsung S7 just to have the most basic stuff working and accessible having been with windows since mobile 7. I will come back if the anniversary update is massive, if not.. I won't bother. Posted via the Windows Central App for Android

Ever tried to build seamless Skype for business integration into iOS with anything resembling reasonable security? You can't. There is a market for these phones when considering those kinds of enterprise platforms. BUT... the flipside is that most of the vendor apps have already been built for Android and iOS. Granted that only matters if you are using native mobile apps (most are) but anyways... lots of caveats and ifs before this typr of phone can realistically displace the current norm. MS needs to build virtualized containers for other running apps for other platforms. THAT would make this type of device truly useful.

I hope they have demo units in at least a few MS stores. I'd love to try one out even though I'm not hopeful that TMO WiFi-calling and VoLTE will be supported.

Lets say this phone is used for BYOD purpose, is Win10 mobile provide any means to do a backup?
Can't imagine have to setup all applications one by one on the spare phone if the phone screen is broken...

Yesterday I successfully used TeamViewer to "virtualise" a x86 program on my L950XL in Continuum mode via a 3G signal from my office and my PC connected to Wi-Fi broadband Internet at home. A surprisingly successful experiment. I'm impressed.

All that being said to focus on Enterprise, how's Redstone removing MDM enrolment for work access going to help the deployment of Windows 10 Mobile in that market segment?

All that may be very true, but if they didn't have consumers in mind, why on earth did they pay to get Bang-Olufsen to do the speaker?

How many regluar consumers of windows phone do you know with B&O speakers? I know of one former one, me. They are priced well outside of the normal windows phone consumers price range if the complaints here regarding device prices are any indication. I sold them about 10 years ago and still made enough money to buy many many windows phones. I use PSB now, another brand who are made in canada and cater to the "elite audiophile" crowd much like B&O. Thats why they put B&O in their x3, because most consumers will buy a 199 dollar sound system from walmart. Where as most business people will have a multi thousand dollar home theater in their home. Simple demographics.

Bang & Olufsen was incorporated into the phone because they are a very high end company that is known for their speakers. They want to appeal to a higher class audience. By putting those speakers into the phone the high end consumer and business market will reach the customers they are targeting.

I'm a consumer who has always valued the "PC" or productivity functions in a mobile phone over anything else. I like power more than style. I don't mind a little style but it can't trump build quality. I don't mind being able to play games or use the latest fad app, but If I can't run powerful applications that get things done then I'm not impressed. I've never liked Android phones because they are so fragmented and volatile. I love the idea of one universal ecosystem that works together seamlessly. Needless to say I will be getting the Elite X3 to tide me over till the Surface phone, uh, surfaces...if ever it does.

Long story short, Its going to burn a hole in my wallet!

Nobody is going to buy this phone. Get over yourselves.

They will sell in business circles no problem. But not in consumer circles. Its a windows phone that costs more than 75 bucks.

"You're not my demographic."
"Well, who's your demographic?"
"Do you like Android?"
"Yeah!"
"Then not you!"

I can also provide an example:
HP Elitebook 2760p is a Business/Enterprise laptop and gets top-quality support for 10 years. I leased it from HP in 2012 and still receiving support, I can order parts for free, and get very knowledgeable customer service with no wait times.
.
On the other hand, my friend got an HP Pavilion dv6 which is Consumer-grade and only has support for 1 year, with little to no customer service, no free parts, no leasing options.
.
These sides are very different and both OEMs and wireless carriers do that with the services and products they offer.

If you're wondering if I use the HP Elitebook 2760p, well sometimes since I really enjoy my new Microsoft Surface Pro 4 (core i7 model)

This is exactly the direction I saw Windows phone some time ago when everyone was declaring it to be dead. B2B is the best target market for windows Phones, not people who want to play games and spend all day on facebook. As a business phone, WP is simply better, it really only fails in a few areas. 1. If there are some specific apps you really need, you are likely screwed, as most vendors do not bother with WP or do a half assed job. 2. if you want to use the same phone for personal stuff too, such as managing family safety. It sucks big time here and has been completely unreliable, with family safety constantly breaking, Microsoft removing features, and they simply do not care if kids suddenly can access porn or 18 apps/games, or cannot be tracked on GPS, they have made this abundant clear on their forums. I used to like WP, and I stuck with it as long as I could until my Lumia 930 got Windows 10, but in the end I had to give in and go back to android due to too many bugs and issues.

The idea of the Elite x3 excites me but only for a minute. Then, I flash to the horrors of trying to get ANY kind of technical support for any of my windows products. I have stayed loyal to the different OSs over the years but in the last few years support has not existed. I've been battling a few software issues since Dec '15 on the windows phone AT&T (the best CS) only has access to up to a point then you're on hold for 20 minutes before you're connected to someone at MS you can't hear. It's impossible to get any face to face service or even 1-800 that understands the basic English language. I have wasted DAYS! FYI an "appointment" is not we'll call you within 24 hours, return the call in the middle of the night & automatically close my ticket. Why would I buy my employees this wonderful "concept" for Microsoft to completely abandon in a year? The most common solution I've heard for my tablet & phones is "if you buy a new one you won't have these problems". I fell for that BS already. A year & a half old device is NOT old especially when you've spent $600 on it! I'll drink the competition coolaid first. So sad, shame this company has gone the way it has. The problems have not been solved and they only care about new sales. By the way HP laid off most of their experienced troubleshooters as well. My experience with them is their support is good for about 7 years after the model (printer) was released. As for IT security, the "cloud" is the worst thing that has happened to real enterprise security. That's a different topic for me.

Awesome article. HP's choice of making this device and going with Windows 10 also highlights what many of see in Windows 10 and ultimately in Microsoft's grander vision of the future.
Windows Central Newsletter
Thank you for signing up to Windows Central. You will receive a verification email shortly.
There was a problem. Please refresh the page and try again.