HP Elite x3 launching in 51 countries including India, UK, and Japan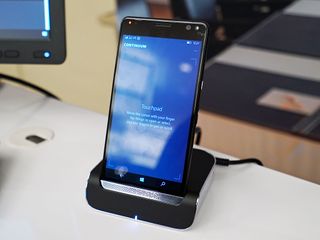 HP has updated their Elite x3 documents (warning: PDF) (opens in new tab) and buried in there we can find the planned availability of the powerhouse Windows 10 Mobile phone. In total, there are 47 confirmed countries where the HP Elite x3 will be available to buy in either a single or dual-SIM variant (will vary by region). HP has confirmed the information is accurate.
There is no word on the date of availability for each of these countries, however. HP recently announced that the unlocked 64GB version of the phone will be priced at $699 in the US and 699 EUR.
Whether it is the Americas, Europe, South Africa, or the Asia-Pacific region, the Elite x3 should be available to businesses and individuals around the globe. Here is the full list.
Americas
Canada
Chile
Colombia
Costa Rica
Ecuador
Mexico
Panama
Peru
Puerto Rico
US
Europe, Middle East, and Africa
Austria
Belgium
Czech Republic
Slovakia
France
Germany
Greece
Hungary
Ireland
Italy
Luxembourg
Netherlands
Finland
Denmark
Norway
Sweden
Poland
Portugal
Romania
Russia
Saudi Arabia
South Africa
Spain
Switzerland
Turkey
United Arab Emirates
United Kingdom
Asia-Pacific
Australia
India
New Zealand
Malaysia
Philippines
Singapore
Thailand
Taiwan
Hong Kong
Japan
Overall, that is an impressive availability for the Elite x3. While not being sold in stores HP can definitely wield its decades of supply channels and markets to make sure their products are available everywhere. It also suggests HP really does believe in this phone as being something companies will want to use around the planet.
So, putting aside the price will you be picking one up?
Need more? Don't miss our other coverage of the Elite x3 including:
Windows Central Newsletter
Get the best of Windows Central in in your inbox, every day!
Daniel Rubino is the Editor-in-chief of Windows Central, head reviewer, podcast co-host, and analyst. He has been covering Microsoft since 2007 when this site was called WMExperts (and later Windows Phone Central). His interests include Windows, laptops, next-gen computing, and for some reason, watches. Before all this tech stuff, he worked on a Ph.D. in linguistics, watched people sleep (for medical purposes!), and ran the projectors at movie theaters because it was fun.
I'm still wondering why the SD820 is only 4 cores, and not 8.... Or, why this particular version is only 4 cores.
....
And, not in China? That blows. I guess they never want to cooperate.

The Kyro architecture, along with improvements to the BIG.Little configuration, meant there is no longer a need for an octa-core setup. Qualcomm have reverted back to the same design as used in their previous Snapdragon 800/801/805 chips, which were based on Qualcomm's own designs, unlike the Snapdragon 810 which was based upon an ARM reference design.

The reason is that the lack of programmer support - at either the OS or application layer - to use all the cores. Most aren't designed to use more than a couple of cores, and a great deal are really only written for single core operation. The CPU makers and OEMs tried to come up with their own firmware and logic to deal with 6 or 8 cores - and also this crazy MediaTek Helio 10 core SOC - to balance performance and power under the hood, but it didn't work. Their decacore SOC was actually SLOWER than the other ones! Also, one of the main reasons for all the cores - using the smaller, slower ones to preserve power and reduce heat - was made redundant by the processes allowing for smaller chips. I think that it has shrank from 22 nm process to 14 nm process in 2 years, and there should be 10 nm process chips next year. So, the combination of programmers not really supporting any more than 1-4 cores anyway and the smaller chips makes using more than 4 cores bad design and an overall waste.

Acer Jade is claerly overpriced as I expected

Yeah, HP ELITE X3 beats Acer liquid jade primo.

Liquid Jade Primo is a consumer facing device. Honestly I'd recommend Jade Primo to Joe Wantaphone over X3. Much of the advantage of X3 is lost to the average user. Like how much would Workspace access be? Lost to the consumer. The Lap dock is cool. I'd get one of those to supplement a Jade Primo if the price is right, but don't see where I need to leverage all that an X3 can do. I don't need a pogo pin attachment to bar code scan and control inventory as another example... If I ran my own business with some high volume I would buy into X3 packages, but not as a prosumer.

Apple's processor has only 2 cores and leads smartphone benchmarks, so there has to be a reason.

Apple's entire software stack on iOS is optimized for dual core.

Don't forget the low res screen.

I second that! Requires comparatively less potential for the GPU to render the screen...although, Androids of similar screen resolutions still fail to compete...

I think China might be somewhat of a tough market in general. Now that you know the price, do you want one?

Its not over priced at all, i certainly would get one ASAP, look at the Jade Primo, no where near the Elite x3 but priced $50 less only, OK they added the Dock but still it should have been no more than $549

Because more cores, or, pure numbers for that matter, doesn't equal better.

Yes, we know that.. But, my question is why in this case, fir this particular device.. Not that I suspect any of y'all work at HP, on this project, but just kicking that around.

Simple, SD820 only comes in 4 cores. It's also Qualcomm's best SOC at the moment.

Don't say great where is Pokemon GO, Clash Of Clan, MSQRD, Snapchat, Drony etc etc..... For successful mobile market there must be app & games which is the root of OS otherwise it will die in no time. Microsoft what's ur mobile strategy? We want to know... I m a windows mbl user n now i am frustrated with this app gap.. Microsoft doesn't care n don't attract developer to develop their apps, only 1.3% market of WINDOWS mobile no one will make app for 2%, microsoft must do something or just stop developing mobile os.

You do realize that this phone is meant for enterprise customers who won't allow the installation of these apps even if they were available.

And are there any enterprise apps for employees in windows phone.

Enterprise apps are not something you find in the store. They are made by the companies software service providers like HP, IBM for that company and side-loaded onto phones. So if HP is planning to launch this device they must have apps for it as well. Besides one of the plus points of this phone is HP's cloud virtualization technology which will allow companies to run there desktop applications on the phone using continuum.

The funny thing about these guys is that when you reply to their comments they rarely ever reply back.

It is because, they only know how to bark, without even knowing who to bark at.

Yugiro.. Barking?? R u gone mad? I just want to know why MS is not focusing on mobile market, they are busy in WINDOWS PC n Xbox mostly.

Hey its not mandatory to reply ur dump comment..

Its also not mandatory to always reply with a dumb comment. But you seem to be an expert at that.

Devs are problem here not platform bro...all that dev has to do is to port ios app to uwp app that's it...but they aren't doing it..Microsoft is providing every single thing but Devs are so biased that they aren't paying interest on W10...

Jeez, get a life. 'Oh sorry I'm late home I was chasing a fictional character around town'. These devices are, as mentioned above, NOT for the consumer space. The whole ethos of mobile, as MSFT has said more times than hate posts von WC, consumer space is not their bag for the foreseeable future. Enterprise is where the mobile w10 device makes sense. I use it in my company. It just works. Full integration, or as much as I need, and reliability to boot. I run 2 950's, 2 950xl, 650, 550, 640, 640xl, 1520, 3 surface and the office PC's and finally, my lovely old 1320 on a preview build. Mind you, she does sweat a bit sometimes!! I dont care for chasing fictional character, I dont do twitface, or COC. None of our company devices are permitted access. If my drivers want to play games, they use their droid / apple devices. W10 is for those that do, and for that reason, I like it. I used to be Apple all the way when doing live DJ sets and running the office. The sheer expense involved with those is limiting when its upgrade time. All that money and little integration.

What's COC? Great acronym. Posted via the Windows Central App for Android

First off: We are talking about hardware here... Second: You may want to search for "Monster Buster" on the store... That game is available since 2014... Just to mention it.

I couldn't care less about any of those apps you mention.

You must be on some kind of drugs, don't you ?

Wow judging by these posts, it's kind of a good thing Pokeman Go isn't available on Windows, otherwise nothing PRODUCTIVE would get done on this ENTERPRISE phone. Yup that's a big advertising plus for business. "get this phone for your employees, or they will get nothing done on their iphones and android phones, other than catching a bunch of poke-things (name change for copyright purposes)...pew pew!"

I wish I can upvote your comment on the phone Posted via the Windows Central App for Android

Nobody is saying the lack of apps is a reason to buy this phone. We're saying the lack of those apps is not a reason to not but this phone.

Wait will it come with fingerprint scanner? Since support for it is coming on August 2nd

Yes. It comes with a finger print reader.

Yo fingerprint scanner + IRIS scanner

Ya, but the rest of the world thinks that Samsung is about to release the first phone with an iris scanner. Sigh.

Just wait until Apple invents it in a couple years.

Wow that is a lot of countries!

Thank you south africa, I'm sure orange will stock this. 950xl >> Elite

Yeah, I love that South Africa is there.

Too expensive IMO. My calculations were R14 000 for the dual SIM...I got my 950XL for R12 000.
R14 000 is iPhone territory. This device is clearly for enterprise, not consumers. Posted from my Note5/950XL

Equivalent iPhone is R16 and a half k. I'll be going with the HP in 6 months Posted via the Windows Central App for Android

Wow that was pricey. I got my XL for R9k on orange. The 950 was R7k but it was just too small for me

Could'nt believe when I saw SA XD

Lucky for you, only African country that gets it for now

Well, they don't release it for VN... Posted via the Windows Central App for Android

No quemar su tortilla tanto.

LOL :P they better not launch this piece of useless **** in India, they will definitely lose huge amount of money it will eaisly cost more than 70k in India and only Abhishek Baxi will buy it :) I MEAN IT :/

It's a $150 less than an iPhone 6s Plus and has more features/hardware. I don't dare ask what you would pay for this phone because I don't think you have much connection to reality.

and I don't think YOU live in India :)

Masterful response there.

HP Elite X3 is certainly not for you. It is for enterprise or for those who are flagship buyers.

this phone is certainly not for Indians at all.

It's not meant for regular customers genius. It's an enterprise device and it will definitely sell here. P.S.
I live in india.

"it's an enterprise device" agreed. but won't work here.

It will work here. If my company can afford a 100 iphones for the marketing department i'm pretty sure they can afford a 100 of these for the sales department.

why a company will choose a dying OS over a Powerful OS ?

Instead of just saying it won't sell in India, explain why. Except do not say the price is the issue. Do some thinking and come up with reasonable arguments as to why. If you can't, ignore this post, as we do not need you bashing something jsut because you cannot afford it. Oh wait you will probalby say you can.

only one and one reason. OS. now please don't say Windows 10 Mobile is an amazing OS and best among all, we all know the truth, so please keep your fanboyism aside and talk practically.

Okay lets talk practically. Do you know that HP themselves admitted that Windows 10 Mobile was not their first choice for this phone. They wanted android on this but after talking to google they found that some of the enterprise features(they did not say which) companies wanted were not available on android and they would have to build them themselves. Windows 10 Mobile on the other hand thanks to a shared core with Windows 10 Desktop had those features baked into the kernel.
Fun fact: They also wanted to put in an x86 processor in this but intel told them it had no such processors for them and wouldn't have any at least for the next 3 years.
Both these tidbits were revealed by Paul Thurrott on windows weekly so if you want to dispute them please go to Thurrott.com.

A direct Slap on his face...great comment bro

I'm an Indian and you're talking ****. Shut up please.
Yes, the phone is expensive and yes, many people wont buy it but that doesn't mean it wont sell at all and definitely doesn't mean "it's a useless piece of *****".. This is a great phone and that's what matters.

IT WILL NOT SELL AT ALL IN INDIA. TAKE A SNAPSHOT AND READ IT WHEN THIS WILL HAPPEN.

It will sell. Just not in huge numbers. Don't be a moron please. It wont be like out of stock online if you compare with other phones.

Let's see. just make sure that you do know the market share of WP only in India, worldwide currently it's around 0.7.

You are talking like a pure d**khead. If you don't want to buy it, STFU and leave. There are better places where people may nod in agreement to your stupid logics.

well, truth is bad. You'll see it yourself.

What should we do to shut your mouth...Oh come...get out of here...Im sorry...

Im an Indian too I just cant read your comments bro...

@Kamesh, and you speak for all Indians... all 1+ Billion, I really doubt that ass hat!

your doubt will get clear very soon.

Dude... Get some breath first. Then think and reply which phone is for Indians? iPhone is too costly to be picked and people are not thrilled about syncing with iTunes. Samsung phones do not generally last longer than 2 years due to broken screen, less battery life, Sony is nearly out of visible sight just like Windows 10 mobile in the world, LG is also a kind of rare breed, karbonn,Micromax,Lava,Lenovo,Moto,Creo are all have huge service centre issues, Lyf just entered the market and yet to storm it, Chinese phones such as one plus,etc are only Flipkart/Amazon sellers. As an Indian, i would like to buy a phone that has value for money, lasts long and useful. Care to say which phone suits all?

Why are you and the others giving this moron a soapbox to cry on? He's probably an abortion that lived and is mad at the world. That, or he's never tasted punani.

spazinvader, buy Nokia C1 releasing in Dec 2016 :P

Even Indians don't want to live in India.

Hi there. I live in India. I'm going to buy this, and I think it's great pricing. Definitely more affordable than an iPhone 6s Plus.

Are you an Android fanboy ???

I'm not a "fanboy" of ANY PLATFORM. I was, of WP but gave up after pathetic 2years.

(eye roll) The typical "I was a fanboy, but now I'm on a vendetta to talk about how wrong I was for the last 2 years in liking this platform. Here, listen to this advice, which surely is not wrong now, unlike my previous fanboy attempt."

Ok, Now you knew at least these ppl in India will buy it. So, your argument is nothing now. Log off guy, log off.

butthurt consumer ******* the loudest

You define fan boy... fan boy!

I've often wondered. India is full of Indians. So are the laws against eating cows a ruse to keep the Cowboys out?

He likely can't afford any top tier phone... Posted via the Windows Central App for Android.. But waiting for the HP Elite so I can get rid of this junkie Galaxy S5...

iPhone 6s plus costs 69,999 for 64GB variant and it's a probably 6 months old phone :) no you calculate what price will this phone launch in India. I CAN BET for 65k Eaisly!

I think you might have to fact check. iPhone 6S plus 64GB variant is selling for 70k only in Flipkart and amazon(and not even in other online stores for this price). In any imagine store, it is still selling for nearly 80k. When the EMI for 12 months included, it goes to 90k.

This will be probably around 42-48K bro...

I would bet on it. THIS IS INDIA. here uneducated cleans the place and educated makes it dirty. 42-48k pricing is a joke in India.

let's just let it launch You'll see.

Their target is business customers not a normal consumer you dickhead,price is not the issue for this one,and I don't think people in companies would be playing Pokemon go or doing snap chat,in fact any company would want such a phone without these apps and a pure business phone and this is a perfect one

I don't know what part of India you come from, but it sounds like the educated ones aren't that well-educated after all.

And you take yourself as another educated one from India who is spreading sh*t and dirt here... Grow up

And brain washed cocky erudites like you buy cheap androids.

I think this phone will be released with 50k+. The hardware is too good for 40k range.

Well, I'm not saying no one will buy it, but India is a price sensitive market. It won't be a complete failure, but it won't be a great success either. The most people buying phones can't afford or don't find this as a reasonable amount to spend on a phone. Those who can buy are probably going to buy an S7/Edge. Or an iPhone. Also WP in India saw the most success in low end budget devices, where as high end devices like 1520, 930,950/XL didn't do that good. That doesn't mean we can't have good things :D

Yeah just goes to show that an Iphone is way overpriced

I guess you missed the part about enterprises, which usually buy in bulk. The multinational I work for has buildings in India too and they bought iPhones for 1/5 of the Italian staff (thousands of people), those could have been HPs' instead, just to make an example.

This WC W10 app is crashing all the time

Put it in main memory, not SD card for now.

Sorry mate still crashing...guess I'll have to reinstall it...

Mine did too, but it will work fine if you remove the app and install it again.

40-48k that's it.... Sorry to say like this...You must stop using asterisk in comments...:)

According to the documents they have not heeded your advice. Fortunately, no one will come to your house and force you to purchase one.

Great windows 10 mobile in nowadays

Look guys before saying you will buy it or not remember that hp is targeting business classes and organisation , I don't think they want this phone to be bought by every windows enthusiasts rather would love to see corparates taking bulk orders

I would think they would gladly take our money, no?

Lol... I'd have to disagree with part of that.. They definitely would like it if they sold this phone to any, and everyone.. They are only suspecting that it will sell for enterprise use because they are being realistic... Would they be happy if it sold 50 million in one day?? Yes. But, there won't be that many available.. Lol

It would be great if HP can integrate it with their POS systems. Aside of having public exposure, it's also a good mass market. There are so many more markets to sell to than currently is done.

I will be placing my order as soon as HP sends me the order slip.. Which should be soon. Posted via the Windows Central App for Android.. But waiting for the HP Elite so I can get rid of this junkie Galaxy S5...

Will it support Verizon!! Thats the question that needs to be answered.

What is that 'no' based on? I've not heard anything about carrier support yet, and I've been trying to follow this pretty closely. I think that Verizon is the largest enterprise carrier in the US (not 100% sure, but I believe it holds more of that business than AT&T), and add that AT&T already has competition with the 950, 950XL, and Acer Jade Primo, it seems likely that Verizon support is included.

In response to my own post, I do see on p. 12 of the linked document, it says this won't include older CDMA data (1x and EVDO) and LTE band 13, which you'd expect it would include if going to Verizon...

Will Verizon PAY HP so that they produce a special version of the phone to support CDMA, a standard that is not used ANYWHERE ELSE in the World? That is the question that needs to be answered ;)

All HP has to do is build CDMA variants, submit them for certification and pay whatever fees are involved to Qualcomm. At that point, Verizon Wireless would have no choice but to allow the phones onto the network. If VZW refused access, the FCC would slap VZW with fines and potentially revoke licenses to operate at certain frequencies. The lack of new Windows phones for VZW is thought to be a cost cutting move. Supposedly CDMA certification is more expensive than GSM, there are fewer CDMA carriers than GSM, and, Verizon Wireless has a reputation for being unsupportive of Windows devices (especially when compared to at&t and T-Mobile).

Verizon would still have the choice to not allow the phone.

How can Verizon Wireless deny access to a certified device without violating Block C open access rules? The company has already been caught violating before and promised not to do it again.

Not if it is able to access their 700 MHz spectrum. They have an injunction from the FCC against barring access to that frequency. The real question is why Vzw tries to leverage every OEM into catering to their method or no other. Vzw drives the OEMs away. It cannot be any other way. What maker does not want a market to sell in? Verizon must be doing something out of a sense of "gate keeping" that makes entry more effort than it is deemed to be worth by OEMs.

This is true. VZW has to allow devices THEY CERTIFY to work on their network. In order for a compatible device to work on their network they require OEMs MEID and testing which they charge OEMs to do. The Lumia 950/XL HAS the antenna by Qualcomm to support the CDMA voice / data and LTE VZW bands, but with Verizon's history sabotaging Microsoft devices and services (KIN, Windows Phone 7 with massive lack of training and almost apathy on their network, HTC One m8 WP exclusive US with most store talking customers out of buying it or not putting the device in inventory, etc, the list goes on and on, tech support telling customers to return that windows phone it won't do corporate email, use touchdown in android!) why would Microsoft pay VZW to not support their product?

I'm under the impression that certification is done by 3rd parties. Otherwise Microsoft would have to submit phones to every carrier. (Get CDMA certification and you're good to go on Verizon Wireless, Sprint, US Cellular and so forth). Given that sales associates for cellular providers tend to be on the young side, it could be a reasonable guess that many have grown up using Apple products thanks to the company's marketing push in the late 90's early 2000's when Apple practically gave computers away to schools.

I just up voted you... Noooooooo what is my life coming to! :)

So giving the list of countries where you can buy this phone, who will be the retailers to sell this?

Probably the online Microsoft store and, at least in Europe, the normal outlets where every single other gadget is sold (Fnac, MediaMarkt, Saturn, etc...)

There's not Microsoft Store in Chile as far as I know...

It's also possible that this phone may be listed at Best Buy, fry's, and similar retailers in the US.

Yeah, it could happen. HP and Best Buy are very chummy with great product relations/exclusives.

Hey Dan even if I stop notifications to Email Im getting them continuously... any help ?

There is a section of people in India who won't mind paying 65k. But I still find lack of enthusiasm towards Win Mobile. Most buyers in that category are iPhone enthusiasts followed by Samsung Galaxy Edge

It'll soon change when the people understand what this beauty can do.
If you consider the Elite X3 particularly then its the same for all countries. Its just a brand new type of device really with the power of cloud computing (desktop class).

Indian Market in High Segment is driven by West. If a device is popular in US or European countries, it automatically is cooler to have one in India, whether you know how to use it or not. That's why there are more iPhone users than High Segment Androids, because iPhone is a status symbol even though it can't do a **** load of things. Hope HP changes the perception, maybe make it a status symbol.

Just wondering, when will other Mobile Nation sites UWP apps go live?

Never. Posted from my Note5/950XL

Well, on the consumer perspective this phone has no chance, we all know that, it's not even a question. On the enterprise front - which the phone is aimed at - however, I don't think the situation is much different. Windows 10 Mobile is dead. On all fronts. There's absolutely nothing compelling about it, even for enterprise. The major thing that it has is Continuum which will never become truly useful until full Windows 10 (ie. x86 programms) runs on the phone. And the virtualization is unproven. Not to mention that with the Microsoft suite of apps on Android and iOS, there's absolutely no reason to even bother with W10M, a platform without any developer support, even on the enterprise-oriented apps front. An Android flagship with the Microsoft Suite of apps is able to do exactly the same things this Elite (or the 950 or the other Continuum WP...Acer?) does (and before any ignorant fanboy comes with the "security talk", go look at what Android for Business is). If you cast the screen, you'll be doing pretty much the same. Android also supports bluetooth keyboards (and probably even a mouse, though I never tested that. A stylus does the same). Which pretty much explains the price of the phone. HP isn't stupid. They know they're betting on a dead horse. So better to beef up the price so that losses are minimized as much as possible. And I'm also betting that the supply will be very low as I don't think HP actually had a ton of these produced. They'll likely be manufacturing them in a "on-demand" basis.

I agree with you about the current state. Tell investors that so I can buy stocks at lower prices :). MS isn't stupid, they know where they are going and that while the phone is a side project for now it won't be forever. And I don't see them releasing surface phone until there is a real demand for this platform. This elite might as well be a surface phone it's super high specced but doesnt have a cool factor. Like you said, business. Posted via the Windows Central App for Android

The differentiators are Continuum and mobile device management capabilities. Yes, they're both unproven, but Android and Apple have proven to be a major pain in the ass for IT departments everywhere. I say this device has a shot at success.

"Android and Apple have proven to be a major pain in the ass for IT departments everywhere." Considering more and more companies are adopting these two platforms (specially Android) as they move away from old devices (Blackberries etc), I don't see that "pain" being such a big deterent. For this to have a shot, I think Microsoft will have to put A LOT more effort unto the software. Sure, they say they'll do it in 2017. I just don't think they'll be able to catch the train by then.

>Sure, they say they'll do it in 2017. Didn't they say the same in 2015 about 2016?

Got any evidence to back this up?

The lack of sales and the continued shrinking of WP sales seem to be enough evidence I think.

Are you still here... good God man... You should just go curl up in a fetal position sucking your thumb in front of the nokia building and BEG that that allow you it... damn snowflakes!

IMHO, I dont think apps will be an issue down the road. Apps will be a thing of the past. They will be merely portals to cloud / web based content. As for MS apps (office etc) its ok having them.on other platforms, but the integration is poor.

The integration of Microsoft apps on Android (and I'll speak only of Android as I refuse to touch Apple products) is much better than it actually is on WP. So I don't agree with that at all. As for the future of apps...well...that's the thing. "In the future" a lot of things can happen. But this is the present we're talking about. And Microsoft is a business. In business, you can't always be counting on what *may* happen in the future.

As much as truly despise 99.999% of your comments... as they are ass hatted negative BS that seems to make you feel superior, I must say that the last few are spot on... and you made them without some SNARKY ass remark... doesn't that's just feel better.. Truth be told you are probably a smart guy... just wish you would be constructive with the knowledge....

Wait.... you hate Apple also... who would have thought... Best part, you ACTUALLY call other people fan boys... and you ONLY like Android... the hypocrisy would be laughable if it was not so pathetic... sorry... but DAMN!!!

Ok, I'm gonna try and tell you something... "security" is exactly why HP went with W10M instead of Android. Yes... they wanted android and didn't because google couldn't give them the security features they needed in order to sell it to large (military or similar/higher security standard) companies. ​Source: Thurrot.com for the security part
​ Me, working at the swiss military, exclusively HP device network due to the secureprint features and other stuff that android can NOT do.

Instead of security, you should go for Mobile Device Management. Android is definitely a pain when it come to MDM due to tons and tons of customizations and easy to root and all the headache. Not to mention, their chance of seeing the latest update is pretty slim which ensures there won't be any security patches applied for the smart phones. They are like Linux OS' without the LTS. Android can be seen as enterprise device only in small or medium scale business. Definitely not in Large Scale Emterprises.

No Wadia? Throw them to the dungeons.

Tough choice between this and upcoming note 7 for me. Work only lets me use Samsung Knox for corporate, or iOS and win 8.1/10. And yes Verizon will pick it up just like they eventually picked up the blackberry priv, because it's a business phone, and because of HP's cloud based software a lot of comapanies will be very interested. and companies have contracts with Verizon. Just because it's not announced CDMA doesn't mean it won't be supported with an antenna tweak in the next iteration of manufacturing. Posted via the Windows Central App for Android

The only frustration I have is carrier and the ability to do att next plan. The device is awesome. Some of the best specs in the industry and it has character. The lack of some apps is upsetting to a point, but most are not important enough for me switch to iPhone or android. Going to be hard to justify $700-800, but my 1520 is getting old and needs to be retired.

An absolute beast is this at a good price, wouldn't mind splurging on this, my wallet permitting. Redstone 1 will in most likeliness be an unmatched experience on this device. For now waiting with my relatively new 640XL for RS1. Exciting times.....

As a consumer, this baby has it ALL -- almost. Need to know about the camera. Does it have double-tap to wake and Glance? Everything else looks aces!

probably not on DTTW and Glance. Then again, DTTW drivers were not finished until recently, so who knows.

isnt DTTW a OS feature ??
so...i think MS will add the feature for this phone !!
this phone & altacel are the only flagships in pipeline ryt now.....so, MS will add support for these two phones & provide them with whatever features they develop in the first place !! :)

Did you try hp website they should have something about the camera capabilities on there by now.

I might get one. Never know if MS will kill surface phone altogether. :D Posted via the Windows Central App for Android

But those devices are for the masses where several million sales cover the costs. HP will probably be happy if they make a small profit on these. Plus, being an enterprise device, large savings will be available for those companies ordering by the hundred. As for real manufacturers, surely anyone who makes a phone is a real manufacturer??? And what unique selling points do these half price devices have? Stupid curved screens, but still basically the same device as last year? Phones that bend in your pocket? Phones that usually have most ancillaries built in, but now you invent a 'modular' system and sell the camera separate?? Devices that are really nothing more than fashion statements promising you a lifestyle improvement if you have one? An OS that despite regular updates, still sends out security patches every few days? A nice shiny device that the OEM won't provide updates for when the next new 'lemming' phone appears?? Finally, a device with similar specs on Android will not perform to the same level. OEM's have to ram so much in their devices, just to run the OS in an acceptable manner...

I regret buying the Lumia 950. I should have waited and picked one of these up instead.

950 has a better camera though. And is geared towards consumers. Posted from my Note5

there will always come new phones :)! the 950 is starting to get cheap, I might pick it up next year if there wont be any surface phone

Holy sh*t! It's coming to Thailand!

Looks like a cool phone. I am in the market for a new device. The price is along the same price range I paid for my Nokia. I would like a larger screen though.

Sadly, specs show that the x3 is not compatible with CDMA. So, there is no reason for customers of Verizon Wireless and Sprint to give the device any consideration. Looks like our only hope for a high end CDMA compatible Windows mobile device rests in the hands of Microsoft.

This post doesn't mention if the desktop dock is included in that price.

$799 w/ Desk Dock. $699 without.

Fair price, same as the lumia 1520 when it launched. And given the tech, tbe possiblities and the fact that i finally found a phone to worth to upgrade to from my 2nd 1520 ( yes. Old one broke. Bought a new 1520. Nothing better on the windows market). So i definitely will pick it up. Posted via the Windows Central App for Android

I wonder if the second sim in the dual sim variant will support speeds higher than 2G. If so I might have to upgrade from my 950XL.

I am using 950XL in India and I think both the SIM supports 3G at the least.

Well, I know both sims support 4G, but only one at a time. As soon as the first sim is active, the second sim will be limited to a max of whatever. I know here in Canada it's 2G but I can't imagine that it depends on the country. Do you have two sims working in your phone right now?

Who wants a windows phone?
It's a dead platform, you have to be mad to invest money in a device

Lots of people, including me. It isn't a contest, please stop being obsessed with being "right". I love my Windows phone, and will buy a new one when I'm ready for another.

Yes you are right.
Also, You are free to install Windows 95 and buy a game boy, then you will be ready for the future

oh look, another "Windows phone is dead" preacher here lol

€700 for a phone!! Really and truly, the price of phones is just rediculous!! All these high priced models, and I'm including iPhone's and Androids too in this, that cost more than a weeks pay are just aimed at people with money to burn. Would I like one? Yeah, sure, it looks really nice. Would I pay €700 for one? No bloody way!!

The provider subsidy model has pulled the wool over a lot of eyes. If people had to buy their phones outright, buying patterns would be very different. I'd love to have the latest flagship, but this 640 for $30 has really opened my eyes to the value (or lack thereof) of most flagships. Doesn't stop the drooling over them though, right?

I'll get one even though I'm happy with my GS7. Hopefully w10m will be more polished by then Posted via the Windows Central App for Android

In south africa am sure you can get it anywhere, markets really do know how to sell here plus any carrier works. Posted via the Windows Central App

And Hungary is on the list, thank god :D

Definitely getting one. Happy that it will be available in the Philippines during launch. I just hope I won't regret getting this than waiting to get the rumored Surface phone. Can't get both. ☹

Let me know how much! I was suprised too to see Philippines on the list. Hoping it may be cheaper due to $ exchange rate Posted via the Windows Central App for Android

MUST. RESIST. TEMPTATION.

I see everyone in Europe will pay 10% more than the US, Typical !

And probably will be offered the single Sim version, unlike the USA. I can see the benefit for Dual Sim phones, where one sim is a business sim, the second a personal use one. If Microsoft pushed more of that worldwide, it would allow it to gain some use from the consumer market segment: keeping more of us happy.

Yeah...I am grabbing one as soon as it is available in India.

**** you HP there are more countries in Africa than south Africa. Posted via the Windows Central App for Android

I'm not a tech guy at all guys so sorry in advance... Will this phone have LTE on AT&T?

Yes it will. The lte ability depends on the processor. Posted via the Windows Central App for Android

Yeah that's what m talkin abt.....S.Africa, Does it come with RS1 though??

I'm quite tempted, though it would depend on dual Sim option being sold, as well as how it performs.

Dear Microsoft Surface Team: This is how you do distribution when you launch a new high-end device. Just sayin'.

When will this actually be released? Very interesting to see Thailand on that list.

Canada is on the list! YES!

I still think HP's strategy will be to go after companies which offer blackberries or iphones to their employees. Such a vast of list of countries supported can only mean that HP has asked its enterprise sales teams to prep more and more customers to offer this handset to their employees. In that segment, the price is really attractive. Plus knowing HP (and the way it sells) there be a lot of tricks including the carrot and stick approach. Carrot are of course the bundles, and 'stick' will be something like if you want this, this and this, you can get them only if you take the phone as well. Otherwise the discounts on other items won't be applicable. HP has executed this approach very sucessfuly among the enterprises as well as channel partners. Now if the channel partners want to sell HP products like printers (which are in great demand) they might well be asked to sell some units of this phone as well. All in all, Hp won't be sitting laid back on their stores and 'hope' people to pick up their phone. They will go all out and put it in the customer's hands. this is something MS shoudl have done a long time back. Start slow, start with enterprises who would have seen greater value for windows phones than consumers and then slowly try to bring consumers along. HOO might skip the retail consumers completely, except for die hard windows fans. But that too will be a good start for the company

Will this also come with the set of accessories like the dumb laptop and the desktop like the acer jade Primo Posted via the Windows Central App for Android

If it will be available in UAE along with Thailand, then it will be available in almost all African areas.

Fingerprint scanner? No, thanks. As simple as that.
Windows Central Newsletter
Thank you for signing up to Windows Central. You will receive a verification email shortly.
There was a problem. Please refresh the page and try again.