HP Elite x3 Windows Phone FAQ - Your questions answered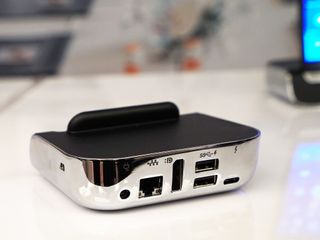 Will the HP Elite x3 be super expensive? What are Pogo pins? Does it have stereo speakers? And can anyone buy one?
For the first time, Microsoft has a phone from a partner that is not aimed at the consumer market but is instead a 100 percent through and through a business device. It is a phone with a purpose and already a long list of companies who are itching for it.
You may have a lot of questions about new HP Elite x3 Windows phone so let's get to it and try to answer them FAQ style.
Why did HP make this phone?
HP is the world's largest retailer of PCs and computing for business. They sell servers, PCs, tablets, laptops, printers, accessories, software, and more to companies all around the world.
The one thing they don't sell? Phones.
Companies evidently approached HP with this kink since ideally those firms would buy everything - servers, PCs, tablets, and mobile phones – all in one package. As of right now, companies overwhelming use – and prefer Windows PC, but they are left with Android or iOS for smartphones often through the less secure BYOD (Bring your own device) system at work.
With Windows 10 Mobile HP saw an opportunity to create a phone from scratch that would complete their portfolio. Even more interesting is that there are already many companies interested in deploying the Elite x3 to reduce costs in the field.
In fact, HP notes that they already have 30 companies under NDA working with them to adopt the Elite x3 for their businesses.
The Elite x3 has like…every feature. How? Why?
When you look at the Elite X3's specifications, which you can find here in full detail, it is hard to think of something they did not put on this phone.
So why so much stuff? Simple. Companies asked for it.
HP did not design this phone in a vacuum. Instead, they went and spoke to their enterprise customers and asked what their ideal smartphone was. The result is the Elite x3, which admittedly seems like a fantasy phone drawn by some of you in comments.
For instance, they wanted to include an iris scanner because in rugged conditions out in the field a fingerprint reader may be hard to access. Then again, many companies are used to fingerprint readers, but still find iris scanners too premature. So HP is including both.
When I asked HP Senior Product Manager John Hong, who lead the development of the Elite x3, about why they went with 4GB of RAM instead of 3GB and he wryly responded "more is always better". You can't argue with that.
The Elite x3 was also built by some people who used to work at Nokia, Microsoft, and other companies familiar with high-end smartphones. When you start from an idea where there are no limits, the Elite x3 is what you get.
The Elite x3 is going to be super expensive, right?
HP has not announced the price of the Elite x3 and due to the impressive specs, many are assuming it will cost a fortune.
Update: HP has now revealed that the Elite x3 starts at $699 US/699 EUR or about $150 less than a 64GB iPhone 6s Plus.
Not quite.
Many of the costs associated with ultra-high-end smartphones these days are due to marketing. You don't have to look much further than Samsung or Apple to see how much cash can be burned through to reach the public.
HP does not have that problem. The Elite x3 is not going to be sold at Best Buy or your local carrier. There won't be primetime commercials for it, and they are not even targeting regular consumers. This phone is for companies to buy by the dozens, hundreds, or even thousands.
That lack of overhead means HP can keep the cost of the Elite x3 very competitive, and that is their intention.
These details are not to say it will be cheap. In fact, at first, you will likely need to buy the Elite x3 and Desk Dock as a bundle, which will drive up the cost. Later, HP may sell the phone by itself, and they told me its pricing would be on-par with what any flagship smartphone retails for these days.
How fast is the Snapdragon 820?
HP's early benchmarking puts the processor somewhere between a Core i3 and Core i5 for performance, but that should be taken with a grain of salt. In some of our early tests it did, however, get 3x the performance of the Lumia 950 running a Snapdragon 808.
Can anyone buy this phone?
Although HP is aiming this phone squarely (and solely) at businesses, yes, consumers will be able to buy it too.
Details are limited, but you should be able to purchase the phone direct through HP and even Microsoft, who will more than likely sell the phone through their online and physical retail stores.
At this time, there is no reason to expect traditional consumer retail chains or carriers to stock this phone. This lack of availability is a good thing as it means there is a lot less pressure from the consumer market on HP.
Will the battery last all day?
The HP Elite x3 packs a massive 4150 mAh battery. Compared to the Lumia 1520's 3400 mAh battery and it is very likely the Elite x3 will do very well. After all, the phone is built for business users out in the field so having not to charge very often is important.
Toss in the Qualcomm Quick Charge 3.0, USB Type-C and Qi wireless charging and the Elite x3 seemingly does everything right for power management.
Can it run classic Windows desktop apps?
Yes and no. The Elite x3 is still a Snapdragon 820 processor, and it cannot run Win32 apps directly. Instead, it is limited to just apps from the Windows Store.
However, and this is the big deal here, HP has enabled software virtualization so that companies can take their legacy desktop apps and run them through the cloud to the HP Workspace software on the Elite x3. As a result, when companies run the Elite x3 in Continuum mode they can run virtualized desktop apps remotely but securely.
This ability makes the Elite x3 close enough for businesses as an all in one device. It has the security and strength through Citrix and Salesforce plus onboard enterprise-level VPN to let IT departments manage the devices remotely.
What are Pogo pins?
The Elite x3 has five metal circles on the back of the device. These are called pogo pins, and they serve as a hardware interface between the phone and other accessories.
The idea here is that an ISV (independent software vendor) or accessory company can create "jackets" for the phone to add features like an IR scanner, track inventory, or a rugged jacket with a larger battery pack.
HP sees the pogo pins as a way to put the Elite x3 in hospitals, rugged environments, mass retail, etc.
Think of the Elite x3 as a phone for businesses, executives, but also replacing the old Windows CE devices used in retail or factories.
With its pogo pins/jackets, IP 67 designation and ability to pass MIL-STD810G testing the Elite x3 is meant to go anywhere in the world regardless of the conditions.
Does it support wireless charging?
Yes. I am told it support Qi and PMA wireless charging.
What kind of fingerprint sensor is it and why was it not on the demo units?
The fingerprint scanner I am told is the same type found in the current Nexus 6P, which has had very positive feedback (some have called it the best fingerprint reader available). If so, that means HP is sourcing the FPC1025 sensor developed by Fingerprint Cards AB. That sensor can read dry or wet fingerprints in 360-degrees, with a resolution of 508 dots per inch.
Interestingly, at this time, Windows 10 Mobile does not have the drivers to enable this feature, so HP is working with (and waiting on) Microsoft for those drivers at the OS level.
Finally, the Elite x3 prototypes were saw were some of the first ones made and there is still some final engineering to take place. The fingerprint scanner, when integrated, will be on the back below the camera.
Are there stereo Bang & Olufsen speakers? Why?
Yes.
The Elite x3 features dual-front facing Bang & Olufsen speakers. There are two reasons for this choice (1) HP and Bang & Olufsen just have a long-standing partnership, and B&O speakers are already used in HP's high-end laptops (2) the Elite x3 is meant to really excel at making Skype calls.
The Elite x3 also features three integrated omnidirectional microphones with HP Active Noise Cancellation Software and an impressive 8MP front-facing camera that combines two images for better low-light performance. The phone also has a Cat 6 LTE modem and 2x2 AC WiFi to ensure the best connectivity around.
All of that technology is there to provide excellent performance during Skype calls, conference calls, etc.
Why does it come out 'later this summer'?
HP is announcing the phone in late February, but the Elite x3 is not expected to hit until later this summer. The reason is simple. HP wants to pilot the Elite x3 with around 30 partners, build up the support channels and documentation, and work with companies to virtualize their software so that it can run through the cloud to the Elite x3 for remote usage of desktop apps through Continuum.
Doing all of that while trying to keep your phone secret is likely impossible. Instead, they are very open about the device so that they can trial it, refine and have it ready to ship with nothing holding it back.
Also, by that time Windows 10 Mobile Redstone 1 should be available and the OS more matured.
Will it be sold outside the US?
Yes. HP will be selling the Elite x3 in the U.S. with certification from AT&T. However, it is unlocked and can run on any LTE network with supported bands (so T-Mobile should be okay as well). HP is interested in getting it to work with Verizon, but there is nothing yet to announce.
HP will also be selling the phone in at least ten non-US markets around launch time as well, and the phone will support up to 15 different bands and be offered as a dual-SIM device too.
Will this be the only phone from HP?
HP would not give details, but they did drop some signals that the Elite x3 was but one of a few devices in this "family" they are considering for mobile. Different price points, sizes, and spec'd devices are likely coming down the road too, and they do not see this as a one-off for them.
How is the phone?
I only spent around 30-40 minutes with the HP Elite x3, but I came away very impressed. The hardware is premium, and it feels great to hold. It obviously has every spec and feature available today, which makes it quite remarkable.
Regarding size, it is smaller than a Lumia 1520 but obviously packs much more power. It is also shockingly light and thin considering how much technology is jammed into it.
The AMOLED display (likely Samsung) was great looking; the buttons for power and volume were done well, and they phone's styling was smooth and graceful.
When you combine the Elite x3 with the Mobile Extender and Desk Dock, it is an impressive array of hardware.
Would I use it over a Lumia 950 or Lumia 950 XL? I would say there is a very high chance. The Elite x3 has a 16MP f/2.0 camera, which sounds decent enough, but likely does not perform as well as a Lumia PureView. That's fine after all this is a business phone, but that is the only drawback I see. Well, that and no Glance screen.
I think HP did a fantastic job with the Elite x3. Moreover, since it is not dependent on consumers for success, it has a very high chance of making a significant dent in the business world. That is an area where Microsoft's mobile ambitions were jettisoned years ago, so it is exciting to see this device lead the way back.
Need more Elite x3 information? Don't miss a thing by following the stories below!
Elite x3 Photo Gallery
Elite x3 Hands-on video
Daniel Rubino is the Executive Editor of Windows Central, head reviewer, podcast co-host, and analyst. He has been covering Microsoft here since 2007, back when this site was called WMExperts (and later Windows Phone Central). His interests include Windows, Microsoft Surface, laptops, next-gen computing, and arguing with people on the internet.
Wow...... Its just awesome

Wow, 30 global partners. That's at least a million phone sales even before general availability. I work for a big International that buys HP, and it would be awesome to see these in our hardware catalog after we migrate to Win10.

no no no no. 30 partners would at best mean 30,000 devices. I wonder how many would order more than one thousand of these devices, given it is the first of its kind. Over time though same 30 companies can place orders for much more, but reaching a million would take some time.

Exactly. Then again they will obviously (?) market it to many more companies. In any event it is still a tough battle with most companies already heavily invested in iOS and Androids, and in part as the employees want those supported. And this will be an expensive phone even after excluding the marketing costs Daniel pointed out. But if any WM phone has a fighting change to capture the attention of managers, I guess this is the one. And then key can get Lumia 650s for the common folk in their organization. ;-P Posted via the Windows Central App for Android

The Forum is JUMPING with discussion on this one: http://forums.windowscentral.com/hp-elite-x3/

Looks good, so I hope it's not expensive. it can be good for Windows Mobile platform to have this kind of phone and more big name companies supporting the platform, it's always good.

It's obvious that it would be expensive.... ;-)

No doubt it will be expensive..

Nobody is complaining about the plastic this time around. Is it because people became speechless after reading the stunning specs? :-)

It isn't aimed at the consumer market.

Yup, that is a criticism reserved for Lumia phones alone

I think this plastic is more like the old Lumias.. the 1520.. non-removable battery, sealed high quality phone... Nobody complained back then because the device was so premium... This will be the same.

Well, you can take my company's money and shut up.

Kind of a side note, but now that Msoft is kinda pulling back on being a phone manufacturer wouldnt it be better if they made Glance part of the OS and leave it up to the OEMs to include the hardware or not? I mean, its a pretty huge selling point.

Great point Posted via the Windows Central App for Android

And what about Double-Tap to Wake?

Also a good thing to add in.

Double-tap to wake. Plus either iris or fingerprint recognition? I think double-tap is just wasted steps. I think the fingerprint reader will be able to wake the phone and authorize the user. Much cleaner.

This. Although, it would be heavily hardware dependent, as it not only relies on a display with built in memory, but also works much better on OLED versus IPS, as only selected pixels will be illuminated and IPS relies on a backlight (wasting battery power). But seeing as these phones are just now being developed, that could become an unspoken hardware requirement for building a Windows Mobile device.

OLED screens have the other problem of burn ins.

I've had one on my 925 for more than 2.5 years now. No burn in. That is also why Glance moves around the screen like a screensaver.

Which is why it is odd that the new version of glance for W10M doesn't move, the version with the new style battery icon that is. Phones that upgrade to 10 but keep the old version of glance with the old battery icon still move.

It is OLED or just AMOLED as Daniel said? By the way, does it have the Super Sensitive Touch screen unlike the 950 family? I miss that feature big time.

BTW, In enjoying both glance & DTW on my Lumia 1020

I don't think MS would put a restriction to it in any form. Only problem is that glance (inluding double tap to wake) would require some degree of hardware integration as well. So its up to the OEMs if they want that feature or not. That will require some effort on their part to include it. As far as HP goes, it will most likely repeat the phrase of Ingen CEO, Hammond, from Jurassic Park, " We spared no expense". So cost would not have been an issue. They took the specs directly from demands of their clients and at business level. Many might not have been too enthusiastic about glance as we 'mere mortals' are. They might just add it during the time of release or may be in their second or third iteration

Not every company wants their, say calendar showed on their phones due the Glance, while sitting in a meeting or having a lunch.

You can turn glance off. Its still a great option to have though.

Wow! If this certifies for Verizon I know what my upgrade is gonna be.

Can anyone verify if this will work on Verizon?

That is only the problem area for all windows phones. It will surely work with AT&T and most likely work with all other carriers including T-mobile too. However, Verizon acts pretty much like google with windows phones. So it might not work with verizon in the near future.

It eventually will if it hasn't been worked our already Posted via the Windows Central App for Android

Only 10 non-US markets? That begs the question then: When in India?

India may not feature in the list of those 10 countries. It all depends on how open Indian enterpprises are with the idea of replacing their traditional PCs with a phone like this. So far, Indian companies have not shown to much of an eagerness to adopt new or upcoming technologies. They are a bit too conservative for this.

This is freekin revolutionary

How? Posted via the Windows Central App for Android

Sounds like the laptop style dock is similar to the NexDock at just shop on Indiegogo. I wonder if this will work the same for other windows phones? Would be a nice device for my 950 when I travel...

Now I think more OEMs (mostly computer guys like Acer, Toshiba, Asus ,Lenovo , dell etc) will come forward for these kind of things.

Yes, they will have to in order to compete. What HP has here is a sure winner.

No, it not a sure winner. It does have a good chance, but by no means is it given. Posted via the Windows Central App for Android

Acer already has a device, though it is no where near as good as this one. I am aure Asus and Lenovo will also be contenplating this move. They might also wait to see the final device from HP and wait for the success, or failure, of HP before making a move. In fact, it will be easier for Asus and Lenovo as they already have smartphones of their own. So they can produce something like this or better pretty quickly.

No glance? It's just hard to believe that after everything else they put in it that they'd miss that one. Not a deal killer though obviously.

I guess it's not a deal killer for enterprise, but for someone who went from a 930 to a 950XL primarily because of Glance it might just stop me from buying it. If I'm going to own a smartphone, I want it doing something smart even when it's idle!

I agree I think if you like glance screen and have had it and use it, it's a big deal breaker for most. Couldn't see myself owning a phone without it tbh. I'd miss it like crazy, no double tap to wake is hard enough to do without on my 950XL

I see im not the only one asking about Glance. Guess HP wont get my money..

It's not for you,so the complaints mean nothing. You you are not it's intended audience Posted via the Windows Central App for Android

My next phone must have glance and better zoom than the 1020. From the looks of it this 1020 might be my last cell phone.

Even I would not buy a phone without glance and tap-to-wake-up feature. But these are enterprises. Their primary need to is run VPNs smoothly, and still have enough juice in the tank to run their apps seamlessly. All the specs lead to that. Glance is at best a 'nice-to-have' feature for them. In any kind of development, you would just have the must-haves first. good to have things follow up in future updates.

Windows Phone dead, with Hp working with over 30 companies, it lives on even if it does more on a business level..

It's still exposure. And shows that the OS is good enough for business. Remember Apple did the same. They still push hard for business. But windows will always run the business aspect. And HP will help.

Well, think about it this way. It will definitely bleed over to the consumer market. I have a Lumia icon that I got from my job and I use it way more than my personal G3. Being that the 930/Icon is such a good looking phone, I have family and friends always asking about it. Besides, my phone always has the duty of taking pics during gatherings. So that kind of marketing is priceless. People are going to bring the X3 home and family and friends are going to lose it :-) instant marketing!!!!

Exactly. and don't forget how much consumer sales did Blackberry get at its peak. Unlike Blackberry this is still not a Enterprise only phone or an enterprise only OS.

Windows 10 mobile smart phones will stay alive in limited quantities because Windows 10 mobile smart phones are the best smart phones to integrate and use with it's Big brother Operating system Windows 10 which is now on 180 Million Desktop PC's, Servers, Laptops, Tablets, Tablet Laptop Hybrids and ect and more are coming everyday. The Android and Apple ios operating systems are not really compatable With the Full Windows 10 Operating system that is on devices of variuos types that are growing in number everyday. Businesses know this but the general Public and some tech site writer do not realize this. Microsoft is improving Windows 10 Mobile it will be stable and very useful More Universal apps will come for Windows 10 mobile smart phones to use.

Win10 Mobile isn't dead...

I will legit pull out a loan if i have to. HP makes incredible business products

Now I fully understand Microsoft Win10M ... for business. Brilliant HP. Remember the hundreds of articles by the tech "journalists and bloggers: "Windows Mobile is dead".

Yeah... Now they are writing about HP being doomed

My follow-up? Who knows...