HP Elite x3 - Full specs of the ultra-powerful Windows Phone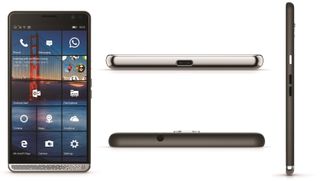 Today in Barcelona, Spain HP announced their return to the Windows Phone ecosystem with their Elite x3 device powered by Windows 10 Mobile. This phone is no common smart device, however. Instead, it is an ultra-powerful 3-in-1 system thanks to its support for Continuum, HP Desk Dock, and Mobile Extender accessories.
Forgetting our analysis and hands-on with the device, for now, we'll let you gaze over the official and full specifications for this flagship-level device due later this summer. Also, be sure to check out our HP Elite x3 FAQ!
HP Elite x3 Full Specifications
Category
Features
Product Color
HP Graphite
Operating System
Windows 10 Mobile
Processor
Qualcomm Snapdragon 820 (2.15 GHz, 4cores)
Chipset
Qualcomm MSM8996
Memory
4GB LPDDR4 SDRAM (onboard) Dual channel x32 PoP 32Gbit
Internal Storage
64GB eMMC 5.1
Display
5.96" diagonal WQHD (2560x1440)
AMOLED multi-touch display
Corning Gorilla Glass 4
Anti-reflective coating
Available Graphics
Qualcomm Adreno 530 GPU
Audio
2 Stereo speakers (one with earpiece)
3 integrated omni-directional microphones with HP Noise Cancellation Software
1 external microphone (from headset jack)
Snapdragon Audio+ support
Audio by B&O PLAY
Wireless Technologies
802.11a/b/g/n/ac (2x2)
WiFi and Bluetooth 4.0 LE combo (Miracast supported)
NFC
WWAN:2G/3G/4G,LTE-A with carrier aggregation 4,5,6,13
Expansion Slots
1 microSD (Expandable up to 2TB)
Ports and Connectors
One 3.5mm 3 and 4 pole headphone jack
1 USB 3.0 Type-C connector
Dual nanoSIM or nanoSIM + microSD card via 3-in-2 card tray
Pogo pins
Camera
16MP f/2.0 FHD rear-facing camera
8MP FHD front facing camera and Iris camera
Available Software
HP Workspace
HP Device Hub
HP Registration and device onboarding
Adobe PDF Reader
Security Management
Elite x3 device has dual biometrics with Iris recognition and Fingerprint reader
FIPS 140-2 cryptography
Qualcomm processor includes Secure Boot
128-bitkey Unified Image Encryption
256-bitkey Full Disk Encryption
Anti roll back
fTPM2.0security; Windows 10 includes 128 key Bitlocker encryption
Enterprise grade VPN
Dimensions
3.29 x 0.31 x 6.36 in
83.5 x7.8 x 161.8 mm
Weight
Starting at 0.43lb
Starting at 195g
Power
10W 5V/2 Aadapter
Non-removable 3.85V battery pack
4150 mAh Li-ion polymer
Wireless Charging
Qi and PMA
Sensors
Ambient light sensor + proximity combo
Accelerometer+gyro
eCompass
Pressure
Hall effect
NFC
GPS
Energy Efficiency Compliance
ENERGY STAR certified
EPEAT Gold
registered where applicable
EPEAT registration varies by country
Durability features
Designed to pass IP67
Providing seals against liquid and dust ingress to IP67 rating
Designed to pass MIL-STD810G testing
Need more? Don't miss our other coverage of the Elite x3 including:
Elite x3 Photo Gallery
Elite x3 Hands-on video
Daniel Rubino is the Executive Editor of Windows Central, head reviewer, podcast co-host, and analyst. He has been covering Microsoft here since 2007, back when this site was called WMExperts (and later Windows Phone Central). His interests include Windows, Microsoft Surface, laptops, next-gen computing, and arguing with people on the internet.
Hallelujah!!! Finally can get a new phone


That's perhaps the best phone on earth! Omg!

Non removal battery + No liquid cooling + finger print.. Beware of over heating guys.. I thinks the 950 xl is still the king here..

It's doesn't need ridiclous liquid cooling becasue it doesn't have the crappy 810 SOC. The 820 is subjectvely leaps and bounds ahead in performamce terms. I skipped any phone that had an 810 in it, 950XL included..

950XL was made to showcase to OEM's what's possible. That's what helped this HP phone come to be. This phone and others after it are what's going to help keep WP alive and maybe even attain more than a couple percent market share.

☺☺☺☺☺☺☺☺☺☺☺☺☺☺☺☺
.............
Yes!

It literally has everything

except for a camera button :(

There isn't one? Dang....almost...but the specs might make me not care

+950... I agree, that's probably the best phone on planet earth right now. The specs are outta this world

Just please. DO A RIGHT marketing,

I know right! They are hp. Hopefully they wont screw up.

They are HP, they're already screwed up.. They have to aim for the fences just to get people interested at all, and that might not cut it.

YES! But late this summer :(

This is a buisness forcused phone not being sold direct to consumers via networks. So in what way do you expect them to market it?

Your're only half right. It is a business oriented phone first and foremost but it will also be available to you and me. See the FAQs. http://www.windowscentral.com/hp-elite-x3-faq

DO A RIGHT? This phone is being sold directly to businesses by HP, there will be no marketing as it's not going to be widely available or sold in stores.

Now that's a flagship! But I think its still a win for MS.

A win for Windows 10 Mobile

It is a win for MS, if this thing sells well and more OEMs (and especially app developers) adopt W10M. Microsoft is a "software and services" company. The hardware it produces are merely reference products--manufactured to show what the software is capable of with the right hardware. MS set the bar with the 950/950 XL, and HP just raised it.

Not a problem. Lumia is meant esp. the 950 and XL to be a market starter.

Lithium Ion Polymer? Now that's cute! :D

It's now undead and looking for hosts.

The Kitchen sink!, Really curious how they managed to do this, amazing.

Wow looks great with great specs.

Sd card up to 2TB? Holy crap!

That's the limit for SDXC, currently MicroSDXC only goes to 200GB. It'll be a long time till you see 2TB MicroSDXC Cards.

Toshiba is developing a 500GB microSD card and will hopefully be ready by Q3 2016

Damn this phone will even put android flagships to shame

It will when it is released.

It can only happen in dreams, do you really think putting top of the line hardware makes a phone inevitable? It will never be a good Phone because of this Crapdows OS :-(

Absolutely...up yours. =[

oh, Please humor us on what is better? IOS? nope...thats a crap OS made for 12 years to snapchat and douchebags to share selfies.....andorid? NOPE, unsecure, laggy on all but every phone its ever been on. Windows is much better that both of them.

Hi troll. Now hand over the keyboard to daddy and go to sleap again.

Coming from an avid Nexus user.... This is a heck of a phone I wish I could get my hands on... Posted with the Nexus 6, Nexus 5, or Surface Pro 3

Ha-ha me too. Posted via the Windows Central App for Nexus 5x

Hardly mate. Pretty much the same specs as the other flagships. Posted via the Windows Central Beta App for my Lumia 950 XL

This phone seems to have everything

How much we have to pay for this device?

LOL man, you made my day.

According to some it's a Zombie OS so, brains...

Looks like a great replacement for my somewhat disappointing 950XL.

I know right. But hey. If you are planning to throw away your 950xl, please rather give it to me. :P I had saved a lot. And then when 830 had launched, I had bought that. Now I just want a better phone. Lol.

there are people in the forums selling their W10M devices. Check there for all the sales

yeah me too. I'm terribly disappointed with my 950XL. but I'm already hatching out a master plan to push out my 950 XL to my wife and get this when it comes :-)

I really feel bad for hp :-( soon they will be very disappointed by the sales of this phone :-( cuz no one will buy it :-( Sorry hp :-( crapdows Phone will break your heart :-(

Lol u are wrong
Enterprises will fight to get their hands on this

Enterprise buying $800 phones in large quantities? Doubtful. Posted via the Note 4/Nexus 7 (2013)/Lumia 1020/Lumia 2520

Enterprise won't spend that kind of coin on phone...? Why do so many of them have iPhone then? On which planet is that a cheap phone! If you have HP as your hardware supplier the phone won't cost 800$ and it will work great with the rest of the HP line

Most of the companies around me switched to 5C's, so... There may be a few companies to hand out premium devices, but HP can't live off them. Even in business, mass market is key. Posted via the Note 4/Nexus 7 (2013)/Lumia 1020/Lumia 2520

Our company has about 20000 employees and we use pretty much all HP (even ProCurve but we're moving to Cisco for that). I'll be presenting this to my manager as we've looked for a solution like this for our company's manager. We have managers that move between sites and notebooks are too heavy. We can get these docks with monitors and input and have people hot desk their phones in them. Also, I don't know what the AUD price will be, but we never pay retail. This phone and the its dock seems like a good for for us.

@WreckItChamp, alot of people forget buisnesses don't pay rrp lol. If the thin client dock takes off, we should alot more hopefully NexDock is working one. This will give Continuum a two pronged approach - the UWP platform and Thin Client docks.

Not really (@forgetting business get price breaks). A cheaper phone is still a cheaper phone. I'm not saying they don't exist, but companies looking to buy for 10's of thousands of employee will usually opt for less expensive devices. Posted via the Note 4/Nexus 7 (2013)/Lumia 1020/Lumia 2520

@Blacklac. To be honest, phones of this calibre are usually given to top tier executives. However you need to take into account package deals, HP is offering virtualisation along with this device. Furthermore HP does have other enterprise products that they can leverage.

Several large scale enterprises were working with HP and MS on this to scale out a WM device to their companies. Otherwise HP would not have gotten involved. Read all the artcles about this.

Just watch the space, you're gonna eat your words.

This is not a consumer phone and won't be sold in retail stores. Please read the rest of our coverage to understand that. This will be sold to companies en masse and HP already have 30 companies signed up to test-run it. In other words, you analysis is wrong.

"test run" not officially give to their employees or whatever... Out of 30 not even 3 will make it final. the "ONLY REASON" the C(Crapdows) OS.

Lol... Desperately trolling...get outta here, you can't bring us down today troll... :D

It's"truth" :P no trolls here :P

What is "truth"? You said "Out of 30 not even 3 will make it final". How can you say something is true when it has not happened yet? What is true is that you are a troll.

Then go and **** android or ios

I think you commented on wrong site... //Grab Popcorn

Shut the hell up dude.. You are being bitter because you can't afford it. I don't blame you but you should be grateful with your low end Lumia. :)

You might think it again :-) I know what I can buy :-)

Prove it then, buy this phone and post your picture with it. Even faking it in AT&T showroom is OK. But then you might not have a AT&T showroom in your country.

No, I don't have to. Pretty sure you can't. Yeah.. That's me talking sh*t about something that I clearly have no idea. Just like you did up there. :)

Did they pay this idiot to troll cause he's way too into?!

Thank you for your valuable contribution to my "load of crap" comment list ;-)

If you hate the windows OS so much what the Hell are you doing on this site other than being an obnoxious (and obvious) TROLL

Kamesh you are an ass, never have anything constructive to say, only slagging windows off go play with your nex P good girl.

Awesome specs. Only 2 things about it to me, if it were consumer released, would be the size(needs a 950 size variant) and the non removable battery. How will the battery be addressed with corporate customers? However...I see HP using this along the same lines MS is attracting corporations thru their business cloud expansion. HP can tool the prices down by selling customers on HP made enterprise needs that work with this phone.

Someday Windows Central reader community will crowdfund an Android phone just for this Troll

Either that or theyll repose existing inventory loading windows embedded

Another troll post from the Kamesh Kotwani signature. Are you by any chance paid by the outsourced iCrap support ?

Does she run on a Verizon Network?

Check the other post. They said its in talks. No final result out.

Thanks! HP and Verizon seemed to get along several years ago. Not looking for Verizon to carry the device, just network support.

Specs seem awfully close to an 820 updated Nexus 6. Wonder if Huawei is the back end maker of this device.

No, this is made by HP. Huawei was not involved.

Most phone specs seem similar. Lol Posted via the Note 4/Nexus 7 (2013)/Lumia 1020/Lumia 2520

This needs to be on all carriers no doubt

Maybe not, if perhaps MS gets cellular data off the ground..?

Ow my god thi is a top phone anyone know how much it is

Nice specs, good looking phone, I like it! And thanks for "Dimensions" in mm :)

waw.... it's a great device.

Omg...omg...omg...omg...i want this phone...

Wow! I thought my Lumia 950 was a powerhouse, but this phone is amazing! Might even try to sell my 950 and get this phone later!

Haha! That's the best phone on Windows 10 Mobile I've ever beard! So far other phones seem to ne like toys! Great job HP! Hopefully, there will be full suport of Software and accessories.

* heard. * me.
Oh and yes, there is full support for accessories! It's amazing!

Now that is a flag ship phone!

OMG!!! This is the most powerfull, most feature complete phone in the world!

It's about as powerful as any other 2016 flagship that's been announced but hasn't started shipping yet. Posted via the Note 4/Nexus 7 (2013)/Lumia 1020/Lumia 2520

Now give it to me. It want it really bad.

Hmm, sort of regretting getting the 950 now... But on the other hand, HP cameras were never really good, and that is very important on my phones :)

Interesting. I thought the mobile edition of Windows 10 was 32-bit only? Can anyone confirm?

W10m update redstone will come with 64bit support, so that's the reason they provide 4GB of RAM on this phone.

I seriously hate HP products but this is GOD of all phones

UniZebraHP Products aren't all that bad, same applies to all other OEMs although there a more than a few exceptions :P.

Nice specs overall. The camera specs seem pretty mediocre though. Not bad, but just below average for a windows phone.

I'm sure camera was one area they didn't go all out. Have to make up for the other features somehow. Unless this is a $1k phone... Lol Posted via the Note 4/Nexus 7 (2013)/Lumia 1020/Lumia 2520

OMG! HP stop, you're killing me! No, go ahead, kill me! OMG! What a phone!

Looks awesome. Hope it comes to Verizon :)

Will the surface phone have the same specs?

Why not? These specs are on par with every other flagship that will come out this year. I actually expect equal to more from a "Surface Phone". Processor may not be quite as good, assuming Intel, but feature wise, I expect as feature packed or even more. Posted via the Note 4/Nexus 7 (2013)/Lumia 1020/Lumia 2520

HP has set the standard very high for MS. considering MS's past phone track record it is highly unlikely surface phone would outdo this manstor by a huge margine. Mybe they will come up with similar phone if not a better one. still it shows HP is a competative hardware company.

Oh Microsoft! Will you finalize the OS this year or people are gonna see such a powerful hardware go waste?

It's the dual channel memory that makes this phone fast!

Brock Lesnar of Windows Phone world!!! What a beast

All the specs in the world are not going to take away from the unstable, incomplete OS and the non-existence of services. Same old issues in a glossier cover.

What services are you referring to? Is this referring to the "no apps for windows phones" even when there +500k apps in the app store?

Please elaborate your statements instead of these mindless oneliners.

Contract is ending this year. There's a possibility for an upgrade...

@Ejay Lozano. A cache of Toms Hardware page apparently say's it's going to be launched in August.


Qi and PMA!!! This phone is a monster the 950xl should have been.

Device puts all other Windows phones to shame. Especially MS...specifically the 950's.

I dont want lumia 950.... Haha. I want this phone hp elite x3 xD

The spec list of this phone alone os ridiculously long! Haha

Whats the pressure and hall effect sensor?

The pressure sensor is AKA a barometer which can aid GPS and possibly weather apps. I forget what a hall effect sensor does...

Hall effect is generally used to measure magnetic field strength.

Ooooooooooh! Shiny :) I'm sure there won't be an app for that but imagine Cortana alerting you that you've been under a power line too long and should leave before increased risk to your health (grasping for straws)...

The question is how the OS works in it. Better? Worst than MS? Hmm...

It is a monster. The only less impressive point is the camera, the rest is awesome.

Perhaps... its whar they can do with the pixels thats more relevant than pixel count... but f2.0 seems more than decentt

By the time this phone os out hopefully W10M is done sucking! Please have a OK camera then this will replace my 950Xl. I dig the large screen and B&O sound

Lower case "p" in Windows Phone please, when talking about a phone that runs a Windows operating system. Capital "P" when talking about the OS named Windows Phone. This device doesn't run the Windows Phone OS so even stretching it, without referring to Windows 10 Mobile, it still wouldn't be a Windows Phone, it would be a Windows phone. I'm just mentioning this as this is the premier Windows site and it appears that Daniel is the last person on the site to incorrectly capitalize the word "phone" when referring to a device type. It isn't iOS Phone or Android Phone when referring to the device type and the OS is no longer Windows Phone either so we can't stretch that into accuracy anymore either. It simply should be Windows phone, when referring to a phone that runs Windows, just like Windows tablet, Windows laptop, Windows desktop, Windows 2-1 and more. Nothing earth shattering but hey, I want this site to set the example for all other sites and to see the device type being capitalized when it shouldn't be and pointing that out is just in efforts to help what I consider to be the best Windows site (lowercase "S" :) ).

Haha you win for being the *only* one who understands MS marketing/branding :)

Non-Removable battery is a deal breaker for me.

Yeah go ahead buy an IPhone or an S&.. :P.. Dude stop complaining

But it has a large battery 4150 mA, quick charge 3, PMA and Qi and is water "resistance" so why should it have a removable battery.

Well Surface team, there's the bar. It's set pretty freaking high, so you'd best bring your A game.

This is what the 950/xl should have been

WOW!!!! This is what can increase the market share... again depends on the OS now.. there is no excuse for the hardware to be the reason for not being able to increase the market share.. .if they price it within the rediculous price of the lumia.. it will be a Lumia killer for sure... Lumia are 50% overpriced.

A perfect phone in every possible way.

Availability in August, and apparently to businesses only, makes it less than perfect.

The beginning of something great!! Finally!!

This is the ******* best phone on the planet, now that's how to make a premium phone, where the hell is G5?

Even the galaxy s7 can't even match this spec. Surface phone has to do better

Spec wise it's pretty darn similar, except the Samsung has a smaller battery. EDGE model has ~3600mah I believe... But you know the Samsung camera will be better. So it guess they trade blows. Good luck beating a Samsung flagship display, too. Samsung obviously doesn't have the fancy speakers, but I'm not giving that to HP without hearing them. Fancy marketing doesn't assure anything. Posted via the Note 4/Nexus 7 (2013)/Lumia 1020/Lumia 2520

If this Smart phone does come to Verizon and is the Only Flagship Windows 10 Mobile on the Verizon network I will buy it. There are people who still think Windows smart phones are Dead I donot agree with the .I think Microsoft and some of it's OEM partners will continue to make Windows 10 Mobiles or Surface Smart phones if they become a reality because they are thye BEST smart phones to intgrate and use with the far bigger FULL Windows 10 operating system that is now on over 180 MILLLION devices like Desktop PC's, Servers, Laptops, ultrabooks, tablets, Tablet Hybrids, The MS XBOX , IOT devices ect. -Android and Apple IOS devices are incompatable Winth Windows 10 devices, Bussinesses know this. most IT Professionals know this and see the Value of Windows 10 mobiles smart phones even though the General public and some tech site writers do not

It WILL NOT be sold through carriers.

Wow! This looks like a great device. The only thing keeping me from def wanting/getting it is the potential of an intel powered device and what that would mean with windows 10 Mobile.

Surely the best phone on earth.

I am a little chocked by this phone.

Curious what all the other tech sites have to say about this phone. Probably frantically bashing this phone out of fear, lol.

They are probably marveling that HP's mobile death wish seemingly survived the Palm fiasco.

Well, this is not a bad way for them to reenter the mobile space. Let's hope MS can make W10M a little more enticing before it's released because it looks like HP has done their part.

Yes Cnet and Techcrunch has called it as Hp's demise!

Pressure Sensor and Hall Effect
What are those?

My 950XL is going to my other half as soon as the X3 is available. The X3 is everything the 950XL should have been. Perhaps MS shouldve collaberated and said the X3 is the Surface phone.

X3 will also come to (a limited) market about a year later than 950/XL.

Microsoft with a noose around its neck!

Iris and fingerprint recognition !

Now that's a flagship the people are clamoring about xD

My parents worth enough for this phone? Slavery is forbidden in every country where this phone will be shipped?

If it supports the use of a stylus....this could be very interesting indeed....I could leave my Surface at home.

The Surface phone has some serious...VERY serious competition. Based off this spec sheet, there's just astounding impressive wonder how they managed to squeeze so much power into it...absolutely amazing work done by HP.

BEST PHONE EVER !!!! OMG OMG OMG

Argh, if only MS would let it support glance it'd be the perfect phone. Just like the HTC One M8, no glance is a deal breaker for me :(

It's probably up to HP to license the tech from Nokia.

Wow, now that's what I call flagship! Just sell EU LTE variant, pleaaase!

Finally another 6" er! But price? My guess close to $1000..

All that for £275.99 very good price

My dream phone. Must have now!!
I'm sad I didn't wait a little longer before I switched to a Xperia. Just started a new contact.

Amazing phone. My next mission, getting one of my own. Thanks for the story Daniel.

Sweet but i have to ask will this be exclusive also Posted via the Windows Central App for Android

Meh. First, it's ugly as sin. Second, it's way too big. Third, no glance. Fourth, a VERY lame camera. Fifth, it's Windows 10. I'll pass.

I agree that the screen is way too big. I compared the 950 and 950 XL side-by-side and the 950 wins hands down in terms of screen size. The XL is just ridiculous, and this mobile is even more so. However, having used Windows 10 for 2 days now (I bought my phone on 29/02) I really don't see why you would see it as a negative. It's basically the same as WP8, but with a few improvements - what's the issue there (genuinely interested)?

It's like no one who posted here realizes these specs will be on par with most other Flagships this year. I'll give it to HP on that large battery though. Posted via the Note 4/Nexus 7 (2013)/Lumia 1020/Lumia 2520

This drives me crazy af windows phone with these specs !!! Eagerly waiting for what panos has to show

Me want one! I hope it doesn't breach the 30k Php mark (around 600 usd). Posted via the Windows Central App for Android

...this should be the MS' flagship for W10M, just like what they did to HTC 8X series

This ... I ... everything :-o

It seems like some of you can't read. It has been stated, ad nauseum, and also by Daniel, here, that this phone is targeted at the corporate customer and will not be sold retail to consumers. Perhaps that might change but for now, there you have it. Can we now stop talking about regretting buying 950s and 950XLs?

Really? Because this article here says consumers will be able to buy it. But, whatever. http://www.windowscentral.com/hp-elite-x3-faq

Stop making idiotic garbage up seriously.

Targeted at businesses yes, but just not marketed to consumers - that's the difference. It will still be available to retail but likely without carrier subsidies.

I'm not a fan of the fingerprint reader on the back. I know that it helps the aesthetic of the front but it's not as functional. One of the issues I have with the iris scanner on my 950 XL is that I can't use it to unlock the phone while it's lying flat on a desk or the like because it can't see my eyes. A fingerprint reader on the front alleviates that issue but if it's on the back then you absolutely have to lift the phone. It wouldn't be as big a deal if the 950 XL supported double-tap to wake but pressing the power button and then entering the PIN is, in a first-world-problems way, a bit of a pain.

I actually like it better on the back. I have an iPhone 5S and a OnePlus2 with home button fingerprint scanners on the front and a Nexus 5X that has it on the back. I find it much easier to unlock the Nexus, as you're pulling it out of your pocket with one hand you can easily place your finger on the scanner instead of fumbling around for that home button. The phone is already unlocked by the time you're looking at it. The iris scanner on the 950XL is too slow so it's nice to have both on this new HP. Of course, it's a personal preference

O M G!!!! That phone just beat my laptop by a great margin. But most probably this device will fail.

HP going to launch window phone 10 with power full specification but I want to know this phone launch in India..??
This phone get Microsoft firmware update regular like Lumia phones...??

Non removal battery + No liquid cooling + finger print.. Beware of over heating guys.. I thinks the 950 xl is still the king here..

I just wish it had, hmmm, nm, this phone has EVERYTHING!!! Seriously, that spec list looks like a fanboy's fantasy spec that is never meant to show up in a real phone...

This phone is deadpool :p

You forgot the one spec that matters: Cancelation and end of support 49 days after release.
I wont even buy this during the inevitable fire sale.
8/18/2011: Never forget, Never forgive

Now just Ms should make the software to match this Beast .

what's Hall Effect sensor?

wow, the spec is so powerful..

Dang. That's a hell of a phone.

This is great for the Enterprise market. Thank you HP. I have no regrets of my 950XL at all.

What a sexy phone, and sure is a beast.

Soon, apps will be overloaded!

Will definitely burn holes through all my pockets if I decide to get it!!

Microsoft Common.......I m thinking if they planed to make curved display phone in there coming flagship

Wow will this come in dual sim?

Yes, it has a Dual nanoSIM or nanoSIM + microSD card via 3-in-2 card tray.

Best phone ever! Feels so good!

I thought I would never be excited by a HP product and actually perhaps even wanting to get one. But this phone is nice!

Anyone knows where to get that red bridge wallpaper? Posted from Windows Central for Windows 10

Thank you Hp...I can now walk with pride as a windows fan, having this device.

I think hp just revieled my new windows phone :3 hahah suck it microsoft ! That's what I lal innovation and that's a worthy upgrade from my 1520

This looks like the one I've been waiting for.

Wow. Wow. Wow. Ah, now if I could live with the sheer size of it, I am otherwise sold. This is a worthy successor to my L930, at last! WP enthusiasts rejoice!! It literally has everything and still looks sleek and pretty. Make no mistake, HP are being very clever here, learning from the mistakes of Nokia. By positioning it squarely as a business device, they can go after the enterprise market through all their existing and established partner channels without having to subsidize lots of inventory or wait for consumer demand to peak. At the same time, since they have created a ultra-flagship monster, word of mouth and sites like this go viral and will do all the marketing for them on the conumer/retail side. And meanwhile, carriers won't need to try and sell so will have very little to lose.

Where can one get that wallpaper?

If this finds it's way to supporting Verizon's network this will be my next phone as of now.

Sweet! If only it came in 5 inch :( I can't do anything over that. Already tried the 1520 with great frustration.

Amazing Windows Phone! Too bad the platform isn't healthy. Wonder if they can match their iPAQ days

I'm usually a Mid-Low Range Phone user but this phone is incredible i would definitely get this phone. This phone is so powerful it would probably still be on-par in qualtiy 2 years from now. If more WIndows 10 phones like this release and made available to everyone Microsoft could really make some noise.

If only W10M is as powerful as the specs of this phone. hmm... hoping one day W10M would be powerful, efficient, bug free, feature packed and bring back the same joy of using 8.1.

So all in all, this is the flagship phone Microsoft should have actually launched to showcase Windows 10 Mobile instead of those 2 unfinished flops called Lumia 950 and 950XL.

The screen is waaaaaaaaaaay too big, but otherwise a nice phone. I passed on the 950 XL because it was ridulously huge... the 950 is damn near perfect size, although it took a bit of getting used to after upgrading from a 4.2" device.

Love the specs. My biggest worry is it will be like the 950/950XL series and only be for GSM. Verizon Wireless better not screw up and pass on this. It is what a business-class phone should be.

I just want a 5, 6 or 7" phone with dual SIM and a SD slot, that can run x86 programs and can record 4K.
That will be my dream phone.

I just want a 5, 6 or 7" phone with dual SIM and a SD slot, that can run x86 programs and can record 4K.
That will be my dream phone.

It'd be perfect if it were using UFS instead of eMMC.

It looks like a very nib phone but I do have the same issue as the others mentioning the battery, wireless charging may allow a work around for swapping out batteries and having to turn the off but, after extended use over time decreased battery life becomes a big issue. Intergration with Google App Store needs to be done by Microsoft to increase the range of apps available to Windows phone users which puts off many customers. I love Windows phones but barely get to use mine as I'm forced to use another platform primarily because things like communication preferences of colleagues and customers. Sometimes a written record of group chat meetings taking place across time zones is needed and Skype is not a choice open to me, it's a real shame and something that needs addressing, I can't always use a lumia in developers mode to to load up the Google play store, something that does in general work so makes little sense alienating customers.

Folks you can bet that Microsoft is watching the sales of the HP Elite X3 real close and is going to help HP as much as they can. Microsoft must now step up it's software to match the power of the HP Elites hardware.. folks Microsoft Windows 10 mobile smart phones have 4 things great about them 1=MS Universal Apps which make them use the same Apps that a Full Windows 10 PC/Laptop/Tablet Computer can use.. 2= The Windows 10 mobile Continuum mode which converts a Windows 10 mobile smart phone into a Pocket PC like device. 3= Windows modern UI tiles which updates the data that's inside them. The tiles may look ughly to some people but they are unique to Windows smart phones. 4=They will be the BEST type of smart phone to integrate and use with Windows 10 Computers of variuos kinds which will be the dominate computers in use in the world.
Windows Central Newsletter
Get the best of Windows Central in in your inbox, every day!
Thank you for signing up to Windows Central. You will receive a verification email shortly.
There was a problem. Please refresh the page and try again.