In-depth with the HP Elite x3 Desk Dock and Lap Dock accessories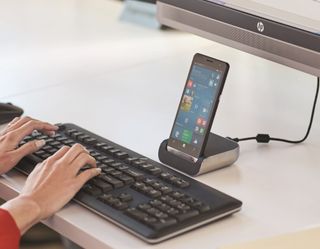 HP announced their new Elite x3 smartphone powered by Windows 10 Mobile and while it is super powerful (see the full specs list) it's the two docking accessories and Continuum that earns it the "times 3" designation.
Let's take a closer look at the Elite x3's Desk Dock and Lap Dock laptop.Don't forget to check out our HP Elite x3 FAQ too!
HP Elite x3 Desk Dock
The Elite x3 plus Desk Dock and Windows 10 Mobile means that you can use Continuum to an external display. That means you get to run Windows 10 Mobile as a mini-computer and take the phone with you when you're done. Although the Elite x3 cannot run "classic" desktop apps, it can run them virtualized through HP's onboard software and external cloud solution.
The HP Desk Dock is similar to Microsoft's Continuum display dock for the Lumia 950 and Lumia 950 XL (and yes, that accessory works with the Elite x3 as well), but it steps it up a notch with a few notable features. For instance, the HP Desk Dock has a Kensington Security Slot (aka Kensington Lock) built in as well as an Ethernet port.
Swipe to scroll horizontally
Category
Features
Ports and Connectors
1 DisplayPort
2 USB-A
1 USB Type-C
1 RJ-45
1 AC power
Dimensions (w x d x h)
4.25 x 3.74 x 1.2 in
108 x 95 x 30.5 mm
Weight
15.87 oz
450 g
Power
45W (5.25V/3.0A) power adapter with 1.5m cord length
Security
Security lock slot
The Desk Dock is also less mobile than Microsoft's solution, which is by design. This dock is meant to left on a desk with a monitor and keyboard as a permanent setup. Sure, you can move it at any time, but due to its weight, it is ideally a setup once type device. In fact, the Desk Dock feels as if it could be made out of stone it has so much heft to it - it weighs in at 450 grams or just under 1 US pound!
The Desk Dock has a lot of chrome on it, and it matches the Elite x3's exterior design. The dock drips with a high-end quality feel that makes it look elegant too. The Elite x3 is propped up by the Desk Dock so that you can use Continuum on the larger display but still operate the Elite x3 as a standalone smartphone including taking calls.
And, of course, the Desk Dock rapidly recharges the phone using the Qualcomm Quick 3.0 technology through its USB Type-C connector.
There's no price yet set for the HP Desk Dock, but it will be sold in conjunction with some Elite x3 packages.
HP Elite x3 Lap Dock (formerly Mobile Extender)
Of all the accessories for the Elite x3 the HP Elite x3 Lap Dock is certainly the coolest. The term 'mobile extender' is an accurate description when you realize how it works, but it is more easily thought of as a folio or light laptop.
The Lap Dock is a 12.5-inch 1080p (FHD) LED display with a keyboard, 47 WHr battery and some ports and speakers.
It has no processor. It has no RAM. It has no storage.
Instead, users will connect to the Mobile Extender using the Elite x3 and wireless Continuum (or wired if preferred). Since Windows 10 Mobile can scale-up to a full PC, the Mobile Extender becomes like an ultra-light laptop.
Swipe to scroll horizontally
Category
Features
Display
Virtually borderless
12.5-inch diagonal LED-backlit
FHD (1920 x 1080)
Audio/Visual
Integrated Bang & Olufsen stereo speakers
Integrated noise cancelling microphones
Stereo headphone
Ports and Connectors
1 USB Type-C (data; HP Elite x3 docking/charging)
2 USB Type-C (data; power in/out)
1 Micro HDMI
1 Stereo headphone jack
Input
Backlit, spill-resistant keyboard with drain
Touchpad
Dimensions (w x d x h)
11.37 x 7.83 x 0.54 in
289 x 199 x 13.8 mm
Weight
Approximately 2.2 lb (1 kg)
Power
Battery: 4-cell (46.5 WHr) 45W
USB Type-C power adapter
Combined with HP's virtualization server software (HP Workspace) and companies can run desktop legacy applications through the cloud to the Elite x3 completed the Continuum experience.
Overall, HP has done an excellent job with the Lap Dock, which nicely matches the exterior aesthetic of the Elite x3 for a winning and elegant combo. Throw in the Elite x3's powerful Snapdragon 820 processor, 4GB of fast RAM, Universal Windows Apps / HP Workspace, and the Mobile Extender could be one useful tool for those in the enterprise field who want a true all-in-one device.
Wrap up
What makes the Elite x3 such an enticing and exciting product are not just the phone's hardware but the complete accessory ecosystem that HP has built up around it. The Desk Dock and Lap Dock are the x2 in the Elite x3's arsenal and when you add in the pogo connectors on the back for custom 'sleeves' for the Elite x3 and this phone is a big entrance for HP and Microsoft into the mobile business world.
For all of our continued coverage of the HP Elite x3 make sure to bookmark our main topic page: windowscentral.com/hp-elite-x3 or jump into our HP Elite x3 forums!
Windows Central Newsletter
Get the best of Windows Central in in your inbox, every day!
Daniel Rubino is the Editor-in-chief of Windows Central, head reviewer, podcast co-host, and analyst. He has been covering Microsoft since 2007 when this site was called WMExperts (and later Windows Phone Central). His interests include Windows, laptops, next-gen computing, and for some reason, watches. Before all this tech stuff, he worked on a Ph.D. in linguistics, watched people sleep (for medical purposes!), and ran the projectors at movie theaters because it was fun.
God I hope that Mobile Extender (I don't see why it wouldn't be, but I'm on mobile right now) applies to all Windows 10 Mobile devices with Continuum. Insta-buy for my 950.

I really can't see why it would not work with a 950. Continuum is pretty standardized.

Yeah, I just did a double check and found myself gladly corrected. There goes all my money :')

So now you're just Sean_07?

Lol, you got me. I'm going to be good as broke here soon

I know right. This week is going to be exciting!

So exciting. My girlfriend is getting irritated with my excitement already

How much would that be? Awesome to see oem partners come with such cool hardware!

I really hope the 950 will fit on this desk stand, I can't find a stand up cradle with continuum features for the 950, I can't believe ms did that **** of a dock...

Have you seen Nexdock? It was a kickstarter that is basically the same thing and works with all Windows Mobile 10 Phones. http://nexdock.com/

This is a step in a direction I like. The only thing i miss is the USB-C on the nextdock. Wouldn't it bee great if we could have that and gett Continuum on the nextdock wired and charging the phone? This would bee a salesman's dream.

If Apple's HDMI and USB adapter for the MacBook 2015 works with the Lumia 950xl, HP's dock, which was designed for Windows 10, should work as well...

My excitement can not be contained

A windows 10m + continuum + laptop-like device would be the next "thing". I guess. Nice job MS.

Too many things to carry!?

On the contrary. If you need to carry a phone and a notebook this will be the same count-wise but the "notebook" part will be lighter and cheaper as all the processing will be offloaded to the phone/remote workspace.

You can edit your 'main' files at a cab/bus/train, an elevator, factory, basically on the move without having to open the laptop part. And also without a good internet connection, by files not necesarilly be on the cloud!

That depends on the nature of your work. I don't suppose you will do intensive or precision work like CAD ro graphics on the go. For emails and documents, continuum works well. But I do admit there are use cases where this setup would not be enough but I don't see many of them.

It all depends, perhaps you can pair to a cloud computer that packs enough power.

That is the part where HP's Workspace software would come into play. For companies deploying this type of a setup, they would have the CAD and other processing intensive applications running via that to enable it for workers on the go. So even from the phone you will be able to use your legacy and high processing apps without having to run a high end PC. Microsoft and other companies have been working on this type of a setup for years. HP has just put it all in a very nice pretty package

I have been saying for a while, CAD needs to virualized. It will save companies money on license and have to issue out fewer powerful machines. ANd since it will be dedicated machine only running CAD, it will crash less often. SO YES, you can get one of these too.

Finally finally... I love you

Give me one already and take my lumia

Man oh man if this goes carrier-side... more devices like this from more OEMs and I wont have to even consider W10M market share an issue, I'll be too busy getting stuff done!

Something off about that Desk Dock AC adapter spec. 5.25V at 3A = 15.75W. Most likely the 45W comes from the laptop dock battery?

USB-C has capability to transmit up to 10A of power

A 3-in-1... that's what I expected of the Surface Phone. Now HP has done it before and I like it! :)

If the Surface Phone is a fraction as good I'll go insane. I was gonna buy an S7 next month because why not, but now I'm just gonna turn the livestream event off and read up on this. Carrier support or not, this product is legendary to me based on specification alone. The attachments are just more and more cause to stay with W10M.

The computer industry can stop here. HP won. Simply awesome, take my money now.

Right? I love Microsoft hardware (although it appears they sometimes don't) but please, that Laptop dock and lovely spec work by HP alone made this far more exciting than the S7 launch!

After years of thinking HP to be a mess on hte hardware side, this is really cool. Granted, HP has 0 chance of getting into my wallet after the last time I dealt with them, but this is something I would potentially recommend others try. They're doing essentially what I've been saying MS shoudl do with the Surface Phone, though I think they could/should aim for more of a Zenphone setup with a Surface chassis. The potential for this OS seems to be finally getting recognition, and it's impresive as hell. I wouldn't be surpised to see Apple look at this and release and "iPad Core" or something to use with the iPhone in a similar way this year or next.

Oh look they took the Motorola Atrix lapdock idea from 5 years ago.... Posted via the Windows Central App

Except they added cloud virtualization of x86 apps, that's pretty damn huge for business if it actually works well.

Every body took Motorola's idea of mobile. Your point?

Looks like they left out the touch screen as well. It was annoying with my Motorola Lapdock to not have a touch screen.

More like they dust off the Palm Pre folio concept. they was what Palm planned unit HP bought them out and killed web O/S. Still left a bad taste in my mouth.

I had the same first thought. The Folio was such a cool concept. (Would have liked to have seen a touch screen on this ME, too.)

Woohoo! Fallen in love with this.... Its an incredible amazing job by hp.

If I'm lugging around this mobile extender why wouldn't I just carry an ultrabook with a much more powerful CPU and more RAM? It better cost like $99 or else there's not much point.

This. We have had these sorts of devices before, which have failed because if I'm going to carry around the form factor anyway (tablet, laptop) it better perform like the best of breed, or be really cheap so it doesn't matter. Else, what's the point? Onedrive makes our files available across devices anyway. Posted via the Windows Central App for Android

Guess what, I travel a lot on vehicles without access to WiFi and I'm not allowed to tether. On the contrary with this as the phone is doing all the heavy lifting my network can't tell the difference and if they have a go I can say it's my phone connecting to the internet and the laptop is literally just a screen keyboard and mouse, not some separate device that is its own thing. So this device is perfect for me if it will work with my Lumia 950.

this. its an all in one. :)

Start writing your email or Word document on your phone. Plug in the screen and carry on seamlessly. One device to secure, one place to store your files. One upgrade gives you a faster PC. One business app runs everywhere. When the pricing is right, people will start to use this.

You just answered your own question. The point IS that it won't cost the price of an ultrabook.

Cost and weight. Just like the dead Palm Foleo. It have to be cheap enough while performing as good as two devices for business needs.


How does the Elite X3 connect to the Mobile Extender? Hope it's wireless and works with the 950xl. Seriously cool.

Wow, HP thought of everything.

a cheaper alternative: https://www.indiegogo.com/projects/nexdock-turn-your-smartphone-into-a-l...

yeah... no. take a look at reddit or just a general search and you'll see a history of this company looking for backers on products that never saw fruition of even a simple confirmation of service or otherwise. not only this, but last time I checked, nexdock was not being made by a reputable hardware OEM that has extensive experience and expertise into making laptops, period.

While the phone is AMAZEBALL, I don't see the shell going anywhere. I mean who is going to be carrying a shell everywhere they go. I see more use in the dock, at least that has an ethernet port. The shell must be a strictly business option. I can see the dock as a business/consumer option because I type this from the home office keyboard/monitor and Microsoft Dock combo.

Students, Corporate directors, factory operators, salesmen, even waiters! They all need their local safe files to work on while on the move, then just dock it and keep working!

Student here. Can confirm, for basic schoolwork this would be a godsend. When I need to access SAP clients and such later next year however...

"Of all the accessories for the Elite x3" Are there more than these two?

If I recall, Palm had a similar concept more or less 10 years ago. I suppose it was part of the patents HP acquired when he bought the company. Nice to see they made something out if it.
Edit: It was called Palm Foleo but they abandoned the project 3 months later after the first introduction.

You mean Palm Foleo ? ( http://www.treocentral.com/content/Stories/1220-1.htm ) But that device have its own OS that constantly sync to the phone.

IMHO that is what W10 family should looks like.

What I meant is it was quite not made to work on its own, bit was working more like a phone companion.

Mobile Extender lacks camera? Great for video conferencing..

that should be how the conntinum display dock should look like.

This is very interesting. So much innovation happening in the Windows eco-system these days. It's very business-focused innovation, but I think that is the right way to go at this point. Now if Windows Central could just fix their comment widget so that it would stop dropping characters I type.

nexdock another extender ! WP made way for new devices.

The wireless connection is nice but it still needs to plug-in for the battery. It would be nice if the phone could physically dock to the ME so its out of the way. Lego or magnets on the back/side for example. But this is great. I don't need a laptop and continuum still needs another monitor/tv. The ME dock can be in the living room for casual phone use when not on the go. The next step is to have the screen detach and become a tablet with a wireless connection to the phone for processing.

The laptop extender is wireless. How awesome is that!?! You don't even need to pull out your phone just open up the laptop and goto work like it's no big deal. It's like someone time travled back in time from 5 years from now and gave it to HP. Every part of this product, every piece of hardware is gushing with innovation. I can't wait to see what is next. This really smokes anything Apple or Android et all has. With windows 10 universal apps being announced seemly everyday the apps will take care of them selves. Microsoft is playing the long game, they can afford to do that. In time windows 10 mobile will be a viable business.

Let me find out that HP is the new Nokia when it comes to showing off Microsoft software and hardware features. While I can see this hurting Surface sales, it's good for Microsoft and W10M overall.

I wonder if the Mobile Extender would work with a desktop DAC via USB such as a Schiit Bifrost Multibit...if yes : I will get one, if not then I prob won't.

I am wondering about the price of the mobile extender. Would it go for less than $300?
Windows Central Newsletter
Thank you for signing up to Windows Central. You will receive a verification email shortly.
There was a problem. Please refresh the page and try again.