HP announces the groundbreaking Elite x3 smartphone powered by Windows 10 Mobile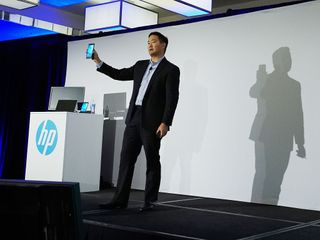 Today at Mobile World Congress HP announced the long-rumored HP Elite x3 smartphone running Windows 10 Mobile. The ultra-powerful Windows Phone is aimed at enterprise and business markets and offers a 'three in one' solution for companies.
Also, besides the phone HP also revealed the HP Desk Dock and HP Mobile Extender accessories that when combined with the Elite x3 with Windows Continuum lets mobile employees work from anywhere at any time.
The HP Elite x3 features a quad-core Qualcomm Snapdragon 820 processor, 4GB of RAM, 64 GB of internal storage, a 6-inch 2K display with Corning Gorilla Glass 4, dual Iris and fingerprint scanners for security, and dual front-facing stereo speakers by Bang & Olufsen for unparalleled conference call quality.
The full HP press release is below.
You can find all of Windows Central's HP Elite x3 coverage on our main topic page and watch our hands-on video.
HP Inc. Reinvents Computing with Next Gen Mobility Platform
Opens Mobile World Congress with HP Elite x3 to address massive commercial mobility opportunity
BARCELONA, Spain, February 21, 2016 — At Mobile World Congress today, HP Inc. unveiled a breakthrough solution that revolutionizes the mobile computing experience. Designed to be versatile enough to address the massive shift in where and how we work, HP introduced a new mobile ecosystem that will drive the next generation of computing.
The HP Elite x3 with Windows 10 mobile bridges phablet, laptop and desktop use cases from a single computing device while enabling users to run key productivity apps across these different experiences seamlessly.
"Commercial mobility is prime for disruption, and has never seen innovation at this scale," said Dion Weisler, president and chief executive officer, HP Inc. "The HP Elite x3 is a revolutionary mobile platform that enables mobility and computing to come together in a truly meaningful way. Together with the strength of our partners, we're propelling the industry forward and turning the promise of mobile productivity into a reality for customers."
Today's worker expects a different style of computing, yet is forced to rely on multiple different technologies and devices to get work done. With the Elite x3, strong channel partners and the latest advancements from Microsoft, Qualcomm Technologies Inc. and Salesforce, HP is delivering the next generation of computing where mobility meets PC productivity with a single device.
"Windows 10 was built for an era of more personal computing, one in which your experiences, content and data are mobile with you," said Satya Nadella, CEO, Microsoft. "Together with partners including HP, Qualcomm and Salesforce, we are focused on enabling customers to be productive wherever they are, furthering our mission to empower every person and every organization on the planet to achieve more."
"Qualcomm's newest processor combined with HP's leadership in commercial PCs is helping to deliver the future of computing," said Steve Mollenkopf, chief executive officer, Qualcomm Incorporated. "HP's innovative use of the Snapdragon 820 processor with LTE takes advantage of the processor's powerful performance and low power consumption to enable a PC-like experience on the HP Elite x3 phablet."
"Speed is the new currency of business, compelling every company to empower its users with the tools to run their businesses anytime, anywhere and on any device," said Marc Benioff, chairman and chief executive office, Salesforce. "We're proud to work with partners like HP and Microsoft to put the power of Salesforce1 and the world's #1 CRM platform in the hands of every mobile user."
"The end-to-end thinking by HP that went into the Elite x3 is innovative," said Tom Richards, chief executive officer, CDW. "On its own, it's an impressive device, but the real breakthrough is the Elite x3 accessory ecosystem, which drives a seamless experience across computing platforms, and offers a solution beyond BYOD and towards mobile workflow transformation."
The One Device That's Every Device
The Elite x3 is the first built-for-business mobile device to deliver seamless phablet, laptop and desktop business productivity in a single device 1. By utilizing Continuum in Windows 10, the Elite x3 enables frictionless multi-screen transitions between a phone scenario and a desktop PC scenario2. Users can dock the Elite x3 with its ecosystem of accessories to render desktop and laptop productivity experiences while also retaining productivity on-the-go in a world-class premium and commercial-grade phablet.
With this capability, users can effortlessly switch between using the Elite x3 as a desktop, laptop or mobile device, no longer needing to worry about what device to use in what environment. The Elite x3 also utilizes biometrics to unlock the device – adding an extra layer of protection for enterprise customers.
"Our customer insights indicated that there are a group of commercial customers where their needs for mobility and PC-level productivity are not being met," said Michael Park, vice president and general manager of Mobility, HP Inc. "The HP Elite x3 is where we see the future of computing heading – one device that can truly act like every device: a modern technology solution for a mobile-centric workplace combined with greater benefits for IT."
The Elite x3 offers a unique computing experience by leveraging the power of the Snapdragon 820 processor, Windows 10 Mobile3 with Windows Continuum2, the optional HP Desk Dock and the optional Mobile Extender, allowing the device to let people work on their own terms no matter where the locale. Users can also enjoy easier, faster charging with Qualcomm® Quick Charge™ 3.0 technology.
The Desk Dock offers a full featured desktop experience for the Elite x3. It includes a DisplayPort for external monitor support, two USB-A and a USB-C™ connection for business continuity, and wired Ethernet to seamlessly scale users' productivity at their desk. The Elite x3 docks in portrait mode at a comfortable viewing angle when sitting at a desk. The dock also supports the Elite x3 with and without a protective case.
The HP Mobile Extender creates a laptop experience using a near zero bezel 12.5-inch diagonal HD display that's around 1 kg. No data is stored on the Mobile Extender for additional security and all of the apps, passwords and files are managed and stored from the Elite x3.
New Level of Business Mobility with Robust Ecosystem of Solutions
The Elite x3 also allows users to work with the apps they love and rely on. HP Workspace4 – an app catalog designed by HP to easily enable access to virtualized apps – drives a seamless app usage experience. HP Workspace on the Elite x3 creates a virtual PC, giving users access to company curated catalogs of x86 apps via a virtualized solution. Users benefit from quick access to their virtualized apps with a full keyboard and mouse experience not typically available from a mobile device when using the Desk Dock and Mobile Extender.
The Elite x3 platform has the potential to change how companies work using only a single device. HP is partnering with Salesforce, the world's #1 CRM platform, to include Salesforce1 on every Elite x35. Salesforce1 sets a new standard for CRM, empowering users to run their businesses from their mobile devices with powerful tools that work in the cloud, keeping them up-to-date with whatever real-time data they need. Now, sales reps can use the Elite x3 and Salesforce1 to manage and update all their customer and CRM data faster than ever and perform key actions to drive business forward on-the-go.
Pricing and Availability
The HP Elite x3 is expected to be available this summer; exact pricing of the device and its ecosystem of accessories and subscriptions will be shared closer to date of availability.
For more information on the HP Elite x3, visit www.hp.com/go/elitex3.
About HP Inc. HP Inc. creates technology that makes life better for everyone, everywhere. Through our portfolio of printers, PCs, mobile devices, solutions, and services, we engineer experiences that amaze. More information about HP Inc. is available at http://www.hp.com.
Daniel Rubino is the Executive Editor of Windows Central, head reviewer, podcast co-host, and analyst. He has been covering Microsoft here since 2007, back when this site was called WMExperts (and later Windows Phone Central). His interests include Windows, Microsoft Surface, laptops, next-gen computing, and arguing with people on the internet.
See the full specs in the other post!!!! Omg! This phone gave me technical orgasm! :D :O :O :D

I'm so gonna cheat on my 1520 with this sexy ass *****

Windows 10 Mobile - Your hero device just arrived. We are a lucky bunch. It's going to be fun reading all the comparison articles. Dear Microsoft, please copy specs but add 41 MP Pureview and camera button for Surface Phone.

It was right up to the part of not directly selling to consumers(or selling thru carriers)

Lol, me too! Just say, come to me baby

I thought Daniel said HP would never make a Windows phone?

He always jumps to conclusion and share them only believing he's a real pro.

That would be a correct statement.It's not a Windows Phone, it is a Windows 10 mobille device .. It's somehow strangely interesting how Microsoft has not been able to clearly define this and now HP just comes on stage and binks it.. But then again, the lacklustre communication skills of Microsoft are well known.

Or HP built it in cooperation with Microsoft.

DAMN LOOKS REALLY GOOD AND HOT AND SEXY AND SEEMS FASTER THAN...

This will be my new phone.

Can you adopt me? Please?

Now those are some killer specs

Killer? They are the best in the world! Check the other post out!

That's how u make a great phone
Microsoft learn something from them

I know right! I mean, this is a little be too much, but hell, I love it!

MS doesn't need to learn from OEM, they stimulate them to make these devices. I expect this device only came about because of the suggested Surface Phone. This is the Surface effect all over again and that's a good thing, a really good thing.

Looks like hp brought one thing from palm marketing.... The timeline of release, I swear yo god if they say "in the coming months"

We can't read it on the app white font and back

Had to switch back to light theme. It shows up with the light theme. They added dark theme late so I'm sure they aren't finished with it.

HP has stolen my tax refund money LOL

Lol yes! One picture at a time -- LG V10

Definitely gonna check it out!

OMG! THIS IS WHAT I EXPECTED FROM LUMIA 950XL, BUT MICROSOFT BEING MICROSOFT, GREAT TO SEE THEM GIVING THAT SPACE TO THEIR PARTNERS INSTEAD. ALSO, AMAZING BY HP TO COME UP WITH CONTINUUM ENABLED PHABLET WITH WINDOWS 10. THIS IS THE POWER/FUTURE OF WINDOWS 10 AND NOT 2-1 TABLETS. POCKET SIZED COMPUTERS THAT CAN WORK WITH DOCKS TO GIVE FULL PC EXPERIENCE. I HOPE MORE OEMS GET THIS PHILOSOPHY AND POTENTIAL. AND JUDGING BY THE POWER OF TRUE UNIVERSAL CONTINUUM ENABLED UWP APPS WRITTEN FOR WINDOWS 10 ON MY LUMIA 520, THEY ARE POWERFUL YET FLEXIBLE ENOUGH TO WORK NOT ONLY ON MOBILE BUT ON MONITORS WITH KEYBOARD AND MOUSE AS WELL. IF PEOPLE, DEVELOPERS, OEMS AND CARRIERS DON'T SEE THE POTENTIAL BENEFIT OF THIS PLATFORM, THEN I FEEL SORRY FOR THIS STUFF. BUT GREAT FEAT OF ENGINEERING ON MICROSOFT'S PART RECENTLY ON BOTH HARDWARE FRONT WITH THIN, LIGHT AND ELEGANT CORE I PROCESSORS TOUTING 2-1S AS WELL AS ON SOFTWARE FRONT WITH WINDOWS 10 FOR ALL DEVICES AND UWP DEVELOPMENT PLATFORM. KUDOS TO MICROSOFT AND HP ON THIS!

Why r u shouting? Blood boils!

I couldn't even read that. Though he meant good stuff, my eyes started to ache.

Beats the 950XL instantly lol

And I just bought the 950XL two months ago

But not the surface phones i guess!!!

How does it beat the 950XL? I mean the materials are different but the battery won't be replaceable, it doesn't have expandable storage, and you can't buy it through your carrier or at a store... It will also likely cost $200-$300 more than the 950 XL. The only advantage it has is that it is being released several months (when is the release date?) later, so it has a later generation processor.

of course. This phn is AWESOME with some killer specs, that noone has. However, i can guarantee you, it will NOT cost way more than five hundered bucks, like 950XL(I got my $99 docking adapter for continuum for FREE as well with my 950XL, not sure if HP will include theirs or not with their phn, we'll see) eaither.Also, don't forget about the Surface phn that is coming out later this year too.

Man this looks brilliant!!

Menn! This device is a beast!

You may not realize this but ms is responsible for this phone, they learnt their lesson, this is why Nokia was being written out. It's too late for HP and other oems to stop the the surface brand, but what they can do is get ahead and out in front of mobile and that's exactly what they are doing..bravo..

Yep. MS wins by having many other OEMs make phones, not just one. Had to buy and break up a monopoly so ecosystem could grow.

Monopoly is not good if they have to pay all the marketing cost for an uphill battle against competing OS while everyone just wait for the work to be done for them.

I hope the best for a HP but as for now I'm staying with the Nokia 1520. Maybe in the future I'll get one. Only time and this forum will tell.

That's cool, think will do same, maybe If I have the doo

OMG! I'm peeing in my pants! Congrats HP on your great phone!

Thank god, light at the end of the tunnel. If this phone is as good as it seems this will replace my 1520.

Realize the surface phone strategy is the start of this, back out of the space, get rid of Nokia, don't try and make all the w10 mobile smartphones, let the OEMs get back into the picture. This is what the strategy is all about.. Now Daniel said the surface phone won't save win10 mobile, what he didn't realize is that its the cumulative surface phone strategy that has the best chance. I'll say it again, when you take what maybe your last shot, you don't rush it, you find a spot, go prone, adjust your cap, check the wind, look through the scope, put the crosshairs on the target, take a deep breath,hold...., and squeeze dont pull the trigger. It's only February.....

MS has to focus on their part which is getting the software ready...can those that wanted now now now!!!! Finally take a step back and see the big picture...i hope so....

I totally agree with you because the MS Lumia 550, 650 950 and 950 XL would have gotten better reviews if the Windows 10 soft ware in them worked better than it does To Microsft's credit they are improving Windows 10 mobile OS. it should be more stable and nice new features when this smart phone hits the market place.

This phone looks amazing but I promised myself I wouldn't buy another HP product after what they did to webOS. Now come on Dell, it's your turn!

That was what, two CEOs ago??? I hated HP, also, for what they did to WebOS, but I'm not going to deny myself the pleasure of owning the best smartphone available, if it lives up to the pre-hype...

Oh where are the naysayers now?

You may not find many on this day giganotosaurus, don't quote me here but that 1.7% or whatever it is for Windows phone market share is starting to look like a bottom....

This thing won't increase market share. It doesn't do anything special and still has all the disadvantages of a Windows phone. The hardware does look nice though. Even with carrier support the sales would be minimal. Posted via the Windows Central App for Android

Wow that looks like a very nice handset, dual sim?

Yrs and a million other things :))

Phone,is really good but is it compatible to run all the apps which can run on IOS and Android device.

Since this is aimed directly at the business and enterprise user, crap like Snapchat and games is not really a consideration. HP has already announced they are working with Salesforce and thier own enterprise software, as well as the Microsoft prodtivity offerings.

Fist phone to be launched without that windows 10 logo wallpaper.

This phone ia soo much mine if Surface og other OEM do drop a even large BOMB before then... though I can hardly see how that is possible with those specs LOL At least not until a new SOC is out.

Damn! I've been saving for the 950XL. Looks like I'm getting this instead.

this phone gave me goosebumps. i want this so badly...so desperately. i've fallen in love with this immediately i saw this, oh my good mother of god, this is called flagship and true aweomeness

HP.... this is for you http://i.imgur.com/elQCEip.gif

The task question is if they can avoid Microsoft's biggest mistake with WP and actually ensure this comes to all carriers.

This phone murders the Lumia 950 and xl as far as specs and designs

well since it's coming out nearly 8 months later I suppose it should you stupid ****.

Didn't the 950 come out in December? Barely two months ago! Posted via the Windows Central App for Android

And this will come out in August..

The 950 and XL have to drop their price now

Take my money! At least if it has Qi :)

Apple & Google should be very worried about their market share going forward if W10M devices are going to be this good- MS & partners will gobble up marketshare like a black hole gobbles up matter.

Why? What compelling feature does this bring to the mainstream? Posted via the Windows Central App for Android

Surprised that it even exists!

Dang! I just bought the 950xl.

This is what i expected for the 950xl!!

Wow...wow! Windows might have a chance in the mobile space...

Have Microsoft and their OEM partners invented another new product category? Like the Surface introduced the 2 in 1 tablet/laptop combo, could this be the beginning of the 3 in 1 phone/laptop/desktop combo? Should be interesting to see the Apple/Android naysayers poo-poo this like they did the Surface.

Android already did this and quickly realized it doesn't make sense. I guess Microsoft/HP didn't learn from the past. This will be a flop, like every Windows phone. There is no consumer demand for this. Posted via the Windows Central App for Android

Good God the freaking Android troll is back. What Android device even comes close to this? This isn't aimed at the consumer, if you can't see the business case for it you are just not trying very hard. But then again your post history shows trying hard isn't really your strong suit.

Every Android flagship released this year?

Really? What Android device has Continuum, the Extender, and the HP Workspace? Android devices are a stand alone phone with no real connectivity to any real productivity options. Sure on a purely spec kevel it is on par with the new flagships but this is a case of the whole is way more than the sum of the parts. No Android even comes close.

But I was told Windows Phone was dead....

I thought everybody said 6" was stupid for a phone.

Yes!! Windows Phone needs to make a comeback!!

This is a true flagship specced phone.
I have been waiting for a new 6" windows phone. Hopefully it comes to Canada.

You stupid crying SOBs do realize that this device is coming out 6 to 8 months after the release of the 950/xl right? So yeah it should be better spec'ed then them. You f'n band wagon jumpers make me sick.

And it will still have no apps and run an OS about as stable as a house made of whipped cream. LOL Windows 10 Mobile.

Wow... What are you so butthurt about? Grow up, you make yourself sound like a fool, whatever your argument is or whatever point you're trying to make. Posted via the Windows Central App for Android

I still think it is but this a damn good piece of hardware.

But wait Windows 10 mobile is dead!.....Yeah right its just getting started!

This one is most power full window phone in market today and I like this one very much...n...i hope HP launch this one also in India.....i waiting guys..,n...all the best for HP to compare to stand agains Android and iPhone and Lumia phones too..hehe....and I think this one is better choice for windows phone with power full specification and massive battery...!!
Good luck HP...!!!

It's not in the market today

Don't care. This thing could poop gold and diamonds, and I still wouldn't give HP another penny.
8/18/2011: Never forget, Never forgive

Beauty and the beast like things here. Off topic can anyone share background image?

I'm with Microsoft Lumia 950 XL...

Not just specs, it give the Continuum experience expected by users, to use it and run already existing desktop application. A device that can be completely both with no but (only for specific apps).

Looks to be good one Posted from Windows Central for Windows 10

Show the world, the power of Windows Phone 10!!!!!

Hey fellas, in other sites, they are saying that it will fail since it runs Windows 10 Mobile.I don't believe it, do you?

Was this the big announcement everybody was talking about?

Can't wait for this phone. It'll add nicely with my Nexus 6p. Posted via the Windows Central App for Android

MY GOD!!! This is like the 1520 on steroids that I've been dreaming of!

Wow. The is what the Surface phone needs to be. This is what the 950/XL should have been in terms of looks. I hope this phone really sells well and inspires other OEMs to create true flagship devices.
Windows Central Newsletter
Get the best of Windows Central in in your inbox, every day!
Thank you for signing up to Windows Central. You will receive a verification email shortly.
There was a problem. Please refresh the page and try again.