Best gaming handhelds 2023: Steam Deck, ROG Ally, Legion Go, Nintendo Switch, and more
The right system provides a fun time wherever you are.
When you think about the best gaming handhelds, your mind probably goes to Steam Deck, ASUS ROG Ally, and Nintendo Switch. While these are certainly some of the top performers in the market today, there are also several other options out there, and each can satisfy your handheld gaming needs in different ways. The specs of each device sometimes vary drastically, so I'll be taking a look at how the best gaming handhelds differ when it comes to screens, performance, battery life, customization, and software.
These options can serve you in a number of different scenarios, or can even act like the best gaming laptops with controllers built in. Whether you're looking for a system that provides access to exclusive games, is good for kids, plays PC games easily via Windows, offers tons of accessory options to improve the experience, or has a long battery life making it ideal for long trips, here are the very best gaming handhelds on the market today.
The quick list
Here's a quick look at the best gaming handhelds available right now. Additional information for each device is available further down this page and you can click the 'read more below' link to be taken directly to these details.
Best overall gaming handheld
My recommended ASUS ROG Ally configuration:
The Steam Deck was my go-to device until I got an ROG Ally. As you can see in my ROG Ally review, this Windows 11 gaming handheld is rather impressive with a much better screen than the Steam Deck and the ability to access any game or game streaming service that's offered on a gaming PC such as Battle.net, Epic Games, Xbox Game Pass, and more right out of the box.
The downside to the Ally is that just like with any other Windows 11 device, it tends to come installed with tons of bloatware, which you'll want to turn off to get the best playing experience. This also means you need to be ready to troubleshoot Windows 11 issues if there is a problem, which can be daunting for some people and can make this device more complicated to use. But we can help you with our extensive Windows 11 troubleshooting guides.
VRR support and the powerful processor — either an AMD Ryzen Z1 in the less expensive $599.99 version or an AMD Ryzen Z1 Extreme in the more powerful $699.99 version — help provide incredibly smooth performance with significantly higher graphics than Steam Deck offers. Of course, the Extreme version runs a bit more smoothly, so it's best to go with that option since the two are otherwise basically the same.
ASUS' proprietary gaming software, Armoury Crate, comes installed on the Ally and makes it easy to adjust various game settings such as FPS, resolution, RGB lighting, performance modes (TDP), and more in a side menu that gets brought up by pressing an Armoury Crate button. That way, you can make changes without having to exit a game. Now, Armoury Crate is very helpful, but sometimes it can be rather clunky and slow to respond. In these cases, it's best to restart the system, like you would with any gaming laptop that's giving you issues.
The ROG Ally has some serious problems that prevent it from being the best gaming handheld. For one thing, it has a very short battery life. In all my time using it, I was only ever able to get it to last for as long as four hours, but usually, it died in under two. Secondly, due to the way that the components are designed, heat being expelled by the fans can cause the microSD card slot to grow hot, which can lead to microSD card malfunctions. Obviously, losing game data is a very frustrating thing and not something to be taken lightly. If you do want to increase storage, the best way to do that is by upgrading the SSD with a larger one. For help with that check out the guide I wrote on how to install the WD_BLACK SSD into ROG Ally.
Best gaming handheld for Steam
My recommended Steam Deck LCD and Steam Deck OLED configuration:
I was fortunate enough to be one of the first people to receive my Steam Deck LCD after orders officially opened, and since then I've put dozens if not hundreds of hours into this gaming handheld. Of course, I'm not the only one who loves Valve's device, as is obvious if you read my colleague's Steam Deck review or go online and look at the large fan base that it has. Despite not having the best specs on the market today, it's still an amazing gaming handheld. Plus, there's the new Steam Deck OLED, which improves the screen, storage, battery life, and other features if you're willing to spend a bit more money. You can see all of the differences between the two versions in my Steam Deck OLED vs Steam Deck LCD comparison.
The Steam Deck uses the Linux-based SteamOS, a semi-custom processor with limited power, and a lower-resolution 1280x800 display. The LCD panel version also suffers some significant IPS glow, so certain imagery looks more muddled and pixilated whereas the OLED version looks a whole lot crisper and more vibrant. However, both Steam Deck models do provide a stable and reliable way to play specifically Steam Deck verified games from your Steam library and are some of the easiest devices to use right out of the box. The battery life isn't amazing on the LCD version, only being able to reach up to eight hours depending on settings, but it does tend to run longer than several other gaming handhelds on the market right now. Meanwhile, the Steam Deck OLED has a slightly better battery life of between three and 12 hours, so you can play it longer.
What's more, Valve was very conscious in trying to make sure that owners could upgrade the system with better RAM, storage, fans, and other hardware if they were inclined to do so. As such, many people have customized their Steam Deck to fit their gaming needs better. In fact, if you want, we can help you learn how to install Windows on Steam Deck.
There are three buying options for the Steam Deck LCD, a 64GB version that sells for $399, a 256GB version that costs $529, and finally the 512GB version with a $649 price point. Meanwhile, the Steam Deck OLED has two buying options: A 512GB SSD for $549 or a 1TB SSD for $649. Although these are pricey, most of these options cost less than other PC gaming handhelds on the market. In the end, Steam Deck provides the most reliable and steady PC gaming experience at a more affordable price, even if it doesn't have the most impressive specs.
Best gaming handheld for kids
My recommended Nintendo Switch configuration:
The Nintendo Switch has been one of the most successful gaming consoles in history thanks to its huge library of games, more affordable price point, and innovative hybrid design that makes it both a gaming system for TV and a handheld device. It's marketed as a gaming system for all ages and as such there are several fun exclusive games for it, including multiplayer split-screen games that you can play with family and friends from one device (as long as you have enough controllers to go around). Simply pull the two controllers off from either side of the device, turn them sideways, and you already have two controllers to use. Since the Switch comes with a dock, you can connect it to your TV right out of the box for easy game nights.
In my Nintendo Switch OLED review (on our sister site, iMore) I talk about how beautiful the 7-inch OLED display looks. Even though Nintendo's handheld technically only supports a 1280x720 resolution, the OLED display makes imagery come through looking a whole crisper than you'd expect and allows for true black in imagery, so colors can really pop. This also means there's no distracting IPS glow like what's found in many other gaming handhelds.
Of course, graphics within Switch games aren't super intensive to begin with, but they usually are optimized to look good on the simpler system, like with the cell-shading art style of Nintendo's award-winning The Legend of Zelda: Breath of the Wild. Additionally, since the Switch has been out for so long and has been so popular, there are tons of accessories available for it to help improve your gaming experience.
The original Switch launched in 2017 for $299.99, but there's also a handheld-only Switch Lite that sells for $199.99 and then of course the larger Switch OLED with its $349.99 price point. As you can see, these are all less expensive than most of the other options on this list. Since it's more affordable and has a more cartoony focus (though there are adult games) it's a great gaming handheld for kids.
Best screen in a gaming handheld
My recommended Lenovo Legion Go configuration:
After getting my hands on the Lenovo Legion Go, I spent several hours playing with it and ran several tests on it to see how it compares to its closest competitors — the Steam Deck and ROG Ally. As you can see in my Legion Go review, it's proven to be a very enjoyable device to use that offers unique abilities from the other handhelds.
So what exactly makes the Legion Go so enticing? For one thing, it offers the largest display of any PC gaming handheld right now at 8.8 inches with an impressive 2560x1600 resolution and excellent 144Hz refresh rate. In comparison, Steam Deck, ROG Ally, and Nintendo Switch OLED all have seven inch displays. Oddly enough, the Legion Go doesn't support VRR, though, which would help provide a more stable frame rate. Now, this larger screen means that it's the largest gaming handheld of them all, as you can see in my Legion Go size comparison. Due to its bulky shape, it can be harder for smaller hands to hold.
Lenovo has stated that the Legion Go will be usable with other gaming handheld docks currently on the market, but you have to make sure they have a long enough USB-C charging cable to reach the Legion Go's port. Plus, it comes with some innovative controls that we've never seen before on a gaming handheld such as a mouse wheel and right and left-click buttons. These functions combined with the touchpad make it easier to interact with certain games or surf the web. Additionally, the TrueStrike controllers can come off like the Switch OLED JoyCon can, but the right controller can also be put in FPS mode within a small dock to act more like a mouse to give better control in games like first-person shooters.
Performance-wise, the Legion Go operates similarly to the ROG Ally since it uses the same AMD Ryzen Z1 Extreme chipset. However, it offers a 512GB version for $699.99 and a 1TB version for $749.99, which means it has a much larger storage option than ASUS' device. The Legion Go's higher prices aren't too surprising given the huge screen, innovative controls, and strong processor, but it will definitely put a dent in your wallet. Still, if you want the very best gaming handheld experience with a fantastic display then this is the way to get it.
Considering that screens are a major suck on battery life, I thought the Legion Go wouldn't be able to last all that long. However, in testing, I was able to get it to run from two hours up to five hours depending on settings, which is longer than ROG Ally. Lenovo also makes it easier to keep playing with the addition of Super Rapid Charge, which allows the device to charge back up to 70% in just 30 minutes. That's really fast.
Best for cloud gaming
My recommended Logitech G Cloud configuration:
If you're looking to save money on a handheld gaming device, but still want to play the latest games then the Logitech G Cloud is the choice for you, just don't expect the best experience from it. As our own Zachary Boddy mentioned in their Logitech G Cloud review, this cloud gaming handheld holds a place between the Nintendo Switch and the Steam Deck. That's because it runs on Android with a Snapdragon 720G, so it can play games streamed from distant servers with decent visuals, but it doesn't have high processing power itself.
Of course, your gaming experience with any cloud gaming device is dependent upon several aspects usually beyond your control, such as your internet speed, Wi-Fi connection, and how well the host server is operating. Because of this, there are many points at which your gaming session can be negatively affected. Still, if everything is working well, then the Logitech G Cloud can be an excellent device to play on.
G Cloud comes with game streaming services like Xbox Game Pass, NVIDIA GeForce NOW, and Steam all installed and ready to go. The button layout and design feels great in your hands, but yet another problem with cloud gaming is that not every game you want to play offers controller support. You might find the games you want to play most aren't compatible.

Since it isn't bogged down with as many components, Logitech's device is a whole lot lighter and more comfortable to hold. Additionally, it can last up to 12 hours on one charge, which is longer than any other device on this list. Plus, it only costs $349.99, but usually sells for $299.99 making it easier to afford. If you want to save money and understand that the cloud gaming experience isn't always consistent, then this can be a good gaming handheld for some people.
Best retro gaming handheld
My recommended Analogue Pocket configuration:
Compared to all of the other gaming handhelds on this list, the Analogue Pocket is extremely different. However, I felt that it was important to include it since it's such a popular device. So much so, actually, that this $219.99 handheld is hard to find in stock as it tends to sell out very quickly. The company has also released a few limited edition versions, such as glow-in-the-dark or transparent Pockets. If you want to get one, you'll likely need to put yourself on the company's notification list and snag one as soon as they're available. Purchases per customer are limited to two devices.
So what exactly makes the Analogue Pocket so popular? It's the fact that the device is designed to look like a modern Game Boy and has a cartridge slot that accommodates Game Boy, Game Boy Color, and Game Boy Advance games right out of the box. There is no emulation. One thing to be aware of is that the cartridge slot does hold these games a little loosely, but that's likely by design for if you want to purchase one of the adapter accessories (more on that later).
The 3.5-inch LCD display might be small for some people, but it's slightly larger than an original Game Boy's screen and provides colorful backlit imagery with crisp 1600x1440 resolution to see retro games way better than they originally looked. Don't worry. There are also different filters to make the screen look more like the original Nintendo system screens if you want a more faithful playing experience.
Another awesome thing about the Analogue Pocket is that there are several accessories for it that can be purchased separately such as TV docks, hard cases, screen protectors, and Pocket to Pocket Link Cables. There are even additional cartridge adapters for playing Sega Game Gear, Neo Geo, Atari Lynx, and TurboGrafx cartridges. If you're a collector of retro games, then this provides a fun and modern way to enjoy them on the go.
The Analogue Pocket is charged up via USB-C cable and has a battery life of up to 10 hours, making it one of the longest-lasting devices on this list. In sticking with an ode to classic gaming systems, it doesn't feature Wi-Fi, so whenever an update comes along, you'll need to sideload it with the help of a microSD card. But you can also connect it to your PC via Sync cables and use it for music creation or other activities.
Other gaming handhelds to mention
There are dozens of other gaming handhelds out there, to the point that if I listed them all, this page would be absolutely huge. But that doesn't mean that they all deserve a place on the best gaming handhelds list. Still, here are some additional gaming handhelds that you might have heard of and should also consider.
How we test gaming handhelds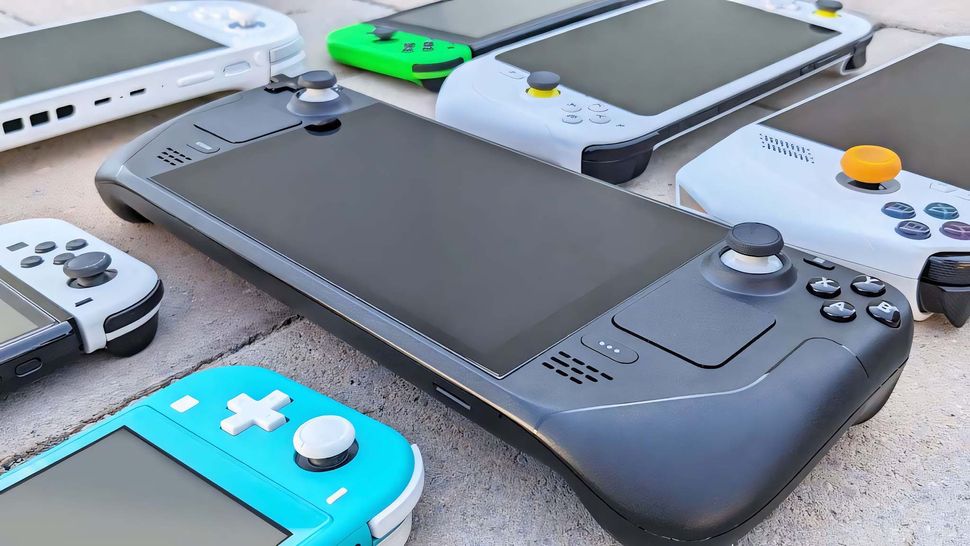 Whenever we at Windows Central review gamin