Thanks to its large 8.8-inch display, built-in kickstand, and detachable controllers, the Lenovo Legion Go stands out as one of the most versatile Windows gaming handhelds available. The casing is a bit thick and might be hard for some to hold. Additionally, battery life isn't ideal, the setting software is limited, and sometimes gameplay can be choppy. However, the graphics render beautifully, and the combined effect of the gorgeous color gamut and crisp resolution of the display makes for a great visual experience.
Pros
+

Gorgeous 8.8-inch QHD touchscreen with 144Hz

+

Kickstand and detachable controllers add a lot of flexibility

+

Similar performance to ROG Ally

+

Better battery life than ROG Ally

+

Buttons feel good and Hall Effect joysticks don't drift
Cons
-

No VRR support

-

Won't fit well in smaller hands

-

Limited settings options
Why you can trust Windows Central Our expert reviewers spend hours testing and comparing products and services so you can choose the best for you. Find out more about how we test.
As someone who owns a Nintendo Switch OLED, ROG Ally, Steam Deck, AYANEO 2S, and several other devices, you can say that I'm a bit of a gaming handheld enthusiast. So it isn't surprising that I've been excited to check out the Lenovo Legion Go ever since the company announced the Windows gaming handheld earlier this year.
After spending over 25 hours with Lenovo's handheld, I can say that this ROG Ally and Steam Deck competitor stands out thanks to its extra large display, kickstand, and detachable controllers. Its mixture of familiar and unique features all work together to make it the most versatile entertainment machine of them all. However, it isn't perfect and could be refined in several areas.
Disclaimer: This review was made possible by a review unit provided by Lenovo. The company did not see the contents of the review before publishing.
Lenovo Legion Go: Price and specs
Pricing & specifications highlights
It's one of the most expensive gaming handhelds today, partially due to its great internals, unique features, and enormous screen.
The AMD Z1 Extreme processor is the same as in the ROG Ally.
There are two versions of the Legion Go, a $699.99 one with a 512GB SSD and a $749.99 one with a 1TB SSD.
Value rating: 4/5
Lenovo Legion Go specs
Price: $699.99 (reviewed at) | $749.99
Processor: AMD Ryzen Z1 Extreme w/ integrated Radeon Graphics
OS: Windows 11 Home
RAM: 16GB
Storage: 512GB SSD or 1TB SSD (reviewed at)
Display: 8.8-inch 16:10 QHD (2560 x 1600) IPS touchscreen
Refresh rate: 144Hz
Ports: 2x USB-C 4.0 (DisplayPort 1.4, Power Delivery 3.0), 1x MicroSD card reader, 1x 3.5mm headphone jack
Battery: 2 - hours
Size: 1.60 x 5.16 x 11.76 inches
Weight: 1.88 lbs. (~0.854 kg)
Of all of the mainstream gaming handhelds today, the Legion Go is one of the most expensive options (although it's not nearly as expensive as AYANEO handhelds can be). There are two versions of the Legion Go available, one with a 512GB SSD, which sells for $699.99, and another with a 1TB SSD that sells at a higher $749.99 price point. This less expensive version is the one that I ended up reviewing.
While spending this much money on a handheld is a lot to swallow, the high cost makes sense because the Legion Go features one of the best (and largest) displays on a handheld to date. It also features the powerful AMD Ryzen Z1 Extreme processor, which the more expensive version of the ROG Ally also utilizes.
The Legion Go can be purchased from the Lenovo website or Best Buy in the United States. Those in the UK can also purchase one from Curry's.
Lenovo Legion Go Recommended Configuration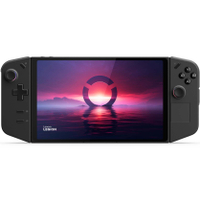 Lenovo Legion Go: Design and build
Build quality and design highlights
The handheld is bulky and doesn't fit smaller hands, but it's well-balanced despite being larger and heavier than many other handhelds.
It has a sturdy build without creaking or wiggling from the detachable controllers.
All buttons press in nicely, and the Hall Effect joysticks are very responsive.
Two USB-C ports and a microSD card give the handheld more connection possibilities.
The Legion Go is a versatile entertainment machine thanks to the kickstand and detachable controllers.
Design rating: 4.5/5
More Legion Go
- Legion Go vs ROG Ally
- Best gaming handhelds
- Legion Go vs Steam Deck
- Best Legion Go accessories
- Legion Go size comparison
The overall look of the Legion Go casing is boxy and somewhat unattractive; however, it has a very sturdy build, and the large screen outshines the controllers right in front of you. I thought there would be some wiggling or creaking from the detachable controllers, but this is not the case. They can only be removed if I intend for it to happen. Otherwise, they stay very securely attached.
It took a lot of practice before I learned how to quickly detach the controllers, as the action is not nearly as easy as it is with the Nintendo Switch. Instead of sliding on and off the system from the top like the Nintendo Switch controllers do, the Legion Go controllers do more of a popping on-and-off motion. A button on the bottom of either controller must be pressed, and then the controller must be wiggled slightly while being pulled down from the display before they will come off. They can then be reattached by being pressed back into position and up until there's a click.
Regarding shape and weight, the Legion Go has a massive 8.8-inch screen and weighs relatively a lot for a gaming handheld at 1.88 pounds. As expected, it feels bulky in my hands, with some buttons too spaced out to be convenient to press. Even my husband, a tall six-foot-five man with large hands, found the controllers a little too big for his liking. This being the case, I'm sure that children and people with small hands will have to strain their fingers wide to hold it.
As far as controls go, the A, B, X, Y buttons, D-Pad, and triggers all press in beautifully and are very responsive. A crucial thing to note is that the Legion Go has Hall Effect joysticks, which means they will never suffer from drift like many other handhelds do. Much like with the Steam Deck, I love Lenovo's inclusion of a touchpad, which lets me navigate around storefronts, websites, and game menus with much more minute control than a joystick gives. Additionally, volume buttons are located on the top left of the central system and are very convenient, making them easy to interact with.
Kickstand and tabletop play
Having a kickstand and detachable controllers gives the Legion Go one significant advantage over the ROG Ally and Steam Deck — it makes it so the handheld can act like the ideal entertainment machine that's part gaming laptop and part streaming tablet. It's even better than the Nintendo Switch since I can easily access any video game services, websites, or apps I could otherwise access via a gaming laptop. Meanwhile, the Switch has minimal app access unless it's hacked. The kickstand pulls out quickly enough and can hold the Legion Go up at varying angles to accommodate my position better.
On my first day reviewing the Legion Go, I had a nasty sinus headache that made me nauseous and weak, so I wasn't up for playing games. I spent hours watching Twitch streams, TikToks, Netflix shows, and YouTube game walkthroughs hands-free while the Legion Go was propped up with its kickstand on my bedside table, surrounded by various cold meds. Best of all, I could hold the detached controllers in my hands and still control things without expelling too much energy, which I was short of. This tabletop mode alleviates any potential wrist strain and makes the Legion Go more versatile.
Whenever I wanted to change what I was watching, I could tap the touchscreen or scroll the mouse wheel on the detached controllers and then make new selections with the press of a button. Once I started feeling better, I started playing my favorite games in tabletop mode and found that the controls were also very responsive, even when detached. However, if the detached controllers fall asleep, it doesn't seem like there is any way to wake them up and connect them to the system other than reattaching them and then detaching them again, which is rather frustrating.
Ports and storage
Of all the leading gaming handhelds on the market today, this is the only one with more than one USB4 Type-C port (with Power Delivery 3.0, 40Gbps data transfer, and DisplayPort 1.4). There's one on top of the device and one on the bottom. This allows me to charge the handheld in either location, depending on what's more convenient — I use the top one when in handheld mode and the bottom one when charging in the included travel hard shell since there's a hole in the case for conveniently doing so.
Additionally, two USB-C ports allow me to use a USB-C accessory while simultaneously charging the Legion Go, which I've often wished I could do with the Steam Deck or ROG Ally. It makes for a far more convenient playing experience. The only problem with the bottom USB-C port is that it's unusable when the Legion Go is in tabletop mode with the kickstand out.
As I previously mentioned, the Legion Go I reviewed has a 512GB SSD for storage, but I can add more space by utilizing the microSD card slot on top of the handheld. It can hold up to a 2TB microSD card, giving me plenty of extra room to work with.
Lenovo Legion Go: Performance and gaming experience
Gaming and performance highlights
The Legion Go performed similarly to the ROG Ally in almost every benchmark test I ran, but it was a bit choppy in actual gameplay.
Any high graphics or intensive games need to be played at a higher TDP level and with lower graphics settings (or Steam Deck settings) to hit decent FPS.
A lack of VRR support likely accounts for some of the Legion Go's choppiness.
The right controller's FPS mode is somewhat clunky but has plenty of potential.
Performance rating: 3.5/5
The understood thing with Windows gaming handhelds is that, unlike the best gaming laptops and best gaming desktops, they trade out top-tier graphics and performance for the ability to play on the go. As such, you shouldn't expect the very best playing experience from the Legion Go or any handheld. That being said, the Legion Go is an impressive device that renders visuals beautifully for a handheld.
It was admittedly somewhat choppy to play at first, but I installed various updates and adjusted settings, which smoothed things out quite a bit. To get a feel for the Legion Go's abilities, I spent hours playing a wide range of games, including Hogwarts Legacy, Baldur's Gate 3, Cyberpunk 2077, Among Us, and more. The experience wasn't as smooth as I would have hoped, but it was good. Of course, seeing crisp game visuals on that large and vibrant display goes a long way toward improving the playing experience. I'll talk more about that later, but for now, I'll stick with talking about performance.
When running Cyberpunk 2077 benchmarks on low or Steam Deck graphic settings with Legion Go TDP at a custom 30W, I reached an average of 36 FPS. This isn't great, but it was better than the 26 FPS that the ROG Ally reached in similar testing. That said, games had more lag and freezing on Lenovo's device than on the ASUS'. This is likely due to the lack of VRR (variable refresh rate) support on the Legion Go. This important gaming feature automatically adjusts the frame rate to eliminate tearing without users having to adjust manually, so this is a disappointing omission.
As you'd expect, lowering the Thermal mode makes gameplay much choppier. There are three TDP presets: 8W Quiet Mode, 15W Balance Mode, and 20W Performance Mode. Plus, the Custom Mode lets me choose whether the system runs between 5W and 30W, so it's nice to have that flexibility. Less intensive games can run at lower levels, saving battery life, but you'll need to crank up the wattage to have smoother gameplay on more demanding titles.
Additional benchmark results
Image 1 of 4
Since this is basically a gaming laptop with controllers, I also took some time to run the Legion Go through the various benchmark tests I always run gaming laptops through. Seeing as the Legion Go features the same AMD Radeon Z1 Extreme processor that the ROG Ally does, I wasn't surprised at all to see that the performance of both systems was similar.
In PCMark 10, which tests system performance while performing office tasks (running programs, accessing websites, attending meetings, etc.), the Legion Go earned a score of 6,790, slightly less than the ROG Ally's 6,945 score. Similarly, the ROG Ally earned slightly higher scores than the Legion Go in CPU performance testing done through Geekbench 5 and Geekbench 6. It's not a serious increase in performance, but it is consistent enough to be notable. Regardless, these are promising results and show that the Legion Go's processor can handle quite a bit.
Image 1 of 3
Meanwhile, the Legion Go earned higher scores for CrystalDiskMark, which tests SSD speeds. Lenovo's handheld scored a read speed of 5,013 MB/s and a write speed of 1,620 MB/s, which is respectable and puts the Legion Go near the level of a Dell Lattitude 9440. In comparison, ROG Ally scored a 4,317 MB/s read speed and a 1,844 MB/s write speed. Read and write speeds are essential in gaming because they determine how fast the system can open programs, save data, or repeat previous tasks. So it's good to see such good results from the Legion Go.
Another area where Legion Go outperformed ROG Ally in my testing was with 3DMark Time Spy, which looks into a system's graphics abilities. Once more, the scores weren't that far apart, with the Legion Go earning a higher score of 3,274 and the ROG Ally scoring 2,926. This puts them on just either side of the graphical performance of a Thinkpad X1 Extreme (Gen 2). It's really not a bad place to be for a gaming handheld.
Playing experience and FPS Mode
I talked about the Legion Go controllers' build quality earlier, but now I'll address how they affect the gaming experience. One of the most unique features of the Legion Go is its FPS mode (First Person Shooter). This feature basically turns the right controller into a mouse that navigates an onscreen cursor or crosshair while I slide the controller around on a surface. This mode is activated by toggling a switch on the bottom of the right controller. Placing the controller into the included FPS Mode base, which holds it via magnets, gives it more stability.
I tested out FPS Mode while playing Cyberpunk 2077. The idea is interesting, but the controller was somewhat bulky and awkward to handle. It also felt weird that using the right and left click buttons on the right controller (which are activated in this mode) required turning the controller to an odd angle that conflicts with its ergonomic design.
Still, I got used to the feeling and appreciated how much easier this FPS mode made it to aim since it has more minute control than joysticks. Plus, FPS mode makes it easier to browse the internet when I use the Legion Go for non-gaming purposes.
Lenovo Legion Go: Software and customization
Software and customization highlights
Legion Go's Legion Space app lets you adjust thermal modes, OS power modes, fan speeds, RGB effects, resolution, frame rates, and other settings.
Users can also map buttons to their liking from within this program.
There is currently no FPS limiter and a significant lack of options for various settings.
Software rating: 3/5
Legion Space software comes installed on the Legion Go and can be accessed by the slanting buttons on either side of the screen. Pressing the left button brings up the whole program with a game library launcher, settings, and store. Meanwhile, pressing the right button pulls out a Quick Settings side menu for fast adjustments like screen brightness, Bluetooth, Wi-Fi, resolution, refresh rate, key mapping, and more.
Image 1 of 2
Legion Space isn't that great. The game launcher is just a place to download other game launchers and then run your games from there (also, the wrong Xbox artwork was downloaded for some games on our Editor-in-Chief's review sample, with no way to manually fix). Meanwhile, setting options are somewhat limited and don't give as much control as I'd like. For instance, there are no FPS control options, and the default Thermal Modes (Quiet, Balance, and Performance) don't explain the wattage associated with each option. I can have the fans go full speed, but I can't determine how fast they run. These are areas in which the ROG Ally does a better job, making it easy to choose FPS options and giving more minute control over the handheld's various settings.
Swipe to scroll horizontally
Legion Space controls

| Settings | Options |
| --- | --- |
| Refresh Rate | 60Hz | 144Hz |
| Thermal Mode | Quiet (8W) | Balance (15W) | Performance (20W) | Custom (5-30W) |
| OS Power Mode | Performance | Balanced | Efficiency |
| Full Fan Speed | On | Off |
| Resolution | 1280 x 800 | 1920 x 1000 | 2560 x 1600 |
| AMD RSR | On | Off |
| LED customization | Solid | Blinking | Dynamic Color | Off |
Image 1 of 3
Since the Legion Go uses the identical AMD Ryzen Z1 Extreme as the ROG Ally, it was unsurprising that Lenovo's gaming handheld also offers AMD RSR (Radeon Super Resolution). This upscaling feature helps improve gameplay. Availability depends game to game on whether or not this option is useful since it tends to improve CPU performance but also reduces GPU power, but it can be helpful in some situations.
Something I especially like about the Legion Go is that it has somewhat understated RGB around the joysticks. This allows it to add a fun vibe without distracting from the screen, as the ROG Ally does. In addition to turning the RGB off entirely, users can choose between three different lighting effects and then choose specific colors, brightness, and the speed at which effects come through. However, your options will apply to both joysticks as they cannot be given separate settings.
Lenovo Legion Go: Display
Display highlights
The large 8.8-inch display looks fantastic and pulls me into my games better than any other gaming handheld screen has before it.
Games can look really smooth with the ability to reach a 144Hz refresh rate.
The lack of VRR is a pretty big downside, though.
Display rating: 5/5
The ROG Ally, Steam Deck, and Nintendo Switch OLED all feature 7-inch displays, so seeing the Legion Go's comparatively massive 8.8-inch IPS display in person pulls me into my games better than the other handhelds. This is helped by the fact that the Legion Go's screen also has the best resolution (up to 2560 x 1600) and refresh rate (up to 144Hz) of the four devices by far. Beautiful color quality, crisp detail, and the large screen all work together to affect the viewing experience powerfully.
Swipe to scroll horizontally
| Setting | Brightness | Black | Contrast | White Point |
| --- | --- | --- | --- | --- |
| 0% | 12.4 | 0.02 | 500 : 1 | 3800 |
| 25% | 48.9 | 0.07 | 680 : 1 | 3800 |
| 50% | 103.1 | 0.14 | 720 : 1 | 3800 |
| 75% | 172.0 | 0.24 | 720 : 1 | 3900 |
| 100% | 308.2 | 0.41 | 760 : 1 | 3900 |
Lenovo has a much better display for color accuracy than ROG Ally, and it's noticeable when you play.
In a color gamut test using a SpyderX Pro colorimeter, the Legion Go produced 100% of sRGB, 91% of AdobeRGB, and 96% of P3 — a fantastic result for a gaming handheld. That's compared to the ASUS ROG Ally, which earned only 95% of sRGB, 73% of AdobeRGB, and 73% of P3.
Similarly, its brightness and contrast results also proved more than adequate. It can reach up to 500 nits and is plenty bright to be used outside. My one issue with it is that when it's at 0% brightness, it still tends to be a little too bright. If it could go dimmer, it wouldn't strain my eyes as much and could help increase battery life by quite a bit.
Lenovo Legion Go: Battery life
Battery highlights
In my testing, the Legion Go lasted about two hours on average but could also run for up to about five hours on reduced settings.
While not the best results, this is good for a gaming handheld and longer than the ROG Ally.
It can be charged back up to 70% in just 30 minutes.
Battery rating: 3.5/5
The biggest problem plaguing gaming handhelds right now is short battery life, which is why it's such a big deal that Lenovo seems to have found a way to make the Legion Go last for a decent amount of time (though it still doesn't last super long).
The system typically ran for around two hours on average when on balanced settings. Playing a more demanding gaming in performance mode can drain the battery far faster. However, when I lowered all of the settings and turned off the RGB, I got it to last for as long as five hours. This isn't ideal for long gaming sessions, but it's significantly longer than the three hours I could get the ROG Ally to last.
Another handy thing is that the Legion Go's Super Rapid Charge allows the system to get back up to 70% battery life in as little as 30 minutes. There's plenty of a charge to keep playing the handheld while it charges, too.
Lenovo Legion Go: Speakers, mic, and accessories
A