Best gaming laptops 2023
Ready to have some fun on the go? These gaming laptops will get you there.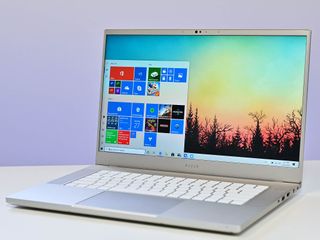 (Image credit: Windows Central)
The best gaming laptops on the market today provide gamers with the portable power necessary to enjoy modern games. As is the case with most laptops, there is a huge variety of gaming PCs available depending on your available budget, required performance ceiling, design, and extra features.
If you're not looking to overspend, you're still going to be able to get a gaming laptop capable of handling 1080p fun, if with in-game settings turned down. And if you do have a bit more money to spend, you can definitely find a laptop with high-res display (think QHD or even 4K), powerful graphics, and modern Intel and AMD processors.
As it stands now, the Razer Blade 15 is our top pick; it has the right combination of power, style, and display to make it an extremely attractive option. It will cost you dearly, but it is worth the price if you have the dough. For those who aren't interested in paying such a lump sum, we've gathered plenty of other options with varying costs to help you get the gaming laptop that's best for you.
Razer Blade 15
Best overall
Reasons to buy
+
Gorgeous 4K, QHD, and FHD display options
+
Insane gaming performance
+
Slim, premium build
+
Decent port selection
+
Enormous Precision touchpad
Reasons to avoid
-
Very expensive
-
Keyboard travel could be deeper
Razer recently updated its Blade 15 at CES 2022, adding 12th Gen Intel Core H-Series CPUs, DDR5-4800MHz RAM, PCIe 4.0 storage, FHD webcam, and some new display options. This all means that the Blade 15 is still the best gaming laptop on the market.
Razer has done away with the Base and Advanced model scheme this time around, instead offering up a bevy of configuration options for all models. You can get up to a Core i9-12900H CPU, NVIDIA RTX 3080 Ti Laptop GPU, 16GB of DDR5 RAM (upgradeable to 64GB), and up to a 1TB M.2 PCIe 4.0 SSD upgradeable to 2TB with an extra open M.2 slot.
There are three displays to choose from, which will likely depend on what level of performance hardware you opt for. The "basic" option has a 1080p (FHD) resolution and 360Hz refresh rate, while the 1440p (QHD) model has a 240Hz refresh rate. If you'd like to go all-out, there's a 4K version with 144Hz refresh rate. All displays have excellent color reproduction and low response time.
Ports are plentiful, allowing you to easily connect accessories. You get dual Thunderbolt 4, three USB-A, HDMI 2.1, a UHS-II SD card reader, and a 3.5mm audio jack. Wi-Fi 6E and Bluetooth 5.2 are included to handle wireless connectivity.
The built-in camera has been bumped up to an FHD resolution, giving you a clearer picture if you're interested in streaming. And this is still a svelte little PC despite all the performance hardware, measuring just 0.67 inches (16.9mm) thin and weighing in at just 4.59 pounds (2.08kg). An 80Wh battery is included.
Lenovo Legion 5i Pro (Gen 7)
More affordable than our top pick
Reasons to buy
+
Improved thermals and overall stable running
+
New QHD+ display with HDR and Dolby Vision
+
Comfy keyboard and huge touchpad
+
Plenty of ports in an accessible layout
+
High-end gaming performance for modern titles
Reasons to avoid
-
Camera is 720p
-
No biometrics
-
Only about four hours battery life for productivity work
I reviewed the Legion 5 Pro (Gen 6) with AMD hardware last year, naming it one of the best gaming laptops that Lenovo had to offer. I've also now reviewed the Legion 5i Pro (Gen 7) with Intel CPUs and a bunch of other updates. I'm still impressed with how well this laptop performs and how well it keeps its cool while doing it.
For Gen 7 models there's now a NVIDIA RTX 3070 Ti Laptop GPU option, a new 16-inch QHD+ display option with 240Hz refresh rate, Dolby Vision, and NVIDIA G-Sync, and an improved ColdFront 4.0 cooling system. The look of the laptop hasn't changed much, but it is slightly thinner and now has a new Legion logo in the middle of the lid.
Ports are plentiful with the majority installed along the back edge for easier access, the keyboard is still comfortable for typing and gaming, and the huge touchpad helps with productivity. Battery life is a bit lacking, even when focusing on productivity work, but this is still a PC that's comfortable handling specialized tasks when you're not gaming.
The displays are made for gaming, with boosted refresh rates, tons of brightness, and Dolby Vision. The QHD+ version I tested also came with DisplayHDR 400 for an overall impressive look.
During heavy testing there was absolutely no thermal throttling; the Legion 5i Pro (Gen 7) can deliver desktop-class performance and keep its cool while doing it. Stock is currently limited due to demand, but that is expected to change in the near future. If you don't want to spend as much on a Blade 15 or even within Lenovo's Legion 7 lineup, the Legion 5i Pro should be a tempting alternative.
Great performance, great price
Reasons to buy
+
AMD and Intel hardware available
+
Competitive price
+
Up to a 300Hz FHD display
+
NVIDIA RTX GPU options
+
New modern design
Reasons to avoid
-
Can still find cheaper options
-
Can find models with better performance
HP's Omen 15 gaming laptop received a refresh in 2021, getting a more modern look with dual hinges, discrete lines, and a new diamond Omen logo. Thermal efficiency was also optimized thanks to an IR thermopile sensor and up to a 12V fan with larger vent openings.
That's a good thing since this laptop has inside up to an Intel Core i7-11800H or AMD Ryzen 9 5900HX CPU. The Intel model has up to an NVIDIA RTX 3060 Laptop GPU for best performance, while the AMD model has up to an NVIDIA RTX 3070 Laptop GPU.
Yes, there are both AMD and Intel CPU options on offer here to help serve as many gamers as possible. Up to 16GB of DDR4-3200MHz RAM can be added to the AMD laptops, while up to 32GB of DDR4-2933MHz RAM is available in Intel models. Both laptops can be configured with up to 1TB of M.2 PCIe storage.
Display options differ depending on the CPU you choose. AMD models come with up to a 15.6-inch QHD display at a 165Hz refresh rate and 300 nits brightness. Those are decent specs, especially paired with the RTX 3070 GPU. Intel models have an FHD display available with up to a 300Hz refresh rate. Though there is also a 144Hz model, the higher refresh rate makes more sense when paired with RTX 30-series GPUs. All models come with Wi-Fi 6 wireless connectivity, and all models also come with an RJ45 Ethernet port for a reliable wired connection.
Have a look at our HP Omen 15 (2020) review for a lot more information about this PC.
Alienware m15 R7
Aggressive style
Reasons to buy
+
12th Gen Intel or AMD Ryzen 6000 CPUs
+
Up to NVIDIA RTX 3080 Ti Laptop GPU
+
Tons of storage and fast DDR5 RAM
+
Multiple high-end display options
+
Can get per-key RGB lighting for mechanical keyboard
Reasons to avoid
-
Prices climb quickly
-
Design might be a bit too flashy for some
Dell's refreshed Alienware m15 R7 comes at you with a bold, mature look that's undeniably aggressive, and it can be had in a Dark Side of the Moon finish for the magnesium alloy body. If you want your laptop to stand out at the next LAN party, the m15 R7 is certainly a top option.
The chassis measures 0.94 inches (23.95mm) at its thinnest point, which is actually a bit chunkier than previous generations. That's to make room for the updated cooling system with new fans, not to mention the performance hardware inside.
You can now get up to a 12th Gen Intel Core i9-12900H or AMD Ryzen 9 6900HX CPU, NVIDIA RTX 3080 Ti Laptop GPU, 64GB of dual-channel DDR5-4800MHz RAM, and 4TB of M.2 PCIe 4.0 SSD storage. That's some truly high-end hardware that will drive a premium gaming experience no matter the title you're playing.
Everything will look gorgeous no matter the display you choose. There are FHD and QHD options available, all with NVIDIA G-Sync, low response times, high refresh rates, and Dolby Vision. Dolby Atmos is also included for the speakers.
The laptop is still stocked with ports, and the comfy keyboard has per-key RGB customizable lighting to get the look you want. You can even opt for a mechanical keyboard with CherryMX switches and per-key RGB.
Acer Nitro 5
Best value
Reasons to buy
+
Great price
+
Solid mid-range performance
+
Decent port selection
+
Display with high refresh rate
Reasons to avoid
-
Not as powerful or premium as high-end options
Due to the high-end hardware inside gaming laptops, most come in well above what most people are willing to pay for a single piece of tech. If you're a gamer who enjoys casual and indie games and doesn't need something that will run AAA games on Ultra settings, the Acer Nitro 5 is no doubt going to be quite appealing.
Despite the bargain price, the 15.6-inch IPS display has a smooth 144Hz refresh rate with FHD resolution. Combined with this level of performance hardware, it's a great match. Get up to an 11th Gen Intel Core i7-11800H CPU, 16GB of DDR4 RAM, a 1TB SSD, and an NVIDIA RTX 3050 Ti GPU with 4GB of GDDR6 VRAM.
The chassis weighs in at 5.07 pounds (2.3kg) and measures 0.94 inches (23.9mm) thin, allowing for plenty of room for ports. There is HDMI, Thunderbolt 4, three USB-A 3.2, 3.5mm audio, and Ethernet for a reliable wired connection. However, if you're gaming over Wi-Fi, a Wi-Fi 6 chip is included for faster speeds. Bluetooth 5.0 is included for connecting wireless accessories.
The full keyboard with a number pad has a red backlight to match the Nitro theme, and the touchpad uses Precision drivers for a satisfying typing experience when not using an external mouse. Altogether this laptop isn't going to check as many boxes as the expensive high-end machines we have listed here. However, it is going to save you a ton of money and still deliver a satisfying gaming experience for a lot of people.
Straightforward design
Reasons to buy
+
Tons of performance
+
Speedy RAM and SSD are upgradeable
+
QHD display with 165Hz refresh rate
+
IR camera, Thunderbolt 4, HDMI 2.1
Reasons to avoid
-
System runs hot, some throttling
-
Key actuation is sometimes finicky
-
Fans can be loud
ADATA released the first XPG Xenia 15 in 2020, and while it was a good first effort, I wasn't terribly impressed. Enter the XPG Xenia 15 KC for 2021, another gaming laptop based on a Tongfang reference design. ADATA made some big changes for this updated model, including better management software, refreshed performance hardware, new display, new ports, and more.
This model wasn't initially very affordable, but it has since come down quite a bit in price. It has an 11th Gen Intel Core i7-11800H octa-core CPU, 32GB of DDR4-3200MHz RAM, 1TB M.2 PCIe 4.0 (very fast) Gammix S70 SSD, and an NVIDIA RTX 3070 Laptop GPU. The system runs hot, as do most gaming laptops with this level of performance, but the result is smooth frame rates in modern AAA games.
At 1440p, that's extra impressive. The 15.6-inch display is gorgeous, getting a bump up to a 2560x1440 (QHD) resolution from FHD. The 16:9 aspect ratio is a bit stale, but the accurate color, 165Hz refresh rate, low response time make up for it. Port selection is plentiful and includes Thunderbolt 4 and HDMI 2.0, and the RGB keyboard is good if a bit finicky on some keys.
If you like a no-nonsense design instead of the usual "gamer" flair, this is an excellent option that hides a ton of power inside.
All-out Intel power
Reasons to buy
+
Outstanding performance without throttling
+
Actually decent battery life
+
Lovely low-profile mechanical keyboard with Cherry MX switches
+
Loud, full audio from quad speakers
+
IR camera and fingerprint reader
Reasons to avoid
-
Expensive
-
Slow UHS-I card reader
-
Webcam only 720p
-
Gets very hot
Most gaming laptops require you to make some concessions when it comes to performance, at least when compared to a desktop PC. The tradeoff is far better mobility, allowing you to take your gaming PC practically anywhere. But what if you don't want to make any compromises? The MSI Titan GT77 is probably what you're looking for, but be warned: it doesn't come cheap.
This monster 17-inch gaming laptop is essentially some high-end life support for 12th Gen Intel Core HX-series processors and NVIDIA RTX 30-series laptop GPUs, as I mentioned in my MSI Titan GT77 review. It significantly narrows the gap between desktop and laptop performance, affording gamers, creators, and designers the power needed to handle essentially any game or required task.
Not only does it feature up to an Intel Core i9-12900HX CPU with performance that rivals Intel's K-series desktop chips, it also has up to a NVIDIA RTX 3080 Ti laptop GPU that can absolutely crush any modern games out there. The laptop runs hot but doesn't throttle, it has good battery life for a gaming device, and it comes with IR and fingerprint biometrics.
The display in most models has a 4K resolution and 120Hz refresh rate, which is ideal for this level of performance. There are plenty of ports for connecting accessories, though the built-in mechanical keyboard with CherryMX switches is a delight and the quad speaker setup pumps out impressive audio. This laptop is expensive, but it's a great choice if you'd like to carry around desktop performance wherever you go.
Bottom line
Why you can trust Windows Central Our expert reviewers spend hours testing and comparing products and services so you can choose the best for you. Find out more about how we test.
When it comes to buying one of the best gaming laptops — as with buying just about any laptop — there's a lot more involved than finding the best deal and pulling the trigger. Laptop manufacturers can easily inflate hardware abilities with fancy speech, and it might not be until you get the laptop home and try to load up your favorite game that you find it lacks in certain vital areas. For example, no gaming laptop is going to deliver excellent battery life when you're actually using it for gaming.
That's why we've put together this collection of laptops that range from the top of the high-end spectrum to options that are far more affordable and will still satisfy casual gamers. We've tested many of these laptops ourselves, and each one has a good blend of looks and performance that match up with the asking price. No matter what level you game at or how much you have to spend, you should be able to find something suitable in this collection. However, there is one gaming laptop that continues to impress us year after year.
The Razer Blade 15 is an impressive piece of engineering, and it's our top pick for a gaming laptop. There are plenty of configuration options for CPU, RAM, storage, and GPU, including the best graphics cards from NVIDIA. You're going to be able to enjoy any modern game with a smooth frame rate, made better by multiple 15.6-inch display options ranging from FHD to QHD to 4K OLED.
Be sure to have a look at our collection of the overall best Windows laptop options for more great hardware.
Windows Central Newsletter
Get the best of Windows Central in your inbox, every day!
Senior Editor, Laptop Reviews
Cale Hunt is formerly a Senior Editor at Windows Central. He focuses mainly on laptop reviews, news, and accessory coverage. He's been reviewing laptops and accessories full-time since 2016, with hundreds of reviews published for Windows Central. He is an avid PC gamer and multi-platform user, and spends most of his time either tinkering with or writing about tech.