The Alienware x16 R1 is gorgeous and immaculately constructed, and it boasts some serious power. This flagship gaming laptop embodies "premium" in every sense but stumbles short of perfection thanks to a number of tiny (mostly software-related) issues. If you can overlook those issues (and that price tag), this is an impressive gaming machine.
Pros
+

Amazing design with nearly perfect build quality

+

Blistering performance with latest Intel and NVIDIA hardware

+

Fun, comfortable, responsive mechanical keyboard

+

Plenty of glorious RGB lighting
Cons
-

Can get hot very quickly

-

Lots of small software issues

-

Expensive
Why you can trust Windows Central Our expert reviewers spend hours testing and comparing products and services so you can choose the best for you. Find out more about how we test.
Alienware is one of the oldest, most well-known players in the gaming hardware industry and has been making fantastic high-end gaming laptops and desktops for a long time. The Alienware x16 R1 represents a new era for the company's highest-end, most premium gaming laptops and pairs a perfectly precise design with mighty powerful hardware from Intel and NVIDIA.
I've been using the Alienware x16 R1 for a few weeks now, both as my primary laptop and as my main window into the world of PC gaming. In that time, I've been constantly impressed by the quality, attention to detail, and considerably powerful hardware on offer in this true flagship laptop. I've also been subjected to a variety of tiny frustrations in its software and beyond, making this an ultimate gaming machine for those with money and patience to spare.
Disclaimer: This review was made possible by a review unit provided by Dell. The company did not see the contents of the review before publishing.
Alienware x16 R1 review: Pricing and specifications
Pricing & specifications highlights
Starts at $1,799.99 with entry-level gaming hardware
Costs quickly rise (up to over ~$4,000) with dozens of configuration options
You're paying extra for the premium design and build quality
Value rating: 3.5/5
Alienware is a well-established brand further bolstered by Dell's expertise, so it should benefit from widespread availability, ample stock, and fast shipping times. Buyers also enjoy dozens of options in Dell's configuration menu, which allows you to equip your Alienware x16 R1 to match your needs and budget. The x16 R1 begins at $1,799.99, but that model is understandably massively stripped back in terms of power and overall capability.
Reviewed configuration
Price: $3,249.99
Display: 16-inch, QHD+ 2,560 x 1,600, 16:10, 240Hz, 3ms, non-touch, 300 nits, Dolby Vision, NVIDIA G-SYNC
CPU: Intel Core i9-13900HK
GPU: NVIDIA GeForce RTX 4080
RAM: 32GB LPDDR5, 6,000MHz
Storage: 1TB PCIe NVMe SSD
Battery: 90WHr, 330W barrel charger
Size: 364.7 x 289.8 x 18.6mm (14.4 x 11.4 x 0.7in)
Weight: 2.7kg (6lbs)
At its base specs, the Alienware x16 R1 boasts a 13th Gen Intel Core i7 CPU, albeit one with fewer cores and power than some of the more impressive offerings in higher-end configurations. You're also getting an NVIDIA GeForce RTX 4050, a budget GPU fit for light and entry-level gaming. Elsewhere, you get 16GB of slower LPDDR5 RAM, an incredibly speedy 1TB PCIe NVMe SSD, and a QHD+ 165Hz display. The power in this $1,800 laptop is lacking versus similarly priced competitors, but it's also packaged in the x16 R1's super-premium chassis.
Specifications quickly get more exciting as you go up the chain, though. The Alienware x16 R1 can be equipped with up to an Intel Core i9-13900HK (not the even most powerful HX with more cores), an NVIDIA RTX 4090, 32GB of RAM, 4TB of SSD storage (with an optional RAID configuration), and even an FHD+ 480Hz display. One of the most exciting options in higher-end configurations is a low-profile CHERRY MX mechanical keyboard that is simply delightful, as I'll discuss more below. Fully specced out, the Alienware x16 R1 will run you a pricey $4,094.99.
The model I reviewed was specced near the top but with some elements reasonably pulled back. However, the model I'd recommend to most people is actually a little lower on the configuration chain than that, as it's just $2,399.99 at Dell and is all around a highly impressive gaming laptop.
My recommended configuration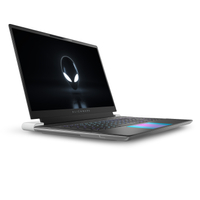 Core i7-13700H | RTX 4070 | 16GB RAM | 1TB SSD | 240Hz QHD+
This configuration isn't the most powerful or absurd Alienware x16 R1 you can get, but it does pack enough power to play all the latest and greatest games for a more reasonable $2,400. If you're looking for ways to improve on this, you can upgrade to an RTX 4080 with more VRAM, double your regular RAM to 32GB, or get the wonderful CHERRY MX mechanical keyboard.
View more configurations: Dell
Alienware x16 R1 review: Build quality and design
Build quality & design highlights
Premium materials, refined design language, and excellent build quality
RGB lighting looks great and is highly customizable
Ports selection feels a little limited
Design rating: 4.5/5
Design overview
Materials: Aluminum, magnesium alloy, stainless steel, and high-quality plastic
Design features: Legend 3 design language, AlienFX RGB lighting, rear-mounted ports
Dimensions: 364.7 x 289.8 x 18.6mm (14.4 x 11.4 x 0.7in)
Weight: Up to 2.7kg (6lbs)
Ports: USB Type-C Thunderbolt 4 (1x), USB Type-C 3.2 Gen 2 (1x), USB Type-A 3.2 Gen 1 (2x), HDMI 2.1 (1x), Mini DisplayPort 1.4 (1x), microSD (1x), 3.5mm audio jack (1x)
One of the biggest differentiators between Alienware's x and m-series of gaming laptops is design. The x-series prioritizes premium materials, aesthetics, and fit and finish, while the m-series sacrifices that for a thicker chassis, blander designs, and (often) more performance for your money. The Alienware x16 R1 continues this trend with the company's latest "Legend 3" design language, which you can see reflected across many of Alienware's newer products.
The end result is a stunning gaming laptop that exudes quality from every angle. It's one of the best-looking laptops I've had on my desk so far, and that alone will be enough to attract plenty of buyers. It is relatively thin (18.6mm), and looks quite slim thanks to subtle curves and thoughtful lines. There is quite a lot of heft here, though, with the x16 R1 going toe-to-toe with other large-screen gaming laptops with a chunky weight of up to 6lbs, and it's longer than your average laptop thanks to the rear-mounted ports and vents.
Most of the chassis is constructed from aluminum, with magnesium alloy and steel used for reinforcement. The keyboard deck, display bezels, and rear of the laptop are made of high-quality plastic; the deck, in particular, has a lovely soft-touch texture that feels great. The overall build quality is exceptional, with every piece feeling premium and flowing together perfectly. Even a forceful investigation of the entire chassis doesn't reveal any sharp edges, unsightly seams or gaps, or creaking. The only flexing I could find was slight, in the vents above the keyboard and on the bottom of the laptop, and absolutely none of it was concerning in the slightest.
I can't fault the construction of the x16 R1 at all, but I also love its design. This area is going to be largely subjective, but I believe Alienware has struck a wonderful balance between its outlandish designs of old and the gaudy "gamer" aesthetic of many modern laptops. The "Lunar Silver" colorway pairs a soft silver with a crisp combination of white and black, a subtle "X" adorns the lid, and Alienware's infamous hexagons add character to otherwise boring vents. The display bezels are suitably thin, and almost everything is placed thoughtfully.
Alienware's AlienFX is in full display here, with the x16 R1 boasting per-key RGB lighting for every key (minus the spacebar) on the keyboard, a fully lit RGB touchpad, and a circular RGB light around the entire rear of the laptop consisting of over 100 micro-LEDs. Every element of this RGB lighting can be customized in-depth via the Alienware Command Center, and it all looks great. You can even customize the colors of the power button for different power states! I just wish the spacebar enjoyed some lighting, too.
Finally, let's talk about ports. This is one area where I feel the Alienware x16 R1 falls short of other gaming laptops, and I believe Alienware's focus on making a slim, beautiful laptop is to blame here. You get a USB Type-C Thunderbolt 4 port, a USB Type-C 3.2 Gen 2 port, two USB Type-A 3.2 Gen 1 ports, a 3.5mm audio jack, one HDMI 2.1 port, a Mini DisplayPort 1.4, and a microSD card slot. Every single one of these ports is arrayed on the rear of the laptop.
That's a fine selection for most laptops, but I would've liked to see more from the Alienware x16 R1. An Ethernet port is vital for many gamers, especially when powerful gaming laptops like this often spend a lot of time on a desk while plugged in. That Mini DisplayPort really should just be a full-sized DisplayPort. One or two more USB Type-A ports would've been nice, too. Finally, while I wholeheartedly agree that rear-mounted ports are the best design for gaming laptops, I don't want to see every port relegated to the rear. A USB Type-A and USB Type-C port, and maybe even the 3.5mm audio jack or microSD card slot, would work wonderfully spread across both sides of the laptop for easier access when you're on the go.
Alienware x16 R1 review: Display
Display highlights
All three display options have similar base features and capabilities but differ in resolution and refresh rate
The brightness and image quality of these displays are average but functional
Gaming performance is very good, with no ghosting or stutters
Display rating: 4/5
Display overview
Display type: 16-inch IPS LCD w/ 16:10 aspect ratio
Display options: QHD+ @ 165Hz, 100% of sRGB | QHD+ @ 240Hz, 100% of DCI-P3 | FHD+ @ 480Hz, 100% of DCI-P3
Display features: 3ms response time, NVIDIA G-SYNC, 300 nits max brightness, Dolby Vision HDR, ComfortView Plus blue light filter, built-in MUX
Like with its port selection, the Alienware x16 R1's display options is one area I feel Alienware could've delivered more at this exorbitant price. First, let's cover the options. You can equip the x16 R1 with any of three different displays, which mostly offer the same baseline experience and only differ in resolution and refresh rate. All displays are 16-inch and 16:10, boast a 3ms response time, NVIDIA G-SYNC and Dolby Vision support, 300 nits of brightness, Dell's ComfortView Plus blue light filtering technology, and built-in MUX to force the computer to use the NVIDIA GPU over the integrated Intel GPU at all times.
The baseline display is QHD+ (2,560 x 1,600) at 165Hz and is slightly less color accurate with 100% of the sRGB color gamut but not the DCI-P3 gamut. The middle-of-the-road display (and the one I tested) raises that refresh rate to 240Hz and promises 100% of the P3 color gamut. Finally, the top-of-the-line display drops the resolution to FHD+ (1,920 x 1,200) but raises the refresh rate to a blisteringly fast 480Hz. The long list of shared features between these displays means you should have similar experiences with each, but I've obviously only been able to test one.
Swipe to scroll horizontally
| Setting | Brightness | Black | Contrast | White point |
| --- | --- | --- | --- | --- |
| 0% | 19.2 | 0.01 | 1,400:1 | 5,900 (0.324, 0.318) |
| 25% | 65.2 | 0.06 | 1,190:1 | 6,000 (0.323, 0.318) |
| 50% | 110.7 | 0.08 | 1,340:1 | 6,000 (0.322, 0.318) |
| 75% | 204 | 0.17 | 1,240:1 | 6,100 (0.320, 0.318) |
| 100% | 350.5 | 0.28 | 1,270:1 | 6,300 (0.318, 0.317) |
As you can see from the tests I ran above, the QHD+ 240Hz display on the Alienware x16 R1 is mostly average. This isn't a bad display by any means, but it's about on par with countless other gaming laptops. Brightness is a little higher than the promised max at 350 nits, which is good enough for most indoor environments but will struggle with direct sunlight and some HDR content. The image quality is also pretty average for an IPS LCD display, with solid contrast levels and slightly warm (but very consistent) whites.
One area where this display impresses is with color accuracy, with 100% of the sRGB and 99% of the DCI-P3 color gamut being a pretty decent showing. The display looks good, if not particularly vibrant or dynamic. Unfortunately, my unit also has pretty severe backlight bleed in the lower left-hand corner, which is bad enough that you can almost always see it when using the display. Backlight bleed is common with this display type, but this is among the worst I've ever seen, and it's on a very expensive gaming laptop.
Overall, though, the displays you can equip the Alienware x16 R1 are just not what I wanted to see. This is a very premium gaming laptop, but its displays do not reflect that. Other high-end manufacturers like Razer are actively innovating with better display types like OLED and miniLED, better gaming performance, and superior image quality with more vibrant hues and higher brightness levels. Having more affordable options is fine, but a 480Hz refresh rate isn't as impressive if the rest of the display isn't great, too.
In practice, gaming on the Alienware x16 R1 with this display is more positive. This wouldn't be my go-to for media consumption, but a 240Hz refresh rate is a good pairing for the hardware packed into this chassis and ensures great, smooth performance in all the best PC games. Little complaints on that front, although I will mention that while all the x16 R1 displays technically support HDR via Dolby Vision, I could not get it to work in any of the games I played.
This display seems to support limited HDR video streaming through Windows, so it'll only work in certain apps and with media content. There's no option to force HDR, nor does the Alienware x16 R1 appear as supporting HDR in any of my installed games. This is unfortunate at the price but mostly fine, given the relatively low max brightness of these displays (a max brightness of at least 400 nits is recommended for good HDR support, but the higher, the better). Of course, you can always connect the Alienware x16 R1 to one of the best gaming monitors for a better experience.
Alienware x16 R1 review: Thermals and performance
Thermals & performance highlights
Performance is great but falls short of the most powerful laptops in this price range
Thermals do a fair job preventing severe throttling, but the laptop does get very hot
An Overdrive mode can slightly increase performance but also improves thermals with max fan speed (and noise)
Performance rating: 4/5
Performance overview
CPU: Starts with Intel Core i7-13620H, up to Intel Core i9-13900HK
GPU: Starts with NVIDIA GeForce RTX 4050 w/ 6GB VRAM, up to NVIDIA GeForce RTX 4090 w/ 16GB VRAM
RAM: Up to 32GB LPDDR5 @ 6,000MHz
Storage: Up to 4TB PCIe NVMe SSD (with RAID option)
Thermals: Cryo-Tech design with quad-fans, Element 31 thermal paste, Perimeter Foot to aid air flow, and broad vapor chamber on RTX 4080/4090 configurations
That the Alienware x16 R1 is a powerful gaming laptop, there is no doubt. This is the pinnacle of the best Alienware gaming laptops, after all, and that means there is plenty of power under the hood. The more price conscientious can still obtain the premium design of the x16 R1 with more reasonable internals, but those willing to shell out the big bucks can expect fantastic gaming performance from this laptop... with some caveats.
In day-to-day use, the Alienware x16 R1 is a practically flawless performer. The laptop boots up quickly, apps open up instantly, and the laptop flies through my daily workflow with ease. That's the bare minimum for a laptop of this caliber, but the x16 R1 does deliver. Most of the time, the x16 R1 stays quiet and doesn't get too warm. That quickly changes when you push this laptop to its limits, though.
Image 1 of 5
In benchmarks, the x16 R1 performs very well with the Intel Core i9-13900HK (14 cores, 20 threads, up to 5.4GHz turbo) and NVIDIA GeForce RTX 4080 (12GB of GDDR6 VRAM). It's consistently beaten by the superior thermal performance of powerful desktop PCs like the Dell XPS Desktop (8960) but compares very favorably with other high-end gaming laptops. Even in benchmarks, though, you can begin to see the gap between Intel's Core i9 HX-series CPUs and the HK-series CPU inside the x16 R1.
The top-of-the-line Core i9 HX-series CPU boasts 10 more cores and 12 more threads than the HK-series in the x16 R1, which translates to far better multicore performance. Other gaming laptops in this price range do include HX-series Intel processors, including Alienware's own m18 R1, but not the x16 R1. That being said, the x16 R1 actually outperformed the Razer Blade 18, also characterized by its slim chassis, in both Cinebench and PCMark 10, possibly because the Razer sometimes struggled to keep its HX-series CPU cool enough.
A lightning-fast SSD (6,459MB/s write and 7,097MB/s read), plenty of high-end RAM, and still-powerful internals means the x16 R1 charges through any task you throw at it. Its thermal system is a weak point, though; the x16 R1's temperature management is competent enough but raises some concerns about the long-term durability of the laptop.
Quad fans, a vapor cooling chamber, and more vents than you can count should translate to great thermal management, but the Alienware x16 R1 seems to regularly toe the line for acceptable temperatures. When performing intense tasks or gaming, the Alienware x16 R1 very quickly heats up and gets loud. I regularly saw both the CPU and GPU reach temperatures just shy of forced throttling (seeing exactly 100° C for the CPU was not uncommon) and stay there for long periods. The vents above the keyboard and on the sides all reflect this heat, getting too hot to comfortably touch.
Credit where credit is due, I almost never witnessed the Alienware x16 R1 actually noticeably degrade in performance due to throttling, even after hours of gaming in Phoenix, AZ, when my environment was 84° F. The CPU and GPU get hot fast, but the fans keep them from going over the edge. I'm just concerned about what this heat will do to the Alienware x16 R1 after years of regular gaming, especially as the internal fans slowly accumulate dust (clean your laptop fans, gamers).
Most of my testing was done in the x16 R1's Performance mode, but there is an Overdrive mode that can overclock the CPU and GPU for improved performance. It does work, but the slight performance gains were mostly negligible. What is great, however, is how much cooler the laptop runs in this mode. That's because the fans are running at 100% the entire time, which makes them by far the loudest fans I have ever heard on a laptop (I can hear it on the other side of my abode). The trade-off for obnoxiously loud fans is more comfortable temperatures for the CPU and GPU, plus a few more frames-per-second in your games. You have to start Overdrive mode before you begin an intense task or game, though, as one of the only times I ever saw noticeable throttling was when starting Overdrive mode when the laptop was already hot.
Alienware x16 R1 review: Gaming performance
Gaming performance highlights
Excellent overall gaming performance with stable framerates
Overdrive mode can lead to genuine performance improvements, but only if you start it when the laptop is cool and unstressed
Speakers are loud and full of bass, perfect for masking the extremely loud fans
The Alienware x16 R1 may not be the most powerful gaming laptop in the world, but it's still an incredible performer that tackles practically any PC game with ease. It mattered little what I threw at the x16 R1 because it handled it all at the highest settings. While the laptop does still get very hot, as mentioned above, it does seem the thermal system Alienware employed here does a good job of preventing throttling, even over long gaming sessions. This is especially true if you use the Overdrive mode, which you can enable with the press of a dedicated key.
In 3DMark Time Spy, the Alienware x16 R1 performed exactly where you'd expect with its NVIDIA GeForce RTX 4080. It bested anything short of a high-end gaming desktop and the Razer Blade 18 laptop, which boasts an RTX 4090. Outside of this benchmark, I never had any issues performance-wise with this laptop. Here are some of the games I tested and how the Alienware x16 performed:
Cyberpunk 2077: 73fps average (with dips as low as 46fps) on the Ray Tracing Ultra preset, QHD+ resolution, and DLSS turned on
Forza Horizon 5: 116fps average on the Extreme preset, QHD+ resolution, and general ray tracing set to High
Valorant: 240fps average (with dips as low as 230fps) on max settings, QHD+ resolution, framerate locked to 240fps
Ultimate Epic Battle Simulator 2: 100fps average (with dips as low as 60fps) on max settings, QHD+ resolution, and just over 300,000 active units on screen
When Overdrive is enabled from the beginning, you can see slight performance improvements and overall lower temperatures (but you'll get a lot of noise). Forza Horizon 5 went from a 116fps average to a 120fps average, with highs of 140fps in certain areas. In other games and benchmarks, the effect was much more subtle, like raising the 3DMark Time Spy score from 16,508 in Performance mode to 17,186 in Overdrive mode.
Conversely, the Alienware x16 R1 still performs very well when running on its battery... as long as you don't need the GPU. It's clear the GPU is massively throttled when on battery power, with good reason. In general use, though, the Alienware x16 R1 is just as speedy on battery power as it is plugged in.
Overall, the Alienware x16 R1 is a very strong performer, even when considering the more powerful laptops available at this price. I'm concerned about the possible long-term effects of those high temperatures in Performance mode, and Overdrive mode is hardly a perfect compromise considering the ridiculous amount of fan noise.
Alienware x16 R1 review: Battery life
Battery life highlights
Performance is still great when on battery, except for GPU-related tasks
Battery life with normal usage and typical settings is mediocre at just over two hours
Charging is fast and keeps the battery topped off even during extremely intensive use
Battery rating: 3/5
I hope you're not expecting much from the Alienware x16 R1 battery life-wise because there's not much to say. Similar to other powerful gaming laptops, the x16 R1 absolutely chugs through its massive battery cell at a record pace. You shouldn't be buying a gaming laptop if you need an all-day workhorse anyway, but the Alienware x16 R1 is even on the lower end of endurance for gaming laptops.
In the PCMark 10 battery test, the Alienware x16 R1 clocked just over two hours before giving up the ghost. This was with mostly default settings, how most users will use this laptop. That means approximately 60% screen brightness, Balanced power mode, RGB lighting enabled, and the display refresh rate set to a dynamic 120Hz-240Hz. Of course, you could easily squeeze another two to three hours out of this laptop if you lowered the display brightness, refresh rate, and performance, and turned off the RGB lighting.
Generating a Windows Battery Report returns similar results, with around two hours and twenty minutes being the most you can expect out of the Alienware x16 R1 with regular usage (short of disabling features and making a genuine effort to prolong the battery).
The SSD and other components aren't massively throttled when on battery power, which is good for performance. It means you can actually use the Alienware x16 R1 off the charger with little compromise when you need to. Of course, the GPU is massively throttled (around a 50-60% decrease in performance) on the battery, which is expected. The Alienware x16 R1 can draw up to 175W for the GPU with the RTX 4090, which would decimate the little battery life it has.
Alienware x16 R1 review: Keyboard and touchpad
Keyboard & touchpad highlights
CHERRY MX mechanical keyboard is excellent — great layout, travel, and tactile feedback
Touch pad is cramped, but it is good
Customizable macro keys and separate media controls are nice to have
Other hardware rating: 4.5/5
Keyboard deck overview
Keyboard: CHERRY MX mechanical keyboard with 1.8mm of travel, 5x programmable macro keys, standalone media controls, full-sized arrow keys, per-key AlienFX RGB lighting, and no number pad
Touchpad: Small, glass Microsoft Precision touchpad with a smooth texture and reliable, clicky buttons, as well as full AlienFX RGB lighting across the entire surface
With gaming laptops, the keyboard is almost as important as the internals that power the entire affair. With the Alienware x16 R1, Alienware spared no expense. This is a full-sized mechanical keyboard designed with CHERRY MX, the company behind the most popular keyboard switches in the world. The result is a genuinely fantastic keyboard. I'd even go so far as to say this is the best keyboard I have ever used on a laptop.
You get a cushy 1.8mm of travel, but you also get a wonderful, tactile click with every keypress. There's plenty of space between the keys, so you never feel cramped (the lack of a number pad also helps with this), and the arrows are full-sized, as you'd expect for a gaming laptop (I'm looking at you, Razer), and Alienware baked-in standalone media controls, five programmable macro keys, and fantastic RGB lighting.
This is one of the most responsive, comfortable keyboards I've had the pleasure of using. Within no time, I was absolutely flying on this keyboard, and it feels great to game on, too. I have zero complaints in this department. Bear in mind, however, that this mechanical keyboard does not come standard on the Alienware x16 R1, with base configurations including a more standard laptop keyboard. If you want this (and you should get it), you'll have to pay a little extra. Trust me, it's worth it.
I like having media controls (volume up/down, speaker mute, and mic mute) on the side for easy and consistent access, and it's great that the function keys that'd normally serve that purpose are now programmable macro keys. Unfortunately, I didn't get a lot of use from these macro keys, as you're rather limited in how you can use them. In Alienware Command Center, you can program them to press a sequence of keys in order, paste a text block, or open a specific app or program. There are no system-level commands, like disabling the Windows key, activating a custom performance profile, or anything else. At least there's a separate key dedicated to activating Overdrive mode for improved performance.
The touchpad is less interesting. Most people will probably ignore the touchpad in favor of one of the best gaming mice, but it is there for when you need it. In those times, it serves its purpose. It uses Microsoft Precision drivers for gesture support and consistent performance, has a smooth glass surface, and reliable and tactile button actions. Yes, it's quite small, but I'd much rather keep the extra exhaust vents above the keyboard and the full-sized keyboard before accepting a bigger touchpad on a gaming laptop. Also, the entire touchpad has full RGB lighting. Nice.
Alienware x16 R1 review: Camera, audio, and more
Other hardware features highlights
Camera and mics are average at best, but you do get Windows Hello support
Speaker system is loud, has great low-ends, and sounds really good overall
Wireless connectivity is rock solid, but I still miss the Ethernet port
Other hardware overview
Camera: FHD (1080p) @ 30fps front-facing camera with RGB & IR sensors for Windows Hello facial recognition
Audio: Dual-array microphones, six-speaker system (2x 2W tweeter, 4x 3W woofer) with Dolby Atmos
Wireless: Wi-Fi 6e, Bluetooth 5.3 with Intel Killer
The Alienware x16 R1 is equipped with a front-facing camera and microphone array for video conferences, streaming, and more, but it's understandably not the focus of this laptop. The quality of both camera and mics is average at best, with the camera lacking dynamic range, good color reproduction, and detail. You do get Windows Hello facial recognition, however, which makes signing in incredibly easy (when it works).
Elsewhere, matters are far more positive. Alienware has included six speakers in the x16 R1, which should translate to fantastic audio. You get two tweeters on either side of the keyboard and then four woofers on either side of the keyboard and on the front-facing underside of the laptop. This means you get a frankly ridiculous volume level out of this speaker system — too loud to use at 100% when you're sitting right in front of the computer. For me, 40-50% was all I ever needed.
The sound quality is also good, with solid stereo separation and an appropriately wide soundstage tuned by Dolby Atmos. Low-end bass has a fair bit of punch, and you can actually feel the vibrations. Mids also sound really good, with great clarity. High-ends and voices are where the quality falls off a little, with voices in movies and video game cutscenes, in particular, sounding on the hollow and tinny side. Overall, though, this is a really solid speaker system and is more than good enough for regular use (including listening to music). Plus, it's loud enough to drown out the absurdly noisy fans.
Finally, the Alienware x16 R1 is on the cutting edge of wireless connectivity. You get both Wi-Fi 6E and Bluetooth 5.3. Performance for both was rock solid, and I have absolutely no complaints. I was able to comfortably play competitive online games solely on Wi-Fi, and I never once experienced a drop or stutter with Bluetooth accessories like the Xbox Wireless Controller.
Alienware x16 R1 review: Software
Software highlights
There are lots of minor software bugs that slowly frustrate and exhaust you
Two major Alienware apps crucial to the operation of the x16 R1 also did not work at all when setting up the new laptop
Like other Alienware products, it seems the x16 R1 is in need of some post-launch firmware updates
Software rating: 3/5
NOTE: While this review was being edited, Alienware released some firmware updates for the x16 R1 and updated the Alienware Command Center. While the x16 R1 still has lots of software issues, the AWCC does now startup faster and more consistently, and Alienware welcomed all the feedback I provided, assuring me that the teams are working diligently to improve the Command Center and the overall experience. I still have to review the product as it is now, but I have faith the Alienware x16 R1 will continue to improve with each update.
Software overview
OS: Windows 11 Home or Pro
Preinstalled apps: Five Alienware apps (Customer Connect, Digital Delivery, Command Center, Update, and My Alienware), standard NVIDIA and Intel apps, Dolby Access, Realtek Audio Console
The Alienware x16 R1 comes preinstalled with Windows 11 and also has a variety of preinstalled apps from Alienware, Intel, and NVIDIA. For the most part, all of these apps make sense, and there's little unnecessary fluff (thankfully, no McAfee or Norton). I could argue that Alienware's Digital Delivery and My Alienware apps are useless, but they're also harmless and can be easily uninstalled. On the surface, it seems like a healthy, great software experience... Except for the bugs.
Oh, and there's a lot of them. For one, the Alienware Command Center was nowhere to be found. Despite being the core app for the x16 R1 that allows you to manage thermals and stress levels, change and customize performance profiles, edit RGB lighting and macros, and even manage all your Alienware accessories... it basically didn't exist. I could see it was installed if I searched for it, but it didn't appear in the Start Menu apps list and refused to open even when I found it buried on the PC. Attempting to repair or uninstall it resulted in the process freezing entirely. Attempting to reinstall it from Dell's website resulted in a "this program is already installed" error.
I was only able to resolve the issue by first fixing Alienware Update. Oh yeah, didn't I mention? The Alienware Update app refused to start when I first set up the laptop. You know, the app that's needed to update all the firmware for the laptop? After some investigating, I discovered that a critical background process (DellClientManagementService) was failing to start. In fact, it was entirely and permanently disabled, forcing me to dive into Windows Services to enable it. Even then, it disabled itself again after a restart, so I had to repeat the process.
Ensuring all the Dell and Alienware background services were running properly, I was then able to install an Alienware Command Center update (and other firmware updates) through Alienware Update. Finally, both apps were working.
Microsoft's notoriously finicky Gaming Services process was also permanently disabled, but that may be more on Microsoft than Alienware. I couldn't fix that with Windows Services; I had to completely and forcefully uninstall it using Terminal (Command Prompt) and then reinstall it.
Those were the most major issues, but there were plenty of smaller ones. I'll just list some of them quickly: RGB lighting over the keyboard constantly flickered, often when the x16 R1 was loading something; the rear RGB lighting around the ports froze entirely until I put the laptop to sleep and woke it up again; Windows Hello completely stopped functioning; using the front-facing camera during a video conference resulted in a blue screen thanks to a video encoder issue; Alienware Command Center would randomly take ages to load, and would also take a long time to recognize connected Alienware peripherals; the laptop would randomly spin up its fans and become extremely hot even when sitting completely idle or while the laptop was closed and in standby; RGB lighting would occasionally refuse to turn off when the laptop was closed and asleep, sometimes for as long as an hour.
When the software works, the Alienware x16 R1 performs admirably. Unfortunately, this is a "death by a thousand cuts" situation, with a lot of smaller software issues adding up over time. Hopefully, it'll improve with further firmware updates, as Alienware products are liable to do over time (such as with the Alienware AW720H wireless gaming headset).
Alienware x16 R1 review: Competition
There's no shortage of gaming laptops, but not many of them can go up against the Alienware x16 R1 and come out on top. Still, there are a few options depending on what you're looking for.
If you care about aesthetics but still want a lot of power, your best bet is the Razer Blade 18 or its 16-inch counterpart. Razer also loves to make its laptops as thin and compact as possible, with sleek minimalist designs that look good in any setup. Razer's laptops can be even more expensive than the Alienware x16 R1, but you can get even more power than the x16 R1 can handle without sacrificing the premium design.
You want raw power? I'd suggest looking at the Alienware m16 R1 or m18 R1, which are thicker and heavier than the x16 R1 with less interesting designs and worse build quality... but you can get more power for your money. The MSI Titan GT77 is also in the same boat, packing in an absurd amount of power in an unassuming, sometimes cheap-feeling chassis.
If you'd rather save as much money as possible, it'd be a good idea to look at other brands like HP OMEN or Lenovo Legion. The Lenovo Legion Slim 7i (Gen 8) is a fantastic place to start, or even the Lenovo Legion Pro 5i (Gen 8) if you're willing to give up even more power and features in exchange for better value. Of course, you can also peruse our list of the best gaming laptops for more ideas.
Alienware x16 R1 review: Score card
Swipe to scroll horizontally
| Attribute | Notes | Rating |
| --- | --- | --- |
| Value | You're paying a lot of extra cash for the style and design of this laptop. | 3.5/5 |
| Design | The laptop is beautiful and immaculately constructed. | 4.5/5 |
| Display | Each display option is good, but not exciting at this price point. | 4/5 |
| Performance | A very strong performer, but there are more powerful (and cooler) laptops at this price point. | 4/5 |
| Battery life | Similar to other extremely powerful gaming laptops, battery life is just not good. | 3/5 |
| Other hardware | Impressive speakers, an incredible keyboard, and strong wireless connectivity make up for the average camera, mics, and touchpad. | 4.5/5 |
| Software | Windows 11 is great, but frequent bugs and issues constantly frustrate. | 3/5 |
Alienware x16 R1 review: Final thoughts
You should buy this if ...
You want a high-end gaming laptop with a great design and build quality
The Alienware x16 R1 justifies its high cost and its slightly reduced power compared to other laptops with a gorgeous, premium design and peerless build quality.
You want a powerful gaming laptop capable of playing any game at max settings
The Alienware x16 R1 isn't the most powerful gaming laptop you can buy, but it's still fully capable of playing all the latest and greatest PC games with complete ease.
You want a laptop with a full mechanical keyboard
The CHERRY MX mechanical keyboard on the Alienware x16 R1 is a genuine highlight of this laptop, with a lovely gaming and typing experience, a comfortable and clever layout, and some helpful extra keys and buttons.
You should not buy this if ...
You want the best value you can find
The Alienware x16 R1 is not about value. It's unapologetically high-end, charging you more for the design, fit and finish, RGB lighting, keyboard, and more. There are plenty of laptops that offer far better value than this one.
You need unearthly amounts of gaming and processing power
The Alienware x16 R1 is an incredibly strong performer, but other similarly priced laptops feature more powerful CPUs and can push their hardware even further with better thermal management.
You don't want to deal with potential software or firmware issues
It's unfortunately common for Alienware products to be rough around the edges at launch. If you aren't tech-savvy or don't have the patience to deal with potential software or firmware issues, it's probably best to wait on this laptop.
The pursuit of impeccable style means the Alienware x16 R1's ultimate performance actually falls short of the most powerful laptops on the market — even those in the same price range. The compact design may also affect the thermal performance, with incredibly high CPU and GPU temperatures threatening the long-term lifespan of the laptop without turning the fans all the way up. Finally, the software experience falls short of acceptable levels for a high-end gaming laptop, with a ton of minor issues that constantly frustrate.
On the flip side, the Alienware x16 R1 is an impressive feat of engineering, combining Alienware's latest and most refined design language with some of the best build quality I've seen in a laptop. The result is a luxurious high-end gaming laptop with enough power to play any game you want, a glorious RGB-lit keyboard, and an actually good speaker system. Whether the Alienware x16 R1 is worth it will ultimately depend on how much you value its design and build quality and if you're willing to deal with less-than-perfect software (or bank on future firmware updates improving matters).
The Alienware x16 R1 isn't perfect, especially with the software, but it's a fantastically built laptop that looks amazing and performs well, enough to play any game and do anything you want. Just be prepared to pay for the privilege.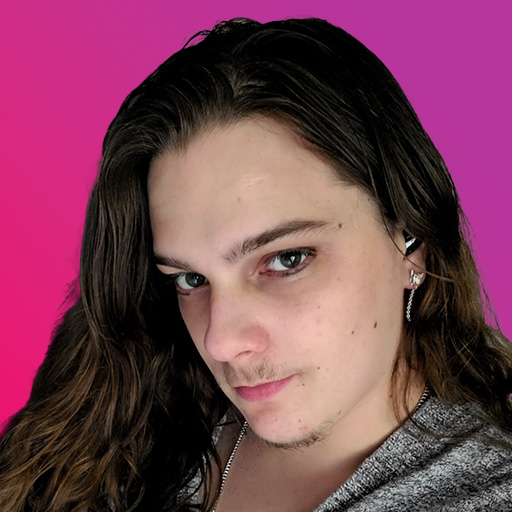 Zachary Boddy (They / Them) is a Staff Writer for Windows Central, primarily focused on covering the latest news in tech and gaming, the best Xbox and PC games, and the most interesting Windows and Xbox hardware. They have been gaming and writing for most of their life starting with the original Xbox, and started out as a freelancer for Windows Central and its sister sites in 2019. Now a full-fledged Staff Writer, Zachary has expanded from only writing about all things Minecraft to covering practically everything on which Windows Central is an expert, especially when it comes to Microsoft. You can find Zachary on Twitter @BoddyZachary.