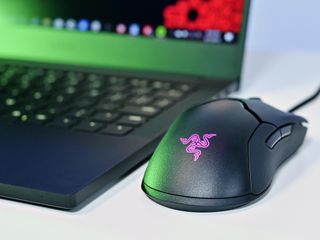 (Image credit: Windows Central)
The mouse is one of the most essential accessories for any gaming PC. It's what you'll use the most to interact with software and games (ones that don't require a gamepad at least), and having a pointer you enjoy using will make for a more compelling in-game experience. We've rounded up our picks for the best gaming mouse available today, and our favorite pick is the Razer Viper.
Best overall: Razer Viper 8K
Razer Viper 8K
The new king for competitive gamers
Reasons to buy
+
Lightweight
+
Accurate and responsive optical sensor
+
Ambidextrous
+
DPI switch on the base, no accidental clicks
+
New drag-free cable
Razer's latest Viper 8K mouse is incredible. Not only do you have mechanical switches for your main clickers — yes, similar switches to those found in a mechanical keyboard — but Razer also threw in a 5G optical sensor and a polling rate of 8,000 for good measure. This combination results in incredibly accurate movement detection and button actuation.
The mouse itself weighs in at around 69g and attaches to your PC using Razer's Speedflex Cable, which may sound like some marketing gimmick, but is significantly better than other cables out there in terms of quality. The only real drawback we found with this wired mouse is the inability to detach the cable. This would make it easier to transport to LAN events and allow for replacing the cable should it be damaged.
Still, the onboard DPI storage and eight programmable buttons more than make up for this shortfall, making it our favorite gaming mouse so far in 2022 and one of the best mice you can buy. You should consider buying this mouse if you're serious about PC gaming.
Runner-up: SteelSeries Rival 600
SteelSeries Rival 600
A near-perfect gaming mouse
Reasons to buy
+
Excellent performance
+
Adjustable weights
+
Good price
+
Comfortable
+
SteelSeries sensor
Reasons to avoid
-
Not left hand-friendly
-
Weak grip adhesive
The SteelSeries Rival 600 is an exceptional gaming mouse. It was selected as our best overall pointer for PC gamers but was knocked off the leading spot by Razer's new Viper. It's still a great choice, so we feel it's only right it's given the runner-up treatment.
What makes the Rival 600 from SteelSeries so good is the simply astounding TrueMove3+ sensor — it's sublime. It's a dual-sensor setup, paving the way for some incredibly accurate movement detection. There are also the removable magnetic side grips that house slots for included weights, allowing you to customize the feel and handling of the mouse. Prefer a heavier pointer? Go right ahead and add more weights. There are also — of course — LED lights and solid ergonomics.
There have been a few issues with the Rival 600, which includes some weak adhesive used on the side grips. This can lead to the grip pads coming away from the mouse itself, resulting in quite the sticky mess. Luckily, SteelSeries will replace any grips that experience this issue free of charge (even if you overrun your warranty slightly), and the SteelSeries Engine makes it easy to manage all your SteelSeries hardware.
Best MMO keypad: Corsair Scimitar Pro RGB
Corsair Scimitar Pro RGB
More buttons than you'll likely ever need
Reasons to buy
+
12 side buttons
+
Striking design
+
Comfortable
+
Solid performance
+
RGB lighting
Reasons to avoid
-
iCUE software
-
Bulky size
When you need to perform a whole host of actions, it's wise to invest in a mouse with a keypad on the side. Massive Multiplayer Online (MMO) games like World of Warcraft can require countless keys to be pressed in quick succession, and an MMO mouse such as the Corsair Scimitar Pro RGB is ideal for handling this hectic experience.
It may be an older mouse compared to others we've included in this collection, but it's still worth considering for serious MMO players. The Scimitar comes with an optical sensor that can be configured to 16,000 DPI while still being accurate enough for an MMO. The buttons on the side of the mouse are mechanical and sport textured keycaps for enhanced grip during tense sessions.
There's even onboard storage with hardware macro playback support. That's pretty much all you need from a mouse that will be used in MMOs.
Jack of all mice: Razer Naga Trinity
Razer Naga Trinity
Can play most PC games on this one mouse
Reasons to buy
+
High-precision sensor
+
Swappable side grips
+
Ideal for MOBAs and MMOs
+
Versatile
Find yourself frequently switching between MMOs, MOBAs, and other game genres? You'll want something like the Razer Naga Trinity. This mouse is a special pointer as it comes with swappable side grips. That in itself isn't special, but the fact these side grips come rocking different button layouts is where the magic happens.
If you want to fire up World of Warcraft, throw on the 12-button side grip. League of Legends can work wonders with the seven-button side grip, and all other games can make use of the two-button side grip. That's a whole lot of versatility in a single mouse, making it perfect for LAN events where more than one game may be played. Simply switch the side, and you're good to go.
The only downside to the swapping is the buttons on the side grips can be a little stiff and potentially get stuck, but this is an uncommon issue.
Affordable performance: SteelSeries Rival 310
SteelSeries Rival 310 ergonomic gaming mouse
Budget gaming doesn't mean a terrible experience
Reasons to buy
+
Solid performance
+
Comfortable
+
Similar sensor to Rival 600
+
Designed with esports in mind
+
Affordable
Reasons to avoid
-
Non-detachable cable
-
No weight adjustment
-
Main clickers feel cheap
Those on a tighter budget may want to consider the SteelSeries Rival 310, but don't allow the more affordable price fool you into believing this pointer isn't a performer in games. Sporting a similar TrueMove3 sensor to the one found in the Rival 600, this mouse has it where it counts.
It's not all good news for the Rival 310. To keep costs low, SteelSeries wasn't able to avoid the main buttons from feeling a little cheaper compared to premium mice, nor was it able to include the ability for owners to manage the weight or detach the cable. Still, for the price, it's an excellent option for gamers.
Best wireless: Logitech G502 Lightspeed
Logitech G502 Lightspeed
Forget cables; you're going wireless
Reasons to buy
+
Customizable
+
Battery life
+
Super-fast wireless
+
Comfortable
+
Ambidextrous
Reasons to avoid
-
Pricey
-
Aggressive "gamer" design
The Logitech G502 Lightspeed is a a solid choice for the best wireless gaming mouse out there, thanks to the HERO 16K sensor and 1ms report rate — yes, that response rate is for wireless. With support for up to 16,000 DPI and a fantastic sensor, you'll not notice much of a difference in ditching the cable, aside from having to move the mouse to manage the tether.
This mouse is also ambidextrous, much like the Razer Viper. This makes it possible for both right- and left-handed gamers to use the G Pro. There's even the ability to customize the weight, which is a solid addition. Unfortunately, it's the most expensive gaming mouse in this collection, so that'll have to be overlooked if you want the best without wires.
Bottom line
The best overall gaming mouse would be the Razer Viper because of the solid ergonomics (for both right and left hands), a brilliant performance in-game, and excellent features like internal storage for DPI settings, and more.
Other recommendations here consider different games you may prefer (MMOs, MOBAs, etc.) and pricing, but it all comes down to what you prefer to use. Mouse and keyboards are mostly subjective since not everyone will enjoy the same features, appreciate the same performance, or have $100 to blow on a shiny new accessory.
Rich Edmonds is Senior Editor of PC hardware at Windows Central, covering everything related to PC components and NAS. He's been involved in technology for more than a decade and knows a thing or two about the magic inside a PC chassis. You can follow him over on Twitter at @RichEdmonds.
Windows Central Newsletter
Get the best of Windows Central in in your inbox, every day!
Thank you for signing up to Windows Central. You will receive a verification email shortly.
There was a problem. Please refresh the page and try again.