Best Xbox One and Series X|S accessories 2023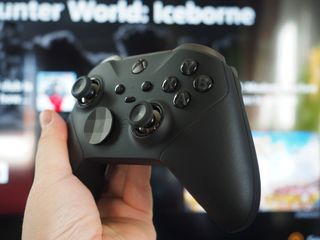 (Image credit: Windows Central)
Whether you are using an Xbox One, or you've made the upgrade to the Xbox Series X|S, you're most likely going to need accessories. Some of the most necessary accessories include remotes, battery chargers and external memory. We've put together a list of some of the best available.
The best
Xbox Elite Controller Series 2
The best controller you can buy
The Elite Controller Series 2 is a massive step up from its predecessor, with an insanely potent internal battery, a high-quality charge dock, refined build quality, and tons of swappable parts. This should be the first accessory you consider for your Xbox console. There is a cheaper version to be found in the Core model that comes without the rear paddles, but we have yet to vouch for the longetivity of that model.
Amazon Echo 4th-gen smart speaker
Alexa, tell Xbox to play Peppa Pig

You can now control your Xbox console using voice commands via an Amazon Echo speaker. The lowest-cost Echo devices are pretty affordable and currently sport the most extensive array of support for connected devices and services. The most affordable Echo device is the Echo 4th gen spherical speaker.
Xbox Mineral Camo Special Edition controller
Brighten up your gaming

One thing Xbox does well is offer numerous options for its controllers. We think of all the new generation controllers, the Mineral Camo doesn't blend into the background. There's even a matching charging stand for serious color coordination. These Bluetooth controllers can be used on both Xbox and PC, making them a versatile as well as eye catching spare controller option.
Xbox Series X|S Controller
Affordable controller

The new Xbox X|S controller replaces the now discontinued One controller and features textured side grips and a hybrid D-pad. The Share button allows you to capture and share content at the click of a button. Compatible with Xbox Series X|S consoles, Xbox One, Windows 10 and 11 PC, Android and iOS.
Bionik Quickshot Pro for Xbox Series X|S
Xbox controller upgrades

The Bionik Quickshot adds a couple of excellent features from the Xbox Elite Controller on a far more affordable budget. The custom parts can be easily fitted into any current-gen Xbox controller, adding trigger locks for faster firing, and rubberized grips for a more ergonomic feel. There's a version for both the Xbox One controller and a pro edition for the Xbox Series X|S
Affordable 4K

The Samsung TU8000 is one of the best entry-level 4K TVs you can get for gaming on your Xbox console. If you're looking for a budget-friendly option to upgrade your entertainment system, this one is more readily available than some of the other options in this price range. The specs boast low input lag and ALLM support, but be mindful that it doesn't support 120 FPS. At prices starting at $495 for the 43-inch model, it's a solid choice for the average gamer.
4K OLED glory

The current LG OLED 4K TV is widely regarded as the best on the market for 4K gaming and media right now, with insane HDR contrasts and lighting, and a range of great features. It's not cheap, but it is the best if that's what you're after.
Perfect media control
The PDP Media Remote gets our pick as the best media remote for Xbox One and Xbox Series X|S. If you want to use your console for its movie and tv streaming capabilities this is a great accessory. More compact than the previous model and with backlighting, this is a great solution if you get annoyed with the Xbox controller turning off when you want to control your media.
Mouse and keys

The Razer Turret is a pricey keyboard and mouse solution for Xbox, but the price has been known to fluctuate on Amazon between $150 and $250. If you prefer playing shooters like Overwatch 2 with point-and-shoot capabilities, this is a fully wireless and comfortable option. As it's built specifically for Xbox gaming it even features a dedicated key for navigating back to the home screen. The RGB lights also sync with your games and battery life is fantastic.
Hori Racing Wheel Overdrive
Budget racing

For real immersion in your racing games, a racing wheel is a must. There are some really impressive (and expensive) models out there for Forza enthusiasts but the Hori wheel is a great budget option with a comfortable rubber grip, and a capture button built in for the Xbox Series X|S.
LucidSound LS35X Wireless Gaming Headset
Wireless sound

For party chat and co-op gaming, a headset is a must-have accessory for your Xbox. We've long lauded the LucidSound LS35X as the best option when it comes to wireless headsets. There are better and more expensive options available but for the price, the comfort and performance of the LS35X can't be matched. Battery life is an impressive 15 hours and the detachable mic boasts crystal-clear sound quality.
Wired sound

If you don't want to faff around with having yet another accessory to charge, then a wired headset can be both more budget-friendly and convenient. Our top pick for wired sound is the HyperX CloudX, which doesn't have the bells and whistles of some pricier options but is a solid choice for sound quality.
Seagate 1TB expansion card
Best storage option for Xbox Series X|S

With the file size of games getting increasingly hefty, you'll find yourself running out of space fast. That's where storage expansions come in, and the Seagate card is the best you can get for new-gen consoles, but it comes at a hefty price. If you want a clean and simple setup, and have the cash to front it - the Seagate 1TB SSD is the perfect solution. Mimicking the in-built storage, all games will run from this with ease.
Toshiba Canvio Basics Portable Hard Drive
Bank balance-friendly storage

If you're looking for a storage solution that's less eye-wateringly expensive, then an external drive is still a viable alternative to the Seagate card. It should be noted however that new-generation games won't run directly from the hard-drive. With 1TB to play with though, the Toshiba is a reliable option and will work with Xbox One titles. Series X|S can be stored and moved across as required. For some the price may outweigh any minor inconvenience.
No pausing required

The official Xbox play and charge kit is the best way to keep your controllers juiced up while you play on. Now in a USB-C option to fit new-gen controllers, the wire charges your controller directly from the console or anything with a USB port.
Multi-purpose charging

If you have multiple controllers, or just want a more flexible solution for charging, the Panasonic Eneloop Pro batteries and charge kit get juiced up from the wall socket and can be used in any device that takes AA batteries.
More HDMI

If you like to play on multiple devices, an HDMI switch is a convenient upgrade from bending over the back of your TV and scrambling for wires. We recommend this powered model that plugs straight into your Xbox USB switch. The separate power source will ensure it doesn't glitch out like an unpowered HDMI switch.
Play on the move

Cloud gaming has taken off in a big way in 2022, and there are more controllers on the market than ever before ⁠— but the Razer Kishi is still the best you can get. The V2 is light, comfortable and satisfying to use, and plugs straight in to your smartphone's USB-C connection. You can even charge your phone while you play your favorite games on the Xbox Cloud.
The Netflix of Gaming

The essential subscription for any Xbox owner, Xbox Game Pass Ultimate is the best value in gaming, period. Giving access to 100s of games across console, PC and the Xbox Cloud with prices starting at $14.99 a month. Now with EA Play and Bethesda titles, the library is getting bigger and better.
An array of accessories
Why you can trust Windows Central Our expert reviewers spend hours testing and comparing products and services so you can choose the best for you. Find out more about how we test.
There's a vast range of great accessories out there for both the Xbox One and the Xbox Series X|S, and it's never been easier to upgrade your gaming set-up. The majority of accessories now are backward compatible to work with new and previous generations. While we've listed some great options here, there are a plethora of alternatives in each category we've listed, and our site has more in-depth details on most of them if you care to do more research before spending your hard-earned cash. You can check out our definitive guide to the best Xbox headsets, and a great summary of the best external hard drives to name just a few. Also, taste is subjective and there are simply tons of Xbox controllers to choose from if you are a budding collector. You can even create your own if the perfect design isn't already available.
Get the Windows Central Newsletter
All the latest news, reviews, and guides for Windows and Xbox diehards.
Jen is a News Writer for Windows Central, focused on all things gaming and Microsoft. Anything slaying monsters with magical weapons will get a thumbs up such as Dark Souls, Dragon Age, Diablo, and Monster Hunter. When not playing games, she'll be watching a horror or trash reality TV show, she hasn't decided which of those categories the Kardashians fit into. You can follow Jen on Twitter @Jenbox360 for more Diablo fangirling and general moaning about British weather.