Smaller and more compact mechanical keyboards are increasing in popularity and after using the Fnatic STREAK65 I finally understood why. Razer has not been shy at creating new versions of existing keyboards — just look at the Razer Storm Trooper BlackWidow Lite — and now the company is making a wireless 65% variant of the tried and tested BlackWidow.
The BlackWidow V3 Mini HyperSpeed, which is a mouthful, is the latest addition to the company's arsenal of gaming peripherals. 65% keyboards remove the numpad and some of the navigational keys for an ultra-compact design. The Razer BlackWidow V3 Mini HyperSpeed manages to keep the arrow cluster, full-sized keycaps, and four navigation (macro combo) keys.
Throw in the choice of Razer Green or Yellow mechanical switches, impressive wireless performance, industry-leading software support, and you've got a recipe for a killer gaming experience and one of the best keyboards.
(opens in new tab)
Bottom line: Razer took the renowned BlackWidow, shrunk it down, removed less-utilized keys, and added HyperSpeed wireless to create the ultimate 65% mechanical gaming keyboard.
For
Choice of Razer Green or Yellow switches
Compact and clean design
Razer Chroma integration
Excellent build quality
HyperSpeed wireless
Against
Pricey
RGB lighting decimates battery life
Razer BlackWidow V3 Mini HyperSpeed: Price and availability
Razer's BlackWidow V3 Mini HyperSpeed went on sale on May 25 for $180. The most prominent place to locate this keyboard is on the official Razer website or at your nearest Razer store. The BlackWidow V3 Mini HyperSpeed will also be sold through partnered retailers like Best Buy and Amazon. It's a little pricey, but this is a new product with top-of-the-line features and components.
Razer BlackWidow V3 Mini: Specifications
Swipe to scroll horizontally
Category
Razer BlackWidow V3 Mini
Switch
Razer Yellow (linear)
Razer Green (clicky)
Keys
Doubleshot ABS
Keystroke lifespan
80 million
Dimensions
320mm x 130mm x 25mm
(12.5 x 5.1 x 1 inches)
Weight
724g /1.6lbs (w/o cable)
RGB lighting
✓
Media controls
✓
Game mode
✓
Connectivity
USB-C
Bluetooth
2.4GHz Wireless
Battery life
Up to 200 hours*
Polling rate
1000 Hz
Profile storage
✓
Color
Black
Razer provided Windows Central with two versions of the BlackWidow V3 Mini HyperSpeed. I received a review sample with Yellow switches, while Executive Editor Daniel Rubino enjoyed testing the Green switches.
BlackWidow build quality
Razer BlackWidow V3 Mini HyperSpeed: Compact 65% design
If you're not a fan of compact keyboards, you won't enjoy the design of the BlackWidow V3 Mini HyperSpeed. This mechanical keyboard is designed for those who prefer this form factor. As aforementioned, 65% keyboard gets rid of the numpad, some of the navigation keys, and adds a scrunched-up arrow key cluster to the remaining key layout.
The end result is a keyboard that measures just 320mm by 130mm. It's ridiculously small and takes up very little space on any desk. If you're moving from a full-sized keyboard, the volume of free space available to your mouse will be a welcomed improvement. Just like the larger BlackWidow V3, the Mini HyperSpeed is a sturdy black slab of aluminum and plastic.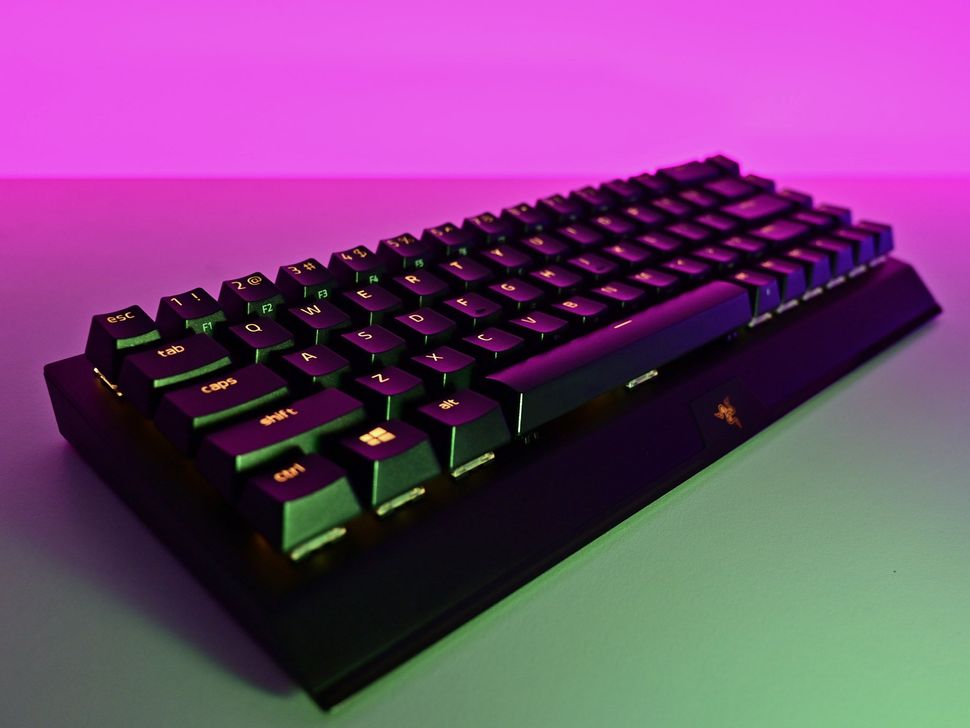 On a personal level, I do prefer the lower style of low-profile keyboards, but there has always been something special about the BlackWidow and its chunky form. Throw in the per-key RGB Chroma lighting and you've got one amazing-looking mechanical companion. The front and sides are completely clear, aside from the central Razer logo.
Round back you'll find the single USB-C port, a switch to choose Bluetooth and 2.4GHz wireless (as well as turning off the keyboard), a reset button, and a status LED indicator. Underneath, you'll find Razer's slogan printed everywhere, with four high-quality large rubber feet and the usual two-level kickstand. Overall, it's a quality piece of kit.
Clicky switches
Razer BlackWidow V3 Mini: Razer's class-leading switches
I'm a huge fan of Razer's yellow switches. The company gave them a refresh, much like the optical siblings, to be quieter and more linear with silicone padding. While you won't be able to adjust the actuation point and alter how these switches feel like Razer's optical offerings, the "standard" switches here are still brilliant.
The BlackWidow also features Doubleshot ABS Keycaps, which means less marring, no fading of text, and overall, better long-term resiliency. While Doubleshot ABS is expected at this price point, it's still nice to see (looking at you, Logitech).
A good gaming mechanical keyboard isn't good for just gaming. It should also be capable of typing up words comfortably. If you plan to use the keyboard for both work and play, the BlackWidow V3 Mini HypeSpeed is more than up for the task. This entire review has been drafted on the keyboard.
I managed to meet my usual words-per-minute score without errors and while it does take time to get used to the formation of keys with a 65% keyboard, it becomes second nature once you've grown used to it. The yellow switch is quiet, direct and easy to hit the actuation point, allowing touch typists to go all out.
If this is the first compact keyboard you'll have the pleasure of using, just be prepared to freak out at where the arrow key cluster is located. In the end, this approach to keyboard design will keep your hands closer together, which should help when perfecting a more comfortable posture.
HyperSpeed
Razer BlackWidow V3 Mini HyperSpeed: Reliable wireless gaming
The Huntsman Mini was released as Razer's first 60% compact gaming keyboard, but it wasn't wireless. This is where the BlackWidow V3 Mini HyperSpeed comes into play. You don't need to be tethered to your PC to enjoy the latest titles. There are three ways to use the BlackWidow V3 Mini HyperSpeed with your gaming PC.
First is the USB-C cable, which can be connected up back to provide power or be used as a wired keyboard. Then there's Bluetooth connectivity, which can take advantage of your laptop or desktop PC's existing wireless adapter. You can pair up to three devices using Bluetooth. You start the pairing process by holding ALT+FN+1 for three to five seconds, until the corresponding indicator blinks. Finally, and the method I'd recommend, is the HyperSpeed 2.4GHz wireless.
This low-latency connection is simply brilliant and is used by other wireless. You'll not encounter any instances of lag or signal loss. It simply works as described, like magic. The dongle even lets you connect more than one Razer device simultaneously (with one dongle), just in case you have a Naga Pro, Orochi V2, or DeathAdder Pro V2 at hand.
Gaming on the Razer BlackWidow V3 Mini Hyperspeed is a dream. Regardless of the switch you opt for — which comes down to personal preference — you'll be smashing skulls and nailing headshots just as you would any other Razer keyboard. Actually, 65% keyboards like this one make it easier for me to glide my pointer across the mousepad for more reactive reflexes.
Turn down the lights
Razer BlackWidow V3 Mini HyperSpeed: Long-lasting battery life
Battery life is rated for up to 200 hours with the RGB lighting turned off. At full brightness, Razer claims the BlackWidow V3 Mini HyperSpeed will last around 17 hours before a top-up is required. I managed to get approximately 16 hours before needing to connect the USB-C cable.
That's still good enough to only charge the keyboard after every few gaming sessions, or once per day if you work and play on the same PC. I'd set the brightness of the LEDs to 50% and you should be good for 50 hours without struggling to spot keys on the fly.
Make it yours
Razer BlackWidow V3 Mini HyperSpeed: Razer Synapse is better than ever
Image 1 of 4