Best controllers for Xbox Cloud Gaming (xCloud) 2022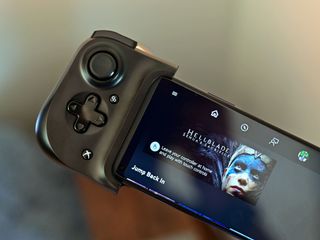 (Image credit: Daniel Rubino | Windows Central)
Microsoft's Xbox Cloud Gaming service, also known as Project xCloud, continues to expand across new regions and devices. It takes the luxury of the full Xbox experience beyond consoles, with high-quality, low-latency streaming, keeping games running smooth while on the move. The best experience also demands a gamepad, trumping touch controls in familiarity and accuracy, with an extensive lineup of cloud-ready options now available. These are the best controllers for Xbox Cloud Gaming on iOS, Android, and PC, in 2021.
Best Overall: Razer Kishi Controller
Works with: iOS, Android (Separate models)
While streaming makes mobile gaming easier than ever, the reality isn't always glamourous. You'll often find the best experience with the latest console hardware, foremost designed for the living room and boasting ergonomics with years of refinement. But our Razer Kishi review proved it's an exception, designed with considerations for smartphones, and positioned among the best controllers out there.
Emulating the charm of devices like the Nintendo Switch, the Razer Kishi works around the confines of your screen. It mimics the Joy-Cons of the best-selling handheld, comprised of two modules that sandwich your device from the sides. The result is easy to hold, solving the ergonomic issues many rivals face, while also maintaining a sturdy grip on your phone.
The Kishi rocks all the standard Xbox inputs, including a familiar ABXY button layout, asymmetrical thumbsticks, bumpers, and triggers. There's even an Xbox-branded edition, which even if functionally identical, completes that Xbox experience for a small premium. The controller works best while on the move, portable for short mobile sessions, but still comfortable for extended use.
It's well suited to the demands of Xbox Cloud Gaming, with robust construction, and fairly flexible around different types of phones. The Android version requires just a USB-C connector, while the iPhone version fits all newer models with the Lightning port. That physical connection also eliminates lag, whereas popular wireless Bluetooth alternatives may suffer from wireless latency. You also don't need to worry about charging this device, which draws minimal power directly from your phone instead.
Razer Kishi claimed our best Xbox accessory award in 2020, turning your smartphone into the closest thing to an Xbox handheld. The result is hard to beat, with game streaming right at home with this accessory in play. The Razer Kishi for Android is currently available for $70 in the U.S. while its iOS counterpart starts at $84 with the latest pricing.
Razer Kishi Mobile Game Controller
Your very own Xbox handheld
Reasons to buy
+
Compatible with most phones
+
Comfortable over extended use
+
Portable
+
Great build quality
Reasons to avoid
-
Wobble with some smaller phones
Best Value: Xbox Wireless Controller
Works with: iOS, Android, Windows PCs
Cloud gaming has spawned all types of mobile-geared Xbox accessories, improving gaming through a smartphone. But the Xbox Wireless Controller is still worth your consideration, the same bundled with Xbox Series X and Xbox Series S consoles, and unmatched in ergonomics and familiarity. The latest and greatest revision of Microsoft's signature gamepad works better than ever between platforms, with several cloud gaming considerations. Two decades of refinement makes for one of the best Xbox Series X and Xbox Series S controllers, also ideal for mobile use.
The new Xbox Wireless Controller isn't a huge departure from past designs, remixing the best of Xbox One instead. It brings forward praised signatures of past revisions, like a shared button layout to asymmetrical thumbsticks, each immediately familiar to Xbox fans. Upgrades include the revised silhouette, textured finish, and all-new "Share" button, all of which improve the everyday in-hand feel.
Microsoft also made this controller with cloud gaming considerations, chiefly with onboard Bluetooth on mobile and PC, accompanying the usual Xbox Wireless connectivity. It maintains low latency to keep games feeling smooth, with hidden features like cross-device switching that improve use with multiple devices. But as a controller primarily designed for an Xbox used with a TV, you need one of the best Xbox controller phone clips to mount your device directly to the official gamepad.
The official Xbox Wireless Controller is immediately familiar to existing Xbox players, delivering a great gaming experience. It's one of the few that works wirelessly on your Xbox and mobile, presenting incredible value in just one accessory. The ease of use and affordability make this a no-brainer, plus you've got various colors to choose from at the checkout. The Xbox Wireless Controller range starts from $60 in the U.S. albeit with regular discounts below the usual RRP.
Xbox Wireless Controller
Tried and tested
Reasons to buy
+
Great, familiar in-hand feel
+
Works with Xbox, iOS, Android, PC
+
Supports Xbox controller clips
+
Outstanding build quality
Best Budget: PowerA MOGA XP5-X Plus Controller
Works with: Android, Windows PCs
Xbox Cloud Gaming is designed to work on the move, with the PowerA MOGA XP5-X Plus the best mobile gaming controller that tackles common challenges. This accessory works best with an Android smartphone over a Bluetooth connection and retains compatibility with Windows PCs. If you're looking for a dedicated cloud gaming controller that's affordable, the MOGA XP5-X Plus is one to beat.
This Xbox-inspired wireless controller looks standard on the surface, with a button and thumbstick layout instantly familiar to Xbox One owners. The licensed accessory also falls under the "Designed for Xbox" umbrella, with branding akin to official controllers. The only significant departure comes with what Power dubs "Advanced Gaming Buttons," providing two mappable rear buttons, somewhat similar to the Xbox Elite Controller Series 2.
Constructed with Xbox Cloud Gaming in mind, this controller ships with an included phone clip, mounting your smartphone directly to the accessory. It's adjustable and fits most smartphones today, with two thumbscrews to fine-tune positioning when gaming.
But it's the battery that differentiates this controller, rocking a beefy 3000mAh lithium-ion battery inside, far exceeding alternative controllers. That power reserve means hours of entertainment and doubles as an external battery pack to charge up devices. It even has four handy front-facing LEDs to keep track of the battery percentage. Playing games on any phone can be a steady battery drain, which makes that backup especially valuable.
The MOGA XP5-X Plus is a robust gaming controller designed with mobile users in mind. It's also regularly available below its usual $70 RRP, packing a ton of functionality for those getting into cloud gaming at a standout price.
PowerA MOGA XP5-X Plus Bluetooth Controller
Stay charged up while gaming
Reasons to buy
+
Comfortable
+
Good build quality
+
Long battery life
+
Handy integrated power bank
Reasons to avoid
-
Not very portable
-
No iOS support
Best for Kids: 8Bitdo Sn30 Pro for Xbox Controller
Works with: Android, Windows PCs
This fun-sized gamepad is one of the most portable options for Xbox Cloud Gaming, both compact for travel and ideal for kids. Accessories manufacturer 8bitdo remixed its Sn30 Pro controller around Microsoft's latest mobile endeavor, adding buttons and inputs directly correlating to the Xbox controller layout.
This 8bitdo controller demonstrates a vastly different approach to alternatives, taking inspiration from older Super Nintendo designs with a flat, slab-style silhouette. While the ergonomics leave much to be desired, it's a massive leap in accuracy and ease of use over touch controls.
It makes for a much smaller footprint ideal for gaming on the go, with an included controller clip to mount smartphones to the peripheral. It has integrated thumbscrews to effortlessly fine-tune the angle of your screen, while a telescopic clamp keeps a tight grasp on most modern smartphones. Coupled with up to 16-hour battery life over Bluetooth, this controller considers all the demands for remote cloud gaming.
As outlined in our 8bitdo Xbox controller review, the notable criticism centers around the fundamental design of the accessory. The compact shape with thumbsticks side-by-side can prove challenging to hold for larger hands, especially if weighed down by a larger smartphone. That's a shame as an otherwise well-built gamepad, leaving this better suited to kids or those gifted smaller hands.
The 8Bitdo Sn30 Pro for Xbox retails for $40 in the U.S., making this one of the most affordable picks in our roundup. Overall, build quality impresses for the price, and if you're a fan of this controller's style, don't overlook a compact pick.
8Bitdo Sn30 Pro for Xbox Cloud Gaming
The tiny cloud gaming controller
Reasons to buy
+
Good build quality
+
Long battery life
+
Portable
Reasons to avoid
-
Uncomfortable for larger hands
Best Clip: OtterBox Mobile Gaming Clip for Xbox
Phone clips provide an alternative to dedicated Xbox controllers, augmenting your existing console peripherals for mobile use. These add a phone-mounting solution to official Microsoft pads, similar to many of the best Xbox Cloud Gaming controllers. It's a natural way to experience game streaming from your phone without paying for the more expensive options listed here.
OtterBox, famed for rugged phone cases, joins the latest with Microsoft-approved mobile gaming accessories for Xbox Cloud Gaming. The mobile gaming mount is among the best Xbox phone clips to date, and while costlier than some at $30, its function justifies the price tag. It supports the full spectrum of Xbox gamepads, from Xbox One, Xbox Series X|S, and Xbox Elite Series 2 controllers, adapting to the needs of mobile play.
The OtterBox Mobile Gaming Clip for Xbox upgrades a fundamentally simple product, namely with its rapid-adjust system for added flexibility, yet hassle-free. A lever allows you to quickly switch up your phone position, alleviating the need for finicky thumbscrews and switches. The clip also detaches from the arm, transforming it into a tabletop stand if hand fatigue kicks in. This freedom and flexibility help present OtterBox as today's premium option.
While many clips are somewhat barebones, OtterBox brings real thought to this design. The small premium brings a ton of quality-of-life improvements, from easy access to controller ports to a three-prong claw-style grip that won't constantly knock phone buttons.
There are cheaper alternatives out there, but its rich feature set culminates in a great overall experience, topping our list of recommendations. It upgrades any modern Xbox controller with integrated Bluetooth, ideal for Xbox streaming and other mobile gaming.
OtterBox Mobile Gaming Clip for Xbox
Your Xbox controller, now mobile
Reasons to buy
+
Affordable
+
Easy to use
+
Works with most Xbox controllers
Reasons to avoid
-
Cheaper alternatives available
Best Budget Clip: PowerA Moga Mobile Gaming Clip 2.0
Phone clips for Xbox controllers start at incredibly affordable prices, and the PowerA MOGA Mobile Gaming Clip 2.0 should top your list. This mount features all the fundamentals, plus some added frills, especially suited to those wanting to give cloud gaming a try. If unsure whether game streaming is right for you, it's an investment that won't break the bank.
As the name implies, the MOGA Mobile Gaming Clip 2.0 is PowerA's second attempt at creating a gaming clip for Xbox controllers. The revised version now works with Xbox Series X|S controllers, and those for Xbox One, whereas the original supports only older gamepads. It also supports the majority of modern smartphones with its rubberized and adjustable telescopic clamp.
While this clip is relatively simple, it brings improvements over the random Amazon-exclusive brands with cheap alternatives. It's robust and easy to use, maintaining a firm grip without damaging official controllers, and won't falter under the weight of heftier smartphones. It also has twin hinges, with thumbscrews for easy adjustment, providing up to 220-degree articulation for better viewing angles.
The Mobile Gaming Clip 2.0 is an otherwise impressive design that holds up over everyday use. That $15 price tag provides the best value for those still undecided about cloud gaming, only requiring a phone and controller to get started.
PowerA Moga Mobile Gaming Clip 2.0
More is less
Reasons to buy
+
Affordable
+
Easy to use
+
Works with most Xbox controllers
Reasons to avoid
-
Clamp may inadvertently hit phone buttons
Bottom line
Xbox Cloud Gaming presents a new way to experience Xbox games, now simply accessible through a phone and a stable internet connection. The Xbox Game Pass Ultimate subscription brings many of the best Xbox Game Pass games directly to your device, but you'll want a controller for the best possible experience. And with Microsoft betting big on cloud gaming technology, we've seen tons of options.
The Razer Kishi takes the top spot as the best controller for Xbox Cloud Gaming, providing the closest thing to an Xbox-style Nintendo Switch in 2021. Its two-part design transforms any smartphone into an all-inclusive gaming device, both comfortable and easy to use, with a button and thumbstick layout immediately familiar to Xbox owners. You've got two variants, available for iOS and Android devices, ensuring a great fit no matter your phone.
The Xbox Wireless Controller also marks the latest of Microsoft's triumphs in ergonomics and features, well suited as a versatile option for all devices. While there's a choice of alternatives for specific use cases and preferences, the sole official solution covers most Xbox converts exploring cloud gaming. Those using any gamepad should also consider picking up a phone clip, which mounts the accessory to your smartphone for a more viable gameplay setup.
Matt Brown is a senior editor at Future for Windows Central. Following six years of professional consumer technology and gaming coverage, he's focused on the world of Xbox and Windows PCs. You can follow him on Twitter @mattjbrown.
Windows Central Newsletter
Get the best of Windows Central in in your inbox, every day!
Thank you for signing up to Windows Central. You will receive a verification email shortly.
There was a problem. Please refresh the page and try again.