Best controllers for Xbox Cloud Gaming (xCloud) 2022
Transform your phone into an Xbox handheld with these cloud-ready controllers and gaming accessories.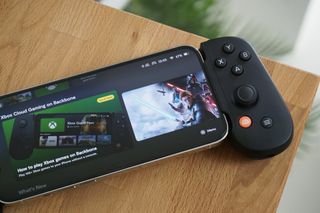 (Image credit: Matt Brown | Windows Central)
Ready or not — cloud gaming is now a reality. Xbox Cloud Gaming takes all the fun of Xbox consoles beyond the living room, bringing full-fledged games to tablets and mobile phones. With hundreds of Xbox titles included in the Ultimate-tier Xbox Game Pass subscription, you can take the best of Xbox whenever you go.
While Xbox Cloud Gaming offers touch inputs across some games, controllers easily trump their comfort and accuracy. The arrival of Xbox Cloud Gaming has ushered in some crazy controllers and gizmos, transforming your phone into the closest thing yet to an Xbox handheld. While standard Xbox gamepads won't trouble you, Nintendo Switch-style gamepads and mobile-friendly mounts are better options for gaming on the move.
We've put these Xbox Cloud Gaming controllers through their paces, ranking all the best options on shelves in 2022.
The best overall controller for Xbox Cloud Gaming
Reasons to buy
+
Familiar Xbox-style handheld design
+
Low price in 2022
+
Compatible with most phones via iPhone and Android versions
+
Comfortable to use
+
Portable and durable
Reasons to avoid
-
Doesn't work great with some small phones
-
Better competitors out there
-
Poor support for cases and other accessories
There's no denying that cloud streaming allows for some incredible opportunities, bringing full-fledged Xbox games to all types of devices. But the reality isn't always glamorous, with many of these console experiences never designed with phones and touchscreens in mind. Investing in a controller is one of the best ways to enjoy Xbox Cloud Gaming, with devices like the Razer Kishi turning your iPhone into a portable Xbox console.
Famed for high-performance laptops, neon headsets, and all things gaming, this controller reflects Razer's years of expertise in the field. The Kishi controller takes cues from the Nintendo Switch and its Joy-Cons, splitting its controls over two panels with the screen center stage. It's a seamless extension of your phone, easy to hold, and highly portable, making this an ideal companion for cloud gaming. Best of all, the Razer Kishi is pretty cheap in 2022, hence the high ranking on this list.
The Kishi rocks the standard Xbox inputs, including a familiar ABXY button layout, asymmetrical thumbsticks, bumpers, and triggers. There's even an Xbox-branded edition, which, even if functionally identical, completes that Xbox experience for a little extra. The controller works best while on the move, especially during shorter mobile gaming sessions, but it's still comfortable when chilling in the living room.
Razer has two versions of the Kishi; one designed the Android devices with USB-C, the other rocking a connector for iPhones. The Android version fits most device types without struggle, and all modern iPhones slide straight inside the Kishi's cradle. The approach also avoids the oddities of Bluetooth, ensuring a reliable, low-latency connection that holds up when you need it.
Razer has also launched a new Kishi, iterating on the original controller with welcomed improvements. We found the updated design refines the concept in almost every sense in our Razer Kishi V2 review, making it more comfortable and functional than the original. But it launches at $99, a steep asking price given the original Razer Kishi has dropped below $50 at many retailers. While V2 makes welcome improvements, that high price pits it against more compelling competitors like Backbone and GameSir.
"There are many ways to connect a controller to your phone, but Razer strikes the perfect balance between quality and portability with its new Kishi design," we stated in our Razer Kishi review. The original Razer Kishi claimed our best Xbox accessory award back in 2020, and we still stand by this recommendation today. It turns any smartphone into a full gaming machine, with streaming right at home with this accessory in play.
You can find the Razer Kishi at most electronics retailers and cell phone carriers, with serious discounts available on both the Android and iOS versions, following the recent launch of its successor.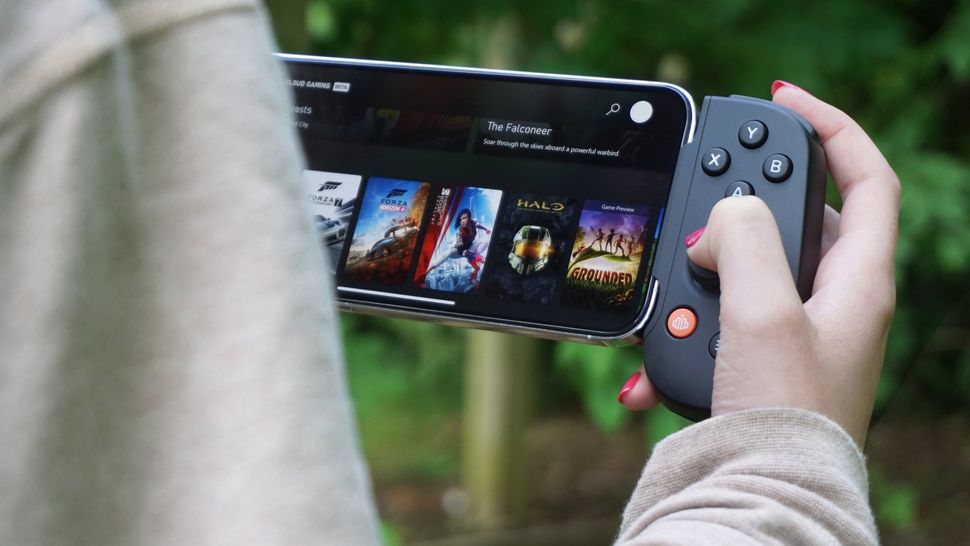 The best Xbox Cloud Gaming controller for iPhone
Reasons to buy
+
Familiar Xbox-style handheld design
+
Compatible with most modern iPhones
+
Comfortable to use
+
Portable and durable
Reasons to avoid
-
No Android version right now
-
Poor support for cases and other accessories
While countless accessory makers have served the growing demand for cloud gaming gear, Backbone Labs is doing things differently. The startup debuted with its Backbone One controller, earning a reputation for its best-in-class hardware, with a full-fledged gaming platform to match. It's the closest thing yet to an Xbox handheld, completing the Xbox Cloud Gaming experience for iPhone users.
The Backbone One has a ton to offer for Xbox Cloud Gaming users, though right now, it's iOS-exclusive, with an Android version still in the works. Though the Razer Kishi caters to a much broader demographic, the Backbone One refines the idea of mobile gaming in almost every way, bringing all the luxuries of consoles to smartphones. It's the best controller gaming, period — if you have an iPhone.
Backbone Labs got a lot right out of the gate, with a stellar design compounding crafted ergonomics and slick software into a high-quality package. The side-by-side controls adopt the familiar Nintendo Switch-style layout, working around the dimensions of your phone's display. Xbox users will also find the usual ABXY buttons, asymmetric sticks, and other standard controls, making it an easy move from the console.
It's the complete experience where the Backbone One shines, coupling the controller with a full gaming hub. The companion app centers around an Xbox dashboard-inspired home screen, rounding up mobile apps and cloud services into one unified library. The controller also has a dedicated button for screenshots and video capture, among other hooks making clever use of iOS and its limitations.
"The Backbone One is the best gaming controller out there for iPhone gaming, supporting a vast array of top mobile titles while offering first-class Xbox cloud gaming integration," we stated in our initial Backbone One review. "The final product, both hardware and software, are nothing short of astounding." We also named it our top mobile accessory in 2021, justifying its price tag with an experience unlike anything else on the market.
The Backbone One has long been considered one of the best Xbox Cloud Gaming accessories available. Following the launch of the Razer Kishi V2, its clear competitors also look to replicate its success. The device has since received Microsoft's blessing under the "Designed for Xbox" range, with a free Game Pass membership, among other services, now bundled with each controller. While that $99 price positions it as a more premium option, it's by far the best controller for iOS right now.
GameSir X2 Gaming Controller
The best budget controller for Xbox Cloud Gaming
Reasons to buy
+
Good build quality
+
Compatible with most phones
+
USB-C, Lightning, and Bluetooth options
+
Affordable price
The GameSir X2 unashamedly leans into the Nintendo Switch aesthetic, flanking your smartphone with the popular side-by-side controller layout. It's specifically marketed for use with game streaming, offering robust, console-quality controls at a good price. It's ideal for those who don't want to shell out for expensive alternatives like the Razer Kishi V2 and Backbone One.
Best of all, this controller works with practically any phone, with three models available. There's a USB-C version for Android devices, a Lightning-equipped model for iPhones, plus a Bluetooth variant for extended, cable-free compatibility. It's also flexible to all shapes and sizes, with a full-sized adjustable rear panel fit to hold most phones in place.
While GameSir maintains a range of mobile controllers, the GameSir X2 remains our go-to recommendation. Our GameSir X2 review praised its value, citing its robust hardware, well suited to the demands of Xbox Cloud Gaming. "This is cheaper than its primary competition, while supporting a larger array of devices, complete with a carry case, and arguably superior button and trigger action," stated Windows Central Senior Xbox Editor Jez Corden. While we docked points for its poor accompanying app, you luckily won't need it much after the initial setup.
GameSir has since introduced the GameSir X2 Pro, a revamped successor revising the controller's design with improved controls and build quality. It's a tad more expensive but offers a premium touch with official Xbox branding, set to co-exist alongside the original model.
The GameSir X2 enters a highly competitive space, with companies like Razer and Backbone starting to perfect their mobile gaming controllers. It has much to offer at a lower price, though current discounts on the original Razer Kishi undercut the GameSir X2's $50 usual price. We suggest the Kishi to most right now, though the X2 works with more phones, if compatibility is a concern.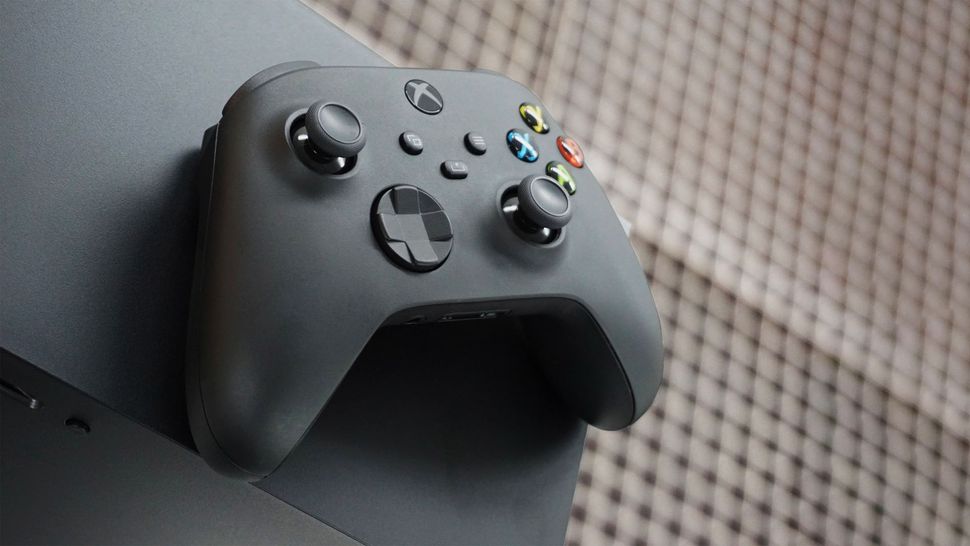 The best value controller for Xbox Cloud Gaming
Reasons to buy
+
Great, familiar in-hand feel
+
Works with Xbox, iOS, Android, PC
+
Supports Xbox controller clips
+
Outstanding build quality
Cloud gaming has spawned all types of mobile-geared Xbox accessories, improving gaming through a smartphone. But the Xbox Wireless Controller is still worth your consideration, the same bundled with Xbox Series X and Xbox Series S consoles, and unmatched in ergonomics and familiarity. The latest and greatest revision of Microsoft's signature gamepad works better than ever between platforms, with several cloud gaming considerations. Two decades of refinement makes for one of the best Xbox Series X and Xbox Series S controllers, also ideal for mobile use.
The new Xbox Wireless Controller isn't a huge departure from past designs, remixing the best of Xbox One instead. It brings forward praised signatures of past revisions, like a shared button layout to asymmetrical thumbsticks, each immediately familiar to Xbox fans. Upgrades include the revised silhouette, textured finish, and all-new "Share" button, all of which improve the everyday in-hand feel.
Microsoft also made this controller with cloud gaming considerations, chiefly with onboard Bluetooth on mobile and PC, accompanying the usual Xbox Wireless connectivity. It maintains low latency to keep games feeling smooth, with hidden features like cross-device switching that improve use with multiple devices. But as a controller primarily designed for an Xbox used with a TV, you need one of the best Xbox controller phone clips to mount your device directly to the official gamepad.
The official Xbox Wireless Controller is immediately familiar to existing Xbox players, delivering a great gaming experience. It's one of the few that works wirelessly on your Xbox and mobile, presenting incredible value in just one accessory. The ease of use and affordability make this a no-brainer, plus you've got various colors to choose from at the checkout. The Xbox Wireless Controller range starts from $60 in the U.S. albeit with regular discounts below the usual RRP.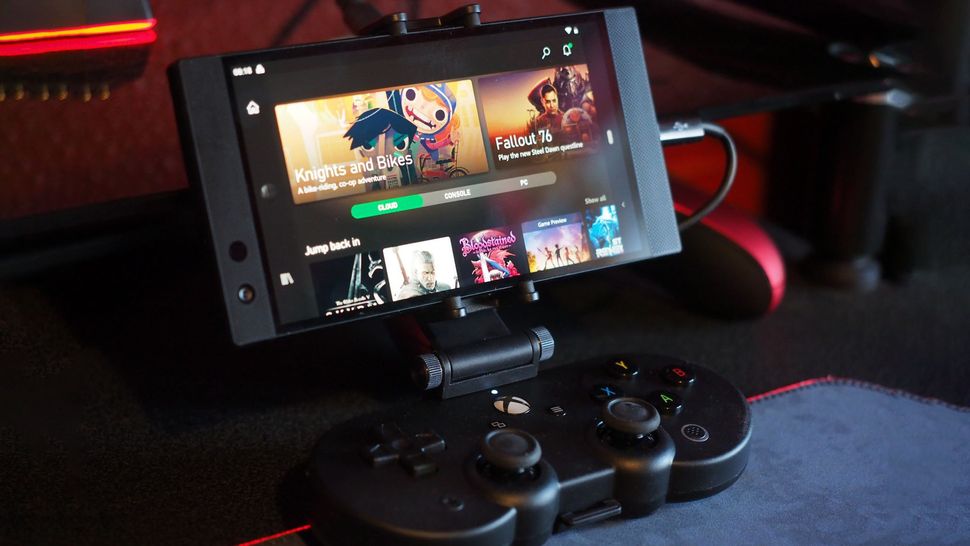 8Bitdo SN30 Pro for Xbox Cloud Gaming
The best controller for kids
Reasons to buy
+
Good build quality
+
Long battery life
+
Portable
Reasons to avoid
-
Uncomfortable for larger hands
This fun-sized gamepad is one of the most portable options for Xbox Cloud Gaming, both compact for travel and ideal for kids. Accessories manufacturer 8bitdo remixed its Sn30 Pro controller around Microsoft's latest mobile endeavor, adding buttons and inputs directly correlating to the Xbox controller layout.
This 8bitdo controller demonstrates a vastly different approach to alternatives, taking inspiration from older Super Nintendo designs with a flat, slab-style silhouette. While the ergonomics leave much to be desired, it's a massive leap in accuracy and ease of use over touch controls.
It makes for a much smaller footprint ideal for gaming on the go, with an included controller clip to mount smartphones to the peripheral. It has integrated thumbscrews to effortlessly fine-tune the angle of your screen, while a telescopic clamp keeps a tight grasp on most modern smartphones. Coupled with up to 16-hour battery life over Bluetooth, this controller considers all the demands for remote cloud gaming.
As outlined in our 8bitdo Xbox controller review, the notable criticism centers around the fundamental design of the accessory. The compact shape with thumbsticks side-by-side can prove challenging to hold for larger hands, especially if weighed down by a larger smartphone. That's a shame as an otherwise well-built gamepad, leaving this better suited to kids or those gifted smaller hands.
The 8Bitdo Sn30 Pro for Xbox retails for $40 in the U.S., making this one of the most affordable picks in our roundup. Overall, build quality impresses for the price, and if you're a fan of this controller's style, don't overlook a compact pick.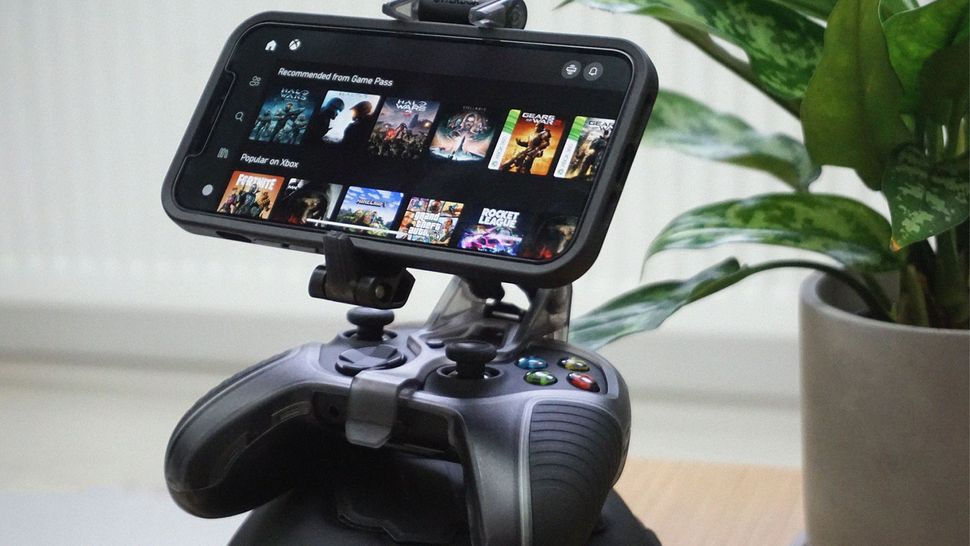 OtterBox Mobile Gaming Clip for Xbox
The best clip for Xbox One & Series X|S controllers
Reasons to buy
+
Affordable
+
Easy to use
+
Works with most Xbox controllers
Reasons to avoid
-
Cheaper alternatives available
Phone clips provide an alternative to dedicated Xbox controllers, augmenting your existing console peripherals for mobile use. These add a phone-mounting solution to official Microsoft pads, similar to many of the best Xbox Cloud Gaming controllers. It's a natural way to experience game streaming from your phone without paying for the more expensive options listed here.
OtterBox, famed for rugged phone cases, joins the latest with Microsoft-approved mobile gaming accessories for Xbox Cloud Gaming. The mobile gaming mount is among the best Xbox phone clips to date, and while costlier than some at $30, its function justifies the price tag. It supports the full spectrum of Xbox gamepads, from Xbox One, Xbox Series X|S, and Xbox Elite Series 2 controllers, adapting to the needs of mobile play.
The OtterBox Mobile Gaming Clip for Xbox upgrades a fundamentally simple product, namely with its rapid-adjust system for added flexibility, yet hassle-free. A lever allows you to quickly switch up your phone position, alleviating the need for finicky thumbscrews and switches. The clip also detaches from the arm, transforming it into a tabletop stand if hand fatigue kicks in. This freedom and flexibility help present OtterBox as today's premium option.
While many clips are somewhat barebones, OtterBox brings real thought to this design. The small premium brings a ton of quality-of-life improvements, from easy access to controller ports to a three-prong claw-style grip that won't constantly knock phone buttons.
There are cheaper alternatives out there, but its rich feature set culminates in a great overall experience, topping our list of recommendations. It upgrades any modern Xbox controller with integrated Bluetooth, ideal for Xbox streaming and other mobile gaming.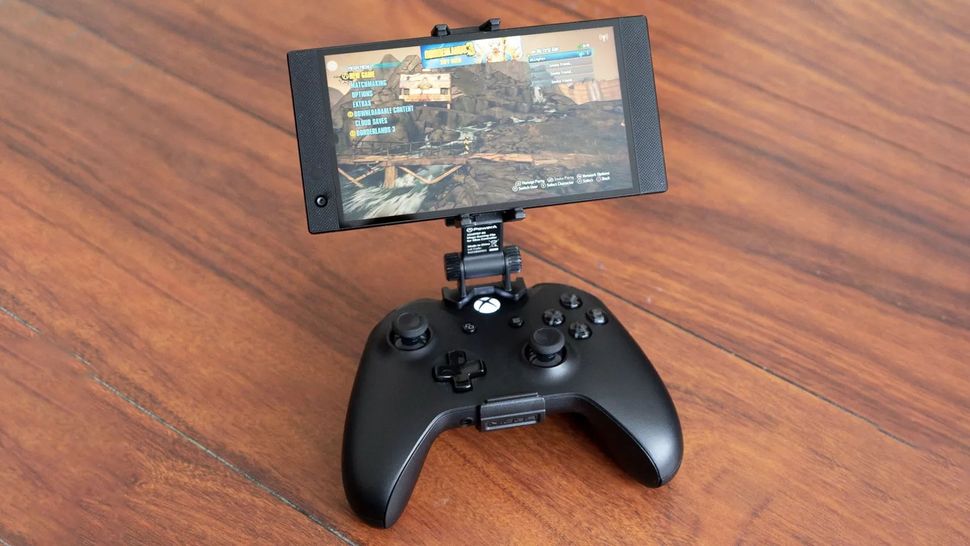 PowerA Moga Mobile Gaming Clip 2.0
The best budget clip for Xbox One & Series X|S controllers
Reasons to buy
+
Affordable
+
Easy to use
+
Works with most Xbox controllers
Reasons to avoid
-
Clamp may inadvertently hit phone buttons
Phone clips for Xbox controllers start at incredibly affordable prices, and the PowerA MOGA Mobile Gaming Clip 2.0 should top your list. This mount features all the fundamentals, plus some added frills, especially suited to those wanting to give cloud gaming a try. If unsure whether game streaming is right for you, it's an investment that won't break the bank.
As the name implies, the MOGA Mobile Gaming Clip 2.0 is PowerA's second attempt at creating a gaming clip for Xbox controllers. The revised version now works with Xbox Series X|S controllers, and those for Xbox One, whereas the original supports only older gamepads. It also supports the majority of modern smartphones with its rubberized and adjustable telescopic clamp.
While this clip is relatively simple, it brings improvements over the random Amazon-exclusive brands with cheap alternatives. It's robust and easy to use, maintaining a firm grip without damaging official controllers, and won't falter under the weight of heftier smartphones. It also has twin hinges, with thumbscrews for easy adjustment, providing up to 220-degree articulation for better viewing angles.
The Mobile Gaming Clip 2.0 is an otherwise impressive design that holds up over everyday use. That $15 price tag provides the best value for those still undecided about cloud gaming, only requiring a phone and controller to get started.
Bottom line
Why you can trust Windows Central Our expert reviewers spend hours testing and comparing products and services so you can choose the best for you. Find out more about how we test.
Xbox Cloud Gaming presents a new way to experience Xbox games, now simply accessible through a phone and a stable internet connection. The Xbox Game Pass Ultimate subscription brings many of the best Xbox Game Pass games directly to your device, but you'll want a controller for the best possible experience. And with Microsoft betting big on cloud gaming technology, we've seen tons of options.
The Razer Kishi takes the top spot as the best controller for Xbox Cloud Gaming, providing the closest thing to an Xbox-style Nintendo Switch in 2021. Its two-part design transforms any smartphone into an all-inclusive gaming device, both comfortable and easy to use, with a button and thumbstick layout immediately familiar to Xbox owners. You've got two variants, available for iOS and Android devices, ensuring a great fit no matter your phone.
The Xbox Wireless Controller also marks the latest of Microsoft's triumphs in ergonomics and features, well suited as a versatile option for all devices. While there's a choice of alternatives for specific use cases and preferences, the sole official solution covers most Xbox converts exploring cloud gaming. Those using any gamepad should also consider picking up a phone clip, which mounts the accessory to your smartphone for a more viable gameplay setup.
Windows Central Newsletter
Get the best of Windows Central in in your inbox, every day!
Matt Brown was formerly a Windows Central's Senior Editor, Xbox & PC, at Future. Following over seven years of professional consumer technology and gaming coverage, he's focused on the world of Microsoft's gaming efforts. You can follow him on Twitter @mattjbrown.
Windows Central Newsletter
Thank you for signing up to Windows Central. You will receive a verification email shortly.
There was a problem. Please refresh the page and try again.