Best Xbox Controller Chargers 2023: Batteries, docks, and more
Top up your Xbox controllers with these docks, batteries, and other handy charging accessories.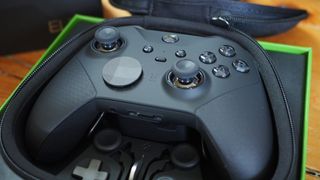 (Image credit: Future)
Your controller disconnects, your Xbox becomes unresponsive, and it won't turn back on — nothing ruins a great gaming session like finding out your controller batteries are dead. While it's an unfortunate reality with any wireless controller, these charging accessories will ensure that doesn't happen again.
Microsoft introduced a new Xbox controller alongside Xbox Series X and Series S, with a new USB-C port and revised design changing how your Xbox controller charges. We've rounded up the accessories we recommend for Xbox owners, all long-lasting, easy to use, and guaranteed to work with the latest Xbox consoles.
Razer Universal Quick Charging Stand
The best charging dock for Xbox looks and acts the part
Reasons to buy
+
Great design and build quality
+
Look and feel exactly matches Microsoft's official Xbox controllers
+
Solid battery life and charge speeds
Reasons to avoid
-
Cheaper options out there
Razer's spectrum of stands has become popular Xbox accessories — not only due to their bold color palettes. The Razer Universal Quick Charging Stand accommodates one Xbox controller, topping up battery levels between play sessions while doubling as a showpiece for any setup.
Razer introduced its charging dock shortly after the latest Xbox consoles, scooping up manufacturer ControllerGear and its gaming accessories business. The revered gaming brand continues to work with Microsoft on licensed charging stands, lifting the same materials and colors used for official Xbox controllers. The range spans neutral tones like black and white to more experimental controller variants like "Electric Volt" and "Aqua Shift."
While Razer has tailored its charging stands around the curves and colors of the latest Xbox controllers, the stand also supports older Xbox One gamepads. The dock incorporates a magnetic contact system with two battery door sizes, ensuring a tight across different controllers. The included 1199mAH battery charges in less than three hours, with fantastic battery life, as verified in testing for our full review.
While the Razer Universal Quick Charging Stand efficiently charges controllers, it's also one of the most stylish solutions. The dock proudly displays any Xbox controller from your collection, with an assortment of matching appearances. Razer went the extra mile, ensuring a highly functional product and overdelivering with a slick design akin to official Xbox hardware. It's perfect for solo gamers, though sadly, there's no option for multiple controllers.
Xbox Rechargeable Battery with USB-C
Quick and easy plug-and-play charging
Reasons to buy
+
Great battery life
+
Premium battery tech
+
Fast charge time
+
Easy plug-in charging
Reasons to avoid
-
Pricier than alternatives
Microsoft launched the Xbox Series X and Xbox Series S with several accessories, including a revision of one of the best Xbox charging accessories from recent years. The Xbox rechargeable battery provides an official upgrade that swaps out disposable AAs for an easy-to-use, replenishable alternative. It's an investment that rewards throughout the console's lifetime, with intermittent top-ups ensuring your Xbox controller is ready to go.
The Xbox rechargeable battery returns from the Xbox One era, previously known as the "Play & Charge Kit," albeit with minor changes. Microsoft has kept the same design, with a single battery that slots into the rear compartment, fading into the background after closing the battery door. It also has the same quoted battery life, with up to 30 hours per charge, although with varying mileage if factoring vibrations and connected headsets.
The controller charges via a physical cable connected through the top-facing port, although this time using USB-C over the micro-USB seen on Xbox One controllers. The advantages of the modern connector are plentiful, including a reversible design that fits inside both ways. The old Xbox One Play & Charge Kit also fits inside Xbox Series X and Series S controllers, but old cables won't work. The new rechargeable battery kit is an all-inclusive solution, which packs the new battery and the corresponding USB-C charge cable.
Microsoft packed a 1,310mAh lithium-ion cell inside, representing the premium end in rechargeable controller batteries. Many third parties use inferior nickel-metal hydride (NiMH) battery technology, with reduced longevity, with reduced performance over time. Microsoft's chosen battery will also fill up faster than cheaper alternatives, with a full charge in less than four hours, according to the company.
PowerA Dual Charging Station for Xbox
Keep two Xbox controllers ready to go
Reasons to buy
+
Easy to use
+
Affordable
+
Acceptable battery life
+
Works with both Xbox One and new Xbox controllers
Reasons to avoid
-
Build quality mediocre
-
Mandatory battery doors can look ugly
Power up wirelessly with the best charging dock for Xbox, presenting an effortless charging solution for up to two controllers. PowerA made its name with a strong lineup of Xbox One accessories last generation, and now has products geared for Xbox Series X and Series S. Its dedicated controller charging station is the best yet.
The PowerA Dual Charging Station for Xbox replaces a prior counterpart designed for Xbox One but reworked with the next-generation compatibility. The product ships with a charging station coupled with rechargeable batteries and custom battery doors. The batteries feature wireless contacts, with each rear cover featuring a small cutout for direct contact with the charging base. Pressing down a controller initiates charging, with an LED to signify battery status.
The station is mostly unchanged from its previous Xbox One counterpart, although there are a couple of exceptions. The changes come with the battery doors, including four in the box — two for Xbox One and two for Xbox Series X or S. It allows the dock to accommodate peripherals across generations, ideal when switching between new and old gamepads.
Each battery sports a 1,100mAh capacity, translating to around 20 hours of usage with a full charge. The chosen NiMH technology enables a relatively low price but trading longevity and charge speeds, as found in our review. But the result is a comprehensive charging solution that doesn't break the bank, balancing affordability without significant performance sacrifices.
Smatree Rechargeable Battery for Xbox
A cheap alternative to Microsoft's official battery kit
Reasons to buy
+
Affordable
+
Works with both Xbox One and Xbox Series X and S controllers
+
Acceptable battery life
Reasons to avoid
-
Cumbersome charging process
-
Less reliable over long-term use
Cheap isn't always a bad thing, and this affordable charging kit from Smatree supports controllers designed for Xbox One, Xbox Series X, or Xbox Series S. It has garnered attention for its price less than half of many top-selling solutions, but trading aspects of quality and performance in the process. But it's still a killer battery, especially when on a budget.
Two batteries and a USB-powered charging cradle come with that price, providing all you need for a first move away from disposable AA batteries. The included packs fit both Xbox One and Xbox Series controllers with their original battery doors but charged using an external cradle, rather than the top-mounted USB port.
Smatree makes charging relatively straightforward, where you'll need to remove batteries from the controller and place them side by side in the cradle. The included USB cable also allows for charging from your console or a power adapter. It tops up batteries for seven hours before cutting out, with LED lights to indicate charge time, even if a little unreliable.
The included batteries have 2,000mAh capacities, although battery life often falls short of the 48-hour maximum the company claims. The NiMH battery technology will also get you through a handful of lengthy sessions, but with reports of steady degradation after the first year.
In short, these represent a capable entry point into rechargeable batteries while undercutting other solutions. It's a cheap route to get started, but reduced longevity and reliability reduce the long-term viability. But over disposable AA batteries, it's the way to go.
Panasonic Eneloop Pro Charger and Batteries (4 pack)
Make the switch from disposable to rechargeable batteries
Reasons to buy
+
Great battery life
+
Durable over long-term use
+
Great value for multiple controllers
+
Multi-purpose
Reasons to avoid
-
Cumbersome charging process
The Panasonic Eneloop family remains a leader in rechargeable battery tech, recommended for their long life and relatively hassle-free implementation. These AA batteries provide a more versatile, multi-use alternative to power controllers. A 4-pack and bundled charger is the best long-life battery for Xbox Series X and Series S buyers. You can power two controllers simultaneously, or cycle between pairs for one player and never run out of juice. And when we say long-lasting, it's literally insane how infrequently we're swapping these from controllers.
The included Eneloop Pro AA batteries charge via an included charging cradle, hooking up to a power outlet via a retractable AC plug. Each battery slides in, with LED lights to denote charge status when sat in the cradle. The included batteries take around nine hours to charge, according to Panasonic, which aligns with real-world results. You can also grab more Eneloop-branded batteries when needed.
Each cell boasts 2,550mAh capacity, which translates to around 20 hours of gameplay, although it's dependent on usage. The NiMH technology is slower to recharge than lithium-ion solutions, but you're receiving double the batteries at a similar price. The company also claims the included Eneloop Pro line is fit for 500 charge cycles, even if hard to prove with our tests.
The Eneloop kit doesn't change much over standard AA batteries but comes in cheaper and more sustainable than disposable alternatives with time. Shifting the cells back and forth from controller to charger may be cumbersome, but it's an ideal upgrade from the basics.
Energizer Ultimate Lithium AA
Just swap and you're sorted with these single-use batteries
Reasons to buy
+
Affordable
+
Lightweight and won't degrade rapidly
+
Improved battery tech
+
Easy to use
Reasons to avoid
-
Costly over time
-
Increased waste
Opting for a set of rechargeable batteries provides long-term savings, but there's the convenience that comes with single-use solutions. They're easy to grab and go whenever power runs dry, without the need to hook up your controller for charging. It makes the Energizer Ultimate Lithium AA batteries our recommended choice in disposable solutions, long-lasting and delivering incredible value over standard alkaline products.
The Energizer Ultimate Lithium beat standard batteries with what's inside, utilizing lithium technology and its various benefits. These batteries last longer than alkaline alternatives and generally provide more hours of use for your money. They won't degrade as rapidly over time, with a shelf life of 20 years according to the company, while robust in harsher climates. Lithium batteries are also a little lighter, which makes a difference when spending hours in hand.
It helps if you approach batteries with caution, especially when looking for great cheap options. It's also vital to buy big-name batteries directly from reputable retailers like direct from Amazon, with known counterfeits in the wild. It makes a long-lasting option like the Energizer Ultimate Lithium ideal if you know the retailer.
The Xbox Series X and Xbox Series S controller supports AA batteries, an unusual move as many electronics switch to internal rechargeable cells. That added flexibility gives you various options, including the Energizer Ultimate Lithium, which holds up after hours of gaming. While we recommend considering a rechargeable product, these work great if you're on the fence.
Xbox Elite Controller Series 2
The best controller also has rechargeable batteries
Reasons to buy
+
Robust, ergonomic design
+
More features than other Xbox controllers
+
40-hour battery life
+
Charging cradle included
The Xbox Elite Controller Series 2 has pioneered rechargeability as the only Microsoft-made gamepad with a battery built inside. It makes for a much more seamless approach, with a robust charging solution that rewards those invested.
Microsoft gave its flagship gamepad a considerable upgrade with the Xbox Elite Controller Series 2, which remains our best Xbox One controller also compatible with Xbox Series X and Series S. The product debuted as a leader in its class, donning an ultra-premium design, refined ergonomics, overall improvements to functionality. The controller resulted in a highly customizable and versatile Xbox accessory with an impressive battery to match.
The Xbox Elite Controller Series 2 has four rear-facing paddles, control over thumbstick tension, and trigger locks that improve rapid firing. It also supports configurable controller profiles, which allow you to switch between multiple fine-tunes presets.
But the integrated battery completes the package, with our past testing exceeding the company's claimed 40 hours with a single charge. The internal 2,050mAh battery charges via USB-C or an included wireless charging cradle that fits inside a hard-shell carrying case. The only downside in the power department comes from an incompatibility with other charging accessories like third-party cradles or batteries.
The second attempt at the Xbox Elite Controller refines the original in almost every way, perfecting crucial components of the trusty gamepad. The biggest issue for some will simply be the $180 RRP, far exceeding other official controllers. But for that high price, it's nothing but the best.
Bottom line
Why you can trust Windows Central Our expert reviewers spend hours testing and comparing products and services so you can choose the best for you. Find out more about how we test.
Keeping your Xbox controllers powered and ready isn't always convenient, but these charging accessories should make for an effortless experience. These work with Xbox Series X and Xbox Series S, with considerations for the new controller silhouette and USB-C charging connectors.
While the Xbox buyers already have several charging solutions to choose from for the included controllers, the official Xbox Rechargeable Battery with USB-C kit remains our top pick. Microsoft packs premium technology in a relatively seamless solution, functioning similarly to the internal battery used by the Xbox Elite Controller Series 2. That brings up to 30 hours of quoted battery life, with a full charge within a speedy four hours. It's one of the best charging accessories providing long-term value without a crazy price.
But Microsoft's open approach to charging also means AA batteries work great, with all of the best solutions compatible with Xbox controllers. That includes the Panasonic Eneloop Pro batteries, a standout rechargeable solution, and the single-use Energizer Ultimate Lithium. These provide long-lasting charges for hours of gameplay without needing to charge your controller directly.
Windows Central Newsletter
Get the best of Windows Central in in your inbox, every day!
Matt Brown was formerly a Windows Central's Senior Editor, Xbox & PC, at Future. Following over seven years of professional consumer technology and gaming coverage, he's focused on the world of Microsoft's gaming efforts. You can follow him on Twitter @mattjbrown.
Windows Central Newsletter
Thank you for signing up to Windows Central. You will receive a verification email shortly.
There was a problem. Please refresh the page and try again.