Xbox Elite Controller Series 2 review: A gamepad (almost) perfected
Microsoft's original Xbox Elite Controller had lofty ambitions but collapsed under the weight of some crippling flaws. The Elite Series 2 fixes most of that while piling on extra features. Here's our review.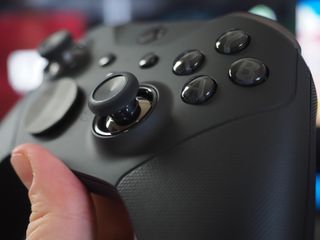 (Image credit: Windows Central)
The OG Xbox Elite Controller launched a few years ago and won itself a heap of initial praise. Extra paddles on the reverse for additional buttons, trigger locks for more rapid firing activation, and rubberized grips for a more tactile feel. However, in the months and years that followed, many users reported that their Elite controllers were, well, falling apart, which isn't the ideal scenario if you're shelling out over $100 for a gamepad.
That's why we're encouraged by the work Microsoft has done to improve the overall robustness of the Xbox Elite Controller Series 2, which not only revises the construction but adds in piles of extra features along the way. During Amazon Prime Day this year, you may be able to snag one at a discount as well. The typical retail price of the Xbox Elite Controller Series 2 is $180, so if you keep an eye on the controller's store listing (opens in new tab) during Amazon Prime Day, anything below $180 makes it a genuine deal.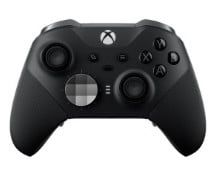 (opens in new tab)
Xbox Elite Controller Series 2
$180 (opens in new tab)Bottom line: This represents the best of Xbox's engineering efforts, with careful attention paid to every aspect of its design, construction, and execution. This is the best money can buy, if you can stomach that price tag, that is.
For
Insane 40-hour gameplay battery life
Robust, ergonomic feel
Huge array of configuration features
Bluetooth for mobile and PC use
Additional controls for your Xbox and TV
Against
Very expensive
Very easy to get dirty, difficult to clean
Windows configurability is weak
Xbox Elite Controller Series 2 Mammoth battery life
Right out of the box, the Xbox Elite Controller Series 2 screams quality. The Elite Series 2 is built from the ground up for those who want to get a little bit more out of their gaming, and it's evident that the team at Redmond has poured over every aspect of this device to ensure that it goes above and beyond what they had attempted with the previous Elite. Outwardly, it looks as though not a lot has changed, but it's all in the details.
Swipe to scroll horizontally
| Category | Spec |
| --- | --- |
| In the box | Hardshell carry case, additional thumbsticks, thumbstick tension control key, charging dock, USB-C cable, additional d-pad, Elite controller, four detachable paddle buttons |
| Compatibility | Xbox One, PC with Xbox Wireless/Xbox Wireless Dongle or Bluetooth, Android devices with Bluetooth (not iOS as of yet) |
| Connections | Bluetooth, 3.5mm audio, USB-C charging |
| Price | $180 |
Even the carrying case has undergone some revision to bring it up to speed with the Series 2's feature set. It comes with a magnetic floor designed to keep the charging dock in place if you prefer to charge your controller right out of the case. To accommodate, it also has a nifty rubber port on the back so you can feed the cable through. The magnet is also strong enough to keep the dock in place while lifting the controller free, which really exemplifies the S2's excellent attention to detail.
So, what about that charging dock? It's perhaps my favorite feature of the whole package, which I've been using as my daily driver for a few weeks now. Previously I would have argued blind that having AA batteries was a better solution since you could maintain charging cycles if you're using something like the Panasonic Eneloop AA charging cradle (opens in new tab).
Source: Windows Central
However, that was before I knew it was possible to cram an absurd 40 hours worth of battery life into a controller. In testing, we found that the Elite S2 actually often exceeded Microsoft's own listing of 40 hours without a 3.5mm headset attached, which is an impressive feat.
Whether you're docking in the case or with the charging dock removed and placed on a surface, it's easy to drop the controller into the charging position, thanks to the dock's powerful magnets. The controller also gives you a reassuring vibration once docked, and a soft white light pulses to let you know it's charging up — remaining solid when full. If you leave the controller in the USB-C charging dock when you go to bed, you're never going to run out of juice with this thing.
Xbox Elite Controller Series 2 Construction quality and ergonomics
Beyond charging, most of the controller's improvements are refinements to existing features we had on the previous S2, with what feels like a much tighter, denser construction. Rather than a simple shape mold, the new rubber grips are fixed with a new chemical bonding process, and it shows. I was unable to lever it off using a guitar pick or even a blunt razor (but still, it's not something I recommend you try at home!)
Without a time machine, there's no way to know if they won't warp over time, but the difference in quality between the original Elite and the S2 is readily apparent. I'm incredibly confident in what Microsoft has put together here.
The fact the grips wrap around the whole handles instead of just on the back gives it a more pleasant feel in hand. The materials in general just feel great to the touch, even if the soft matte black plastic attracts fingerprints and smudges like mad. In fact, the controller is generally difficult to keep clean, with various tiny notches and grooves that are prone to dust accumulation. If you're a neat freak, it may drive you crazy.
Another area of concern for many has been the shoulder buttons, which suffered from similar wear and tear problems on the previous Elite. They feel far stronger than the previous effort. Squeezing them in with an usual degree of force didn't cause any damage, nor did dropping the controller on the floor shoulder-button first (although, again, I don't recommend attempting either at home).
The thumbsticks and d-pad have the same strong magnets to hold everything in place, and it's quick and easy to swap them out. The paddles feel like they have more travel this time around, with deeper hooks to prevent accidental dislodging. The triggers also have some texturing, which provides a slightly more tactile feel.
Ultimately, the stuff the original Elite got right has been refined, and the things it got wrong has been fixed, at least for the most part. After a year with the Xbox Elite Controller Series 2 controller, the rubber nubs on the hair-trigger locks fell off, since they're held onto the device with, erm, nothing. They are plastic underneath, and can still be manipulated, but it's a bit egregious that a controller this expensive should have such a dumb flaw.
Xbox Elite Controller Series 2 New features
Beyond the charging dock, a lot of the Series 2's new features are hidden away on the inside or in subtle additions throughout. There are now three stages of trigger locking up from two, for example. There's also a tension control key, which lets you increase the amount of force you have to deliver to move a thumbstick, which can be a massive boost for precision with the right tweaks. Using a longer joystick, for example, gives you a greater distance away from the joystick pivot for making small precise aiming adjustments without having to sacrifice speed.
The upgraded microprocessor in the Elite S2 allows for a greater degree of keybindings than the previous Elite as well. Now, you can also add system-level features to the reverse paddles, including things like Xbox capture and screenshots, and even TV controls if you've set up the IR Blaster on your Xbox One. Being able to control the TV volume with your Xbox controller is something I never thought I needed until now.
It's unfortunate, then, that this functionality doesn't extend to Windows 10, which doesn't allow for anywhere near as much configuration and system integration. I was hoping you'd be able to bind specific keyboard keys, but even that isn't possible. You're restricted solely to moving around buttons present on the controller itself. Hopefully, the Xbox team and the Windows team can come together to improve the situation there in the future.
The new Elite S2 also allows for three configuration profiles up from the previous two, toggleable with a button switch in the center of the controller and a light indicator for each profile. I've set up a separate profile for Call of Duty, which gives me access to reloading and weapon switching on the paddles without having to take my thumb off the joystick, and another profile for TV controls and screenshotting. It's all just so convenient, and really elevates your Xbox experience as a whole. Once you've gone through the motions of setting it up, that is.
Should you buy the Xbox Elite Controller Series 2?
The new Xbox Elite Controller Series 2 is such a vast improvement over the first in every possible respect. The charging dock is by far and away the best solution we've seen in gaming for keeping an Xbox controller topped off, with a solid weight and rapid, 1-2 hour charge cycle to get fully topped off. For me, that alone makes it worth a look.
The additional features are also exciting and numerous, granting players who want a little more from their console experience the options they need to control their experience fully.
The only downside is that tweaking it can take a long time, and it truly is a rabbit hole when you start drilling down into the app's accentuation curve controls and that sort of thing.
The main pitfall of this product is the $180 price tag. It's far cheaper to get a basic $40 Xbox controller and an Eneloop battery charger to keep your gameplay topped off, and you can get some of the Elite controller's features using third-party accessories on a budget. What you get with the Elite Series 2 is premium quality, premium features, and premium convenience. It's the best of the best, and unfortunately, that doesn't come cheap. If you can stomach that price point, though, you won't regret it.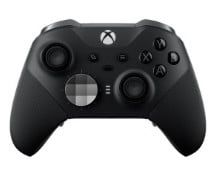 Xbox controller perfected
(opens in new tab)
Xbox Elite Controller Series 2
The pinnacle of Xbox accessory engineering.

With premium features, premium construction, and premium details, the Series 2 also comes with a very premium price tag. If you can weather the bill, you won't find yourself disappointed, though. This might be the best controller ever made.
Windows Central Newsletter
Get the best of Windows Central in your inbox, every day!
Jez Corden a Managing Editor at Windows Central, focusing primarily on all things Xbox and gaming. Jez is known for breaking exclusive news and analysis as relates to the Microsoft ecosystem while being powered by caffeine. Follow on Twitter @JezCorden and listen to his Xbox Two podcast, all about, you guessed it, Xbox!
I like it! I got mine today in the mail and it feels better than my original. My original elite didn't have any of the problem that are described here and I put a good 3 hours a day on them since launch... Minus a couple for like vacationing and what not. But all in all I got it for the thumbstick stuff like the strength needed to make them move adjustment.

I got mine in today as well while I didn't oot for series one I am enjoying the heck out of this thus far

I will be frequenting eBay for this item quite often. I can see this now.

I'll be grabbing one on Afterpay, then trade in my version 1 towards my Cyberpunk preorder.

I'm glad that it's got so many pros, good to see :)

Does the D-pad use four separate switches or does it just have one single pivot point?

I'm not gonna tear it apart to find out (lolol) but I imagine it's 4 switches, since the previous controller is 4 switches.

Thanks. There was a review on Amazon that claimed the original has only one pivot point.

I took apart my previous elite controller here: https://www.windowscentral.com/how-disassemble-xbox-one-controller pretty sure I remember it having four switches, but I could definitely be wrong.

Just going to throw out there that the Switch Pro controllers get 60-70 hours of battery life. So I'm not terribly impressed by a 40 hour battery. That said, everything else about the controller seems amazing!

Not even the same things though. I mean yes they are Co trollers, but past that they are not the same at all

I'm not sure how I follow. The only thing the Switch controller misses over the PS4 and Xbox controller is analog triggers and headphone jack. The rumble is far better in the Switch controller though. I'm not knocking the Elite 2, I think it looks like an amazing controller. I just don't think 40 hours of battery life is all that exciting. The person who wrote the article made it sound like a 40 hour battery life was something AMAZING that was completely unfathomable. And it's still 50% short of what the Switch Pro controller gives at $70.

I have a Switch Pro controller, I can't say I felt like it was 60-70 hours... but I admit I didn't test. But now you've made me curious!

Is the Elite 2 not supported for Project xCloud streaming yet? It Bluetooth pairs fine with my Anrdoid phone but when trying to launch a game it just prompts me to "connect a supported controller via USB or Bluetooth".

Hmm it might require an Android update for that, I'm currently in a country which isn't supported by xCloud so I couldn't test.

This is for another comment section, but this site won't let me comment there, so here goes. This comment is regarding how to reverse scrolling direction in Windows 10: https://www.windowscentral.com/how-reverse-scrolling-direction-windows-10 There is no mouse ID for me (VID ID value). I'm using Microsoft Surface with the Arc mouse. Every mouse in Device manager (3 of them) are just "HID compitable mouse". If I check the Bluetooth settings, the mouse is just "Bluetooth LE device" under Details. So I can't find it again in the registry.

180 bucks for a controller is crazy. But then why not? For me, it looks like the user base tend to prefer their controllers than games...

After about a year of owning this controller here are some thoughts: Stick drift is still a thing. After time my left joystick started drifting forward and backward. Granted that's with daily gaming of 6 hrs plus for a year and a mix of games such as fps and mmorpgs. Paddle warp is also a thing if you map buttons to your paddles that you press alot or have long presses on often then they will warp. Good news is some pressure with some pliers puts them back in the right shape. So if you're getting this get a two year warranty. Just to be safe. As for the keybindings for PC reWASD is a good tool to use. You can map anything to your controller on PC with it. It's a little extensive and takes a bit to get used to but works well.

Love this controller. I skipped the Gen 1 Elite, although it pained me. Just too many QC horror stories, to justify the purchase. But the Elite Series 2? A Godsend. I love every feature. Also, Jez, you didn't mention the, I believe, 250 virtual presets, you can attain through the app, not just the 3 hard switchable presets.