Best Alienware desktop 2023
Making PC parts feel a little less alien.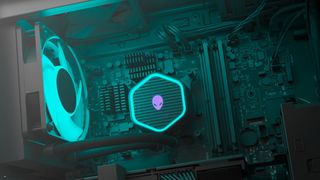 (Image credit: Dell)
Building a killer gaming PC can be daunting for a novice, with cutting-edge hardware running up costs and compatibility mismatches causing headaches. Even the most hardcore enthusiasts spring for a pre-built machine if individual parts suffer from chip shortages and price hikes.
Custom-designed gaming rigs from Alienware, a subsidiary of computer giant Dell, are designed with performance in mind, taking advantage of their custom-made cooling technology and sleek case design. The Alienware desktop PC line features impressive hardware, so we've chosen the Aurora R13 with an RTX 3090 GPU as the best Alienware desktop with some alternatives.
Alienware Aurora R13
Best overall
Specifications
CPU:
Intel Core i9-12900F
GPU:
NVIDIA GeForce RTX 3090
Storage:
1TB M.2 PCIe NVMe SSD
Reasons to buy
+
Latest 12th Gen Intel Alder Lake CPU
+
GeForce RTX 3090 handles any game
+
Future-proof
It's no secret that Alienware desktops aren't usually known as a budget-friendly choice when it comes to pre-built computers, but if you're looking for high-tech hardware without the stress of building a PC yourself, then the Aurora R13 has it all for a cool $3,440.
Leading the hardware list with the latest 12th Gen processors from Intel, the R13 features options from an i7-12700F to the beefy i9-12900KF, a 16-core CPU clocked at 3.2GHz capable of overclocking up to 5.2GHz. We recommend pushing for the i9-12900F without needing to overclock and sticking with air cooling.
Taking advantage of the DDR5 support with the 12th Gen Intel Core CPU, Alienware includes dual-channel RAM with clock speeds from 3600 to 4800MHz, with support for up to 128GB at the former, but you can upgrade the R13 rig later if you stick with something cheaper. Pick up the 32GB (2x 16GB) 4400MHz option and enjoy dual-channel memory; it should see you comfortably into the future without going overboard.
The NVIDIA GeForce RTX 3090 with 24GB of VRAM is the king of the RTX castle and will push the price up considerably. Picking it up as part of a pre-built PC can offset some costs of sourcing one separately, and this addition to the Aurora R13 completes the package as an exceptional gaming PC and the best Alienware desktop. Completely capable of 4K gaming, choosing a single 1TB M.2 PCIe NVMe solid-state drive will provide plenty of storage space for your games with the option to expand later.
Alienware Aurora R13
Best alternative
Specifications
CPU:
Intel Core i7-12700F
GPU:
NVIDIA GeForce RTX 3070 Ti
Storage:
1TB M.2 PCIe NVMe SSD
Reasons to buy
+
Latest generation Intel CPU
+
Capable 1440p GPU
+
Stunning case design
Considering the significant price drop when configuring this system at $2,190 compared to the initial Aurora R13 monster, it's forgivable to feel confused over the naming system for the customizable Alienware desktop PC line. Fortunately, the hardware doesn't suffer the price reduction since this Aurora R13 still offers a cutting-edge 12th Gen Intel CPU, the i7-12700F, a 12-core processor clocked at 3.6GHz.
The memory size takes a slight drop down to 16GB (2x 8GB), but it's still dual-channel DDR5 rated at 4400MHz and supports upgrading to 64GB at this speed should you feel restricted by the RAM. Cutting the single SSD in half by selecting the 512GB M.2 PCIe NVMe drive saves you $100. It's still a decent amount of space for games, supplemented by providing a secondary internal drive yourself or relying on external storage for installation backups.
The NVIDIA GeForce RTX 3070 Ti 8GB continues the trend of cutting costs without sacrificing too much GPU performance. It's better suited for gaming at 1440p rather than 4K, so bear that in mind when pairing your Aurora desktop PC with a monitor. Considering the price difference, the RTX 3070 Ti still has an impressive feature set with its ray tracing and DLSS support.
Alienware Aurora Ryzen Edition R14
AMD powerhouse
Specifications
GPU:
AMD Radeon RX 6900 XT
Storage:
1TB M.2 PCIe NVMe SSD
Reasons to buy
+
Powerful Ryzen 9 CPU
+
RX 6900 XT handles any game
If you're a fan of AMD over Intel, there are Alienware Aurora options for you. Again, they're not exactly budget-friendly when looking at high-end parts, but this machine will smash practically anything you throw at it and saves the effort of building it yourself if you can pay the hefty $3,220.
There's a range of options for AMD processors here, from a modest 8-core Ryzen 7 5800X to the Ryzen 9 5950X, a 16-core CPU giant. Aim for the AMD Ryzen 9 5900X for a reasonable competitor to Intel's i9-12900F, selecting your choice of side panel alongside the liquid cooling.
Memory options don't come as fast as the Aurora R13's range, but you can choose from 16GB to 128GB of DDR4 RAM at a couple of speeds. Pick up the 32GB (2x16GB) 3200MHZ option for a reasonable balance of performance and cost. As with our other choices, you could upgrade the memory later if you feel it necessary, a benefit to Alienware using standard components.
The AMD Radeon RX 6900X XT with 16GB of GDDR6 VRAM competes with the NVIDIA GeForce RTX 3090 and will push the price up just as the latter would, but it's an ideal pairing for the Ryzen CPU and comes with AMD FidelityFX (FSR) support. The R14 is perfect for 4K gaming with AMD components, and pairing it with a single 1TB M.2 PCIe NVMe solid-state drive leaves you with enough space for modern games.
Alienware Aurora Ryzen Edition R10
AMD alternative
Specifications
GPU:
NVIDIA GeForce RTX 3080
Storage:
1TB M.2 PCIe NVMe SSD
Reasons to buy
+
Powerful AMD Ryzen 9 CPU
+
1TB of high-speed storage
+
Sleek case design
AMD continues to push its technology forward and stands as a CPU rival to Intel, with its Ryzen processors proving to be fantastic for value for money. The Aurora Ryzen edition R10 comes with the 12-core AMD Ryzen 9 5900 CPU, rated up to a maximum of 4.7GHz, and pairs up with the powerhouse NVIDIA GeForce RTX 3080 10GB, all contained in a sleek case for $1,900.
32GB (2x16GB) of dual-channel DDR4 RAM clocked at 3200MHz is upgradeable should you want to add memory in the future, but this previous-generation RAM standard will manage almost anything you throw at it. A 1TB NVMe M.2 PCIe solid-state drive has super-fast boot times and plenty of space for games and software.
The GeForce RTX 3080 is part of the NVIDIA 30-series high-end GPU lineup, supporting ray tracing and DLSS upscaling technology. This excellent combination of hardware makes the Aurora R10 Ryzen edition a worthy alternative to the Alienware desktop PCs featuring Intel hardware, enjoying one of the top NVIDIA graphics cards for modern gaming.
Alienware Aurora R13
Budget-friendly
Specifications
CPU:
Intel Core i5-12400F
GPU:
NVIDIA GeForce GTX 1660 Ti
Storage:
256GB M.2 PCIe NVMe SSD
Reasons to buy
+
Cheapest Alienware spec
+
Decent HD gaming
It is possible to spend a reasonable amount of money on the Alienware store, but the specs might not be what you expect. Still, if you're looking for an easy entry into PC gaming, you can aim for the budget Aurora R13 build at $1,340.
You'll still get a 12th Gen Intel Core i5-12400F, so you're up to date with the latest CPU, but your options for a GPU are a little more restricted. The choice between an NVIDIA GeForce GTX 1650 SUPER with 4GB of GDDR6 VRAM and a GTX 1660 Ti with 6GB isn't an extensive selection, but we recommend aiming for the latter with a bump in price.
Memory isn't lacking on this entry-level R13, with options for super-speedy 4800MHz RAM up to 32GB. This part is really up to you, and you should consider which games you're aiming to play to check recommended memory specs. 8GB of DDR5 4400MHz RAM is nothing to sniff at and will set you up for easy upgrades in the future.
The same consideration goes for storage. Sticking to a 256GB M.2 PCIe NVMe SSD will get you started, but upgrades will be necessary when you begin to run out of space. It's a decent starting point for a pre-built Alienware machine just north of $1,000 and will handle some modern games, but nothing over 1080p.
Choosing the best Alienware desktop
Why you can trust Windows Central Our expert reviewers spend hours testing and comparing products and services so you can choose the best for you. Find out more about how we test.
Picking up a pre-built gaming PC can be as easy as choosing a console, and the Alienware Aurora range from Dell makes sure of it. It's easier than ever to target hardware for the games you want to play. PC hardware parts have been like a rollercoaster ride in the past when graphics cards utilized for cryptocurrency mining caused the demand to skyrocket.
The Alienware Aurora R13 packs cutting-edge hardware into a gorgeous case and will be ready for the future of PC gaming with an all-powerful NVIDIA GeForce RTX 3090 GPU. Coupled with the latest 12th Gen Intel Core CPU and lightning-fast DDR5 RAM, it's the best Alienware desktop.
If you prefer to leave the PC building process to experts, Alienware has you covered with choices alongside our best pre-built gaming PC roundup, meaning you can focus on gaming.
Get the Windows Central Newsletter
All the latest news, reviews, and guides for Windows and Xbox diehards.
Ben is the channel editor for all things tech-related at Windows Central. That includes PCs, the components inside, and any accessory you can connect to a Windows desktop or Xbox console. Not restricted to one platform, he also has a keen interest in Valve's Steam Deck handheld and the Linux-based operating system inside. Fueling this career with coffee since 2021, you can usually find him behind one screen or another. Find him on Mastodon @trzomb@mastodon.online to ask questions or share opinions.