Best gaming monitors 2023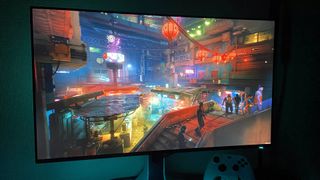 (Image credit: Ben Wilson | Windows Central)
If you're looking to get into PC gaming — or you want to take your current PC gaming experience to the next level — you should strongly consider getting your hands on a good gaming monitor. The market for gaming monitors is filled with a wide variety of different options, and it's hard to pin down which is truly the best computer monitor. Overall, we think the Alienware AW2723DF is the best gaming monitor due to its well-rounded specs, excellent design, and relatively approachable price point.
Alienware AW2723DF
Best overall
Reasons to buy
+
Up to 280Hz with overclocked DisplayPort.
+
Support for various adaptive sync methods.
+
Sturdy build still allows effortless vertical adjustments.
Reasons to avoid
-
Backlight leaks in low-light settings.
-
Cable tidy prevents quick screen rotations.
The best features of each gaming monitor category all shine through on the 27" AW2723DF from Alienware, balancing a 1440p resolution with a killer refresh rate capable of up to 280Hz when overclocked. It's an IPS panel instead of pushing for OLED, so thankfully, the price doesn't get too extreme on this premium option, but it's not the cheapest either. However, with Alienware hardware, there's a minimum level of quality that is undoubtedly delivered here.
A super-skinny bezel has the panel looking deceptively lightweight upon its sturdy frame, which can be effortlessly adjusted for vertical height with nothing more than a firm push. It can be rotated, too, for those who dip their toes in coding or perhaps indulge in some obscure arcade shooters, but that's probably farfetched. Still, it's nice to have the option, right?
LG UltraGear 27GL850-B Compatible Gaming Monitor
Best alternative
Reasons to buy
+
Awesome display
+
Amazing refresh rate and response time
+
Full swivel, tilt, and height adjustment
+
Thin bezels
The LG UltraGear 27GL850-B is the best overall monitor out there if you're looking for something high-end with awesome performance. It's a 27-inch QHD monitor with a wonderful 2560x1440p resolution. There's no HDR, but the monitor has a stellar 144Hz refresh rate maximum and a fantastic 1ms response time. Paired with the thin bezels and superb color accuracy, these features mean your games will look more immersive. The benefits extend to gameplay as well, as a higher refresh rate and low response time mean that gameplay will look cleaner, crisper, and smoother.
The monitor itself comes with the ability to adjust the height, swivel, and tilt so that you can find a viewing angle that works for you. It also has NVIDIA G-Sync technology, which helps prevent screen tearing and ensure smooth gameplay. All of what this monitor has to offer is awesome, and while it is a bit of a pricey display, you get what you pay for without a doubt.
LG 27GN950-B Ultragear Gaming Monitor
Elite pick
Reasons to buy
+
Incredible display
+
Amazing refresh rate
+
HDR support
+
Lots of adjustability
The LG UltraGear 27GN950-B is a ridiculously capable gaming monitor that will blow your mind — and it will also blow a hole through your bank account. This 27-inch beast features a glorious 4K display with HDR support and incredible lighting and color depth. It's also compatible with NVIDIA G-Sync and AMD FreeSync Premium Pro, which pretty much guarantees you'll never experience any screen tearing. It comes with a 1ms response time, which is also superb.
Also, the refresh rate is 144Hz, which means that you'll be able to play games in 4K at over 100 frames per second (FPS) provided you have one of the best graphics cards capable of delivering that kind of raw performance. The monitor can also be tilted and pivoted for a customized viewing angle, and you can adjust the height as well.
Ultimately, if you want the absolute best gaming monitor and don't mind dropping a fortune for it, the LG UltraGear 27GN950-B is for you.
BenQ EW3270U 32-inch 4K Monitor
Affordable 4K
Reasons to buy
+
4K at an affordable price
+
Display looks awesome overall
+
HDR support
+
Thin bezels
Reasons to avoid
-
Lower refresh rate
-
Lower response time
If you want to enjoy the gorgeous look of 4K without dropping a ton of money on a monitor, then the BenQ EW3270U is a great choice. Its 32-inch 4K display comes with HDR support and features both AMD Free Sync and a great color gamut, meaning that games and all other visual media will look excellent on it, though not as excellent as it would on an Acer Predator X27. The bezels are super thin, too, which is always a plus.
Also, this display has a refresh rate of just 60Hz, which, while currently the standard, is starting to become dated. Additionally, the response time is 4ms. Even with these caveats, the BenQ EW3270U is an awesome monitor if you want to get your hands on affordable 4K capability.
Samsung CRG9 QHD Gaming Monitor
Ultrawide
Reasons to buy
+
Incredible widescreen
+
Amazing refresh and response rates
+
HDR support
+
Full swivel, tilt, and height adjustment
Reasons to avoid
-
Very pricey
-
4ms response time
Feast your eyes upon this 49-inch (!) Samsung monitor, a curvaceous behemoth with a jaw-dropping 32:9 aspect ratio. If you're someone who finds curved or wide screens more immersive when playing games, you'll love this monitor.
It features a 1440p resolution with an excellent 120Hz refresh rate. Additionally, the monitor comes with both HDR support and AMD Free Sync 2. This means that, while the picture itself isn't as crisp as 4K, the QHD image will look as amazing as you can make one look. The display's response time is 4ms, which isn't ideal, but it's still more than good enough for gaming. Also, the monitor can be swiveled, tilted, and height adjusted. Lastly, you'll be able to see quite a bit more in your peripheral vision than you would with a standard 16:9 monitor, giving you a distinct edge in the visibility department during gameplay.
Dell Gaming Monitor S2719DGF
Best mid-range
Reasons to buy
+
Display looks great
+
Affordable
+
Extreme refresh and response rates
+
Full swivel, tilt, and height adjustment
Reasons to avoid
-
No HDR support
-
Fewer overall features
Gamers looking for something affordable yet still great should look no further than the 27-inch Dell Gaming Monitor S2719DGF. It features QHD 2560x1440 resolution, which looks quite sharp and is a noticeable upgrade compared to the standard 1080p. Also, the color gamut and lighting depth are pretty good on this monitor, although the lack of HDR means that it won't be as excellent as the previous options.
In terms of adjustment, you can tilt, swivel, and adjust the height. Additionally, the monitor has the best refresh rate out of every option on this list, coming in at 155Hz. Also, it has a fantastic 1ms response time. Ultimately, while this monitor doesn't offer the same quality or features that the more expensive ones do, it's still quite good, especially when you consider the lower price.
Acer XF270H 27-inch Gaming Monitor
Best budget
Reasons to buy
+
Rock-bottom price
+
Slightly above-average refresh rate
+
Awesome response time
Reasons to avoid
-
Only 1080p
-
No HDR support
-
Fewer features overall
People who want to get a quality monitor while only spending the bare minimum should opt for the 24-inch Acer XF270H. It's got a standard 1080p HD display and a refresh rate of 144Hz, which is quite excellent. However, while colors and lighting look good on it, there's no HDR support, and the other monitors on this list look a lot better. One thing it does have going for it, though, is the fact that it comes with a 1ms response time. Still, this monitor is a far cry from being as good as the previous options.
When you consider the rock bottom price of the Acer XF270H, though, it's easy to see just how good of a deal it is. While you aren't getting top-of-the-line quality with this monitor, you are getting solid quality for a very low price, which is excellent if you don't have much money to spend on a display.
Choosing the best gaming monitor
Why you can trust Windows Central Our expert reviewers spend hours testing and comparing products and services so you can choose the best for you. Find out more about how we test.
You might not think of it this way, but a great gaming monitor can make or break a gaming PC build. You can have all the strong hardware in the world in your PC, but without a monitor that can display what that horsepower can do, you won't be able to reap the benefits. Resolution, color accuracy, support for HDR, response time, refresh rate, and screen size are all critical factors that you need to consider when picking a gaming monitor that will suit your tastes, your playspace, and your rig.
Each of these monitors will appeal to somebody depending on what their wants and needs are. Ultimately, though, we think that the best overall gaming monitor you can get right now is the Alienware AW2723DF, as it offers premium quality for a reasonable price that's accessible to many PC gamers.
If none of the monitors on this list sounds good to you, make sure you also check out our roundups of the best computer monitors, best 27-inch PC monitors, and best 4K PC monitors for a wide range of more options.
Get the Windows Central Newsletter
All the latest news, reviews, and guides for Windows and Xbox diehards.
Rich Edmonds was formerly a Senior Editor of PC hardware at Windows Central, covering everything related to PC components and NAS. He's been involved in technology for more than a decade and knows a thing or two about the magic inside a PC chassis. You can follow him on Twitter at @RichEdmonds.