For those who desire a high-quality OLED monitor with a curved screen, Alienware's flagship AW3423DWF is an excellent choice, with fantastic picture quality, color accuracy, and design. Any complaints are minor, especially when this monitor goes on sale.
Pros
+

Class-leading color accuracy and picture quality

+

Stellar gaming performance and features

+

Practical, attractive design

+

Solid pricing for a widescreen, curved OLED monitor
Cons
-

Alienware Command Center makes the monitor worse

-

Not very bright in general use
Why you can trust Windows Central Our expert reviewers spend hours testing and comparing products and services so you can choose the best for you. Find out more about how we test.
Do you want an OLED monitor for the perfect contrast and vivid colors? To pair that with a widescreen aspect ratio for greater multitasking capability? Do you also need all the best gaming features piled on top of that? And excellent color accuracy and HDR content support? That's a steep list of demands, but I have just the monitor for you. The Alienware 34 Curved QD-OLED Gaming Monitor (AW3423DWF) is a pricey bit of kit, but it's also one of the best monitors I've had the pleasure of using.
An alternative variant of Alienware's flagship gaming monitor, the AW3423DWF cuts the price, slims the chassis and feature set, and still delivers an incredible, premium gaming experience with its high-quality OLED panel. If you're willing to pay the (still-high) cost and potentially deal with some odd bugs or issues, then this is one of the best gaming monitors you can buy right now.
Disclaimer: This review was made possible by a review unit provided by Alienware. The company did not see the contents of the review before publishing.
Alienware AW3423DWF: Setup and first impressions
Alienware's gaming monitors follow the good habits set by Dell's general line of monitors, like with the Dell UltraSharp 34" Curved Monitor (U3423WE), a productivity-focused competitor to this display. This means sustainable, easily-recycled packaging with an intuitive layout and a simple setup process. It's effortless to assemble the two-piece stand and slot it into the back of the monitor for a secure, rock-solid connection. If you need to take the monitor apart or switch to a VESA wall mount, a quick-release button makes the reverse process just as easy.
Alienware AW3423DWF specs
Price: $1,099.99
Display size: 34.18-inch Quantum Dot OLED
Display resolution: 21:9, 3440x1440 WQHD, 1800R curve
Display features: 165Hz, 0.1ms response time, 250 nits, VESA DisplayHDR TrueBlack 400, AMD FreeSync Premium Pro
Other features: Anti-reflective coating, PiP / PbP, stand adjustment (height, swivel, tilt), VESA wall mounting (100mm x 100mm), AlienFX RGB lighting
Inputs: Kensington security lock slot (1x), DisplayPort 1.4 (2x), HDMI 2.0 (1x), USB Type-B 3.2 Gen1 upstream (1x), USB Type-A 3.2 Gen1 downstream w/ Power Charging (1x), USB Type-A 3.2 Gen1 (3x). 3.5mm audio port (1x), line-out port (1x)
Weight: 9.65kg (21.27lbs)
The majority of the Alienware 34 Curved QD-OLED Gaming Monitor's ports are understandably deeply recessed on the back, which can make it frustrating to initially connect your devices and plug in the upstream cable to activate this monitor's spare USB ports. Once you're connected, though, a clever opening in the stand makes it easy to manage all your cables. This hole is a little on the small side, so you may struggle to squeeze a number of cables in, but it's still nice to have. For those who desire a streamlined desk setup, though, Alienware includes another nice touch in the box.
After all your cables are connected, you can grab an additional piece of plastic from the box, which just so happens to be a perfect fit for the back of the monitor and its ports. This panel seamlessly covers the unsightly ports to give your monitor a clean, uninterrupted back (apart from an opening for all the cables to thread directly into the stand). It couldn't be easier to install, and it looks great. Even better, you can still access the two USB Type-A ports and a 3.5mm audio jack stashed underneath the monitor for additional peripherals and more.
My only complaint about the initial setup of this monitor is that the stand is rather long and takes up a decent amount of space on a desk. If you have a gaming keyboard with a wrist rest, you may struggle to make room for both. I wish Alienware had made this stand a little shorter and wider.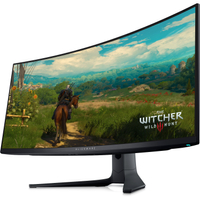 Alienware 34 Curved QD-OLED Gaming Monitor (AW3423DWF)
Starting at $1,099.99, this Alienware monitor is an excellent purchase for anyone who needs a widescreen monitor that can do it all — gaming, media consumption, productivity, and creative work. It's expensive, but it's actually a better deal than its pricier sibling.
Buy from: Dell | Best Buy | B&H Photo
Also see: Alienware AW3423DW ($1,299.99 at Dell)
Alienware AW3423DWF: Build quality and design
As another premium, similarly priced OLED gaming monitor, expect a lot of comparisons to the ASUS ROG Swift OLED (PG27AQDM). When it comes to overall build quality and design, that monitor still wears the crown for me. That doesn't mean Alienware's 34-inch QD-OLED curved beast is a slouch, though, as it's built extremely well with a pragmatic design.
You're getting relatively thin bezels along the top and sides of the monitor, a sturdy stand, tasteful branding and RGB lighting on the rear, and a good combination of curves and edges to mask the large rear base for heat management and internals. Combined with the ingenious panel to disguise the monitor's ports, the Alienware AW3423DWF is largely pretty attractive, if a little boring. The stand supports decent height, tilt, and swivel adjustments but (like most other ultrawide monitors) does not support full pivots.
The body is all plastic, and the display is coated with an anti-reflective surface that does its job to reduce glare without sacrificing picture quality. The build quality is exceptional, but this monitor lacks the fit and finish of the 27-inch ASUS OLED gaming monitor mentioned before, which boasts a razor-thin chassis, slim bezels, and a delightful texture over the entire monitor body. The Alienware AW3423DWF's design is very functional but lacks the extra polish I like to see in products, like more luxurious materials or small additional design touches.
Alienware AW3423DWF: Display quality
Packed with a 34.18-inch, 21:9, WQHD OLED display, the Alienware AW3423DWF has everything it needs to dominate this class of gaming monitors. Fortunately, it delivers the experience it promises on paper, both the good and the average. For color accuracy, this monitor is absolutely fantastic, scoring 100% and 99% of the sRGB and DCI-P3 color gamuts, respectively. If you need great color accuracy in your monitor, Alienware has you covered.
Swipe to scroll horizontally
| Setting | Brightness | Black | Contrast | White point |
| --- | --- | --- | --- | --- |
| 0% | 18.2 | 0 | 0:1 | 6,200 (0.319, 0.325) |
| 25% | 71.9 | 0 | 0:1 | 6,200 (0.318, 0.325) |
| 50% | 126.5 | 0 | 0:1 | 6,200 (0.318, 0.325) |
| 75% | 180.7 | 0 | 0:1 | 6,200 (0.318, 0.325) |
| 100% | 245.9 | 0 | 0:1 | 6,200 (0.318, 0.325) |
OLED means you get the customary perfect blacks and infinite contrast, leading to excellent detail and a vivid image that pops no matter the content. This monitor's white point is surprisingly consistent across brightness levels, with neutral whites that don't lean too far toward cool or warm tones. Alienware also bakes in Dell's ComfortView Plus to automatically filter out blue light without compromising image quality in an effort to make the screen more comfortable to look at for long periods of time.
Screen brightness is this monitor's one weakness, but only when considering general usage. While the 75% brightness level is more than comfortable enough for everyday use in a dim office, those who work in bright environments (especially with direct sunlight) may quickly find the limits of the Alienware AW3423DWF's 250 nits max brightness. This low brightness is likely to help preserve the quality of the OLED panel, though, as high brightness levels can accelerate the decay of the organic pixels that make OLED displays so special.
Fortunately, this weakness does not extend to HDR content, with the 34 Curved QD-OLED Gaming Monitor capable of hitting up to 1,000 nits of brightness over small areas of the screen when displaying any HDR content with the DisplayHDR TrueBlack 400 standard. Great HDR support combined with best-in-class contrast levels and color accuracy makes this monitor a great choice for anyone working in creative fields, although it still won't approach the ultra-premium reference display market. Of course, those monitors are also astronomically more expensive than this one and aren't as effective for productivity or gaming.
The widescreen 21:9 aspect ratio pits the Alienware AW3423DWF against the very best ultrawide monitors you can buy, but it does a great job competing. With a gentle 1800R curve, this monitor provides plenty of real estate for effective multitasking. There is no KVM support for juggling multiple simultaneous device inputs, but pairing this Alienware monitor with a window-juggling tool like Microsoft PowerToys makes managing various apps, tabs, and workflows a cinch. You also get Picture-in-Picture and Picture-by-Picture modes for further enhanced multitasking prowess.
One thing I will mention is that, to me, the Standard color profile of this curved gaming monitor felt far too flat, color-wise. There was a distinct lack of vibrancy or saturation, verging on being "washed out." I tested the AW3423DWF with this color profile, and it obviously returned great numbers (see above), but it just wasn't pleasant to look at. Fortunately, there are plenty of preset color profiles from which to choose and three different generic profiles you can tweak to your heart's content. All I did was slightly increase the saturation levels for each color from 50% to 65% and left everything else alone, and this monitor instantly became one of the best-looking displays I've ever had the pleasure of using.
Alienware AW3423DWF: Gaming performance
The Alienware 34 Curved QD-OLED Gaming Monitor clearly impresses when it comes to creative work and productivity. How could it not, with its awesome color accuracy, image quality, HDR support, and display dimensions? This is a gaming monitor, though, so it's important that it also delivers a great gaming experience. If that's what you're here for, I have some good news for you.
With a 165Hz refresh rate and an astonishing 0.1ms response time, the Alienware AW3423DWF isn't the fastest or most responsive monitor I've ever tested (the ASUS ROG Swift OLED beats this monitor on both accounts). It's still well above average on both accounts, even if recent OLED monitors have surpassed it, though, and does so with a crisp, 3440x1440 WQHD resolution. In use, this monitor takes full advantage of those specs to deliver an effortlessly smooth gaming experience free of ghosting, screen tearing, and stutters.
This monitor includes AMD FreeSync Premium Pro for adaptive sync and is also NVIDIA G-SYNC compatible. This is one of the biggest differences between the AW3423DWF and the older AW3423DW monitors, which includes full NVIDIA G-SYNC Ultimate support and a slightly faster 175Hz refresh rate. I used this monitor with an NVIDIA GeForce RTX 4080 and never had any issues or even a single moment that I felt I needed better NVIDIA G-SYNC support.
Alienware also bakes in a bunch of extra gaming features like its AlienVision for "improved clarity and sharpness," a dark stabilizer, a console mode for improved compatibility with Xbox or PlayStation consoles (like downscaling a 4K@60FPS image, source tone mapping, and more), and an on-screen crosshair. These features are all fine to have, but I didn't feel like any of them were necessary to have a great time gaming with this monitor. If you are planning on using your Xbox Series X|S with the Alienware AW3423DWF, though, that aforementioned console mode is a great addition that's not available on the more expensive AW3423DW monitor.
Alienware AW3423DWF: Other features
When assessed solely as a monitor, the Alienware 34 Curved QD-OLED Gaming Monitor goes toe-to-toe with the latest and greatest in the industry. It's extra features that can tip the scales one way or the other, though, so what does Alienware include in the box?
Well, you do get Alienware's AlienFX lighting on the back, more specifically a large "34" noting the monitor's display size and a smaller Alienware logo. You can customize both through Alienware's improved on-screen display (OSD) menu system, controlled via an easily-accessibly joystick below the display. You have a handful of options to customize the color and effect of these lights, and it works reasonably well. Elsewhere, the OSD is intuitively laid out and contains all the settings you need, but it does suffer from the same general awkwardness as all other OSDs — the joystick is no fun to use, and navigating through multiple pages is endlessly tedious.
You might hope that you could turn to Alienware Command Center for a better, more feature-packed interface through which to customize this monitor, but Alienware's all-in-one program is actually detrimental to the AW3423DWF. A strange bug with the Alienware Command Center actively prevents the 34 Curved QD-OLED monitor from going to sleep as it's supposed to. Anytime enough time would pass for the monitor to go to sleep, it'd flash black before turning back on again. In order for the monitor to turn the display off after a period of inactivity, I had to disable the background Alienware service on my computer, breaking the Alienware Command Center (attempting to override this service's effect on power settings using Terminal did not help).
Even when you do use the Command Center, the interface to even find the AW3423DWF to make any changes is confusing and cluttered, and I frankly didn't even realize I had the ability to tweak this monitor's settings from the Command Center because there was no visible option and it didn't appear anywhere that I could see.
If you have other Alienware products, you may find yourself frustrated with the Alienware Command Center when you realize the OLED display sat unable to sleep for five hours while you ran errands and you didn't want to fully shut down your PC. Fortunately, Alienware has made efforts to improve the longevity of the OLED panel with great thermal management and an OLED maintenance setting to refresh the pixels when the monitor goes into standby. Still, to avoid images being burned into the monitor over time (like the Windows taskbar), you definitely want the monitor to go to sleep like normal.
Alienware AW3423DWF: Competition
If you don't need or want the widescreen display, there's one monitor I'd heartily recommend over the Alienware 34 Curved QD-OLED Gaming Monitor. The ASUS ROG Swift OLED 27-inch monitor costs $999.99 ($100 less than the Alienware, but you can often find the AW3423DWF discounted) and boasts a breathtakingly gorgeous, flat display, a lightning-fast 240Hz refresh rate, and an industry-leading 0.3ms response time. You also get the DisplayWidget app for easier customization. It's still my favorite gaming monitor of all time, and it's an excellent alternative to the AW3423DWF.
If you would prefer a curved or widescreen gaming monitor, I suggest looking at the Samsung Odyssey line of monitors. Samsung is well-known for its incredible screens, and there's an Odyssey monitor for every use case and budget. For those who need the absolute best in every category, the ludicrous Samsung Odyssey G9 OLED 49-inch monitor is absurdly huge, premium, and expensive. LG is also a great place to look for fantastic OLED and widescreen gaming monitors.
One of the most obvious competitors for the Alienware AW3423DWF is its older AW3423DW sibling. While confusingly named, the differences between the monitors are relatively straightforward. The AW3423DW features NVIDIA G-SYNC Ultimate over AMD FreeSync Premium Pro, a 175Hz refresh rate over 165Hz refresh rate, and more AlienFX lighting. The newer AW3423DWF slightly slims down the design, adds an anti-reflective coating to the display, adds console mode and firmware updating features, and swaps out an HDMI port for a second DisplayPort.
The difference? A whopping $200. Yeah, unless you desperately need NVIDIA G-SYNC Ultimate for some reason or really value that extra 10Hz refresh rate, save your money and opt for the more refined AW3423DWF. Even better, I've seen the AW3423DWF go on sale for as low as $899.99, making it an even better deal for a high-end, widescreen, curved OLED gaming monitor.
Alienware AW3423DWF: Should you buy it?
You should buy this if ...
You need a high-end widescreen, curved gaming monitor
You want a monitor that can do everything and do it well
You really like OLED and are willing to pay for it
You should not buy this if ...
You're looking for the best possible bang for your buck
You need a very bright display
There are a lot of fantastic gaming monitors out there, each with different focuses and specialties. The Alienware 34 Curved QD-OLED Gaming Monitor (AW3423DWF) is unique in that it can truly do it all, with a unique blend of design and features to cater to the creators, the workers, and the gamers. You get a gorgeous widescreen, curved OLED panel with best-in-class color accuracy and contrast, great gaming performance with a 165Hz refresh rate and 0.1ms response time, and lovely extra features like excellent HDR support, additional USB ports, and more.
If you only need a gaming monitor, you can find more traditional alternatives with faster refresh rates or higher resolutions. Creators can find larger, brighter displays with more ports and adjustment options. Multitasking pros can find wider monitors with more features and lower prices. The Alienware AW3423DWF can do all of this, though, and it looks damn fine while doing it. It has no major shortcomings, and that's awesome to see.
I still think the ASUS ROG Swift OLED 27" is my overall favorite monitor just for gaming, but Alienware has crafted a truly amazing gaming monitor that offers surprisingly good value for everything it offers (and everything it can do). Like with most OLED monitors, though, make sure you actually want to pay extra for the vibrant colors and deep blacks OLED provides.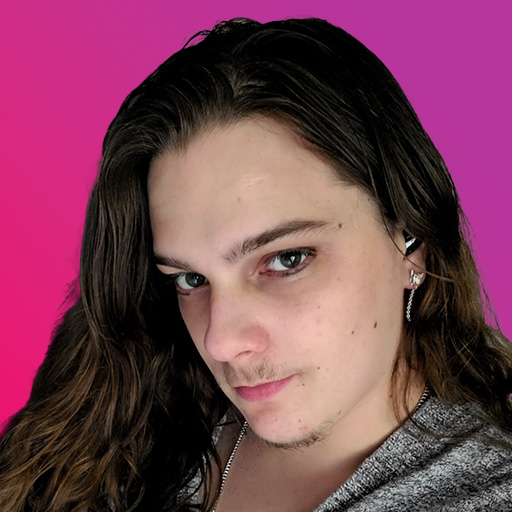 Zachary Boddy (They / Them) is a Staff Writer for Windows Central, primarily focused on covering the latest news in tech and gaming, the best Xbox and PC games, and the most interesting Windows and Xbox hardware. They have been gaming and writing for most of their life starting with the original Xbox, and started out as a freelancer for Windows Central and its sister sites in 2019. Now a full-fledged Staff Writer, Zachary has expanded from only writing about all things Minecraft to covering practically everything on which Windows Central is an expert, especially when it comes to Microsoft. You can find Zachary on Twitter @BoddyZachary.