ASUS' flagship ROG Swift OLED 27" gaming monitor is impressive from every angle, with a razor thin design and an absolutely gorgeous display. Its software is awkward, though, and this monitor can't escape the handful of frustrating bugs that plague it.
Pros
+

A gorgeous, vivid, and responsive OLED panel

+

Impressive, premium design and build quality

+

High-end specs to appease any gamer at 1440p
Cons
-

An expensive investment

-

Display and software have some bugs
Why you can trust Windows Central Our expert reviewers spend hours testing and comparing products and services so you can choose the best for you. Find out more about how we test.
I've long been a fan of OLED displays. There's a tangible allure to the inky blacks and vivid colors of a high-quality OLED panel that's more than worth the trade-off in long-term durability with the risk of burn-in and brightness decay. Those compromises have steadily declined over the years, too, as OLED displays continue to dramatically improve while also declining in price. Now, we're seeing a surge of large OLED screens in laptops and PC monitors, and ASUS has joined the party.
The ASUS ROG Swift OLED 27" monitor is a gorgeous, bright, incredibly responsive gaming monitor that is beautifully suited for any high-end 1440p gaming setup. ASUS' latest premium monitor boasts wonderful build quality in addition to its headlining, stunning OLED panel, both of which help justify the admittedly high price tag ASUS has attached to it. It'd be nearly perfect, if it weren't for a handful of strange bugs.
Disclaimer: This review was made possible by a review unit provided by ASUS. The company did not see the contents of the review before publishing.
ROG Swift OLED 27: Setup and first impressions
I was very excited to unbox the ASUS ROG Swift OLED 27" monitor after realizing I'd be reviewing it for Windows Central, so you can imagine my first impressions were — Ah, heck, ASUS surrounding the monitor in an infuriating shell of Styrofoam. Styrofoam is among the worst ways to package any product, both because of how messy and inconvenient it is and its adverse effects on the environment.
ROG Swift OLED 27"
Price: $999
Display size: 26.5-inches OLED
Display resolution: 16:9, 2560x1440 QHD
Display features: 240Hz, 0.03ms response time, HDR10 support, NVIDIA G-SYNC
Other features: Anti-glare microtexture, DisplayWidget software, stand adjustment (height, tilt, swivel, pivot), VESA wall mounting (100mm x 100mm), Aura RGB lighting
Inputs: DisplayPort 1.4 (1x), HDMI 2.0 (2x), 3.5mm audio jack (1x), USB Type A 3.2 Gen 1 (2x), USB 3.2 upstream (1x)
Weight: 15.2lbs (6.9kg)
So many other manufacturers (like Dell) are moving to more recyclable, carbon neutral packaging that also does a better job of presenting the product when you first open it. The ROG Swift OLED 27" doesn't have a great unboxing experience because of the use of materials and the overall poor package design, but that's alright. After all, you only have to unbox it once, right?
Assembling the monitor is also below the standard set by manufacturers like Dell, with monitors like the Dell UltraSharp 34" Curved Monitor (U3423WE) easily and completely assembled within moments thanks to straightforward, tool-less stand design. It's simple enough to clip the stand into the back of the ROG Swift OLED 27" with a satisfying clack! But you'll spend a little more time initially putting the stand together and sorting out how the various pieces fit together.
In the box you get the power adapter and power cable, one DisplayPort 1.4 cable, one HDMI 2.0 cable, one USB 3.2 upstream to USB Type-A 3.2 data cable, a 100mm x 100mm VESA mounting kit, a handful of swappable, clear cosmetic plates for the monitor's bottom-projecting light (more on that later), and a carrying pouch for your extra cables and such.
Overall, the unboxing experience for the ASUS ROG Swift OLED (PG27AQDM) monitor is serviceable, but ASUS could do a lot more here to keep up with the competition. At least the physical monitor itself is stunning right out of the box with its razor thin chassis and strangely mesmerizing coating.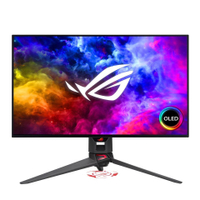 ASUS ROG Swift OLED (PG27AQDM)
This premium, flagship OLED monitor from ASUS is the perfect way to experience the best-looking PC video games, as long as you're willing to pay the price (and you can find it in stock). Here are three retailers where you might find the ROG Swift OLED 27" monitor:
ROG Swift OLED 27: Build quality and design
It's immediately clear that the ASUS ROG Swift OLED 27" is a gaming monitor, for ~gamers~ and such. However, it's certainly not the most aggressive gamer-esque aesthetic I've seen; mostly, ASUS designed a really good-looking monitor with flair, rather than draping every inch of its machine with hard lines, pointless flourishes, and an array of RGB lighting.
The front panel is coated in a subtle, anti-glare microtexture that makes the display glass feel lovely (should you be touching it for some reason) and does its job to reduce incoming glare. The display is surrounded by impressively thin bezels that completely disappear within moments of actually using the monitor. The display chassis itself is incredibly thin (more svelte than most smartphones) with gently squared edges and corners.
The material used also for the chassis' construction is also subtly, finely textured in a nearly soft-touch finish that I genuinely could not stop touching. Any time I was reading or otherwise distracted, I'd find myself reaching up and rubbing the corners and sides of the monitor. Don't judge me, I like fun textures, and this is absolutely that. I'm glad ASUS didn't opt to use cold, slick metal or simple plastic.
There's also a flat and wide protrusion on the back of the monitor that houses the sizeable heatsink working to keep the OLED display cool and reduce burn-in, all the monitor's ports, the stand connection, and the RGB ROG logo that you can customize, should you desire. It's all very well put together, and the ROG Swift OLED 27" feels like a premium product through and through.
If you need it, there's a VESA mounting option for the monitor, but the included stand works great, too. It has impressive height, tilt, swivel, and pivot adjustability, including the ability to tilt the display a full 90-degress for a vertical setup. My only complaint is that the stand legs take up an absurd amount of room. Yeah, it feels very sturdy, but Dell's 34" widescreen curved monitor had a more compact stand that was just as solidly seated as this stand. Quite a lot of the desk space I'd normally use to move my keyboard around as needed is now occupied by this smaller, thinner monitor because of the wide-splayed stand legs.
ROG Swift OLED 27: Display
As expected, the display is one of the most important aspects for any monitor, and the ASUS ROG Swift OLED 27" monitor absolutely delivers on this front. While it doesn't have the color accuracy or resolution of high-end creative-focused monitors in this price range, it does bring incredible picture quality and amazing responsiveness to the table.
I'll talk more about the display specifically when gaming down below, but for now let's focus on the raw picture quality. To start with, I tested the display for its color gamut, brightness and contrast, and white point, and the display performed great in every test.
ASUS quotes the ROG Swift OLED 27" as being calibrated for 130% of the sRGB color gamut and 99% of the P3 gamut; my test only goes up to 100% for sRGB, but the display did hit 97% of P3, which is very close to ASUS' numbers and a great showing overall.
Swipe to scroll horizontally
| Setting | Brightness | Black | Contrast | White point |
| --- | --- | --- | --- | --- |
| 0% | 21.7 | 0 | 0:1 | 7,400 (0.303, 0.308) |
| 25% | 98.6 | 0 | 0:1 | 7,400 (0.302, 0.308) |
| 50% | 167 | 0 | 0:1 | 7,500 (0.301, 0.308) |
| 75% | 230.7 | 0 | 0:1 | 7,600 (0.300, 0.307) |
| 100% | 294.7 | 0 | 0:1 | 7,500 (0.300, 0.308) |
As for brightness levels, ASUS rates the ROG Swift OLED 27" for up to 450nits of brightness, and up to 1,000nits in small areas for HDR content. Unfortunately, the monitor didn't even break 300nits in my testing at 100% brightness. Still, it does feel plenty bright enough for an office during the day, gets pretty dark, and has a nice spread to its brightness levels from 0 to 100%.
Of course, being an OLED monitor, the ROG Swift OLED 27" excels at contrast with practically infinite contrast levels. Blacks are properly black, with absolutely no greying or light bleed, leading to contrast levels that even high-end IPS LCD displays can only dream of.
As for the monitor's white levels, the ROG Swift OLED 27" does lean more turn cooler whites (with a subtle blue tint) on the "Normal" setting, but that does set the color temperature to 7,500K, and the monitor sits right around there in testing. You can customize this if you'd prefer warmer whites, but I had no issues with the default setting.
How does this screen look in use, though? It's... Bloody gorgeous. Absolutely, positively, completely gorgeous. The 1440p resolution at 27-inches feels like the perfect balance of resolution to size, ensuring everything looks crisp and sharp. Colors are unbelievably vibrant and luscious, and the fancy promotional videos made for premium show-room TVs look like they were made to run on this screen.
Sure, I wish it got a little brighter like ASUS advertises for the ROG Swift OLED, but this screen is wonderfully calibrated out of the box and looks amazing no matter what content you're consuming. I never tire of looking at this screen, honestly. HDR support is here, as it should be, but it's the basic HDR10 standard instead of better standards like Dolby Vision or a VESA-certified HDR, so the HDR doesn't make a huge difference on this monitor. Still, it is a noticeable improvement in some games and media, so I'm glad it's here.
There are also plenty of options to customize the display's profile, with a plethora of presets and the ability to change each preset to your heart's content, including altering brightness, contrast, color temperature, and more. All of this can be done through the monitor's OSD (on-screen display), which works fine with the included buttons and little joystick, but you can also download the confusingly named ASUS DisplayWidgetCenter for a little added convenience.
I love that these options are here, but I did feel a little overwhelmed when first setting up the display, as ASUS' software and OSD are both awkward around the edges and a tad slow. Dell's monitor software just feels more polished in this respect.
I also encountered two annoying bugs. I experienced an issue when the entire display became "staticky," still displaying the image underneath but with one half being entirely unusable and the other half being wildly unpleasant. This wasn't an issue with my computer, the ports, or cables (I troubleshooted all of this), and was fixed by switching the display to a different computer on the HDMI input and then switching back to DisplayPort. It happened once and I can't replicate it, but it was a very annoying couple of minutes.
The second bug is one I can repeat at will, because it happens every time I open the DisplayWidgetCenter. The display's brightness becomes locked to the minimum and won't change no matter where you set the brightness level, and the only way to fix it is to reset the display to default settings. Yeah, it's as annoying as it sounds and, yeah, it makes me not want to use the DisplayWidgetCenter at all.
ROG Swift OLED 27: Gaming
The ASUS ROG Swift OLED (PG27AQDM) may have the picture quality for creative work, media consumption, and everyday work, but how is it when gaming? After all, this monitor is absolutely positioned as the ultimate gaming monitor, so it better deliver. I'm happy to report that... It definitely does.
A weakness with older OLED displays is ghosting, kind of like an echo of the image repeating itself after every movement in dark areas of an image, but the ROG Swift OLED entirely avoids this pitfall and delivers all the specs a gamer could need. The 240Hz refresh rate is incredibly fast — While other monitors can push 360-480Hz and even higher nowadays, none of them will have this sheer picture quality.
Even more impressive, though, is the response time, or how quickly an individual pixel can respond and change to a new shade or color. The "standard" any gaming monitor should aspire to, if not beat, is a 1ms response time. The ROG Swift OLED 27" has an insane response time of 0.03ms (grey-to-grey), basically only matched by other premium gaming OLED monitors from competitors like LG. All of this translates to a monitor that looks fantastic in every game but also performs fantastic. It's always instant and always smooth, and it provides a top-class gaming experience.
You also get full NVIDIA G-SYNC support to reduce screen tearing (I never noticed any, so it's doing its job), as well as a handful of gaming-centric features like a crosshair you can customize and have permanently placed on the screen and a built-in FPS counter. I have absolutely zero complaints about the gaming experience with the ASUS ROG Swift OLED (PG27AQDM).
On a related topic, though, there is one complaint. While DisplayPort 1.4 is perfect and is the preferred port for most gaming PCs, the monitor also includes two HDMI ports for alternate connections. Unfortunately, these ports are the older HDMI 2.0 standard instead of HDMI 2.1, meaning you can't take advantage of the display's full capabilities with an HDMI connection. HDMI 2.0 only supports up to 120Hz refresh rates, not 240Hz, and has reduced support for HDR and wider color gamuts.
Fortunately, this wouldn't matter much for Xbox Series X|S consoles. While the more powerful Xbox Series X does use HDMI 2.1, this is to support 4K displays at 120Hz. Both consoles should work wonderfully with this display at 1440p and 120Hz and look positively lovely on the OLED screen (you'd definitely be paying extra just for OLED, though, as there are plenty of great 1440p and 120Hz monitors out there for a whole lot less).
ROG Swift OLED 27: Other features
There are two more parts of the ASUS ROG Swift OLED 27" I want to touch on before moving on: the RGB lighting and the ways in which ASUS is working to lengthen the lifetime of your OLED display.
First, this monitor has three lights; there's the glowing red ROG logo on the front that you can't disable to customize, which hides the OSD controls; there's the large ROG logo on the back of the monitor that you can customize with various options in the OSD, then there's the curious light projecting from the bottom of the ROG Swift OLED's monitor stand.
This light just throws a bunch of non-customizable red light onto your desk surface below the monitor, and you can swap out the clear plastic plate in front of the light to change the shape of the projection (it's the ROG logo by default). I mean... Okay? I guess I understand the idea, but the fact that it's red or bust certainly makes it less interesting for me, and it's just weird in practice. I also wish you could customize the light of the persistent logo at the front, but oh well. At least you can personalize the RGB logo plastered on the back, even if you'll practically never see it.
Finally, ASUS recognizes that OLED displays are inherently more fragile than more traditional, affordable LCD displays, as the huge advantages with color vibrancy, response time, and contrast are offset by the risk of ghosting (not present here, as far as I can tell) and pixel burn-in. Burn-in refers to static images that are constantly displayed on-screen (like the Windows Start button and taskbar), slowly becoming a permanent part of the screen, so that those images are always persistent no matter what you're doing. This can also be accompanied by pink or red tints to the display.
To combat the long-term risk of burn-in, ASUS has built a massive heatsink into the back of the monitor to keep things running cool. It's there, and it seems to be doing its job. At the very least, the monitor never felt hot. The ROG Swift OLED also automatically dims the display after periods of inactivity (higher brightness means increased heat, which means more risk of burn-in over time), and constantly shifts pixels around so they don't stay in one place too long. Finally, the display's software has a Pixel Cleaning mode built in, with automatic reminders for every 8 hours of continued monitor usage.
The Pixel Cleaning mode takes five or so minutes and attempts to recognize and fix any pixel degradation that may be needed. If you're planning on using this monitor for a long time, it should be a part of your regular maintenance. It's unfortunate that this maintenance is needed, but modern OLED displays are far better at naturally combatting issues like burn-in, and it seems ASUS has genuinely put in some thought into how to do even better.
As a quick side note, the ROG Swift OLED 27" does feature a handful of additional ports. Mainly, you sacrifice one USB Type-A port on your PC to gain two on the monitor, plus a 3.5mm audio jack (the monitor does not have built-in speakers). This is fine, but I really would've liked to see at least one more USB Type-A or Type-C port to make the trade-off more worth it.
ROG Swift OLED 27: Competition
There's no shortage of great gaming monitors, especially in the 27-inch size range, and most are going to be more affordable than the ASUS ROG Swift OLED (PG27AQDM) monitor. The Alienware AW2723DF is our current top pick for a 27" 1440p monitor, with an up to 280Hz refresh rate, fantastic gaming performance, and price tag hundreds cheaper than the Swift OLED. Of course, it's an LCD display, so you're sacrificing the gorgeous contrast and colors of the OLED.
The Razer Raptor 27 is another solid 1440p option, giving you an industry-leading design and customizable RGB lighting plus a 165Hz refresh rate. This is a premium display, but it's still a lot more affordable than the ROG Swift OLED. If you want a higher resolution, you could consider the Redmagic 4k Gaming Monitor, which uses miniLED technology to offer comparable contrast levels and colors to an OLED monitor without the higher price or potential long-term durability compromise. That monitor gives you 4K resolution at 160Hz and is just over $100 cheaper than ASUS' OLED offering.
If you want a directly comparable monitor to this one, your best bet is with LG, a champion of OLED displays. The company offers a gaming monitor that matches the ASUS ROG Swift OLED nearly spec-for-spec (including price), that you can see on Amazon. I think the ROG Swift OLED is the nicer-designed monitor, and has full NVIDIA G-SYNC support, but LG's offering does include HDMI 2.1 and AMD FreeSync Premium in addition to NVIDIA G-SYNC compatibility.
ROG Swift OLED 27: Should you buy it?
You should buy this if ...
You're willing to pay extra for best-in-class picture quality and responsiveness
You want an incredible monitor for gaming, media consumption, creative work, and more
You don't mind a little extra maintenance to take care of your monitor
You should not buy this if ...
You'd prefer the long-term reliability of a more traditional LCD display
You need a great, affordable 1440p gaming monitor on a tight budget
I adore OLED displays. The vibrant, saturated image quality of a premium OLED never ceases to amaze me, and I'm glad ASUS captured that magic with its ROG Swift OLED (PG27AQDM). This is an awesome gaming monitor, with excellent specs that translate to a superior gaming experience, but this monitor will look great no matter what you do on it.
Of course, you are paying a lot for the privilege. I believe the ROG Swift OLED 27" is worth its retail price of a penny under $1,000, but at that price range it's competing with a lot of monitors that are larger, higher resolution, have faster refresh rates, are curved, or any combination thereof. You're really paying a premium for the OLED panel, and that will absolutely be worth it to those who value the advantages in sheer picture quality that brings.
You can always save money by opting for a more traditional LCD monitor with comparable specs, or you can go bigger and bolder in the same price range, but none of it will offer exactly what you're getting here. Although, miniLED monitors are starting to become more common, which strike a great balance between the affordability and reliability of LCD and the picture quality and contrast of OLED. At the end of the day, though, ASUS made one of the best gaming monitors you can buy. The ASUS ROG Swift OLED (PG27AQDM) has earned my recommendation, and I think anyone who buys it will be happy.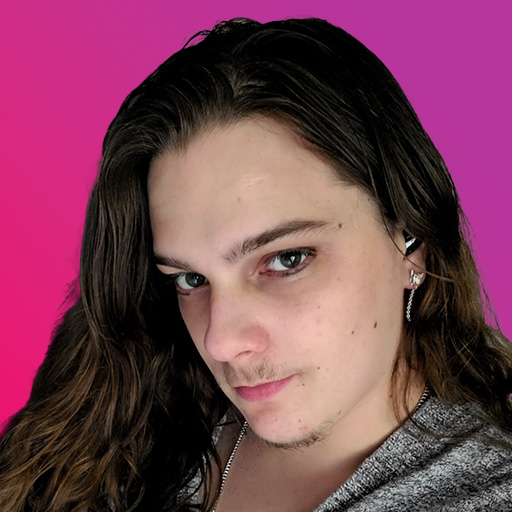 Zachary Boddy (They / Them) is a Staff Writer for Windows Central, primarily focused on covering the latest news in tech and gaming, the best Xbox and PC games, and the most interesting Windows and Xbox hardware. They have been gaming and writing for most of their life starting with the original Xbox, and started out as a freelancer for Windows Central and its sister sites in 2019. Now a full-fledged Staff Writer, Zachary has expanded from only writing about all things Minecraft to covering practically everything on which Windows Central is an expert, especially when it comes to Microsoft. You can find Zachary on Twitter @BoddyZachary.