Legion Go vs ROG Ally: Which gaming handheld is better?
Two Windows gaming handhelds enter, one comes out on top.
With its powerful processor, large display, and variety of storage options, this gaming handheld provides an excellent playing experience. The starting price makes it rather expensive, but it also features a powerful chipset and helpful controls like a mouse wheel and a trackpad to help you navigate games more easily. The battery doesn't last as long as we'd like, but it's better than the Ally's battery life. This handheld supports Super Rapid Charge to quickly juice up the battery. Unlike the Ally, it doesn't offer VRR.
For
Detachable controllers
Trackpad and Mouse wheel
Large 8.8-inch QHD touchscreen
Super Rapid Charge
144Hz refresh rate
Against
More expensive
Potentially awkward back button placement
Short battery life
No VRR support
The grips and Xbox-controller-like button layout make the Ally a comfortable handheld. Players can easily customize settings, including frame rate, resolution, RGB lighting, and more, from within the included Armoury Crate software. Its powerful processor, VRR support, and gorgeous 7-inch display allow for smooth gaming sessions. However, the ROG Ally has a short battery life, and a major overheating issue can make microSD cards malfunction. However, it's also very easy to upgrade storage with a larger SSD.
For
Great performance
7-inch FHD touchscreen
Customizable RGB lighting
Fingerprint reader
Comfortable grips
Two price points
120Hz refresh rate
VRR support
Against
Heat can cause microSD card to malfunction
Very short battery life
Clunky Armoury Crate software
The Lenovo Legion Go and the ASUS ROG Ally are PC gaming handhelds that run Windows 11 and feature the powerful AMD Ryzen Z1 Extreme chip. Otherwise, their designs are very different, with either offering features and perks the other doesn't have. Both are excellent gaming devices, but one of them is generally better than the other.
We'll be exploring their differences throughout this page and determining which device is better in a variety of categories before determining which one is best overall. If you're interested, you can also check out our Legion Go vs Steam Deck comparison.
An added sweetener in favor of the ROG Ally right now is that having been available a little longer, it's part of the Black Friday deals event. For customers in the U.S., it's possible to get the Ryzen Z1 Extreme version for as little as $599.99 from Best Buy, which is a solid $100 discount on the regular price.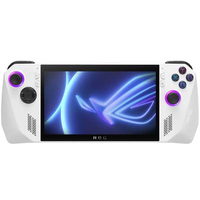 Legion Go vs ROG Ally: Specs
Swipe to scroll horizontally
| Header Cell - Column 0 | Legion Go | ROG Ally |
| --- | --- | --- |
| Price | $699 | $749 | $599 | $699 |
| Release date | Nov. 1, 2023 | Jun. 13, 2023 |
| Processor | Up to AMD Ryzen Z1 Extreme w/ RDNA Graphics | AMD Ryzen Z1 Extreme | AMD Ryzen Z1 |
| Storage | 512GB | 1TB SSD | Up to 512GB PCle 4.0 SSD |
| Memory | 16GB 7500Mhz LPDDR5X on board | 16GB LPDDR5 on board (6400MT/s dual channel) |
| OS | Windows 11 Home | Windows 11 Home |
| Display | 8.8-inch QHD (2560 x 1600) 16:10 IPS touchscreen, 144Hz, 500nits, 97% DCI-P3 | 7-inch FHD (1920 x 1080) 16:9 IPS-level touchscreen, 120Hz, 500nits, 100% of sRGB, 120Hz |
| Ports | 2x USB-C 4.0 ports (DisplayPort and PD), 3.5mm headphone jack, and microSD card slot | 1x USB-C port, 1x PCIe port, 1x microSD card slot, 1x headphone jack |
| Trackpads | Yes, one | None |
| Haptics | HD haptics | HD haptics, Gyro: 6-Axis IMU |
| Dimensions | 8.27 x 5.15 x 0.79 inches (210mm x 131mm x 20mm) | 11.0 x 4.4 x 0.5 inches (279 x 111.8 x 12.7mm) |
| Weight | 1.88 lbs (854 grams) | 1.3 lbs (590 grams) |
| Battery life | Unknown | 8 hours (Asus estimates) |
Now that we've seen the specs, it's time to discuss what they specifically mean for you as the user.
Legion Go vs ROG Ally: Price
More handheld gaming
- Best ROG Ally battery packs
- Best ROG Ally microSD cards
- Best ROG Ally optimized games
- Baldur's Gate 3 on Steam Deck?
- Games to play on Steam Deck
- Play FIFA 23 on Steam Deck
If you're attempting to decide between the ROG Ally and the Legion Go based on which one is the cheaper gaming handheld, then the ROG Ally is technically the winner. That's because there are two versions to choose from: An AMD Ryzen Z1 Ally (up to 2.8TFlops) for $599 or an AMD Ryzen Z1 Extreme Ally (8.6 TFlops) for $699. I'd personally recommend going with the more expensive version, though, since it can run games more smoothly.
Meanwhile, the Legion Go comes in two versions, but one is more expensive than what ASUS offers. The 512GB version is $699, while the 1TB (1000GB) version sells for $749. Both the ROG Ally and the Legion Go can be purchased from Best Buy and their respective company websites.
PRICE WINNER: The AMD Ryzen Z1 version of the ROG Ally is $100 cheaper than the least expensive version of the Legion Go. Still, price shouldn't be the only thing you consider when determining what handheld to go with. It's better to get the more expensive ROG Ally since it can run games more smoothly.
Legion Go vs ROG Ally: Performance and storage
By looking at the chipsets used in the Legion Go and the ROG Ally, it's clear that the two devices offer relatively similar performance. That's because both the Legion Go and the more expensive version of the Ally utilize an AMD Ryzen Z1 Extreme chip, which has proven to be a powerful handheld processor that's more than capable of keeping up with gaming needs.
However, it isn't just the CPU or GPU that determines how well a gaming handheld functions. The more crucial factor is how well all components work together to keep the system running efficiently, which leads our discussion into memory, storage, and fan cooling.
I personally ran several benchmark tests with both the ROG Ally and Legion Go to check their performance and overall the ROG Ally tended to get better results. During my ROG Ally review, the device proved surprisingly powerful and offered several command center options to help games run more smoothly. However, the system has an issue when it comes to overheating. Due to the placement of the ROG Ally's microSD card slot near the fan vents and the charging port, a user's microSD card can overheat and malfunction. That can be extremely frustrating and cause players to lose hours of playtime data, severely damaging ROG Ally's user experience grade. Thankfully, it's very easy to upgrade the SSD if you want more storage. For more info, you can check out my guide on how to install the WD_BLACK SSD into ROG Ally.
While doing testing for my Unitek Cooling Dock review, I used a thermal camera to check the heat of an ROG Ally that is charging while playing Baldur's Gate 3 on 30W TDP Turbo mode. While an Ally is charging and playing a game in Turbo mode the system is most likely to experience its highest heating output. This testing allowed me to see for myself that the ROG Ally's microSD card slot can get extremely hot, around 114 to 117 degrees Fahrenheit. This being the case, it's a good idea to upgrade the ROG Ally's SSD to a larger one. The WD_BLACK SN770M 2TB SSD is a fantastic option and it's easy enough to install.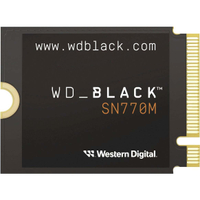 WD_BLACK SN770M NVMe SSD
Increase the internal SSD storage space of your compatible gaming handheld with this upgrade that can reach fast read speeds up to 5,150 MB/s. You'll need to open your device, remove the original SSD, and then install this one in its place. This is a great product and Western Digital has even provided an official video showing how to install the SSD into the ROG Ally.

Buy 500GB version at: Amazon | Western Digital
Buy 1TB version at: Best Buy | Western Digital
Buy 2TB version at: Best Buy | Western Digital
As far as the Lenovo's handheld goes, you can see from my Legion Go review, that this is also a powerful gaming device thanks to its AMD Ryzen Z1 Extreme processor. That being said, games were a little more choppy on this device than ROG Ally, but still really good overall. It's also likely that the Legion Go doesn't have the same microSD card overheating issue that the ROG Ally does, which is an important thing to keep in mind. Not to mention, it's available with a much higher storage amount of either 512GB or 1TB compared to Ally's only option of 512GB. More space means you might not have to worry so much about going through the tedious process of archiving, deleting, or uninstalling game data as much.
PERFORMANCE WINNER: During benchmark testing, ROG Ally tended to perform better overall and provided a smoother gameplay experience. Both devices use the same chipset, so they're pretty close, but the ROG Ally's microSD card malfunction issues are a serious issue to keep in mind. If you want more storage the Legion Go is a better choice, but ROG Ally tends to play more smoothly overall.
Legion Go vs ROG Ally: Display
It's hard not to be blown away by the Legion Go's massive display, considering that it is far superior to any other gaming handheld screen currently available. So much so that some might say that the display is a bit overkill for a gaming handheld.
It's extremely large at 8.8 inches and might just be the largest gaming handheld display out there. It certainly has the 7-inch ROG Ally display beat. ROG Ally's 1920 x 1080 resolution is far better than the Steam Deck's 1280 x 800 resolution. However, the Legion Go supports an even higher resolution that's uncommon for a handheld with its 2560 x 1600, allowing us to see our games in far more crisp detail.
Both the ROG Ally and Legion Go screens are IPS touchscreen displays. However, Lenovo's produces a much better color gamut and contrast. In my testing, Legion Go produced 100% sRGB whereas ROG Ally only ever reached as high as 73% of sRGB. That being said, I've spent dozens of hours gaming on the ROG Ally and I know details and colors come through beautifully. So, it's not like it's a bad gaming experience on either display.
The two significant ways the Legion Go and ROG Ally displays differ are their refresh rates and VRR abilities. Refresh rate refers to how many times a display presents a new image sent to it from the system each second. The more frequent the refresh rate, the faster the latest imagery is displayed so gamers can respond to environmental changes. It's especially important for competitive gamers who play online against others or for games that require fast responses.
The ROG Ally's ability to choose between a 60Hz and 120Hz refresh rate is very useful and should be enough for most gamers. However, the Legion Go overshadows the Ally thanks to its 60Hz or whopping 144Hz refresh rate, which is really really good for a handheld display.
However, ROG Ally supports VRR while Legion Go does not. VRR (variable refresh rate) is a feature that ensures a display's image refreshes are in sync with your gaming system. This effectively gets rid of screen tearing to provide a more consistent frame-rate experience on certain games that lose frames. So, with all that the Legion Go display has going for it, it's odd that VRR isn't one of its features.
DISPLAY WINNER: Of the two gaming handhelds, the Legion Go, hands down, has the better screen. It's larger at 8.8 inches, offers significantly higher resolution, produces a much better color gamut, and has a notably faster refresh rate of 144Hz. That being said, the ROG Ally's screen is plenty good (much better than Steam Deck) and will serve people well with a fast refresh rate option, VRR support, good resolution, and respectable picture quality. That being said, if VRR is very important to you with the games you play, then you might be happier with the ROG Ally.
Legion Go vs ROG Ally: Buttons, joysticks, and grip
Determining a controller and grip winner between the ROG Ally and Legion Go is mostly a matter of preference since they are designed rather differently.
On the one hand, the ROG Ally's joysticks and buttons are placed in a way that resembles an Xbox controller, which many believe is the best console controller design out there. The A, B, X, and Y buttons are large and easy to press, while the bumpers and triggers feel good and have great placement. Two extra buttons (one on either side of the display) make accessing Ally's Armoury Crate software for adjusting settings or customizing the controllers' RGB lighting mid-game very easy.
The grips on the Ally don't seem all that substantial at first glance. Still, I've never experienced cramping when holding this system, which I almost always feel when holding my Nintendo Switch. It also helps that the ROG Ally feels light and well-balanced, so it doesn't strain your hands as much as other devices do.
Meanwhile, the Legion Go's detachable TrueStrike controllers, are well-made with no creakiness but they are also thick and can be harder for smaller hands to hold. The nice thing with Legion Go, though, is if you want to give your wrists a break, you can pop out the sturdy kickstand, remove the controllers, and play your games in tabletop mode. The front layout of the controllers is more akin to a Switch with smaller joysticks and buttons, which might be less convenient for some people to use. However, the buttons and triggers press in very nicely and are very responsive. Additionally, the right controller also features a trackpad much like the Steam Deck, which allows for better cursor control and responds just the way you want it to.
What's more, The Legion Go's right controller also has a very unique feature we've never seen before. It can be detached from the main system, put in FPS mode (First Person Shooter), and slipped into the included controller base via magnets. While in this mode, a mouse wheel and a left and right click button are activated and make it easier than the Ally to browse the internet or get through game menus efficiently.
FPS mode also enables the right Legion Go controller to be used sort of like a mouse thanks to the optical eye on the bottom of the controller, which Lenovo says "allows for more precise aiming and control necessary during competitive FPS games, akin to using a mouse." It responds well when sliding it around, but the controller's strange shape can take some time to get used to.
CONTROLS AND GRIPS WINNER: When going for familiarity, the winner is ROG Ally thanks to its more straightforward layout that feels similar to an Xbox controller. The Legion Go feels bulky and large in comparison. However, players can put the Legion Go in tabletop mode by popping out the kickstand and removing the controllers if they want to give their wrists a break. Additionally, the Legion Go's trackpad, FPS Mode, mouse wheel, and right and left click buttons make it a whole lot easier to surf the web or play certain PC games.
Legion Go vs ROG Ally: Compatible games & Operating system
Since both the ROG Ally and Legion Go run Windows 11 Home as their operating system, both can be used to surf the internet, run various programs, and play games from digital distribution storefronts or cloud services (Steam, Epic Games, Xbox Game Pass, etc.). Basically, you can do anything on the Legion Go or ROG Ally that you can do on a straightforward gaming laptop.
In addition to the OS, both gaming handhelds come with proprietary software that allows users to adjust settings like frame rate, resolution, RGB lighting, and more. Legion Go's Legion Space software is far more limited and the game launcher isn't really a game launcher but rather a way to access other game launchers. Meanwhile, from my own experience with the ROG Ally, I can say that its Armoury Crate app isn't perfect, but it does offer more control over the system, which is good.
Within ROG Ally's Armoury Crate, it's possible to launch my favorite, recently played games in this software, which makes it easier to get a gaming session started. Pressing the button on the left side of the screen brings up a side menu for toggling off settings like FPS, resolution, Air Plane Mode, and more. However, I don't like that there is a limit to how many setting toggles I could put in this side menu.
SOFTWARE WINNER: Thanks to the fact that both run Windows 11, it's guaranteed that you'll be able to run a wide variety of programs or access various services on both devices. However, ROG Ally's Armoury Crate software provides far more settings options and a true game launcher, which makes it the better device here.
Legion Go vs ROG Ally: Battery life
While testing the ROG Ally, I ran the handheld on various modes and settings while playing games to see how long the battery could last. While playing Diablo 4 on 15W Performance mode with 50% display brightness, the system lasted only roughly an hour and 38 minutes on average. When reducing all settings significantly, I was only able to get it to last for as long as three hours and three minutes. It's not that great.
Meanwhile, running battery life tests on the Legion Go also proved that it has a relatively short battery life (about two hours on average), but it's been able to last longer than the Ally at up to five hours on the lowest settings. To get the most out of either device, you'll need to lower resolution, brightness, FPS, and performance settings.
Additionally, Lenovo found a way to partially make up for the handheld's short battery by including Super Rapid Charge support, which allows the system to reach a 70% battery after charging for just 30 minutes. That's a fast recharge time for a handheld. There's also the convenience of pulling out the Legion Go's kickstand and playing in tabletop mode while it charges.
BATTERY WINNER: Despite having a far more impressive screen which I would have expected to drain more power, the Legion Go offers better battery life between the two handhelds. The ROG Ally lasts about an hour and 39-ish minutes on average but can reach around three hours on its lowest settings. Meanwhile, I was able to get the Legion Go to run for roughly five hours while on its lowest settings and it hit two hours on average. Still, neither device is all that great with battery life, so it's a good idea to invest in a battery pack for Legion Go or a power bank for ROG Ally.
Legion Go vs ROG Ally: Accessories
Asus released a separately sold carrying case alongside the ROG Ally for safer transport. Also, they made it clear that the gaming handheld could work with the extremely expensive ASUS XG Mobile eGPU to dock the device to a monitor or TV while boosting performance even further. Meanwhile, a carrying case comes with the Legion Go, so you don't have to make an additional purchase. It also comes with a base for the right controller's FPS mode. So far, there haven't been any announcements regarding a Legion Go dock, but that could change.
When the ROG Ally launched, there weren't any third-party accessories for it, but online sellers started carrying some as time went on. This being the case, it's very likely that we could see more Legion Go accessories come out if the device sells well. It's also worth noting that several accessories explicitly made for Steam Deck also work with ROG Ally, so the same is true of Legion Go. For instance, certain carrying cases and docking stations work with both handhelds as long as the wattage is up to snuff. Since the Legion Go is taller, some USB-C cables on handheld docks won't be long enough to reach the port, though.
By connecting a keyboard and mouse to my ROG Ally or Legion Go via adapter or a compatible dock, I've personally used these devices to write up documents, watch YouTube/TikTok, and surf the web. You can use either device like a small laptop if you have the right accessories.
ACCESSORY WINNER: The Legion Go comes with a carrying case in the box, while the ROG Ally's official case must be bought separately. However, the ROG Ally has more third-party accessories available simply by having been out for a few months longer. But if the Legion Go sells well, it will very likely see additional third-party peripherals explicitly made for it as well.
Legion Go vs ROG Ally: Which should I buy?
In all honesty, both the ROG Ally and the Legion Go are great gaming handhelds for playing PC games or cloud games, thanks to their AMD Ryzen Z1 Extreme chips and unique features. However, they both excel in ways that the other does not.
The Legion Go has the superior screen between the two, but the overall playing experience is better on the ROG Ally. This is due to the fact that there are more settings options within the Ally's Armoury Crate software and the VRR support helps games run a bit more smoothly. Plus, ROG Ally is less expensive than the Legion Go, making it easier on your wallet. Its biggest problem is the fact that it can cause microSD cards to overheat and malfunction, so you might want to upgrade the internal SSD to a larger one (like the WD_BLACK SN770M 2TB SSD).
Now that all being said, the Legion Go is still a great device. Its larger 8.8-inch IPS touchscreen offers a much higher resolution and a higher refresh rate. Plus, the system has innovative features like FPS mode, right and left click buttons, and a trackpad, which makes it much easier to play certain PC games. Additionally, the battery can last a little longer than ROG Ally's can. Personally, I found the ability to remove the Legion Go's controllers and play in tabletop mode was also very convenient. Lenovo's handheld would run games better if it supported VRR and had more settings options, though. So if you're really focused on performance, you'll be happier with ROG Ally, but if you care about playing on a beautiful screen then you'll want Legion Go.
This handheld feels great in your hands thanks to the familiar Xbox controller-like design of the buttons and joysticks. While it doesn't have the most impressive screen, it is still really good and displays game visuals with vibrant color and good clarity. The proprietary software is a little janky and the battery life is rather short, though.
With its much larger screen, increased resolution, faster refresh rate, and innovative controls, the Legion Go is a powerful contender in the handheld gaming space. It's the perfect option for anyone who cares about seeing the best visuals and playing games that rely heavily on navigation via mouse. Battery life isn't great, but the fact that it supports Super Rapid Charge might help with this.
Get the Windows Central Newsletter
All the latest news, reviews, and guides for Windows and Xbox diehards.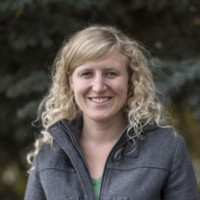 Self-professed gaming geek, Rebecca Spear, is one of Windows Central's gaming editors with a focus on Xbox and PC gaming. When she isn't checking out the latest games on Xbox Game Pass, PC, or Steam Deck; she can be found digital drawing with a Wacom tablet. She's written thousands of game guides, previews, features, and hardware reviews over the last few years. If you need information about anything gaming related, her articles can help you out. She also loves testing game accessories and any new tech on the market.
I'm surprised the article skipped over the fact that these are supposed to be handhelds. The Lenovo Legion is not a great handheld. It's over half a pound heavier than the Asus ROG Ally which itself is bordering on being too heavy (my opinion is the Steam Deck is also way too big). That picture of her holding the Lenovo is disingenuous because you can't handhold the Lenovo in a lot of positions. What a Lenovo gamer is going to have to do is have the Lenovo propped with the kickstand. Or they're going to have the Lenovo at the lowest position like in your lap.

Reply