HP reveals $699 starting price for the Elite x3 with Windows 10 Mobile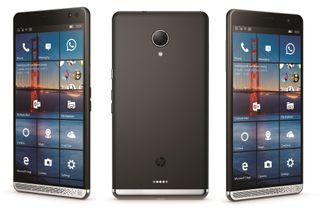 It looks like HP is inching closer to the release of the Elite x3 powerhouse phone. While third-party retailers in Europe have been listing pre-order prices all over the place, we haven't seen much from HP directly.
That all changed today when HP revealed a $699 price tag for Elite x3 via email. That is for just the phone, and it should be available later this month.
A bundle, with the HP Elite x3, premium headset and HP Elite x3 Desk Dock is expected to start at $799 USD. The x3 solution bundles are planned to begin shipping on August 29
A third complete bundle will include the HP Elite x3, HP Elite x3 Desk Dock, and HP Elite x3 Lap Dock will be available at a later date
Also, there are a few new accessories listed including Auto Adapter ($19), USB-C to HDMI Adapter ($19), and HP USB-C to RJ45/USB 3/USB-C Adapter ($55). Although pricing is not listed, there is also a new HP Elite x3 Wireless Charger and plenty of other separate USB-C adapters e.g. to Giga Lan, to VGA, to USB-A, etc.
HP Elite x3 Packages (US)
Elite x3: $699, late July
Elite x3, premium headset and HP Elite x3 Desk Dock: $799 for August 29
Elite x3, HP Elite x3 Desk Dock, and HP Elite x3 Lap Dock: price/date TBD
HP Elite x3 Packages (Europe, the Middle East and Africa)
Elite x3: 699 EUR (dates TBD)
Elite x3, premium headset and HP Elite x3 Desk Dock: 729 EUR (dates TBD)
Elite x3, HP Elite x3 Desk Dock, and HP Elite x3 Lap Dock: 1199 EUR (dates TBD)
Interestingly, any mention of the second color choice (gold/gold) is now removed from the HP documents. It is unclear if that offering is canceled, a mistake, or coming later.
Finally, we can confirm that the Elite x3 will launch in 47 countries later this summer with the full list posted in our additional article.
To put that $699 price in perspective it is about $50 more than what the Microsoft Lumia 950 XL launched for back in late 2015. Considering the ramp up in specs and cutting edge technology in the Elite x3, including 64GB of internal memory and 4GB of RAM, it is priced competitively. For instance, a 64GB iPhone 6s Plus unlocked is $150 more at $849 making the Elite x3 a bargain by comparison.
HP Elite x3 specifications
Category
Features
Product Color
HP Graphite
Operating System
Windows 10 Mobile
Processor
Qualcomm Snapdragon 820 (2.15 GHz, 4cores)
Chipset
Qualcomm MSM8996
Memory
4GB LPDDR4 SDRAM (onboard) Dual channel x32 PoP 32Gbit
Internal Storage
64GB eMMC 5.1
Display
5.96" diagonal WQHD (2560x1440)
AMOLED multi-touch display
Corning Gorilla Glass 4
Anti-reflective coating
Available Graphics
Qualcomm Adreno 530 GPU
Audio
2 Stereo speakers (one with earpiece)
3 integrated omni-directional microphones with HP Noise Cancellation Software
1 external microphone (from headset jack)
Snapdragon Audio+ support
Audio by B&O PLAY
Wireless Technologies
802.11a/b/g/n/ac (2x2)
WiFi and Bluetooth 4.0 LE combo (Miracast supported)
NFC
WWAN:2G/3G/4G,LTE-A with carrier aggregation 4,5,6,13
Expansion Slots
1 microSD (Expandable up to 2TB)
Ports and Connectors
One 3.5mm 3 and 4 pole headphone jack
1 USB 3.0 Type-C connector
Dual nanoSIM or nanoSIM + microSD card via 3-in-2 card tray
Pogo pins
Camera
16MP f/2.0 FHD rear-facing camera
8MP FHD front facing camera and Iris camera
Security Management
Elite x3 device has dual biometrics with Iris recognition and Fingerprint reader
FIPS 140-2 cryptography
Qualcomm processor includes Secure Boot
128-bitkey Unified Image Encryption
256-bitkey Full Disk Encryption
Anti roll back
fTPM2.0security; Windows 10 includes 128 key Bitlocker encryption
Enterprise grade VPN
Dimensions
3.29 x 0.31 x 6.36 in
83.5 x7.8 x 161.8 mm
Weight
Starting at 0.43lb
Starting at 195g
Power
10W 5V/2 Aadapter
Non-removable 3.85V battery pack
4150 mAh Li-ion polymer
Wireless Charging
Qi and PMA
Sensors
Ambient light sensor + proximity combo
Accelerometer+gyro
eCompass
Pressure
Hall effect
NFC
GPS
Need more? Don't miss our other coverage of the Elite x3 including:
Daniel Rubino is the Executive Editor of Windows Central, head reviewer, podcast co-host, and analyst. He has been covering Microsoft here since 2007, back when this site was called WMExperts (and later Windows Phone Central). His interests include Windows, Microsoft Surface, laptops, next-gen computing, and arguing with people on the internet.
very nice price, its time to throw away my 950XL

Good to hear the 950XL is so bad that its ready to be "thrown away" after 8 months.

I'm not the one throwing away my 950XL.

yes. I am on the verge of switching to Android, pretty upsetting to even me considering I have been sticking to Nokia-MS since N73

I'll take it off your hands

One mans trash is another mans treasure. I'll gladly take your 950XL trash.

I, too, am waiting for the next best thing after the L950. With 3G of ram, it is certainly quick when it works, but there's a lot of variables at play: An OS not fully baked yet, carrier firmware delays, and then the hardware. So it's a gamble whether I'd be jumping from the frying pan into the fire.

If you are thinking "this is too much!" - this phone is not aimed at consumers, it is aimed at volume shipments to enterprises and the headline price is to make the discounts on volume appear better.

this phone is not aimed at consumers

Obviously, its running Windows 10 Mobile.

Good one! Made me smile :-) Plus for this price they can use it themselves... And I bet that if you wait like half a year it will twice as cheap...

This phone won't be discounted like other phones are. I wouldn't be surprised if this phone remained at this price until the day it's no longer sold. Posted via the Windows Central App for Android

HP will liquidate its (large) unsold inventory at some point.

I'm the burn nurse here to treat WinMo fanboys. Posted from my Note5

I will go with spazz teenager spending the summer in grandma's basement.

You are nominated for Comment of the Era.

I read people making this argument about "aimed enterprise" constantly with Microsoft and their hardware... Seriously, what enterprise is going to roll this beta software out...

I read people making this argument about beta software who could not point out which part of the software they consider beta in the W10M anniversary version if asked. Oh wait, I see one right here!

The Store is a complete mess, I wouldn't even call it a beta. In the last few weeks a lot of the issues with the OS have been fixed, as would be expected when getting closer to a release.

Seriously, first read up on what's going on inside MS with regards to Windows 10, before making these claims

what's going on inside MS is nothing is. They've gone back to making software for phones probably like they have always done.. They've got OEMs coming Acer, Alcatel, HP, Panasonic.. what's new.. Microsoft never made good hardware except the surface and probably the xbox.. what's new and surprising?

This is exactly what I mean...

In an age of BYOD. I guess they didn't get the memo.

BYOD is not very popular with companies and is in response to their not being an ideal solution to the problem...yet. Talk to IT about supporting everyone's choice of phone and the costs to support them. It's not trivial. BYOD was to appease employees, not employers. Let's make that clear. If companies had a choice of one device they would opt for that as it is easier to maintain and cheaper. The question is, does the Elite x3 finally fill that niche? HP didn't make this device on a hunch. They made it as a reaction to speaking with their customers (companies) and what they ideally would want to have.

That's part of it, but just as big a part was that BYOD became popular because it was seen, from CFO offices as a cost cutting measure. Company bean counters figured it'd be a good line item to scratch out, and save costs ("I have an idea Mr. CEO, Sir, let's use the employees *own* phones----to call them about work stuff!" "Brilliant, Johnson! Here's your Two Hundred Thousand Dollar bonus and your preffered stock, now let's get cracking on those brain-zombification devices!") thus bumping the share price.

It was more about people wanting to use an iPhone, especially executives and once they opened up email and other services to other devices, the employees' phones could do everything the company provided phones (usually blackberrys) could. The only downside was security but you put that up against convinience and most of the time people choose convinience. Many companies still paid for the cell service, they would reimburse or give a credit, some offer plans through them that are discounted. The cost difference was the one time device purchase, not nothing but supporting multiple devices and the resulting compatability and security issues are probably not worth those savings

Until they had to deal with the insecurity of lagdroid.

Daniel, I'm an IT director and can confirm without a doubt that BOYD stalled in the enterprise just like 3-D TVs.

@Daniel Rubino; I agree. Also I believe the way Microsoft has designed the software is perfect for the enterprise and also may persuade some companies upgrade to 10 sooner.

I agree about BYOD, our IT section will not even consider it. However they would die at the thought of paying out this much for a mobile phone. For that price we could get a L550, which is what we chose to go with, and a laptop for those who really need to be productive on the go. Posted via the Windows Central App for Android

Companies need one high end model for managers/directors, and a cheap one for the rest. This HP obviously only fits half of that. They need to buy the cheap one from some other vendor, since I'm not sure much longer the 650/550 will be around. Truth is Blackberry didn't do well at the end selling to enterprise only when they didn't appeal to consumer. Not sure what is different this time with W10.

Daniel, I have to wholeheartedly disagree that BYOD is not very popular with companies. I work at one of top 3 U.S. banks and we completely did away with company-provided mobile devices and went full BYOD with a layer of enterprise-grade solution of office apps, intranet and email/IM suite, all installed on employee's personal smartphones. Reasons: lower up front costs, better employee satisfaction, increased productivity due to nearly everyone being able to become mobile and not tied to a work station.
I could see how middle market companies or small businessess would prefer to be more controlling and provide their own devices to employees, but in really large scale enterprise with hundreds of thousands of employees, BYOD is cheaper in the long run and and fast to deploy apps for it. EDIT: If you look at cost, you need to look at it from the overall perspective of cost of running business, not just cost of running devices. I see all around me how colleagues demand to use BYOD without having to manage (and charge) multiple devices. Large companies like mine started bleeding talent to smaller startups, because the tightly managed obsolete hardware programs with no BYOD option were a real turnoff for many people. The constant complaint I heard from colleagues was: they wanted to have the same experience at work as they had at home and did not want to have pockets full of devices with accompanying chargers to lug around as well. So, in the grand scheme of things, you need to add the hiring and training cost of replacing employees who had left (at all levels of the chain) to seek better experience somewhere else, and that makes a cost of a mobile device completely pale in comparison. Completely pale. BYOD made a major dent in employee satisfaction (which was tanking) in terms of how people felt about technology at work place at my employer and it switched it around. Interestingly enough, this applies specifically to mobile and not laptops. If I'd ask my colleagues who would be willing to bring their own laptop to work, instead of having one provisioned, 9 times out of 10, the answer would be " heck no". Yet in mobile, they all want to have their iPhones and Galaxies and nothing else. There is a certain psychological bond between people and their smartphones, unlike with laptops, I guess.... Don't get me wrong, I love the idea of X3 and Continuum and since we are going mostly virtual, if it can run full Citrix via continuum, I can totally see this taking off with large enterprise. All I'm saying is that it will be hard to convince people to have more than 1 mobile device (not everyone prefers to carry multiple devices as you do), so the only option I see is that W10M becomes the primary device people own (for personal and work use). The question is, if W10M ready to fight this battle against iOS and Android and get mass consumer acceptance?
I dont' work at MSFT, so I don't know what specific segment of the enterprise they are targeting and I hope it works out for them, but the BYOD trends in enterprise are undeniable, they are here, they are strong and they are a hindrance to MSFT at this point...

BYOD is popular I suppose in smaller companies, in larger ones, you are starting to see them reversing that decision. Now granted alot will continue, but it is not the revolution that everyone hoped for.

Yes, BYOD stopped at the company I work at as well. It's company provided only now. But unfortunately they only offer iPhones

Exactly! I work for a small company and when we finally got rid of the BES and the old Blackberry overhead and adopted BOYD we saw the light! I very much doubt we'd ever go back to company owned/managed devices

Large enterprise as well. My employer (200k+ people) went BYOD. We use a third party enterprise suite of apps (email, calendar, IM, intranet, fileshare) in combination with home built web apps. We are not reversing, we are expanding it.
As long as you have a very strong security layer and sandbox the enterprise layer from your personal part of the device, there is no problem with having this hybrid solution. It's secure and convenient.
Sadly for me, my employer doens't support W10M as BYOD because MSFT has not released APIs, which our enterprise suite uses, so the vendor has not yet built their apps for W10M. :-(

Right on. Everyone needs to stop being fanboys and realize how bad it is right now. There is promise, but we've been promised to much. Project Islandwood has given us how many apps? Key apps aren't there. Virtualization may not work well for all enterprises. I really really want windows mobile to succeed, but I can't be a cheerleader anymore. Every day I touch my 950xl I regret staying. I feel bad I forced my wife into this ecosystem. I don't need tons of apps, but when I'm looking to buy a car and they offer some features that can only be used via smartphone app and obviously windows mobile isn't listed i get ready to jump.

When apps like Spotify, Pandora, twitter, Facebook, word, Photoshop, audible, vlc, Engadget, Dailymotion, etc are in the app store, I don't get how you can make such a baseless claim.

Seriously? Just because it has your apps you use doesn't make my claim baseless. I'm looking at a Jaguar as well as a few other brands and their control apps don't exist. Like I said, i don't need many apps, but there are edge case apps that are deal breakers. If the Ring video doorbell didn't have an app, it would have forced me to either not buy the product or switch phones. There are other gadgets I have to not consider due to a missing app. And windows 10 mobile is just bad compared to the speed and staiblity of wp 8/8.1 I can say there are missing features as well. I have 6 windows mobile devices on my plan. 3 950xl and 3 950s. I've been "all in" with the MS ecosystem but it has failed me and my family over and over.

I have a 950Xl using it as my daily driver and one thing I dsagree with is yoru comment on speed and stability. I find it as stable as and faster than any of my phones that ran on WP8.1.

The problem you will find is that when you go back to Android or Apple they WILL have the apps you want. However, you might find out that you simply can't stand the OS and looking for those apps like lost puppys. That is what happened to me. I simply HATE androd and iPhone can suck it with iTunes. So even though Windows does not have the niche apps, I can live with that. They do have my must have apps as I expect they do for most people.

I completely identify with your feelings (including the wife comment...). Sometimes, I question my own judgment, as to why I'm still staying with W10M and not jumping over to either of the other two. Then, I do a reality check and snap out of it.
1/ Google, is not an option for me. Long story short, having worked for years in information privacy area, I do not trust them to possess my information and avoid them everywhere I can. Others may disagree with my stance, but this is my stance and will remain that way. Read their fineprint within the privacy user agreement, then judge.
2/ Apple is my brand of choice for everything, but mobile. The idea of paying $1.2k every two years for 2 iPhones is hard to swallow for me. I simply look behind and ask myself: the things I'm missing on W10M, are they essential necessities, or merely "nice to haves", which I can simply find a workaround for or decide to withhold from myself? I have yet to find a feature/app, which would outweigh the increased cost for my wife and I, if we were to switch from Lumias to iOS, since we already have Macs and iPads. Yes, my banking app is not on the store, but their web experience is decent enough, yes my work email has to be on my iPad, because it doesn't support W10M, yes there are apps I like to use and are not found on W10M store, but that's what my iPad is for, yes the car I want to buy supports only Android and iOS, but then I ask myself, do I really care for having the full dash?? What I really care for is to have a decent GPS when I really need, have a phone, which can help me manage my day, a camera and service, which can help me take and view priceless pictures of my family. Those are the things, which really matter to me, the rest are just conveniences I wish I had, but don't desperately need. I envy you your 950 and its stunning camera, by the way...

You should get with the times. Nobody really thinks Windows 10 mobile is beta anymore. This isn't January.

correct, it's in gamma now

I'm a WP fan boy and I use to make predictions about WP adoption. However, I can honestly say that I have NO clue on how this product is going to sell. Naturally I was always guessing with my predictions but felt my guesses were based on something I could put my fingers on. If this phone were targeted at consumers, I'd guess that it would fail in terms of sales volume. If it is indeed targeted at the enterprise, I have no basis for a guess, I just have to wait and see. As a consumer, my comfort level is to purchase a Microsoft/surface product line - let's just say that I feel much safer that way.

This device is meant for large international corporations that also buy HP laptops and desktops. When those corps finally update from Win7 to Win10, HP will help them with all hardware from single supplier.

Definition of beta, anything lagdroid.

i expected much higher price 699 is okey for me

If it's aimed at business/enterprise and not consumers, why include a 16MP camera? This thing definitely has consumer-use aspirations, and at the current price I'm afraid it's a fail. Unless, of course, they define success as sales numbers in the dozens.

Why gimp it to save $50/unit, if that? It's a visual/graphical world, and lots of businesses utilize photo/video internally and externally. Posted via the Windows Central App for Android

Looking at the rest of the specs, the camera might be the only thing that they may have skimped on. The Acer Jade Primo and and L950/XL has 20MP.

I heard the camera on this phone sucks in comparison to the 950XL. There's an article on here or mspoweruser if you look for it. I think the 950XL would be a better option, especially as the price may come down once the HP phone is released.

Do business users not take photos, make video calls, scan documents, receipts?

I mean comparatively speaking...this is a good price...

Now compare it One Plus 3. Still, if they can convince enterprices of their features, I guess it's a good price.

No one was thinking that when its $50 more than our current choice. I'm not sure why so many people have to repeat "not aimed at consumers". It will be available to consumers. The needs (outside of some of the security) are the same. The pricing is comparable to what is out there and cheaper than the "consumer aimed" iPhone. Really, there is no need to apologize on behalf of HP for the price.

Can't play if you don't want to pay.

Perhaps you should aspire to something more than a minimum wage job. Or consider a second job.

Waiting for India Launch. Hope they price cleverly.

No. They will price hefty.

As a company you can count on getting 40-50% discount on HP devices, depending on your volume. 400€ for management devices and 110€ devices (640XL etc)for let's say other staff isn't too shabby at all. Certainly if you compare it with the iPhone. On top of that you get better device management/HP worldwide support and Office/SharePoint and more will work better than on any other device.

So 699$ with headset and dock it's very nice.
P.S.
Where can I find the stylus ?

$699 is for the device only, no dock.

That's actually not bad. I paid the same prices for the Priv and the S7 Edge. This price point is competitive. Looking forward to this device! I can see a deal with corporate accounts with AT&T customers, which I would fully welcome. Posted via the Windows Central App for Android

Hey aitt, just wanted to say thanks for being open minded when it comes to other peoples choice in phone/OS. I see the "...central app for android" in your comments (Im assuming you have an Android device) and you have always been positive on news on the WPhone side.. Wish other people were more like you... thanks!

No worries and thanks. People can't grasp that this is an open market and people can buy and use what they like. Window has always been my choice of OS but Android is my use because of apps and services I use. I have no qualms. Too bad people act like they gang members. Posted via the Windows Central App for Android

I also appreciate people that live on both sides of the fence btw. I had the S6 edge and iPhone 6S but still use my Lumia Icon as I find 10 exciting and fun to use. I noticed iOS has its dark theme for messaging now. Is turning into Windows 10 LOL.

Well I was laughing because there's some Kickstart with a company trying to create continuum for Android called... andromium Yeah real original. MS is doing something right. Posted via the Windows Central App for Android

Thanks guys. Like to see open minded folks like you who make this forum feel like a warm community. I think the comment section is meant to share information and facts instead of cursing and being disrespectful. Posted via the Windows Central App for Android

WWAN:2G/3G/4G,LTE-A with carrier aggregation 4,5,6,13

Does that refer to the CA-compatible LTE bands, or all the LTE bands that the phone supports in general? If it's the latter, then that particular model isn't the most US-friendly. The price is slightly shocking. High-end specs aside, no phone running Windows 10 Mobile is in a position to be priced that high. A platform this weak (meant in a positive way) simply needs to be priced lower if it ever wants to gain any sort of traction.

You can't sell below the cost of the hardware just because "it's not in a position". Everyone here wants it both ways: Make a high-end phone, but make it super cheap too.

We don't know the full cost -- we can only speculate. My speculation is that it does not cost anywhere near $699.

And my speculation is the latest Iphone and Galaxy S7's do not cost anywhere near their respective prices off contract.

It's costs apple $19 to upgrade your storage from 16 to 64 but they charge you $100.

Really? You mean the $699 price is higher than what it costs to make it?! ​I am just completely dumbfounded!

It's almost like they want to make a profit!

Sigh... This is being taken out of context as expected.

@Bs It's not that it's being taken out of context. I think most are smart enough to get your point. But on the other hand, there's no way HP should sell their product at cost or below cost. Either buy it or don't. And because it's being sold to businesses they (businesses) may get a discount based on the volume that's purchased. But to your point. I would not buy a Kia for $60K no matter what features is included. I'd rather purchase a Jag, BMW, or some other high end vehicle. Why because I just don't see a "KIA" in that high end class. And I suppose you don't see a Windows Phone in a class worthy of $700 range. And that's ok too.

But on the other hand, there's no way HP should sell their product at cost or below cost.

Correct, nor did I imply such a thing.

And I suppose you don't see a Windows Phone in a class worthy of $700 range.

Right. Until the platform is able to catch up to the others, regardless of if it's tailored toward consumers or enterprise, a price tag like this doesn't seem reasonable.

Not really, you didn't provide much context to begin with. I did get your point, but you didn't really make a good point or at least not that well phrased. If you don't see it as a luxury brand then don't buy it. The thing is HP thinks that they are and they have every right to price it how they see fit. Quite obviously $699 is priced way above what it costs them to make. Still doesn't mean that HP should bring the price down. Now if it doesn't sell that well (which it may not) then that price may fluctuate. But it's also not really priced in the luxury realm for what you are getting. iPhone is still more expensive. And then there's those of us who do not understand why the iPhone is considered luxury when you're paying out the wazoo for old hardware. Either way, this device is not for you so don't buy it. Buy what you want to buy.

If you don't see it as a luxury brand then don't buy it.

Brand has nothing to do with my point.

Now who's taking things out of context? My point is don't buy it because it's not a product for you. Do not buy it. You will not be happy with it so don't buy it. Only buy what is right for you. I repeat do NOT buy this phone.

Now who's taking things out of context?

I've been on-topic of my original point in every reply. Others? Not so much.

.... your posts are confusing. I understood your point, I thought it was a weak point and thusly posted my original response. And then thought maybe I should clarify my original and make my own point. You failed to grasp my point to you. And pulled one sentence out of each of my explanation posts to argue with. That's pulling things out of context. For instance you had an issue with "If you don't see it as a luxury brand then don't buy it" because I had the word brand in there, but you completely skipped over "But it's also not really priced in the luxury realm for what you are getting​". That's taking things out of context. Now I asked "now who's taking things out of context?" which you again only pulled that and missed my entire other point which was in direct response to your original post of it being priced too high. My point to you (and please read this) do not buy this phone, it is not for you, you will not like it, please buy what you feel to be a worthwhile purchase. Maybe one that is priced closer to cost would be best for you.

but you completely skipped over "But it's also not really priced in the luxury realm for what you are getting​".

I said that because, IMO, $700 is luxury territory for smartphones. You went on to mention:

The thing is HP thinks that they are and they have every right to price it how they see fit.

Hence how my cherry picking of your original line that contained the word "brand" is not taking anything out of context.

But you agreed with the person who used car ​brands ​to describe your point? You are not staying consistent. Anyways, this is all a moot point because HP isn't pricing it as a luxury item. It's pricing it as an enterprise item. Your belief of Windows Phones not allowed to price themselves as a luxury item is your belief only (okay, some others may agree with you). But again, if you don't like the price don't buy it, obviously they weren't targeting you for this device. It sounds like you actually want the phone, but can't justify the $699 price and you wish that it was cheaper? I don't see any other explanation for having this strong of a reaction to a price point.

It sounds like you actually want the phone, but can't justify the $699 price and you wish that it was cheaper?

You can keep hinting at me wanting the phone, but that's simply not the case.

I don't see any other explanation for having this strong of a reaction to a price point.

I made a comment. Others replies. I'm simply commenting back.

Fair enough. And for what it's worth this was the first time that I even said anything about you actually wanting the phone. Since you are arguing with me I figured there was something that you are having an issue with. So thought well maybe I have it wrong and you actually want the phone. If that's not the case (which I suggested over and over and over again but apparently you keep ignoring), then why have such a problem with the price of this device?

this was the first time that I even said anything about you actually wanting the phone

I suggested over and over and over again

Right. You repeatedly recommended not to buy this phone, which implied you felt as though I felt like buying it, which was never the case. I'm just providing my opinion and commentary towards something. One doesn't have to commit to purchasing something should they feel strongly about a certain aspect of it that they feel is incorrect.

Well at least I now have a good understand/grasp of your point and your opinion :) so thank you! I disagree with your point(s), but they are just an opinion and is perfectly fine. And honestly I really was meaning you should not buy the phone I usually don't make people try to read between the lines or infer things. Based on your comments I felt that it definitely would not suit you. So I was really just trying to help you :). Anyways, I hope you have a great rest of the day and week!

Here's phone with similar specs. Better camera and premium housing included in the reasonable price of 399$. https://www.zteusa.com/axon-7

You miss the part about pogo pins for third-party sleeves for specialized company uses in hospitals, engineering, construction etc. The part about IP 67-rated for durability. The part about running HP Workspace/Citrix virtualized software for win32 apps. The part about it having FIPS 140-2 cryptography, Secure Boot, 128-bitkey Unified Image Encryption, 256-bitkey Full Disk Encryption, Anti roll back , fTPM2.0 security and Enterprise grade VPN. And perhaps more importantly HP support and infrastructure behind this device. ZTE? Riiiight. You're still acting like HP made this for consumers, that's your fault.

Are those $700 worth of features? To enterprise customers, maybe, but aren't there still cheaper alternatives that run enterprise applications more efficiently?

To enterprise customers, the FIPS certification alone is worth more than $700. Let's get something straight, enterprise does not mean the CEO of Starbucks. We're talking governments, military and industrial manufacturing that depends on elevated security measures. Industrial espionage is a very lucrative business and iOS and Android simply aren't up to the task. Like the old saying, "the Marines are looking for a few good men, and you ain't it".

This entire discussion is practically a microcosm and metaphor of what all IT Admins face when trying to speak with Board Members, CEOs, and others who simply cannot or just REFUSE to understand that the phone in their pocket or the computer at their house simply IS NOT the same as a professional-grade machine. To any professional techs excelling in this industry, HP is speaking your language, right to your ears. To consumers, this is a foreign language.

Lol, if you were enlisting the services of a tech company to secure your classified or higher clearance level data, would you do business with one that cut corners and tried "cheap alternatives" to do so? Of course you wouldn't. Or is $700 not worth the protection that could save a company billions of dollars or prevent a major info leak should your data be compromised because you decided to be cheap?

would you do business with one that cut corners and tried "cheap alternatives" to do so?

Has it been confirmed that the lower cost alternatives are truly as bad as you're implying? If the security features are really worth the premium price tag, then offer a consumer model without them at a lower cost. It's clear that a lot of people are interested in it.

Well why don't you answer your own question, since you're the one who brought it up? You're telling us "cheaper alternatives" are available. I'm not so gullible that I'm just going to be sold on a vague hypothetical? Besides that, the phone is aimed at enterprise. It was built with that group in mind, not the average consumer. HP has already received committments from 20 companies to purchase the X3. They have no such guarantee from consumers, so what sense does it make to expend resources to build a consumer model when the consumer market for WM10 is nowhere near significant?

Well why don't you answer your own question, since you're the one who brought it up? You're telling us "cheaper alternatives" are available.

When I said that, it was said as a question, as I'm not sure if they even are.

so what sense does it make to expend resources to build a consumer model when the consumer market for WM10 is nowhere near significant?

You'd think a company as large as HP would have some resources that can turn it into a consumer product. Who knows? It could be the device that brings W10M up again. But I guess if it's clear that Microsoft doesn't care enough about their own mobile product, why should a fellow large corporation?

Those are mainly capabilities of the SoC and SoCs are identical.

What a beautiful phone......I'm drooling!!

I don't know how this phone is beautiful, it has the same polycarbonate everyone bashed months ago on the 950s! I mean I love my green 950 and all, but how this phone gets a free pass just because of the metal band on the bottom side is strange :)

I agree 950 design is good enough. I prefer it to my 920. Branding got a trashing and the buggy OS certainly didn't help

Let me know where you got a green cover for this, unless its Moto's overpriced crap stuff..

If you can get it on sale it's actually worth it

Beauty is in the eye of the beholder.

Wow, I was expecting $900! Well that means that the general consumer can afford it. This is very good for the ecosystem.

If it's not being sold by carriers, then there will be no subsidies, and not many people will buy this thing outright. It's the inexpensive Windows phones that have had success in the past, this device will not even be a blip on the radar.

? It's not aimed at consumers, it's B2B. How hard is that to understand? The idea is for HP to sell this in volume to companies. Whether consumers buy it is irrelevant. The only one who can judge if it's a failure or success is HP who clearly would have internal goals for this device.

Some folks just don't understand how the Enterprise sales channels work.

Daniel, your logic and to the point comments have to stop! Continual use of logic and reason will put Visa Declined, vhyr and DJCBS into a divide by zero loop causing a full meltdown... :)

I completely understand, but HP better put major pressure on their sales staff because I'm an IT director with over 300 employees and I haven't seen or heard from my assigned sales representative in years.... You can't sell anything like that!

Really, how many can HP expect to sell in enterprise? It can't be that many. I am sure this is already successful for them though. The only way they would make this device is if Microsoft gave them a good deal on Windows licenses in exchange. They obviously won't sell many of these. Posted via the Windows Central App for Android

Back in February they told me they had 20 companies already lined up to pilot it.

Large international corporations.

Any definitive word on Verizon compatibility?

That's what I most want to hear too.

How sexy this one will look with sharp corners ;)

Eagerly awaiting your review!

There is nothing missing to complain about it. Best example for perfect phone.

When will they show off the gold one :(

"It may have been a mistake, cancelled or coming later"

The gold one is coming. I was told by an HP represenatative the other day thorugh email. I asked is the gold version coming to Canada which I am assuming should come to USA as well. She told me they are waiting for certification. Whatever that means LOL :)

sweet! Probably FCC certs. :D

What is Lap Dock? is there any image/specs available?

"Optional HP Elite x3 Lap Dock is designed as an ultra-slim, near borderless 12.5" diagonal display notebook form factor that connects with the HP Elite x3 to achieve a seamless Windows Continuum computing experience "

Maybe that was a typo. I'm hoping they meant it comes with a "Lap Dog" lol

To me, this is very tempting. Truly a Windows mobile flagship. Great specs, nice looking, correctly priced, launch worldwide, have full range of accessories.
I hope the world embraces this phone.

Does it support NFC payment?

If it's truly aimed at enterprise, there is no reason to include NFC. That's one of the first things IT Departments lock down.

I think you meant "no reason not to include NFC"

Sooooo, you don't know the answer to the question.

I am getting servers now with nfc tags on them, depends on the need I guess.

$699 in late July... That means by Black Friday, MS should be offering this instores with the FREE Headset and FREE dock... Then on Black Friday, they will throw in the laptop dock. By January, this should be on Groupon for $299 and include the entire setup. I can't wait! No, but in all seriousness, $699 for an unlocked handset of this caliber (at least what it should be) is great. This is the second generation of handset that is aimed at 'replacing' your PC in favor of a mobile device. For those calling out the beta thing, welcome to moden mobile devices where EVERYTHING is a beta. Security flaws, bugs, incompatible apps... All of it is normal in today's software - it's the era of push it out and fix it later. Android does it, iOS does it, Windows does it, it's a mess. For an Enterprise usage, they need something that will boot up every time, have predictable behavoir and can be fixed with a simple restart. Windows Phone/Mobile/10 does this very well and should be easy enough for the average IT guy to roll into their exsiting Win 10 environment. Taking all of that into account, I don't see this device doing well. Windows has a reputation for stiffing consumers with devices that are outdated when they are purchased. My M8 for Windows runs Windows 10 just fine and should have been pushed up the list to get it. MS left me behind (just like my Titan, Radar, Lumia 900 and Lumia 925) and didn't even care what their customers thought. I've moved to a Note 5 as a daily driver and don't miss much about Windows, though I still carry my M8 around with me for a backup. The Elite is gorgeous and should do well, but because of MIcrosoft's past behavior with OEM's, I think I am going to hold out for true Windows 10 devices instead of bringing on another DOA device like the X3.

My M8 for Windows runs Windows 10 just fine and should have been pushed up the list to get it. MS left me behind (just like my Titan, Radar, Lumia 900 and Lumia 925) and didn't even care what their customers thought.

Love how you let HTC off the hook here even though it's their phone. Tip: the reason why the Verizon One m8 is not getting Windows 10 is because HTC does not want to pay the certification costs. That's not a rumor.

Since when a manufacturer has to pay to obtain Qualcomm CDMA Certification for Windows 10 for Mobile? Before you blame specific manufacturers and CDMA carriers, you need to ask the question dierctly to Microsoft on why Windows 10 for Mobile has not received Qualcomm CDMA certification through the Global Certification Forum (have in mind carrier and OS certification for CDMA can be done together, and before you challenge this fact, I would strongly suggest asking CDMA coders from Google, Blackberry, and Apple, and they will tell you this fact for their unlocked devices such as iPhones and Nexus devices directed for the US, Asia, and Puerto Rico). Microsoft can blame the procedure, but they will not admit they do not have a Qualcomm Certified CDMA Coder on the team formerly known as Team Windows Phone since early last year. Sure, they can ask any OEM like HTC to help them with getting current CDMA code, but the question about why skipping CDMA carriers (almost 8 months and counting) remains the biggest mystery no one wants to investigate from all parties involved (meaning not just Microsoft, but asking CDMA carriers, the GCF, and even Qualcomm's CDMA unit).

MS or the carriers leaving you behind? When I had my L810 4 month after release, TMobile decided to end support on it. Could you update through insider program?

Not to be rude but after getting left behind on updates on the HTC Titan and Radar (both of which HTC refused to update), why in the world did you purchase yet another HTC phone with the M8? If MS didn't care what customers thought, the Insider program wouldn't exist. The 900 was sad but understandable with the massive changes that came with 8 and the 925 got left behind because of the hardware, same as the 920, due to feedback from Insiders about poor performance with Win 10 on the chipset. If even an off brand like Blu can work together with MS to get their handsets updated to 10, I think you need to reevaluate just how much blame to shift onto MS and how much you need to throw on both HTC and yourself when you knew full well that HTC has had miserable support for their Windows handsets from the get go. HTC point blank said that they wouldn't give further support to the M8 due to cost even though they promise two years worth of support for their devices, apparently that only applies to their Android devices. I'm not going to criticize you for moving on because you should use a device that meets your needs but at the same time I don't think the HP Elite is DOA since: 1) it's geared towards enterprise which means there is a required level of continuous support and 2) it isn't made by HTC who has an established record (from WP7 on) of dumping their Windows handsets on the market and leaving them to rot.

Price doesn't bother me at all. Aside from the comparison to iPhones, this is also trying to some degree to replace your laptop. If the bundle with the lap dock is $900-$1000, replacing a high-end smartphone and a laptop and, in a pinch, a basic desktop... that's a solid bargain.

MS shot themselves in the foot by only allowing 1 full screen window. It will be nothing like having a laptop. You can now get cheap chromebooks that run some windows apps and android apps. They had a year to enhance continuum and did nothing.

Does any other phone outside of W10 Mobile give you Continuum like abilities? And I'm not talking about simply projecting your phone's display. I'm talking about the ability to use your phone while working on a spreadsheet unencumbered on the separate monitor.

Yeah, you can easily answer a call and still work on a spreadsheet while projecting your screen. You can even have two apps on screen at once depending on the phone. Either way, it is kinds pointless when a laptop and phone gives you a superior Windows experience and a superior phone experience with the same amount of hardware. Posted via the Windows Central App for Android

Hmmm Pressure Sensor. Maybe something is comming :)

Only $700? I'll take 6. One for each family member.

Looks like a fantastic phone. Unfortunately this phone is too much phone for my needs. It should be a success for the business sector.

It's good to have options. Hopefully we will see more midtier phones similar that what Japan is getting with the 600 series snapdragon processors.

Contemplating getting this phone. Practical question; Will I be using the phone's front camera when making a Skype call?

It does on my lumia 950 xl.. No reason it shouldn't here. Right?!

I believe you can switch to front or rear camera on Skype calls.

Will I be using the phone's front camera when making a Skype call?

They made the phone with Skype in mind, so it has a really good FF camera and front-facing speakers with noise-cancelling mics.

Awesome! I'd still like to see a detailed camera review before I go for this one. And W10M stability/performance really needs to improve more SOON before I shell out $700 for a new phone. A trade in deal from the MS store would be great too!

What is unstable about Win 10 Mobile? I have been on Redstone for a month no and that's a beta and I have had now problems...

Too many little annoying things to list. I went back to Release Preview with a hard reset and fresh install about a month ago on my L830. Lately Cortana no longer shows notifications for anything, Quiet Hours is still buggy, photos and mail apps are still crap, bad battery life, etc. I'll wait till the final Anniversary Update is finally available in Release Preview and then start all over again fresh to see how things have improved with Redstone. But honestly I'm getting tired of all these builds and hard resets. Might be time for a new phone!

or you know maybe just stay on the latest ​production ​build and stay off the insider stuff?

The problems I'm having are with the latest production build! There are bugs in all the builds!!

What problems are seeing in production? The ones you have listed above should not be issues on production builds. From your above post it sounded like you were still on some kind of fast/slow ring and not the official production ring.

There are too many barriers for me to be able to buy it. First off, no Verizon support. Second, even if it supported Verzion, it's too expensive. I only buy phones on contract since i'm part of a business plan. Therefore, it'd need to have some kind of subsidized contract price of like $200-300 for me to buy it.

Looks like Verizon is one of your barriers...

Actually, the barrier lays on Microsoft not submitting a Windows 10 for Mobile device for Qualcomm CDMA Certification to the Global Certification Forum (which is the main requirement to be cleared in order to offer devices to CDMA based networks using Qualcomm approved code). Have in mind Qualcomm CDMA and CDMA carrier certification can be obtained together. The process for CDMA carrier certification is very similar for Verizon, Sprint, US Cellular, and every regional CDMA based network in the US, with very few differences due to the conditons under the FCC/CTIA device unlocking agreement (and the cost for a combined GSM/CDMA/LTE radio is only a few cents higher than buying just a GSM/LTE radio).

We need confirmation of Verzon support or lack there of....

Toy should be able to make that call yourself based on Verizon's WP history...C'mon man!

Super cooooooooooooooooooool!!!

Someone in hp sales / marketing department didn't attend Microsoft 950/ 950 XL failed launch. I am sure Microsoft were also targeting enterprise too. It's obvious how that enterprise demography is going thus far. Wait 1 year and the excess stock will be sold as refurbs at lower prices.

I am sure Microsoft were also targeting enterprise too.

No, they weren't. Also, to compare Microsoft to HP regarding enterprise sales of hardware and support is hilarious. For instance, HP is going to sell/support this phone in 47 countries out the gate. How do you think they do that? They have 30 years of selling PCs, servers, tablets, printers, laptops, etc. to companies around the planet. Some of you don't appreciate how good/powerful HP is at enterprise hardware. Microsoft does not have the capacity to come close, nor are they trying.

There is that pesky logic/knowledge again... :)

I actually work in the enterprise and we use HP products (desktops, laptops, blade servers, etc) and I manage them all from image creation using mdt to sccm. So yes some of us do appreciate HP as a company. Perhaps may be Microsoft shouldn't have bought Nokia because Nokia was doing a darn fine job giving Windows Phone the boost it needed until ....wait for it Microsoft came. If they knew they couldn't do a good job promoting their own mobile product, then why self-destruct it? As a loyal fan from the windows mobile days (htc ex-calibur), htc hd7, L920, why should i fork out my hard earned cash on a mobile platform that is on a downward spiral? because it has HP logo on it? Yes I love the platform but you have to be realistic here unless money is no object. I owned Surface RT gen 1 from day 1, SP3 among other things. So yeah some of us do assess our mobile needs carefully and not let our platform bias get in the way of decision making. Nothing against u per se Daniel, but as a long time loyalist to the platform, I think u have to do a self reality check when it comes to choosing ur next mobile hardware.

Nokia board was getting antsy with Microsoft/Windows strategy and they could have voted to (a) go with Android (b) ditch WP (c) sell to a competitor. Any of those would have been bad for Microsoft, who bought them out of fear rather than need. Even then, Nadella and others at MS were against the idea.

Daniel speaks truth, I maintain a large HP blade center shop and they are the only vendor with EVERYTHING. SAN Storage, rackmount servers, blades, laptops, desktops, Ethernet switches, wireless and now Windows phones... Yeah Dell comes close, but are a distant close.

Yeah!! HP did a great job with my beloved Palm Pre :) . Man I miss WebOS....(sobs in corner) Seriously though, I hope HP knock this out of the park!! The only thing holding me back is not knowing if the camera will be any good. I'm still amazed at some of the pictures that my 1520 takes and it's 3 years old.

No, they weren't. Also, to compare Microsoft to HP regarding enterprise sales of hardware and support is hilarious. For instance, HP is going to sell/support this phone in 47 countries out the gate. How do you think they do that? They have 30 years of selling PCs, servers, tablets, printers, laptops, etc. to companies around the planet. Some of you don't appreciate how good/powerful HP is at enterprise hardware. Microsoft does not have the capacity to come close, nor are they trying.

This is like congratulating an ant for knowing how to crawl through dirt. That's what it's supposed to know how to do. Sure HP is capable of manuevering, but it produces terrible hardware "around the planet".

I still can't believe HP spec it with a ****** camera in there, business also need good camera for many reasons. Ask MS to give you the 20mp for free if you have to. Was going to rant about camera button too but I will let that go.

What's wrong with the camera?

According to what I read, it is a entry lvl camera that you can find in many lowend smartphone like Moto G and the output are far from ideal.

He clearly already used and reviewed it and can say that it's ****. Because he is special

What's the bone? there are reports state that it had lowend camera on it. And we all know what lowend camera perform.

Umm...no, most enterprise companies would prefer a Camera 'delete' option like Blackberry used to offer enterprises. Camera's are considered a huge security risk in the Financials sector. I'm sure other industries will embrace it, but not everyone wants or needs a camera. I would expect there to be a gpo that will allow the camera to be disabled.

Most if not all MDM solutions offer that.

Agree, same go as webcam many company prefer not to have them. But if they're going to put one in why not option for a decent one?

I like the fact that HP has a decent looking home screen on the device's listing page and not some generic over powering schycodelic home screen.

Are these HP phone all metal or are they plastic? Just asking.

Plastic. One can get full metal body phone with better camera and same soc & screen for half the price nowadays. Apparently the logo of hp adds 100+% markup. Hp is known for its quality phones though unlike more established phone manufacturers.

So a phone is deemed better because it has a metal body?

That's the thinking yes. Unibody metal housing is a bit more expensive to make and consumers are expecting it. Nokia made nice unibody polycarbonate phones though.

Metal body and Qi don't work well together. Only full metal Lumia was the McLaren due to it needing to be conductive. Also, no Qi.

People cover up their phones anyway, so a "full metal body frame" wont even be seen by most. Doesn't matter to me.

You should not cover the hp logo. That's what you are paying double price.

What about the Network? Which ones...Verizon?

No CDMA support, no Verizon.

Daaaaaaaaaamn Daniel! Back at it again with the x3 Specs are scrumptious minus the 16mp shooter (only because my 950xl has 20)

Because MP is all that matters? Posted via the Windows Central App for Android

Unless it works on Verizon its worthless to me anyway!

You are worthless to Verizon. Keep things in perspective.

CAN WE GET ALL APPS TO GO FULL SCREEN IN CONTINUUM.......IF NOT, ITS POINTLESS

Must... resist ... 950XL is still good ... yes...

Monster phone, un-beatable

I do not see the fingerprint reader there or am I only blind? In the previous renders it used to be below the camera backside camera but current photos do not show it.

It's in the final version, we showed it on video a few weeks ago. It's on the back.

Do tell...... Where else can you get Snapdragon 820, 4GB Ram, huge battery supporting Qi wireless charging, Gorilla Glass 4 over WQHD (2560x1440) for $499? (Please know that no one "pays" for an operating system. It's the phone parts/profit that determines the price of a device)

One Plus 3 get pretty close, no Qi or 1440p (it's 1080p), but it does have 6GB RAM, at $399.

Demand sets prices. This will have no demand, especially at that price. Posted via the Windows Central App for Android

It's a nice phone but, I have to agree with you. WIndows 10 Mobile is a nice OS, no question but, with the lack of app and 3rd party hardware support (smart watches, etc), it might have a hard time in the marketplace, and even harder because it's not available to the consumer through normal outlets. Companies MIGHT jump into it but, with the lack of Verizon and Continuum still needs work to be ready for stable business, It's a big quesiton mark. Time will tell.... I hope it does well, I really do but, with Microsoft hardly backing WIndows 10 Mobile (marketplace, models apps, etc), it's a new device already in a dim marketplace for the OS...

When will companies finally learn, that 699$ DOESN'T EQUAL 699€???!!! Everybody does this, and I'm really tired of this s*it... :D

Is 699$ without sales taxes? Add 20+% VAT and its more than 699€.

So there aren't taxes in the U.S.? :D

I'm sure there are. That was not my question though :) Euro is also not that high anymore. Parity is not far away.

The price is comprised of cost of parts and whatever equation was used to generate a profit. We can't expect to price a phone based on the success or failure of the Windows OS. You are getting 64GB, 4GB Ram, huge battery, great display and glass, major processor, etc. They phone is AWESOMELY priced based on what you are getting. If you personally don't think it's worth the price because YOU don't appreciate the OS, that's one (subjective) thing--Just say, "I don't see Windows OS justifying ME spending $700, but to say it's not competitively priced would be an objective lie.

'Lie' is a strong word requiring insight into the motivations of and culpability of the active will of another. 'Objectively false' would be a much better term to use, and doesn't require passing judgement upon a stranger.

problem is continuum is not there yet or this will be a must buy , hope it will find success Posted via the Windows Central App for Android

I wonder the sensor for pressure would be used for, i would have apreciated temperature sensor instead of pressure

A big love on "Security Managment" showed in the list. Looks like secuirty starts from silicon.

What ever happened to the Surface Phone project?

Nothing to report until next year when MS reveals their big hardware lineup to coincide with the next big software upgrade.

i know temperature is better for those working in data centres, even at home, but pressure maybe in other countries, but i wonder how?

R.I.P. How HP pretend to sale to high price that iphone? Maybe is better to samsung or iPhone... but the regular people do not know HP as phone provided . Bad Marketing. I hope to be wrong

Where are my sunglasses, the amount of ignorance is blinding.

High price? It's actually inexpensive.

Do you really believe that? NuAns couldn't sell their $400 Windows phone for $300, what makes you think HP can sell this $700 phone for $700? Sales are what prove if something is overpriced. Sales will definitely prove this is over priced. It is basically guaranteed. Posted via the Windows Central App for Android

You keep using that NuAns launch as your example for why this phone is going to struggle but it's a weak one. Exactly how many enterprise customers would line up for ANY imported, first-gen device from a fresh company with little-to-no support channels in the majority of the world? Stop trying to make these devices seem like they are equal or even attempting to aim for the same demographics; they aren't.

It is a direct example of the sales numbers that Windows phones hit. NuAns didn't even hit a fraction of the numbers they were expecting. It is a perfect example of Windows phone manufacturers over-estimating their sales potential. Posted via the Windows Central App for Android

Fine with the price, but lack of glance still makes it a no-go for me :( I really wish MS would let non-Lumias have glance support, as I'd dump my 950 for this in a heartbeat otherwise.

I wouldn't mine not haven the glance feature it kills your battery anyway.

I've used it with it set to being always on on my 920, 1520, and 950 with no relevant battery life difference versus not using it. It saves me from repeatedly powering on the display to check for notifications, offsetting whatever usage it uses in a given day. Every high-end feature on a phone comes at the expense of battery life. If all you care about is maximum battery life, buy a low resolution, low power phone, not a flagship.

I,m going to buy this phone when it comes out!!!!!

Well, good luck with that.

I didn't ask for your opinion bro.

I'm not your bro, friend. Also did not reply to you.

Just get an iPhone, douchebags. You can´t this play Pokemon or cook YouTube in one hand.

I'm not a tech guy at all guys so sorry in advance...Will this phone have LTE on AT&T?

That's 100 more then the phone that took me from windows 6.5 phones in 2007. 599 8gb 2g iphone with no insurance and no mms at launch. Tech has come a long way and it seems as though this will be the phone that will bring me back. Can't believe the price. Have to get me and the wife one.

Nice phone, fair price... too bad no Verizon support, so they cant get my money. If your going to say "Change carriers", I still have unlmited data with Verizon, I use 5-8gb a month, as I do wnat I want, WHEN I want with out worry. AT&T cant provide me this, so no chance I would move to them. TMOUS is not even an option due to poor coverage where I live. If Verizon cancels all Unlmited data plans, then I would change carriers otherwise over by dead body..

Re: DavidinCT,
Respectfully, you are saying, that Verizon has trapped you, because you will not consider spending a few more dollars a month, to be free.
Well, I'm there too. I'm going to "try out". Some other options, on a one month trial. I need to know the truth of Verizon claiming to be the best coverage.

Will this sell in the Microsoft store?

It could be gold plated and diamond encrusted and come with completely free and unlimited service, at this price point and without any apps it's gonna sells as good as the Microsoft KIN.

Premium price, premium phone.

HP has never gotten away with premium prices and they won't here either.

It's probably going to cost about ₹65,000 in India with all the taxes. I wonder which "corporate" in India is going to buy these!

Would have loved to get this one but just defected back to iOS after giving the 950XL a 24h testing period to see if the Music Synchronization/Library issue I was having since upgrading my 1520 from 8.1 to 10 would be gone ( one could hope new Hardware would solve it ) but nope... Freshly set up 950XL was showing the same symptoms like Music not synchronizing, not playing, or just being marked as not available on the device when they clearly were - Add to the insult that with the removal of the Windows Phone App for Desktop I wasn't able to transfer Store bought Music from my PC to my Phone anymore as just drag'n'drop from Explorer would quit the transfer of any affected Music - The Windows Phone Companion APP is an insult. Sorry MS but I just can't be bothered with this ****... I keep listening to Music all day and if such a simple feature stops working the whole OS is dead to me despite me being a hardcore MS fan gravely missing all the other features W10 offers over iOS9x like a customizable UI without the use of a Jailbreak, Live and size customize Tiles, etc...

Kinda running out of July aren't we? Come on HP stop teasing.
Windows Central Newsletter
Get the best of Windows Central in in your inbox, every day!
Thank you for signing up to Windows Central. You will receive a verification email shortly.
There was a problem. Please refresh the page and try again.