HP Elite x3 superphone now comes in Gold too for some extra flair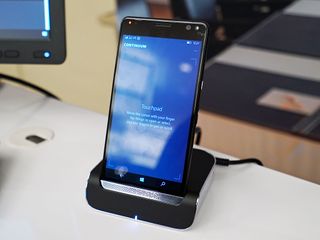 The HP Elite x3 is expected to arrive sometime this summer presumably near the Windows 10 Anniversary Update. Besides its Bluetooth certification the powerhouse Windows 10 Mobile device was spotted on the FCC recently, suggesting its launch is rapidly approaching.
Up until now, the Elite x3 was only seen in one color option: A Graphite polycarbonate body with a Chrome speaker grill at the bottom. In a July 1 updated specification sheet (opens in new tab), however, a second color option is now listed: Gold/Gold.
Unfortunately, no images or mockups were posted by HP leaving its final appearance guesswork at this time.
The design will presumably have a gold body with a gold metal component at the bottom, which is a bit curious. HP recently released a new Spectre laptop with a black and gold motif, and a matching design would seem appropriate for Elite x3.
Additionally, the color option appears to be more limited than the standard Graphite/Chrome model with a footnote mentioning "Gold/Gold color option not available in all countries."
Either way, it sounds like some executives may be rocking a blinged-out Elite x3 this year. Let's hope it looks the part.
Finally, in one other footnote, it says that the fingerprint reader won't be enabled "until OTA coming soon." Windows 10 Mobile currently does not support fingerprint readers, but the feature is expected to be part of the Anniversary Update due in August. It is not yet clear if the phone will launch with the feature, or, as the documentation mentions, a later update will have to come down the road.
The HP Elite x3 will feature a Snapdragon 820 CPU, 64GB internal store, micro SD expansion, Iris scanner and fingerprint reader, 16MP and 8MP cameras, and some B&O front facing speakers for good measure. More can be found on our full specifications page
Need more? Don't miss our other coverage of the Elite x3 including:
Thanks, Steven B., for the tip
Daniel Rubino is the Executive Editor of Windows Central, head reviewer, podcast co-host, and analyst. He has been covering Microsoft here since 2007, back when this site was called WMExperts (and later Windows Phone Central). His interests include Windows, Microsoft Surface, laptops, next-gen computing, and arguing with people on the internet.
Sweet, that phone really is turning out awesome. Lets see how reviews turn out.

Yes and check out the listing on HP website. You can pre-order if you are in Canada :)

If the surface phone turns out just like an average flagship phone. I'm getting this instead.
The Surface Phone doesn't just need crazy specs it needs crazy killer features IMO.

Are you sure it'll be worth the wait? The surface phone remains mythical till 2017. This thing will be out in a month or two. People who buy this on launch will have 9-10 months to live with this before the surface phone will launch and by the time you decide, the specs of this thing will be practically obsolete.

I don't care about specs anymore. I couldn't care less if the surface phone opens WhatsApp 0.1 seconds faster. I am more interested in actual features and functionality. And I have high hopes that the surface team is going to do for phones what it did for tablets and laptops. So that's why I'll wait for the Surface phone.

Well, just be ready for the possible disappointment. That smartphone might cost upwards of $1000.

yeah yeah just wait we waited for 950xl with BIG hopes and what? Nothing. Didnt changed anything. Surface phone will be a phone with actual HW in it, nothing more. Forget about x86 app running on mobile phone, its a myth and the price will be HuuuuuGe not worth it

I think the 950's are decent phones. Its just that they don't do anything different than other phones. AMD is working on a chip that has both ARM and X86 chips. X86 apps on a phone is not that far fetched. And what makes you say its gonna be any more expensive than other flagship phones?

Im with you, except I think this boils down to software at the OS level. My 1520 runs MUCH better on 8.1 then my higher spec 950 running 10... The OS needs to improve more than the hardware does.

Nothing runs better than the 950 on the fast ring update actually.

It better be awesome, its been almost FIVE MONTHS since we were introduced back in February. This is gotta be the longest wait of any smartphone on any platform, ever? I believed the reason for the delay was the Fingerprint reader, but now it looks like that's not even gonna be working. The problem with taking so long is it now goes head to head with Samsung's Note 7 - with more Ram, Better Processor, Stylus and Iris Unlock - which is due to launch on Aug 02. HP (and Microsoft) have missed the boat, again.

The way I see it, only the finger print reader is delayed because it comes with the Anniversary Update and the X3 is the only phone where MS can test the feature before the update

@wplee could not agree more. Just bought a oneplus3 for a colleague who lost his patience with MS. 400 euro for a 6gb phone and better specs than the hp. When it was first announced it was top of the bill. By the time I will actually be able to order it, it will be outdated, overpriced and still be under appt. The ' coming soon story' is getting old. In the meantime another windows mobile user has moved over to the dark side and is happy about his choice.

Actually the only specs better on the One Plus 3 is the RAM. The HP Elite X3 destroys it in every other category including a presumably better display(higher resolution). 4gb will fly on W10M. You get a larger battery on the Elite X3 as well and microsd expansion which the One Plus is missing. One picture at a time -- LG V10

Look at that OnePlus 3 review again. It has alot of raw power, but it still can't keep up with the Galaxy S7. Specs aren't everything these days, so we got to be careful as consumers. Posted via the Windows Central App for Android

they missed the boat. my son and me jumped ship to the s7 edge from my 930 and his 640. its not worth the wait anymore.

Like any review of a Windows Phone is going to be positive these days.

Reviews will be unlike any other great Windows Phone in the past. They will praise the phone, they will say the OS is good, and then they will give the ecosystem low grade because of its lackluster app selection (re: Lack of a Snapchat app), and day that your better off getting an iPhone or Android phone

To match their new sweet thin laptop?

As I mention, it would seem they would have written it as "graphite/gold" if that were the case. Not sure how a "gold/gold" will look.

It'll be gold, with some gold accents. ( :

You have to consider that the back is not going to be metal, to support the wireless charging. Not sure if gold plastic would exude premium. I think it would look nice with the current chrome accents being gold and the rest being a nice graphite like the laptop. Not my particular taste, but I can appreciate it.

I expect it will be similar to the finish on the sides of the Spectre's keyboard keys, which is a matte gold. So yes, gold-on-gold. You can see it here: http://www.windowscentral.com/sites/wpcentral.com/files/styles/xlarge_wm_blw/public/field/image/2016/04/hp-spectre-keyboard.jpg http://www.windowscentral.com/sites/wpcentral.com/files/styles/xlarge_wm_blw/public/field/image/2016/04/hp-spectre-front-open.jpg

The back of my note 5 isn't plastic and it has wireless charging. Let's hope the hp doesn't have cheap plastic Posted via Trump2016

Can't wait for FUDders to sink their teeth on POSSIBILITY of fingerprint feature not being there at launch. CLEARLY that means the device is DOA /s

The device is DOA not because it will or will not have fingerprint reader, but because it runs Windows 10 Mobile.

It will not be DOA due to the fact that HP will provide this to Enterprise market only with a standard support package, this is not for your typical brainwashed consumers who are told that everything Microsoft is bad. Please do us a favor and do some research before posting such rubbish.

What % of enterprises run W10??? Not many... Posted via Trump2016

You fail to realize that this isn't about the % of enterprises running W10. This is about HP utilizing one of W10 mobile OS main features: Continuum to allow their corporate users to use the phone as a desktop while also pushing their own virtualization solution to provide a way to run Win32 programs on the phone. You'll be setting up their solution without a full scale W10 deployment. The first thing they demonstrated was how the phone using it's docking station would allow you to literally replace your desktop. Any other benefits provided by W10 mobile would just be an added bonus.

Been living in basement since your adolescent years, eh?

Why come to WINDOWS CENTRAL if all you are going to do is **** all over Windows? You guys can't find anything better to do? Posted via the Windows Central App for Android

So it is dead because it runs a superior OS?

Crap, I missed where it said it runs IOS Giddora.

Agreed, this phone is DOA because of windows mobile, not because it does not have a finger print scanner.

sounds cool but out of my price range.

Story of my life bro Posted via the Windows Central App for Android

I would definitely get this but I bought the Lumina 950, Display Dock and accessories like 4 months ago.

What exactly is the price, any announcement before that I missed ?

Price not yet announced. Expecting $500-$700 range for phone+desk dock. Lap dock will be sold separately, I think. Doesn't matter though. I've been waiting for a year to upgrade my phone, so I'll buy the phone with all the continuum accessories

Do NOT expect this below the 700€-800€ price range. This will NOT be a cheap phone. Posted via the Windows Central App for Android

forget about 500 - 700 this beast will be around 850 without dock. It will be advertised as a 3 in 1 device so forget about price around 500... its HP and ELITE = expensive

Everyone is expecting an $800+ price range. Don't forget that this an enterprise phone. Which means hp won't be doing much marketing to the general public. And also they have to keep the price reasonable, otherwise it'll put off the companies who want to buy a lot of these things

That's all true. But don't forget to account for the very very low demand for Windows Phones even on enterprise. HP will have to price it reasonably but not cheap enough that they make losses on it. Posted via the Windows Central App for Android

"It will be advertised"???
This phone is for enterprises, it won't be advertised at all, since day one.

The Lumia 550 is out of my price range

you can get a refubrished Nokia 3310 from China. 15USD worth every dollar

Wonder invention called...savings. Try it, it works. I use it for all of my large purchases its crazy sweet.

Every time I see news about this phone, I just want it more and more :D

The question is how often will it reboot itself?

Less than Samsung phones for sure.

Probably just as often as other W10 phone which means about never. Unlike Android.

2010 called. They want you back. Posted via the Windows Central App for Android

People hate Windows phones so bad they would rather buy a lagging, crashing Android phone 160 to 1. Either that, or Android is actually good and people really like it. Which one sounds more plausible? I think it is a combination. People hate Windows and Android is really good. How else would they dominate so hard? Posted via the Windows Central App for Android

Looks great. Hope there's a payment option so I can actually fit this into my monthly budget!

What networks will it support?

GSM, so ATT/Tmo in the US; Euro variant will have 15 bands. There is an optional dual-SIM model too.

So that is confirmed that it won't work on Verizon? For an enterprise phone, that would seem like a huge mistake, seeing that Verizon is the largest carrier in the U.S.

Let's hope that changes. I need something to replace my battered Icon.

@coip. CDMA needs to vanish pronto :P. It's not OEMs fault that they have to take into account cost of CDMA radio integration and maintenance. Once VoLTE becomes the norm, we should hopefully be able to say goodbye to questions about frequency support / carrier compatibility.

Verizon uses CDMA? What is this, the nineties?

In matter of facts, CDMA is a newer technology, it is more expensive because pays royalties.

As long as i know GSM has a GREAT problem of frequency support.
E.G.:
Europe uses 900 MHz for WCDMA 3G, and USA uses 850 MHz, some countries in Latin America uses bought 850 MHz and 900 MHz depending on the carrier and the country, i know this because it happens where i live.

I agree that CDMA needs to die and it's not OEM's fault that they have to incur extra costs just to appease Verizon. That said, though, Verizon controls half of the U.S. market--they're in the power position. The only one who is going to be hurt by not having the HP Elite x3 run on Verizon is HP. It will cost them sales for a phone they've already sunk costs into. Not having it on Verizon will cost Verizon nothing. That's why I say it's HP's mistake, even if it is Verizon's fault.

HP doesn't care. They are only making this phone to get a deal on Windows licenses for their PCs. Why else would they make a phone that is a guaranteed flop? Acer dropped their similar device as soon as it was released it sold so poorly. This will suffer the same fate. Posted via the Windows Central App for Android

Microsoft said they'd be pulling back from some carriers. I think Verizon is one of those carriers.

That was for Lumia phones though. I'm fairly sure that there's nothing in Windows 10 Mobile that would prevent it working on a CDMA network if an OEM included the appropriate hardware.

Yeah, if HP put the hardware inside, it should work. If a phone will cost around 700-800$, I don't see why wouldn't it have all the radios inside.

Yeah, if HP put the hardware inside, it should work. If a phone will cost around 700-800$, I don't see why wouldn't it have all the radios inside.

Windows 10 Mobile hasn't been certified for CDMA. I hear it's very expensive to get certified. I hear its to expensive to get certified when Verizon will be coming out with something new soon.

Wshwe, Microsoft is pulling back from all carriers as they are soon going to fully axe w10m. I give it 2-3 more months. Then even the magical x3 will be dead in the water.

US CDMA needs to be taken out back and shot. The rest of the world doesn't care about CDMA and it's one of the reasons I'll never use Sprint or Verizon.

GSM bands so it will work in Canada, UK, and other countries in Europe. :)

15 Bandz? 15 Thousand dollars, I could use that!

Any rumors for upcoming high end Verizon W10M phones?

Never Verizon has a track record of not educating employees and if anything sabotaging Microsoft and windows phone in general when it comes to devices and support on their network. If they can't control it they don't want it. Except iPhone, they bend over backwards and ask that apple please don't use lube to enjoy the abuse further

Or maybe people just don't like Windows phone. After 6 years of being completely rejected, it is time to face the music. The UI is terrible and Microsoft services suck. They are not able to compete in the modern market. Posted via the Windows Central App for Android

Will the dual-SIM model be available in America? Posted via the Windows Central App for Android

It should carry tmobile and at and t at minimum.

Unfortunately, I never understood that! In Greece, whatever phone you buy and put whichever sim card into it, it'll work without any issue :P Can anyone explain me this American thing about bands??? :D Thank you in advance!!!

Because in Europe it's pretty much all GSM

That's not an explanation though. We know that we all use GSM in Europe. What is CDMA and why does the US have a system other than the GSM?

CDMA is an ancient cellular technology. Like AM radio. Verizon and Sprint still use it. Verizon is fading it out and joining the Global System for Mobile slowly Posted via Trump2016

Gold/gold option not available on all planets.

Wont be available in Canada. There is no more WP to sell, here in Montréal :(

I we be buying directly from HP.. In Canada... Posted via the Windows Central App for Android.. But waiting for the HP Elite so I can get rid of this junkie Galaxy S5...

For now buying direct is the only way to get any Windows phone for those living outside US or Japan.

I live in f-in' Bosnia and I did not have to buy direct. You can buy wps from all the carriers here, or in stores (contract free)... So, no - you don't have to buy direct if you are outside US and Japan

In germany you get the 550, 650, 950 and xl in media markt and expert shops and many other online shops, at amazon and even at vodaphone, o2 and tmobile if I am not wrong... Not only microsoft.

Just need to know if this has Glance and Double Tap to Wake. Two things I need...

I'm curious about this too, are these 2 features particular to the Lumia line or are they general W10M features??

Miss glance on my 930, had it on my 925. Why is that, a lower spec model has it over a night spec?
Glance should be standard on W10 ffs.

It depends on screen technology more than anything else.

This is Nokia's implementation. So, don't know :/

Yes, I need Glance, Double Tap to Wake, and a physical camera button!

Then it is the 950 for u.

It seem HP wants to catch some normal costumers after all

This is for Enterprise customers only.

Seems kind of odd to only sell phones to customers of a single rental car company.

The phone will not be heading to general costumers in a direct way, but, it has already been said that anyone who wants will be able to buy this phone. Read first, comment after

As long as it's not pink Gold like ape stuff... Posted via the Windows Central App for Android.. But waiting for the HP Elite so I can get rid of this junkie Galaxy S5...

It probably will be similar to Samsung color of gold. Also the HP Elite x3 will be sold with the ME Dock and Display Dock so looking at $1200 price range.

Except that their website states that "optional dock... is sold separately"

Stated as fact, link please

John Mack4, Nope, its that tacky cheap looking "gold" that samsung, hawuei and others use.

Well be prepared to dish out $1200

Re: RohanRonQM,
Stated as fact, link please.

So now the FUD starts eh?

This phone can't come soon enough

Still using my white gold Lumia 830, such a gorgeous phone...

No doubt it'll be sweet but more then likely out of my price range. I'm hoping for a $300-$400 Alcatel.

Then please support Nuans Neo. The phone is mid range and in your price range.

Do I want one? Yes. Daniel does some really bad ass product videos especially when he's excited about a product. Well done sir.

I shared that pdf :) Posted via the Windows Central App for Android

The Bling King will see you now.

Can't wait for this phone!!!!!

Sorry guys, something out of topic : Don't forget this NuAns NEO campaign on Kickstarter https://www.kickstarter.com/projects/nuansneo/nuans-neo-windows-10-mobile?ref=discovery!!! I've saved this link on my reading list and I see that hour by hour, more and more supporters back this project! So, it's taking momentum and it would possibly be a nice commercial thing about this smartphone and the OS! Share the link to let people know if you want. P.S.: I'm not a promoter. Just a Microsoft enthousiast :D Back on topic : I wish I had money to buy this phone! It's super WOW!!!

Not a great commercial yet! A few days in an they have barely sold 300. Even with a steep discount and in a market that doesn't have any mid range devices, they are struggling to sell. At this rate, they are going to have a tough time meeting their goal. Posted via the Windows Central App for Android

They are over 325, about 94.000 dollars raised and have still 36 days to go. Not that bad if you ask me... If you want it to happen, support it. That is the way on kickstarter.

It should be priced lower than S7 Edge and iPhone 6+. Any MS device manufacturers should never compete with the premium prices of Androids and Apple for obvious reasons. One of the reason why L920 did sell well because it's a lot cheaper when it was released compared to Gaaxy S3 (if I can recall correctly).

Obviously and it seems like you didn't get my point.

Do either of those come with a dock that turns them into Windows 10 computers? I thought not, so your remark about pricing is irrelevant.

Nope Editguy, but those two phones acutally have every app available for it. so that more than makes up for becomeing a quasi half baked computer.

I don't know how much S3 was, but 920 was ~600€ at launch

Need to make it 6 or even 8GB.

Well it is a nice looking critter but I think id be just as happy with a 950 or 950XL. I don't really need a super phone but something better than my 650 would be great.

Anticipation of the price is slowly killing me

Does anyone know what type of screen it has? LCD or OLED/AMOLED?

I'll grab one of these if the surface phone is a dud

Guess you will be picking up a x3 dave. the surface phone is DOA.....I read it in nutellas new book....

I think HP is making a smart move by labelling it as a business phone. It will be a perfect companion for businessmen, it it will be a good start for Windows Phone. Thankfully it can reclaim some of the share back and start competing again against Android and iOS

It's a way for a company to get the plebs the same hardware as the execs but to still make the execs feel like they're more important by getting them a flashier looking one.

STILL no price??? Posted via the Windows Central App for Android

Have seen this phone in person. Waiting to see it hit the stores...

I want it, but if they wait again it will be soon obsolete.... :(

This device looks axiome but
The big problème of windows devices are the apps. Posted via the Windows Central App for Android

I am just concerned about Microsoft record for supporting non Lumia handsets. Looking at how the HTC 8x and HTC one m8 have been left on the lurch for updates, I will be quite wary with getting non Lumia windows phones

The HTC 8x isn't eligible with the latest version of Windows. The One M8 model hasn't been updated because of HTC. This model is able to grab Windows 10 but HTC has economic issues. If HTC gives Windows 10 Mobile to M8, then all latest Windows updates are coming to the model due to Microsoft's political about Windows updates, too! :)

HTC 8X, Lumia 920, 925, 1020 are all eligible for the Windows 10 update! Their chipset MSM8960 is on the list of supported CPU's and they all have at least 1 GB of Ram and 8 GB of internal storage. Thing is those devices didn't respond very well with insider program so they were excluded. None of them was tested with latest version of Windows, maybe their performance would have changed, maybe not..in any case we will never know cuz of clumsy Microsoft policy about not updating those devices.

Sorry, I was wrong then but am I right about HTC's economic issues and not updating the M8???

Yup, you're right about that.

With W10, the upgrade process is much easier and it's the same thing for every model, regardless of manufacturer; if your hardware is up to scratch (as the most powerful Windows phone yet, this is most certainly) then you'll get each new update to Windows 10. It's the same update applied to every device, whether it's a Lumia, an Elite, or a Nuans Neo, they'll get the 'vanilla' update pushed to them. Carriers and then hardware manufacturers can bundle in their own things via firmware if they want, but every device that is able to will get an update just like everyone else. W10M doesn't discriminate between them - except, maybe, if you're on the Insider program. Basically, it should be all fine now.

I read before 1 week an article about this phone and the ability to support win32 apps.
It's real? If it is can someone explain it to me?

Looks cheap with that plastic housing & tacky grill. L950 is similarly hideous but at least it has proper camera.

*Opinions Posted via the Windows Central App for Android (V10 or N5x)

Well yes L950 camera is not the best but quite ok.

I think, by looking it from photos and videos, you can't come with a good conclusion! Go see it fisrt in person and touch it. Then, think about it again.

It looks cheap because it seems 15mm thick. No housing could hide that side profile! Posted via the Windows Central App for Android

Windows mobile 10 is great but where are the applications ?
Windows store is very poor.
I have a lumia 950 xl , it is an awsome phone but ....
Apps ? Are u there ? Posted via the Windows Central App for Android

And what happened to the Acer Jade Primo? Can't get answers anywhere. One picture at a time -- LG V10

Good question! Maybe all three ( X3, Pro 4, and Acer) will be released at the same time lol

Well the Jade Primo didn't have any hardware components that needed to be delayed to launch unlike the Elite X3 with the fingerprint sensor. It was supposed to come to T-Mobile and I really wanted to give it a shot but it just vanished just like the McLaren. Reminds me why I left Windows Phone all over again. One picture at a time -- LG V10

Acer quietly backed away after it completely flopped. The same thing that is going to happen with this. Posted via the Windows Central App for Android

That's unconfirmed but more info than I've got from Windows Central or anywhere else. Even Daniel does not care to comment about the phone. It's sad really. Can't find any reviews on YouTube or elsewhere. One picture at a time -- LG V10

This is truly a dream phone and setup, but I'm sure it will be out of my price range. I'm going to have to settle for the Alcatel Idol Pro 4. At least it will be available through T-Mobile and I won't have to shell out the entire price all at once.

I hope the gold verison comes to Canada. :)

I say $699 USD without any of the additional accessories.

They will sell dozens at that price. They might even break triple digits. Posted via the Windows Central App for Android

The big issue will be the price. It will be sold as a bundle or by itself? More colors will be appreciable if available

I think it will be sold at Microsoft stores as well. I mean they partnered on the unit. I don't see why HP wouldn't let Microsoft carry it so people can test it out for themselves.

Pity on people those who purchase this phone because they pay somewhere $600 or more ? And what all they get is buggy OS..... Windows 10 is not deserved to run in this mobile..... Come-on trolls.....

I guess Microsoft didn't want to release a superphone in case they alienated their partners

Sorry to inform you all, WP is irrelevant, it's DEAD, put a fork in it, Microsoft has. Posted via the Windows Central App for Android

the Nintendo 3DS was also "DEAD" 6 months after it was released. But look at it now. Everyone and their dog has one.

We are 6 years into Windows Phone/Mobile and it when the numbers for the quarter come out, it will likely have

Under .5% of the market. Posted via the Windows Central App for Android

Nice battery capacity -- 15 h web surfing... What about battery capacity of the Lap Dog ... eh Lap Dock? And the possibility to run "real" programs: does it work as a terminal over internet? With programs installed on HP servers? And what tools will support the Pogo Pins?

OK: polycarbonate body, gold, pink, strawberry, butterfly-yellow ... When will this product be ready for shipment,
what will be the price points? Will I get one for free if I order a new HP pagewide printer? ,

If this has a really great camera, I might consider it.

I wish HP is planning a strong marketing plan for the enterprise!

Runs useless Windows 10 Mobile, will be a flop.

Golden Elite sounds cool.

do we know yet what the continuum resolution will be? if I can get qHD out of it then i'm sold, otherwise a scaled HD image on my monitor looks *****...

On features, Instead of pressure only they could have also included temperature, those working in data centers could use this feature, even at home.
Windows Central Newsletter
Get the best of Windows Central in in your inbox, every day!
Thank you for signing up to Windows Central. You will receive a verification email shortly.
There was a problem. Please refresh the page and try again.