The definitive Windows 10 Anniversary Update review
By Daniel Rubino , Zac Bowden last updated
The Windows 10 Anniversary Update for PC goes a long way in realizing Microsoft's vision of personal computing, but there are still some gaps. Luckily, Redmond shows no signs of slowing down.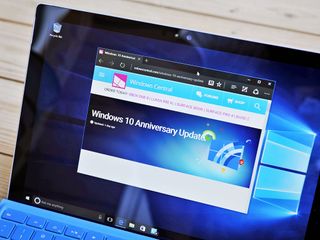 On July 29, 2015, Microsoft released what many have called the final version of Windows (see our review). Even though it goes by the name Windows 10 (implying an '11' someday) the budding OS kicked off a deeper philosophical change: Windows as a Service, or WaaS, if you're hip. Windows as a Service promises endless updates, infinite improvement, and a non-stop feedback loop with customers on what they like, want and dislike.
One year later on August 2, 2016, Windows as a Service is put into practice with the release of the free Anniversary Update (build 14393). What are the biggest changes and why should consumers bother? As it turns out, Microsoft has been using their crowdsourced Insider program to improve Windows 10 in addition to delivering new features. While the Windows 10 Anniversary Update is in many ways similar to the previous yearly upgrades, this one is the beginning of a new era.
Today, Zac Bowden and Daniel Rubino are reviewing the Windows 10 Anniversary Update.
Prologue
How Insiders shaped Windows 10 is a big part of this story.
Reviewing an entire OS is never a trivial task. While there are the big banner changes that we focus on in this review, there are also the thousands of smaller bug fixes, battery optimizations, stability improvements, and general user experience changes that go undocumented. We will mention these where we can as they do affect your understanding of what Windows 10 Anniversary Update is and what you should expect when the update begins rolling out.
Many of the changes, or at least the direction in which the changes went, were a direct result of the millions of Windows Insiders. This free program means that customers can get early access to what eventually is the Anniversary Update. It also means that this OS was truly crowdsourced with 75 million pieces of feedback and 5,000+ enhancements to the OS attributable to volunteer Insiders (estimated to be slightly less than 10 million people).
To get to the "final" Windows 10 Anniversary Update for August 2 Microsoft released a staggering 25 builds for PC and 16 builds for Windows 10 Mobile over the last eight months. In the past, "beta testing" was often internal until just before release when it was opened up to the public. However, by this time the OS was already feature-locked meaning the feedback by the public was just last-minute bug fixing.
The Windows 10 Anniversary Update differs from this dramatically as the OS you will get in August has been developed with millions of regular people already using it daily on laptops, tablets, phones, and desktop PCs. Microsoft is releasing a mainstream operating system that, for the first time, was directly shaped by its most enthusiastic users.
Will it be bug-free? Probably not, as no software, this complex can be. However, Windows 10 Anniversary Update promises to be one of the most stable, fluid, and trouble free experiences to date. After all, millions of people, including yours truly, have been using it for many months now.
Perhaps the most interesting aspect of the Insider program is that it will only improve. More users, more data points, better telemetry, detailed feedback, and mechanisms to improve the system. Yes, that means after this update the whole process begins again for the next update expected in Spring 2017 and the another in late 2017.
Windows as a Service is here and the Anniversary Update is just the beginning. Microsoft's Windows Insider program has turned from an experiment to a critical piece in making an OS that regular users want.
Just how successful were they with the Anniversary Update? That is our focus in this review. And for those asking about Windows 10 Mobile, stay tuned for that review a bit later.
Video Walkthrough
A picture says a thousand words, so this video must be like a million.
Don't want to read a few thousand words with exquisite detail? Check out Zac Bowden's 21-minute tour of the Windows 10 Anniversary Update to see what's new.
Start Screen
Why mess with a good thing? Microsoft keeps the Start menu simple while adding some refinement to the cornerstone of Windows.
The Windows 10 Anniversary Update does not drastically alter the most recognizable aspect of the OS namely the Start menu. Instead, Microsoft opts for some smaller changes to the Start menu mostly based on user feedback.
The Start menu now features the Recently added at the top of the menu with Most Used below it. Even further down are all your apps in a single list. This layout differs from the original Windows 10 design where All Apps was nested in a submenu. Recently added is also expanded to show more freshly installed apps and games. Likewise, Settings, Folders, Power, and the User Profile Icon are all pushed to the left resulting in a three column layout instead of the previous two (System | New and All Apps | Start Menu).
The User Profile Icon is now shortened with a smaller version of the user profile image. No longer do you see the user name listed in the Start Menu unless you hover over it. This trend has been occurring for the last few versions of Windows, and it differs drastically from the me-centered approach from years ago.
The Start Screen aka "full-screen Start Menu" for use on Tablets ditches the single column for All Apps found in the previous version for a larger full-screen layout. This modification is needed since on touch devices you preferably want bigger targets to tap. With the Anniversary Update, you now see more of your apps as there are three columns instead of the previous single one. We'll return to Tablet Mode later on.
Finally, perhaps the biggest feature is not ready yet: Chase-able Live Tiles. Currently, Live Tiles display current information e.g. a news story. When a user clicks the Tile to read that particular story, instead of going straight to it the app just opens. The user now has to look for the headline. Starting with the Anniversary Update, this changes as a user can now go right to the specific content reflected on the Live Tile. However, Chase-able Live Tiles needs developers to enable it in their apps. It could be a few weeks before users see it in action, but it should be worth the wait.
Overall, the small changes to Start Menu and Start Screen are smart for the Anniversary Update. The user experience is streamlined, there is less clicking, and users still have all the options they need to make the most frequently used part of the OS reflect their preferences.
Unlike the shift to Windows 10 itself, which is jarring for some, the Anniversary Update will not be a shock to current users. Chase-able Live Tiles simply completes the metaphor that many users likely assumed had already existed. In other words, it's about time.
Nonetheless, the representation of Live Tiles and the Start screen is becoming a little too comfortable, in my opinion. While Microsoft has made smaller changes to the Windows 10 user experience and given developers improved tools for creating them, the basic concept has not evolved much in the last few years. Chase-able Live Tiles go a long way in making them intuitive to use, but Microsoft should think about the next stage for this paradigm.
Live Tiles are easily the most recognizable feature of Windows 10 and Windows 10 Mobile, so Microsoft does need to be careful, but at this point, the underlying concept could use a refresh. Something like so-called interactive Live Tiles present some interesting paths for Microsoft to pursue.
Action Center
Lights, Camera, Action Center. What's new and improved in the Anniversary Update? As it turns out, quite a lot and we like it.
The Action Center in Windows 10 has never really been that great. I've been using Windows 10 since it came out in July 2015, and I can confidently say that I rarely ever used the Action Center for anything other than clearing whatever notifications were in there. It simply sucked. That all changes with the Windows 10 Anniversary Update, however.
Microsoft has done lots to improve the overall Action Center experience, beginning with where the Action Center is actually located. In the past, the Action Center icon would always be buried alongside all your other taskbar notification icons in the system tray. With the Windows 10 Anniversary Update, however, Microsoft has given the Action Center button it's own bit of space at the far right of the taskbar, making it far easier to notice when a new notification comes in.
Not only that, but Microsoft has also made the Action Center button a little more interactive. When a new notification comes in, the Action Center icon will briefly change to the app icon that said notification originates from. Microsoft has also added a badge to the icon too, giving you a numbered overview of all your missed notifications.
Notifications
Notifications in the initial Windows 10 launch were pretty basic, but with the Anniversary Update Microsoft has made notifications far richer, interactive and just plain better to use. Apps can now incorporate things like images, profile icons, interactive options and more. Some notifications can adopt a "card-like" UI, being big and noticeable over all other notifications with buttons and other features that you can interact with without having to jump into the app.
You can even change what apps take priority in the Action Center when a notification comes through. For example, I can make the Skype app a "Top Priority" app, meaning all notifications from that app will appear at the very top of the Action Center, regardless of what time they came in. Below "Top Priority", we have "High Priority" which places these notifications below Top Priority, but above normal notifications. So you've got a hierarchy of notification priorities that you can configure if you please.
This is super helpful for apps that you use that always get buried below other apps. You can set up whichever app you need always to show up at the top, so you never miss it.
Microsoft is also giving users the ability to configure how many notifications from a particular app appear in the Action Center, hiding the rest under a "see more" drop down to keep the Action Center clean and tidy. The default setting is 3, which I find is small. Users have the option of 1, 3, 5, 10 or 20.
I'd much prefer the default number be 5, which I manually configured via the Settings app.
Quick Actions
Quick Actions, which are located at the bottom of the Action Center, have also been improved with the Anniversary Update. You can now customize them to your liking by adding, removing and changing the position of all the actions to your liking. In the past, these Quick Actions were fixed, but now the user has maximum control over what shows up there.
Synced Notifications
In what I think is one of the best features arriving in the Windows 10 Anniversary Update, the Action Center will now sync across your PC and phone (Android and Windows Phone only). With the help of Cortana, she'll display your phone notifications directly in your PC Action Center, in some cases allowing you to reply to that notification directly from your PC. There's also support for Universal Dismiss, however, that feature only works if developers opt-in to it.
For those who don't know, Universal Dismiss allows users to dismiss a notification on one PC and have that notification dismiss everywhere else, too. For example, when using the Facebook Messenger app on your PC and your phone, you'll get notifications come in on both your devices. However, with Universal Dismiss, when dismissing a notification from one of your devices, that notification will dismiss everywhere else too. Great for those who have lots of devices running the same apps, hopefully, developers take advantages of this feature sooner rather than later.
I've noticed that Synced Notifications are, more often than not, really slow to show up everywhere. Sometimes they never show up. Perhaps it's a server side issue, or maybe this is just the nature of syncing notifications between devices. Nonetheless, this is an area that is likely to be improved upon in the coming weeks.
The Anniversary Update introduces many much-needed improvements to the Action Center, all of which I think make the Action Center usable now. Notifications look good, and I can configure the Action Center to my liking with ease.
I was always in the camp of "We need a notification center" in Windows, but when it arrived on Windows 10, I rarely ever used it. Maybe I didn't need one after all, or maybe the Action Center that Microsoft originally designed just wasn't designed well enough. Luckily, in the Anniversary Update, this all changes. Now that Notifications are useful and rich with content, I find myself checking my notifications far more. Being able to customize my Quick Actions also help, as I can move my most used actions right to the very top row, making them super easy and quick to get at.
Admittedly, the Action Center can still use some work, especially with toast notifications working. I continue to struggle to get Cortana to send me notifications about reminders, and more often than not notifications from apps won't show up for a considerable amount of time. Syncing notifications between devices is also very slow, so much so it isn't worth it when I can just see my notifications come in on my phone, sitting on my desk.
Dark Mode
The only thing cooler than Windows 10 is making Windows 10 go dark.
Starting in spring 2016, AMOLED displays began to be available to consumers in laptops, Ultrabooks, and even tablets like Samsung's Galaxy Tab Pro S. AMOLED technology uses less power with black backgrounds, making an OS that utilizes the absence of color preferable.
Currently, many apps available on Windows 10 have an optional dark mode where the menus and app background are either all black or gray. The problem is that Windows 10 as an operating system lacked a comprehensive way to turn everything dark e.g. the system Settings area, which is a white-grey.
With the Windows 10 Anniversary Update users can now enable Dark mode under Settings > Personalization > Colors > Dark (or Light). The change even affects the Windows Store, which is where consumers will likely see the biggest benefit since that app is used so often.
The feature does not, however, override user-installed apps, which often have their own settings (MSN News recently picked up the feature, but GroupMe has yet to).
Once you start using Dark Mode in certain environments like at night, you will not want to go back. But therein lies the rub: currently you need to change modes manually. What would make this feature ideal is the ability to auto-change light to dark based on local sunset/sunrise or a user-set particular time.
There are also exceptions likes File Explorer, which while getting more 'modern' is still very much in the legacy camp of pre-Windows 10. Do not expect a dark theme here, not yet.
For now, dark mode remains, in my opinion, a feature about three-quarters complete. While choice is appreciated it needs to be smart and so far, it is not.
Microsoft Edge
A lot of progress has been with the Microsoft Edge browser. Here is why we're excited.
You have to give Microsoft credit. Tearing down an aging (and mocked) Internet Explorer web browser and rebuilding a new one while competitors are miles ahead is brave.
How is Microsoft Edge with the Windows 10 Anniversary Update? There is no doubt that it is much better than it was a year ago. In fact, there are so many new features, fixes and improvements we have a huge article dedicated to everything that has changed:
What's new with Microsoft Edge for Windows 10 Anniversary Update
There are smaller new things like 'paste and go' that other browsers have had for years. There are features so advanced they are not even in use yet like biometrics with Windows Hello to log into websites.
But perhaps the biggest banner feature to hit Edge is support for browser extensions. Now, users can install AdBlock, uBlock, AdBlock Plus, Amazon Assistant, Pinterest, Reddit Enhancement Suite, LastPass, Enpass, and more. Browser extensions are already available in the Windows Store, and they even get updated automatically just like an app.
The design implementation of extensions is consistent throughout with similar menus and options for each one. It's well done. Companies can also evidently port their extensions from Chrome with only modest changes in the code. That means in the next few months we should see many extensions fill the Store giving users the choice they want.
Extensions work quite well, although on occasion they have disabled after an update from the Store or an OS upgrade. While it is trivial to re-enable them, it is something that users on Chrome or Firefox rarely experience. These are likely some early bugs that will be worked out over time.
Another big improvement in Edge is in battery usage for laptop users. Microsoft knows that the future of personal computing is increasingly more mobile with laptops and two-in-ones taking the lead. Making sure that Edge behaves while using a limited power supply is important and despite Opera's protests Microsoft does have – forgive the pun – the edge in efficiency.
Nothing is free, however, and while Edge does tend to be better for the battery, it seems to love RAM more than other browsers. For example, with Gmail loaded to the same inbox Edge consumes nearly twice as much RAM as Opera (and Opera had, even more, extensions loaded). Granted, I cannot say this ever became a problem, but in a world where Chrome gets criticized for memory usage, Edge is the bigger offender.
So here is the deal with Microsoft Edge in the Anniversary Update. It is a much better experience than a year ago, so much so that you really should try using it for a few days as your only browser. My advice is to use it on a laptop or Surface first before going full-time on your desktop PC.
Oh, and let's not forget you can now swipe back and forward in Edge too for Tablet users!
Edge excels at page rendering, layout, and being a streamlined browser with no legacy nonsense on board. The UI design is also top notch being clean, minimal, and sharp looking especially with dark mode enabled.
Nonetheless, switching web browsers is hard. Everyone has a reason as to why they like their browser, and it can be over very trivial things. Overcoming that is akin to switching from Android to iOS or vice versa. You can do it, but it will take time to get used to it.
Microsoft Edge has gone from an amusing sideshow to something compelling. However, Microsoft still has a long way to go. Opera, Chrome, and Firefox all have more features e.g. Opera's Turbo Mode (compressed data for faster browsing on slow connections) that leave Edge behind, but not for lack of trying.
2016 may not be the year of Microsoft Edge, but you can feel that its day in the sun is fast approaching, and I'm rooting for it. I like Microsoft Edge, and I want to love it, but it's still not quite there yet. For now, Edge is worth checking out, but you may not yet be convinced.
Regardless, the competition should start to worry about what comes next from Microsoft. They will catch up.
Windows Store
Did Microsoft add too much info to the Store? Maybe, but you can't really blame them, we think.
According to Microsoft the Windows Store is a destination you're supposed to be using all the time. After all, the Universal Windows Platform (UWP) lets developers release apps on PC, tablets, phones, HoloLens, Surface Hub, and very soon the Xbox One and One S. The Store is the heart and future of Windows 10. It is still not entirely clear just how many people use the Store and Windows Apps on desktop PCs, but that is not stopping Microsoft from improving the experience.
The Windows Store is your one-stop place for apps, games, music, and movies and TV. With the Anniversary Update, Microsoft is altering the layout of the Store and giving much more information to the consumer.
For instance, for each app, game or movie you can see things like:
Available on: Xbox One, PC, Mobile, Holographic, and/or Hub
System Requirements: Minimum vs. Recommended
Improved user reviews
Dark Theme
Recent activity e.g. download history
Movie and TV trailers
Game clips
Whether you like the new design is a personal decision, but there is nothing inherently wrong with it save for the fact it is a bit busy.
There is a lot of information presented, which is a reflection of the universal nature of these apps and games. Some users have high-end PCs with GTX-1080 graphics cards, others are using a 5-year-old laptop with an outdated processor, and some are even on their phone. Being able to explain that to a consumer is challenging. You don't want them buying Gears of War: Ultimate Edition only to find out it does not run on their anemic Surface 3.
Ideally, the Store should match your system's specifications to an app or game preventing accidental purchases on non-compliant systems. In other words, if I go to the Store and try to buy/download Rise of the Tomb Raider on an 8-inch Intel Atom tablet, the Store should warn me the game will not play. That does not happen. Maybe that is asking for a bit much, but wanting a "smart" Store is something that could benefit Microsoft and consumers in the long run.
Other areas are, however, much improved. Reviews now can be broken down by platform e.g. PC or Mobile, and you can even sift through versions. That latter part is neat because sometimes an app gets poor reviews on release, but after a few updates, the reviews improve. A user can now see that and feel a little more confident with the decision to purchase.
For large games like the previously mentioned Gears of War, a user can now install it to a secondary drive. Previously, the Windows Store installed all apps and games to the primary disk, but with the Anniversary Update users are given a choice.
Under Movies you can now watch the film trailer and there is an amusing video clip that plays behind the main title. The new layout is more vertical than the previous one with less information positioned to the sides. In keeping up with the 'people are circles' design aesthetic of Windows 10 the 'Cast and Crew' are no longer square.
Recent activity shows you what has updated on your system, which is perfect for those who leave on auto-updates. The Recent activity feature is visible under Downloads and updates and while it can take a few moments to populate, forthcoming updates improve its speed. Users can also have notifications for app updates observable in the Action Center. Under My library consumers can now hide apps that are no longer installed.
None of these are groundbreaking new features, but they do complete the experience. Once again, Microsoft is not drastically altering Windows 10, merely refining it based on user feedback and long-term design plans.
Overall, Microsoft has done well with the new Store. Some UI decisions like the wider download bars will cause some consternation amongst design aficionados, but regular people will probably be less judgmental. While the Store may suffer from information overload, it is better to have too much than too little when it comes to people's wallets. The Store in the Anniversary Update for PC is simply nicer to look at it.
Cortana
In the Anniversary Update, you can find Cortana doing more than ever, but it still may not be for everyone.
Microsoft's personal digital assistant Cortana gets some new features with the anniversary update. For example, users can now use Cortana above the lock screen. This feature lets you ask Cortana questions about the weather, trivia, request to play music or set reminders without having to unlock your PC or laptop. While an interesting concept it is not something I used on a regular basis so whether you find it useful will vary.
In fact, I find the whole lock screen something I see only momentarily as I log in. The only thing I notice are the pretty pictures found with Windows Spotlight.
A bit more exciting is the ability for Cortana to share notifications from your smartphone to your PC. By installing the Cortana app on Android, iOS or simply by using a Windows 10 Mobile phone users can have their phone notifications appear while working on their desktop or laptop.
The idea here is simple: if you're busy working on the computer with your phone in your pocket, you can see that WhatsApp message and even respond to it without taking your phone out. Cortana can tell you even when your phone's battery is low. Of course, users can configure exactly what is shared with Cortana and can even turn off the feature entirely if it becomes a nuisance.
There is also the ability now for generic reminders i.e. just telling Cortana to store some detail without a set time, date, or place.
Just as useful is the capacity to share items in Windows 10 to Cortana to set as a reminder. For instance, while browsing the web in Edge, you could share a new story to Cortana who will then act on it as a reminder including saving the URL. Users can also attach photos to reminders in Cortana while using a Windows 10 Mobile device, which is useful for shopping or only to add flair to the note. Quite frankly, I find this feature a joy to use and is simply delightful.
Certainly, Cortana is getting "smarter" regarding general AI, but the feature is still dependent on how comfortable you are talking to your PC or laptop. The ability to integrate with your smartphone indeed extends its usefulness beyond just Windows 10 Mobile users and the abilities will only get better. Nonetheless, for some users, Cortana will remain a novelty, and Microsoft still needs to push the assistant to other countries and regions before everyone can benefit.
Tablet Mode
Has Microsoft finally righted its wrongs with Tablet Mode in Windows 10? Let's just say, yes, but there all is not perfect either.
With the original Windows 10 launch, Tablet Mode was a mix of good things and bad things. The good? All apps now operated like tablet apps, being accustomed to the same gestures and behaviors as actual tablet apps would, and the tablet experience would automatically take effect depending on whether you had a keyboard and mouse plugged in thanks to a feature called Continuum. The bad? It was a major step-back from the Windows 8.1 tablet mode experience, so much so many users opted not to upgrade to Windows 10.
Microsoft is aware of this and has been listening to customer feedback quite a bit surrounding tablets. With the Windows 10 Anniversary Update, Microsoft has improved the Tablet Mode experience to the point in which it's now bearable. Let's see what's new.
Start Screen
The Start Screen hasn't really changed much, still incorporating the same 3 or 4 column setup in a grid-style layout. What has changed is the hamburger menu found on the left-hand side, as it now includes some customizable shortcuts as well as quick access to your all apps list.
You can customize up to 10 shortcuts to appear directly on the Start Screen thanks to the hamburger menu. However, these shortcuts are limited to:
File Explorer
Settings
Documents
Downloads
Music
Pictures
Videos
HomeGroup
Network
Personal folder
So there's no real way of adding your own shortcuts, unfortunately. You can manually pin whatever you wish to the Start Screen, however.
Apps List
The biggest changes arrive with the Apps List, which in the original Windows 10 release was confined to the left of the screen in a long vertical menu. Now, the Apps List is much more like the Windows 8.1 apps list, spreading out across the center of the display and displaying much more content.
One of the advantages of this is the fact that you can now scroll the menu with any hand with ease. Before since the list was confined to the left, scrolling with your right hand was almost impossible without taking your right hand off the tablet first. With the Anniversary Update, that is no longer the case.
The only real difference between this Apps List and the one found in Windows 8.1 is that the Windows 10 Anniversary Update Apps List scrolls vertically, much like the Start Screen, instead of horizontally like on Windows 8.1.
I much prefer the vertical scrolling on the Start Screen and Apps List personally. However, I'm aware that many prefer horizontal scrolling. Vertical scrolling is easier with your thumbs when holding the tablet with two hands, which is why I think Microsoft is sticking with the vertical method.
Taskbar
The Taskbar was a favorite topic up for debate when it came to Tablet Mode last year, as with the original Windows 10 launch the taskbar would always stay on screen. Many tablet users were not happy with this, asking Microsoft to allow users to remove the taskbar from the screen when in an app. Microsoft has listened and provided users with exactly that.
Now, once the user configures it, the taskbar will automatically hide when launching an app. It will remain present on the Start Screen, however, as getting access to Cortana as well as Task View and the system tray makes sense on the Start Screen. You can also swipe up from the bottom of the screen to gain access to the taskbar while in any app too, so if you do need it, you don't have to back out to the Start Screen first.
Lock Screen
Although these changes are also great on desktop, the Lock Screen is also vital for tablets too. So I'm going to detail some of the new Lock Screen changes here, as it makes sense.
You can now easily play, pause and skip music directly from the Lock Screen instead of logging in first. In the past, users either had to log in, or tap the volume rocker to initiate the music controls which was incredibly annoying and unintuitive.
Not only that, but you can now access Cortana directly from the Lock Screen by saying "Hey Cortana" or tapping on the Cortana prompt that shows up around ¾ of the way up the display on the left. Cortana can do basic things such as tell you the weather, a joke, a few system commands and more directly from the lock screen, and will prompt you to login if needed for any additional tasks.
Up until now, the Windows 10 tablet experience was bad, real bad. It was a huge step back from Windows 8.1 concerning usability and experience, but with the Windows 10 Anniversary Update, Microsoft has started making strides in improving said experience for tablet users. I believe the Anniversary Update is a step in the right direction for tablets, making the experience far more satisfying and pleasing to use.
I love being able to use ALL my apps, whether they be tablet-specific of old fashioned desktop apps in full screen, now that I can remove the taskbar from my screen. The improved Apps List and Hamburger menu also make for a much better experience when in tablet mode. I wish Microsoft would begin focusing on the individual apps to improve their tablet experiences, however, as a lot of them are still designed for the desktop. For example, Microsoft Edge's UI is still desktop-focused rather than touch, meaning the address bar and tabs don't auto-hide like they used to with the tablet version of Internet Explorer.
The Anniversary Update is a step in the right direction for tablets, but there's still room for improvement regarding individual apps. If you're running Windows 10 on a tablet, I recommend you upgrade to the Anniversary Update when available, just for the improved tablet experience alone.
Windows Ink
Got a pen? Then you will want to jot down some notes about what is new with Windows Ink. Trust us, it's awesome.
As part of the improvements to Tablet Mode, Microsoft has also been working on improving the pen-input experience with tablets and 2-in-1's by introducing the new "Windows Ink Workspace". This new feature is home to everything pen-related, including an area to jot down notes, sketch out ideas, and even launch other pen-specific apps.
When using a tablet, the Ink Workspace shows up right next to the clock icon on the taskbar, and can be accessed from anywhere via that button. It can also be accessed from the lock screen by setting up a button on your pen as a shortcut to open the Ink Workspace, pretty convenient for when you want to jot down notes quickly without logging into your device.
Upon opening up the Ink Workspace, you'll be greeted with three main options;
Sticky Notes
Sketchpad
Screen sketch
These three options are the stars of the Ink Workspace, and allow pen-users to do some pretty nifty stuff. Let's start with Sticky Notes, which are updated and improved from previous versions of Windows.
Sticky Notes
Unlike in the past, these new sticky notes support pen-input, alongside typing normally. Not only that but these Sticky Notes are somewhat intelligent thanks to the Cortana integration. For example, in a sticky note I can write with my pen "Remember to hang out the washing", and low and behold, Cortana will highlight the thing she thinks I'll need to remember, and can add it to her notebook right from the Sticky Note itself.
This feature works with both a pen and typing, so even as a desktop user, you can take advantage of this feature. I've been using the built-in Windows Sticky Notes offering for years, ever since it was introduced in Windows Vista back in 2007. It's been almost a decade, so it's good to see Microsoft updating them to keep with the times. Using Sticky Notes on Windows is now super easy and straightforward on a tablet (and even easier on the desktop now) thanks to the Ink Workspace.
Sketchpad
Up next is Sketchpad, probably one of the most convenient new additions to the Windows 10 Anniversary Update. If you've used Windows on a tablet before, you'll know that Microsoft used to use OneNote as your all-in-one note taking app, but with the Ink Workspace, Sketchpad takes over from OneNote by offering a far more straightforward and streamlined alternative. Sketchpad is basically OneNote without all the extra confusing features, a simple pad in which you can sketch images or take notes.
You've got the ability to change pen-type, with choosing's between a regular pen, pencil, and highlighter. You've also got capacity to modify the color of your ink, and even the size of your pen tip. You can save everything you do in Sketchpad quickly as a PNG image, or share it directly to OneDrive if you need to continue what you're doing in a more advanced pen environment.
The best feature about Sketchpad, however, is the built-in ruler, which is an absolute life saver for taking notes. Gone are the days of drawing squiggly lines because trying to draw a straight line is just embarrassing, as the new ruler tool does exactly what you think it does; provide a virtual ruler on the screen that allows for easy straight lines.
I've had a blast using the ruler when taking notes, but I can image artists having a far more exciting time with it as drawing straight lines on a tablet can be difficult. Thankfully the ruler tool eliminates this problem entirely, and I am thankful Microsoft thought about adding it into the Ink Workspace. We also hear that more virtual stencils are headed to Windows Ink in the future, which is very exciting.
Additionally, for those of you who don't have a pen, you can use your finger in place of one in the Sketchpad, pretty neat. You can also use a mouse, although I'm not sure how productive that'd be.
Screen sketch
Last but not least, Microsoft has also built in a tool that allows you to draw basically on anything you want. It works by taking a screenshot of whatever's on your screen currently, and throwing you into the Sketchpad with the pen tools that allows you to draw and be creative/take notes.
This ability is mostly useful when highlighting something in a program that doesn't natively support Inking, such as Google Chrome or a chat app. You can simply open up Screen Sketch, highlight/draw on whatever you want, and save that as an image or share directly via the Share charm to your favorite apps.
Since Screen sketch throws a screenshot into Sketchpad, you've still got access to all the tools Sketchpad does, including changing pen type, tip size, ruler access and more.
Additional Ink features
Below that, you'll see a few shortcuts to your most recently used pen-specific apps such as Microsoft Edge, OneNote and other 3rd party apps too. You can quickly jump to your recent apps from this panel, making productivity that much quicker.
Finally, you'll see Microsoft is also suggesting other pen-specific apps you might like to download and try out, all available via the Windows Store for convenience too.
The Windows ink Workspace hooks up to a multitude of apps as well, such as the Maps, Microsoft Edge, OneNote, Office, and even 3rd party apps like Adobe Photoshop. An excellent example of this is with the Maps app, which with the Anniversary Update allows you to draw directly onto maps. You can draw routes, and the app will try and calculate the distance in which your route is, and how long it'll take you to walk/drive. It even compensates for things like mountains, adding extra time to your journey depending on whether the mountain has a significant climb to it.
Microsoft has also added a load of customization options for pen users, such as the ability to change button shortcuts, turn on or off the pen cursor, and a whole lot more. All of these options are now directly built into the Settings app, instead of being a separate app downloadable from the Windows Store, a great addition to an excellent pen experience.
The enhancements Microsoft has made to the pen experience in the Windows 10 Anniversary Update are tremendous, but for the improved pen experience to truly shine, developers are going to have to take advantage of the new Ink Workspace tools. Being able to use things like a ruler in certain apps is fantastic, and I can't wait to see developers begin picking up this new functionality.
As a tablet user myself, I didn't know I needed the Ink Workspace until I actually had it to use. I've always stuck to OneNote, but the Ink Workspace has allowed me to branch out and use my tablet in new and exciting ways. I've even found many new apps thanks to the suggestion area that show up at the bottom of the Ink Workspace. I'm often using my tablet to take notes with a Surface Pen, and Sketchpad is simply amazing at taking down simple notes or drawing basic diagrams.
Screen sketch is also pretty useful, especially for people like me who are often trying to help people out on Windows. I can quickly take a screen-grab, circle or highlight a part of the operating system and send it off as an image for them to view. Sticky Notes are just amazing, and I now use them more than I ever have in the past as they hook up to Cortana with ease. There are loads of new applications and experiences for tablet users to take advantage of with the Ink Workspace.
Final Thoughts
The Anniversary Update is the best Windows yet. Here are our final thoughts on why.
Nobody really understood what Microsoft meant when they announced Windows 10 would be updated like a service, but with the Windows 10 Anniversary Update, that vision is now clear. Microsoft wants to update Windows 10 at least once per year with significant new features, much like rival operating systems like MacOS, iOS or Android do, and keep users current with the latest version of Windows.
Microsoft has done a tremendous job at improving the Windows 10 experience with the Anniversary Update. With help from Windows Insiders and the public, Microsoft is slowly crafting and sculpting Windows 10 into the perfect operating system that was built around ideas and wants that the public ask for. The initial Windows 10 launch had its quirks, and it was evident that not everything was ready, but now, a year later, it's obvious that Microsoft's vision and strategy for Windows 10 is only getting stronger.
Improvements to the Start Menu, Action Center, Windows Ink and Tablet Mode, are huge factors in making Windows 10 the best version of Windows yet. Along with other changes such as the Universal Windows Store and Xbox integration, Microsoft is slowly positioning Windows 10 as a hub for all your devices, spanning from the desktop all the way down to Xbox and even phones. With things like synced notifications and Cortana being available everywhere, it's hard not to start buying into the Microsoft ecosystem.
And that's not a bad thing. Microsoft is building out its ecosystem much like Apple and Google have been for years. Now it's Microsoft's turn to take a stab at getting users in the world of Windows, and it is doing that by allowing customers to extend their Windows experience onto their own devices. Cortana is now available on Android and iOS, and with the Windows 10 Anniversary Update Cortana only gets stronger and can do more on these alternative platforms. The user is now always connected to their PC via the Microsoft cloud, and that's fantastic.
If you're a Windows 10 user, we highly recommend you install the Windows 10 Anniversary Update. It's a vast improvement over the Version 1511 and Version 1507 releases, and brings all your devices, whether they be desktops, tablets or phones, closer together. If you're still running Windows 7 or Windows 8, you need to upgrade to Windows 10 now to take advantage of the Anniversary Update, something we strongly recommend you do as you've only got a week left before the free upgrade offer expires. Finally, the Windows 10 Anniversary Update runs even better than the first version meaning once again there are no slowdowns due to older hardware.
The Windows 10 Anniversary Update will begin rolling out to Windows 10 users for free on August 2 as an update, for PC and tablets, and then phone and HoloLens soon after. For those tech-savvy enough, the build in question that will roll out on August 2nd is build 14393, and if you're an Insider Microsoft is now testing a number of patches via the fast ring for you to test that will roll out as one big day-one update on August 2nd. It's an exciting time to be a Windows user, and if Microsoft's current strategy is anything to go by, it's only going to get better.
Pros:
Big improvements
Microsoft is clearly listening to feedback
Faster, more stable, and refined
Dark mode!
Inking!
Action Center is much more useful
Cons:
Microsoft Edge is still behind (but improving)
Tablet mode could still be better
Live Tiles could use some innovation
Information density is a concern
More Resources
Windows 10 Tips, Tricks, and How-tos
Zac Bowden is a Senior Editor at Windows Central. Bringing you exclusive coverage into the world of Windows 10 on PCs, tablets, phones, and more. Also an avid collector of rare Microsoft prototype devices! Keep in touch on Twitter: @zacbowden.
While many of our site's readers are already Insiders, we hope you enjoyed this review. Taking on a whole OS is never easy, but hopefully, we hit on the major points. As always, Windows Central will be following up this review with deeper dives into various areas of the Windows 10 Anniversary Update, so stay tuned! And, as mentioned in the intro, we will be doing a separate review for Mobile in the near future.

Well. Just before the free period for upgrade ended o decided to update my laptop. Man . Windows 10 sucked . Just so many issues. The biggest was WiFi didn't work. After several updates and hours of troubleshooting ( and a huge fight with my sister ) I went back to 8.1 .

Now you have secured the free update do it again once anniversary is out and if you have issues also run the refresh tool to get a perfectly clean install. The anniversary update is soooo much better :)

He's secured IF he could at least temporarily connect to the Microsoft servers to let them know he's updated and activated. Since his issues were on Wi-Fi I wouldn't be so sure... ;)

I did the original update and then spent weeks changing defaults, disabling Microsoft programs and trying to get my laptop to work efficiently again. Now with this (unasked for) anniversary update I got more crap made for mobile and the update reset a bunch of defaults and preferences back to Microsoft garbage. I do not need the computer to think for me. Only digital idiots like this crap. This update is soooo much worse;( PS I used Linux exclusively until my job made me get a Windows OS.

I have had to do the same Bryan and as a graphic designer with 2 high end Lenovo Workstations that worked flawlessly for a long time I now cannot get the simplest of jobs done for fixing Windows 10 update issues - that is after it took half a day to do each machine update without my request, or permission, or ? - Windows seems to have neglected to realize I bought these machines and software - I would like to say how they work. Hence why I have never been a MAC for Dummies Fan! I am ready to go MAC after decades of being a windows follower.

WiFi remains the bogeyman for Windows 10. It just plain sucks at WiFi on device after device after device. As I am not an insider on any of my devices anymore, I can't say whether or not that is improved, but I'm guessing not.

Dunno why anyone is voting you down over that. It's a fact: Windows 10 has, ever since launch, had wifi problems on some devices. Whether it's due to a fault in the OS's networking stack, bad drivers or funky router/wifi adapter chipsets is an open question, but either way, the result is the same: an end user only knows that their wifi doesn't work, but it did before the upgrade.

I didn't vote him down but others may have done so because they haven't seen the wifi issues and neither have I. I've been an Insider since its inception. I've upgraded dozens of computers of my own, my friends and family. It's worked on desktops, laptops, netbooks, tablets, Windows Phones and even one iMac running Bootcamp. The key to successful upgrades is by using the old theory of "Garbage in - Garbage Out". Eliminate the possibility of bringing existing issues forward with the upgrade. Uninstall unneeded apps and devices. Try to avoid issues related to second and third generation installs. Back-up everything. Avoid a wifi only connection when doing upgrades to insure constant network communications. Once the upgrade is complete and indicates that it is activated, it's not necessary but I still recommend doing a Clean Install either in place, in a second partition, or in a Virtual Hard Drive (VHD). If you have any driver issues, you can probably use the ones from your previous OS in the Windows.old folder or from the vendor. Good luck!

Does't mean they have to vote him down because he experience it. :(

The Wifi issues are real. I've seem them mostly on intel ac chips personally. On prebuilts and oems you are probably seeing cheapo stuff that works fine, but for some reason a lot of the consumer grade wireless cards are not maintaining connection over long periods of time. Also, you cannot reconnect and must restart the machine to connect to wifi. These issues are very, very common in my experience. Many windows 10 users don't realize they are happening, and blame the wifi service....

Yup. That is my experience. And, as a scientist, I hang with a crowd of techies who all eagerly moved to W10 on a wide variety of devices when it came out, and nearly all of them have the same issues on at least some of their computers. Ironically, older surfaces (especially S3P) seem to be ubiquitously affected, as are (all?) ThinkPads with the "ThinkPad Wireless" branded adaptors. The biggie issues are: Painfully slow updating of "available" connections, including often showing, for quite some time, old connections that are no longer nearby. Holding/reestablishing a connection to a corporate (i.e., certificate-based) WiFi connection after moving the computer to a new location. Reconnecting to WiFi after sleep or hibernation, even if the PC didn't move. Beyond "ThinkPad Wireless" I do not know specifically which WiFi adaptors these issues affect, but they even seem to occur on Windows Phones (only after upgrading to W10M, and on my L950), so they are clearly OS issues, not driver issues.

Not All thiknpad Wifi cards (and their mostly Intel branded actual cards) have issues. I just upgraded Six older T61s, which are not even on Lenovo's s W10 supported system list, Four of them complete via WiFi, and while it took some time (hours to get things fully completed) they all upgraded relatively smoothly. I should have removed that printer device from a customer site before doing bevause it kept on bugging me abut a failed update for a printer that I do not have current access to,, but I cleared that. But that itself brings up another issue. That of "forced updates" and other GP items that ms is eliminating from W10 Pro. I'll make a separate reply.

You know something "x I'm tc" ... I have been using Windows 10 since it's earliest preview versions long before it was released to the public last year. A great score of different devices from friends & family the world over, connect to my WiFi without any problem at all, Apple devices, Android, Windows in any version devices... no matter what brand or model. I'm so sick of all this "bashing" from guy's like yourself without any proof whatsoever, why don't you do some proper testing of your WiFi connection, get a real professional to help you. There are 350 million devices running Windows 10 since it was launched July last year and please... do not guess. Stop whining Window 10 is way better then Windows 8/8.1 or 7 ever was.

With regard to the comments comming here. I personally had issues with bluetooth when i first done a clean install of windows 10. But it was solved by reinstalling its drivers. I found 2-3 drivers of different versions and tried them all and it is fixed now and working perfectly fine. If any hardware is not functioning then that blame is not to be given to OS actually(according to me).

While I am by no means a fan of W10 - yet, I must agree. I had no real WiFi issues while doing several upgrades from W7 to W10 (I kept my W7 installs on their own HDDs by the way), and I have a buttoned down WiFi. The computer's MAC Must be in my allowed list and i have a LOOONG access key. Still once I got the MACs entered in and the SSID and key entered, they all connected fine. Six in two days, that's a lot of wiFi traffic and it all worked.

You should tap the brakes there, cowboy. It's neat that you're sick of the complaints and haven't had problems but you aren't the complaint police. I've had nothing but problems with Surfaces connecting to wifi since upgrading to 10. So...yeah...

My WIFI is nothing to brag about yet my laptop works including my Android phones,HP printer. His issue something I find hard to understand. WIFI is also a piece of equipment you have some control or adjustments within your grasp.

OK is everyone paying attention????? if you want to fix your WiFi problems just buy a mini usb WiFi adapter off of ebay for like $0.99 plug it in to your usb wait like 30 seconds for it to install the drivers and your good to go. seriously I've been an insider from the very begining and have had very little problems, some mostly with drivers either WiFi or display adapters but have been able to find either a work around or an alternative, my advice to you before you upgrade check with the manufator website to see if your hardwear has been tested with windows 10 if not then get a detailed list of your hardwear and look up the devices one by one from the individual venders, some like intel have beta drivers for Win 10.

My laptop is out of USB ports!
Already switching between them!

Get a Docking station. My T61s have only 3 USBs, but the dock adds Five and the monitor adds Four more (minus 1 to tap off the dock That's 11 total, far more than anyone needs. No dock for your system??? Well, that was your choice.

Some Netgear usb dongles have issues windows 10 so your not actually correct i had big issues with netgear usb wouldnt even install the drivers from the site standalone let alone the bloatware version opted for wifi card in the end tho i prefer wired its not practical for me at this time.

Oh and the new insider prgram sucks nothing like it was back in the day when you got an actual hard copy of the release ie winows 7 black signature edition nothing to be bragging about .

I installed the update on a 2 year old thinkpad (T440s) running W8.1 Pro and a 6 year old thinkpad (X200T) running W7 pro. No issues at all, except it took a lot longer on the W7 box.

In not having Wi-Fi or any other issues with windows 10 on any of my personal computers or the 300 I've upgraded at the company I'm the it director of.

I guess you don't run any ThinkPads or Surfaces, since WiFi has stubbornly refused to work well on many of these devices.

Yep - my Surface Pro 3 or my Dell Venue Pro 8 have the wifi issue.

hmmm.. My thinkpad W510, Thinkpad E125 and surface pro 4 work great with win10... Sometimes it takes a few seconds to reconnect after a hibernate, but that's about it. Not sure it it's the newer models of thinkpads that have problems (Thinkpads 2015+ are garbage anyway at least the workstation models after the redesign)

I'm not suggesting there is not an issue, but I've had two Surfaces, a Pro 2, and a Pro 4, running 10 since release (Of the Pro 4), and I have no issues. So, this is not a one-size fits all answer.

My thinkpad x200t and thinkpad Helix are fine since like almost 8 months ago. Just throwing it in there.

No thinkpads, but Dell (9010 and 9020 AIO) and Usus (Z2410) All in one desktops, Surface Pro 3's and Surface Pro 4's....again no issues. You might want to get rid of you thinkpads if they have driver issues.

All Six of my T61s are EIGHT YEARS OLD and they all worked fine both with W7 and the W10 upgrade over WiFi. The one I'm writing on is two rooms away with the lid DOWN (it's in a dock) and I still get a 133MbPS WiFi connection. Your devices are not configured correctly.

If you were the IT director, you wouldn't have upgraded 300 computers. One of your employees would have. Also, you'd appropriately capitalize "IT Director". You probably also wouldn't end your sentence in a preposition.

You clearly don't know many IT directors.

On the contrary, I know dozens. Only a couple of which would I classify as morons :)

Sorry, but he didn't say he was an English major. I double checked. Your suposition of his job based on his grammer does not fit, here.

It does, in that most people who make it to the level of IT director tend to be well educated and at least marginally linguistically competent.

Message was swiped on my Lumia 1520. The auto correct feature often auto-corrects words I swipe. I honestly didn't proof read before I posted the comment.

Dude, I'm not a lazy *ss that likes to sit in the office or meetings all day, I often work in coordination with my employees. If you don't believe me, the microsoft store in Webster, TX at Baybrook mall can verify who I am an what city I'm the IT Director of.

" At one time, schoolchildren were taught that a sentence should never end with apreposition. However, this is a philosophy actually associated with Latin grammar. While many aspects of Latin have made their way into the English language, this particular grammar rule is not suited for modern English usage. Ending a Sentence with a Preposition - English Grammar Rules & Usage grammar.yourdictionary.com/.../prepositions/Ending-a-Sentence-with-a-Preposition.htm."

But how many variations is that? I imagine this is an image and you're upgrading maybe four types of machines (like many companies, most people in the company have the same laptop, or nearly the same laptop). I don't imagine you're getting 300 variations of computers.

Now you've grabbed the free deal. Just do a clean install of windows 10 after anniversary update. Thats it.

Disagree, no clean install should be done after any update. I did mine on two laptops without having to do Clean install, both is running fine, the other has Wi-Fi issues, that no Clean-install will fix.

That is complete horseshit. Your anecdotal evidence doesn't change the fact that, yes, sometimes a clean install WILL fix the wireless problem. I've seen it myself, if you'd like some anecdotal evidence. Sometimes, during an upgrade, files that should have been replaced, don't get replaced. This is especially true of core OS files and of driver files. Get a mismatched set of files, or a configuration in registry that doesn't quite work with your current driver version, and it CAN cause problems that you wouldn't get if you just did a clean install. That's not to say it's the ONLY solution, but it IS a legitimate solution that can solve a lot of issues very quickly.

Except for the fact that legacy hardware may not be supported by the vendor for Windows 10 (they want you to spend more money on newer hardware) in which case you do need the old drivers.

And in that case, the 8x drivers will almost always suffice, and are merely a download away. Easy.

There is no need for that IF you upgraded from a clean, tight W7 or W8 system. I spent quite some time getting my test system right, but I still left a few things that should have been cleared. No biggie, I juse remove them from the W10 systems.

Don't blame Microsoft about Wi-Fi issues, blame your OEM that doesn't have the correct drivers. No wonder now you have 15 downvotes, making an argument like that doesn't make any sense.

It makes total sense, the fact that he didn't experience the same as you, does not make his opinion less than anyone's. I don't have issues with my Dell laptop, my wife has WiFi issues with her Dell laptop. I always receive a complain about her laptop with Windows 10. All downvotes are from Windows Fanboys that believe that Windows is "perfect" (I see Downvotes coming...)

Not had any other issues, with Windows 10, other than one single Dell laptop. Even the dell web page had specific Windows 10 Wifi drivers... Didn't fix the issue. I blame Dell and only Dell.

How old is your wife's laptop??

Pro tip: NEVER upgrade, no matter what operating system you're using. Instead, backup your data, format your drive, and install the new OS fresh. You'll avoid all the headaches associated with upgrades. Unfortunately, no one has yet figured out a foolproof way to upgrade an operating system without inheriting some of its predecessor's problems and creating a few new ones.

I hear this advice all too often, so I would add that your best opportunity to find out if an upgrade is works for you is to try it first. Might as well try since if it does workout then you don't need to do anything. If upgrading causes issues with drivers and installed software that you cannot easily resolve, THEN reset the device and copy data from your backup. Keep in mind sometimes fresh installs often have their own issues, too. Having to reinstall & reconfigure device drivers, 3rd party software, and restore data are often equal to the headaches one might have to resolve when upgrading.

I've been in the field for over 20 years (egads) and I've never, ever found a moment when a fresh install was worse than a botched upgrade. That said, yes, you should spend a few minutes ahead of time and make sure you've downloaded the latest drivers for your PC to a USB stick, and be prepared to install them in the event Windows 10 doesn't have everything you need right in the package. It's not hard, it just takes a few minutes of your time, and it'll save you HOURS :)

31 years. Preparation is key. All W7 updates and drivers completed, system backed up AND restored to another HDD, so I can just put that HDD back in and keep on with my W7 system (which is what I did with 4 systems) . No issues. Microsoft put a lot of effort in the w10 free upgrade and a lot of the reboots were it "learning" my ThkinPads' hardware. It found everythng including an HP OfficeJet that I only connect to at a customer site. That was a bother, but I cleared it out.

Uhhh... No. -Upgrade your current OS
-Reset the device from the Recovery section of Windows 10 THEN, if you like, format and clean install.

Dont mean to laugh!...but i am esp the fight with sister!

Well. I updated my dad's old Dell XPS 12 to Windows 10 an hour before the end of the free period. Everything went smoothly, all files retained, even tiles on the start screen transferred, and he's reported back that the battery life has improved massively from 8.1. Also loving how familiar the start menu is. Don't know why we didn't do it sooner!

Well. I updated my dad's old Dell XPS 12 to Windows 10 an hour before the end of the free period. Everything went smoothly, all files retained, even tiles on the start screen transferred, and he's reported back that the battery life has improved massively from 8.1. Also loving how familiar the start menu is. Don't know why we didn't do it sooner!

Good review. I'm an Insider and still found it helpful.

I wonder how the non insiders are coping up with the sluggish windows 10 that released last july (we all know how bad it was initially) and I guess they just got a single update that is rs1.

Not true at all. Every month regular users got new updates. Build 10586.494 is a much more refined experience than 10586.00. This is even evident on Mobile.

So, non-insiders are equivalent to insiders of preview branch. Right?

Yes, Insider preview is just regular Windows for everyone.

@Rahul Sharma45, almost. Non-insiders lag by a few days, maybe up to a week or two, compared with the Release Preview Ring.

what issues do you have, please elaborate. I'm no insider and I didn't have issues with November 1511 release, I know Anniversary is a big change so I want to know what to expect.

I use it on two machines and while the initial version that came out in July was a bit slow, there latest ones made it very pleasant to use. I am not happy about automated update and a bunch of other things microsoft is doing but the OS is fast on my machines.

What sluggish performance are you talking about? I updated all of my machines to Windows 10 last July and found none of them having sluggish performance problem. As a matter of fact, I just updated my friend's laptop from Windows 8.1 to WIndows 10 this month. The performance went from unbearable to pleasant. So your statement "We all know how bad it was initially" just speaks for yourself.

Everyone has different experiences, a couple of co-workers went from unbearable (Win8.1) to I want my unbearable performance back (W10).

Windows 10 last July had a lot of quirky problems, but sluggishness was not one of those problems.

Negative. I have upgraded a bunch of *different* machines, and just only one type of machine that's lagging in Windows 10 (and that's caused by just on its 1GB RAM). Everything else, it's running as advertised. Posted via the Windows Central App for Android

Coping just fine on 10586 PC.
Having to format your PC when you leave insider program is off-putting.
Phone has no risks so I can knock myself out on fast.

It charges my Lumia faster than the older build(.420)

Negative, too. Upgraded 3 PCs, all went smoother than before. I'd never go back to any other Windows.

Agree. Nice overview. Although one topic is missing. Project to other PC. Kind of alternative for Remote Desktop. I do like it really much.

Yes I also was wondering why this great new feature is not in. Its the feature that can actually make the mobile continuum really usefull.

Have you checked the Remote Desktop app on Windows Store before? Posted via the Windows Central App for Android

Is there anything significantly new for the insiders especially fast?

No. Very few people will even notice their system has been updated, except that the action center will have moved half an inch to the right. There are no "significant" new features. But, the sum of all these minor tweaks does make for an overall nicer system. Slow but steady, I guess.

Not sure about "very few people", I think Linux subsystem is a big change, there are millions of developers that use Linux at work and they also have a Windows 10 device, so I think you should think before making an argument like "Very few people"

> I think Linux subsystem is a big change You have to go looking for that. You won't "notice" it. However, if it is a big deal to you, then absolutely, it will be much appreciated.

I have been using UNIX & Linux distros from the early 1980's. I owned an ATT 3b1 desktop. Debian Linux based distros will never, ever become user friendly. Android; iOS & Windows are very simple to use and will continue to rule over UNIX/Linux except for servers.

Have you tried the newest Mint? It's pretty darned user friendly. Not that W10 isn't...I think it is also quite user friendly. Ironically, I actually think that MacOS--while great if you are a power user--is actually more difficult to just sit down and use (I guess I'd call that "accessibility") than the most recent versions of both Windows and Gnu/Linux.

Many Linux distros are really user-friendly indeed, I mean not in everything but for the most part yeah. The only issue about it is that some apps that people might be too comfortable of that isn't available to Linux or simply "not good enough" for them is the barrier, and also games though thanks to Steam this issue isn't as bad as before (heck it can maybe even surpass OS X/macOS). Though when it comes to servers and other specialized computing, yeah its the year of the Linux for a long time on that field. Linux already serve the computing industry perfectly well withing being a mainstream desktop OS, there is nothing bad about that. Having a Linux Shell subsystem on Windows 10 is really a good move, hopefully that will improve further to have more use-case for it.

Isn't Ubuntu a Debian-based distro?

Absolutely agree with you.

Perfect example of what Obama said, "Ignorance is not cool... It's just not knowing what your talking about"

This article is definitely not for you, as a non insider I was waiting for this review to know what comes next for Windows, and I'm very pleased with this review.

Been an insider for Pc and mobile since day one. Talking just on the Anniversary update. For Pc not a lot is new ? minor tweaks no more than that really and that took nine months or there about disappointing to say the least. For tablets things look better - ink is very useful just let down by the rest of windows 10. (compared to windows 8.1on a tablet) Mobile again not a lot but over all feels better without being able to put my finger on it. The big thing for me this time is how Microsoft did not treat mobiles as inferior devices all updates came more or less at the same time. this being at a time when they cant even give away their mobiles. To me this is very encouraging (Why would they do that? )

Because its part of their Windows everywhere story. Its what makes Windows a step ahead, compared to Google and Apple their big competitors. Devs can write an app, then run the exact same program on an Xbox, a Phone, a PC a Tablet. The app has XAML bending techniques to re-flow the apps layout approprialtely for the device. Meaning, if someone writes an app for PC (store app) it doesn't take much more development to make it work on other screen sizes. Its a huge software engineering feat which most won't appreciate. You'll find much more settings moved from legacy control panel to the settings app. Overall is just a much more polished experienced. The latest build is pretty much spot on.

To be fair, Google is also there. Developers can write one app and have it run on both mobile (Android) and desktop (ChromeOS). And they have a lot more developer interest.


It's funny when you think about it. Windows 10 PC has the majority of the market but mobile not so much. Android has a majority of the mobile market but chromeos not so much. If there's a "One to rule them all", MS might be in the best position to do it.

How is Microsoft in the best position?! Most of the hottest applications right now are mobile first...and it's those applications that seem to turn people towards one ecosystem over another. MS are doing a good job now - but they have been glacially slow in getting their cards aligned.

In a theory it could be, in the reality the problem is that 100% of Google users use Google Play while on Windows it is almost sure less than 10%, possibly even less than 1%. If Microsoft can resolve this, then your point might be valid, but for now I don't see them even trying hard enough for such a big problem.

So, preview insiders will have same build no. as of their fast ring counterparts after the August 2 update. Both on mobile and pc. Is that so?

I believe so. But they already work on Redstone 2 so I about a month, I hope less, they gonna release the first Redstone 2 build to fast ring

Yes, this may be the case.... Prefential treatment to fast ring insiders.

On Redstone one update it was kinda fun to be on fast ring. Updates where coming very frequently. Especially these last weeks

You call Linux subsystem a minor tweak? Windows 10 will give developers a big reason to have a better laptop that has better Memory, better CPU and better discrete graphics to take advantage of the bash shell and all the software that you can build using Git that previously was only available in a Oracle VM which slowed your performance. Now with Linux subsystem your Linux built programs will run like 99% native, the rest 1% of speed is to convert Linux system calls to Windows system calls.

The Linux subsystem is not something that's front and center. For people who have superficial understanding of the OS, they won't see it and therefore it's not a big deal.

This matters an enormous amount to a small subset of devs and not at all to pretty much everyone else. Not saying it's not cool, just saying there's a reason it was a big deal at build but nowhere else. :)

I must say that, this is the best review I've ever seen !! Neat and clean and to the point.
​Thank you @Daniel Rubino and Windows Central.

Hi, Daniel: How did you get Windows Ink ruler in other apps, such as Maps and OneNote? My computer supports stylus, but the ruler is only available in Windows Ink Workspace, not anywhere else.

Great review, Daniel. I really share the view that 8.1 offered a superior touch UI and that MS's W10 direction inexplicably moved away from that (esp. gestures, etc). W10 has come a long way, but I hope they continue to devote attention to the tablet experience.

Agreed. You can blame those who refuse to change. Although, W10 has improved quite a bit for tablet use.

I want to request a table of contents feature for the Windows Central app, to make jumping through sections in long review articles like these much easier. I'm sure most people came here only to hear Zac's voice.

Addition to cons: rogue restarts after automatic updates. TH2 schedules restarts usually to small hours, which for e.g. DVR is quite fine. Not much going on at that time. RS uses working hours (max 12 hours?) to refrain from restarting. It seems that outside of that period, automatic restart can happen at any time without much warning or confirmation. Leave for a (longer) moment and - bang - unsaved data lost. A bit like W7 with all-auto updates. But in W7 automation could be dialled back. This kind of system simply does not work for our household - personal use of computers and services which need to be available during and after awake hours. After anniversary update, disabling automatic restart will be mandatory for our W10 machines using whatever means sensible ;)

First of all, it's 18 hours max, not 12. I set it up from 5 AM to 11 PM, so I know it's possible. Other than that, you can set an exact time to do a restart for installing updates. And none of my devices restarted automatically when I used them. So I think it's not a big deal.

It's 18 hours on mobile and 12 on desktop (which is quite stupid if you ask me).

Now tell me. In slide 10, Windows Ink you talk about Windows Ink in Office (Word and Powerpoint). Is this already implemented (Do I have a ruler in Powerpoint, can I remove paragraphs by striking them trough in Word)? I have never found a demo and everyone I ask just ignores me.

I note that many of the 'new' tablet changes have been in W10 release version for quite some time already. The all apps screen is new, as is the edge forward/back swipe, but much of the rest is old news and has not exactly been a game changer. Does forward/back swipe work in other apps too? No mention. Does it boot to start screen on a desktop pc without forcing the use of tablet mode? No mention. Can I make the hardware win button on the tablet act as a back button when hiding my task bar yet? No mention. Will continuum finally detect the correct mode at boot? No mention. Horizontal scrolling? Mentioned, no joy. I mean honestly, it is very obvious that landscape mode suits landscape scrolling, and portrait vertical. Why not simply swap methods upon rotate? Desktop use is crying out for this. And finally, any mention of expanding touch pad swipes to support the touch pads that are actually available to plug in to your PC to use? Even just one of them? I want to replace my high precision Logitech touchpad with a W10 touchpad, but none are compatible with W10 swipes at all. Except the little cruddy ones built in to laptops and they are usually too small for a 2 finger swipe let alone 4. Or hello camera support for some actual hardware available in the shops? Vista had all these hardware problems as well but MS addressed them. W10, not so much. Still seems like a few crumbs to me. I want the whole sandwich. Sorry, but jam tomorrow is bad enough. Jam probably never is pretty disappointing, and after a year in if they still haven't got the message I am losing hope fast.

We specially have app for windows central then also why we have to see this in browser. I was able to view this full article in app before an hour but now I've to use browser.

Same here too. It's strange :S I think they want to direct some extra traffic directly to their website with this, what is understandable, but pretty annoying at the same time.

@Daniel, where is the info on overall system performance, battery, os-level efficiencies, etc? Where does this version of edge rank in HTML5 standards support? Do you have any nuts and bolts data to give?

Html5test.com gave Edge 446 points out of the 555 (build 14393.3 on mobile) for me a minute ago. Guess that's not bad :D

On PC it scores 460, higher then FireFox and Safari. With Chrome and Opera (they score 492) its about codec's.

Dear Daniel, thanksbfir your thorough view. I have always been a WM user and Wmobile user. For reasons that do not matter, i also use Android. So, my suggestion for wm review: give us also an insight on WM for existing android phones. I am on a Xiaomi mi4c and boy, I wish I could install windows 10. Like those guys on Mi4. Should be easy.

Daniel- I'm sure I'm one of the millions who downloaded Win 10 at literally the last hour last night. I've never used it on my desktop PC and always assumed my Win 10 laptop was just slow because it was a laptop. From what I can see now Win 10 is SLOW. It makes me realize how much more speed and refinement was built into Win 7. Has this been improved in the Anniversary Update or is this SLOWNESS of Win 10 a feature not a bug?

After further review, the slowness culprit was the Edge Browser alone. The other apps and system speed overall is doing fine.

When all is said and done, wasn't mobile,tablet, PC supposed to be exactly alike with windows 10? thanks!

I am looking forward to the release and I have been waiting for it.

One of our iMac's had terrible performance due to upgrading from windows 7 to windows 10. This new anniversary update fixed all the issues. Windows is running super fast so far. Let's hope no new updates take that performance away. :)

I have a HP envy 14. It usually lasts around 5-6 hours but since the windows 10 anniversary update my laptop hardly makes it to the 2 hour mark and plus my laptop's never been so loud with the fan at full speed all the time which never happened before the update even with Witcher 3 pushinf the limits of my hardware

Hate to say it, but given everything described, you may be best-off giving a clean install a shot (& if still probs, make sure you have all the best drivers -direct form the correct source etc)

Thanks for the review, can't wait for August 2nd :)

I find it fascinating that Windows today feels a lot like Linux in the late 90's and early 00's. A system for enthusiasts, with a notable "mainstream" app gap and a lot of things not working out of the box but with a "DIY" solution for almost anything and a fast pace of patching, fixing with contributions from the community. Funnily, back then all Linux fans hated Microsoft as the representative of the old, inflexible, closed source. Now MS is open and while there are teething issues, joining the Windows 10 journey is a very fun experience.

Where do I find the Windows Source?! Posted via the Windows Central App for Android

Microsoft really needs to expand Cortana to more countries. Apple and Google are much further with local languages for their assistants and for me (I'm Dutch) it's very difficult to let Cortana understand Dutch names for example...

I believe it's because they want to capture the county's people idiosyncrasies

Though I appreciate alot giving Cortana a better value to each country's culture and stuff, but the problem is that they're lagging behind from other competiting services thus making Cortana less and less relevant for those countries doesn't have Cortana. Even if they have, it's still quite poor and left behind from US Cortana. Most of Cortana's benefits generally nothing to do with culture and more of its utility that people wants and needs most, but people can't have it since Cortana is simply not available or officially available. Here in Oz, I kept seeing these Google Now ads promoting the service while I don't remember saw any Cortana ads at all despite its availability (but poor). Microsoft must give an effectivie solution regarding with their regional relations and projects. It feels like they seem not care outside US and just letting their services dry while its competitors enjoying all the marketshare and mindshare. Microsoft have great stuff but they themselves don't deliver it very well nor fast enough.

Agree. I'm Dutch too. Although EN-US language setting offers Cortana. The usability is limited. It's about time to release Cortana for NL-NL settings too. Isn't practicing the best way to learn a language? So let's start today.

I want Cortana here in Hungary too. But Siri and google whateverisitcalled aren't available here either.

I agree, I live in Mexico and Cortana was promised by November 2015 but Microsoft didn't accomplish this goal. Mexico is neighbour of USA so I don' know why Microsoft's products like Bing and Cortana are so low quality in Mexico and better quality in Spain which is thousands of miles away.

Wrapping up all the info in one article, like it. I figured out some things... -Will Cortana show us 100% battery notification?
-Will Cortana drain a bit more battery as compared to normal critical battery notification ?
- Can we use Cortana while using English(India) like w10m ?
-What will be the size of PC update?
- Can we use the second antivirus(with Windows Defender) without interfering with Win Defender firewall and updates?
••••••••••
+One week to go

Indian store will not offer movies or music in the near future, I guess.

That is awesome, download should take less than 2 hours at my current Fios Internet speed at home which is 6Mb/s

With edge, all i need is it to be able to run the EagleGet extension

Very coooooooooooooooooool love the new features. Always love updates and upgardes :)

Nice Review Daniel Hope the Anniversary Update gets a better response from the general population than the original Windows 10.

350 million plus users is a bad response?

If it's a bad response, I don't know what would be a good one :D

Something like only 20% of users eligible to upgrade did it in the first year, despite the numerous shady tricks employed to get them to. So yeah, it is.

No OS was installed on 20% of all the machines out there in the wild in one year ever before...

How many were offered (aggressively) as free in-place upgrades?

Oh and you're wrong anyway. http://gs.statcounter.com/#desktop-os-ww-monthly-200910-201010

Yeah, whatever... How is this site accurate? :D

Windows 10 was actually very well received. Windows 8-8.1 which I rather enjoyed, not so much.

How do you draw in Maps? Doesn't seem to work on my SP3. Latest fast ring.

I think maps are working very fine for fast ring insiders. No problem at all. Don't get distracted.

No, I meant how do you draw, like literally draw with a pen? It is mentioned in the review under Windows Ink but I can't do it in Maps.

I was wondering that myself, the maps app uses the pen as mouse for me.

I have one more question though (and I don't know if this is the right place for it.) Will the Anniversary update release on the same dates (2nd August) for both PC/Laptop/Tablet etc. And mobile or will the movie is have to wait for the update (like last year)...

Of course. Didn't Read the starting of article?

Why don't you people read? Why? Read! Read! Read!
Just because I think you're not able to read, I will paste that part of the article: "The Windows 10 Anniversary Update will begin rolling out to Windows 10 users for free on August 2 as an update, for PC and tablets, and then phone and HoloLens soon after."

Q: If he can't read, how is pasting that going to help him?
A: It's not.

Not mentioned for mobiles......

This update will come to Windows 10 Mobile devices as well.

And as they wrote, there'll be a similar article focused on W10M shortly.

Hahahahhaa on Cortana when he said the first hey cortana my cortana responded and did what he said exactly at the same time as his video... but she wont respond on me hahahaha time for new microphone :3

Damn we have to read? =/ ;)

oh damn I missed it somehow... to hot in Sweden right now, We can't handle it :P

Is it possible to use the windows ink features on touch? It would be very useful for folks like me who have tablets which dont support win Ink

Is there the ISO available? Posted via the Windows Central App for Android

Just a basic look over it, some needed changes for sure. Nice...

I dislike having all apps in list form on start. Don't want to see it every time I open start. Takes up more space, looks cluttered. Should have option to hide. I know what apps I have, they are pinned. Its like they are saying hey dumb ass here's where your programs are.

I've dropped from the Inside program for PCs when Windows 10 came out and I don't miss it. That said, this update brings two things which I find terribly useful: - Dark Mode! (although I've had it for ages through a simple Powershell command, it's always better when it's "officially" a setting). - The switching of the power button placement which is something I personally talked with Peter Skillman about. Having the power button as the first option when you click the start button just makes sense AND it brings it closer to the way Windows has always worked. These are the main features to me. Sticky notes can be useful I guess, but I still prefer real paper sticky notes. All the Cortana stuff is pretty useless to the majority of people around the World to whom Cortana isn't even available, like me (and no, I'm not changing regions because of it). Windows Ink may also be insteresting but I can't remember the last time I used the Surface pen anyway. I don't use Action Centre or Windows apps (apart from the Xbox one) either so the improvements there while nice, make no difference to me. As for Edge...I mean...yeah. I'm not ditching Chrome for it. Not in a million years.

Not sure why you're getting downvoted, thats a very smart comment. About 90% of Windows 10 users don't have Cortana and are not insiders so they fit very well with your description.

Probably because I said I wouldn't switch Chrome for Edge in a million years. Don't concern youself with that. I don't give two sh*ts about the "upvotes" and "downvotes". I'm not here for a popularity contest lol

As I thought, only Fanboys do "downvotes"

Everyone has their preference. If Edge doesn't work for me, I would be using Firefox instead of Chrome.

I thought with the anniverary update they were going to release cortana to several other countries? I remember hearing that a long ago, but maybe I am wrong.

It became region unlocked. So now you can choose your OS language in a Cortana supported language without changing your location. So @DJCBS that means also for you, you can have Cortana now even in a unsupported region, just need to set the language to a supported one. I have been using her with My location set to Netherlands with English US for some weeks now. Not the full experience but all the Cortana sync features and stuff are working fine.

Really? Well that's great news because I already use my PCs in British English although my region is set elsewhere. If that materialises indeed, I might actually re-sideload Cortana onto my phone because the notification sync is quite useful.

Auto disappearing taskbar in tablet mode has been there since last year. You just need to enable hide option in taskbar properties.

Don't like the changes in the Start Menu. They also removed the jump lists which I used frequently. Just wanted an Aero mode for the Taskbar.

As usual. Microsoft and their BS problems. I've Turned on insider builds in Windows update and I have switched to fast and despite this, I can't see any updates. Microsoft cant offer something as simple as pushing updates to people. Just disappointing!. Now I know why people are still on Windows 7 Posted via the Windows Central App for Android

Takes a while before the updates show up. But the delay is only there once, right after turning Insider builds on. Once it catches up, everything should be smooth from that point on.

The update servers have been hard coded to exclude you because of the constant whining.

Haha. Very funny. Already updated. I can say it's far smoother than the current RTM 10586 build. At least on my beast system. Posted via the Windows Central App for Android

I surely hope continuum sees some Anniversary love

Thanks Dan & Zac for covering this. Much needed :)

I disable live tiles for a lot of stuff. The reason being dev implementation is poor. I willl see pictures of some story but won't know what app is displaying it. Live tiles need circular badges in the corner that have the app icon. Those that implement text are still hard to see depending on what the tile is displaying. I have given feedback on this.

So can I install the anniversary update for mobile from fast ring now?

Yes. though more patches will be issued that users of regular update will receive on day 1 and you won't so you'll have to live with some bugs they won't have to.

Wait !!!! How can I use the ruler tool in other apps as shown in the review? I am on the fast ring, but the ruler is only available in Windows Ink Workspace, not in Maps, OneNote. Is there any setting I need to change?

MSPoweruser app on Daniel Start. Lol

You forgot one tiny detail.
Developers can reply to reviews. But now when commenting this I have a doubt that it was there in 10586 too . :D

Long and awesome review :)
But too much android and ios than windows 10 mobile.

I don't have any issues wih updates since I have set my devices to automaticly update. However, I would like notices on what the updates are and how they make my devices better.

This update is particulary large, its like November 1511 release, Dan told here that update is about 3.5GB so this update will probably require more than 1 restart to get installed. Good news is you don't need an ISO to install it, the upgrade should be done using Windows Update very fast. (Less than 2 hours to download the upgrade if you have 5Mb/s or better Internet connection.

When you have 13mbps and this looks like a joke :D calm. Just pulling your legs Posted via the Windows Central App for Android

If you are an insider and you have experienced Windows 10 build by build all of these features might not sound like a lot of improvements but man, compared to the official build Windows 10 has gone a long way. Microsoft is working its a** off to better Windows. Congrats.

Indeed, I have an old laptop on the fast ring and a PC that I have to keep on production builds and the difference is impressive.

You right, they have done a great job and more to come.

Never mind, this is a review for the PC.

Still don't understand why this "limited offer" to upgrade Windows 7 and 8 to Windows 10. As they move the SO to a "service" makes a lot of more sense to not impose an date to upgrade, If the point is to make the users move to Windows 10, let them upgrade anytime. With this "final date" a lot of users probably will be left behind and It's not a good move.

I really don't understand it either, Microsoft is getting income from cloud services (Azure) + Surface hardware + gaming division (Xbox) + Search (Bing and Cortana) + Skype + App purchases on Store and finally from Office 365 which is now a service. Windows as a Service means that you shouldn't be paying to upgrade if you already have a valid Windows 7 license. After all the goal is to reach 1 billion Windows 10 devices by end of 2018. But I think the answer to your response relies in Microsoft's plans to get more income from non-OEM users that purchased a license of Windows 7 Professional and have good hardware they can upgrade (like gamers) but now they need to pay for upgrading the software. OEMs are not impacted by this, since all the inventory of Windows 7, 8 and 8.1 is now empty and they are now shipping products globally only with Windows 10.

They're just putting the pressure on. They want users to upgrade as soon as possible. I wouldn't be surprised to see them "change their minds" 2 days after the 29th...

Yes some users, won't upgrade. But if there was no end date, probably half of the users that upgraded would postpone that. So which is better?

Not to mention that many didn't upgrade to Windows 10 initially because of the earlier issues and even recent backlashes related to it (which is rather harder to fix the issue regarding to public perception). Aside from that, I think they really should have the free upgrade offer for another year since this Anniversary Update solves alot of pain points from both Threshold Updates. It would give users also less thing to worry about another big update after upgrading to Windows 10, eating time. Especially that they're aiming for big marketshare of Windows 10 for a shorter timeframe. What just people don't want is the controversial Windows 10 Upgrade system regardless of being accurate or not.

Microsoft is still in business to make money. You do know that don't you???
What controversial upgrade system? Your tin foil hat is cutting off the blood supply to your brain.

I'm really excited about this new Windows 10 release, I'm going to try the bash shell and Linux subsystem to install software on Windows using Git that could only run on Linux. This is great since I don't have to use a Virtual Machine from Oracle or VMWare to install Linux inside Windows. This will make me much more productive while I'm at work.

Still no Word Flow for Tablets I see!

I love the little animations throughout the OS...looks very polished, the OS is really shaping up really well

they still have a problem with taking advantage of the empty space they have ! thx zac for the video review

Wat abt windows mobile???

wat abt it? If you had read the review you would have your answer.

Having never looked at any insider versions of desktop Windows, I was very pleasantly surprised to see how similar it is the RedStone mobile builds I have been running. Not sure I can wait until Aug 2nd now, might have to get the latest desktop build today!

Tablet mode is still awful. The all apps button is ok, but the apps list wastes far to much screen space. Why so few apps per line? Also I don't just want to hide the taskbar. I want to see only the things I want and that includes the clutter crap associated with the hamburger. I want an option to choose what will be displayed when I have not hit the hamburger. So for me I want to see only the Hamburger and nothing else other than the start, back arrow, and search, until I hit the hamburger then all that stuff could fly out. MS is very literal on their start screen which ensures the ability to find things for new folks, but there is a lot to be done and so far I am not too impressed with tablet mode in Windows 10. Don't get wrong it all works, bit it's ki da ugly with all the buttons on the taskbar and hamburger. It will get there I'm sure Posted via the Windows Central App for Android

For me the biggest loss is edge gestures, in particular the charms bar. That was such a cool feature...

I agree, specially using the Share charm was very usefull like this, now I am looking for the Share button in all apps all the time. I hope these make it back to the action center some day.

"Live Tiles are easily the most recognizable feature of Windows 10 and Windows 10 Mobile, so Microsoft does need to be careful, but at this point, the underlying concept could use a refresh" For me, the biggest issue with tiles right now is that Microsoft basically abandoned the use of colors. When Windows Phone 8 came out, each app would have the choice to use either the user's accent color as the tile background, or to hard-code a color. Most devs hard-coded a color to give their apps a more recognizable and unique icon, but when Windows Phone 8.1 came out, and transparency (wallpaper support) was added, transparency only worked on tiles that used the user's accent color, and thus a lot of developers started to use that and dropped their hardcoded colors. In the move to Windows 10, tiles on the desktop OS use pretty much the same colors as the phone apps, because of UWP, but on desktop, there is no wallpaper to justify transparency, and hence you just end up with a start menu full of tiles that are all the same color. The concept is definitely broken there.

This. App colors were a unique feature, with this whole Mobile transparency thing it's lost all identity. At least some developers have the decency to offer an option.

The only main issue I have had with upgrading to Windows 10 on many computers is that disk usage hits 100%, runs ok on Windows 7 & 8 but once you update to 10 it's dreadfully slow, these machines are running 4GB memory. Turning off all Notifactions and actions as suggested by many doesn't seem to help and disabling defrag would be pointless.

Excellent review Daniel and Zac! Thanks so much for the detailed review of the Anniversary Update, very helpful!!!

Without chaseable tiles this is not going to be such a great update for me. I hope that comes sooner than later.


Chaseable AND interactive!

So by approximately 2018 it will stop feeling like beta? Great news!

You're speaking for yourself. There are also alternatives out there. I hear this is the year of Linux.

Linux is not, nor will it ever be, a professional OS. Sure, its highly customizable, but therein lies its problem. Too much custumizability is a thorn in the side of IT-managers, and it is too complicated for the average user to get into. Not to mention the fact that most applications and games are either incompatible with Linux, or at least have to get patched to work on it. So forget about that little hippie OS, it'll never be worth the time and effort for the average user (however nice and useful it might be for some).

Cough, it was sarcasm, cough

What do you mean by Linux not a professional OS, when it's actually being used mostly on enterprise (like servers and more)? The customizability aspect of the Linux distros? Or because of its modularity and openness of the system where people can make it a specialized OS for certain or specific task? The only thing I agree that Linux won't be a mainstream desktop OS that many average people will use everyday (despite that it's already capable of being an everyday OS even more than for average user needs). Applications not compatible for Linux isn't a right wording either, it just wasn't developed for it. Running Windows applications through Wine isn't a default experience for Linux nor a best recommendation. Linux already serve a way bigger role on the technology industry, from small devices to super computers to robotics. It's just that it wasn't as visible as Windows and macOS (that includes the iOS and Android). Not to mention, Android is based on Linux which is already mainstream, most people didn't know about it but technically Linux in some ways already in the hands of consumers. Year of the Linux for dektop I can safetly say won't happen. On other things? Sure it is already, long time ago.

Hi I have a question. I am an Insider. If I create ISO of 14393 and Clean Install it on my PC, what will happen on 2nd August. Will I have update again? I am planning to exit Insider Program after anniversary update. Can I exit insider program after clean install of 14393 now?

Could someone please explain why Synched Notifications need Cortana to work? Why not without it? (PC + Windows Mobile)

Sometimes the answer is just, because that is how they made it. You are right it could have been build as a seperate service and be available without Cortana. But they decided otherwise, and we can speculate to the why, but there is no explenation to the why. My guess is to boost Cortana use.

I've heard that many of the syncing features are done through cortana initially to just to be able to have that feature first, while they work on coding it into the OS itself. This also allows for easy syncing with android, since cortana is on there as well.

You know what I want? Live Tiles on the freaking desktop, cause currently people like me have to use 3rd party widgets\apps to get anything remotely resembling that. It might not seem like such a big issue, but it presents a security risk.

After over a year in beta, I'm hoping this update will fix fundamental oversigts in interface design... - Is there now a unified Control Panel - the power of the pre-W10 control panel with the design language of W10?
- Do all windows have the W10 design, or is still a mash up of old and new?
- If it's still an inconsistent mess, is there a way to remove the W10 skin and revert back to the 'classic' look?

they made big steps in those directions, but they are not done yet. More and more is now move into the new settings app that I need the control panel hardly ever now and more apps have been windows 10 redesigned. But not everything yet.

So the answers to my questions are: No, no, and no. In other words, we're still testing a half-baked beta for Microsoft. I really expected Microsoft to have resolved this by now. What is Microsoft telling us…? That consistency of design doesn't matter? It doesn't care? It doesn't have the resources? Its programmers lack the skills?

I think you are a bit harsh, every product is a living thing now days. Features get added, new designs thought off and features get removed. Its hard to find any product that does not work like that. Same goes for iOS and Android. There have been redesign steps there that also took several releases to fully materialize. I like it being living. Otherwise we would have waited 3-4 years for a new windows version while in those years we feel that the software is not fresh anymore.
​But not having a setting available through the setting app and having to go back to the control panel is still much better than just not giving settings. We are talking about a software product that took 30 years to build and now all parts of it needs to get a huge UI update, yes that takes a few man hours. Who cares. We were mad that it took them to long to update windows, and now we are mad that the updates do not update every aspect of the system each time.

Yes, iOS and Android have had makeovers, but I'm not talking about them. I'm specifically talking about Windows 10. The Best Windows EVER needs to give all users a consistent experience, not a mishmash of old and new designs, which may lead to frustration, confusion, or dissatisfaction. Maybe this won't happen to you or to me, or most others here on Windows central. If I'm going to have to grapple with the changes in Windows - the majority of which are of no interest to me, and don't enhance my user experience - why not just try a different OS, one that has a great consistency, is less insecure, is more elegantly and efficiently coded...? The OS is great on phones, though. I've been impressed with how it's progressed. But on the desktop... I'll wait to see how the 2nd Anniversary Update is.

I'm slightly confused abut the first sentence and then your second paragraph. First you agree that other OSes have gone through big makeovers, except "I'm not talking about them" right now. Then in the second paragraph you say if you have to go through these changes with Windows 10 OS then why not go to another OS. I don't get how you can first say to not compare it with OSes and then later talk about going to another OS/essentially comparing it again. It feels like you're giving other OSes an exception because they may currently be at a better point in the development process than compared to where Microsoft is currently. I usually read comments that say the opposite..that they feel the mobile OS is lacking while pc/laptops are much better lol. Just an interesting thing I noticed. The other thing is that I feel like everyone has different ideas/thoughts on what they think Microsoft should be prioritizing. Person A will say they need to prioritize X and person B will say to prioritize Y and everyone thinks that what they think needs to be prioritized is what makes/break a good OS. I believe it's a byproduct of opening up development of OSes/programs to the general public with the insider program and can sometimes hinder development on certain things. My go to example is usually skype/messaging everywhere and how they have flip-flopped back and forth with BOTH decisions drawing a lot of noise from the WC community. However, it's also possible that this type of flip flopping is normal within the development of OSes/programs and consumers are not used to experiencing that or seeing that normally.

Why would you want us to scroll both vertically and horizontally to read the article? Where is the option to disable paging and load up entire article in one page? I am unwilling to read this article until I get that feature back.

OK, just as I posted this comment, I got the entire article in one page. Was it fixed so quickly? Now reading it.

Will this be called Windows 10.1?

No, 10.0.14393.* The asterix would refer to whatever cumulative number they finish on.

Why can't i get this article in "Reading view" in edge? :(

Well most of these updates is great, but can't Mic just improve the Virtual Desktop? Like it will always keep its desktops even when you restart the machine, or be able to open apps individually that are already opened in other desktops without switch to that desktop (Groove music will benefit alot) I think VD has its potential but Mic makes it so basic that it becomes, atleast for me, useless.

JUST ONE QUESTION: CAN I GET THIS ANNIVERSARY UPDATE ON MY LAPTOP RUNNING WINDOWS 10 BUT I'M NOT A INSIDER. I MEAN I DIDN'T ENABLE INSIDER PREVIEW BUILDS ON THIS DEVICE???? BECAUSE AFTER WATCHING A WHOLE VIDEO TOUR OF THIS UPDATE I'M KIND OF SUPER EXCITED!!!

2 august is for non insiders.

Will it be available as an complete ISO installation file?

That is to be expected. SInce they have ISO for insiders builds even it is safe to assume the public version will be available like that

Amazing stuff by Microsoft.

windows 10 will be first windows i won't use

I don't blame you. Try as I might, the more I use Windows 10 on the desktop, the more I dislike it. Winodws 2, 3, 3.1, 95, 98, NT, 2000, Millennium, XP, Vista, 7, 8.1... I've used them all. I even had good experiences with Vista. But 10 is filled with frustrations. Did a clean install yesterday, all up-to-date deivers, and today had wifi problem after wifi problem (no problems on any other device in the house - Android tables Android phones, iOS, OSX, Windows Phone 8.1, Windows Mobile 10.

Did Microsoft finally gave us back the traditional Windows Updates back where they don't force you with updates and even set notify & select for new updates?

my only question is mobile getting anything ink related?

How does the Aniversay update happen? Is it like a service pack?........phones also. Is that happening in 2 days.

I hope messaging everywhere comes back to !

Has anyone noticed the animation from login screen? Only the text si sliding up and the wallpaper remains. If you lock and try again, its working as it should. Its only me?

Great review! I do think Anniversary update is something to get excited about! I've got it on my cheapie 2-in-1 thanks to the insider fast ring, but my gaming PC and the Mrs' all-in-one are not on the Insider program and so for that reason, Aug 2nd can't come fast enough! I think it's a fair criticism of Microsoft to say they kinda screwed the pooch a bit in the early goings by releasing something so half-baked at a time when hype was so high. It became a great big anticlimax, and now they have to rebuild from there. I think if this is what had launched instead, then things would look different, especially in mobile. While I remain quite optimistic personally, concerning the prospects of Win 10, I think the botched launch last year really does introduce the possibility of failure, particularly in mobile. If too few people are able to trust again - or are even paying attention anymore, then that's bad news, and when MS comes out of retrenchment in mobile, if there are an insufficient number of people to greet it, or at least willing to listen to the message later, then that'll be grim as well. Win10 desktop is much more secure in the market. However, it's not invincible. Threats from Chromedroid are probably quite real in all but the power-user space, and Windows already has competitors in Mac and the various Linuc distros in that space. Really the only space where Windows desktop is truly safe for the foreseeable future is in high end PC gaming, which is the only part of the desktop market that is actually growing. As such, even if Win10 can overcome the threat from Google in the average consumer space, and even if it can bat off Apple and the Linux crowd in the power end to remain the undisputed king of Desktop, that is a sinking kingdom anyway, and Windows will eventually turn to dust with it ...... .......if not bolstered by a an ecosystem play, which is why a) the fate of mobile is much more important to the fate of desktop than is initially apparent since the universal Windows platform doesn't make much sense without mobile, and will never be integrate le enough on Android or iOS to make a non-Windows phone a sufficient enough substitute to keep the ecosystem play alive, and b) why it continues to make sense much longer than it'd otherwise make sense to keep trying to keep Windows 10 Mobile alive. If it weren't for this, even I'd agree it's time (or past time) to let Win10 mobile go. But in light of this, even with as bleak as it is (and yes, I see it), I think we are a looooooooonng ways away from that terminal point. How Anniversary Update relates to that: I think it's a huge step in the right direction, as well as a huge promissory note on MS making good on WaaS going forward. As such, it fills me with tremendous optimism for the future of the platform. Yes this version still has some holes. There is no perfect in tech, or perfect in life. All OSs have holes. But even using the less exact, "colloquial" meaning of "perfect", it's still not quite there. But damn if this isn't a huge step towards it, and now with the fresh vote of confidence in WaaS, we can be very confident that what holes remain will be patched up in future updates, and that Windows 10, while never being -perfect- will in fact be "perfect" someday soon. Also, the infrastructure that makes the updates happen is VASTLY improved as well......although.....until the day comes when 10 and 10M (or even XB) are upgraded on the same day at the same time, there is still much work to be done, and the rhetoric of "the same OS everywhere" won't ring as true as it could. Cheers!!!

How long does the update take -- just accepted the Insider build on my Surface Pro 2, it downloaded, restarted and has been stuck at 99% on the 'don't turn off your computer' screen for what seems like over 30 minutes now. Prior to that it had the most recent release build of W10 installed.

It can sit on a certain percentage point for a very long time sometimes. I see this post is a couple hours old now, did it end up going through for you?

Thanks... it stayed like that for hours, I just held the power button and it thankfully (after a while) came up to the previous state. It's going through the update process again, the 'downloading' part flashed by -- so the files it needs are apparently still downloaded and present. If it doesn't work this time, I"ll just turn off Insider and wait for the release ISO's.

Thank you for this comprehensive review, I don't have time to read it all right now but I will soon. I'm pleased to read that Chase-able Live Tiles is on the horizon, the lack of it was my main issue with the News and Money apps. For me, WiFi has never been an issue with Windows 10.

I'll just assume that we'll never be customize the position of the Start button on the main taskbar. What I mean is that the main taskbar appears at the bottom of the screen and the Start button is always at the left side by default. Though the taskbar itself can be moved to the right, left or top side of the screen we'll never be able to flip the taskbar so that the Start button moves to the right and the Action Center, clock, notifications, etc move to the left.

I created ISO of 14393 from Install.ESD file and Clean Installed it on my PC, now what will happen on 2nd August. Do I have to update again or is this same ISO we will get as Anniversary Update? I stopped the Insider Builds on this laptop now.

I'm on Windows 10 Home, 14393.5 and the only nuisance right now is that the Onenote Clipper extension for Edge doesn't sign in. I'm signed into the main Onenote app and my Microsoft account. I select the Clipper the purple square appears and I just see the animated spinning circle. So weird!

Windows10 is no longer free and the Official Windows10 Anniversary update arrives in 2-3 days (depending where you are) Looking forward to the Edge updates hopefully I can begin to use Edge in a few days. Windows10 sells for Retail $199.00

I been using Windows 10 before the public release and i am used all version of Windows since Win 3.11 i also tried Linux, Mandrake, Unix, Mac. I currently have Windows 10 running smoothly on 6 pc computers each computer at varies ages. The only issue i found is with Windows 10 occurs on the Xbox onees it constantly losing network Wireless connections and blocking peoples profiles and email accounts especial build 14393.1018 my brother has to now wait 24 hours accord to Microsoft just to access his email password. What a mess with security this build is causing from what i read.

Like to point out to computer issues are different for each end user and different for each Operating system from linux to Windows 10 no one escapes a device driver problem if their system is pre 2012, so i can understand if someone is having issues with Windows 10. as for 350 million people on Windows 10 does not mean every one had clean sailing to it. I actually upgrade my system via the media tool create DVD Build instead of the Automatic download and i think this is why i avoid most of the issue others are facing. Plus i also did a system image back up to external hard drive not the normal windows 10 back up, changed from Wireless connection to Ethernet Cable cat 6e, then updated all my windows device drivers and applyed other third party updates, Did a system restore point before i started the upgrade installation with exception to my Main computer which is a clean installation Windows 10 build removed my Trendmicro maxmium suite 10 then proceed with the upgrade ensuring no one else was online for the updates and down loads of the device drivers on October 2015, Following this i did another create system restore point and then activated all the pc 1 at a time, I then customerise the settings and while the ethernet cable was connected i installed and entered the Wireless network details then removed the cable restarted my computer once the wireless was working created another restore point and then changed to using a local account instead of my email account.

The biggest single issue of Wimdows 10, at least for me, is the illogical way of handling cloud storage in One Drive. I.e. a cloud storage that is not cloud storage because the content has to be replicated in the local HDD's. If this issue is not fixed then there is no point to upgrade.

What about the missing DLNA support in Groove music, have they fixed that?

Today is Aug 2nd at what time windows provides Anniversary Update. ?? I'm very excited to update and use new features. The old version of windows 10 creating some problems App store not working properly, so anable to download new apps or update the present apps. Microsoft Edge crashes a lot. I hope all this would be solved in this new updation. Please Tell me when will i get update.

is there any updates for W10M users?

This is a really great indepth analysis and I commend the team for it. However it is so in-depth it does raise the point to me how little I use most of the new features in Windows 10 - I know that Microsoft hinted that Cortana wasn't actually used that much by desktop users and the data is hard to get but I wonder what the usage rate is for various thing (for example, I have no live tiles at all and never go in the store). Sadly we'll never get good data on the different usage patterns.

Bought an Amazon Echo last night. Cortana just doesn't feel as nice. Maybe it is the always on speaker concept that makes Alexa more natural. Perhaps Cortana will have a speaker only device coming? I like the hands free, she is just an always on, small out of the way, quiet, speaker in my kitchen/dinning area. I don't want a laptop hanging about, and I don't want to have my band or phone on me at all times. Alexa is fast, accurate, does a lot. Cortana is just OK. She needs too much configuring, prompting. Sometime she loses info in my WM10 and I have to set her back up again. Cortana is not simple. Example: This morning at home while serving cat food I said Alexa, play Madonna, and she starts playing various Madonna songs from Amazon Prime, though I could also change default to Spotify or Pandora. In car this morning, Cortana, play Madonna, and I now get distracted from driving because she says this is what I found. I have to hit play on the phone to start playing a youtube video of Madonna, no multi song play, and I also can't turn off the phone display or it will stop playing the song. I have Groove Music subscription, shouldn't she just play the song on Groove. Alexa is just more intuitive and sensible. Cortana is classic Microsoft mental overload BS. Not making life easier, just more to maintain, more of a headache, more of a distraction. Classic Microsoft.

Just installed, runs Perfect on iMac bootcamp partition. Edge is now my default browser!!! its SO much better. Good job Microsoft!!!!!!

Just updated my HP 15n-020tx(i5 4tg gen, 8GB, 1TB, NVDA) to the latest win10 version. I did it via iso flashing as I was impatient enough to wait for the update to come to me. Afterall I would say that the installation is hassale free and it took almost 45 mins from begining to get my pc into work again. I would suggest anybody who is interested to update their pc, they should follow the iso installation method. All of the pc drivers are working flawlessly without any hiccups. Performance is also pretty good. Now I have to examine the battery backup and also the performance in day to day usage.

I have SP2 Pro, desktop at home, 2 W10M and upgraded more than 30+ devices (Laptops + PCs from different brands) i had no single issue at all, and guess what, i did not go with clean installation and all are prefect. Yet, some had their laptop or pc gone crazy. but if you try to ask the right questions, you will notice that they did not know what are they doing, most of them had done it in a wrong way or did not read the compatibility report before upgrading and so on............, not mentioning that some factors are pushing the new drives or applications faster than others, so how come you would upgrade your device if you don't do your homework right then insulting their great effort to make things better or oh yeh my WIFI is not working so W10 is garbage. You remind me of a case, someone asked a help from someone else, windows installation, so he (Guru guy) said yea I know it's easy, all what you have to do is next next next next, after that, I saw the guy holding something in his hand and running after the next next next (guru) guy. :D hahahahahahah Can you tell me which one is to blame?

I didn't got the update on 2nd August, so I searched the internet for a reason and found out this article. After reading this article I decided to wait, but when my windows update still didn't gave me the update after one day, I decided to download the update but not install it yet. I installed downloaded the update by using the tool from microsoft website (https://support.microsoft.com/en-us/help/12387/windows-10-update-history...) but haven't decided whether i will install it or not.

And... The MSPU app got updated with these chase tiles. Why is WC so slow!?

If you're looking forward to the facility of having cortana suggest reminders because of things you write in Sticky Notes and live outside the US, don't get your hopes up... Depsite the fact it's not mentioned anywhere, this is a US only facility so without setting all your regional and language settings to US you're not going to be able to enable "insights" which are key to making it work... MS

"You have to give Microsoft credit. Tearing down an aging (and mocked) Internet Explorer web browser and rebuilding a new one while competitors are miles ahead is brave." Brave? Really? That's the word that comes to mind? Really? Let's be real and maybe just not even talk about any Microsoft browser or (wait, wait, I can't stop laughing...) search engine.. there, I got that out, until the communities are giving some praise. Edge and Bing both stink on ice. And speaking of ice my guess is that it will be about two ice ages away before MS does anything groundbreaking in either department. Look, we forgave them for Vista and Windows 8. Don't push your luck.

i forget about ms IE long long time ago and uses the "brave" competitor chrome. not only that, i use windows only for compatibility, else i use linux , and tell that it is 3 or more ice ages away from microsoft windows

I don't know if i like it or not yet because when I try to download and install the "Anniversary Update" I keep getting Something Went Wrong. Error code 0xa0000400. None of the fixes people have put up for this error work for me. I am running Win 10 Enterprise 64 bit. Most people getting this error are running Win 10 Education.

win10 aniversary update spoiled my driver! waste my precious time and money

if windows firewall and windows defener in on possition, any other software like shreelipi is not working

Hello There I have a Mac I3 running EI captin and Parallels 12 with Windows 10 Pro lastes Annv update. And I found that Under Network Home group will not install on this computer WHY. Help

très jolie application Posted via the Windows Central App for Android

I have an ASUS $1000 Win 10 notebook that I bought ten months ago. It was not without problems but I managed to get most of those fixed. Then came the Anniversary Update. I started getting the BSOD and automatic restart at least once a day, ssometimes twice. I tried updating both videeo drivers. I get igdkmd64.sys STOPCODE error. When I updated the intel driver, I had the same thing, just a different error message. Both my NVIDIA and Intel drivers are up to date it says. I have used almost all the Windows OS's. I have never been so disappointed in an OS as Windows 10. At this point, I am ready to leave Windows completely and get a MAC. I can see that with every update Windows forces on me it will clash with something. My old Vista was a dream compared to this OS. I see that some people have completely lost the use of their computer. I hope you can help me before I abandon this machine, and Windows, for good.

Don't know why so many users are having problems with windows 10, I just love it.. Updated last year from windows 7 Pro on my Toshiba laptop and have had no issues at all. Use many video & image editing programs and all have worked flawlessly. So have all the drivers. All updates are set to be notified only and I download & install when convenient. The anniverary update also was performed easily and with no issues. I believe the secret is don't play around with too many windows settings or odd 3rd party software. I also use Ccleaner, AVG PC tune up and Acronis backup which is better and easier to use than Microsoft.

????????? In September 2016 I did the Anniversary update install on my PC. I now have thousands of missing files from folders. These folders no longer contain the stored photos, documents, art work. Why does windows have to mess with my personal files and folders? Another reason to change to Apple.

For me I switched back to Windows 7 on my desktop PC. My new Dell notebook came with Win 10 so I stick with it. But have tried Ubuntu on it and besides the loss of battery life, it works pretty well. The lack of good battery power management for Skylake CPU's with Ubuntu has left me waiting for better support before I switch to Linux. But I deffinately have already decided Windows is not going the direction I want. The increasing invasive decissions Microsoft has made and the lack of good update controls, leaves me not wanting to use Windows in the future. Actually, I have a Chrome OS desktop that I don't mind the auto update process. But those devices get specific taylored updates and rarely see issues. It's the vast differences in configurations in Windows that creates major upgrade issues. After the Anniversary edition update, I was weeks fixing annoyances waiting for OEM driver updates, or bios fixes. I was lucky to have my trusty Win 7 desktop or Chromebox desktop as backups. They end up being used far more than my new Win 10 notebook.

Windows-10-anniversary-update is an example on how Microsoft slowly is trying to break Steam. They want us to use Microsoft Store, but since Steam is much better and bigger then the builtin store in our machines. They are trying to make our computers to run like ****. It's time to change to MAC or use an older version like Windows 7.
Windows Central Newsletter
Get the best of Windows Central in in your inbox, every day!
Thank you for signing up to Windows Central. You will receive a verification email shortly.
There was a problem. Please refresh the page and try again.