How to enable Windows spotlight in Windows 10 to keep your lock screen awesome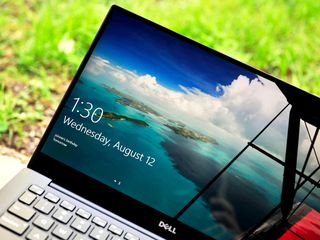 Yesterday, those on Windows 10 received another cumulative OS update that included numerous security patches and other undeclared improvements. Following our detailed how-to on upgrading from Windows 10 Home to Windows 10 Pro, users noticed that the update also brought something new: Windows Spotlight.
Indeed, our Windows 10 Home Single Language edition has had this for what seems like a few days. Now, our Dell XPS 13 with Windows 10 Home has it as well, although the 'voting' area is not yet active.
However, this feature, for whatever reason, appears to be missing from the Pro version of the OS. It is not clear why that is, but it is something likely to be fixed in a future update.
Windows Spotlight, announced at Build, is akin to Bing Images of the Day. However, the feature lets you say yay or nay on images. The idea is that users can like certain pictures, and Microsoft procures new, similar images for a user's lock screen. Saying 'no' to a particular style e.g. abstract imagery versus nature, shapes what Microsoft randomly chooses next.
The feature is a way to refresh regularly the Windows 10 lockscreen to keep things both unique and personal.
Here is how to enable it on Windows 10 Home.
How to enable Windows Spotlight
1. Open up All Settings from the Task Bar
2. Navigate to Personalization
3. Choose Lock screen
4. Under Background select Windows spotlight from the menu
Eventually, you should see a 'Like what you see?' dialog on the lock screen in the upper right-hand corner. Selecting this brings up an 'I like it!' and 'Not a fan' menu choice where you can register your vote.
Overall, Windows Spotlight is yet another neat and personal approach to Windows 10. We just hope to see it come to the Pro version of the OS sooner than later.
Do you have Windows spotlight? Shout out in comments what you think of it and how Microsoft can make it better!
If you think this guide is helpful, we have many more posts like this in our Windows 10 help, tips, and tricks page. Or try our massive Windows 10 Forums at Windows Central for more help!
Thanks, everyone, for the tip!
Windows Central Newsletter
Get the best of Windows Central in in your inbox, every day!
Daniel Rubino is the Editor-in-chief of Windows Central, head reviewer, podcast co-host, and analyst. He has been covering Microsoft since 2007 when this site was called WMExperts (and later Windows Phone Central). His interests include Windows, laptops, next-gen computing, and for some reason, watches. Before all this tech stuff, he worked on a Ph.D. in linguistics, watched people sleep (for medical purposes!), and ran the projectors at movie theaters because it was fun.
Oh I wish it just worked for wallpapers also... =/

For wallpapers I just use the Bing desktop toolbar.

For now that a good tool to use for some nice daily wallpaper, but it would be nice and super easy for them to implement to just add a checkbox that says "Use spotlight image as your wallpaper too".

I also use the Bing toolbar, but I would prefer it if they added wallpaper to Spotlight. Bing desktop toolbar takes too long to load at start up. I already use Bing search which is the main reason I think Microsoft promotes Bing desktop toolbar. I'd be OK if Microsoft required one to use Bing search in order to use Spotlight for Daily Wallpaper. Perhaps one of the geeks around here will post a regedit hack to use spotlight for wallpaper.

I like the pictures I've seen so far, so I hunted them down & saved them for future use. The file path (on my system) is:
C:\Users\YourUserName\AppData\Local\Packages\ Microsoft.Windows.ContentDeliveryManager_cw5n1h2txyewy\LocalState\Assets​
​All of the pictures downloaded from Spotlight reside here, but so do a few app icons.

iorise.com... you're welcome.

me too cause i tried the best i could to make it my wallpaper but you know its doom

Not available on my Sony VAIO in the UK. It was an option in the preview builds, but was not there when I upgraded my Windows 8.1 installation :-( Posted via the Windows Central App for Android

The same with me, but I'm in Brazil. Really liked Windows Spotlight

Same here, but I am in the US! Not showing as an option.

Funny, I'm on windows 10 pro, and I don't see the option for this. NM, reread the post.

Glad you wrote this, I totally missed that. Was wondering why it wasn't on my Pro version.. Btw, i fat fingered the like button and reported you by accident. Sorry!!! :)

Lol, just did the same thing. Weird since it was in the preview builds on the same machine.

It is strange why Windows 10 Pro doesn't have this feature since the Pro version should include everything that the Home version has + more

That's so Microsoft though, right? Pro version having less features than the Home version!

Hmm now I know why my WIn 10 Tech Preview, which is Pro, doesn't have Spotlight. I have hardly used my Win 10 TP since WIndows 10 was released, so I hadn't looked into that. I agree that Pro should have Spotlight as well.

Wierd, I'm on Win 10 Pro and the option IS available to me Settings > Personalization > Lock Screen > Background Have choice of Windows Spotlight, Picture or Slideshow EDIT - NVM, this thread is over 4mths old
Typical FB linking out of date info as though its a new idea

Just checked and it's not showing in Pro, though I would not use it as I choose a lock screen and wallpaper I like and keep it. But sure some will want this :)

I presume you didn't actually read the article then?​

@2tomtom We all know you DID NOT read the article hence this question you asked

See how you got that from the comment but I did read the article. It was a confirmation it doesn't work followed by I don't care because I wont use it. But, great for those who do!

Yeah, sure. I have no need to lie though you seem to have a need to make false accusations against people you don't know!

Thanks for the info...and yes hopes it comes to Win 10 Pro..

Why yes it does... but chiming it with two comments just to say that, and "Cool" , really? :)

Don't have it on my Dell either! It's fragmented at best

I've had this on my Windows insider build for over a month. Am I the only one? Don't know if there was a setting for it, it was just on by default

Pro users don't have it, which is the main point. That and the majority of users are not Insiders ;)

Daniel, I think the point he's making is that everybody in the insider program had this feature way back when they were testing some of the earlier builds. For whatever reason, they removed it from the builds at some point before RTM. I forget when exactly. Presumably because they felt it wasn't quite ready for prime time.

Exactly, I had this right up until RTM on pro and now it's gone. Odd to remove it.

Any ideas why its not on Pro? I know you've said you don't know why (see, I actually read the article), but can you posit a reason or two? The only thing I can come up with is that business/enterprise admins might not want different lock screen pics across the computers in an orghanization, just a boring company logo or somehting. But this can be forced with gpedit right?

Well Pro is supposed to be a SuperSet of Home. ie. containing everything in Home plus extra stuff like Domain Join etc. I don't buy the "admins might not want.". reason as that is why group policy exists as you say, to turn off features centrally that might not be wanted on business PCs.

Yes exactly since most businesses and schools will stick to Enterprise / Education version of Windows 10 and even if they get Windows 10 Pro they should be able to disable with Group Policy. Microsoft works in uniquely strange ways :/

Damn, will now have to uninstall and install Home instead. Dagnabbit!

I use amazing lock screen in Windows 8.1, if I can save images I won't need that app after upgrade

Not available on my Surface Pro 3 either.

RTFA... Surface Pro 3 runs Pro

My bad, for some reason I thought I got the Home edition of W10. For the record, I did read the article.

Cool. Keeps things fresh.

It was in the builds for a time even in pro, so I would expect it back soon. Loved it.

I like this feature and had been looking for it on my personal as well as client's computers and could not figure out why some had the feaure and others did not. Now, I understand since it is not yet available for Windows 10 Pro. I definitely want this feature.

I wan it in mobile version

You already have it. Set Bing as Lockscreen.

Slideshow does not work. Posted via the Windows Central App for Android

Works fine for me, both home and pro versions.

Yeah I noticed that and some other features of Windows 10 weren't working properly after the upgrade so I did a backup of entire HDD and then did a Clean Install of Windows 10 (using the Media Creation Tool)

:( Posted via the Windows Central App for Android

Well That sucks, I'm running pro so i don't have it. Thought it was a bug.

That dell XPS13...getting one when it's available in my country

Enabled, buy I don't see the lockscreen very much with windows 10... Only few seconds at day

Hope the feature comes soon in Win 10 Pro. Can't wait to try it.

I was looking this feature since I update my Surface Pro 3 to Windows 10...Pro version doesn't has it...WTF Microsoft? I know it says in the article but why they did this?

Yeah, it's a really odd omission. Maybe this will raise some awareness to get it back out there.

Hey Dan, there is no option for 'windows spotlight' in lockscreen setting for me. How to enable it?

Type "Windows Spotlight" in the settings menu search box and then the option will appear.

It's funny since I have Windows 10 Pro and when I search for the setting on Cortana it shows it but I cannot change to Windows Spotlight. Microsoft Windows..... Why make it difficult for us power users? (by the way I tried enabling it in GodMode and it too doesn't work from there)

i didnt know about this feature but i have the Pro installed, ill check and see if by chance i have that feature but i do use bing desktop

Got it, HP laptop in The Netherlands.

Got excited thinking this was for Pro.

Also not in Enterprise version

Got it on both. Tablet and desktop. And love it :)

Can we have the link for the picture used on the example, it's splendid !

Consider copyright issues

I was wondering why I couldn't find the option anymore. I hope it comes back.

Much ado about (almost) nothing?
What happened to Livelockscreen?

On 2/3 devices the Spotlight Option is missing

Someone with Home should do a search for Spotlight in HKCU:

It's been showing the same photo since day one on my PC. :(

Try disabling the feature. Restart your machine. Then re-enable it.

Ok, I'll try that and will report back later.

Well, I use the Pro version of Windows so I don't have it. That said, I have absolutely no intention of using it if I get it anyway as I like to pick my own lockscreen images.

AmIHotorNot for nature. Groove could use the rating feature too.

That feature was from day one in Windows 10 home in the Spanish version is called foco de Windows although don't have any sense the translation name,I don't know who do the translation, looks like are Mexicans who made the translation because don't have any sense

Good info, but the title could say "Windows 10 Home" to save pro owners from getting excited and then disappointed...

bummer my pc was 8.1 home edition but since ive been on the prievew builds im on win 10 pro

great . i love this feature , become fan when joe belfiore showed this on stage a long time ago . Good feature , thanks for reminding again

I have it but it isnt working

I am a Windows Insider, using Windows 10 build 10240. "Windows Spotlight" feature not available.

​They took it out of the Windows Insider Builds many months ago. Seems like they only wanted a small portion of users (those with Win10 Home) to use it

I always loved Bing wallpapers. This is a great feature.

I do not have Windows Spotlight, but I have Daily Picture app.

Whenever I try and select something from the dropdown menu in the personalisation settings the screen locks and I can't select anything, anyone else have similar issues?

my windows 10 home tablet has the spotlight option. but my windows 10 pro laptop dont. i think that the sync function disables the spotlight option in the tablet. i want it in the win 10 pro too!!!! my windows 10 home tablet appears as "windows 10 core" in the devices listing in my account. does someone know why??

Not availsble on Build 10240 which I am using...

Microsoft ain't that Unified after all I only wanted Bing for Lock screen to work just how it does in WP8.1 I mean that's how it suposed to work an Unified experience, no? wrapping everything up into a single OS not only pretending to do so you see this little stuffs like that altogether are why we can't have nice things :(

I also do not see the option for Spotlight on my Windows 10 Pro and I just installed all the updates available.

For me, Spotlight has been working great from the past 7 or 8 days as far as I remember. And the voting area works as well. If I am shown a photo and I choose I like it, then it shows had it'll show me similar pictures in not-so-distant future and if I chose the I don't like this picture option, it changes to the previous day's picture. On Windows 10 Home.

And all i want is an easy option to use the Bing image of the day as my wallpaper and lockscreen without having to install other stuff.

I am an Insider but I don't have Windows Spotlight. I just noticed that after my laptop received the cumulative update, it now has a start tone similar to Windows 7.

Does anyone where ypu can download this exact lock screen image?

On my Surface Pro 3 this option is not yet available. I'm an Italian user.

Looks great, want it for Pro and Desktop Wallpaper too as well as logon screen

Does this exist on mobile version?

Sorry the option is not showing in my Win 10 pro version after successful update of windows

Hmm, I am suddenly getting this: Internet Error (0x08f1d410): Internet out of disk space. Details: "http://windowscentral.com/how-enable-windows-spotlight" exceeded disk quota (too many comments).

So this is a feature that comes to Windows Home first? Nice

Just a warning to the security conscious, if you vote on these pictures, that information will be sent to... Microsoft! (gasp) /s Sorry, I couldn't help it.

I love the background image. Do you have a link to it?? Been searching Bing but have yet to find it.

I have Windows 10 Home and have spotlight option, but it's not working. I have only one and the same image all the time, have no option "do I like it or not", and don't have slide option as well in the lockscreen, only in my desktop themes.

Hi Galljinocka: I have the same problem as you, and I have just posted my same problem this morning in this forum. Nobody reply me yet. Have you solved this problem already? I can see different Windows Spotlight preview images, but have only one and the same image all the time when I start my Laptop everytime. Post it in this forum if you have solved this problem. Thanks. William Liau

I enabled the Spotlight feature but I'm not seeing the "like what you're seeing" in my lockscreen. I waited for about 15 minutes.

So, instead of all those detailed steps you listed, why not just press window key, then type 'lock screen'. It skips most of your steps, and takes you to where you need to be

Anyone know where to find more information on the images displayed in Windows Spotlight? I've currently got a mountain scene for my lock screen and I'd love to know where it is...

Can anyone help me with my Windows Spotlight? I have Windows 10, I set my Lock Screen Background to Windows Spotlight & I can see different pictures in the Preview box (nice pictures!) when I go to Settings. But when I swicth on my laptop each time, I always see the same picture (a cave looking out to the beach with 2 big rocks on the beach) on my lock screen. My laptop is Asus N56VJ, Core i7 with full HD 1080P screen. Can anyone advice me?

I have the same problem as William. I have Windows 10 Home Version, have selected Spotlight in Personlize in my settings. I do not have the "Like what you see" option, and just the same scene each time I turn on my laptop. Can anyone help please?

theres no windows spotlight for windows 10 enterprise 32bit activated.please have a fix to this.

I only seem to get the spotlight on the lock screen. Is there any way / (anything missing) to get it to also be on the actual login screen. The standard blue modern windows backgroup logo looks flat by comparison to the spotlight images :)

still no Spotlight for Pro users :/

@New Eng - just found my way to this article and I'm on Win 10 Pro 64bit upgraded from Win 8.1 Pro 64bit and the setting is exactly where the instructions say it is. Are you sure you are not on Enterprise edition perhaps?

No, I am windows 10 Pro 64-bit (Genuine not cracked). But Looks like I am not on the latest version of windows 10, I believe it should appear after the update, Thanks for help.

Ah, that must be it. I've got the big November update + everything after that too.

I like the spotlight picture I have now and am annoyed by the steady steram of new choices that I never asked for or authorized. I want to stop all these new choices from appearing, but cannot find out how to do that. MS should make it easy for users to opt out of the things they (MS) think we will like becaue some of us do not like them. I am obviously not a fan of this 'like what you see' feature.

I have a work and home Windows 10 Pro machine and it works fine on the work machine but not on the home machine. Weird. Now I had to upgrade to latest build to see the option and maybe it takes a little while to download a few images.

I don't like this Spotlight thing or whatever it is. I need to get work done and it is annoying. Can I disable it?

Yes, you can set your lock screen to have the spotlight backgrounds or the same background every time or a solid color, or slideshow your pictures by going to settings/personalization/Lock Screen. :) I'm curious of how it could affect your work... it only changes the lockscreen background and it does not require any actions from you. The lock screen functions as normal.

Actually, while I don't see how it could affect work - it has gotten old quick. Everyday I answer their question; I mostly like landscape pictures. But I keep seeing other pictures I don't like. If an algorithm is being created based on my personal answers, that must be some algorithm. I've been voting since October 2015. I think it's time to turn that feature off now; it is getting annoying. And while I understand I don't have to do it, I also don't want to see ugly pictures keep popping up. I assumed voting 'no' would ensure I wouldn't get any more ugly ones.

Windows 10 home,still no spotlight working.Tried all fixes and still zero,Find it funny that there was no issues during the beta techical,but problem persists on final release...

One one of my laptops its not working, even though I checked the settings as above and they are correct. This feature is working fine on my other computers. I like it.


Does not work for initial startup or restarts. Every time I restart the PC, the same picture is there - nothing changes. This is a great feature only for loging in and out AFTER you have already logged in for the 1st time since startup. Wish it worked on the 1st login, since I hardly ever log out and never see different lock screen backgrounds.... same one every time at restart or power up. Is there a way???

I always see new lock screen photos which are random and diverse. I like this variety and I never bothered with the "Like what you see?" selection question. I first selected "Not a fan." just to have more randomness which is what happened and I loved the various beautiful photos...very diverse too. Then recently I decided to select the "I like it!" and I thought I would be able to still have the randomness, but it froze on the same photo. I then tried to change it back to the "Not a fan." to have the random photos, but after many hours of trying, I could not find anything. Of course, this website, windowscentral.com, definitely was the closest I got, but it does not explain how to get back to the original setup. I am stumped and I would hope that someone would be able to help out. In fact, I do not see the "Like what you see?" at the top right of the lock screen anymore and I tried going through the personalization settings, but to no avail. Could anyone please help? This may seem unusual, but I like the mystery of the new photos that would come up after flipping up the laptop screen and the login would be a simple fingerprint sign-in scroll. Of course once in a while, the same photos would show up, but at least there was a great diversity of photos from all over the world. The other thing was, does anyone know how to find the details as to where these photos are from? It would be nice to know just to be informed and who knows, for anyone to go visit one day if it would be possible. Thank you, brunello7

I feel exactly like brunello. I want toknow how to view all the options photos and where they were photographed

This is really a pretty pointless exercise isn't it? I know for a fact that I've rejected (not a fan) the same image multiple times. There is a distinct pattern to pictures I like, and after these past few months, I'm sure I could train my cat to sort these images into piles without asking about the same images over and over. Lately, if I like it, I just click away from that screen altogether knowing that has no real influence at all on what I'll see next time. Cool feature, just not well used or thought out by its provider.

I like the Spotlight photos, but I DO NOT LIKE the extreme pushing of color. I want a more natural photograph, not over manipulated. Sunsets are too red, lakes are too blue, fields too green. Make it at least look real!

It should be a way to remove the entire menu "Like what you see". Perhaps after I choose in it (currently not existent) an option "I like any kind of photos" (nature, objects, etc).

I wish they would just ask me what I want to see! All I want to see is warm tropical beaches. It would make it a lot faster.

The small toolbar asking fan or not a fan is not appearing although spotlight is on. Any idea why?

All I want to know is where this picture was taken, so I can go there and see that view myself.

Thank you! I'd like to know if there is a way to get information on the pictures that we 1) "I like it" & want more like this 2) "Not a fan" I appreciate all you do & for the answer to this question. ~ Peace

Ok, I like the pictures a lot. I just wish there was a link that would tell me what they pictures were. I might want to visit or look up more pictures of the same place. So please, tell us what these pictures are about also instead of just letting us say we like them.

Many of the same pictures can be found in the Bing gallery... which allows for sorting by color, location, etc... and also downloading your favorites!
http://www.bing.com/gallery/?&form=hpbal1#

Just wanted to check the box that let me follow the comments

I've done the selection as detailed above but it isn't working for me. I still don't see the lock screen picture, my pc goes straight to my picture. As I'm the only one living in the house and no one else has access to my laptop, I don't use a password. Could this be the reason?

All lockscreen details shown above are really good but windows made more changes in new updates. - Clash of Clans Hack Hack-Trick

A month or so ago my Spotlight changed. I now get a black background with all of the normal Spotlight text so I don't see the photo until I click the mouse. Then, I don't see the text and have an opportunity to Like or not Like the photo. Anybody else have this problem or know how to get the phota and the text at the same time. It used to work correctly but not now.

I'm like you, I don't see anything. I'm going to give it another try.
Windows Central Newsletter
Thank you for signing up to Windows Central. You will receive a verification email shortly.
There was a problem. Please refresh the page and try again.