More Windows 10 features like Windows Spotlight lockscreen shown at Build 2015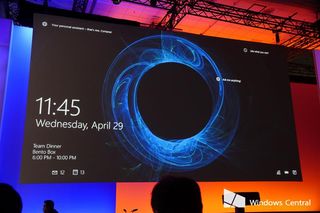 Microsoft showed off more Windows 10 features during its Build 2015 keynote. One of them is Windows Spotlight, a new lockscreen feature.
Windows Spotlight will show users the great images from Microsoft Bing.com homepage, and will let users vote if they like those images for the lockscreen background. This will allow Windows Spotlight to tailor the look of the lockscreen for each user. Spotlight will highlight aspects of the Windows 10 OS that users may have missed.
Microsoft also showed off the new app suggestions feature for Windows 10, which will bring that info from the Microsoft Store to the destkop directly on the Start menu.
Stay tuned as we will have more news from the Build 2015 keynote throughout the day.
I received brainstorm with all that news... but, THAT CORTANA WALLPAPER IS MIND BLOWING! I want it badly...


Kinda looks ugly, being honest.

nice lockscreen wallpaper...i want it now...

Live lockscreen still exists in Windows 10?

I too like to know about that

nice see windows 10 a new waves.

when will they release the lock screen SDK?

Yeh no joke, I would love to build some unique lock screen animations for either platform or both.

Dear Windows Cental: Please get us a copy of that Cortana wallpaper STAT kthnksbye, me

Make lock screen customizable, if i play a song from a music app, app can be able to make changes to the lock screen like album art etc

This is already in Windows 10 TP build 10061.

Someone needs to PhotoShop the text out of the cortona picture so we can use it for our back grounds

Not this one it's tilted a little.

Office Lens can straighten it up!

This stuff mixed with Tetra lock screen and we have the best lock screen ever.

can I get that lock screen pic

Im collecting all spotlight backgrounds in this forum: http://forums.windowscentral.com/windows-10-general-discussion/353165-wi...

Couldn't find this pic though.
Or did I miss something?

This lockscreeen customization is great, but when they said customizable lockscreen experience, I was expecting like swiping letters to open some useful apps like flashlight, camera, calculator. First party apps at the beginning and then maybe later allowing devs to use this feature with their apps. Android phones have this feature, not sure if high end ones or all, but it's pretty handy feature.
Windows Central Newsletter
Thank you for signing up to Windows Central. You will receive a verification email shortly.
There was a problem. Please refresh the page and try again.