How to easily upgrade from Windows 10 Home to Windows 10 Pro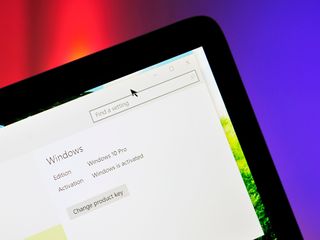 For many consumers now on Windows 10 your version of the OS – Home versus Pro – depends directly on the previous upgraded OS. More specifically, if your computer had a license for Windows 7 Home Premium you upgraded to Windows 10 Home. Likewise, if you were on Windows 8 Pro your version of the OS should be Windows 10 Pro.
What's the difference between Home and Pro? As it turns out, the differences do not mean much for regular consumers. The versions here truly reflect a consumer edition versus one better suited for business users or professionals.
Windows 10 Pro offers the following features over Windows 10 Home:
Join a Domain or Azure Active Directory: Easy connect to your business or school network
BitLocker: Help protects your data with enhanced encryption and security management
Remote desktop: Sign in and use your Pro PC while at home or on the road
Hyper-V: Create and run virtual machines
Private Catalog: Access your company's apps through your own section in the Windows Store
As you can see, many users do not need these functionalities but for others they are a must-have for their jobs e.g. developers, business users, some students, and those in IT and related fields.
Additionally, Windows 10 Pro (and some versions of Windows 10 Home Single Language) can defer automatic updates to Windows 10. You can read how to do that in our tutorial:
How to defer Windows 10 updates
Many of Microsoft's own devices like the Surface series, including the Surface Pro 3, come with a Pro version of the OS, so they all get Windows 10 Pro during the update. The same goes for many Lenovo's and even my HP x360 Spectre.
However, the newer Surface 3 only comes with Home and, therefore, does not get Windows 10 Pro unless you upgrade to it.
To verify what version of the OS you have
Windows 8.1
[Win + C] > Settings > Change PC Settings > PC and devices > PC Info
Windows 10
Settings > System > About and look under Edition.
How to Upgrade Windows 10 Home to Windows 10 Pro
For whatever reason, let's just say you want to upgrade your version of Windows 10 Home to the Pro version to grab those features mentioned earlier. Microsoft has made it incredibly simple although it is not a free update. Here is how it works.
1. Right-click on the Action Center
2. Choose All Settings
3. Pick Update & Security
4. Click Activation
5. Click Go to Store
You are now brought to the Store listing for Windows 10 Pro. Here you can buy the upgrade for a one-time cost of $99. The purchase is made through the Store just like buying a new, game, movie or music.
Once you complete the purchase, the OS simply unlocks those Pro features once the bits have been downloaded. Your Windows 10 license key is also automatically converted to a Windows 10 Pro one. Since your hardware ID is linked to your license in the Store clean installs should also be okay.
You do not need to Activate Windows 10 to install it, but this is how you can activate later
Note that it is more expensive to buy a Windows 10 Home license ($119.99) and upgrade to Pro ($99.99) for $218 total instead of just initially purchasing a $199.99 Pro key. However, this only applies if you are building a new computer, not for upgrades.
Users should also note that you cannot upgrade a 32-bit version of the OS to a 64-bit one due to architectural differences.
Wrap-up
Overall, the process for upgrading your Windows 10 Home license to a Pro one is just as simple as activating in the first place. Of course, whether you need to do so is another matter. Most consumers should be okay with Windows 10 Home but if you find that you need a Pro version now you know how to make that happen.
If you think this guide is helpful, we have many more posts like this in our Windows 10 help, tips, and tricks page. Or try our massive Windows 10 Forums at Windows Central for more help!
Windows Central Newsletter
Get the best of Windows Central in in your inbox, every day!
Daniel Rubino is the Editor-in-chief of Windows Central, head reviewer, podcast co-host, and analyst. He has been covering Microsoft since 2007 when this site was called WMExperts (and later Windows Phone Central). His interests include Windows, laptops, next-gen computing, and for some reason, watches. Before all this tech stuff, he worked on a Ph.D. in linguistics, watched people sleep (for medical purposes!), and ran the projectors at movie theaters because it was fun.
How❔❔ $$$$$$$... Easy as pie.

Everything is easy as long as you have enough money!

haha, I was thinking the same thing.

Funny because the article makes it seem as though it's free until the end.. Lol.

Funny that you'd expect it to be free... lol

yeah i fk had windows 8.1 pro and now i got windows 10 home. fk microsoft....

um, don't you think they may have made an error and if you notified someone they would fix it? I've never had issues with microsoft ignoring something that egregious....

"Windows 10 Home Single Language" and that explains why my dad got it on his laptop, the defer upgrades. which doesn't explain why they get defer upgrades but other normal home users don't. not like i care, still I will upgrade and update my system right away. I really don't see why I would need Pro, I mean, I have it here, but if I had home, I would not really spend money upgrading. but it's good to know the process if I ever need to upgrade my dad's laptop. but I doubt it. It looks easy. but it was surprising to read how I always thought defer upgrades was a thing for everyone since single language had it. but it's interesting to know it's not on normal home users.

Only if you are an insider you have the option to defer upgrades.

you can defer updates or upgrades on the pro version

I use it for bitlocker. If anybody steals my lappy they won't be able to use my hard drive Posted via the Windows Central App for Android

I've got Windows 10 Home on my Asus Vivo Tab 8 M81C with multiple languages. I have the option to delay updates and I turned it on. I also have BitLocker enabled on my OS partition (aka, C: drive), even though that is a Pro feature. Apparently, Asus was granted the ability to turn on some pro-level fetures in their distribution of Windows 8.1 for this particular tablet. (Thanks, Asus!)

One reason to defer updates is that the update process manages to hog my entire bandwidth (16 mb/s DSL) and makes it impossible for me to use a browser, check my emails or even listen to internet radio. When Win10 decides to download a large cumulative update plus a bunch of security fixes for Office, this can easily take half an hour. It really sucks when your PC decides out of the blue that you can't get any work done for the next 30 minutes. Even home users shouldn't just have to accept this. Luckily, I've found that I can kill all update-related service host processes in the task manager to stop Windows from updating until the next reboot, so Microsoft won't be able to extort $99 from me.

Windows pro you can go back to your old os whereas the home edition I am stuck with a non functional os. Thats my experience on my two upgrade computers.

That's not because it's Pro or Home tho, you simply had bad luck with your Home upgrade.

Both upgrading and downgrading (read: reverting back to Windows 7 or 8) can result in an unstable installation. It's always better to make a clean install. If you've upgraded from Win7 or 8, run the Win10 setup again and select the "only keep my files" option. And if you want to downgrade, it's best to reinstall 7 or 8 from DVD and wipe your system disk in the process.

I installed the Pro ISO on my HP Stream 7 and didn't have to pay a cent. I had the technical preview on it, the preview glitched so I downloaded the Pro ISO just for fun, installed it and ended up just activating it using the existing license that was on my account and it worked just fine.

The tech preview (of Windows 10 Pro) is the same Windows 10 Pro all customers are running. It's called build 10240. Microsoft reopened the Insiders program so people can run the OS free of charge as long as you agree to their conditions. Posted via the Windows Central App for Android

So could I replace my HP 7 stream 32 home to 64 home if is'm in the tech preview?

That requires a whole new install, not an upgrade, but I'm curious on the same.

I don't think the HP Stream 7 can run Windows 10 64 bit because it only has 1GB of RAM.

Good point, I forgot about the ram, I just knew it had x64.

I think that's more to do with the fact that newer computers have the windows license on the motherboard in the uefi, so its as if you bought a windows 8 license when you bought your stream. So when you upgraded to the tp, it used your win 8 license, hence why you were able to upgrade to full windows 10 through the ISO. Coz its using a valid license
That's how o think it works anyway
That's how it works on the surface pro 3

I accidentally upgraded to windows 10 Enterprise. How to go back to Pro?

Enterprise is even better than Pro lol

You can't go back to pro unless you wipe and clean install. Also, how do you accidently go enterprise??

After clean install during the installation I formatted the partition with windows 7, thinking windows 10 hooked up the key. But it installed and refused to activate. So I googled to find another key. I am not paying foк what is supposed to be fo free. I don't have box or anything from my windows 7 install. It was years ago.

I don't get it: did you choose to perform a clean install before updating Windows 7 to Windows 10?

huh, my Spectre x360 upgraded to Win10 Home. Don't think I care but interesting. I bought mine direct from HP.

Mine was from Build so it makes sense Microsoft would give devs the Pro version of the OS ;) Consider it the exception.

I use RDPWrap for RDP on Home.

As of now you lose Windows Spotlight if you upgrade to pro.

Bitlocker is the only compelling reason to upgrade to Pro. Not sure its worth $99 though. Posted via the Windows Central App for Android

I agree. However, it is unfortunate Microsoft does not include BitLocker in the consumer version of Windows 10. Why not offer a native encryption security feature by default?

Actually all copies of Windows 10 have a version of Bitlocker in it... so yes, your Home computers will be encrypted. It's just a version of Bitlocker that lacks central administration capabilities. As long as you have a Microsoft account your Bitlocker key will be backed up to OneDrive under a hidden \recovery folder.

Remote Desktop is a compelling reason to me! I use RD every day...

Curiously, I've got Win 10 Home and can use Remote Desktop. I am using the app instead of the application (haven't tried), so maybe that is the difference.

How to easily get the premium Windows 10 mobile device. When you hear it's available for sale , go to the Microsoft store and order it.

This was one of the reasons I couldn't use the preview version. No domain support.

But the preview was the Pro version. How did you not get domain support?

KMSpico all the way! 0$ cost

Yeah cause stealing is so cool...

Surface 3 comes with an option to purchase the Commercial version which includes Windows Pro. In fact it's a pretty good deal because it only costs $50 more and you get 2GB of additional RAM and Windows Pro. So to be clear you can purchase the Surface 3 for $499 which comes with 2GB RAM and Windows Home. Or you can purchase the Commercial version for $549 which comes with WIndows Pro and 4GB RAM. They are both 64bit OS's.

Having remote desktop on W7 Home Premium and not transferring this feature to the W10 equivalent is asinine. This is an important feature for many people.

Yes, but not many average users that don't need that stuff and would be sufficiently served by the home edition. I brought 7 Ultimate for my older bro's PC. Hardly uses any of those features now. So as some people's lives and priorities change so do their usage.

The app transfered for me. In fact, I am using it right now to post this comment. Edit: Just tried mstsc.exe (the desktop application version of Remote Desktop)... also works for me.

That's weird: My Windows 10 Home is upgraded from Windows 8.1 Standard on my XPS 13, and I recently upgrade to Windows 10 Pro for FREE. Yes, the button to upgrade is not labeled with price. Instead, it's just "Upgrade" and I press and upgrade to the Pro edition successfully and the OS is still activated.

It's all about the money isn't it??? Lol! Here's an easy way. But the W8.1 Pro from G2A.com for $30, install and update to W10 Pro Voila! $30 compared to $99... I'll let you do the math.

Or you can buy a windows 7 copy for half that price from ebay... You get the idea ;)

I have two physical processors in my PC so I had to go for the Pro upgrade. Home will only use one. :(

Wow, rare setup for a home PC.. Are you running old server hardware?

Hey Daniel, its not that easy. I have tried multiple times by now....but every time it says that there is an error from our end and closes the store page

I have a note with pro and a note with home... Even though i have log in credential for domain..i Just prefer to use vpn or other online logins instead ...

Is there any path from Enterprise to Pro?

no, as that'd be a downgrade, which is not possible AFAIK

Yep.. It looks like it is not possible. I had Windows 8.1 Ent and upgraded as an Insider to 10. System is in messy state now. Looks like, I have to do a clean install. BTW Should we call it downgrade? There is no major difference in features of Pro and Enterprise. It should be called sidegrade.

Try downloading the windows 10 media creation tool. And choose the option to install via usb. I believe with this option you get the drop down box allowing you to choose which version of Windows 10 to download onto the USB drive.

Home single language to Pro $ 139 ... Skip ;-)

I think the price ist with 99$ too high :(

How on Earth is $99=€159. It should be €99

Ms upgrade my PC with 8.1 UK home to pro multi language for Free!! but I this PC build is 4yrs so I already replaced it still have to buy an OEM pro key:|

I didn't undestand what happened in here, I hit the upgrade button and upgraded to PRO, but I didn't have any credit card registered, only R$ 29,00 brazilian money in my wallet and it's still in there all the money and my pc is PRO now. I'm Confused.

Hi, I have a key for windows pro. My computer is Windows home. Could I change the product key directly ? Do I have other way to do this without erase my computer ? Tks!

Why does the upgrade to Pro cost £99?

$99 = £63 so why are MSFT charging UK £99? Rip Off or what?

If I pay the £99 to upgrade from Home to Pro, what happens if I need to factory reset my machine? That will obviously revert to Windows 10 Home. Will I be able to activite my Pro upgrade again, without purchasing a second time? How?
Windows Central Newsletter
Thank you for signing up to Windows Central. You will receive a verification email shortly.
There was a problem. Please refresh the page and try again.