How to defer Windows 10 updates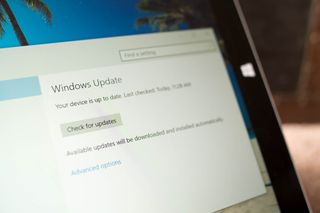 While many enthusiasts go celebrate every time an update comes out for Windows 10, there's a group of people and businesses who rather wait. Certain editions of Windows 10 allow you to defer upgrades, which ensures important software don't break. New features won't be installed for several months to allow for more testing, but you'll still get security updates. We'll show you how you can defer upgrades in Windows 10.
1. Go to Settings (keyboard shortcut: Windows key + I) > Update & security
2. Tap or click Advanced options
3. Check the box, Defer upgrades
Here's the official word from Microsoft about deferring upgrades:
If you do not see the Defer upgrades option, it means your edition of Windows 10 isn't supported. You'll need to upgrade to Windows 10 Pro, Enterprise, or Education. You can read our guide on how to easily upgrade from Windows 10 Home to Windows 10 Pro for more details.
If you or your organization have a mission-critical software, deferring Windows 10 upgrades is a safe option to have. The downside, of course, is that you won't get new features until after several months.
Have you enabled this option in your Windows 10 PC? Let us know why in the comments!
We hope these tips help you become more productive in Windows 10. For more tips, we have many more posts like this one in our Windows 10 help, tips, and tricks page.
Get the Windows Central Newsletter
All the latest news, reviews, and guides for Windows and Xbox diehards.