How to defer Windows 10 updates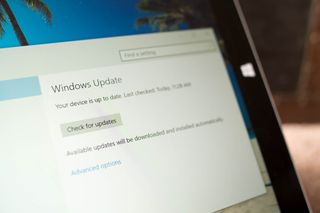 While many enthusiasts go celebrate every time an update comes out for Windows 10, there's a group of people and businesses who rather wait. Certain editions of Windows 10 allow you to defer upgrades, which ensures important software don't break. New features won't be installed for several months to allow for more testing, but you'll still get security updates. We'll show you how you can defer upgrades in Windows 10.
1. Go to Settings (keyboard shortcut: Windows key + I) > Update & security
2. Tap or click Advanced options
3. Check the box, Defer upgrades
Here's the official word from Microsoft about deferring upgrades:
If you do not see the Defer upgrades option, it means your edition of Windows 10 isn't supported. You'll need to upgrade to Windows 10 Pro, Enterprise, or Education. You can read our guide on how to easily upgrade from Windows 10 Home to Windows 10 Pro for more details.
If you or your organization have a mission-critical software, deferring Windows 10 upgrades is a safe option to have. The downside, of course, is that you won't get new features until after several months.
Have you enabled this option in your Windows 10 PC? Let us know why in the comments!
We hope these tips help you become more productive in Windows 10. For more tips, we have many more posts like this one in our Windows 10 help, tips, and tricks page.
Windows Central Newsletter
Get the best of Windows Central in in your inbox, every day!
I will never use this option...i need to be up to date

Except when an update makes things worse. Sometimes updates break software and having knowledge of this is a reason for me to defer such an update.

Hey mark how about the tools that provided by MS to hide updates

It's been useless on several machines I've tried, as i want to stop WU from installing buggy display drivers. I haven't been able to hide the display drivers as it doesn't offer to hide them. The way it works from the looks of things, it checks for pending updates that are available for your machine and offers to hide them. Not sure how the auto-repair function works as I don't want it hiding updates for me (I'm presuming that's all it does). However not once has it ever offered to hide display drivers. Never the less it is as they a "temporary fix".

What if i disabled the windows 10 update service from services,msc? What can possibly go wrong?

This should be available in windows 10 home edition too, mark can your review the windows 10" hide updates" tool.

I am using the Home edition, and it is available for me.

Home Edition Single Language can do this, but regular Home edition cannot.

As someone who has provided support to home users of Windows, they need updates. Manufacturers also need to make sure that correct drivers are being applied, but that's a different issue.

Better yet revert back to 8.1 and don't let Ms install malware and collect data on you

So much to give up just for a single thing.

Install Malware?? Me, thinks your brain for the Tin Man's suit would be a good trade :P.

Aaaaaaand the tinfoil hat wearers have arrived.

Do you know what year it is?

They didn't do that. MS collecting data about you because they need to do so to provide you a services. If you didn't like it don't use Microsoft services and stay with local account. Your OS will work just fine

lol, must be a Google user who is conditioned to accept malware/spyware, that does the same and also scans your emails.

Dear author, there's a difference in 'upgrade' and 'update'.

Yes, there is. But it doesn't make much difference in this context.

Anyone who knows why I'm not getting the 525 build update on my w10240? Yeah I'd activated the fast ring option..

I don't like Windows automatically installing updates of any kind. I like to choose the most suitable time to download and install them. I don't know why Microsoft is forcing updates down users' throat. I had to change the group policies for such thing, it would be easier to just letting us choose how do we want to install updates like in previous versions.

So that people like you don't become part of botnets and fuck it up for the rest of us lol

Same here. Why is it "defer for several months"? How about when I choose to install when I want to..

Please anyone tell me how to stop automatic updates in windows 10. I'm using mobile data (Limited plan) with hotspot feature and don't want updates without my knowledge.

If you are in W10 Pro you can change it on gpedit. Just search for Windows Update in the tree and find the automatic updates setting.

The updates normally don't download over metered connection ls

The updates normally don't download over metered connection ls

Set your connection as metered and it wouldn't downloaded when you enter public wifi such cafe or airport with limitless plan the update will download itself

Set your connection as metered. If the option is not available(like me) then Go to Search bar(In task bar). Type services. Select the Services desktop app. In the long list of options find Windows Update. Right click and disable it in Properties. That worked for me. I am sure this works 100%

The best system of update was in Windows 8.1, where we had the choice in the update section exactly which update to install and which not. It was extremely useful in cancelling the download of updates I didn't require, like those of Microsoft Office... They need to add that feature back! Posted via the Windows Central App

You can still manage all your updates manually and choose which you want and which don't using the powershell Windows update module. https://gallery.technet.microsoft.com/scriptcenter/2d191bcd-3308-4edd-9de2-88dff796b0bc This is very useful for large updates (like service packs) which have 700MB of size and are released about every 6 months for fresh installs.

But there isn't even an option to set Windows Update to never check for updates, there's only the option to either automatically install or notify to schedule restart.
Also, the powershell stuff is tricky and even if I do try that, Windows will probably have installed the update. Posted via the Windows Central App

Automatic updates on my SP3 and never an issue.

Wow, a device made by MS, with an OS made by...MS. And never an issue??!?!

With millions upon millions of users it happens. It's just that people tend to shout out when they have issues.

1) win+R 2) services.msc 3) Locate "background intelligent transfer service", click "Stop"

I have automatic updates on my Dell Inspiron 5548 and don't have any issues at all. I want to point out that I didn't know about the Deffer updates option in Windows 10. The day I installed Windows 10, due to slow internet issues and not enough time to install updates, I disabled Windows Update service and I was able to keep working on my machine normally (install the appstore, download my apps, etc) without having interference on Windows Updates. Just in case the Deffer updates is not available on your machine you can go to services by typing services.msc and stopping and disabling Windows Update in case you don't want to receive updates.

I would still prefer downloading and installing updates at my will on Windows 10 Home.

I think deferring updates should be allowed for everyone, say for a maximum of 30 days, or defer all updates that require a reboot. For instance, I went away left laptop on to Download tv shows whilst I was away. This must be a common scenario.
Windows Central Newsletter
Thank you for signing up to Windows Central. You will receive a verification email shortly.
There was a problem. Please refresh the page and try again.