How to stop automatic updates on Windows 10
By Mauro Huculak published
You can disable automatic updates on Windows 10, and in this guide, we'll show you three ways to do this.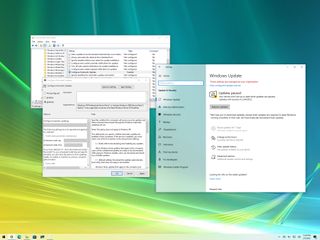 (Image credit: Windows Central)
On Windows 10, cumulative updates download and install automatically as soon as they become available. Although this approach allows laptops and desktop computers to receive security updates to patch vulnerabilities, improve performance, and bring enhancements without user interaction, it is a very controversial feature.
Usually, it's because updates contain bugs that can negatively affect the experience in many ways. For instance, they could break existing features, introduce driver and application compatibility problems, or cause the Blue Screen of Death (BSoD), and they require a system restart to complete the installation that can disrupt your workflow.
If you experience more problems than benefits during updates, or if you have a good reason to use a device without updates, depending on your edition of Windows 10, you can disable automatic updates using the Settings app or permanently with the Group Policy and Registry.
In this Windows 10 guide, we will walk you through the steps to prevent Windows Update from automatically downloading and installing updates on your computer.
How to disable automatic updates using Settings
If you have to prevent the system from downloading a specific update, you do not need to disable Windows Update permanently. Instead, you should only pause Windows Update until the next Patch Tuesday arrives. The Settings app includes an option to stop updates for up to 35 days on Windows 10.
To disable automatic updates temporarily, use these steps:
Open Settings.
Click on Update & Security.
Click on Windows Update.
Click the Advanced options button.
Under the "Pause until" section, use the drop-down menu and select how long to stop updates.
Once you complete the steps, Windows Update will no longer download for the time you specified. When the system reaches the pause limit, you will need to install the latest patch available to make the option available again.
You can always undo the changes with the instructions outlined above, but on step 5, choose the Select date option. Alternatively, you can accomplish the same effect by clicking the Resume updates button.
How to disable automatic updates using Group Policy
On Windows 10 Pro, the Local Group Policy Editor includes policies to permanently disable automatic updates or change the update settings to choose when patches should be installed on the device.
Disable Windows 10 updates
To disable automatic updates on Windows 10 permanently, use these steps:
Open Start.
Search for gpedit.msc and click the top result to launch the Local Group Policy Editor.
Navigate to the following path:Computer Configuration > Administrative Templates > Windows Components > Windows Update
Double-click the Configure Automatic Updates policy on the right side.
Check the Disabled option to turn off automatic Windows 10 updates permanently.
Click the Apply button.
Click the OK button.
After you complete the steps, Windows 10 will stop downloading updates automatically. However, the ability to check for updates manually will continue to be available on Settings > Update & Security > Windows Update, and clicking the Check for updates button to download the most recent patches as needed.
If you want to enable automatic updates on the computer again, you can use the exact instructions outlined above, but on step 5, make sure to select the Not Configured option.
Limit Windows 10 updates
The Local Group Policy Editor also lets you choose how to disable automatic updates.
To manage Windows Update automatic downloads with Group Policy on Windows 10, use these steps:
Open Start.
Search for gpedit.msc and select the top result to launch the experience.
Navigate to the following path:Computer Configuration > Administrative Templates > Windows Components > Windows Update
Double-click the Configure Automatic Updates policy on the right side.
Check the Enable option to turn on the policy.
Under the "Options" section, select the option to prevent updates from downloading automatically on Windows 10:

2 — Notify for download and auto install.
3 — Auto download and notify for install.
4 — Auto download and schedule the install.
5 — Allow local admin to choose setting.
7 — Auto Download, Notify to install, Notify to Restart.

Quick tip: The best option to disable automatic updates is the 2 — Notify for download and auto install option, but you can make a different selection. If you choose option 2, updates won't download automatically. Instead, you will now see an "Install now" button to manually trigger an update on the Windows Update settings page.
Click the Apply button.
Click the OK button.
Once you complete the steps, automatic updates will be permanently disabled on Windows 10. However, when new updates become available, you will be able to install them manually from the Windows Update settings page.
How to disable automatic updates with Registry
You can also use the Registry in two different ways to disable automatic updates on Windows 10.
Warning: This is a friendly reminder that editing the Registry is risky and can cause irreversible damage to your installation if you don't do it correctly. Before proceeding, it's recommended to make a full backup of your PC.
Disable updates
To disable Windows 10 updates permanently changing the Registry settings, use these steps:
Open Start.
Search for regedit and click the top result to launch the Registry Editor.
Navigate to the following path:HKEY_LOCAL_MACHINE\SOFTWARE\Policies\Microsoft\Windows
Right-click the Windows (folder) key, select the New submenu, and choose the Key option.
Name the new key WindowsUpdate and press Enter.
Right-click the newly created key, select the New submenu, and choose the Key option.
Name the new key AU and press Enter.
Right-click the AU key, select the New submenu, and choose the DWORD (32-bit) Value option.
Name the new key NoAutoUpdate and press Enter.
Double-click the newly created key and change its value from 0 to 1.
Click the OK button.
Restart the computer.
After you complete the steps, automatic updates will be disabled permanently on the device. However, you will still be able to download updates by clicking the Check for updates button on the Windows Update settings page.
If you want to undo the changes, you can use the same instructions outlined above, but on step 4, right-click the WindowsUpdate key, select the Delete option, then reboot the computer to apply the settings.
Limit updates
Finally, you can use the Registry to configure the system settings to decide how to get updates on Windows 10.
To use the Registry to stop automatic updates, but decide how to receive updates, use these steps:
Open Start.
Search for regedit and click the top result to open the Registry Editor.
Navigate to the following path:HKEY_LOCAL_MACHINE\SOFTWARE\Policies\Microsoft\Windows
Right-click the Windows (folder) key, select the New submenu, and choose the Key option.
Name the new key WindowsUpdate and press Enter.
Right-click the newly created key, select the New submenu, and choose the Key option.
Name the new key AU and press Enter.
Right-click the AU key, select the New submenu, and select the DWORD (32-bit) Value option.
Name the new key AUOptions and press Enter.
Double-click the newly created key and change the value (number only) to:

2 — Notify for download and auto install.
3 — Auto download and notify for install.
4 — Auto download and schedule the install.
5 — Allow local admin to choose settings.
7 — Auto Download, Notify to install, Notify to Restart.

These options are the same as the Group Policy settings, and option 2 is the closest to disable Windows Update permanently.
Click the OK button.
Restart the computer.
Once you complete the steps, cumulative updates will no longer download and install automatically. However, when a new update becomes available, you will find the option to install it manually from the Windows Update settings.
You can use the same instructions outlined above to restore the original settings, but on step 4, right-click the WindowsUpdate key, select the Delete option, and reboot the computer.
Updates are essential to fix security vulnerabilities, resolve issues, and improve the overall experience, no matter the version of Windows you use. However, you may still need to disable this feature in some situations. For instance, when you want to have complete control over updates on Windows 10, when you want to avoid issues since bugs are common in most releases, or when you are using a critical app or equipment, and you do not want to encounter any compatibility issues.
More Windows resources
For more helpful articles, coverage, and answers to common questions about Windows 10 and Windows 11, visit the following resources:
Windows 11 help, tips, and tricks
Mauro Huculak is technical writer for WindowsCentral.com. His primary focus is to write comprehensive how-tos to help users get the most out of Windows 10 and its many related technologies. He has an IT background with professional certifications from Microsoft, Cisco, and CompTIA, and he's a recognized member of the Microsoft MVP community.
They aren't actually annoying!

They are annoying when they make your computer unstable. It happened to me when the driver for my apu got updated. It was unstable and kept crashing my laptop. So I had to find a way to stop it from installing automatically. I was able to do it, but someone who isn't tech savvy would probably not have been able to do it.

How does a constructive and factual criticism like this get downvoted? Guess the die-hard fanatics on this site simply can't stand the truth...

Wouldn't that be more the fault of the hardware vendor for putting out a driver that causes issues?

Yes of course it would. But it's easier to s*** on Microsoft rather than taking it up with the hardware vendor instead.

It's not the hardware vendor that forced the update. Besides, I had a Windows 10 OS update kill my computer, you can't palm that off on anyone but Microsoft.

@fuzzylumpkin - Yup had many a computers go south requiring complete refreshes after a forced update - sure, could have spent the hours / days trying to find a solution to resolve but the majority of the time it ended in a complete wipe anyway as none of the recommended fixes worked - strange how every time it happens to me none of the common fixes to an error ever seem to work, I must special ;).

There was an update for the Surface Pro 2 that broke Wifi. That's all on MS. They make the hardware and software. It was later fixed, but required having a usb to ethernet adapter to get the new update.

I've had the same thing happen with a cumulative update to Windows 10... Made my desktop unusable and required a format and reinstall to fix.

Then, Microsoft must push stable updates to general public. My logic is, if I am trusting Microsoft with the OS, Windows 10, then I must trust them about the updates as well. I am a developer, and I generally push updates to fix the bugs not to make my app unstable. So, auto updates aren't annoying, but buggy updates are!

Yes, but combine the two and you don't just get buggy updates, you get FORCED buggy updates which is the real problem. If MS could be sure their updates were entirely bug free then forced updates might make sense. Since this is impossible, the only solution is to let the person using or administrating the end devices act as gatekeeper. The responsibility should be on the end user to ensure things they install are compatible with and work properly on their hardware. If MS want to take on that responsibility then fine, but when they drop the ball yet again they need lots of support staff on hand to fix each PC. This has not happened and will never happen, so... problems. Strange how so many of us saw this coming, but no-one from MS saw it.

The 1 month update delay in RS2 should keep all naysayers at bay, given the occasional botched update.

It doesn't really solve the problem of a botched update because by the time you'd know an update that was released is botched it would be too late to then pause updates. It's just another bad solution for the wrong problem.

It would be since after a month they would rerelease the proper update.

After the 2 month delay is over and a potential botched update is installed there will be patches by then. Microsoft has been known to take down botched updates and put them back once the issue is fixed. Either way there isn't an issue.

Awesome, thanks so much for this article! Is there a way to do the same on Win 10 Mobile? It is super annoying when the phone restarts by itself during the night and then I miss calls because it requires PIN entry...

Who calls you during the night? How do they dare?

"How do they dare?". I had a smile and laugh at that. Made my day. ☺

You could disable PIN entry for the SIM card and just leave it on for the phone.

I depend on my Windows phone and Realarm to wake me for work every morning - why don't you just change your active hours for the device? Works for me!

I've never had to enter a PIN to answer a call even if the device is restarted. Try setting your active hours to prevent random restarts. The phone should also give you a notification when an update is downloaded and waiting to install (check your notification settings). From the update settings you can press the "restart now" button or set the exact time you'd like the update to install. Browse around your device's settings. Windows mobile gives you a surprising amount of control.

Well I don't want my device restarting without my consent, period. Once my phone started restarting during a night out around 3 AM - I found out when I was going to call an Uber for my friends and me. Nothing beats waiting in the cold for 10 or so minutes while the gears are turning... Is it the end of the world? Of course not..but damn, was I mad at that time. My point is: what is wrong with giving the user the option to find a good time and then restart manually to finish installing the updates? Are the updates really so important they can't wait a day or two?

Or you can start Task manager > Services > Services > Windows Update (properties) > Disable & stop. This will also prevent downloads from Store but updates will be stoped until you start the Services again :D

I do this also and have a calendar reminder to check updates once a month. Win10 Pro. I don't know if it can be done on the home addition.

Or set the acitive hours and say your internet connection is a metered connection.

If Microsoft's goal was to make sure all Windows 10 users are on the latest update they should have used messaging and nagging to get users to update and only resort to forced updates if a user ignores those messages for too long. Just like the whole upgrade to windows 10 fiasco they are too eager to force these updates on people and the end result will be the opposite of what they wanted with guides like this one showing users how to avoid these updates completely. The right solution would be to show a message, if it's a critical update to fix a volunerability make it clear that the user should install the update as soon as possible and that if they don't, in 3 days it will be installed automatically. Give them options, do it now, do it tonight, I'll do it later (which means it won't happen automatically for 3 days). For feature updates, show a message with a preview of some of the key features the user will get and give them 30 days to install it before it's forced on them. It's a much simpler solution that lets the user know their computer will be updated and restarted soon and takes away the biggest problem with these auomatic updates (auto restarts). No need for active hours, pausing updates or any of that nonsense Microsoft will do while trying to still solve this problem with RS3 and whatever updates are next

Ya...because people like popups on thier screens. I understand what you're saying, but I know too many people that would be more annoyed by this. Most people I know do not have issues with the auto update feature and don't even realize their machine was updated. A good OS should be invisible to the user so the user can do what they need to. Any user can avoid updates by setting active hours and/or setting their internet connection as a metered connection. No need for registry edits or annoying popups.

nope, they will keep annoying you after a while if you don't hit "download" it will show a fullscreen prompt interrupting whatever you're doing and opening the settings app to compel you to press "download" only true solution is disabling the updating service altogether, and they have arbitrarily made sure you lose a lot more than useless cumulative updates by doing that

Will the registry one work with Home?

These steps are targeted for professional and above versions of Windows 10. In my test updates continued to download in Windows 10 Home. Thanks,

Awesome article Mauro, especially relevant to those of us that get what and why. I have had work and project progress ruined costing me hours of rework and trying to get back to where I was because of this awful imposed policy.
Sadly it seems (probably due to subsequent updates lol) that even though I have followed all your measures, it does not work and the system is STILL rebooting. I am not sure what to do now other than seeking to disable Windows Update as a service. If you have any updated advice it would be appreciated.

Not sure, but you can set your active hours and set your connection as a metered connection to prevent updates.

It doesn't. I tried the same as Mauro did and don't work. I was able to do a registry hack for stopping the Customer Experience going to MS. So was just curious if this would work as well. But it don't. Thanks! Out of all my Windows 10 devices (PC, Laptop, Tablet), only my main PC is HOME. Wish I could swap the license on my tablet to my main PC!

I hope the store issue on mobile will be resolved in the next build

What issue? I don't have any issues on my 950 XL running the latest Release Preview build.

Way to go completely off topic....

This is one of the worst features brought about by W10. I really don't get why they continue to give no option to opt out with so much backlash.

Because there is the Defer Update option for Windows 10 Pro, Active Hours, and metered connection options. There is no need to do any of what is listed on this page. I only have active hours set and I never have an issue with random updating or long reboots.

Active hours on the home edition is only for a maximum of 8 hours. How many people only have an 8 hour per day contiguous window that their computer can't randomly restart? Fifteen minutes after active hours and all my unsaved work was lost in a restart. Then I needed to wait 25 minutes until I could use my own computer again. All this because my metered connection became non-metered to download an app that required a non-metered connection.

Exactly. Microsoft's implementation of active hours is garbage and never will be good considering the computer should never restart when you don't want it to even outside your active hours. We seriously need more control over updates.

Very much needed this :-) :-) :-) Thanks a lot!

W10 is now improving IMO. This article is just for knowledge/awareness.

Agreed. I like it and have not had any problems. That's on a 4yr. Old hp pavillion desktop.

I run Windows 10 on my Compaq Presario from 2006. One of the first AMD dual core laptops that maxes out at 2GB RAM. I've only replaced the harddrive the whole time I've had it. I'm impressed that the 11 year old laptop runs W10 better than it ever ran Windows XP.

An alternative is to set the current network as a metered connection.

Telling users how to stop security updates is bad, this should not be encouraged

Agreed. The article should explain Active Hours and Derfer Updates instead. However, some of the methods they outlined would intimidate a non-thechie user. I would bet that only a tach savy person would attempt this despirte the walkthrough.

Having control over a person's own computer is bad? Some of us like to make our own decisions rather than others making them for us. But then I realize there are those who are bent on forcing their will on others for the "greater good". Many of us resist that stance, especially when we've experienced the downfalls.

If leaving your computer open to attack and other malicious activity only affected you, then sure... knock yourself out, turn them off, get infected. See if I care. But it doesn't just affect your, does it? Infected computers become nodes in huge botnets, sending spam, distributing malware, etc. It is irresponsible and incosiderate for anybody with an internet connected computer to not install security updates.

This sounds so familiar.
When I started working with computers in 1985, its was the best tool I ever laid my hands. Even with the little possibilities there were (MSDOS 2.1)
Maybe 5% owned a PC but 95% of them knew what they were doing or knew people like me
Now 95% has a PC and maybe 5% really know what they are doing. It's a shame

Or just go to services and disable windows updates, then you will not get any updates, neither from windows nor from windows store. And you can active it when you need download something from windows store or update some apps.

The only update I get is from Defender, or maybe I don't know when its updating.

In the update setting, there might be a text button beneath the "Check for updates" button that says "Check online for updates from Microsoft Update". I have to click that on my work Surface Pro 3 to get some of the updates. Windows Defender will have more frequent updates though. Also make sure the "Give me updates for other Microsoft products when I update Windows" checkbox is checked. Both of those features should be part of the main update check, but for some reason they aren't.

I very much prefer the Windows 7 Manual update method of choosing your update depending on the size...personally,I was able to complete it faster than the Auto.

Ya, that's one thing I miss, but I like the auto update. My family and friends don't ask me to fix their computer as often. Most of the time I fixed their computer by installing the last 6 months of updates they decided not to do. Every time they were impressed that updating the computer is all they had to do. I always installed the required, recommended, and optional updates. Drivers were they only thing I hesitated on.

I know that, and I stopped repairing there PC's
Twice the work cause they asked some other friend to do that, I had to repair their "work" as well.
They never paid me in the first place. So bye bye.

I'm doing this. Fer sure. So many ******* times I go on my laptop and everything is closed. Because it restarted!!!!!!!!

Then set your active hours so it doesn't auto update, or turn off your computer when you're done using it. It can't update if it's not on.

Not everyone works regular hours ;)

You can set your own active hours my friend ; Read the fine manual And/Or get a pro version, you can buy them for way less than $99.
I live in the Netherlands I bought one from Gamekeydiscounters € 10. Works fine recognised as Real by MS

Oh man it's so annoying that a company is giving me free updates and new features. Why would they ever do that??? Just go into your settings and set the active hours to when you're going to be using your machine. You could probably set it to all day so it never automatically installs. As a person whose family always asks them to fix their computer, this is a god send. Most of the time updating the machine fixes their issues, but they turned off the updates completely. Since the Windows 10 auto updates I have received fewer calls and emails asking for help. This feature is a great one. Get Windows Pro if you want even more control.

How would you like it if you're in the middle of making a project. for some reason the app you're using stops working so you have to reboot. Then as you hit the start button you're only options are upgrade and shutdown and reboot and shutdown. I nearly missed the deadline of my project because of this bullshit. I'm working full time while taking up my masters, I barely have enough time so I had no choice but to cram, then this bullshit happened. Even under ordinary circumstances, we should be given the choice not to update because everyone knows that windows updates are full of bugs. I would only update nce those bugs are fixed, cause it's working perfectly right now anyway and i don't need anything else.

I don't get it. Updates are good fore everyone, I think.

2 - "Notify for download and notify for install."" SHould be the only option, It will say you need updates, you can click cancel and in a day it will ask again. You can blow it off for a few days. The big thing I HATE about Windows 10 is, it will reboot no matter what when it gets to it's point... Docs open ? Graphic editing open ? Microsoft does not care.

Since when updates are annoying? Updates is a must to prevent and fix bugs/issues. This author might be using counterfeit version of Windows! Smh.

Not necessarily. I find this a hugely useful find! My software is legit, but my machines are a bit old. There's no SSDs and when Windows decides to update, it does so at maximum capacity. At that point my PC's are rendered nearly useless for some time. And that's only when it's downloading/preparing. It's preposterous that a productivity device has blocking states "out of the box" with W10 installed. Putting it back to the good old but still annoying notification at least puts me in control.

Can I apply these registry tweaks to Windows 10 Mobile also because Windows 10 Mobile also has similar registry tree?

How to broke your Windows 10.

hi guys , i was looking for way to stop windows 10 from using traffic on its own and slowing me down , after so much search i found this video helpful https://youtu.be/uPMAUykyGzw i know it will help you too .
just watch it .

A big salut to this website and it's writers
This helped me really alot
Thanks from my heart

"what's the point of auto updates" yes it's good to keep you pc up to date. Okay I had a win 7 pc which after sp 1 updates tended to slow my pc down and eventually the blue screens appeared. So a fresh install followed with sp 1, auto updates turned off no more blue screens. When programs asked for a update like dot net I simply downloaded that program. So "my opinion" we do not need auto updates to keep the pc running fine . And as for the creators pack estimateed date April 11, this most likely going to be around 2GB +. Why do I need that? It does not intrest me, I don't want to make 2d images look 3d. Can I block it? Not as the OS is configured. SO yes I want to turn auto updates OFF. I want to pick and choose, security yes that's a given. But all the other stuff should be a choice, to have or have not. M$ listen give us the choice. At present my pc is running okay, my "winver" is14393.969. Windows 10 is getting to bloated. Give us a cut down secur version and allow us to "bolt on" the other stuff if we want.And that includes Cortana which has never worked properly for me, and I don't need it

Do you anticipate that this feature to delay Microsoft Updates indefinitely will continue to be available after the Windows 10 Creators Update available on April 11, 2017? Does this stop all updates, including security updates?

Will this feature to allow blocking of Windows 10 updates indefinitely (Professional Edition only) continue to be available after the Creators Update available on April 11, 2017? Also, does this fix block absolutely every update, including Security Updates?

One of so many. reasons I just bought a Mac. I couldn't stand using Windows 10 anymore.

Didn't work for me . I did not get the option button for download instead it told me it had downloads waiting and then installed them without me taking any action . Are you sure this works at all? I ask this because I was given two more hacks to stop my tile menu from disappearing and that did not work either.

Yikes! Would not recommend messing with the Windows registry and definitely not on your grandmother's computer. I personally never had any issues with Windows update. The one time I did the Windows update troubleshooter was quick to fix it.

Nice Work.... Its really Started to work.

Regardless of whether the automatic updates break the OS or improve it, I still need and want to decide on when to do the updates. I hate going out to the kitchen to fix lunch while in the middle of something, with 20 windows open to come back and find that my computer has restarted on me. Windows 10 thinks it can fool me by "restoring" what I was doing, but I can tell right away that a restart happened because I have been logged out of remote servers and I lost the history of my command lines. Or when I have a student in my office and we are discussing their progress and looking things up online is not the time for Windows to push me into a restart of my machine or slow it to a crawl without my consent. Having the option to choose when to update should be the default, not something that requires a pro version of the OS and hacking.

Thanks for your article about preventing Windows 10 automatic updates.
In common with other Windows 10 users I was getting the following message "We couldn't complete the update".
This meant that I couldn't switch off my laptop without going through an hours worth of futile attempts by Windows to install updates it should have known it couldn't complete.
Windows is so clever it doesn't even provide an error code via which it might be possible to work out what went wrong. Not even a 'Sorry!' The Windows organisation is so arrogant.
I've no idea why it failed to complete the update it's been successfully doing it for the last 18 months.
Anyhow it appears I've stopped installation of all updates using your 'regedit' guide. It will be interesting to see whether Windows manages to undo what I did through 'regedit' - but I just shut down and restarted my laptop and no updating attempt was made by Windows. I hope it stays that way.
It's bad enough that Windows is such a crappy OS it requires constant updates - how many other products can you think of which require such regular overhauls? If an auto manufacturer did that..... but it's worse when the fix doesn't work and then becomes a burden forever more because it can't complete its task.
I'll leave it there. I'm currently working out how to get a VPN installed on Puppy Linux then it's goodbye to Windows and my hard drive.
Anyhow, thanks again for your article it was much appreciated.

If you disable WIndows Updates in Services it has a tendency to become undisabled. I've found a sure-fire way to disable it, provided nothing replaces the Windows Update executable.
Very simple.
First go to Services and shut off Windows Update and disable it. Refresh Services to make sure it isn't running. Now navigate to \windows\system32\ and find files wuaueng.dll and wuauclt.exe. If you can find the former, then look for wuauserv.dll. For each, go to properties, security, advanced.
Click change owner and type in your user name, Click Check Names to select your user name and Click ok. Then Click Apply or Ok on the main window and close it and reopen it.
Now, you can change permissions for all users.
Delete/Remove permissions from all users and Click Ok. If that doesn't work, then change owner to Administrator, close the window and try again. That's it.
To re-enable, add "Read/Execute" permissions to System on wuaueng.dll or whichever dll you have. Doesn't need it on wuauclt.exe for some reason.

Surely it is a myth that windows updates are annoying.

They are more than annoying, they are a pain in the backside if they go wrong and with so many problems with updates lately I can understand why people would want to stop them,,
I use some software called stop Windows 10 updates, and it does what it says on the tin, it pauses updates for 99 years.

Incredibly annoying when one of your machines is an HTPC, that you wish frozen in time because it took you hours to strip down Windows to only its bare essentials and it is not connected to the internet for any activities.

Delete the Windows Update Service and then disable the Windows Update Medic Service.
https://disable-windows-10-updates-home.blogspot.com/2019/12/how-to-disa...

This article misses a major point about managing updates. You should not disable getting updates because you think they are inconvenient. There is a setting in Advance options called "Restart this device as soon as possible when a restart is required to install an update." This defaults to on. Turn this off! In Advanced options turn on "Show a notification when your PC requires a restart to finish updating". In Change active hours, set the active hours to as wide as possible during your waking hours. If you do these things, you will be able to control when to restart and update at your convenience.

This article title is confusing. It doesn't STOP automatic updates. Only delaying & pausing updates!

This is a very interesting article, detailed and structured very well. You never stop learning how a system works and everything it allows you to do (especially "behind the scenes"). The aspect that I consider most important expressly concerns the possibility of choosing the most appropriate way to download and install updates in relation to your needs. Precise and detailed information about the updates to be installed ABSOLUTELY YES, but to decide in FULL AUTONOMY whether to proceed with the relative download and subsequent installation appear aspects that must be taken into due consideration.

Automatic updates can be stop If you permanently disable it from windows control panel, So the right way is to have a licensed windows to get necessary updates from Microsoft official server to avoid any virus or malware and file corruption in your pc. At this situation, All you need is to buy specific product key according to your operating system version, For which I recommend ODosta Store as I also bought it for my laptop which is working well and passed genuine legit license checking report.

I do not want to stop it but the problem is that I use the internet via mobile hotspot and also I have set the connection as a metered, but though still, the updates are downloading in the background and all my data plan gets over. So, anyone knows how to stop the updating over metered connection?

Or: https://www.sordum.org/9470/windows-update-blocker-v1-7/ Click a button. The above is freeware from Sordum (similar to NirSoft) that has worked for me.

how old is this article? just shown up on the front page of the site, but I have seen comments from 2017.
Windows Central is like the BBC, keep giving out repeats.

They used to be yes but now I keep forcing update every day so they won't annoy me later
Windows Central Newsletter
Get the best of Windows Central in in your inbox, every day!
Thank you for signing up to Windows Central. You will receive a verification email shortly.
There was a problem. Please refresh the page and try again.