The difference between 'feature updates' and 'quality updates' on Windows 11, 10
Microsoft offers two types of updates for Windows: "feature updates" and "quality updates," and here are the differences between the two.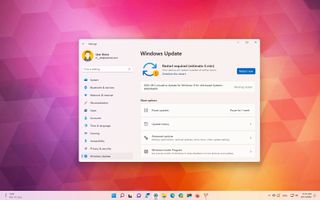 (Image credit: Future)
On Windows 10, Microsoft introduced a servicing model known as "Windows as a Service" (WaaS), which means that instead of getting a new version every three years, you now receive incremental updates to speed up the integration of new features and simplify the process of keeping devices secure and supported.
As a result of this new servicing model, we now have two main types of updates for Windows 10 (and Windows 11): "feature updates" and "quality updates." Both are equally important, but each one delivers a different set of improvements at different times.
This guide will highlight the difference between a feature and quality updates to understand better the updates you install on your computer.
What are feature updates for Windows?
On Windows 10 and Windows 11, feature updates are technically new operating system versions, which are available once a year during the fall and are supported for 18 months. After the support cycle ends, you must upgrade to one of the available supported versions to continue getting security and non-security patches.
As part of the development process, Microsoft uses telemetry data and feedback from internal testing and participants of the Windows Insider Program to prepare the new version. Once the update passes the testing phases and proves to be reliable, the rollout begins through Windows Update as an optional update, which users have to install manually. However, devices with an installation nearing the end of service will (eventually) receive the feature update automatically to maintain the system's security and support.
These updates typically include new features, visual improvements, and significant enhancements to improve the overall experience and security. However, unlike the previous servicing model (such as the one for Windows Vista and Windows 7), feature updates include a smaller list of changes, which help reduce compatibility issues and minimize the user learning curve.
Also, feature updates are bigger than quality updates. The download size can be close to 3GB for the 64-bit or 2GB for the 32-bit version when using Windows Update. Or close to 4.9GB for the 64-bit version or 3.5GB for the 32-bit version when using an installation media like the Media Creation Tool or Update Assistant. (This information is specific for Windows 10 since Windows 11 is only available on the 64-bit platform.)
If you use Windows Update, the system will download only the files necessary for the upgrade depending on your current configuration, making the download package up to 35% smaller.
When installing a feature update, you're technically installing a new version. Therefore a complete reinstallation of Windows 10 (or Windows 11) is required. This also means it'll take longer to apply, and you're more likely to run into problems than when installing a quality update.
The only exception is when Microsoft releases minor incremental feature updates that roll out as cumulative updates that don't require complete reinstallation.
It's important to note that since the launch of Windows 11 in 2021, the company has slowed down the development of Windows 10 almost completely as the focus is on developing the newer operating system. Windows 10 is expected to continue receiving feature updates, but only in small packages to maintain the system until the end of support, which is on Oct. 14, 2025.
What are quality updates for Windows?
Quality updates (also are referred to as "cumulative updates" or "cumulative quality updates") are the mandatory updates that your computer downloads and installs automatically every month through Windows Update. Usually, every second Tuesday of every month ("Patch Tuesday").
A quality update can also appear as a "Cumulative update," "Security update," or "Update for Windows 10." You can always view the updates installed on your device by going to Settings > Update & Security > Windows Update and clicking the View update history option. (On Windows 11, you will need to go to Settings > Windows Update > Update history.)
Unlike feature updates, these updates usually do not include new features, visual changes, or significant improvements. Instead, they are maintenance updates meant to fix bugs and errors, patch security vulnerabilities, and improve reliability with the current version of Windows 10.
However, starting on Windows 11, quality updates may include new features, visual changes, and other minor enhancements, but they are not as significant as those you would receive through feature updates.
On Windows 10 and Windows 11, there are four types of quality updates, including "B," "C," "D," and "out-of-band."
The "B" rollout happens every second Tuesday of the month (also known as Patch Tuesday), containing the most important fixes and improvements devices may need during a specific month. Also, this is Microsoft's only regular release to ship fixes to patch security vulnerabilities.
The "C" release happens in the third week of the month, and the "D" release comes out during the fourth week of the month. Unlike the "B" rollout, the "C" and "D" updates contain a preview of the maintenance bits that the company plans to ship the following month during Patch Tuesday, and they don't include security updates.
Then there are the "out-of-band" updates, which can include one or multiple vulnerability fixes that can't wait until the next officially monthly release schedule.
Usually, quality updates increase in size each month, as their nature of being cumulative means that each update includes the changes available in the previous updates. As a result, this cumulative approach reduces the number of problems and updates required to download on your device.
Quality updates download and install faster than feature updates because they're smaller packages, and they don't require a complete reinstallation, which also means that it's not necessary to create a backup before installing them. However, it's always a good idea to have a current backup of your files as errors and hardware failure can happen at any time.
Whether running Windows 10 Pro or Windows 10 Home, you can delay quality updates for up to seven days. The only caveat is that you can only pause these updates once, and when updates resume, your computer must install the latest quality update before you can use the option again.
Wrapping things up
Using the "Windows as a Service" model with feature and quality updates is the Microsoft approach to ensure that devices stay secure and current with the latest features and security updates while maintaining consistency and reliability.
At least, that's true in theory, as we have already seen the software company struggling to keep up with code quality control almost regularly.
If you want to learn more technical details about updates, you can check out this Microsoft support article.
While we cover the difference between feature updates and quality updates for both versions of Windows, Microsoft has plans to go back to releasing a new version of Windows every three years with feature drops (known as moments) up to four times per year.
All of this means that Windows 11 version 22H2 is expected to be the last yearly feature update, then the company will start rolling out new features as soon as they are ready through its new moment's rollouts. Then the next version of Windows is expected to launch sometime in 2024 (three years after the release of Windows 11).
More resources
For more helpful articles, coverage, and answers to common questions about Windows 10 and Windows 11, visit the following resources:
Get the Windows Central Newsletter
All the latest news, reviews, and guides for Windows and Xbox diehards.
Mauro Huculak is technical writer for WindowsCentral.com. His primary focus is to write comprehensive how-tos to help users get the most out of Windows 10 and its many related technologies. He has an IT background with professional certifications from Microsoft, Cisco, and CompTIA, and he's a recognized member of the Microsoft MVP community.