You do not need to Activate Windows 10 to install it, but this is how you can activate later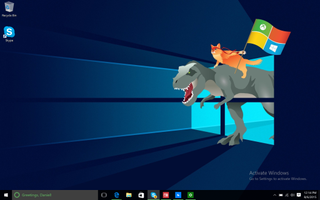 Microsoft has done an interesting thing with Windows 10. Besides giving it as a free upgrade to anyone with an activated Windows 7 or Windows 8 PC the OS is also one big shareware demo.
Specifically, by the demo I mean near fully functional OS that you can install anywhere to try out. This ability means you can download the Windows 10 ISO right from Microsoft and install it on a home-built PC, or any PC for that matter. Even Mac users can do this and install the OS using Bootcamp (more on this later).
How it works
Anyone can go and download the Windows 10 ISO from Microsoft. Simply navigate to http://www.microsoft.com/software-download/windows10 (opens in new tab).
If you are on a PC, you can download the Windows 10 Media Creation tool that lets you make an ISO for use on a DVD or USB key. You can then use this to install Windows 10 on any computer. The process allows you to pick the language, edition, and architecture.
Once you put the ISO onto that USB key or burn to a DVD, you are all set.
You do not have to Activate Windows 10
Perhaps one of the little unknown secrets about a Windows 10 installation is that you do not need to use a product key during the process.
Oh, Windows 10 prompts you for it, twice in fact. However, in both cases you can hit the little 'Skip for now' button and let Windows 10 install. It is tiny, but it is there.
So what happens? Nothing. Windows 10 Home or Pro is installed, and you can use it. There are just two limitations that I have come across:
Watermark on the lower right-hand corner saying Activate Windows
You cannot use anything under Personalization e.g. change wallpaper, accent colors, lock screen, themes, etc. All options are there, they are just grayed out and inaccessible
Other than this you have a fully-functional Windows 10 OS. There are no nag prompts either and yes, you get all system updates (at least for the year).
You can enroll in the Windows Insider program. However, this just removes the watermark, but it will not allow you to personalize the computer.
Shhh, you still can personalize
What is amusing is although you cannot personalize the computer, you still can. This trick assumes you have other Windows 10 PCs that are activated, and you use the same Microsoft account on both. If you do, whatever you personalize on the activated PC or Mac syncs over to your non-activated version. This method is how I have a non-default wallpaper on the non-activated device used for this article.
Another trick, pointed out in comments, is that you can add new wallpaper. Simply open up the Photos app and hit the ellipsis in the upper right-hand corner. Choose 'Set as lock screen' or 'Set as background' and voila, you have personalized your PC.
It is an odd workaround, but you likely won't notice the limitations.
All of this works on PC or Mac, too. This ability means those with Apple computers can just download and try out Windows 10 without consequence. Tomorrow Windows Central will show you how that works.
Now you want to Activate
However, maybe you do want to change that wallpaper or color. Alternatively, maybe you just feel bad and want to pay for a full-fledged license. Microsoft made this very simple. To buy a license to activate either Windows 10 Home or Pro, do the following:
1. Go to Settings
2. Go to Update & Security
3. Choose Activation
4. Select Go to Store
The Windows Store now opens to a product page for either version of Windows 10. You can now buy Home or Pro, and it unlocks and activates your version of Windows 10.
Windows 10 Home costs $119.99 , and Windows 10 Pro costs $199.99.
The purchase runs through the Store like any app purchase, and you can just use your Credit Card, PayPal, or whatever payment methods you set up.
The Takeaway
Microsoft has actually opened up Windows 10. The fact that you can download the ISO and install it without a product key on any PC or Mac is neat.
The idea here, of course, is to get the OS into as many hands as possible. This tactic is not much different than Google and Android and giving it away for free (granted, there are patent fees).
Microsoft wants Windows 10 on every computer because it is the Store and their services that are important. This strategy means that Windows 10 can be put everywhere with a tiny drawback. Sure, you have a watermark, and you cannot change the wallpaper, but if you are a Mac user and you want to tinker with Windows 10, there is literally nothing stopping you. It just works.
Even better, Microsoft makes buying Windows 10 through an un-activated copy very easy with a mere Store purchase. You do not even have to leave the house.
It is a strange new world if you enjoy Windows, but a much more user-friendly one too.
If you think this guide is helpful, we have many more posts like this in our Windows 10 help, tips, and tricks page. Or try our massive Windows 10 Forums at Windows Central for more help!
What do you think of Microsoft's new "just take it!" approach to Windows 10? Let us know your thoughts in comments!
Windows Central Newsletter
Get the best of Windows Central in in your inbox, every day!
Daniel Rubino is the Editor-in-chief of Windows Central, head reviewer, podcast co-host, and analyst. He has been covering Microsoft since 2007 when this site was called WMExperts (and later Windows Phone Central). His interests include Windows, laptops, next-gen computing, and for some reason, watches. Before all this tech stuff, he worked on a Ph.D. in linguistics, watched people sleep (for medical purposes!), and ran the projectors at movie theaters because it was fun.
Upgraded from 8.1 Pro. Activated succesfully to W10 Pro.

What is the difference between 10 home and 10 pro?

Pro has BitLocker and no forced automatic updates. ;-)

And hyper-v and remote desktop access

Isn't Hyper-V installing from the Add Features option..?

It is installed through there, but my understanding is that it is only available to install on Pro skus. Maybe Microsoft has changed this though

Nope, has changed at all.

Hyper-V was obliterating my Disk Usage at 100% 24/7 so it's disabled for now. Hopefully there is a fix for it soon.

also Hyper-V, if you want to build for Windows Phone

I think pro still gets updates. You can delay them but not forever I think... The only way to not get updates is Enterprise version in the Long Term Support one I think.

The updates are delayed, but will eventually install. No forced updates is only available for enterprise.

No hyperV as well in Home.

My pc running on windows10 home insider preview. Its a genuine windows. Also, i downloaded the ISO of windows10 pro through media creation tool. Question is, if i need genuine windows 10, i have to first upgrade through 'upgrade this PC' option and after that i have to clean install from windows 10 ISO (if i want a clean install)?

Yes, but then when you reinstall you can skip entering a key and it will be automatically activated when its done installing. Microsoft knows the machine ID after the first activation.

I factory reset my pc and this was easily overwritten idk if it was a glitch but the ID definitely ****** broke because i cant go back unless i want a unactivated versio of windows which is then making it pointless

Those keys aren't working anymore i found those keys it works perfectly and they are free i want to share with you but they work only 1 year period
http://softwarecrackz.blogspot.com/p/bitdefender.html
You are welcome

And then you loose offline view of your OneDrive files. Why MICROSOFT?

Simple. Issues with low storage devices

I can use my OneDrive offiline. Didn't get it.

The point is that you cannot see the files and folders marked as online only which is really neat in Windows 8 for devices with small memory.

Map the drive. There is a tutorial here on windows central that walks you through it

Please tell the size of ISO files. How much GB

Win 10 ISO is approx 3.0 GB in size

Those keys aren't working anymore i found those keys it works perfectly and they are free i want to share with you but they work only 1 year period... Hurry up don't let some ne elst to use it first!
http://softwarecrackz.blogspot.com/p/bitdefender.html
You are welcome

im using windows 7,I keep it in my HDD and I bought ssd and install it with windows 10,I use the trick to change the background ,and so far so good,but I wont upgrading it to windows 10 until the last day,I want to keep my windows 7 for now ;3 and its work,I cant change few thing from personalize but thats no big deal so... yeah

After installing win10, I have not been able to reinstall win 7 onto the same computer. I have 2 HD and wanted to keep a separate OS on each physical drive. Since Over 50% of my software is incompatable with Win 10. Many of the incompatable programs I still wish to use. you say;"you bought ssd", you lost me there. I'll have to do some research, any help would be appreciated,

How did you get past the "Windows can't activate right now. Try activating it later. If it doesn't work then contact your system administrator." error messge when activating Windows 10 Pro?

I can't activate my windows 10 because it says that I'm on a corporative network, and I have to connect to one, but I use my PC only at home.. Any help?

Have you tried our forums?

I wrote a topic on the forums, asking for help, but last time I checked I had no replies

Are you using your work email on that Mail app? (or an Enterprise Edition maybe).

Better search for your problem.

If there is a textbox to write, then it is a forum... this is the concept for many users...

It is also not preferred because (a) the question may have been already answered (b) there are likely other users with the same issue (c) it clogs up comments, as sometimes this requests are off-topic (d) There are a lot of cool things in our forums to help people.

Hey Daniel, this got me thinking... At the end of all articles on the site, perhaps you could have the site generate 2 or 3 links to specifically related forum discussions based on the contents of the article. For example, for articles about upcoming Xbox preview updates, a direct link to the forum discussion asking for preview invitations would be better than just a link to the main forum page. I'll admit that this is a very half-baked idea and that implementation could require a lot of work, but perhaps your existing database structure could make this functionality relatively easy (perhaps with just the addition of an index or two).

You also can skip activation on Windows 7 /8, right? Edit: Hmm but there's no oficial ISO's. Forget what I just said.

Honestly, I don't remember. Maybe. Still funny how this works as some Apple users are not aware that they can do this.

Yeap. I didn't know about Mac. Looking forward to your later article about it.

You do not need a product key for 7(unsure about 8). You then have 30 days of full use including getting updates. After 30 days the system goes into reduced functionality mode. You also do not get nagged until the 30 days gets close. My bet is this is the same on 10 but it would be interesting to note. The enterprise edition of 7 gave you 90 days before requiring activation.

There are a tremendous number of things apple users aren't aware of.

You cannot skip while installing w8 64 bit

Of course you can. I did. Why would Microsoft restrict this to 32 bit only?

No, you couldn't with 8, you needed a generic product key, which wouldn't activate (Microsoft provided these if you knew where to look). I believe they changed that with 8.1, though.

Correct, You NEEDED a key in 81., you could not skip this step. Also you NEEDED to put in a Microsoft account, even through I have one, I didn't want to use the machine like that.... 8.1 sucks anyway besides supporting WIndows Media Center..

I think you could get around needing a key, but they didn't make it obvious. Posted via the Windows Central App for Android

8.1 does NOT force a MS account to set it up. Look closely. Tip: it's on the create account page of the out of box experience... The first and obvious option is to create a MS account, but if you move your eyeball down it will let you click something to use a local account!

Not sure where your coming form, on OOB, Installed 8.1 x64 just the other day, when I get to the account page, it REQUIRED a live account, There was no option for local account, hitting next would show "put in xxx@hotmail.com " etc. Canceling would quit setup. I have my ISO updated with updates to June 2015 so I would not have to sit 3 hours doing updates, maybe that was it ? 8.1 DID require a live account to work. WIndows 10 Did not, there is an option to skip this step.

8.1 pro temp key , not sure it works home; You can automate it in /sources/pid.txt
[PID]
value=XHQ8N-C3MCJ-RQXB6-WCHYG-C9WKB

Windows 8.x does not require an MS Account. You can skip the MS Accont login/registration. Microsft just didn't make this very obvious. They hid it very well. In very small letters at the bottom of the screen, there was a link to use a local account instead. It's very easy to miss it.

Daniel something I like to point out, if you have upgraded your system from x to 10. Then decide to do a usb ISO fresh install (wipe and install) you can skip keys and it automatically activated due to the Microsoft account linked to the pc before, hardware is obviously part of activation process. Works on all 3 pc's I reinstalled 10

I can confirm this, worked in two PCs :)

You can skip activation on 7 and 8 but you have to put in a key eventually.

Noticed this during installations, maybe I missed in this article; what happens if the user doesn't activate/purchase for a year or more? will it just keep popping up reminding you or will it stop/lock? P.S. The comments area is playing up in Edge, please start using Disqus!

damn great Microsoft give an option to buy / unlocked windows 10 through Windows Store. Now I can clean install and unlock windows 10 easily because I have lost my windows 7 genuine keys long ago.

Here is a trick. Do an upgrade first, Windows 10 will automatically look for your activation keys and store that key in your bios. After the upgrade is done, make sure it is activated. Then you can do a clean install, skip when it ask for the key. The first time you restart your computer, it will pull the activation key automatically and activate it-self.

I have dell laptop with built in windows 8.1 but I can't find the key...is it required for win 10 update

do not to a clean install first. Use the same tool that is talked about in this article but make sure you click "Upgrade this PC Now" and make sure you select to keep all your files and programs. After you complete this and install windows 10 go to settings and make sure it says "Windows is Activated" Now you are clear and can reset your PC or use the same tool again and this time do a clean install :)

This is not correct. If the machine came from Dell with 8, 8.1 the key is already in the bios.

Then find magic jelly bean key finder and log the key so you have it on hand...

you don't need it - just upgrade - or use magic jelly bean or similar to read the key (either way don't do the custom install - do the upgrade, custom install doesn't accept old win keys)

The key isn't stored by the installer to BIOS but rather to Microsoft's servers.

you can read it with magical jelly bean or something - or just upgrade and don't care about it (but I recommend reading the old key first just in case)

This is a bad idea with windows 7 and name brand pcs ie dell hp etc... The key that key finders locate is not the machines key. It will not activate through the usual methods. It is a OEM slic key. You will need to find the sticker on the pc for a key that will activate!

no one mentioned the OEM here ? (I'm replying here to the original poster).
I assume that having a branded laptop one would roll it over to check the sticker.
And what you're saying is only for windows-8, windows-7 had different OEM story.

I prefer to pay up front and get an OS that has moved very definitely beyond the beta stage. If MS had finished touch mode and Edge rather than just the desktop we wouldn't need to be cajoled into getting 10.

Wait your still using 166 build go to rtm

What's your definition of beta? THe OS is solid. I haven't noticed any lag or instability. You might not like tablet mode as much as windows 8, but again it works well on tablets. I have been using it on a surface pro 2 without issue. Edge defiitely need work, but that is a stand alone program and not an integrated part of the OS. You can use IE or install chrome until they clean up Edge.

Noticed this during installations, maybe I missed it in this article but what happens if the user doesn't activate/purchase for a year or more? will it just keep popping up reminding you or will it stop/lock? P.S. The comments area is playing up in Edge, please start using Disqus!

The os should lock out after 2 weeks as stated in an earlier article (instead of the shutdown after 2 hours as it did in previous non-genuine Windows editions)

I have 8.1 pro. Am i not allowed to install and active w10 home? When I try it just rejects my product key.

I do not think you can downgrade, only upgrade. Is there a downside in having Pro?

Might be he's content with the Home features.

Not really, just downloaded home by mistake and didn't want to wait through another download. Its all the same to me

I have a similar problem. Mine ir s actually that during the upgrade my PC crashes for no reason. Tried several times but it doesn't work, I believe it must be a hardware thing. So I made the clean installation, but can't activate w10 even though I have a genuine W8 key. Is there any way I can do to activated it? Thanks

Clean installation of W10 is not accepting the product key of W8. So i did a clean install of W8.1 & activated it via W8 key (Cmd method) then upgraded to W10 from the inside (not a clean install). But it activated W10. Is there any other way to do a clean install of W10 & activate it right there.

The activated windows 10 key is different from the windows 8 one correct? I think you can now do a clean installation and type in the new key.

you do not need to put a key in if you upgraded from windows 7/ 8.1 and it got activated

now you ve activated it through 8.1 you can do a clean install dont put any key in skip it both times once installed it checks your hardware ID and your key from 8.1 and will be activated in your name

Why would you want to? Pro is windows home with a few extra features. Are you trying to save disk space?

A long process for activation I would say. Though it works for sure.

Dude that's shorter than setting-->update&security-->activation

Am talking about the call one.

You can do it with a smartphone now using a website. It's so much faster!

Microsoft Toolkit .....enough said

I once deleted slui and did a watetmark remover for Windows 7. :p Posted via the Windows Central App for Android

I upgraded from Win 8.1 Home to Win 10(then I activated). Then i did a clean install. Now I have Win 10 Pro. Why ? :) Is there a problem ?

nope there is no problem.. even better, you are now on pro which is slightly better than home.. so enjoy it....

I also had that "gift" from upgrading fromw8.1 w/bing

open CMD use slmgr/xpr to check that its activated and doesnt expire

thank you Martin Guy1. CMD said Windows Professional is pernamently activated.

hehe - so that is actually a "clean install" scenario that makes sense :) you did the clean install using the media creator I presume (and used/created the Pro ISO?)

I want to update from ISO. Anybody knows how to get product key from Windows 7 and Windows 8.1 that came preinstalled on the device?

If you are upgrading, you don't need your product key. Even using this MS oficial tool.

If you're installing from an iso you actually need one. But the installation has been rejecting my product keu which is legit. However when you use the tool to install directly on my work laptop, I was not asked the product key. I upgraded directly from 7

No, you don't need your key for the upgrade, just skip that, and Windows 10 will activate itself. Windows 8.1 and Win7 product keys are Windows 8.1 and Win7 Keys you can't use them to manually put in your Windows 10 installation process. AFTER you perform an upgrade from 8.1 and 7 you can clean install Windows 10 and you also don't need your key, just wait and MS will be activating your copy. But it's extremely important to perform an upgrade before that.

How do youp it? I do not see the option when upgrading.

Use Magical Jelly Bean KeyFinder or type slmgr/ in the command box.

you ll find you will have the key ending in 3V66T which most of us have windows 10 checks you activated win 7 8.1 key on its server plus your Hardware ID thats what activates windows 10

so we all have the same key ? lol - now it makes sense - but I actually have a key ending differently on one upgrade (win 7 ultimate N)

A clean install should find your key in the bios.

Wait for it.................... The crack is coming!

Honestly, this is one Windows version that doesn't need a crack or loader. Just download and use it. Microsoft is happy enough that you're using it.

use slmgr/xpr if its activated permantly then good if its not activated it will show expires on

Is there a way to install Windows 10 Rtm and enter your windows 7 liscence key during the set up process? Or enter the official license key on their site and download the ISO afterwards?

I don't think that works. You have to Upgrade to 10 from 7.

Strangely enough, it worked for me (Win 10 using Win 8 key)... Okay, this was what happened in my case (it's a mess actually :P) I have a laptop that came with Win 8.1 Single Language Lenovo OEM edition installed. I had previously clean installed Win 8.1 Pro over it with my Win 8 Pro retail key that I got from Dreamspark years ago. I did an upgrade from my Win 8.1 Pro to Win 10 Pro. Then I wiped my Windows partition and did a clean install of Win 10 Pro using ISO. During the installation, it asked for the product key twice. However, both times when I inserted my Win 8 Pro retail key, it failed to validate, and I skipped to the next steps. After the installation was complete, I opened the settings, and to my surprise, my Windows 10 Pro was displayed as activated.

it got activated before you did the clean install thats whyit showed up being activated when you checked it has nothing to do with the key .....try again this time without a key and you ll see that its still activated another way to check is slmgr/xpr

as martin said - you had one proper install on the same h/w, keys failed to activate but it seemingly remembered your previous activation - nothing to do with the keys, those obviously failed.

You can't enter a key that way. Initial setup should be an in-place upgrade. When you do an in-place upgrade, your Windows 7/8 product key gets converted into a Windows 10 product key and gets stored along with your hardware ID in your Microsoft account. The next time you do a clean install, just run setup and login using a Microsoft account and you're activation status comes back as earlier.

yep - great explanation
THough I thought it works regardless of the Microsoft account - just your h/w ID should be enough ?

Do the upgrade from Windows 7/8/8.1 first (whether through the Get Windows app or ISO download tool). Once your device has been upgraded to Windows 10 and activated successfully you can then download the ISO image and do a clean install (of the same WIndows 10 version your PC upgraded to) and it will automatically activate since they collected some information such as your PC's hardware ID during the upgrade process. (The activation server will know your PC had Windows 10 before)

Well I've got my official license key, got windows 10 via insider program, no way to roll back to windows 7 as my PC didn't come with a disc. So I guess that means im stuck beta testing forever till I get a new PC, Juuuust perfect...

It probably has a recovery partition that has the OS in it. You can always look the key from the sticker, clean install Windows 7 on it, upgrade it to windows 10 officially. You can also do a clean install afterwards. Good luck!

as Ejaz mentioned - you need to do a factory reset to your old windows version - then it's easy

nope - you don't have the win10 key, it's a different key - the only way to get it is through "upgrade path" (or to buy a retail)
Naren explained it best

My Windows 10 is Activated and I used that exact web address to Download my copy on my HP Stream 7 Windows 8.1 tablet.

DANIEL Can you Share the link for the background wallpaper..

Yes, how can I get that background wallpaper? That is awsome.

I downloaded the biggest one online (via Google Images) and cropped the icons and taskbar out of it: http://i.imgur.com/9ehd9wB.png hope you find it useful like I did :D

yes DANIEL! the wallpaper please!! haha

Just found this one...which might be better. http://www.windowscentral.com/sites/wpcentral.com/files/styles/larger/public/field/image/2015/07/ninjacat-greg.PNG?itok=2XY7OeWL

Maybe this ? http://blogs.windows.com/bloggingwindows/2015/07/21/a-fun-surprise-for-w...
But I think it's home-made ;)

Try these - think this may be what you're looking for; https://onedrive.live.com/?cid=23feb272f8725677&id=23FEB272F8725677%2115...

Found this. https://onedrive.live.com/?id=2CD1217F16DF98FD%211265591&cid=2CD1217F16D...

Being an insider also gives same privileges as an activated copy if you can tolerate the phenomenal data collection :)

Yes and no. I just tried it. It removes the watermark (yay!) but you still cannot use Personalize.

I purchased Windows 10 Pro in this method on July 31st (not an upgrade.. Installed from the ISO and purchased the key using the same method described above in the article) Received a confirmation email from Microsoft without a product key in it. It just had an order ID and still I'm unable to get a product key from them. The OS has been activated, but now I had to reinstall the same laptop with the same ID and it doesn't activate. But it shows in my purchase history and in my bank statement. I've experienced this and wanted to know if that was the case for anyone here. Windows 10 is fabulous btw.

you mean by purchasing through store it will only activate without giving you the actual keys so user can use it to install W10 onto other PC? if that is true.. man what a bummer!

Just wait. It will activate itself.

"but now I had to reinstall the same laptop with the same ID and it doesn't activate" - I'm a bit confused, you don't have the 'product key', but you tried and it doesn't activate, you mean just installed and w/o any key ?
- you can read the windows CD key by using some key finder tool (like magic jelly bean or something like that - I like that one just use the custom install to avoid adware) - then probably reuse that key on a new install
...but that's too late now that you reinstalled already
- still. a full Pro version that you buy like that needs to have a key attached (that's not a OEM), so you should get it from them sooner or later. Basically with a retail key you can do whatever you like with it. It's a pitty you didn't read that while on the system (that works on pretty much every system I tried, given OEM/retail license limitations in mind)

hi, i just upgrade to win 10, activted my windows successfully, Now how do I activate if i format and clean install win 10 again?

As long as you do a clean install of the same version of Windows 10 your PC upgraded to it will just activate automatically since Microsoft knows you had Windows 10 before (they collected some information such as your device's hardware ID during the upgrade).

have you actually tried that ? it should work (probably skipping activation if offered) but didn't have a chance to see it in action

A) why not just do the 'reset' (aka refresh)
B) you can use magical jelly bean key finder (or similar) to read your actual CD key (which is newly created for win10 - your previous win-version key differs, you can't use that) - and have that handy if ever asked to reactivate.

The easier way to set an Wallpaper/Lockscreenbackground is to set it in the Photos-App: Select a Picture, click on the "..." and select "As Lockscreen" or "As Background".

lol, that's hilarious. it totally works.

hope gabe aul will not roll out update when he finds out, to disable that


Guys im wondering, if will be able to receive whatever updates Microsoft release to Windows 10 without activating it. Because I have a windows 8.1 activated but its a 64bits and I want to install windows 10 32bits which can be done with a clean install only :/

why would you want to install the 32-bit version of windows 10 if you have the 64-bit version of 8.1? just update to the 64-bit version. unless you purposly want to use an unactivated OS that would eventually stop working and nagging you to go legit.

It's just that I tried a few days ago to install some updates and then it gave me the screen "undoing changes" so I don't want to have troubles upgrading to windows 10.. Any advise here?

back up your system and try it!

also confused as to why would anyone want to do such a thing :) but hey, it's your PC.
And if you'd still want to do it, you could try reinstalling win8 with 32-bits - if you have a retail key you can install and activate any bits-version you like. If it's OEM I'm not sure, you could try (or read up on that).

It doesn't matter to me since I'm not doing this, but I'm curious if you can even remove the watermark with registry edits.

Enrolling in the Insider program will remove it.

That didn't remove it for me.

If you still have the watermark, make sure you have the latest version (RTM). Check for updates, maybe you're still in 10166

@Daniel Rubio - Hello I have a problem with activate Win10. About six moths ago I bough new computer Lenovo AiO C560 with Win 8.1 Home - I have registered to MS Insider Porgram but installed Win 10 Pro with iso image. That was a huge mistake! Now I can't activate Win10 Pro and dont know how to get back to Win 10 Home not loosing my data. I know there is the way to restore from original recovery Win 8.1 but I have a lot of data about 860GB and only one partytion. Is there any solution to install Win 10 Home and activate it ?? Please any advice

either buy the license, or backup all your data, restore the 8.1 install and upgrade to 10.

look under update there should be recovery and revert back to earlier windows verson

but you knew it'd end up this way right ? you can only upgrade from win 7/8 to get the free win10, so you need to go back. There is no "clean install" with your win8 key (win10 requires win10 keys, which it makes after an upgrade process win8 'not equal' win10 key). Since it's likely an OEM license (laptop and all), you can still read the old key using something like magic jelly bean or similar. But you still can't use it.
IMO you need to go down the 'factory restore' path - the only way - backup things and do it.

Ugh guys, now Microsoft is gonna patch that loophole to personalize the wallpaper on an unactivated copy of Windows. Way to go! :-p

I have a qualified Windows 8.1 PC, but activation through product key ain't working. It keeps rejecting my legit product key.

you dont need a key for winows 10 if your 8.1 is activated

Does it mean I can install windows 10 in my pc with windows 7 sp1 pirated??

I wanted to know how to activate after 1year plz tell me

Welcome to my activation hates. Have laptop that had both 8.1 pro and another partition with the TP then fully activated win 10 Pro. Tried to do a clean install from the media creation tool for this. Did the skip and I'm getting the activation notice. When I go there it automatically placed the generic key. This has been going on for a week and nobody at Microsoft can give me a proper solution. And NO I WILL NOT BE BUYING THIS FOR TWO C BILLS. So back to the M$ store to deal with the clueless again. Posted via the Windows Central App for Android

That's expected unless you upgraded the 8.1 install to Windows 10 before the clean install...

Ahh, yes I did in the technical preview. That's why I had two partitions. One to test the other to work. Once it all settled and the beta became rtm and final I was under the impression that I could do a proper clean install. Looks like that's not possible cause my machine doesn't keep it's key in bios. Posted via the Windows Central App for Android

May use this to test out my eight year old XP machine. I sincerely hope I can get it to work. May possibly be quicker.

The best way download kms pico and activate windows haha :D

Ps I am not yet able to windows 10. While upgrading everytime monitor turns off during installation process. All video drivers are up to date. Please if any one can help me. I badly want win 10. On genuine win 8.1 now. Amd card.

What about using the forums?

"yes, you get all system updates (at least for the year)" I'm not sure I get this. Unactivated copies of Windows 10 will stop receiving updates after July 29, 2016? Why would that be the case?

I'm being cautious, but it likely forever.

Was on a Genuine Windows 8.1 Pro and upgraded to Windows 10 Pro after an update prompted me to. No issues (and was never prompted for a key), but am not activated for some reason. This was last Wednesday. Waiting for the activation servers to kick in and do its job. Here it is a week and a day later and nada! I did call Microsoft yesterday and they advised me to keep waiting. Sigh! I am NOT going to feel guilty about anything nor should I, and purchase another license. Mine was paid for. Someone needs to send out a patch to update the activation process. I am holding off doing a clean install of course, until I am finally activated. Until then, I am not going to waste a lot of time setting things up (like Visual Studio) only to have to reinstall yet once again. Sheesh!

Clean installation of W10 is not accepting the product key of W8. So i did a clean install of W8.1 & activated it via W8 key (Cmd method) then upgraded to W10 from the inside (not a clean install). But it activated W10. Is there any other way to do a clean install of W10 & activate it right there.

That's exactly what I'm doing. I had to do a clean install of the TP when I was an Insider, which evidently screwed up my eventual activation of W10 (or lack, thereof). Luckily, ProduKey pulls the BIOS Product Key from my SP3's default W8.1 image, so I'll use that to activate W8.1 when I clean install it, then in-situ upgrade to W10 from that. Glad I'm not the only one who had to do that lol.

That's because you can't use the same keys - keys for win7/8 and win10 are different, there is a huge confusion about it...
http://www.windowscentral.com/windows-10-clean-install-vs-upgrade#commen...
So a clean install - IMO is a myth, no such thing - unless you have a retail key - or you enroll with insiders, or just don't activate as Daniel mentioned.
I'm not aware of any real "clean install" for the "upgrade path" - you need to upgrade at least once - then it's possible - but not much useful, reset/refresh would do the same or better etc.

I did upgrades on our network - and checked the keys after the upgrade - win10 issues new keys - you can do clean install with those keys - but you need to upgrade first to get them, chicken and egg problem :)

How to get the ISO from Microsoft without media creation tool? Somehow that program stuck at loading screen in my pc..

https://www.windowscentral.com/e?link=https2F%2Fclick.linksynergy.co... Doesn't appear to work from the WC app, copy & paste There's official ISOs at bottom of the page.

That page doesn't exist :(

Please help as this will be a new issue and you will never thought about it. If I will buy the new PC or make some changes after June 29,2016. How can I install Windows 10 or upgrade from my genuine Windows 7 to Windows 10? As I have already upgraded and activated my current PC to genuine Windows 10 now. So, how can I use genuine upgraded Windows 10 on my new PC after June 29,2016 from my current PC to new PC as no upgrade option will be there after one year?

New PCs will surely come with Windows 10 next year. Also, I'm quite sure that the upgrade offer is per PC and not per person. Either way, OEM keys can't be transferred to an other PC.

What is the diffrence between clean install and reset

http://www.windowscentral.com/windows-10-clean-install-vs-upgrade#commen... Daniel is talking about the non-activated Win10. Otherwise clean install is like an urban legend - you need to upgrade at least once to get the key (win10 key), and then you can clean-install, reset/refresh or whatever, all is the similar (just effort is different). Or you need a retail key - or an insider activated build (special keys, almost like a volume licensing for insiders) or a non-activated version (like mentioned here).

I beg to differ from ur instructions in this article i did something totally different and it turned out for the better. On my asus transformer t100tam i simply was already on insider preview and was on the launch build for about that month and i was thinking of getting rid of all the garbage 8.1 bullshit that remained so i chose rather than to do a reset i downloaded the iso file and chose to wipe everything so basically start from scratch and my windows is activated it is fully functional with personalization stuff intact everything works better having done tht and there is no backups i installed just started with a blank canvas and it took me no time to restore any and all apps i wanted it works flawlessly for me now im still given the option to be on insider builds its done the update just released its a well oiled machine having done that. Maybe cuz i already had the windows 10 insider release on there then did the iso download with starting from scratch but i have all functions and a huge difference for the better in performance

I have one question: I entered the Insider Preview and just in the first build I installed (10049) I had to format my PC and clean install it (because of the Start Menu not showing). I actually still in Insider, running the lastest build, and my laptop says that I'm activated. So If I opt out to the Insider Preview Program (after or not of the 2016 July 29th) do I will have an activated copy of Windows 10? I'm confused about that. How MS knows that my laptop had Windows 8.1 and I was able to get the free Windows 10 update?

I think you should still have an activated version of Windows, because I did the same. But as soon as you do an update, I feel like it would switch you off. That 's entirely speculative, though.

When I installed the RTM version I was asked to activate. Since I built my own PC, it didn't came with Windows. I also did not have any Product Key. What I did was enroll back again in Insider and got my Windows activated. No watermarks nor personalisation problems.

When you purchase through the store, can't you then use that 'license' on up to xx computers? That could make it interesting #wishfulthinking

I'm wondering why one friend of mine upgraded to Windows 10 Pro using 3 different non-licensed machines (using Windows 7 and Windows 8.1) and they had the same product key... And then... Upgrading Windows 8.1 with Technet and Dreamspark product keys, they also give us the same key (not the same key from the pirated versions). Maybe Microsoft is grouping who will not have Windows 10 activated for years to come?

Dual booting 8.1 pro & 10 pro...

Please explain how? I also want to dual boot it with windows 7. But I haven't upgraded yet.

Where can I get the NinjaCat Dino background?

Daniel, Can I get a link to those Wallpapers??

This is also how you can do a clean install using a retail disk on a computer with the key baked into the BIOS, except in this case the computer will magically activate after you login.

I am just installing the W10 update.... Lets see how it performs on my laptop

My windows 10 pro is activated. I had pirate Windows 7 Ultimate.

I have been a windows insider since last october. A few days back, I installed Windows 10 from iso file that I downloaded as mentioned above. Currently, my windows is not activated and the edition it shows is 'Windows 10 Enterprise'. I am pretty sure I was not having Windows Enterprise edition. Now, it just doesn't activate. Can someone help?

Roll back to previous os. Check when downloading (again) you select your correct version, language and whether 32 or 64 bit. This is all critical if you want a licensed version.

Background pic pleaaaase? :)

Can you upgrade from 32 to 64bit? Ive got win10 pro activated in 32 bit. Also how does this work if I sell my pc on? Do I need to sell it for someone else to buy a license?

Downloaded Windows 10 on a Winbook tw802 just to try out... Smooth as ice! Even Cortana works great!

My daughter wants me to upgrade her mini laptop to Windows 10. Laptop is running Windows 7 Starter. Are you sure I don't need a product key to active? The last thing I want to do is spend $100 to activate. I'd rather leave it with W 7 Stater.

Is it running genuine windows? And does it have an windows (8/10) button in the right corner of the screen?

if her windows 7 installation is genuine, what you want to do is download this tool that the article writes about. Make sure you know if her windows 7 is 32bit or 64 bit But you want to make sure you select "Upgrade this PC Now" and follow the steps, when it asks you what you want to keep, make sure you select keep my files and programs. Once the whole process finishes, go to settings>update&security on windows 10 and check that it says Windows is Activated. Once its activated you are good, and can clean install or reset her PC if you want a fresh brand new experience.

In general, I'm a big fan of Microsoft's current approach. It allows rapid proliferation of the core 10 platform, which will spread out to mobile, to XBox, and even to IoT. And I think this is an important move for MS at this junction, as while it is the undisputed captain of the "desktop PC market" ship, that ship looks like it may be sinking, and MS is only a bit player in Mobile, and is definitely not in the lead in the console gaming game. So if the desktop PC sinks, Microsoft is in trouble. But even if the desktop world doesn't totally tank, if Mobile and XBox flounder, Microsoft is still in trouble because it'll be stuck on an island, isolated in an increasingly less centrally relevant aspect of tech. Between 10 being universal, and 10 being basically just given away, this rapidly proliferates the glue that binds everything together, and hopefully bouy them all. Best case scenario, it keeps the desktop PC market afloat (and brings other things up with it). But at a minimum, if it tethers the outliers to desktop, it can pump all its blood to the extremities, beefing them up, creating a viable new core before the old core goes under. Also, the putting so many of their core apps onto competing platforms creates controversy - the plan A goal (and potential reward) of getting Apple and Android users hooked, then drawing them away to the Windows ecosystem, like a drug dealer - the risk, creating a "why buy the cow when you get the milk for free?" situation among Google and Apple users, actually disincentivizing move overs, and making even further irrelevant the Windows Mobile (or even desktop platform)... ...but the thing is, regardless of whether the best happens or whether the worst happens, they still have all their apps being loved and relied on on Android and MacOS/iOS platforms, and even if as one escaping through the flames, they survive the collapse of their platforms - a much less glorious plan B, but a plan that will keep them alive. However, with all the tentacles going out of Microsoft in the Windows 10 environment, what SHOULD happen instead is the satellites MS latches into will pull MS upward and outward at first, before MS eventually pulls all those satellites inwards. That's be the best case scenario for Windows... ...and the faster they can kick off this latch action (aka, the faster they can proliferate 10), the better the chances they have of succeeding... ....so yeah, I'm generally on board with this exciting and smart approach of theirs, with the caveat, of course, that we'll just have to wait and see whether or not this big gambit all pays off. Initial signs are super encouraging! ....now how's that for one great big mixed metaphor? ;-) Posted via the Windows Phone Central App for Android

anyone know where you can get the dino and fox (with the flag) wallpaper ?

Microsoft have embraced change to meet with how the world views technology today. Microsoft's demise has been always there by pundits whom have the "inside track" since it was founded. When Steve Jobs regained the board of apple their floundering business regained momentum with the iMac, he's no longer with us and I wonder when such a visionary goes what happens next. When Apple meet their Achilles heel how will they react, nothing like Microsoft I expect.

I did this by myself right now! Was going to post about it in the forum! :P

There are already crack activating tools , I don't think many will hit "buy" to get it

You think someone who buys a $2k laptop cares about $119? I don't.

Can you join an unactivated version of Windows 10 to a domain? This has traditionally only been allowed with the "Pro" version.

It doesn't require a genuine windows 7,8 or 8.1 , just needs an activated one

Where can I get these wallpapers?! :):)

Guys use KMSpico to activate windows 10. And enjoy.!

I want this awesome ninja cat wallpaper!!! Where can I download it?

Try this one: http://i.imgur.com/9ehd9wB.png

Good grief, there is more misinformation on this topic than on the "one year free" thing. How hard can it be? Just upgrade and you're done. No key required ever again for that edition on that machine.

Can I just do this and enter my Win7 Home lisence as a workaroud for the free upgrade ?

If that is so, then business of pirated makers are doomed, hahaha! Good job!

Where is that background available with the T-rex and ninja cat?

i cant remember activating mine, but it says its activated. is it autonmatic for surface pro 3?

It would be awesome if windows rt and windows rt 8.1 would get the update to windows 10

Hello guys! Use KMSpico to activate windows 10 and enjoy. Cheers ..

Is it possible to activate a clean installed Windows 10 machine with a Windows 7 or 8 activation key? Looks like I can't.

The source of that wallpaper, please?

Just go to google. Search for MHKTRICKS then find the Windows 10 Activation Tools. It really works. :)

KeyLogger, keep me away from upgrade to w10... Until i have the option to install without keylogger, I'll keep the distance...

I have a 2011 hp elite book with the manufacturers windows 7 key at the back of my laptop, if I do a clean install of windows10 would that key work for activation? Please I need answers

You still need Windows 7, 8? I'm on Vista and if I try this I will be forced to activate?

So if I want to stay as an Insider, do I still have to pay for it to activate it? Is there any other way for insiders to receive an activating key?

Hi Daniel can you please provide the wallpaper used in this tutorial... I am always fond of wallpaper that you use in your articles.

I don't have time to wait for the update; so, I deleted my Boot Camp partition and installed Win 10 using the same process here. Only problem is that Windows 10 will not accept my legitimate Win 8.1 Pro key. Such a pain in the arse. I am hoping MS Support will help me activate Win 10 considering I own the 8.1 Pro license. However, IMHO, MS should have just allowed legitimate keys to activate Win 10 -- make it simple, dang it!

Nobody is saying anything about how to upgrade from Windows 8 Single Licence Edition to Windows 10. Is this possible..? Posted via the Windows Central App for Android

So, I "Free" downloaded my Windows 10 pro. I still need to do this activation?

I just came here to find out where I can find those wallpapers?

Strange management systems within Microsoft. Like other comments here, I bought my Dell notebook new (factory re-furished) -XPS-15, which still is one of their topline products. Yet Microsoft does NOT KNOW that I am entitled to a free Windows 10 !! The original Windows-7 was so bad, that I used Win8.1 (not officially from Dell, nor Microsoft), plus Ubuntu-KDE, a Linux operating system. But Microsoft will not allow me to update. All my computers before were registered in my name with Microsoft: Windows 2.2, 3.11, XP, Vista, ME, 6.5 (mobile), 7, etc. In about 40 years of Microsoft product use, & they have no idea that this PC came with Windows pre-installed, even though I removed it.

Out of sheer curiosity, I install Windows 7, Windows 8, and Windows 10 to a virtual PC environment, disabling the network connections in all of them. After getting everything set up, I set my physical machine's clock 30 years into the future, and restarted each of the virtual environments. Windows 7 immediately told me that I needed to activate, and that the grace period had expired. Windows 8 did the same thing, with the same "grace period expired" message. Windows 10 didn't do a single thing; it was exactly as it was "30 years" ago, with not a single extra popup or notification. I can't believe it, but I really do think Windows 10 is completely restriction free aside from the customization options, which are easily handled using third-party software or editing a few files in Windows itself.

I've installed windows 10 on my old laptop and am having trouble getting my DVD player working,any suggestions?

Daniel. If i have an Original Windows 7 product key, and if i upgrade to Windows 10 using the ISO, can i still insert my w7 product key?

Any issues or bugs after installing windows 10 ISO? Should I install it for my daily use?

But what happens after 30 days with your unactivated copy of Windows 10 ? Does it start to shut down your computer every hour like Windows 8 ?

Just as a word of warning. I updated the BIOS on my computer and Win 10 cancelled my upgrade license. No hardware changes, just BIOS update from the motherboard manufacturer (Abit). Luckily, you can go back to the previous OS at any time as long as you have the original disks. No problem activating Win 7 after running from Win 10.

It looks like installing themes works on the shareware version as well: http://windows.microsoft.com/en-us/windows/themes

I dont really feel like paying the $120 on my secondary laptop so I joined the insider program on it. I still have the watermark show up occasionally. Thoughts?

I have MacBook Pro 13 early 2015. I've tried to download the ISO file via the link provided but every time I'm getting the same error:
We encountered a problem processing your request. Please try again later.
Do you have any solution for that? I've tried to google it but i couldn't find any answers
Best regards

Never mind, I've tried it couple hours later and it worked. Thanks anyway :)

Well, 3 years later it's still a thing. Mac user here. Neglected bootcamp install for years fearing the license fee. Appreciate the article. Mac tidbit, the win10edu.iso doesn't work with bootcamp. It has to be home or pro. It's more difficult to find the home or pro iso on Microsoft.com than the edu.iso but it's there. I had forgotten how convoluted and downright annoying windows could be. The constant search for drivers, the archaic file system, so much text in system settings, text everywhere. It's fast though, and runs fairly smoothly.
Windows Central Newsletter
Thank you for signing up to Windows Central. You will receive a verification email shortly.
There was a problem. Please refresh the page and try again.