How to upgrade to Windows 10 over USB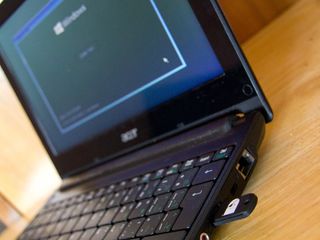 Whether you just can't wait for the Windows Update app to handle your upgrade automatically, or you're having some other issue getting it to work, we're going to help you get to Windows 10 with a USB stick alone.
If you're installing on a fresh machine or you want to wipe your current one prior to upgrading, be sure to read our guide on how to do a clean install of Windows 10. What we're doing here is a bit more straightforward, though very similar, and still not quite as easy as using the automated tool. If you can't get it to work, try these tips on fixing the Get Windows 10 app before going the USB route.
Back up
First off, backup all of your important data. Here are a few ways to go about it. Though this process will be painless and hassle-free, you never know what can go wrong. Better safe than sorry, eh?
Get your existing Windows product key
Getting your product key isn't always required to upgrade, but it's good to have just in case. If you don't have the key on a sticker on your computer or somewhere in your product documentation, The Magical Bean KeyFinder is a free tool you can download and use to get your product key and write it down. It's worth noting that if you're running an enterprise version of Windows, that key isn't accessible, and you may very well need your IT guy to help with the upgrade.
Create the installation USB stick
Next you'll need to download the installation file from Microsoft (opens in new tab). 32-bit and 64-bit versions are available. To find out which version you're currently running, right-click Computer, and left-click Properties. Under the System tab, it will tell you which version you're running (which is also which version you should upgrade to.)
Then you'll need a USB stick with at least 4 GB of storage on it. The stick will be wiped, so make sure to save your files on it before running the installer. Plug in the stick, launch the Windows 10 installer you downloaded earlier, and pick Create installation media for another PC. You can choose Upgrade this PC now if you like though the installation media will let you use the USB stick later or on another machine provided you have the product key for it. As we mentioned earlier, this is where you could choose to do a clean install. Just pick the Custom box for that and follow these instructions.
Then you'll be provided options for language, version of Windows to install on the stick, and architecture (32-bit, 64-bit, or both). If you want both 32-bit and 64-bit versions installed, you'll need 6 GB of spare storage. After hitting Next, pick USB flash drive, select the USB drive you want to install to, and then you're off to the races. Give your PC some time to download Windows 10.
Insert the USB stick and reboot
Next, you'll need to designate USB as a bootable drive. Shut down the computer you want to upgrade, and insert the USB stick. While your machine is powering back up, you'll need to hit an F-key to go into BIOS or otherwise interrupt the normal boot-up. F12 is usually the key, but sometimes it will be F2 or F8, depending on the manufacturer. Look for the prompts as your computer starts up.
Once you've designated to boot from the flash drive, the on-screen instructions that follow are pretty straightforward, even though the preparation and installation proper may take awhile. You may be prompted for a product key during this phase, which you can skip since your system should be able to activate Windows 10 automatically after it's installed. Pick Upgrade when choosing your installation type in order to save all of your existing files and folders.
That's it!
Now you should be ready to rock with Windows 10. You'll get an out-of-the-box experience once the install is complete, which should round out all of your various user settings and OS configuration. If you're having any issues with this upgrade process, let us know in the comments, or hit up our forums.
More Resources
Need more information or need some help? Here are some great links to get you started:
Windows 10 Help, Tips, Tricks at Windows Central
You can also just run it from within windows and it works the same way.

True, although this is handy for doing multiple machines ;)

Can you delete partitions as part of the setup? I need to get rid of the hidden Asus recovery partition.

Yes. When you install from USB it should ask where you want to install it. There's an Advanced option there if I remember rightly, which will let you mess with the partitions as you please.

Hey danielgray, you can also just use EaseUS Partition program and wipe that asus recovery partition and then merge it with your C drive :)

I dis it from within Windows since I was upgrading the came computer that I used to download the installation files. After the download is complete, click on setup.exe and you're off to the races.

If you put it on a usb you can run it from in windows multiple times

I've been saying this ever since it came out. Haha no one ever talks about this method but it's SO much better than booting into USB. Avoids the UEFI/BIOS altogether for a worry-free upgrade.

or you can use mdt via pxe boot ....but that's more like enterprise IT deployment

And if one does not have a product key?

You mean you are running a pirated copy of Windows? Or do you mean you do not know, because we tell you how to retrieve your product key in the article. (It's under the part labelled "Get your existing Windows product key")

The former. I had been running the TP on my tablet which is my secondary device and waited too long to install the TP on the desktop with no product key for windows 8. We received the desktop through a work computer recycle program with windows 7 on it a few years ago and since then, upgraded to windows 8. I understand upgrading to windows 10 will not make it a registered version, but would still lime to make the update.

Most likely you will have genuine key, presuming you went through official channels to upgrade the machine to 8. So therefore you will need to update 8.1, then upgrade to 10. There is no direct upgrade path from 8, unless you do a clean install.

if you don't have that windows 7 key then it's not possible to install windows 10 for free... you should either buy a new key or use other illegal methods to make windows 10 activated and then be on the "activated" database so you can even clean install windows 10 and still be activated. whatever people think, you know, some people act like saying this is forbidden and they have never even listened to an illegally uploaded song on youtube. but there are ways to get a key and upgrade to windows 10, becuase if you don't have that windows 7 key, and you are running a windows 8 tp. then you can't do anything but going legal and pay for a key, or going illegal and get what you had years ago. I mean you had windows 7 legal no? so only because your key got lost, it doesn't mean you didn't get it legally. you could also go to a computers trash place and get a windows 7 serial key sticker haha. that should work too :P

This is my concern. I have a memory key with 29 gig. When I looked for documentation of product key I could not find one. Called my OEM. Was told the installation will read it from my motherboard. The tech did not want to go any further. He said I have done this my self so I would recomend against it. Has anyone done this sucessfully ?

Just wondering: Can I use the Home edition ISO if my license is only for Single Language edition?

No. becuase when you install windows it will look to license the home edition and not the single languga edition so you will not be able to activate it. that's why when you use mediacreationtool you have SL own iso to download if you need it.

Ok. Here is how i did it. It was downloading and expanding till it reached around 3.22Gb, i just copied the install.esd file to another location, extracted the contents using esd to iso and then copied everything from that ISO on my old Windows 7 bootable USB drive. And did upgrade from there, more faster and more easier way. Off course i deleted the windows 7 setup from usb first but dis not formatted it, because it was bootable drive.

Mine still isn't activated, lol. Love the upgrade though, as an insider it's great to see the OS in its final state, especially since we helped shape it.

I clean installed using rufus, it seemed fine to me. pick the ISO and start the copy of files. then I installed and in some minutes everything was running and nice and activated.

Those are instructions for upgrade install... How do I clean install on my dell venu 8 pro with only 20mb free.. Ohh and WiFi drivers are not default so that leads to always being asked for key Go back to fresh 8.1 only way?

I've tried every method I can find to upgrade/install W10 on my Dell Venue 8 Pro and have had no luck. Every time I check for an automatic update I only get defender updates. Meanwhile, my C: drive space is down to below a gigabyte and I can't figure out why.

goto onedrive properties and make all files "Online-Only" ... if you had this enabled it should clean up any onedrive placeholders I just bit the bullet and did a ISO clean install (but have spare keys :) ) I would suggest doing a 8.1 clean and "remove everything and reinstall windows" then when u have max free disk space, force the update for an upgrade. If you dont mind loosing your files.

I had a Dell ST tablet, similar hardware to Venue 8 Pro. I used a USB made with the media creation tool to upgrade from 8.1 to 10, immediately went to Settings>Storage>Temporary and told it to delete the old Windows install, cleared 8GB up. Dell's older tablets aren't supported under Windows 10 officially, I had to use Windows 7 compatibility mode for WiFi and display drivers, and one of the webcams doesn't work. YMMV

Hopefully s​omeone can help me. I wanted to create a recovery USB stick of Windows 10, incase anything goes wrong at some point, I don't want to have to reinstall Windows 8, then 8.1, then 10 upgrade, then reset. Is this the right method to do that? What if I then want to use the rest of the 32gb USB stick to store files. Would booting from the drive still be possible if the Windows 10 files were all held in a folder called 'Windows 10'? ​Thanks in advance! ​ ​ ​ ​ ​ ​

That would not work. You might be able to put the personal files in a folder, but bootable files must be TLD

Ah ok, thanks. Does TL​D here mean on the root of the drive? How can I be sure it will work as a recovery disk if anything goes wrong with my PC, without doing anything too risky... Can I load it in BIOS to check it works, then shut down and boot as normal?

As far as I know if your install thru USB you can skip the product key and found out its already activated. Thanks you so much MS I really love Windows 10.

I clean installed my pc with the ISO of technical preview... Can I now clean install with the same product key which I used before.. Will my pc get activated????

Instead of booting to usb Can I just use the usb to install the upgrade within the Windows 8.1 and if it's possible should I disable booting from usb in bios.

you can... in your case you dont even need usb. Just download the ISO extract the ISO with WInrar or other decompression tools to a specified folder other than your OS drive (C drive for mi). After that run the exe file from the extracted folder, it will upgrade seamlessly.

Please help with where/link to get the ISO files. Can I get it from Microsoft directly?

https://www.windowscentral.com/e?link=https2F%2Fclick.linksynergy.co...

How did you get this working on Dells? I ask only because with 10 different models now not one has worked without doing the upgrade from inside Windows first (which doesn't ask for the product key anyway). Once upgraded that way it's then possible to clean install because the hwid is registered.

once user is done creating a installation usb/dvd can user create a several copies or will user have to dowload Windows 10 again to create another installation usb.

you can truely create several copies. For upgrading you can actually extract the iso with Winrar to a specified forlder and run the .exe file, it will upgrade.

I downloaded iso mounted using virtual clone drive and choose to upgrade .Windows 10- loving it.

Well comp has been having issues with updating Microsoft updates, and its stressing me out because the internet won't update to explore 11.. Will it up update and fix these issues if I install windows 10 onto a usb?? Will it work that way to update windows 7 to windows 10?????? Please HELP

how realiable is magic jelly keyfinder? i installed it to get the windows key of my surface pro 3 but when i went to unistall it i noticed another program called "great find" in programs and features, i nuked it and didn't try to run it but it looked suspicious (or maybe i missed some small print in the eula...)

This is quite misleading. Though upgrading ..etc was covered in the previous articles. DO NOT CLEAN INSTALL WINDOWS 10 without first UPGRADING it from Windows 7/8/8.1 (unless you already have windows 10 product key). it will not be activated. I had the bad experience of that. I downloaded the windows 10 ISO and did a clean install. when i entered my windows 8.1 product key it did not accept. I had to install windows 8.1 again and then upgrade to windows 10 by the time i finished that there was no stamina left in me to clean install again. even if you want a clean install. First upgrade it to windows 10. Get windows 10 product key and then use clean install it with USB or DVD.

Yeah I gave up on clean installs - it was just to much time and I had a few machines to get done. I've been changing the upgrade to wipe everything as part of the upgrade and apart from a mildly populated windows.old which is easily cleaned off the rest of the build is a clean build right down to the odd missing driver and everything - so it's possible to upgrade and "clean" install in one go by making the right choices in the upgrade screens.

For some reason my PC I was using windows inside is stuck with build 10074 and update seem not working, guess the USB is the way to go. Thanks for the info.

Was impossible to upgrade my parents computer from 8.1 to 10, always an error, so I try this, the only problem… the product key from Windows 8 doesn't work in Windows 10… any help what can I do now?

So you can't use the download tool to upgrade?

Updates regarding to error code 80240020 After having Upgrade Windows 10 Home failed installation error code 80240020 in Windows Update history (about 23 failed) I now have the Upgrade to Windows 10 and Get started button in Windows Update. I also notice message in Get Windows 10 app right next to OK, notify me ready button there's a message about They are working hard with partners to make upgrade better Install anyway link button style underneath that it display (not recommended) something like that but I don't exactly remember the exact message because that message is now gone when i close the Get WIndows 10 apps. I also did this before turning on my computer remove the HDMI cable that I always use and use the VGA instead. It might just be a coincidence

Only 1 of 4 of my pc was successful on windows update upgrade but however was reserved 2weeks later than rest.. So instead i used download tool and did rest of em and then after activation i clean install for better performance and stability.

Ah ok, thanks. Does TLD mean on the root of the drive?

Ah ok, thanks. Does TL​D here mean on the root of the drive? How can I be sure it will work as a recovery disk if anything goes wrong with my PC, without doing anything too risky... Can I load it in BIOS to check it works, then shut down and boot as normal?

Ive got a question. After upgrading to Windows 10 I tried making a usb recovery partition but it failed for un known reasons every time I tried it.
So now I've used the creation tool to make a usb with Windows 10.
If there is ever the need to fix my pc when I cant get in to Windows, could I use this instead???

I would also like to know this!

I have a finger print scanner driver and a face recognition driver that I use for logging in, will both still work after the update. I have an HP EliteBook 8560p laptop

By using key finder, it shows different product key than what i have back on the sticker. So which one is right? I have Acer Aspire One with Windows 7 Starter pre installed.

Can i upgrade my Windows 8.1 eith a usb stick? Not clean install, i mean "upgrade". Or i will have the same "activation problem" that others had?

the easiest way for you is to click on the "SETUP.EXE" file you have inside the usb stick and let it run Just like any other programme/app you are installing. the installation menu will guide you through. i have done it so i am sure its okay... but of course still backup your files and WIndows 8.1 key safe incase there is problem
Windows Central Newsletter
Thank you for signing up to Windows Central. You will receive a verification email shortly.
There was a problem. Please refresh the page and try again.