A closer look at the new enhanced 'dark mode' for MSN News on Windows 10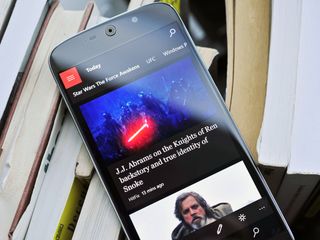 Late last night, the suite of MSN Apps for Windows 10 were updated at least for those on Insider Rings (Release Preview, Slow, Fast). The update bumps MSN News to 4.12.184 (Production is 4.11.156) and with it comes a proper full dark theme.
Dark theme was introduced earlier in the year for MSN News and the other apps, but it was only for when reading articles and not the app itself. Now, at least for MSN News, the whole app matches the new dark theme option in Windows10 for PC and Mobile. Even better, toggling the light/dark theme option is now instant and feels like a light switch.
Oddly, the option is not yet available for MSN Sports, and Weather does not need it (although the menus to match your theme choice just not the banner areas). Also, some articles do not pull down in dark mode if only because they are not being processed through Microsoft's engine.
Still, overall it is great to see MSN News get the black treatment, which works much better for night time reading. If you're not on any of the Insider rings you can take a peek at these screenshots to see what full dark mode is like.
Daniel Rubino is the Executive Editor of Windows Central, head reviewer, podcast co-host, and analyst. He has been covering Microsoft here since 2007, back when this site was called WMExperts (and later Windows Phone Central). His interests include Windows, Microsoft Surface, laptops, next-gen computing, and arguing with people on the internet.
Looks like they're listening to the feedback. The thing is, this should've been addressed the first time they rolled out dark theme and I'm quite certain that adding that feature didn't take any time at all.

Would be cool to have that option for their Sports and Money app, too!

Looks awesome. Bout time! But I'd still love to know when Cortana will have the full dark theme again like it did in WP 8.1. Actually when will Cortana start to work as good as it did back then??

Yeah the white cards in Cortana annoy me too. BUT I do notice Cortana is starting to work a LOT better now with regards to picking up things (even better than 8.1)... for example I ordered something on ebay and INSTANTLY the delivery status showed in my Cortana feed. Same with my upcoming flights and frequent places I visited.. on both my Win10 phone and PC. In WP8.1, it would take days for it to show up in my Cortana page. So at least she's better with that now! lol

Shortly after my last hard reset & fresh install to the Release Preview, Cortana has stopped showing me any notifications from my interest cards. Sports scores, severe weather, etc. Nothing. I used to get them and now I don't and have no idea why. Looking forward to another hard reset fresh install once Redstone is officially released and stable!

What would actually be useful would be if the articles shown on the app launch page were only from your interests rather than adding stuff randomly you have to scroll through before getting to what you've specified an interest in.

Chasable live tile is must too. The live tile headlines are nowhere to be found in the current feed when you click the tile. You have to dig into top stories.

Strange... I thought chasable live tile was already there? Atleast it worked for me... whatever shows on the tile appears in either the first or 2nd spot in the feed. Haven't tried with this latest update though.

It's never worked for me since day one. I've fed back countless times after each update. The app opens on My Stories; all the live tile headlines are from Top Stories.

But still they didn't deal with the old "news" in the current stories. I think every second news which is there is hanging there for more than 2 months. I really liked this app, but I stopped using it as I had to dig through the bunch of old stuff.

They finally did it! After 1 year of nagging they finally did it. Hallelujah! Praise the Lord!
Edit: Just got the app. What about Weather? Sports? And News still doesn't have theme according to system settings....
Got my hopes up for dark theme everywhere when dark theme is enabled....

Darkwing Duck, when there's trouble you call DW...Darkwing Duck...the updated app, Dark Mode will cover you...

The update still hasn't shown in the Store even after I hit the Check for Updates button. I'm in Insider Release Preview, running W10M Build 10586.494, and currently the MSN News app version is 4.11.156.0

I am on Release preview but i have not got this update its only for insiders in slow and fast ring...expecting it to release this week or next week to RP and Production

Pretty sure you're right about that. I'm on the release preview ring, too and have searched for the update both via the Check for Updates and going to the app directly in the store. The button only says Open, not Update. I guess I'll wait for the latest build to come to this ring before seeing the udpate. Shouldn't be too long at this point, like you said.

Just uninstalled and reinstalled the app and still nothing. Must be insiders only -.-

Really want get on insider rings.....lots of good stuff coming up....

Oh! finally they added this feature in MSN apps. Its looking nice, now waiting to have this new updated MSN Apps.

I still don't understand why MS does not put some effort with design. It took me just 20min to tune up their design. Take a look: http://ditishoe.com/wp-content/uploads/2016/07/Windows-News.jpg

Uh.. the official app looks nicer than that. That's essentially the same except you made the header area unnecessary larger and like an Android app, and aero glass background, which would not look good if you the aero overlay windows (Start, Action Centre, wifi, battery, etc.) over it. The actual design works great in both dark and light modes so you won't have some giant florescent header in the dark too.

Looks much better :)... Glad they finally got rid of that white header in dark mode lol.

I like they're using the Jade Primo in their articles now.

the new map app needs a dark theme too!!!

Nice. Next stop: Cortana full dark mode

I am on the release preview insider ring, and the dark mode update is still not available. I hope it comes out soon.
Windows Central Newsletter
Get the best of Windows Central in in your inbox, every day!
Thank you for signing up to Windows Central. You will receive a verification email shortly.
There was a problem. Please refresh the page and try again.