HP Elite X3 passes Wi-Fi and Bluetooth certification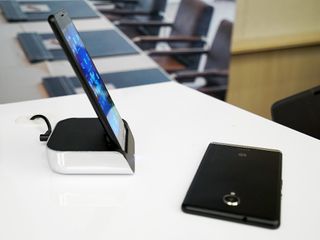 A near-final version of the HP Elite X3 was shown off at Computex earlier this month, and the phone has now passed Wi-Fi and Bluetooth certification, signaling an imminent launch.
The listing (via NPU) means that the phone is now one step closer to launch, and we may see the Elite X3 make its debut in the coming weeks.
The phone offers a 5.96-inch QHD display, Snapdragon 820, 4GB of RAM, 64GB of storage, microSD slot, Wi-Fi ac (2x2), 16MP camera, 8MP front shooter, and a 4150mAh battery. The phone also comes with a fingerprint as well as an iris scanner, and has several security features aimed at the enterprise market.
Windows Central Newsletter
Get the best of Windows Central in your inbox, every day!
Harish Jonnalagadda is a Senior Editor overseeing Asia for Android Central, Windows Central's sister site. When not reviewing phones, he's testing PC hardware, including video cards, motherboards, gaming accessories, and keyboards.
For me too. And so is the price.

Different hands different choice different pockets!.

Sweet! What does mine say?

Dude! What does mine say?

Nawww, only for some. With the size of phones today, this isn't going to be too much of an issue. However, I do realize some people will want something smaller. I'm actually looking forward to this phone...well, at least the idea of a possible replacement for my 1520. I also realize that this phone is geared toward enterprise and I would have to pay a ridiculous amount out of pocket upfront for it. Then again, I'm hoping my phone remains in good shape for a while, because I also want to see what MS comes up with for next year.

true, same here, I want this phone but I really want to see what MS does. What puts this phone over the top for me is the water resistance, if the "Surface Phone" isn't also water resistant they will have to do a lot to impress.

Nooot. No seriously. That phone is bigger than my Sushi plate.

It's not if you're used to holding large things dude.

It's suitable for gaming too with 4gb of ram.

If only Windows Store had decent selection of mobile games.

If bezel is good, screen can be big. 950xl it's not that much smaller and the small bezel let's it fit in pocket and it's great to hold. One handed mode can be used but I never do that with any phones because that's how you drop them. So bigger phones at least keep you more careful.

It's thinner, lighter and nippier than the 950XL. I was hugely impressed by it even though I only had a few minutes to play with it. Must admit its a tempting replacement for the 1520, but it depends on price - especially the varying docks which would be essential to get the full experience.

Your Delorean to 1998 awaits.

The only problem with this phone is the camera... And this dispoints everyone who are concerned about camera like.... Can't replace lumia for me..

Most people serious about photography buy a real camera anyway. I get it, people like good photographs, but it hasn't even been released yet and you're saying it doesn't take good photos. Don't buy it, it's all good. Posted via the Windows Central App for Android

Screen size is good. Love big screen phones!

Can't wait for the launch and the price too.

Screen is perfect to replace my 1520. Not all of us have small hands.

Terry this phone can't replace the quality of photos that u can't get on L1520 the only drawback....

Bluetooth is my biggest gripe with Windows Phone 10 right now. Any car or speaker I connect to, I have to connect multiple times. It either isn't recognized the first time (even though the device says it's connected), or it connects and the music starts "skipping" until I reboot. So annoying...

There's a huge bug bash going on with windows 10 this month. Also regards bluetooth. Check out the bug bash news in the feedback app and send your feedback on any bluetooth issue. This will not only benefit you, but everybody else.

I sent some following the recent fast ring build. BT was ok until the latest build.

I'm using multiple headsets (1 at work, 1 at home) and 1 car with my phone and zero problems for me, including "Hey Cortana" integration with my car's built-in mic and speakers. For me it works better than it did with my prior 8.1 phone, which sometimes didn't connect properly with the car for playing voice messages from the visual voice mail app I used. Even that now works perfectly for me under Windows 10. I know that doesn't help you any, but at least it doesn't appear to be a universal problem or downgrade from prior Windows versions.

If it makes you feel any better Android is as bad or worse with bluetooth. Not only does it routinely take multiple attempts to connect to multiple car stereos with the latest version of Android on a Nexus 6p (so it isn't the manufacturer's fault) it will routlinely drop the bluetooth connection and break up music streaming randomly. My windows phone running WP10 (icon) doesn't have any of those issues. But I would like them to fix it so that you can prioritize voice and music. So for instance if I have a headset with me, voice goes to my headset and music still plays in my car (and both are connected at the same time which Android also can't do!) and when the headset isn't there then voice goes to the car too. Oh and the ability to start Waze AND play music on connect. Currently I can choose one or the other. (and it should be able to automatically set the volume to max when it connects and return to the remembered volume on disconnect.)

My Nexus 6 works perfectly with Bluetooth and Android has had stable Bluetooth for years. You have bad hardware or software issues. Posted via the Windows Central App for Android

It's improved a lot since the first s/w drop but still is slow to connect to my car. Gadgets doesn't fire up want more and my wife's iPhone still beats mine to the punch in connecting up.

Thanks for the replies folks...the weird thing is that this never happens with 8.1 on my 640.

Cant wait for the launch. Looking to buy one. Price shouldnt be too crazy according to experts (Cant recall where i read) because HP did not do heavy & crazy promotion for the phone which is generally the highest cost of phones. Should be around 600 Mark. Screen size is big yes but it is the best and only option available with all latest techs (Finger print, Lapdock etc) P.S : Windows Central kindly update the photo on the post with the newer version with Finger Print Sensor :-)

why is this news so newsworthy? Never read any story on bluetooth and wifi certifcation for the lumia or surface devices, or really for any other smartphone for that matter. Wifi and bluetooth are trivial matters in the smartphone. Or is it because the wifi is brand spanking new technology and bluetooth 5 is being incorporated into this phone? That would be newsworthy. Or am I missing the point on another matter?

It's news because it signals the device is very close to launch, that's all. Given that HP has not announced an official date, it's worth sharing with folks who are eagerly waiting the phone's availability.

I've seen similar announcements for other phones in the past. None in awhile since there haven't been any new WP's in awhile. It signifies the imminent release of a phone. This phone in particular is a significant release as it will basically make or break WM10 for the rest of the year and much of 2017.

Looks big but nice. Wonder how the speakers perform

Front firing B&O speakers. You really need to ask???

Well yeah. HTC is supposed to be great but I think its quiet

No, BT 5 isn't out yet and that would greatly delay the phone so they are sticking to 4.0, but the phone will work with 5.0 devices theoretically because of backwards compatibility.

I hope Rodneye sees this. Seems like an ideal phone for him and the other 1520 users. Got to love those specs.

Yeah, where is that guy when you need him. :D

The super phone is coming guys!!

I think it's missing Glance. Probably not a deal breaker for most users, but still a shame that it's not there given how great all the other specs are. I just had to upgrade from a 928 with Glance to Icon (930) without it, because my 928 cracked. I find that I hugely miss Glance -- it really undermines the phone's usability for me. Also curious to hear how well the non-Lumia camera works.

Yeah, glance is big for me, too, as is double tap to wake.

Glance and double tap to wake should be required on all future Windows Mobile phones.

Waiting for release date and price, but looks great.

It's a Surface Phone for me.

Eagerly awaiting this device!!!

Size almost similar to 640XL.

Any more info on the Surface phone I wanna see a comparison of these two phones. Anyone point me in the right direction with a friendly link?

Microsoft is keeping information on the unnanounced surface phone very close to their chest. Only thing available is known through insider sources or speculation at this point. But you can pretty safely assume the surface phone (Spring 2017) will have at the least, the specs the HP Elite X3 has.

What stopped them from going for a 6 inch display? Lol. I was really happy when I heard about another 6 inch (almost) device. I can never imagine going to even 5.5 inch phone after using the Lumia 1520. Great specs, still it'll fall behind other devices coming in this year. 2 things are lacking in this device, otherwise I would have considered buying it. Build quality (appearance) isn't that great and I have doubts about the quality of the camera. So once again, I'm on the waiting game expecting a brilliant windows phone. My watch will continue till next year. After my watch has ended, I will switch to another phone.
PS - Is this too long for a comment? :3

Screen size is 5.96in. That's barely smaller than 6.0in...

The sreen is actually 6 inches. Pause at 1:40 of this video and read the card he is holding up :) https://www.youtube.com/watch?v=ssFBWSsfVCg

Why too much hype for this phone. Just cutting edge technology. No exciting new features.

Because it's a windows phone: considering that a new w10 phone hits the market every approximately 15-20 months this is a great news!!! Next wp around end of 2017 (soon)

The virtualization of desktop apps. The thoughtful implementation of Continuum with all the stuff included. What do you want it to have? Besides, it's a major effort by a major OEM with a large sales team.

Now we just need Verizon support and I might jump at this model. This SHOULD have the Tap to Pay Feature as well, so might be a perfect Windows Phone device.

Yes, Verizon please. I'd really like to replace my Icon.

The WiFi certification is only for b g and n, not ac http://certifications.prod.wi-fi.org/pdf/certificate/public/download?cid...

Interesting -- I'm not familiar with those tests. I see it does include both radio bands (2.4 and 5GHz). Would there be a separate certification for AC? Do any phones have AC certification?

If you could explain more it would be greatly appreciated. I am not to familiar with these tests as well?

this phone is absolutely necessary, as well as the Alcatel Idol Pro 4

They better release it quick before the hw is outdated, i guess MS software is the bottleneck as always. So expect good hw with half finished sw on release. MS will probably have the SW sorted around christmas time. I want this phone, but I'll wait buying it until I am sure it is not another 950 screw up release.

I needed news like this because I submerged my HTC One M8 for Windows in the swimming pool on Saturday due to totally forgetting it was in my pocket like an idiot. Now I have to use my back up phone (lumia 640). I was going to my give One M8 to my son after getting the X3. Now I'm thinking seriously about getting a used 1520 so I can pass it on to him after getting this phone. 1520 is the phone I wanted originally anyway but got the One M8 was on sale for 1 penny on amazon. I'm so sad right now because I don't really have the money laying around to buy an old 1520 and this beast. Decisions, decisions. How much are you 1520 owners going to sale your phone for once you get the Elite X3? RIP One M8, you treated me very well and you were a beautiful phone.

I don't see any advantage over the 950 XL apart from inbuilt storage, by a consumer point of view.
-Rather lower on camera ( vs legacy lumia)
-Performs continuum which 950 XL handles pretty well for (not enterprise) heavy work.
-Also the design from the back is ..beep.
Wat say oll..

Nice hardware too bad W10 mobile has no apps.

Interestingly, I'm typing one one...which is more than "none".

Reserach has been conducted detailing most people use only 6 or 7 apps 95% of the time....last time I loocked those apps were supported officially or unoficcialy (in many cases better than the official one) - many missing like banking apps, however with the Onecore (you know what that is right?) and Windows Everywhere strategy Windows 10 is by FAR the largest platfoem with the largest userbase in the world......mobile is just an extention and will fall into place in due course. What mobile app are you missing in your life?

Android outsells Windows 3 to 1. Windows is not the largest platform. It isn't even close. Posted via the Windows Central App for Android

Low on camera? We only really know the megapixels, right? That isn't the only factor affecting camera quality. HP is working on advancing Continuum and virtualizing some desktop programs. The increased specs will help it all fun better. I don't see this big divide between consumer and enterprise other than purchasing options.

It can't record 4k... What else proof needed to know that camera isn't good as much as specs...

Where has it been announced (not leaks/rumors/speculation) that it won't be able to record in 4K? The Windows camera app shoots 4K and I believe that only an 8MP sensor is needed and the X3 certainly has the processing power to handle it. So, X3 might still have 4K in its bag of tricks.

You not a fan of Fingerprint sensor? Wireless connectivity to Lapdock? B&O Speakers?

... Not when there is Windows hello
Not when continuum dock came bundled with the 950s
Not when the Speakers are decent on the 950s too
..Not when the prices are further slashed by 25%
...Not when there are offers popping up so lucrative as in.. Buy one get one free Not when the exclusively designed Mozo covers keep ..uppin the oomph.
And... Not when Surface phone might impress me with some significant step further. Til then no reason to not love my 950 XL ...et al ;)

Fair point. I would buy this one today as i managed to break my 1020 anurrently on a back up samsung nexus (Spare one lying around) and looking to buy new windows phone. Almost got 950 XL but if X3 available in short time will surely like to wait a month or so and buy the latest possible. Again 950 buy one get one offer too tempting but not available in Belgium.

I hope they decide to release this outside of business channels *ahem AT&T* because my wilfe would love it as a replacement for her now on it's way back to assurion 1520. She now has a 950. She loves the 950 but it is a downgrade as far as screen real estate.

With so many deals on dock, the phone itself, Office 360 bundle and the mozo covers too ..Better get a 950 XL for her untill you get your hands on the surface phone.
Real estate without the bezel' plus the color customization

Did we ever get a price range? Posted via the Windows Central App for Android

This phone has some beastly specs.