Here is the near-finalized HP Elite x3 'superphone' at Computex 2016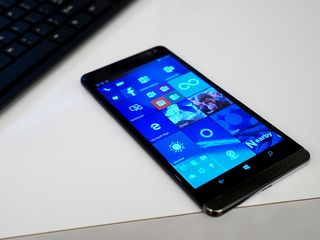 Microsoft and HP have started their ramp up to the HP Elite x3 megaphone running Windows 10 Mobile. The powerhouse of a device was featured in numerous promo videos from Microsoft, HP, and even Qualcomm (boasting about their Snapdragon 820 processor).
While on the ground at Computex in Taipei we managed to get our grubby hands on the near-finalized hardware for the future phone which you can see in our new video. The biggest change was the addition of the rear fingerprint reader, which while knew it was coming, was not yet built into the device back when the x3 was first announced a few months ago.
There is still no word on availability and pricing, but most guestimates put the phone releasing after the Windows 10 Anniversary Update, which itself is expected at the end of July. The Elite x3 uses many new features found in that update including fingerprint reader support, Enterprise data protection for MDM (InTune), Ethernet support, and general improvements to Continuum, so it would make sense for its release to be timed with the Anniversary Update.
HP Elite x3 specifications
Swipe to scroll horizontally
Category
Features
Product Color
HP Graphite
Operating System
Windows 10 Mobile
Processor
Qualcomm Snapdragon 820 (2.15 GHz, 4cores)
Chipset
Qualcomm MSM8996
Memory
4GB LPDDR4 SDRAM (onboard) Dual channel x32 PoP 32Gbit
Internal Storage
64GB eMMC 5.1
Display
5.96" diagonal WQHD (2560x1440)
AMOLED multi-touch display
Corning Gorilla Glass 4
Anti-reflective coating
Available Graphics
Qualcomm Adreno 530 GPU
Audio
2 Stereo speakers (one with earpiece)
3 integrated omni-directional microphones with HP Noise Cancellation Software
1 external microphone (from headset jack)
Snapdragon Audio+ support
Audio by B&O PLAY
Wireless Technologies
802.11a/b/g/n/ac (2x2)
WiFi and Bluetooth 4.0 LE combo (Miracast supported)
NFC
WWAN:2G/3G/4G,LTE-A with carrier aggregation 4,5,6,13
Expansion Slots
1 microSD (Expandable up to 2TB)
Ports and Connectors
One 3.5mm 3 and 4 pole headphone jack
1 USB 3.0 Type-C connector
Dual nanoSIM or nanoSIM + microSD card via 3-in-2 card tray
Pogo pins
Camera
16MP f/2.0 FHD rear-facing camera
8MP FHD front facing camera and Iris camera
Available Software
HP Workspace
HP Device Hub
HP Registration and device onboarding
Adobe PDF Reader
Security Management
Elite x3 device has dual biometrics with Iris recognition and Fingerprint reader
FIPS 140-2 cryptography
Qualcomm processor includes Secure Boot
128-bitkey Unified Image Encryption
256-bitkey Full Disk Encryption
Anti roll back
fTPM2.0security; Windows 10 includes 128 key Bitlocker encryption
Enterprise grade VPN
Dimensions
3.29 x 0.31 x 6.36 in
83.5 x7.8 x 161.8 mm
Weight
Starting at 0.43lb
Starting at 195g
Power
10W 5V/2 Aadapter
Non-removable 3.85V battery pack
4150 mAh Li-ion polymer
Wireless Charging
Qi and PMA
Sensors
Ambient light sensor + proximity combo
Accelerometer+gyro
eCompass
Pressure
Hall effect
NFC
GPS
Energy Efficiency Compliance
ENERGY STAR certified
EPEAT Gold
registered where applicable
EPEAT registration varies by country
Durability features
Designed to pass IP67
Providing seals against liquid and dust ingress to IP67 rating
Designed to pass MIL-STD810G testing
HP is expected to sell the Elite x3 in direct business deals with its vast array of enterprise customers. While not marketed as a consumer device per se we are expecting the phone to be sold directly from Microsoft and HP for people who want one. The phone will likely be bundled with the desktop dock with the Mobile Extender ("ME Dock") coming in as a separate purchase.
You can read all our coverage of this exciting Windows 10 Mobile device on our main HP Elite x3 landing page or check out these in-depth articles about it below:
Elite x3 Photo Gallery
Elite x3 Hands-on video
Windows Central Newsletter
Get the best of Windows Central in in your inbox, every day!
Daniel Rubino is the Editor-in-chief of Windows Central, head reviewer, podcast co-host, and analyst. He has been covering Microsoft since 2007 when this site was called WMExperts (and later Windows Phone Central). His interests include Windows, laptops, next-gen computing, and for some reason, watches. Before all this tech stuff, he worked on a Ph.D. in linguistics, watched people sleep (for medical purposes!), and ran the projectors at movie theaters because it was fun.
Can't wait to see when they drop the price on this send everyone stayed complaining because they expect it to be 400-500$.lol

I've said before and will say it again: the price won't be totally crazy. Since HP is doing no advertising for this phone, there are no Store promotions, and there are no carrier costs involved for testing/approval, the actual overhead is very low on this device. Much of the cost for a high profile phone goes into the marketing behind it e.g. Samsung, Apple (think of the costs for those TV ads and billboards; they recoup those expenditures by putting some of it into phone's price). I was told by HP this will be priced accordingly to current high-end phones and not something extraordinary.

How much do you think? More than the 950xl for certain. Please downvote me. I'm aiming for the most.

Well, I'm not saying it will be cheap and since I was told it will be bundled with the Desk Dock (at first), the price will be higher than a 950 XL. I'm just saying I am not expecting a $1000 phone.

Wasn't the acer primo bundle $899 (not entirely certain on the name...jade??) Please downvote me. I'm aiming for the most.

Was that the monitor-inclusive one?

The cheap monitor inclusive one yes Please downvote me. I'm aiming for the most.

YOU'RE WISH IS OUR COMMAND Posted via Surface Pro 4 or Microsoft Halo Phone

your* Posted via the Windows Central App for Android

In The Netherlands we had a pricedrop. 950 is now €399 and 950XL €499

The 950 xl is a screaming bargain here in Oz, it's only, cough, $950 :-o

Yep. We sure pay more then most here in Oz

In my neighborhood 950 with that useless continuum box goes for €299. 199 soon I would guess.

In greece you can find 950 at a price around 320 euros in various online stores.
Lumia 640 XL

With free Continuum dock as well as long the offer stands and while on stock.

I think it will be around 60,000₹

There is no way a phone will cost 60 000 Canadian Dollars Posted via Surface Pro 4 or Microsoft Halo Phone

See the sign... It's not symbolizing dollar.

I meant 60,000 indian rupees

With the drop of the Canadian dollar and Trudeau's deficits, I wouldn't be surprised if this is the Canadian price as well.

I love your enthusiasm for down votes. Welcome to Down Vote Central! Posted from PornHub

I love them, fuels me. Please downvote me. I'm aiming for the most.

Because you ask for down votes, I up vote you.

Nooooooooo Please downvote me. I'm aiming for the most.

You monster Please downvote me. I'm aiming for the most.

I think it would be fair to expect it to sell for between 700€-800€. Posted via the Windows Central App for Android

They are not going to sell many of these but at that price they will sell next to none. This is like the Homer Simpson car, it is some IT nerd's dream but useless in the real world. There just isn't any point in carrying around a dummy laptop or peripherals so you can run Windows RT off your phone. Ultrabooks aren't pricey and are far more convenient and capable. Posted via the Windows Central App for Android

So that would mean no Verizon support then, right?

HP would like this phone compatible with everyone, but at the time of the announcement they had no progress with Verizon. Whether that has changed between now and then, or even later on, remains to be seen.

If HP includes CDMA radios and bothers to get CDMA certification from the FCC (unlike Microsoft, who didn't bother on the 950) then Verizon will carry it. Verizon already has several Windows phones. Of course HP cannot be so insane as to demand any carrier buy a minimum number of devices. With a marketshare of UNDER 1%, what carrier would do that??

" HP cannot be so insane as to demand any carrier buy a minimum number of devices."

HP is not going through any carrier, although AT&T is certifying it for their network. This is a 100% open market, unlocked phone. No carriers involved at all and it will hit 7 markets on launch.

Daniel, can you explain more about how this works--that is, how OEMs can just bypass carriers? You wrote above that you expect the price of the phone to be more reasonable than most high-end phones because they don't have to go through any carrier testing and approval. Are you saying that any OEM can just put in the bands necessary to be on any carrier's network, sell that phone without carrier approval or testing, and then a customer can bring that phone to their carrier and say "this is the phone I'm using so shut up and activate it"? That sounds awesome from a consumer perspective but terrible for a carrier. I assume I'm failing to undersatnd what you're saying.

coip, yes, that is exactly how it works. The bands are part of the phone hardware which has long been standard. Unfortunately, US carriers have long bullied phone makers and consumers into thinking that control is actually in the carriers' hands. There is no technical reason why a network of a certain carrier wouldn't work on a phone that has the required bands. In most parts of the world (except US and a few more countries), people just pop in whatever SIM card they like and expect it to "just work" -- and that it does.

So what exactly are the carriers doing when they spend all this time and resources "testing" new OS updates and whatnot (e.g. Verizon finally approving Windows 10 Mobile for the Lumia 735). It's just because they sell those phones through their own channels so they need to guarantee it works smoothly, but in other countries where they don't do this, the carriers don't guarantee any phone will work? Who provides the technical support when a phone runs into network issues, then, if not the carrier?

Really, testing a phone to see if it works with their network is a waste of time (in my opinion). With 8.1 I guess it made sense for every update as the radio stacks weren't separate and were involved in every update, so networks had to check it. But with windows 10, as long as it has the required bands in the device, it's pointless for the networks to "test" it when it is already compatible because of the required hardware matches. For example Verizon seem like a stubborn network who like to stall when they can. Luckily for me in UK, like others have said, networks usually just release the phone as long as it has the required bands as most times the phone WILL work. :p +640 on Windows10Mobile

Adding all their crapware, I'm running a 959xl on ATT with absolutely no problem. The only issue I've been able to find is that there is no picture of my phone on my number in my family account pages. Posted from Windows Central for Windows 10

It's hardly an issue. In most countries certain minimum standard interfaces are demanded of the carriers which are well known by phone OEMs. If both parties comply to these standards, 99.9% of devices work without issues. The whole 'testing' thing by US carriers is a side effect of getting into the phone hardware business directly through contracts which therefore obliges them to provide direct hardware support that's really not their core business.

@coip - technical support for the device is provided by the retailer where you bought the device from, or from the manufacturer. Obviously if you've bought your mobile from Target or BigW then they're not going to be able to help with anything but returns / warranty. A carrier would only really provide support for devices they sell. I've never heard of anyone having network issues because of the device they bought, but you would likely call the carrier for advice as you're still a paying customer on their network. I am with Vodafone in Australia, but they haven't sold Windows Phones for years. My first and second WP's were from Telstra (branded, but unlocked), although my 950 I bought from Optus. I was very close to buying it from Harvey Norman who are a general electronics and whitegoods retailer. JB HiFi (who sell music, movies, hifi's, tv's etc) also routinely sell WP's. In each case, I had the option to go on contract with the other carriers - but I prefer to save money ($500+/year) by buying my phones outright. Sometimes you can buy the same phone locked or unlocked to a certain carrier, which is usually at a subsidised cost. Whichever way you buy, you just put your SIM in the card and you're good to go. There's no 'activation' of phones or anything like that.

That's how it would here in Oz, you Mericans are getting ripped by your Telco's

You buy the phone, and put a SIM in it from a carrier, whose works with it. It's just that simple :D Posted with the Windows Central app for Windows 10 on HP 250 G1 notebook. It is a scary old monster, I think :D

The point of going through carriers is that you can pay for your phone in smaller increments over the course of your contract rather than buy the phone out right for however many hundred dollars it costs. This is how so many people can get new iPhones and Galaxy S(insert relevant number) or upgrade their phone to newer models.

Actually a lot of networks do sell the phone for full price but still locked. Then you have to usually pay extra to get it unlocked. That's why it's even more for unlocked phones (I'm talking about paying ALL the money upfront at the phone shop) or at least that happens in UK stores. +640 on Windows10Mobile

In most other countries I'm aware of, all the carrier gives to a consumer is the SIM card - that is your license to access their network infrastructure. It's pretty much your business which phone you plan to use provided the device has been authorized by the communications authorities. It's only in the US that I learnt that carriers are in the phone selling business as well.

It's the same way up here in Canada too.

Yes that's the case. To be frank there are large market like India and China, where people just buy those devices they like and goes to the carrier they want their device to work with or use with the existing ones carrier network. That's affordable and reliable then those nasty time consuming way of involving onto be on or off contract with the carriers like AT&T, Verizon, Etc.

My country phone OEM bypass carrier. Phone sold under carrier in my country do not lock phone but they lock customer by 2 years contract. Testing purpose is done by FCC like organization in my country. Posted via the Windows Central App for Android

How would roaming otherwise work???? I travel a lot for work (and pleasure) around europe and also other continents and never ever have I jad problems, other than poor coverage. To me this whole carrier testing is nonsense, they all use comparable platforms( android, windows etc), radio chips etc, so any fault would be noticed almost directly during testing, I guess. Unless of course they all want to do something special like skins on android. But with windows I assume the interference is far less, also by the smaller set of support chips.

I wonder if WiFi calling will be available or be added after the fact. Sent from Windows 386

This is something that I'm wondering about as well. Even though I have great TMO service I've become accustomed to having WiFi calling and VoLTE available.

I work for a company that handles wireless services for several business, for them to compete with the iPhone which is the preferred business phone they will need to make special enterprise bundles with the carriers so that this phone is cheaper than the consumer market and more reliable than an iPhone which its life expectancy is 2 years or after a year the battery starts to drain as well as software issues, so they need to offer a device that is resistant and more reliable than the iPhone From my Lumia 950

If only ALL manufacturers did that...

Does this mean Mobile Hotspot and Visual Voicemail will work with ATT? In the past ATT has not allowed these features on unlocked non-ATT phones.

Both of those features work great on my unlocked non att 950 xl and 950

Are the LTE Bands listed correct, or more to come? I see only Band 4 for T-Mobile, nothing about Band 12 which would be almost essential for Enterprise. Windows Central App
Alcatel Fierce XL (Redstone)

Translation: Every global carrier except Verizon and Sprint....so glad i moved to TMO.

L950/XL is using Universal radio which supports CDMA. MS blocked CDMA in firmware since they couldn't come up with an agreement with Verizon for controlling the direct updates that W10M requires. Now Verizon has announced to support W10M for L735. May be they have found ways to work with MS to support W10M on Verizon. That's a good sign. They may support L950/XL and X3 above all.

You say the Lumia 950/XL had CDMA which is what's needd to run on Verizon but that Microsoft blocked it because they couldn't reach an agreement with Verizon to control their own updates. That makes sense to me but it seems to contradict what Daniel says HP is doing with the X3: completely bypassing carriers and just releasing the phone anyway. If that was an option, why didn't Microsoft just do that too?​

Market share is not that low, it's 2.7 I believe. That 1% gets thrown around by wannabee writers who don't know the difference btw market share and phones sold

Market share is your share of sales in the market for a given time period. http://www.investopedia.com/terms/m/marketshare.asp Usage share is what you are confusing with market share. Although the terms are sometimes uses interchangeably, for the most part you are wrong. Posted via the Windows Central App for Android

Outside of the m one 8 for windows and un supported icon, Verizon carries the lowest spec and ugliest windows phones and don't support or advertise them anyway. They practically keep them in the garbage can by the back door in their retail stores. Posted via Windows Central app for Windows 10!
Proudly rocking my Lumia 1520!

I'm honestly sick of Verizon and their up town attitude! Posted via Windows Central app for Windows 10!
Proudly rocking my Lumia 1520!

Daniel, if this is sold as an unlocked GSM phone (ATT , T Mobile) the 2 shortcomings of those (my experience with ATT) is no mobile hotspot and no visual voicemail. Perhaps ATT would actually allow this on unlocked non-ATT phones.

I have a 950xl which I use on T-Mobile...visual voicemail and hot spot work .overall performance on T-Mobile is fantastic. Also works in over 100 countries at no additional cost according to T-Mobile. I've used it in USA,Canada and Japan and it's been excellent both voice and data all for $80 a month unlimited. My wife runs her Verizon 6plus off of my hotspot when we travel because Verizon is ridiculous with their charges. I've had at&t....Verizon....sprint...and T-Mobile is hands down the Best. Love my 950xl and I've used all kinds of phones.

I have AT&T right now, but have been thinking about switching to T-Mobile. Just a bit concerned about their coverage, since I like to go hiking in the mountains sometimes. From my Lumia 950XL

That is why we left T-Mobile. It wasn't that cheap and it became useless as soon as you left the city. It was the exact opposite of Sprint actually. We switched to AT&T through their AIO(Cricket now) plans and have been really happy. Great service, tons of data and cheap prices. Posted via the Windows Central App for Android

How did you get vvm to work? Posted from Windows Central for Windows 10

Have had no issues with mobile hotspot or visual voicemail on WP8.1 or W10M on AT&T on imported L930 or L1520.3. I don't believe this is a concern.

But enterprise devices are normally also more expensive, see the entire Thinkpad line. So that will probably balance it out.

and nice to see that it is designed to passed IP67 ratings.

By that logic(and I don't deny it) the 950's should not cost what the high profile heavily marketed phones cost today

Well if there's no marketing and no carrier cost it shouldn't be no more than $500. It should be well bellow the Note 7 since it's got the 823 processor, 6 GB of ram and water proof. Posted via the Windows Central App for Android

Lol & the 820sd will be old news by release of this phone

Hey Daniel, isn't the SD820 octacore not quadcore?

But still competitive price like $799 will do for HP, no need to brag by putting the high price and at the same time keeping the price as low as $499 will undervalue their commitment and acceptance of non-competitiveness of windows platform even with such quality specs and look.

oh, how I wish they can sell it alone without the bundle, I have no need for it since I already have a PC and I don't travel.

Rumours were 599 USD just for the phone no dock or mobile extender laptop included. Expected pricing is typical flagship-level at $599, without the accessories; http://www.winbeta.org/news/hps-elite-x3-windows-10-mobile-device-arrive...

More like $600 Rudy Johnson

If HP has any hope to sell more than a handful of these phones they had better price them well below $300. There just aren't enough folks who will shell out for a Windows Phone.

It a good thing they aren't aiming to sell them to the everyday cheapskate then. These are meant to be primarily for the enterprise. Less competition for the money of people who want something for nothing.

http://youtu.be/lAD6Obi7Cag

Not sure if you meant to, but this made me chuckle. I believe the List price on this phone will be very high at first, that way they can negotiate down with enterprise volume buys. So, I expect something like $949.00 with dock, but Christmas specials might be way lower. Its a beast of a phone, so expect a beast of a price. Don't like the price, wait for XMas specials.

$300? Not going to happen. Sent from Windows 386

Are you for real? 300$ lol

well below $300, i want some of the stuff you are smoking LOL.

why do you think HP should sell for a loss? companies are in business to make a profit

Companies are in business to appease rambo47.

But can you root it and put cyanogenmod on it? h4x0r 4 life. Google is my God.

as Donald Trump would say the price will be huuuuuuuuuuuuuuuuuuuuuuuuuuuuuuuuuuuuge dont expect 500USD... it will be closer to 899 + dock

Immediate FAIL at that price. Not even security-conscious companies will pay that much for a Windows phone. Especially when the CEO, CFO, chairman of the board, etc, all want iPhones.

Yeah, right, you know everything about how it works that.

you do know that HP and MS throughout the developement of this phone have taken feedback from large enterprise companies on what type of device they want, so this "all want iphones" is not really true. Employees may want to use iphones as a BYOD, but the companies dont want that.

Enterprise NEEDS handsets that run their line of buisness apps. Many of those are now provided in the cloud from 3rd parties. Guess what OS 95% of those vendors dont have an app for? Dont think too hard, but it's not iOS or Android.

I don't think you understand, these phones are not marketed to the general public. They are meant to be bundled and sold in mass quantity to business as a solution. If you buy onesie twosie, they will be expensive, at first anyway.

Maybe something like $600 phone only, $700-749 with dock, $799-849 with"ME Dock" From my Lumia 950

It should be on the price range of a Samsung S7, just the phone From my Lumia 950

No it shouldnt. It should be cheaper than the GS7 or iPhone or else they will just buy one of them. If HP and Microsoft want to get this in people's hands, they need to be aggressive. Windows phones aren't exactly all that popular. There needs to be some incentive for people to buy them. This enterprise excuse isn't going to be enough. Posted via the Windows Central App for Android

Again, they aren't looking to sell to 'us' necessarily. These are to be a business solution, different marketing execution.

Business isn't going to buy this, especially for iPhone prices. That is what I said. What does this do that the 650 doesn't? Run a gimped Windows RT if you carry around a bunch of cables and docks? Pointless. No one in the real world is going to do that when laptops and Surfaces exist. Anyone in IT who tries to push this solution is going to only frustrate users. Slow phone hardware and gimped Windows RT isn't a great combination, especially when you want to get work done.

So in your eyes Microsoft need to pay everybody $200 octodecillion per nanosecond to use the phone.

Yeah, they need some momentum and developer support if they ever want their mobile platform to have any traction even in enterprise. To do this they need to be extremely aggressive. Otherwise they may as well get out and stop wasting their time and money. In a year when they may "focus" on Windows Mobile, it will be even hard to make headway. They need to focus on it now and get some momentum behind it. Even then they will probably fail. Really, they need something new and revolutionary like the iPhone in 2007. The current Windows Mobile will never really work.

MS are 'focusing', but not on mobile as a stand alone product. The whole ethos now is WaaS and commonality between each form factor, be that surface, surface book, mobile etc...

Then they should just get out. If they are not going to put effort into mobile in particular, then why waste the resources at all? With this strategy it is only a matter of time before they kill it completely. The only ones who will really support it are Microsoft. They maybe be able to get some half-hearted support from PC manufacturers if they strong arm them (HP, Acer, Vaio, etc) but they will not build a strong business this way. Microsoft needs to come with solid hardware and a huge visual update to W10M this year. Next year will be too late and the bar will be so much higher. Posted via the Windows Central App for Android

I was going to get one but this is dumb "Dual nanoSIM or nanoSIM + microSD card via 3-in-2 card tray". 950 can have all three at once.

looking forward to this one. Now lets see the price.

Not less than $800, I think (Unless it's $799) with the desktop dock included.

Too expensive for consumers. I guess it's a good price for businesses though. Posted from my Note5/950XL

Because business like wasting money?

I'm looking forward to people arguing here at wc in the comment section. I'll get the popcorn. Posted from PornHub

I hope it ships with 64 bit W10M. Also, they could have opted for a faster UFS 2.0 storage. Looks to be nice overall.

Also, W10M doesn't seem to support Bluetooth 4.2 as this still comes with 4.0 while some others have implemented 4.2 on theirs.

I think 4.2 can be done via firmware upgrades, however, as it is more of a stack change than hardware from what I understand.

and we all know their is a completly new bluetooth stack coming with windows 10 soon.

Lol people must think QUALCOMM is making chips for w10m or something, c'mon sense, anything a droid does that a WP doesn't is entirely Microsoft's OS fault

W10M does support 4.1. Lumia 950 has Bluetooth 4.1. What does 4.0LE bring vs 4.1 and what about 4.1 vs 4.2? AFAIK LE to BT4.0 was the biggest change.

Well, it doesn't hurt to have the latest tech. Every revision is a refinement of the previous version to say the least.
https://www.quora.com/What-are-the-main-differences-between-Bluetooth-4-...

Great! A new phone for the OS that Microsoft has essentially abandoned! Good luck connecting since I'm sure no provider will actually carry the phone.

Um...have you not seen the numerous updates that have come thru for W10M? How exactly has the OS been abandoned? And, unless you're on VZW or Sprint, all you have to do is pop in a Sim card and you're good to go. Doesn't matter if the carrier sells it directly or not. Posted via the Windows Central App for Android

You mean the updates that break more things than fix?

Did you see the change log for the last update? Ya know, where the list of fixes was three times longer than the list of bugs? How exactly is that breaking more than fixing? Posted via the Windows Central App for Android

I'm no WM10 fan, but that comment was dumb.

No, he means users, not ms, have abandoned wp or mobile. Posted from PornHub

Scroll up and read Dan's comment. Then try again ;-)

No thanks... Posted from PornHub

why are you bothering with negative contribution on here?.
knucklehead!

Who are ye replying to? Posted from PornHub

not you, forgot his name.

Windows 10 is being updated almost on a weekly timeframe, both th2 builds and rs1 builds, stop spreading FUD.

Since these are intended for enterprise it really doesn't matter if a provider "carries" them. As long as the bandwidth is onboard for the companies provider then it works. Seem to me it should worry the likes of Verizon and Sprint, if CDMA isn't supported, companies may jump ship in favor of security and manageability. Posted from Windows Central for Windows 10

@matwer You're right, no provider will carry this phone. It will only be available thru HP and MS..

No provider would be selling this phone anyways. I have never seen any carrier with an hp branded phone. But I agree, Waste of resources as win10mo is DONE.

You obviously don't understand the market segment they're going after. Androids and iPhones are a nightmare to manage. Most IT shops will at least take a look at this

This really is the truth. The whole BYOD thing was IT conceding because there was nothing that matched what they wanted like in the BB/WM heydays. Companies would much rather have one device, one standard ATB to support for their employees. HP's angle here is security and management. With their virtualization software employees can reach behind a company's firewalls to access sensitive data. That is hard to do on an iPhone/Android device from what I was told. We're not talking email and Slack here.

I know the last company I worked for had banned Android phones due to security concerns and data 'leaks'. The company had a mixture of BYOD and company phones, the only BYOD devices supported was WP 8/8.1 and iPhone from Gen 5 onwards. They was even in the midst of phasing out iPads in favour of Surface Pro tablets or some other solution like the Yoga. They enforced the policy by simply blocking the users gaining access to the WiFi Network which was surprisingly effective.

This can also bring DELL out with a phone for business to compete with HP in the IT world.

So until the Surface Phone (That will still be too slow) materializes, the pivot is VDI? If you have VDI the business case is to use cheap clients, not expensive phones that kind of sort of could replace a laptop and you have to maintain insurance on and deal with Joe or Suzy employee dropping it in the toilet. Not to mention none of your partner/SAS apps are on W10M (well maybe 5% are), do they have virtualization for the iphone and android apps employees are already using too? Is the business case to give the employee an expensive phone with frustrating VDI and a laptop too? I'd love to see the usage telemetry on that after the week one shine wears off.

Exactly! I expect we'll take a look at this device for our sales force & drivers. WM10 is easy to manage and enforce gpo's, while allowing us native Exchange support and managability. Our MobileIron solution with its terrible work email client is considered a security risk, a necessary one, but a risk. We'll see what happens next year.

Hp hasn't made a phone in years, but I have seen carrier branded HP phones in the past.... especially on spint (Windows mobile 5-6 days)

That means nothing. It is more computer than phone. Also, before VoIP Cisco did not make phones. Now you see Cisco phones at many companies and businesses of all sizes.

What is the Write and Read speed of 64GB eMMC 5.1? The dual channel memory is certainly a plus!

The latest version of the eMMC standard (JESD84-B51) by JEDEC is version 5.1 released February 2015, with speeds rivaling discrete SATA-based SSDs (400 MB/s).

Not true. If it's 5.1, 250 MB/s read and 125 MB/s write.....slow write!

Yea. I found the samsung blog with 250/125 MB/s speeds. Don't know why wikipedia lied lol.

A great device.hope it shall be available in African.

Fingerprint sensor at the back. FAIL.

Nexus 5x/6P LG G5/V10 ? I bet there's more phones with FPS on the back. Posted via the Windows Central App for Android (V10 or 5x)

I've never actually understood a FPS on the back, unless it will also turn the screen on. That being said, I have a V10. But my FPS is also my power button. So I push to turn the screen on and it reads my print at the same time,so it's great. However if you have to push a different button to turn the screen on and then use the FPS, that does seem a bit clunky to me. Posted via the Windows Central App for Android

They only way I have seen it done is it reads and turns on the phone all at once e.g. my Nexus 5x. I suppose we need to see how HP/MS do it here, but yeah, it would be weird if it doesn't work like that. I think FP on the back is much better on the front. It's actually a pain on my GS7 (the iphone has a better, faster reader, imo).

Fingerprint sensor at the back. FAIL."

WTH? I have this on a Nexus 5x and it's fantastic. It's waaay more natural than on the front. Clearly you have never used one of those phones, because you sound super out of touch right now.

Interesting. I suppose it's specifically for fingers then as opposed to your thumb. Because when I'm holding my phone, my thumb would be in the front and fingers behind.

It's actually in a perfect spot. Imagine picking up a phone lying face down - thumb on one side, most fingers on the other. Your pointer finger will be exactly in the middle and at just the right place to easily touch right as you pick up the phone and turn it over. Phone is on and unlocked in one easy move.

The camera on my 930 is a ball biter, so if it's "only" up to that standard it's doing just fine

No kidding. I picked up an Honor 5X, and the fingerprint sensor on the back is awesome. "FAIL"...lol!

My 6P has it on the back and I find it to be the prefect spot.

I think it should be at back because how most of the people hold their phones. On my Note 5, I have registered my thumb instead of the finger... so at the front, practically its Thumb Scanner! I advised many of my friends and they are now on the thumb.

actually very good place to have it, the placement of the iphone and samsung devices on the home button sucks.

Just please enable touch on Continuum and native desktop app then I don't mind spending up to $1,000 just for the phone as it will replace all my devices.

Hp & Microsoft should promote remote desktop preview UWP app using continuum on phone. This is a killing feature to boost their so called "productivity" propaganda for W10M. I tried that on my Lumia 950. And it really works great for me to leave my pc back at home & carry my Lumia with continuum dock pack with me. The only fall short is that the remote desktop tutorial should make it simpler it took me a while to figure out the connection. With a such superphone this remote desktop feature can be a good selling point

Well, Remote Desktop just came out of preview, but is still missing features. However, I imagine they will start to push that story with Continuum after the AU this summer.

So wait, the Microsoft propaganda story should be to buy a Surface but then leave it at your desk so you can hopefully RDP into it on an expensive phone while eating up data on your company plan. Solid plan there.

Wow! This is a nice looking device! If the 'Surface Phone' doesn't live up to whatever it's supposed to be (weird considering there has been nothing said about it), This will be my next phone

I wonder if Microsoft will do anything to hinder HP's plans for this phone in the vain attempt to bolster their own upcoming device, the Surface Phone? On the one hand Microsoft needs all the help they can get keeping WM breathhing. But does Microsoft want to compete with somebody else's flagship device? If Microsoft continues to drag their feet with updates it could hinder the HP phone long enough for them to release the Surface Phone. Then they could open the floodgates with WM support and be on an equal footing.

The Surface line is meant to set a standard for their partners to aspire to. It would make absolutely no sense for them to try and hinder HP, since that's the exact opposite of their strategy. MS is still primarily a software company. They're not trying to compete with their partners. Same reason they're opening up their Hololens software to their partners.

Do you realize how silly that sounds? MS has nothing to gain by hindering the people who are willing to create hardware for their OS. The more partners, the better. They don't want a repeat of the Lumia situation where the burden of hardware is mostly on them.

I sure hope not. But lately Microsoft has made a lot of decisions that leave folks scratching their heads. What exactly is their strategy with mobile? Back burner? De-prioritized? Less than a year ago it was full steam ahead. Then a transition to bargain devices. Buy Nokia for billion$ and then say, "Nevermind." What Microsoft will we see next??

It's not "head-scratching" if you can bring yourself to understand that MS isn't trying to be Apple. Windows isn't proprietary. If anything, they're looking to be more like Google, with Android running on a myriad number of different devices from several OEMs. Nadella was never in favor of the Nokia acquisition, and has now made that clear by cutting off the remaining remnants of that deal. MS wants Windows on as many devices as possible--I'm pretty sure this has been repeated ad nauseum since Nadella became CEO. Nadella knew that if Windows is to gain marketshare in mobile, they have to pull back making hardware. He realized that flooding the market with their own Windows devices really wasn't getting anywhere. They ABSOLUTELY NEED other OEMs, but there wouldn't be any incentive for other OEMs to manufacture Windows phones if MS is dominating that segment. This is part of the reason for MS' "retrenchment" strategy. MS CANNOT be the MAJOR producer of Windows hardware, PC and otherwise. They go the Apple route, and they will run themselves out of business. Once again, MS touts itself, first and foremost, as a "software and services" company. That means excluding videogame hardware, they have no business producing hardware. The only reason they started doing so is to generate interest in the Windows platform and show that Windows is a viable alternative to Android or Apple even on mobile form factors.

They will never gain marketshare in mobile unless they make their own hardware. OEMs have no vested interest in Windows Mobile and they will not waste time with a platform that doesn't sell. Without Microsoft making devices, it is only a matter of time before they are forced to kill WM or make phones again. There is already a lack of devices available as OEMs have no reason to make them.

@rambo: Bwahaha that's funny... you have no clue what Microsoft has been trying for almost a year now do you... :D

If they have been trying to fail in mobile, then "mission accomplished." Well done, Redmond. They are obviously smart enough to not only dominate the computer software (operating system) market world-wide, but smart enough to maintain that dominance. There is no lack of brainpower at Microsoft. I just wish they would pick a strategy in mobile and stick with it. Maybe explain it to me using small words.

I read, a couple of months ago, that HP was trying to give the possibility to update Windows 10 Mobile to the 64bit version when it would be available (it was said late August).
Will it be the case ? :)

Almost finished, so just like W10M. They will be great together.

Actually, W10M will never be finished. That's kind of the point. It's meant to be constantly evolving. Same with the desktop side.

I would not mind constantly evolving, but it's more like constantly buggy. And not just obscure little bugs, big ones that prevent you do things daily.

Finished, no. If they ever declare it "finished" that's a very bad sign. But now about if they just make it "ready"?? Microsoft isn't new to mobile. I'm not talking about insider previews and beta-ware. These are consumer-ready versions of the operating system that have serious issues.

The only thing missing for the phone to be finalised is to remove the dead OS in it and replace it with Android. Then it will be ready ;P Posted via the Windows Central App for Android

No thanks. I like my phones to be lag and virus free... Posted via the Windows Central App for Android

Definitely. Bring on Windows Mobile! Posted via the Windows Central App for Android

Exactly. Which is why I'm saying to replace WP10 with Android. Android doesn't lag, crash nor is infected with the death virus as WP10 ;P

Meh, speak for yourself. I have the same issues on Android that I had on Windows. I'd much rather have Windows Posted via the Windows Central App for Android

At least learn how to troll... Oh and Android still lags on s7 edge with snapdragon 820. Pretty sad if you ask me..

It really does. the stuttering is annoying at times.

For all of its TouchWiz faults, the one thing that the S7/Edge doesn't do is stutter and exhibit lag. It's as smooth as a baby's bottom covered in butter.

Well, it doesn't on my S7. Though I have the European version which uses the Exynos. So if the SD820 lags, I think you might have to blame Qualcomm this time. Oh and by the way, neither my Z3C nor the G4 lag. So...that's 3 devices from 3 different OEMS (Sony, LG and Samsung) that don't lag.

I have had a friend come to me today to to look at their Sony Aqua thats's constantly crashing. It's been re-imaged and is up to date with firmware. Today it's crashed 5 times. So it's not all roses in the Android Garden.

And i get no lag on my umi rome with its octa core MT6753 cpu android 5.1

No lag on my g5 what so ever. Its blazing fast. Faster than a s7. Sd820 4gb. Posted via the Windows Central App for Android

You clearly have no experience running the IT department of a large corporation in need of security and efficiency. Android is absolutely garbage in the corporate sector and IT heads can't wait to toss it to curb for something more secure. iOS is too locked down. Android is too open. Windows 10 Mobile is that happy medium, and it has the added benefit of being able to play better with the rest of the devices on the corporate network, all of which run Windows.

Yeah, Windows Phone is the IT department dream. Wait...what do you mean, no one wants it? Also, newsflash, corporations are all moving towards the BYOD model. So if you run an IT department, you're doing a pretty sh*tty job keeping up with the times. By the way, you should get yourself acquainted not only with Android at Work but also with the possibilities Android offers. Yes, it's an open OS. But it can be closed down by the OEM. Which is pretty much what BlackBerry is doing.

I work in a large IT department and believe me what we and most of our contemporaries want is the locked down environment that is iOS. We're complete control freaks, y'know.

"Android doesn't lag, crash" My GS6 would like a word...

Nah, if you want to see a real epic fail just wait for the Nokiadroid! Rofl exciting times! Posted via the Windows Central App for Android

Nah, speak for yourself old man ;]

android has to be the most POS Mobile OS that has ever been on a device, Its terrible, poorly written, bad memory and disk management, every screen or app you look at is different. Even on my samsung s7 it runs like ass.

It is so bad that they have been able to capture 85% of the market through repeat buyers and converting Windows phone and iPhone users. That terrible, poorly written, bad memory managment POS has been able to embarrass Microsoft repeatedly. I wonder if your claims are really true? Could they be despite Android's market performance?

Android doesn't lag anymore though... Posted from my Note5/950XL

In my experience it lags more than any version of windows insider program currently...

It still does. It's better, but it is still there and visible when compared to iOS.

I see less lag on Android than iOS. All of takes its a swipe down to activate search on my work 6S Plus to send it into a stuttering mess.

oh yes it does, even on a samsung s7, when you get multiple notifications it will slow the device almost to crashing point. it terrible and anyone that says android doesnt lag or is smooth or is fluid is just plain simply full of ****.

Im not full of ****. Im using Note 5 with an Exynos processor. It doesn't lag. Even my GS6 never lagged, also an Exynos chip. It had horrible battery life but it was smooth. Neither phone ever rebooted or overheated either, unlike my 950 XL (due to the incomplete OS)
So when I hear you complain of lag please specify what processor your Android device has. And whether its on Jelly Bean or MM. And whether it has bloatware from vendors or no. Posted from my Lumia 950XL

You see, this is the very problem with the OS.

Oh its nice to see the usual suspects around to continue giving humans a bad name lol. I look forward to seeing the final product. Continuum is a feature that really does appeal to business and consumers. I think it's a great idea to push enterprise first since Windows itself offers so much feature wise to companies and their IT staff. Win10 itself is shaping up nicely around the anniversary update and UWP. Windows on mobile has a long future if they keep pushing better features, growing as needed, and cultivate 3rd party hardware like this HP phone and a premium first party option such as a Surface phone.

Any word on whether the camera is good? Is there OIS at least?

No. It's a poor camera when compared with the competition. Unsurprising though, considering its a business device. Posted from my Note5/950XL

how do you know, did you test the device by yourself? Camera certainly won't be the best but is probably completely ok. It will probably be on par/a bit better than Lumia 930, htc m9 and phones in that category.

Is that a phone in your pocket or are you must please to see her?

Replies are going to random positions all over the forum, wtf???

No need to test it just read the sensor specs for yourself. The 930 is more than two years old. You better be selling the phone for $400 if your putting two year old specced sensors in it. Posted from my Lumia 950XL

how do you know its a poor camera? have you tested it?

I really like this device and I think I want to buy it when it hits the street. I do hope the upcoming "surface" phone will not hinder the sales of this x3 because I can imagine people are going to wait it out until more information is available about the Surface Phone

Enthusiasts may wait to see what the Surface Phone (if actually released) looks like. Enterprise (HP's target customers) isn't going to wait around for some dream phone that may or may not exist at some point in time.

Daniel, which 7 countries will it be launched first? I'm in the market for this phone, my 1520 is two and a half years old and in spite of the horrendous app situation on windows mobile I'll give MS the benefit of the doubt once again. That is, if this phone lives up to its expectations.

My credit card and 1020 are both ready :D

My 535 is ready :D But my credit card isn't :S But it will be ;) I love my current phone, but want something more powerful and premium, running W10M of course. So this x3 is the solution :D Posted with the Windows Central app for Windows 10 on HP 250 G1 notebook. It is a scary old monster, I think :D

Does it have double tap to wake?

Yes, as far as I am aware.

Sent from windows 10 mobile

This phone looks awesome, any idea on a uk release? If only Microsoft had put this much thought into the 950/xl. Don't get me wrong, I love my xl but this is what a flagship should look like!

950's were from the Nokia roadmap hence the reason MS distanced themselves, Microsofts real effort will be the Surface Phone.

Dual biometrics... Is it really necessary?? Iris recognition and fingerprint scanner both work great individually... They could have released two models instead...

Enterprise value security, having both makes sense, perhaps there is a feature where you need both to access the phone. This phone is a result of 2 years of asking businesses what they want in a phone.

That's a beast of a phone

Im waiting w10m app market go up before I do any new investment

This a dream phone ! If it's priced higher than 6s plus or 7 edge , I would think still it would be fair. But considering some drawbacks of the OS , it may be priced close to those high ends. Glad to see how hp is putting effort to show w10's power. Great job HP, considering my next laptop to be hp.

As you can see it in my signature, I'm rocking an old one now :D I want to replace it now, but not because it's HP, but because it's old. So I think, chosing an HP laptop is a good idea ;) Posted with the Windows Central app for Windows 10 on HP 250 G1 notebook. It is a scary old monster, I think :D

I wonder if you will be able to use MS Continuum?

Yes, thus the bundled dock. There is also a clamshell screen/keyboard/battery accessory for mobile continuum

It's the entire sales model for this phone, yes it will. And more really, the phone will be a full virtualized PC.

Awesome looking device. But I still think I'll wait to see what happens with the possibility of a Surface Phone.

Excited for this phone, if the price is right I will purchase . Posted via the Windows Central App for Android

I would upgrade from the 950 to this. I'd have to get a nerdy belt clip for it for my work. My phone tends to overheat in my pants pocket while I'm working.

have my 950 in my pocket all day at work, does not get hot for me at all.

Everybody has a different experience with the 950. Mine used to overheat 'til I got off the Redstone builds -Vigor

LOL. "Superphone". Yes, with a lame 16mp camera. I'll pass until someone is SERIOUS.. No body makes a phone with a camera worth crap.

Agree ScubaDog - this looked promising until I saw the resolution of the camera :-( Also no sd support so that's a definite NO from me

You both are idiots -Vigor

People expect more from their phones these days than a so-so camera AND NO SD SUPPORT.

Good, they can get a phone that has that. HP invested 2 years talking to businesses asking them what they want. This phone is the result. As a business owner I think its fantastic, I know IT departments are going to be extremely happy with a device like this. No SD card support is a good thing in an enterprise targetted device such as this. Cameras are used to take pics of reciepts etc and it will be good enough for a lot more (remember the uproar when BB introduced a camera?) For the market its targettting its more than fine.

Hey man, the article said there is micro sd support. Calm down Posted from Lumia 640 W10M.

I believe it's dual SIM or single SIM and SD, not ideal. But again, dual SIM isn't common in a business phone.

You can't possibly tell the quality of camera from megapixels alone. Plus doesn't this thing have 64gbs of storage?
Sacrifice you have to make to have it water resistant -Vigor

Perhaps its time to get out the cave your in and do a tiny bit of research before slamming something for a feature that isnt even a priority for the market this phone is built for and targetting.

Seriously? The megapixel war ended years ago. Without knowing the sensor size, guessing on camera quality is, at best, a shot in the dark.
Besides this is aimed at enterprise where hotshot cameras are not really a high priority. Posted from Windows Central for Windows 10

Bow down to the future! Future is coming!

Sir, The furture is here (Technically) in this case called "HP Elite X3". All that is needed are the dotting the i's, crossing the t's of putting them on shelf and you and me plus loads of others presenting our cards as good Ol purchasers.

Oh my god ! It seems to be a beast phone by HP !

Pretty slick looking phone with killer specs Posted via the Windows Central App for Android

As an HPE employee, I and my employee discount will be all over this -- assuming it works on Verizon.

No employee discount for me, but like you said - if it works on Verizon I'm all over it. It will be interesting to see how it stacks up against the Surface Phone when that is finally released. We may be on the Elite X3 v. 3 by then.

Daniel, what Monitor or All in One is that behind the X3 ?

Is the continuum experience way faster than with the 950xl?

Yup, the whole phone is so fast the user has actully no clear view. I mean it moves so fast you need to film it, then lower the peed to -2000 so you can see what heappens on your display. Aproved by me!

Eager to see how the camera performs

This is an interesting device and seems to be getting a lot of attention to. I am starting to wonder if this will be the flagship for for window 10 this year and Microsoft skipping a updated Lumia 950. To hit us with a Surface phone next year? I cant wait for the laptop shell though I was going to grab a nexdock until I saw the hp one for my lumia 950XL

Too late for a dead platform. Anyway,it looks good and perhaps some corporate folks will use it.

With such exclusivity and premium price, i will hold my L730 till the end of this year.
Then i have to think of alternatives because of limited budget of 300 dollars or ₹20K.

Dual nanoSIM or nanoSIM + microSD card via 3-in-2 card tray - Well that sucks.

Our school needs a new server next year and since we always do HP I now know what to bargain in the deal :-) awesome stuff that!

Megaphone? Like the thing you speak into to be heard over a crowd?

With one exception it's a great device: I really don't know what's the sense if I have to decide between memory extension and dual sim functionality - while using a smartphone this is nothing I want to choose , it just should be available...

Yeah, it's stupid. It's sad, that they decided to use this solution at the end. Earlier reports said, that the second sim and the SD card slots will be separate.
I mean, the galaxy s7 uses this solution too, but it's crazy on that phone too.
But I guess the 64 gb internal storage will be enough for me :D Posted with the Windows Central app for Windows 10
on Lumia 535, sparing money for an Elite x3

folks last count I have is there are at least 4 Continuum capable smart phones going on sale in the market placel besides this one. the Japanese Nu Ans NEO is going to sell at a price hundred of dollars less than this one. I hope it gets to sell in the states. I hope that Microsoft makes a dedicated blue tooth mouse and keyboard and a special Continuum ready computer monitor that automatically connects up to any continuum Windows 10 mobile smart phone. These devices would help people easily use their Windows 10 mobile continuum capable smart phone on a larger screen to more easly edit things on their smart phones and play smart phone games an other apps on a bigger screen. Some people would like to do that with a windows smart phone

They will sell it on interprices so the price is only for interprises.. Lol i think it will put a huge hole on your pocket.

My understanding is that the remote app support touted for this is already available on server side since maybe Server 2008R2 (?) and on mobile as part of Remote Desktop since WP8 or 8.1. It's a bit arcane though and I've never found a demo if it actually used on WP/Win10M.
Daniel, is this something that might be in scope for a related future article?

Looks excellent HP and ASSUS have really produced some interesting devices smart phones are history long live the mobile device.

Maybe sell my Galaxy s7 for this phone. It's water resistant and that's what I need Posted via the Windows Central App for Android

They will sell it on interprices so the price is only for interprises.. Lol i think it will put a huge hole on your pocket.

Funny how so many non windows users and Windows Mobile fans troll the absolute ***** out these forums. Do you do it to be a troll? Or are secretly WM fans? If it is the former, please.....I think I hear the the bill goats gruff coming...quick back under your bridge....... Posted via the Windows Central App for Android

Im a windows phone user and my first phone is lumia 610.. Lol and im using lumia 1520 for now

How's the battery life? ;-)

I'm only interested in the Mobile Extender. I want Continuum whenever, wherever. I want to be able to use a laptop on the bus without WiFi (most buses I use don't have WiFi) so this will be perfect. The one app at a time limitation doesn't concern me, nor does the app gap. So yeah, pretty psyched for that extender.

I hope that Microsoft releases a statement that they will definatly sell new Windows 10 mobile smart phones be they New Lumia's or Surface smart phones. I know Panos Panay VP of Microsoft devices design labs who is head of the Surface team absolutely hates to to give out info about any coming Windows devices but in this case the Mobile industry and Windows smart phone fans have to know if Microsoft itself will have Foxconn or others make the Physical new Microsoft designed and branded Windows 10 Mobile smart phones. Microsoft has to let everyone know if they will only make the software like the days of Windows phone 7 where Microsoft did not make any smart phone hardware at all. Only OEM Partners made the Physical <p>Windows smart phones

Uhm a sensor called "hall effect", what could that be?

Please just arrive before August 2nd. Broke my 1520 several months ago and waiting on something good to use complete on.

I signed up on the HP Elite x3 web site to be notified of announcements.
https://www.windowscentral.com/e?link=https2F2Fcrea...

*near* is the keyword Posted via the Windows Central App for Android

Fingerprint scanner in this phone definitely gonna be a plus ➕ point Posted via the Windows Central App for Windows

I have seen a couple of posts saying that if HP don't make any money on the phone, they will drop it like a hot potato, and continue to be lauded as innovative. Maybe someone can explain it to me, like I'm a two year old, that when MS drop support for prior gen decides, that no longer have the 'potential' to earn anything, and even cost money for software development, they are the anti-christ?

Mad Cabbie...there come a point in development cycle and program planning where you need to determine the best course of action for a product. When older less hardware flexible system can not and will not be able to utilize the new system architecture they must..for better or worse. Be put to bed. With UWP they older system will not be able to adapt as newer system will to overall system structure. That is why say old win 7 mobile phones were dropped from mobile 8. And so on. HE is taking a huge leap of faith in enterprise markers. Since the current and IMO worthless CEO they have has tried to push HP in the wrong direction.....they are trying to get back to roots enterprise and IT. It's been stated 1000 times here HP x3 is focused on enterprise for business. It is set up to flex with MS backbone to somewhat future proof itself. I love my 1520 but sadly it will not transition well into the UWP and future of WM. This is no difference than what Google does with its phones. Hell I have a Samsung Galaxy tab 10.1 2014 edition that has yet to get any type of update to anything past lollipop 5.1... they just don't give a ****. Posted via the Windows Central App for Android

My theory is the project is simply lumbering along on inertia or is a developer/engineer welfare program to keep some people busy. As an enterprise customer could you honestly believe MS is committed after the long road of how they were super duper retrenched in budget, high end, and enterprise, and then said oops. budget and high end consumer were dead effective immediately?
Windows Central Newsletter
Thank you for signing up to Windows Central. You will receive a verification email shortly.
There was a problem. Please refresh the page and try again.