HP Elite x3 testing firmware update that enables charging LED, Windows Hello improvements and more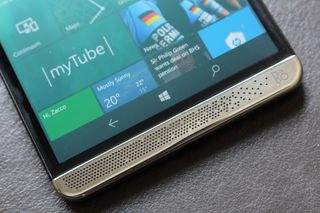 The HP Elite x3 is not out for another couple of weeks, meaning HP and Microsoft are in the final stages of testing and creating new firmware for the Elite x3's launch. So far, HP is testing a new firmware update that enables a charging LED light, along with huge Windows Hello improvements, support for Double Tap To Wake and more.
As you may have noticed in our unboxing video, the HP Elite x3 is suffering from some pre-launch bugs with the camera. HP is aware of this, and is working on getting these issues fixed in time for the devices launch. This new firmware has improved, but not completely fixed the camera crashing issue. We'll likely see a newer firmware update land before the devices launch that fixes this further.
Apart from bug fixes and stability/performance improvements, the new firmware also introduces Double Tap To Wake, which is far more configurable than what the Lumia 950 and Lumia 950 offer. With this newer firmware, you can change the sensitivity of Double Tap, adjust the time between taps, and more.
I've also noticed that with the new firmware, HP has enabled a new battery charging LED, which comes on when the device is connected to power. The LED is located next to the light that comes on when Windows Hello is looking for you, and is an orange color when charging and green when fully charged. This is a nice touch, considering the HP Elite x3 doesn't support Glance screen, with this LED you can easily tell when your device is done charging without needing to unlock it.
Windows Hello also receives a number of unique improvements and features on the HP Elite x3 with this firmware. The Iris Scanner receives the option of making it more difficult for people to spoof Iris logins, and also adds the option of showing a preview of what the Iris scanner can see on the lockscreen, making it easier for users to position their eyes correctly. This is another feature unique to the HP Elite x3, and is not found on Microsoft's own offerings.
The Iris Scanner improvements can be turned off, so if you'd rather not have the Iris scanner preview popup on the lockscreen, you don't have to.
It's great to see HP working hard on making sure the HP Elite x3 runs as good as possible before launch. Hopefully that trend stays true throughout the lifecycle of the Elite x3, as Windows phone OEMs have been known to abandon the platform pretty quickly after getting their phone to market.
It's unclear when HP plans to rollout new firmware for the Elite x3, whether it'll be at launch or alongside the Anniversary Update that's scheduled to rollout on September 13th. If so, then those buying a HP Elite x3 early will be missing these features at first, as the firmware bundled with the Elite x3 does not include these improvements.
Get the Windows Central Newsletter
All the latest news, reviews, and guides for Windows and Xbox diehards.