HP Elite x3 new firmware drastically improves performance, and the benchmarks prove it
By Daniel Rubino last updated
How does the new HP Elite x3's firmware stack up? My benchmarks reveal substantial improvement in performance and a few new features as well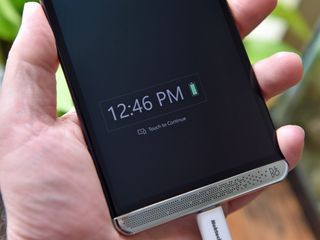 Yesterday, HP pushed out the much anticipated Windows 10 Anniversary Update along with new firmware for the Elite x3. Coincidently, Microsoft began taking orders again for the device heavily implying a high correlation.
So, how important is the Elite x3's update? Last week, I argued that we were holding off on the full review due its absence. While some took issue with that decision with my 'preview review' I still stand by the claim that the Elite x3 made it into retail channels way too early and perhaps even accidentally.
The HP Elite x3 is the best Windows phone yet (with some caveats)
Regardless, the numbers reflect our information about the new firmware as it has a drastic improvement in device performance. Before the firmware in my write-up last week I noted that the device felt more akin to a Lumia 950 than the Lumia 950 XL despite the newer and faster Qualcomm hardware. While it was not bad, it was far from ideal too, and it felt like the Elite x3 was not leveraging the processor's full capabilities.
AnTuTu Part 2
Last week I posted the benchmarks using the AnTuTu app for Windows 10. I compared it to the Lumia 950 XL and found the Elite x3 beat the Microsoft device in almost all instances. Nonetheless, the GPU felt like it was holding it back.
Today, I re-ran the test on the Elite x3 with the new firmware and the results are quite dramatic.
| AnTuTu | Lumia 950 XL | Elite x3 | Elite x3 + Firmware |
| --- | --- | --- | --- |
| Score | 87906 | 108727 | 118796 |
| 3D | 24773 | 24219 | 27856 |
| UX | 31396 | 37387 | 41075 |
| CPU | 27342 | 38449 | 40829 |
| RAM | 4395 | 8672 | 9036 |
Not only does the Elite x3 now feel faster with improved scrolling, less app stuttering and a general lack of sluggishness, but the benchmarks reflect that experience.
Regarding real-world performance, I would say it feels slightly more responsive than the Lumia 950 XL, but it's also not a night and day experience. It's akin to the performance gains between the Lumia 950 XL over the Lumia 950. For example, when launching Skype or MSN News the Lumia 950 XL lagged behind ½ to two seconds behind the Elite x3. Not drastic, but it is noticeable.
Given a choice, I will take the faster device any day especially the one with the bigger battery.
The HP Elite x3 now sits in the #2 spot behind the iPhone 6s (133937) on AnTuTu and is well ahead of any Android phone, which is no small achievement.
Other notable items
Besides the overall performance gains with yesterday's firmware update for the Elite x3, there are a few other changes too. Here is what Zac Bowden and I have noticed so far:
Camera is more stable
The biggest complaint by far with the Elite x3 was the 50/50 chance of the camera crashing. The firmware did dramatically improve this although if you fiddle enough with the lock screen and Windows Hello combo you can still get some instability when launching the camera, although it's rare.
The other benefit is improved performance in starting and using the camera. It's still not Lumia-level quality, but I still like this camera more than I thought I would.
LED for Charging
The LED light in the upper left corner is now enabled. While charging the lamp is red; when fully charged it is green. A small, but welcomed feature. No, there is no way to enable it for notifications in Windows 10.
Windows Hello is faster
Chalk it up to the Anniversary Update, improved performance from the new firmware, or both, but unlocking the device is slightly faster now using the fingerprint reader and iris scanner.
One thing is not included that we saw before was the iris preview on the Lock screen and iris spoofing. It is likely those features are still being developed for a later release.
Double Tap to Wake
HP has given the option of double-tap to wake to turn on the phone's display. Frankly, it's a mixed bag.
HP uses the accelerometer to detect the taps as opposed to the screen itself doing the work. It's an interesting workaround, but it has some strange effects too. For instance, when I put the device down on the table that 'knock' can sometimes wake the display. I have also been using the phone and have the screen turn off randomly. Some of this can be improved by changing the sensitivity settings, but each time you change it you have to reboot the phone, which is tedious.
Like other parts of Windows 10 HP's double-tap feature is an app and it can be updated and improved at any time through Store updates. I expect HP to make some adjustments down the road.
Update: According to our forums there is actually a raise-to-wake feature, although it does not work perfectly just yet. The phone will also turn the display off when placed down on a table, which I can confirm as accurate. Clearly, HP is doing some unique tricks with this phone that we have never seen on Windows Mobile.
Calculator
The HP 12C Financial Calculator app is an authentic software recreation of the original HP 12C Financial Calculator (opens in new tab) meant for real estate, banking, finance, business studies, and accounting.
Instead of buying or carrying around the $69 device professionals now get the "Certified Financial Planner; CFA; GARP FRM" approved app with the Elite x3.
WinZip Universal
A few months ago WinZip released its official app for Windows 10 and Mobile. HP have now licensed a version of the app to be used on the Elite x3 sans any fee. It's a nice touch as ZIP files are often used in business for sending documents and media assets.
HP Display Tools (Glance-like feature)
One complaint people have with using Continuum is the display on the phone just stays on. That can be a concern for screen burn-in in addition to just being annoying. HP have their own Glance-like feature that turns on after a user-defined amount of time.
The screen effect is very much like Glance in that it has a clock with a battery icon that fades in and out while bouncing around the screen. The battery even turns green when it's fully charged, which is a nice touch.
Using Continuum for a week with the HP Elite x3
The difference between Glance and HP Display Tools is the latter is an actual app. That is, it only works when the app is on and left enabled as opposed to a system tool that engages below the lock screen whenever the system is running. However, by default the app auto-engages when connected to the Desk Dock, which is good practice by HP.
I imagine HP and Microsoft will do more around this functionality with Redstone 2 slated for early 2017. For now, this is more a kludge, but an interesting one nonetheless.
Wrap Up
With less than 24 hours with the new firmware (fresh off a factory reset) it is too early to judge things like battery life, which has always been phenomenal or other smaller, yet-unnoticed changes.
I'm still debating about doing the full review with the phone as is or waiting until the HP Lap Dock becomes available. We're likely to consider the device as is because you can now buy it so a review seems appropriate.
For now, you can take what I have written here and in my previous preview and get a good sense of the pros and cons of this device so far.
See HP Elite x3 at the Microsoft Store (opens in new tab)
Further Reading
Daniel Rubino is the Executive Editor of Windows Central, head reviewer, podcast co-host, and analyst. He has been covering Microsoft here since 2007, back when this site was called WMExperts (and later Windows Phone Central). His interests include Windows, Microsoft Surface, laptops, next-gen computing, and arguing with people on the internet.
I guess that makes it worthwhile for a long awaited review?

Yes, that's I kept saying they should start taking order only after the update is available. There was a big hype but now it seems to have fade away.

Currently, the problem Microsoft is facing is that the phones MS and it's partners released in the last 2 years has not been able to hit outside the shell of 'WINDOWS FAN'. Elite x3 has the ability to hit that consumer base of android & ios but here MS messed up with the roll out. Now, the buzz is again need to be created and that will be possible only with the positive reviews by almost every tech media website.

Glad i didn't by the 950 or 950XL this x3 wipes the floor.

I never, ever, would have thought that a new phone would beat an older phone! :p

Seems better than 950xl.
That glance software alone is kiff

If you don't mind a worse camera

I don't think it is that bad though, or else Daniel wouldn't like it.

He said "While not a great camera, the Elite x3 is capable". Capable doesn't cut it for me when I've been using Lumias for years. So it depends on how important that is to you. For me, it is top of my list.

That is a very fair point. I can understand where you are coming from.

I tried the Elite X3.. The Lumia 950 XL is better than a lot of cameras out there.. even the devices with a bitten fruit on it.. you know the "bold phone".. So in a nutshell the camera on an Elite X3 will disappoint if you have tried the 950s or the 1020.. the camera over others is definitely better though not as good as the iphones

The phone isn't aimed at you the consumer, the camera will be just fine for the corporate world, its target market.

Some people just don't care about cameras. So it wouldn't matter.

Well yeah....I feel like you're making a dig at the X3 but really it's a valid and fair point when made in a fair way rather than as an attempt to bash - I apologise if I'm wrong and you aren't just looking for anything to bash the X3. In low-light the 950+XL would be even better than the X3 camera, but I think the X3 snapper is alright for most shots.

Trust me, I'd take the x3 in a heartbeat if it had a Lumia camera. or a new Lumia if it had the x3 specs

Looking around and daily usage of a camera. It is reasonably good. Not best among many available in the market.

...as long as it is capable of scanning documents esp. reciepts, capturing texts/diagrams/information from the whiteboard/projected presentations - clearly, I think it won't be a deal breaker for corporate citizens.

Kiff? KIFF? Is this a new made up word meaning something x or y? I now have to... bear with me... kiff verb - transitive to greatly enjoy someone or something.
Ummm????

That's the boost. I would want this phone to beat the iPhone 7 benchmark score in AnTuTu.

Unfortunately that is still a dream. Daniel said the iPhone 6s beat the Elite X3 score, don't you think the iPhone 7 will be miles ahead?

Especially now that there's no headphone jack for the 7s to worry about. Sorry, I had to go there. :p

Lol, well apparently some of them DO have a headphone jack now...Someone posted that it was still there and all you had to do was drill a hole...off topic, I know but I couldn't help myself either. Posted via the Windows Central App for Android

LOL @Drilling hole in iPhone.

The iPhones performance apparently is on another level. I have a 6 for work and it seems to keep pace with my 950 no problem.

I believe he said it was second on AnTuTu only to the iPhone 7.

It happens to beat iPhone 7 on continuum by a fair margin

I see what you did there .

That's a pretty great update. I can't wait for this in Thailand!

Elite X3 available in thailand?

*will be I just hope that it would be available sooner than expected.

Need to be in Thailand. +1 from me.

Another +1 for Thailand even though it was hell just to get myself a 950XL here.

Nice touch with the 12c calculator, if for nothing else than nostalgia. They ought to do a 15c scientific counterpart as well. Posted via the Windows Central App for Android

There is a 10B version of the calculator in the store by a 3rd party. Been using it since around 7.5 if I'm not mistaken. Works great.

There's also a 12c Platinum emulator that works well.

It's far from nostalgia. Most everyone I know in Finance still uses the 12c. It's always preferable to have an emulator on your phone than carry around two devices. Personally,I wish HP would give us a 17b or 19b II emulator.

So does the updated ROM come with Redstone or Threshold when using WDRT?

Awesome! MS should update their W10M devices to AU ROMs as well, especially since the restore process no longer works properly with Threshold. I find it silly having to "rollback" when your phone becomes too wonky that a hard reset can't fix. AU ROMs would save a ton of time and hassle.

How can i get battery icon on lock screen

I think that's just for the continuum screensaver thingy..

Hi Dan, the video recording function on my x3 camera is not working at all it just crashes and throws up an error code. Have you experienced this at all? I have stuck my x3 back on release preview after the update.

Soft reset seems to fix this usually

I absolutely love this device and really, really wish I could get it on Verizon.

It might be a really long time before Verizon sells another windows phone. They sunk the Lumia Icon seemingly on purpose.

I hope you are wrong especially since the Only Windows 10 mobile smart phone thay have on the Verizon Network is the Lumia 735 which may no longer be available if Microsoft retires It's Lumia Brand of smart phones in December this Year. There are enough Verizon windows smarty phone users and fans to justify Verizon selling 1 Windows 10 mobile smart phone. The HP Elite X3 would not be a bad choice of Windows smart phones for Verizon to sell. Surly Verizon can afford to carry the HP Elite X3.

Afford to carry and CDMA certification are two different things :P. Verizon most likely will want a unique variant.

Double tap to wake is not usable. I have the same problems as the phone will randomly lock if I move it or set it down on my desk just a little too hard. I played with the sensitivity but it hasn't gotten much better. Hopefully this can be improved.
Phone overall feels more stable and so far no more locking has occurred after I receive a text notification. Phone previously would freeze after a notification and I'f t need to reset the phone. Hoping they bring back Glance!

I know after the OS/firmware update (using WDRT) the app already had an app update on the Store. Likely something that can be tinkered with by them. I'd rather it worked like iOS10: display turns on when you lift the device and angle it towards you.

Yea, Android has had that feature for awhile (at least the Nexus devices have). It's really nice.

Turns out this phone now does kind of have that feature. Just needs some fine tuning. It also can turn the display off when you put the phone down, which is a good security feature.

Hey Dan, would you say the performance increase is comparable to that of say a 930 vs 950/950xl?

Now look what you started with ios features.
Android had this and that... Windows Phone is....d...

When plugged in, and only then, my Lumia 950 shows Glance when screen side up and hides it when I turn it screen side down. Sometimes it lags a little, but it works. On battery this doesn't work. I think it's strange :)

This works on battery too. Just put it in your pocket or hide the proximity sensor.

That could be done as an extension of Glance - They could have an option so that instead of showing the Glance screen go straight to the lock screen w/ Hello looking for you. This would be when taking it out of your pocket though rather than specifically when you tilt it

How can I activate the glance-like screen as show in the screenshot? New firmware + release preview installed...

The MS store does not offer an Education discount. HP does thru Workers Advantage. 10% is nothing to shrug off.

Yes they do. I work for a university, and I get 8% off anything in the Microsoft store.

Go to their site, add the phone, and take a screenshot of the discount. We have an edu email, and the discount does not yet apply. And this was from the person on the other end of the phone.

Hmm, so the discount doesn't apply to the HP phone. It might be HP's deal with Microsoft. Try contacting Microsoft and/or HP to get the discount. However, I was able to get discounts on Lumia devices including the 950 series.

My 950xl today rebooted shooting a photo (like the hp do afaik), it's a lot of days that didn't happen That's really strange, i tought it was 100% fixed

If you're on the Release Preview ring make sure you update to the release from yesterday. So far my 950XL is better than the old build.

I have an issue Dan. I'm sure it was reported here somewhere that Antutu produced erroneous results on W10M. I've just run it on my 950xl and the memory results were not hugely lower. I seem to recall as well that, once again, our favourite word 'subjective' came to light. I can see the marked improvement on the x3 post firmware, so maybe HP have got it right. My second 'gripe' is that MS got ABSOLUTELY slated when the 9xx series were released with an absolute car crash of an OS, and the way the release date kept moving, so.......my question is....why did HP get away with it?? I'm probably being 'pedantic', but what's good for the goose is good for the gander. And yes, I would love one but RS2 insider is damned good on the 950xl's I have!

"My question is....why did HP get away with it?"

That's simple. Microsoft had set a firm embargo for reviews on the Lumia 950 by all media sites. If we didn't run that day, we would have missed the opportunity and our audience would wonder where our coverage was. Microsoft said "here is our phone, go review it" to everyone giving the green light. That has not happened with HP there was never a green light to review this phone by them. In fact, we bought our phones out of pocket for this coverage. Elite x3 has no embargo date, no formal press guidance so far. Being a non-consumer phone, the slow (and haphazard rollout), and the low market share of Windows phone for consumers (most of our audience) there was just less pressure to do a review. Combined with we're still missing things like the Lap Dock (part of the 'times three' in x3), makes it hard to evaluate.

I can't find the Elite X3 in any results page on AnTuTu. Is it posted on their website anywhere?

Daniel, how much of those 4GB of RAM is being made available to the OS? My understanding is that Windows 10 Mobile still only works in 32-bit mode even under ARM64 processors, which is a problem since 4GB IS the theoretical limit of addressable memory by a 32-bit OS that reality tells us it's lower than that due to a number of reasons. I'd assume the Elite x3 could get a few more performance points once Microsoft adds full 64-bit support to Windows 10 Mobile.

Thanks, nice to see it confirmed. 64-bit support better come with RS2 then, it's now officially overdue.

Even if it does I can't see how the helps this phone as last I checked it's not trivial to go from 32-bit to 64-bit OS i.e. you can't just upgrade.

32 or 64-bit is initiated on boot. So WDRT could do the trick (+restore from backup)

Why not. You could on PC. Just not the other way.

"Why not. You could on PC. Just not the other way." On PCs 32-bit Windows is updated with 32-bit patches and 64-bit Windows with 64-bit patches. That's what he meant, that you couldn't just turn 32-bit W10M into 64-bit through Windows Update in his understanding.

Yes you can install 64bit over 32bit but not backward.
Has been possible since xp64 although seems to be on hold in 10.

32-bit on 64-bit system you mean? You can't do 64-bit app installations over 32-bit system.

Yes you can.
Go back and read documentation from XP64
I've done it in the past.
Microsoft have disabled this feature on later versions.

I see... I haven't tried XP64 tho, just XP32 bits only (and for what I wit, I can't seem install 64-bit apps on XP32 too, is there any tweaks or hacks or such?).

I'd assume at the very least that a new WDRT image for the Elite x3 with a 64-bit W10M OS could be provided once that SKU is available. Anything more than that I wouldn't know; in this year old ArsTechnica article about iOS's transition to 64-bit: http://arstechnica.com/apple/2015/07/the-state-of-the-64-bit-transition-... there's one line - "September 2013: Apple introduces the iPhone 5S. Its Apple A7 chip makes it the first 64-bit iDevice. iOS 7 is the first 64-bit version of iOS, at least when running on the A7." - that makes it seem to me like iOS's binaries in all devices are the same, the OS just chooses between 32-bit and 64-bit mode depending on the device's chip, but it could just be that the OS updater chooses between 32-bit and 64-bit versions when downloading new iOS versions. In any case, it's a different chip architecture - ARM instead of x86 - so maybe it allows for more flexibility than desktop Windows had? I only have basic knowledge about this, so I wouldn't know for sure.

The iPhone 5S and up have 64-bit chips that only run a 64-bit OS. That's by design. It would be a waste for Apple to have 2 versions of an OS for software and hardware they control.

"The iPhone 5S and up have 64-bit chips that only run a 64-bit OS. That's by design. It would be a waste for Apple to have 2 versions of an OS for software and hardware they control." Correct, but does the latest versions of iOS support only iPhones 5S and up? If it still supports a single model that shipped with a 32-bit chip then Apple needs to have an iOS version that can run on those chips, whether they use the same binaries for both 32 and 64 bit devices or two different ones is what I don't know.

32-bit and 64-bit binaries can't be the same. They are two different versions performing the same task.

I knew that was the case for x86, didn't know if it'd be the same with ARM, different architectures and all that. If you're confident it is, then I'll take your word for it.

Yes, iOS 10 is only compatible with the 5S and above.

It supports the iPhone 5 and 5c too.

why do you need a 64 bit OS on a mobile build?? Why? Any benefits due to higher addressing that you can think of? Why is it nothing but a gimmick? do you think the iphone gives you more than 4 GB ram? whats the point? It doesn't even give you the option to put a flash drive in? whats the point?

"Any benefits due to higher addressing that you can think of?" Aside from the fact that anything more than 3.5GB of RAM in a device running a 32-bit OS is unable to be used by apps and is, thus, wasted? If Continuum is going to be as big a feature as Microsoft intends it to be I'd imagine it's going to need every bit of RAM it can use since rendering two different UIs takes quite a bit of processing power.

So the brand new Windows Mobile flagship is almost as fast as a two year old iPhone?

Did you see any Android devices on that list either? I did, they were well below the Elite x3. But sure, news flash: Qualcomm chips are not as good as Apple's A9 and A10. You didn't need me to tell you that though, did you?

The Big Question is... Hp X3 is serious competitor for iphone 7, and samsung 7 or not yet. Please don't tell is a different or for busines or other...

"Serious competitor" is open-ended as it depends on what you value most. The whole app thing already knocks any Windows Mobile device out of contention. FWIW, I own a 7 Plus and GS7 but keep my Elite x3 on my main SIM. So I at least prefer it.

Daniel, to the best of your knowledge will MS ever put out a phone that can run desktop apps to fill in the app gap? Not sure if i'm asking this right, but a phone that can run desk top applications and pin to the home screen would IMHO leave the others eating dust. While I can do that now for some things, not all sites i visit work that great on a mobile phone. BTW, always a pleasure reading your reviews as i believe your are fair even if they seem harsh. :-D

This is why we need to use intel chips.

Anything short of a Core M at least still wont be competitive and thats not really feasible due to cost and heat at the moment so no, Intel chips wont help in any way.

Microsoft just needs to borrow Apple's A10 processor. It's already faster than most Macbook Air.
http://daringfireball.net/linked/2016/09/14/geekbench-android-a10

You're using an old list Dan, the Elite isn't even in the top 10 on a recent test (even with a 10% speed bump), plenty of Androids above it on the list (and this list doesn't even yet include the iPhone 7 which reportedly scores a whopping 178,000). http://www.antutu.com/en/view.shtml?id=8268

6s is from last year, not 2.

Yes shane, you are correct. "flagship" speed is something windows 10 mobile does not have access to.

Can anyone tell me why we cant add another iris on our phones like the fingerprint scanner?

Well, it does both irises and the system assumes that only one person/owner is using the phone. How many people are sharing the Elite x3? Fingerprint make sense. I sometimes unlock with my right hand, other times the left, sometimes with a different finger. It just happens that you can also use that for a second person as the system cannot distinguish, but that is not how it was intended to be used.

But fingerprint scanners you can add different people's fingers. Why cant we add different people's eyes?

There certainly is no software limitation. And the fact that different people can use the fingerprint biometric to unlock the phone defeats the strict one-person-only concept. So why not allow multiple trusted people to be able to use Iris?

"So why not allow multiple trusted people to be able to use Iris?"

Why should it? What is the practical usage case here that would benefit either regular users or those in enterprise? All I hear so far is "I want this, cuz", but I have not heard a practical or useful explanation of why a phone should have that feature when we're talking about security?

I added a second person to my iris recognition through the "Improve recognition" setting, and surprisingly it works well for both people with nary a hiccup

How do we view tap into images on your app like we did in 8.x as I can't see the bench test

My 930 has scored 62.000 overall. I believe X3 can fly.

I was waiting for this! You rolled this out very fast, thanks Daniel! It sounds like the combo of the updates worked out very well.

Is there a way to turn the charging LED off? I charge mine every night and the red LED while it's charging isn't that bad but the green one once it's charged is bright as hell. Bright enough to do finger puppets on the walls of my room last night. (Don't judge, I was having trouble sleeping.)

If there is I have not found a way.

http://www.theboxery.com/Products/03Large/TPSDCK.jpg

Just turn it down with the screen. :)
Will reduce the problems you face.

That battery icon look so good. I want it too

Tape. At least its free. ;)

Turn the phone around! :-P

unbelievable how Iphone 6s still up there. I wish W10M was x64. Looks like they are not even close to do this

Firmware makes the phone faster! I knew it! And Microsoft does not support phones released mid last year! My 640XL needs firmware!!!

It can if the OS is not utilizing necessary drivers for the hardware. Who is to say that your 640 XL is just not maxed out in terms of performance? Firmware is code, it's not magic.

is there any chance of a firmware update for led notification light for old lumias which has the hardware?

I agree, but firmware can also be used to remove bugs. When i compared my 640xl to my 535 and 730, 640xl has more bugs. All these 3 phones had different bugs specific to their device. I am sure that the OS has nothing to do with it because if so it would have been on every device, so i know its a firmware problem.

Could you be more clear about this. What bugs?

I'd love to get one, but at this point so many of us have waited for the possibility of a Surface Phone. Guess I'll just wait a bit longer. Nice article though.

Get one of these now, and the "Surface Phone" later if you really want an X3, can afford one, and need a new phone now. You could be waiting for a year to get your hands on Microsoft's next phone, and when it does come it might not be that much different. I'm sticking with my Lumia 950, but it has nothing to do with not liking the X3, I just don't need a new phone at this point. If the next Microsoft phone does something new or I feel like I need a performance boost I'll buy that. Always buy the best you can afford at the time you need it is my approach, otherwise you're just stuck in a perpetual loop of waiting for the next thing

Most of us cant see dumping $800 on this and then another $800 in 7 months or whenever it comes.

Well yeah, I wouldn't recommend spending $1600 on phones within a year but some people do it, I know people who buy a new iPhone every year and the models with larger capacity storage approach this sort of price - My point is really just to buy it when you need it, if somebody just wants an X3 but won't really get much benefit in the upgrade then skip it. But if you have an old phone now with performance issues that are making you less productive then just buy the X3, the Surface Phone could be a year away from actually being on sale anywhere, could be priced even higher, might not have anything that special over the X3.

Now this phone is really fast. :) another time I like windows :)

Downloading this update right now. I love the phone, but cannot understand why it was released without this update. Cannot find any info about this choice of HP

Who cares it has it now. Look forward not backwards :)

Any chance they magically unlocked support for Verizon's network? *sigh* I know they didn't...

Speaking of phones being fast...no matter what release preview I am on or how many times I hard reset this 950XL, I still get the "loading" screens. Anyone else experiencing this?

If you were on the fast ring, my friend has an XL on Fast Ring, and I have a 950 on Release Preview as our main phones right now and he's seeing awful performance issues - But it's due to the Fast Ring being in a state of flux right now. Can at least confirm I've witnessed 950XL issues on Fast Ring, where as the 950 is fine. One example was opening Skype and other apps taking a long time or showing that loading screen as you mentioned. On RP, I've not got the same issues so does seem weird if you're definitely on that ring

I'm on release preview. Just a lot of performance bugs still.

That's weird and unfortunate :( Until the release just yesterday. If you don't have the build from yesterday and you're on .189 CU then I think that's what production ring is also on. I've not had any major performance issues on it, just the odd little annoying bug like screen going DIM and even the ringer stopped working until reboot the other night

Yeah. Its not horrible, but stuff I thought would be ironed out by now. Photos taking far to long to be available. Photo app taking forever to show a screen grab or picture.the "loading" I mentioned. Random reboots. Not being able to respond to a text through notification if I'm in an app running in landscape (the keyboard won't ever show up). A lot more, but I'm sure you get the point. I think I was just spoiled by 8.1's polish.

Yeah I get ya, it's the little things that can annoy the most at times too. I needed to get directions and get going pretty quick at the weekend. I had to reboot the phone because the maps app couldn't get any GPS signal! One thing that kinda annoyed me from the start on the photos is the "Applying the finishing touches" step. I don't remember seeing this on my Lumia 1020 w/ 8.1 the photos were just ready right away. Yes that phone had it's own issues due to the slow hardware but it still finished processing it's images faster on 8.1 than the 950/XL do on W10M. I don't get why it's suddenly got this delay. Also noticed a few friends pick up on it that have been giving W10M a look on the side. One mate used to use WP8.1 before he went to Android and then iOS, he's trying out a 950XL at the moment as his iPhone won't keep a charge. He said on iPhone the photos are just ready right away like we had in WP 8.1

That is a HUGE annoyance to me. I keep hearing it blamed on HDR, but even turned off it still does it. Then I keep hearing it depends on if I'm saving to the microsd card. I have moved to internal, but same results. I hear far to many people blame everything on storing apps, videos, music, photos, etc on the microsd card. Its a major cop out. If we cant save anything on to the cards, what's the point of the feature? I hope they offer the Surface phone with a 128gb internal storage, because I'm tired of hearing everything blamed on external storage (as well as the just hard reset excuse).

The applying finishing touches on my 950 seems to be not as much of an issue anymore, meaning that I see it less and less and when I do it finishes quickly. I'm on the latest release preview as of yesterday and the latest firmware from AT&T. There have several instability issues with the Photos and Camera apps, but it seems that things are coming together finally. Even at its worst the I would take the delay in reviewing pictures on the 950 over the 1020's slow shot to shot time. You can always review pictures later, but once the shot is gone it's gone.

I have solutions to both. Frustrating issues I know and a solution ppl without patience won't do.
1) Screen going DIM - When this happens long press lock button till the SLIDE DOWN TO POWER OFF appears. The brightness now increases to normal. Just slide back up to not switch off.
2) Ringer going dumb. Just turn ON quite hours from the action centre and then turn it OFF. fixed :)

I've seen a L950XL on production with the latest updates and the experience is not good. It's just bad some times too.
1) Display goes blank while receiving a call. So can't really TAP or SLIDE to receive it.
2) Phone keeps making loud sounds while the call gets stuck in (1).
3) Display dimming issues.
4) Unusual heating while sharing Photos via ShareIt.

Just looking through the photos etc, its great to see the spectically inferior iphone 6s mopping the floor! always nice to see since spec racers on here claim the 950xl is WAY superior to the 6s because of its specs. OH WHELLLLL!

To be fair, every OS has fans that are spec racers when it comes to one thing or another. I guess iOS might be the only ones who don't but nah, I'm sure that they are still there too.

Oh, no doubt. However, when the fanboys here Flip out regarding specs of the xl vs iphone and claim the xl is twice the phone because it has a so called faster processor, way more ram than the iphone.....It proves my point that specs are nothing. Optimization is everything...hence the total beating the XL and even the x3 took from the 6s. And the 7 is even faster....

And optimization don't mean **** if you hate the overall experience, which is the case with me and the iPhone.

Yep, you fine. Me, the interface on the iphone is fine...because EVERYTHING WORKS! it works fast, it works smooth and I dont have to worry about half baked 3rd party crap apps etc. And, they were talking about benchmarking...and the 6s benchmarks way ahead of the x3 and miles ahead of the xl. the 7, even more so....

Does it matter that I had to read your post four times to figure out what the hell you were trying to say... "spectically" is that a word? I mean my 10 y/o has a better grasp of the English language.. wow!

NO its not a word its an effin JOKE. and NO your 10 year does not have a better grasp of the english language, but im sure they have a much better grasp at HUMOUR!

I wish I had a deep love for the Lumia camera, but seeing as I just have the Lumia 640, the camera is nothing to get excited for. I think this phone looks tremendous.. But I'm holding out for the Surface Phone.

Jlwaters, Please do NOT hold your breath waiting for the surface phone.

My daughter's Galaxy S4 recently crapped out and she couldnt afford to replace it so I gave her my spare 640. She was surprised at the nice photos she was able to take with it. She loves it. It's just not spectacular at low light photography. Posted via the Windows Central App for Android

Slightly faster than an S7 Edge :)

I'd love to take one of these but unfortunately it is still worse than last year iphone 6s. Can we get a real flagship, comparable (or better) with functions and capabilites with the top?

"The HP Elite x3 now sits in the #2 spot behind the iPhone 6s (133937) on AnTuTu and is well ahead of any Android phone, which is no small achievement."

"The HP Elite x3 now sits in the #2 spot behind the iPhone 6s (133937) on AnTuTu and is well ahead of any Android phone, which is no small achievement." Aren't there literally a bunch of phones out now faster than this? http://www.phonearena.com/news/Apple-iPhone-7-blows-away-the-competition...

Even if accurate beside the point here, which is that the firmware boosts performance of the Elite x3, which is my main concern.

Very true according to Antutu: http://www.antutu.com/en/view.shtml?id=8268 The elite, even with faster firmware doesn't even make the list and "well ahead of any Android phone" isn't even close to true.

The HP Elite x3 now sits in the #2 spot behind the iPhone 6s (133937) on AnTuTu and is well ahead of any Android phone, which is no small achievement.

The W10M version of Antutu is outdated and doesn't show any recent Android flagships. A Snapdragon 820 Android phone usually scores in the 130,000-140,000 range, well above the HP Elite x3's 118,796

In that case, the measurements of the X3 are also probably inaccurate...

I want the battery indicator on my glance screen (L950), I miss the old 8.1 days.

Fired up my old 925 yesterday.
What a beautiful phone and I have to say, using 8.1 again was such a pleasure, easily beats 10 IMO.
Much more fluid, far better optimisation and way better on the eye...and it has Glance which I dont have on my 930 running W10,*sigh*

Truth be told, X3 is the real flagship indeed compared to the Windows 10 mobile devices so far. I naively believe the hardwares would no be essential to the performance, which is a solid concept came into being since Windows Phone 8 and 8.1, as my lumia 830 runs pretty smooth compared with Icon. While this changed when I had all my devices upgraded to Windows 10 Mobile. Later on, I got a Lumia 950, with the hand-on for a few days, the experiences are quite distinguished. Hence, if possible I would like to give it a shot, the Elite X3 (It's not officially available in China).

Microsoft has committed to Windows 10 Mobile, that is an inspiring news. I love this system, the user interface, the living tiles, glance and more. What Microsoft should do urgently is help improve the ecosystem and establish what is still missing or on the way.

ahead of any android phone? :)) Sorry mate but I do not see the GS7 series there, or the HTC 10 or LG G5. My iphone SE leaves this phone in the dust.

If iPhone 7 is a Lambourghini then the X3 is a Tesla P100D :P

more like the iphone 7 is like the Mclaren and the X3 is like a ford transit. Remember Enterprise based. Transit is built for work, Not for speed...just like the Mclaren is built to be the best, fastest car available.

Wait...... It's a Quad Core? Why not an Octo-Core

Do your research Windows central. The x3 is not #2. Top 2 is OnePlus 3: score of 140000 plus vivo x play 137000. What rubbish AnTuTu benchmark are you using. Personally, I got 139000 plus on my own OnePlus 3. Posted via the Windows Central App for Android

The software version of the Calculator looks damn great ! Awesome !

Its not ahead of all android phones, that list isn't updated on the windows 10 app. My OnePlus 3 achieves a score of 140,000 Posted via the Windows Central App for Android

Interesting phone. I'm curious as to:
* Is it too big? Does it fit in a shirt pocket? (That's where I carry phones...)
* HP 12 C calculator... Hm. Why not the HP Prime Graphing Calculator? This is their top calculator, it is available on Android and on Intel PCs...

Off subject but does anyone else have problems accessing the HP website in Australia on mobile?

Lumia 950 XL 87.906? NO!!! My Lumia 950 XL 96.061 http://www.youtube.com/watch?v=tPRb7JyUZ9c

But $800! What does one get for $800? $600 for the phone...maybe not even enterprise will want the doc, because WP can not run x86 apps, so what is the real draw for the cooporate crowd? Didn't Acer or try this for Android phones a few years ago? For business I'd rather have a nice tablet "Surface 3" and "Android/IOS phone". But that's just me. Right now I carry a Galaxy Note 12.2 and IP7+ and they're doing the job for just fine. I do have a Surface 3, but it's just collecting dust right now. I'd still use the Surface 3 if I could read my comics on it.

Why a financial calculator? Why not my old trusty HP RPN Scientific calculator in the app? :P

Lol...I still use my HP Reverse Polish Notation calculator....must be 25 plus years old!

Can someone tell me, how does the HP glance-like feature get launched? I have yet to see that feature on my phone, as shown in the photo at the very top of this article with the 12:46 PM and green battery. Thanks.
Windows Central Newsletter
Get the best of Windows Central in in your inbox, every day!
Thank you for signing up to Windows Central. You will receive a verification email shortly.
There was a problem. Please refresh the page and try again.